Israeli Hebrew didn't kill Yiddish. As a new exhibit in NYC shows, it gave it a new place to nest.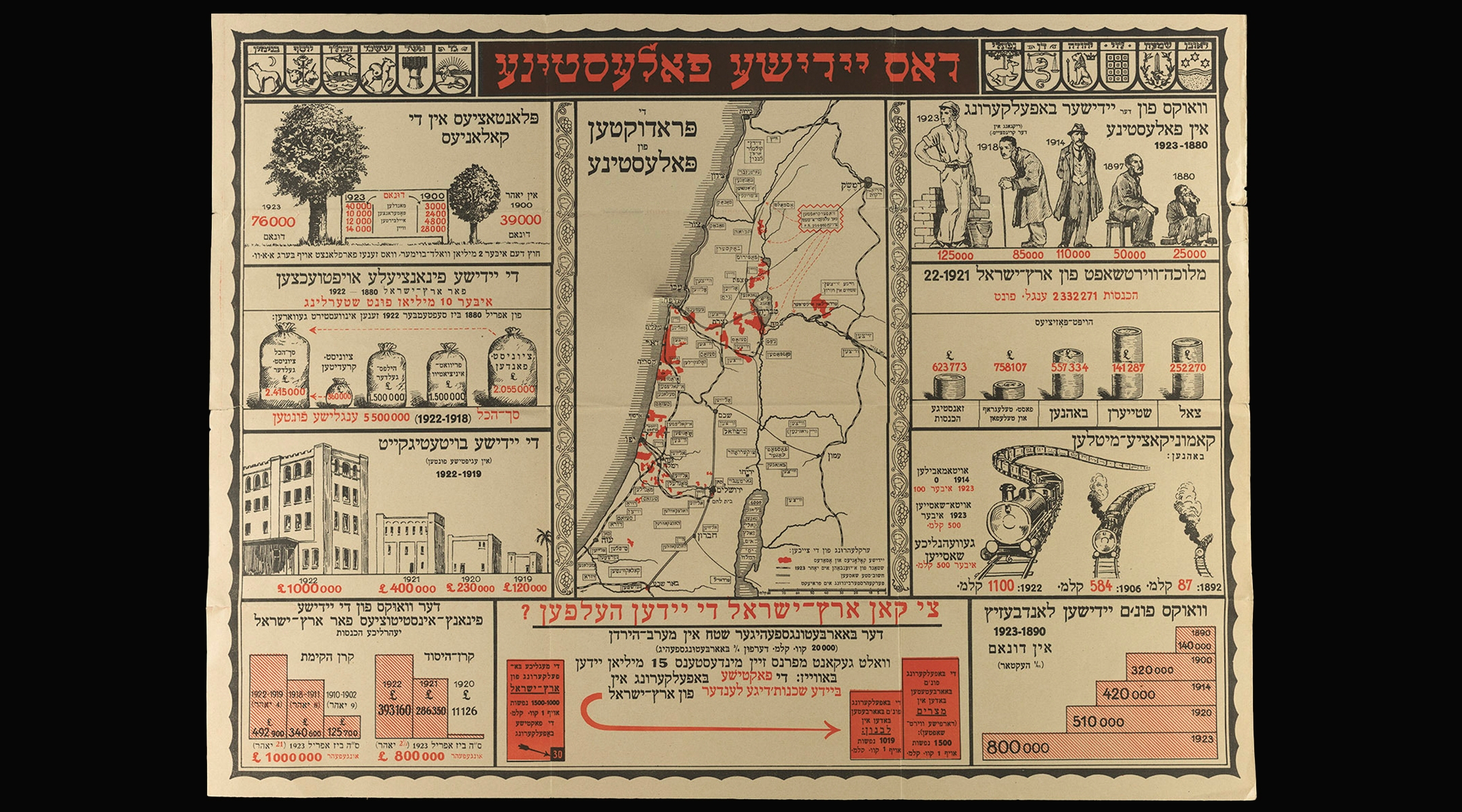 (New York Jewish Week) — Just before the end of the second millennium, Ezer Weizman, then president of Israel, visited the University of Cambridge to familiarize himself with the famous collection of medieval Jewish notes known as the Cairo Genizah. President Weizman was introduced to the Regius Professor of Hebrew, who had been allegedly nominated by the Queen of England herself. 
Hearing "Hebrew," the president, who was known as a sákhbak (friendly "bro"), clapped the professor on the shoulder and asked "má nishmà?" — the common Israeli "What's up?" greeting, which some take to literally mean "what shall we hear?" but which is, in fact, a calque (loan translation) of the Yiddish phrase vos hért zikh, usually pronounced vsértsəkh and literally meaning "what's heard?"
To Weizman's astonishment, the distinguished Hebrew professor hadn't the faintest clue what the president was asking. As an expert of the Old Testament, he wondered whether Weizman was alluding to Deuteronomy 6:4: "Shema Yisrael" (Hear, O Israel). Knowing neither Yiddish, nor Russian (Chto slyshno), Polish (Co słychać), Romanian (Ce se aude) nor Georgian (Ra ismis) — let alone Israeli Revived Hebrew — the professor had no chance whatsoever of guessing the actual meaning ("What's up?") of this beautiful, economical expression.
At the beginning of the 20th century, Yiddish and Hebrew were rivals to become the language of the future Jewish state. At first sight, it appears that Hebrew has won and that, after the Holocaust, Yiddish was destined to be spoken almost exclusively by ultra-Orthodox Jews and some eccentric academics. Yet, closer scrutiny challenges this perception. The victorious Hebrew may, after all, be partly Yiddish at heart.
In fact, as the Weizman story suggests, the enigma of Israeli Revived Hebrew requires an exhaustive study of the manifold influence of Yiddish on this "altneulangue" ("Old New Language"), to borrow from the title of the classic novel "Altneuland" ("Old New Land"), written by Theodor Herzl, the visionary of the Jewish state.

Yiddish survives beneath Israeli phonetics, phonology, discourse, syntax, semantics, lexis and even morphology, although traditional and institutional linguists have been most reluctant to admit it. Israeli Revived Hebrew is not "rétsakh Yídish" (Hebrew for "the murder of Yiddish) but rather "Yídish redt zikh" (Yiddish for "Yiddish speaks itself" beneath Israeli Hebrew).
That said, Yiddish had been clearly subject to linguicide (language killing) by three main isms: Nazism, communism and, well, Zionism, mutatis mutandis. Prior to the Holocaust, there were 13 million Yiddish speakers among 17 million Jews worldwide. Approximately 85% of the approximately 6 million Jews murdered in the Holocaust were Yiddish speakers. Yiddish was banned in the Soviet Union in 1948-1955.
It is high time that a Jewish institution address the issue of Zionism's attempted linguicide against Yiddish. I am therefore delighted to hear about YIVO mounting a fascinating and multifaceted exhibition in Manhattan titled "Palestinian Yiddish:  A Look at Yiddish in the Land of Israel Before 1948," which opens today. I commend Eddy Portnoy, YIVO's academic advisor and director of  exhibitions, for an exquisite exhibition on a burning issue.  
Characterized by the negation of the diaspora (shlilát hagalút) and continuing the disdain for Yiddish generated by the 19th-century Jewish Enlightenment, Zionist ideologues actively persecuted the language. In 1944-5 Rozka Korczak-Marla (1921-1988) was invited to speak at the sixth convention of the Histadrut, General Organization of Workers, in the Land of Israel. Korczak-Marla was a Holocaust survivor, one of the leaders of the Jewish combat organization in the Vilna Ghetto, Abba Kovner's collaborator, and fighter at the United Partisan Organization (known in Yiddish as Faráynikte Partizáner Organizátsye).
She spoke, in her mother tongue Yiddish, about the extermination of Eastern European Jews, a plethora of them Yiddish speakers. Immediately after her speech she was followed on stage  by David Ben-Gurion, the first general secretary of the Histadrut, the de facto leader of the Jewish community in Palestine and eventually Israel's first prime minister. What he said is shocking from today's perspective:
…זה עתה דיברה פה חברה בשפה זרה וצורמת 
ze atá dibrá po khaverá besafá zará vetsorémet…
A comrade has just spoken here in a foreign and cacophonous tongue…
In the 1920s and 1930s, the Battalion for the Defense of the Language (Gdud meginéy hasafá), whose motto was "ivrí, dabér ivrít" ("Hebrew [i.e. Jew], speak Hebrew!), used to tear down signs written in "foreign" languages and disturb Yiddish theater gatherings. However, the members of this group only looked for Yiddish forms (words) rather than patterns in the speech of the Israelis who did choose to speak "Hebrew." The language defenders would not attack an Israeli Revived Hebrew speaker uttering the aforementioned "má nishmà."
Astonishingly, even the anthem of the Battalion for the Defense of the Language included a calque from Yiddish: "veál kol mitnagdénu anákhnu metsaftsefím," literally "and on all our opponents we are whistling," i.e., "we do not give a damn about our opponents." "Whistling on" here is a calque of the Yiddish fáyfn af, meaning both "whistling on" and, colloquially, "not giving a damn about" something.
Furthermore, despite the linguistic oppression they suffered, Yiddishists in Palestine continued to produce creative works, a number of which are exhibited by YIVO.
Just like Sharpless, the American consul in Giacomo Puccini's 1904 opera "Madama Butterfly," "non ho studiato ornitologia" ("I have not studied ornithology"). I therefore take the liberty of using an ornithological metaphor: On one hand, Israeli Hebrew is a phoenix, rising from the ashes. On the other, it is a cuckoo, laying its egg in the nest of another bird, Yiddish, tricking it to believe that it is its own egg. And yet it also displays the characteristics of a magpie, stealing from Arabic, English and numerous other languages.
Israeli Revived Hebrew is thus a rara avis, an unusual and glorious hybrid. 
—
The post Israeli Hebrew didn't kill Yiddish. As a new exhibit in NYC shows, it gave it a new place to nest. appeared first on Jewish Telegraphic Agency.
More than 120 Jewish activists call on advertisers and app stores to drop Twitter/X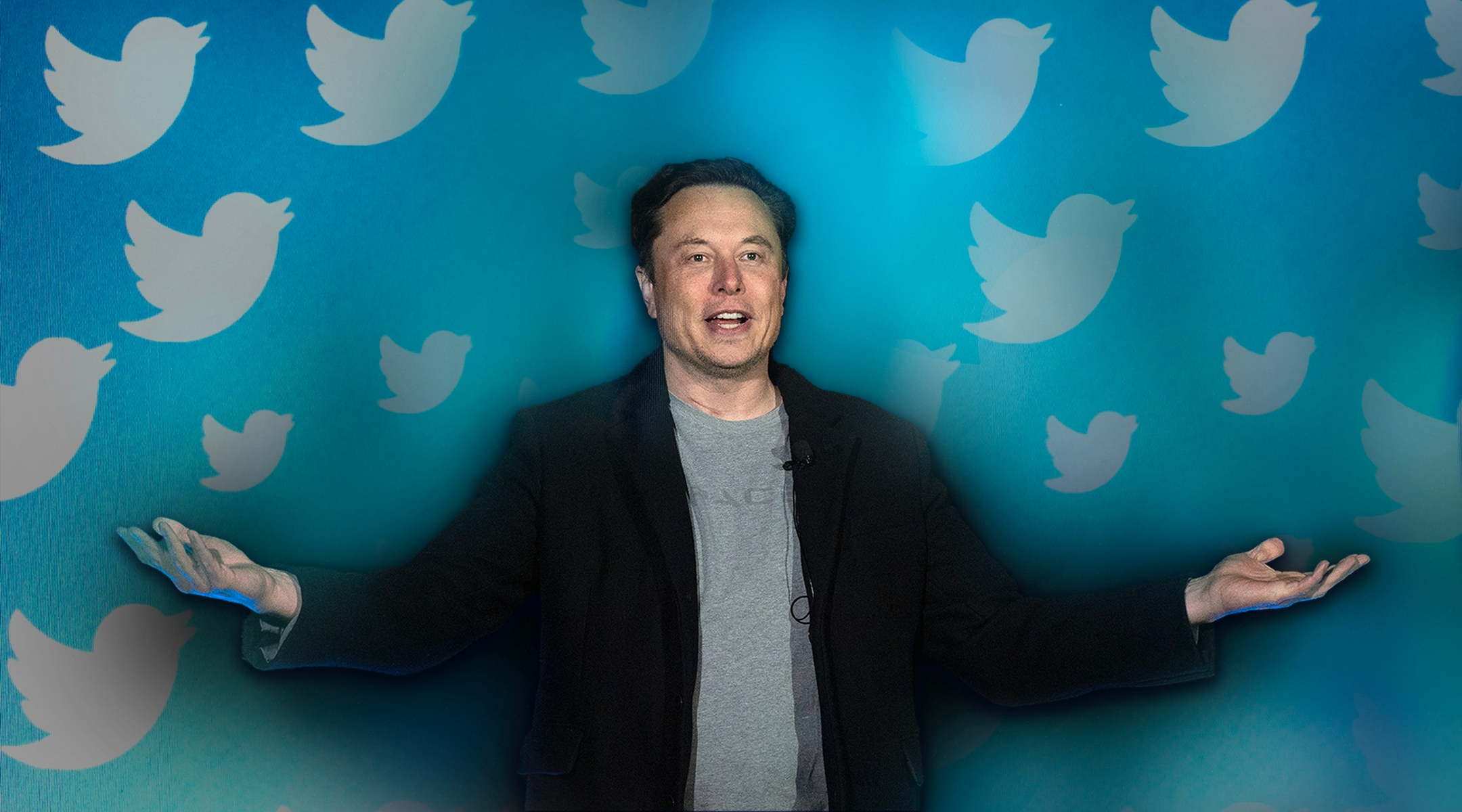 (JTA) — More than 100 Jewish activists have signed a letter appealing to major advertisers to end their relationship with X, the platform previously known as Twitter that is owned by Elon Musk, calling it "a breeding ground for antisemitism" that "represents one of the largest dangers to Jews in years."
The signatories are also calling on Apple and Google to remove the platform from their app stores, which would effectively make X's app inaccessible to the vast majority of mobile users.
The call, issued Tuesday, comes after weeks during which Musk has interacted with white supremacists and written a stream of posts attacking the Anti-Defamation League, the Jewish civil rights organization that has criticized his removal of hate speech guardrails on the site. The ADL also called on advertisers to pause their spending on the platform last year, and Musk has threatened to sue the group for, in his view, tanking X's ad revenue.
"We have watched in horror as a new stage in antisemitic discourse has spread like wildfire on one of America's largest social media networks," said the letter, spearheaded by Elad Nehorai, a progressive Jewish activist. "All of this has been facilitated and enabled by its owner: Elon Musk."
Many of the more than 120 signatories are progressives, among them cartoonist Eli Valley and Ruth Messinger, the former Manhattan borough president and onetime Democratic nominee for New York City mayor who later led the American Jewish World Service, a global aid group.
But a number of prominent Jewish thinkers and activists from across the political spectrum have signed on as well, including David Hazony, a conservative editor who just published "Jewish Priorities," a collection of essays; Archie Gottesman, who sits on the board of the Democratic Majority for Israel and co-founded JewBelong, a group that aims to combat antisemitism and reinforce Jewish identity; and Rabbi Yitz Greenberg, a longtime leading Orthodox Jewish scholar. The letter was also signed by Rabbi Rebecca Sirbu, the executive vice president of the Jewish Funders Network, and Rabbi Isaiah Rothstein, a scholar and public affairs adviser at the Jewish Federations of North America, though neither listed their organizational affiliations.
"We are alarmed by his targeting of the ADL: not because of our views of the organization (we represent a wide range of views, including some who fundamentally oppose the ADL as well as staunch supporters), but because of the way he has used the organization as a very clear stand in for an antisemitic representation of Jewish power," the open letter said.
—
The post More than 120 Jewish activists call on advertisers and app stores to drop Twitter/X appeared first on Jewish Telegraphic Agency.
A Jewish-owned hot dog empire began on this Coney Island street corner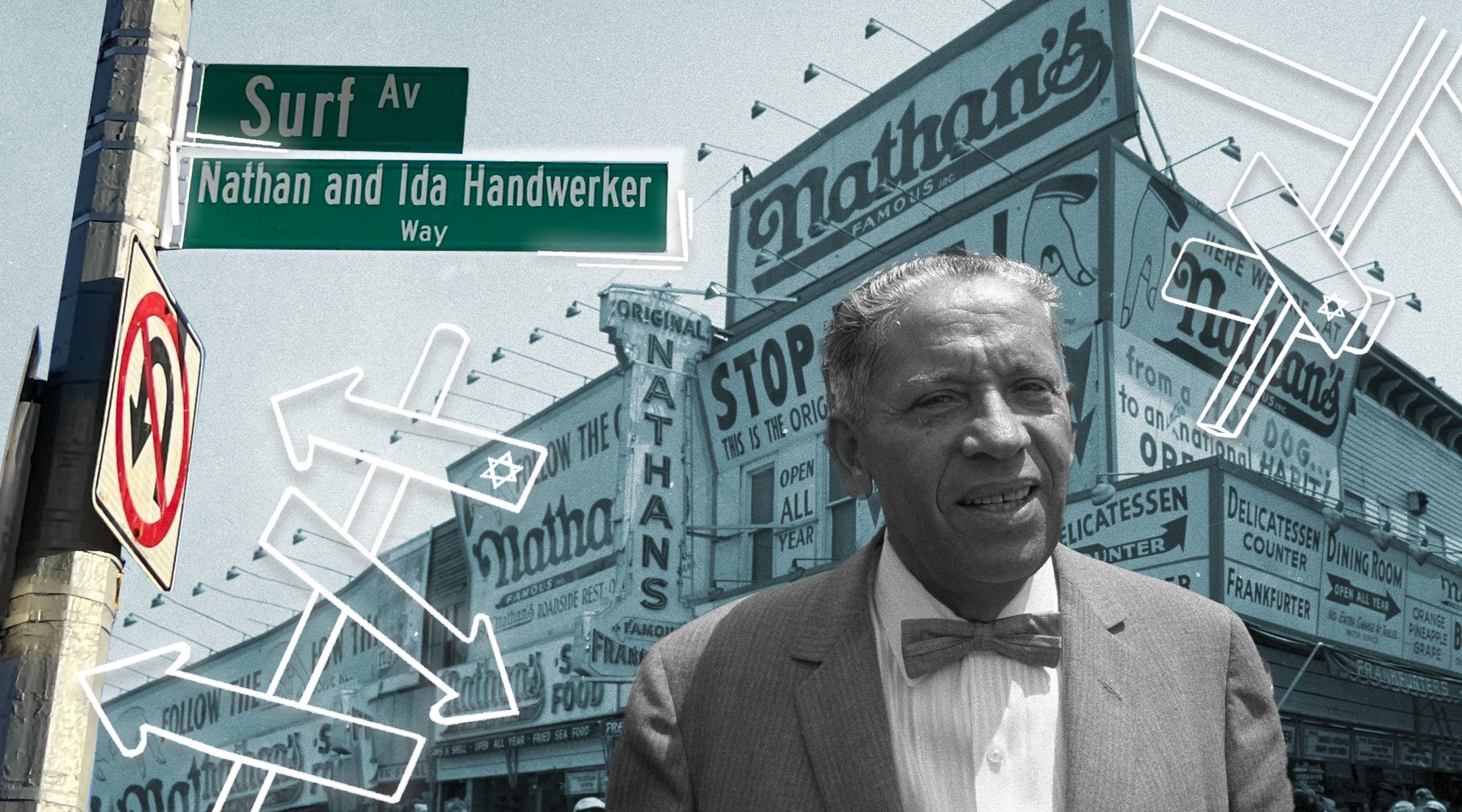 (New York Jewish Week) — For many generations of New Yorkers, eating a Nathan's Famous hot dog from their Coney Island flagship location is a staple of summer. The iconic hot dog stand just celebrated its 107th season at the city's iconic beachside destination. 
Nathan's Famous — which started as a nickel hot dog stand and grew to a franchised business that today has over 350 locations in 12 countries — may be most famous today for its annual Fourth of July hot dog eating contest. It is named for its founder, Nathan Handwerker, a Polish Jewish immigrant who, along with his wife, Ida, opened Nathan's Famous in 1916, when he was 19.
"It was his life," Handwerker's grandson, Lloyd Handwerker, who made a 2014 documentary and wrote an accompanying book about his family history, both titled "Famous Nathan," told the New York Jewish Week
"He had brilliant instincts about running a business — basic ideas which seem simple, but they work well," Lloyd said. "Which is keeping the price low, having the quality be great, being a stickler, paying people well and caring about the customer."
On Sept. 24, 2016, the 100th anniversary of the founding of Nathan's Famous, New York City co-named the corner of the Surf and Stillwell Avenues Nathan and Ida Handwerker Way. 
"Nathan and Ida Handwerker worked together for over 50 years and were part of the few generations who formed the rich Coney Island culture that is now renowned throughout the nation and all over the world," Lloyd Handwerker's cousin, William, said at the unveiling event. "It is an honor to celebrate their legacy by memorializing their names on the street corner that houses the original Nathan's."
(Lloyd was supposed to give a speech alongside his family, but his father, Sol, died just days before the ceremony.) 
Also present that day was Eric Adams, who at the time was Brooklyn Borough President, and Mark Treyger, the Jewish city council member for District 47, which includes Coney Island. "The corner of Surf and Stillwell Avenues in Coney Island is now known as Nathan and Ida Handwerker Way, after the husband and wife team who grew a hot dog food cart into a brand that is known worldwide," Treyger said at the ceremony. 
"The inspiring story of these two immigrants, who came to this country facing an uncertain future, working hard to create a product that means so much to so many, is what the American Dream is all about," he added.
Handwerker arrived in the United States from Poland in 1912 and took a job as a delivery boy during the week. On the weekends, he sliced rolls at Feltman's German Gardens, a restaurant in Coney Island — where he met a waitress who would become his wife. 
By 1916, the couple had saved $300, enough to open their own, competing hot dog restaurant. They used Ida's secret spice recipe to make their hot dogs, for which they charged 5 cents — half the price of a dog at Feltman's. 
Considering the low price of the product, customers were skeptical at first, so Handwerker allegedly hired men to wear white coats while eating his hot dogs. The image would lend his business credibility, as customers figured that if doctors were eating the hot dogs, they could, too. 
The business grew steadily over the next half century, with Handwerker working 18-20 hours a day cooking food, selling it and running the business. When the company went public in 1968, Handwerker was elected chairman of the board.
"As a grandfather, he was a very sweet, soft guy. I had no idea what kind of boss he was," said Lloyd. "It's different for different people, but I found out he was pretty tough. He was a stickler, and he was clearly a perfectionist about everything — about the quality, about the workers."
As for Ida Handwerker, in addition to creating the recipe for the hot dogs, she was often in the back kitchen, peeling and chopping onions, garlic and potatoes, Lloyd said. "My grandmother, too, my dad said, was also pretty tough in her own way," he said. "She worked in the business for many, many years alongside [Nathan], especially in the early days. She was a great grandmother, warm and wonderful. But I guess they both came up hard and tough."
By the time Nathan Handwerker died in 1974 at 81, Nathan's Famous Hot Dogs was a household name. Over the years, the hot dog stand became a favorite for celebrities like Barbra Streisand and Regis Philbin. In 1936, the hot dogs were served at a lawn party hosted by President Franklin D. Roosevelt in honor of King George VI and Queen Elizabeth. 
The Coney Island location was also an essential stop for politicians from City Council members to the president of the United States. "No one can hope to be elected to public office in New York without having his picture taken eating a hot dog at Nathan's," former New York Gov. Nelson A. Rockefeller once told Handwerker during a campaign visit to Coney Island, according to the New York Times. 
Handwerker retired to Florida in 1972, with his son Murray taking over and expanding the business. Nathan's first hot dog eating contest was that same year.
Lloyd Handwerker, who was 17 when his grandfather died, began working on his film in the 1980s, and over the course of 30 years he interviewed some 75 friends, family members and associates of Nathan's Famous. "My grandfather was always telling stories around the dining room table at the holidays and dinners," he said. "By the time I took a video class and had access to a camera, my grandfather and my grandmother had passed away, but I still thought 'we should be preserving this history.'"
Though he never worked at Nathan's Famous, Lloyd, who grew up in a Reform Jewish household in Long Island, said that he has fond memories of visiting his grandparents' office in Coney Island, as well as celebrating Jewish holidays at their house in Florida. "My grandmother cooked amazingly, so I have a lot of great memories of Passover in particular," he recalled. Lloyd said that though his grandfather grew up traditionally religious in Poland, he didn't keep many traditional customs by the time he came to the United States. 
And yet, some tenets of Judaism were deeply ingrained in the entrepreneur: Though he didn't hire a rabbi to certify the kitchen, Handwerker coined the term "kosher-style" for his restaurant, because his hot dogs were made with 100% beef and therefore could be kosher. 
Plus, "the one day that the restaurant was closed out of the whole year was Yom Kippur, so it still obviously meant something to him," Lloyd said of his grandfather. 
Nathan's Famous is now owned by Smithfield, a subsidiary of the Chinese meat and food processing company WH Group. However, the family still owns the original Coney Island building and is the landlord for Nathan's Famous there.  
"As far as his legacy, he was obviously very proud of what he created," Lloyd said of Nathan. "He was a pretty humble guy, but look at what he did: He came from starvation in Poland, without an education. He didn't know how to read or write, he was basically illiterate and he built this institution that  everyone has a story about. It's amazing."
—
The post A Jewish-owned hot dog empire began on this Coney Island street corner appeared first on Jewish Telegraphic Agency.
​​Biden's new book ban czar is a longtime progressive Jewish leader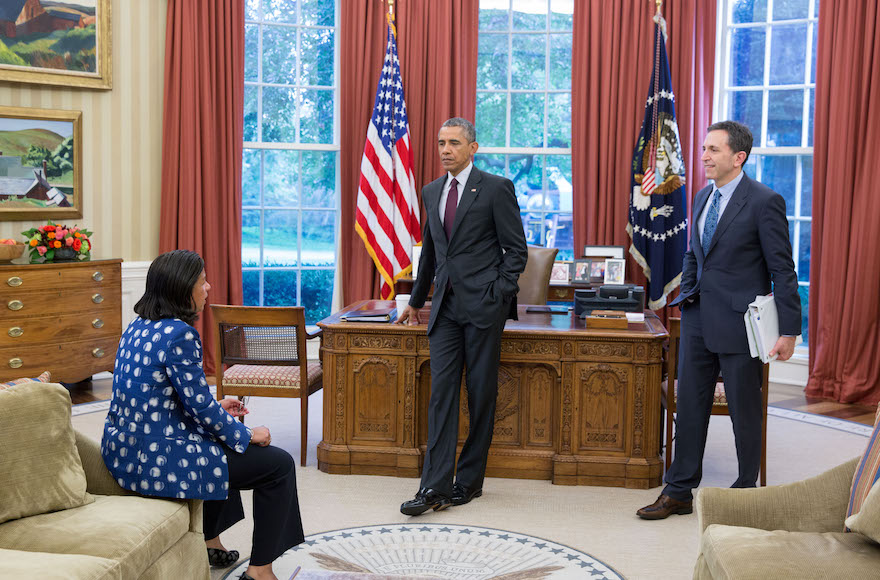 (JTA) – The Biden Administration's new point person for combating book bans at school districts and public libraries across the country is a gay, Jewish progressive activist who has served as a government liaison to the Jewish and LGBTQ communities.
The appointment of Matt Nosanchuk comes as the thousands of book challenges nationwide have focused on books with LGBTQ as well as Jewish themes, in addition to works about race. Nosanchuk was named a deputy assistant secretary in the Department of Education's civil rights office earlier this month. In that role, he will lead training sessions for schools and libraries on how to deal with book bans — and warn districts that the department believes book bans can violate civil rights laws.
An Education Department official recently told the 74, an education news site, that the bans "are a threat to students' rights and freedoms."
"I am excited to return to public service to work on behalf of the American people," Nosanchuk posted to LinkedIn earlier this month. "There is a lot of important work to do!"
The Education Department declined to make Nosanchuk available for an interview. He has already taken heat from conservative outlets, which have pushed the narrative that the books being removed from schools and libraries are too sexually explicit for children. Kayleigh McEnany, the Fox News host who served as Donald Trump's press secretary, called him a "porn enforcer" on-air.
But his appointment has been celebrated by librarians and book access activists. "This is a step forward for the Biden Administration, who has heard the concerns of parents and taken action, but it is just the beginning," the National Parents Union, a progressive parental education activist group, said in a statement.
Nosanchuk's career has largely focused on working with the LGBTQ and Jewish communities. In 2009, after serving in a number of roles in Washington, D.C., Nosanchuk was appointed as the Department of Justice's liaison to the LGBTQ community — a position he held while Obama was still publicly opposed to same-sex marriage. He later worked on the Obama administration's opposition to a law barring same-sex couples from receiving federal benefits.
He subsequently served as the White House liaison to the Jewish community during Obama's second term, and in 2020 was the Democratic National Committee's political organizer for Jewish outreach and LGBTQ engagement. That same year, he cofounded the New York Jewish Agenda, a progressive policy group that he led until earlier this year.
Nosanchuk's first webinar in his new role was held Tuesday in partnership with the American Library Association, an organization with which a number of Republican-led states have recently cut ties. He begins his work after a year that has seen several school districts take aim at books focused on Jewish experiences or the Holocaust.
Two weeks ago, a Texas school district fired a middle school teacher reportedly for reading a passage from an illustrated adaptation of Anne Frank's diary to eighth-grade students. Other schools' removals of "The Fixer," a Jodi Picoult novel about the Holocaust and other texts have been likened to Nazi and Stalinist book burnings —  comparisons that proponents of the book restrictions reject.
Democratic politicians, including House Minority Leader Hakeem Jeffries, have accused Republicans of wanting "to ban books on the Holocaust." A recent Senate hearing on book bans included testimony from Cameron Samuels, a Jewish advocate for access to books, along with numerous references to "Maus," a graphic novel by Art Spiegelman about the Holocaust that was pulled from a Tennessee middle school curriculum last year.
PEN America, a literary free-speech advocacy group, welcomed Nosanchuk's appointment.
"Book removals and restrictions continue apace across the country, as the tactics to silence certain voices and identities are sharpened," the group said in a statement. "Empowering the coordinator to address this ongoing movement is critical."
—
The post ​​Biden's new book ban czar is a longtime progressive Jewish leader appeared first on Jewish Telegraphic Agency.