Israelis are going forward with their weddings despite war and loss in their own families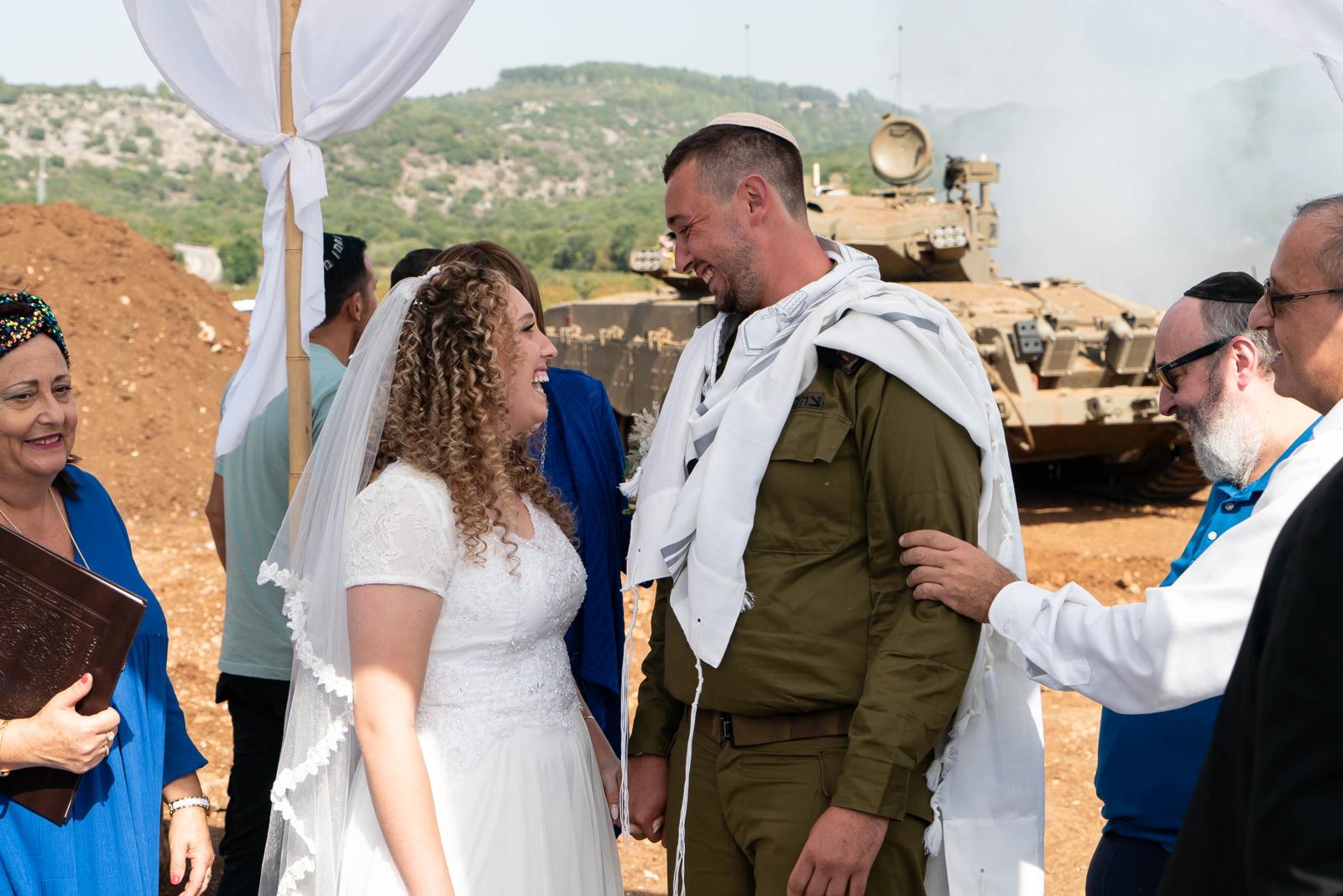 TEL AVIV (JTA) — Doron Perez thought he would be supporting his son Yonatan under the huppah at Yonatan's wedding last week. Instead, it was Yonatan holding him up — and defying all odds to do so.
Yonatan Perez had been shot in a battle with terrorists on Oct. 7. His brother Daniel Perez was missing in action, and Daniel's tankmates were dead and abducted. Their country had been plunged into despair.
And yet the family went on with the wedding on the date set months prior, despite the pain they all felt.
"We couldn't really think about [the wedding] for the first few days, and with Yonatan injured, we didn't quite know what to do," Doron Perez, a rabbi and executive chairman of the Mizrachi World Movement, told the Jewish Telegraphic Agency.
But five days after the attack, when Daniel was officially declared missing and it became clear that Yonatan would recover enough to return to his unit, the path forward became clear. Yonatan and Galya Landau, whose family had been evacuated from their kibbutz, wed at Yad Binyamin, where the Perez family lives, on Oct. 17.
"It wasn't a difficult decision but it was difficult to go through the experience of the decision," Perez said. The wedding itself, he said, was "a happy event" despite the circumstances.
"It just felt holy," he said. "It felt like we're living in a special time of big things happening … and even though the price has already been so difficult, the overriding feeling was one of happiness, one of just celebration."
The family's experience was an extreme version of what many couples in Israel are going through, as they decide whether and how to follow through with their weddings despite the pain and upheaval instigated by Hamas' attack on Israel.
Some are downsizing their celebrations because family and friends from abroad are unable to come. Many also want to ensure that guests can get to bomb shelters if needed. Others are seeing the guest list grow as bringing joy to brides and grooms has joined the tasks for which Israelis are volunteering in droves.
Some couples are rushing their nuptials in advance of grooms heading to the reserves. And a few have gotten married on the front lines, their parents and fellow soldiers the only guests at ceremonies in the shadow of war.
Reuven Lebetkin, 25, and Shirel Tayeb, 23, were supposed to get married on Monday with many of their family members in attendance from overseas. Both moved to Israel with their families as children, Lebetkin from Miami and Tayeb from France. Instead, they had an intimate wedding at Israel's northern border, where threats from Hezbollah in Lebanon loomed.
"That's the date that we decided beforehand. We don't believe that it's good luck to push it off," Lebetkin said. "Also, if we do it means that we give into the terrorism."
The couple had chosen a song by Israeli musician Noam Banai to play during the veiling ceremony, called a bedeken. They were shocked to see Banai himself at the wedding, in a surprise organized by his friends. Banai ended up playing for the entire ceremony.
Other prominent Israeli musicians have made appearances at wartime weddings. The religious pop star Ishay Ribo played at a backyard wedding where the groom was on a 24-hour leave, according to a report in the Times of Israel, and Ivri Lider sang his hit "I was Fortunate to Love" at a wedding that was downsized from a 400-person hall to an apartment balcony. (Lider also sang the song at the funeral of a soldier who had planned to have it played at his wedding on Oct. 20.)
Hanan Ben Ari surprised another couple, Nadav and Noam, at their ceremony on a military base. Eden Hasson sang for a couple after encountering their wedding while visiting a military base to cheer up soldiers. And the singer Ariel Zilber posted a video of himself performing at a different wedding in the north on Thursday, a red carpet laid down next to a military truck, the bride wearing military attire along with a veil and flowers.
The weddings frequently go viral on social media, in an indication of how deeply the traumatized nation is craving signs of joy and hope.
For the Perez family, just being able to hold the wedding at all was a triumph. It was Yonatan who had alerted his father that Daniel's tank was missing from their base near Kibbutz Nahal Oz — a fact they found reassuring. "It was a good sign," Perez said, pointing to the tank's indestructibility.
But Yonatan, who was shot in the leg during a five-hour gun battle in the Gaza envelope, painted a dire picture of the base, which was overrun by terrorists. "There was death and destruction all around. RPGs everywhere. Every army vehicle had been destroyed," Perez said, citing Yonatan.
One of the soldiers from Daniel's tank, Tomer Liebowitz, was found dead. Another, Itay Chen, was confirmed captured. Chen's father, Ruby, last week also celebrated a lifecycle event — a bar mitzvah — in the absence of his older son, telling JTA that his youngest son "deserved to have a happy bar mitzvah." Then he flew to the United States to lobby at the United Nations and in Washington, D.C., on behalf of his son and the more than 220 other Israelis taken hostage.
Daniel's absence was palpable at Yonatan and Galya's wedding. "When the rabbi mentioned him, it was very, very hard and I broke down," Perez said. "I had my son holding me up, instead of me holding him up."
His daughter, meanwhile, said the hardest part of the wedding was being pictured with all her siblings — minus one. "It was a moment that was hard, and we acknowledged that and validated it."
But, Perez continued, even though Daniel's "presence, or lack thereof, permeated the whole wedding, it didn't set the tone."
Jewish weddings have a built-in acknowledgment of catastrophe amid joy, in the breaking of the glass that takes place at the end of the ceremony. Jewish tradition also holds that weddings should go on as planned whenever possible, no matter the circumstances.
Perez said he had gained a new appreciation for those ideas, in an acutely personal way.
"Unfortunately, I've had to learn that it somehow is possible to live with such conflicting, contradictory feelings as deep pain, worry, dread, fear… and at the same time to marry off a son," he said. "I have learned that it's possible to do both. To sort of compartmentalize, and I think I did that at the wedding."
He said he knows his family isn't the first to forge forward in moments of crisis.
"I've also drawn a lot of strength that throughout the most challenging times, Jewish people got married and had families," he said, citing the Holocaust as an example. "We are part of a people that sanctifies life. It'll be a new dawn and a much better time for the Jewish people going forward."
—
The post Israelis are going forward with their weddings despite war and loss in their own families appeared first on Jewish Telegraphic Agency.
At House hearing, pro-Palestinian protester interrupts Jewish student's recounting of antisemitic death threats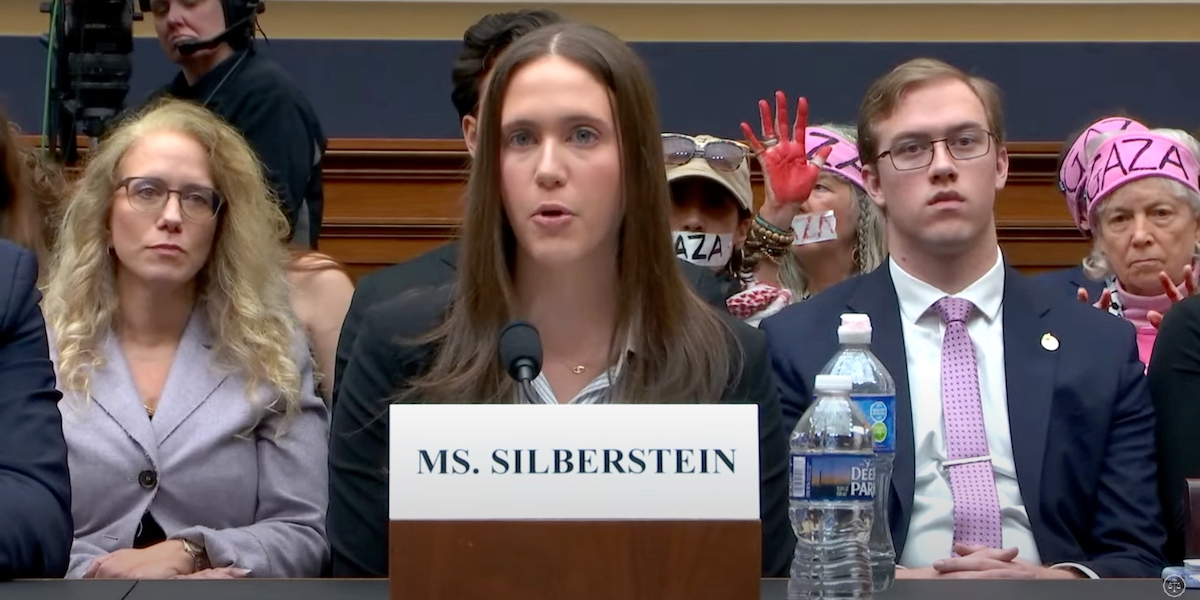 (JTA) – As Amanda Silberstein testified to the U.S. House of Representatives on Wednesday about how a student at her university had threatened to kill and rape Jewish students, she was interrupted.
"Free Palestine," a protester shouted from the audience during Silberstein's testimony at a hearing on free speech and antisemitism on college campuses. "Anti-Zionism is not antisemitism."
Silberstein is an undergraduate at Cornell University, where a student was recently arrested for making antisemitic death threats. Silberstein, a member of the student board at Cornell's Chabad-Lubavitch movement chapter, had just described how "professors and student organizations have been fueling Jew-hatred and spreading it across campus with disregard or potentially even with deliberate intent to incite." 
It was one of several times when pro-Palestinian protesters interrupted witnesses at the House Judiciary Committee hearing titled "Free Speech on College Campuses." Throughout the more than three-hour hearing, they called for a ceasefire in the Gaza Strip; decried a purported silencing of Palestinian students on campus; and protested the recent House censuring of Michigan Democratic Rep. Rashida Tlaib, who is Palestinian-American, for her use of the pro-Palestinian phrase "From the river to the sea," which Jewish groups and others have called antisemitic.
This was not the first time in recent days when pro-Palestinian protesters disrupted congressional proceedings: Last week, hecklers also tried to derail U.S. Secretary of State Antony Blinken as he implored Congress to allocate emergency funds for Israel. 
But the dissonance of the moment — Silberstein, unlike Blinken, was not using her testimony to advocate for Israel — exemplified the tense atmosphere, as Republicans and Democrats alike openly pondered the question of whether, and how, speech about Israel and Jews should be policed on campus and in the House. 
"I happen to believe in the eradication of Hamas. The same freedom of speech that protects my right to advocate that position is at stake here, is it not?" California Republican Rep. Tom McClintock said at one point to Kenneth Marcus, a witness who served in the Trump administration's Education Department and chairs the Brandeis Center for Human Rights Under Law, a pro-Israel group that has repeatedly brought legal challenges against universities it says fail to properly discipline anti-Zionist speech. 
The hearing was originally intended to focus on the issue of conservative college students allegedly being silenced. But in light of Hamas' Oct. 7 attack on Israel, it largely centered on antisemitism on campus and beyond as student and faculty rhetoric around Israel has reached a fever pitch. 
Silberstein had been invited to testify in part because Cornell recently canceled classes for a day because of the threats against its Jewish students. That incident followed a professor at the Ivy League university publicly praising the Hamas attacks, turning the school into a flashpoint for the rising temperature around antisemitic and anti-Zionist speech on campuses.
Some Republicans, including hardline right-wing Florida Rep. Matt Gaetz, suggested that efforts to restrict pro-Palestinian or pro-Hamas speech on campuses were misguided. Another, California Rep. Kevin Kiley, accused university administrators at schools such as Harvard of relying on free speech as an excuse to avoid condemning students with pro-Hamas views. 
A Cornell alum, Texas Rep. Wesley Hunt, condemned the school's administration for not immediately firing the pro-Hamas professor, suggesting administrators would have done so if he had shared anti-trans or anti-Black views instead.
One Democrat, Georgia Rep. Hank Johnson, said the hearing itself was hypocritical in light of the House's vote the previous night to censure Tlaib over speech related to Israel. 
"It's ironic that we're holding this hearing today about censorship and speech on campus, but last night, MAGA Republicans and others censured the only Palestinian voice in the House of Representatives because they didn't like what she had to say," Johnson said. "She didn't threaten anybody. She did not advocate for violence. She stated a view, as happens on college campuses." (Nearly two dozen Democrats also voted to censure Tlaib, saying that they believed her use of the phrase "From the river to the sea" implied threats of violence toward Jews and Israel.)
McClintock grilled Silberstein and Marcus about whether certain Israel-related speech should be protected on campus. He asked Marcus if "the mere repetition" of the phrase "From the river to the sea" should be "banned or punished."
In his answer, Marcus referred to an executive order by President Donald Trump that included some anti-Israel speech under the Education Department's civil rights protections. Speech, he said, could be used "as an indicator of the nature of conduct." He added that, if a violent antisemitic action followed anti-Israel speech, the prior speech could be policed as an example of predicting that conduct.
"Conduct often follows words," Silberstein said in agreement, linking chants at Cornell of "From the river to the sea" to antisemitic threats to students. "Speech advocating for violence should not be tolerated on a college campus," she added.
"Well, what about the eradication of Hamas?" McClintock asked her. Silberstein responded that Hamas is "a recognized terror organization," which led McClintock to ask, "So it depends upon your viewpoint, is that what you're saying?"
Gaetz, too, pushed Marcus on whether punishing students who voice support for Hamas amounts to the suppression of legitimate speech. He suggested that those who have called for the suppression of bigoted speech are being inconsistent. 
"I am reminded of the great philosopher Austin Powers, who said, 'There's only two things I can't stand: people who are intolerant of other people, and the Dutch,'" Gaetz said, referencing the series of spy comedies starring Mike Myers. "And a similar tension seems to be on display today."
Silberstein and Marcus were joined on the witness panel by Stacy Burdett, a senior executive at the Anti-Defamation League; two non-Jewish conservative campus activists; and Pamela Nadell, the director of American University's Jewish studies program and the author of a forthcoming book on antisemitism in America. 
Nadell sparred with Gaetz over whether criticisms of "globalists" or progressive Jewish philanthropist George Soros, both frequent targets of Gaetz's ire, should always be seen as antisemitic.
Elsewhere during the hearing, Judiciary Committee Chair Jim Jordan, a Republican, refused to respond to California Democratic Rep. Eric Swalwell's queries about why his committee left up a tweet reading "Kanye. Elon. Trump." for months after the rapper Kanye West embarked on a stream of antisemitic comments. 
—
The post At House hearing, pro-Palestinian protester interrupts Jewish student's recounting of antisemitic death threats appeared first on Jewish Telegraphic Agency.
Antisemitic incidents up 800% in the Netherlands since Oct. 7, Dutch watchdog reports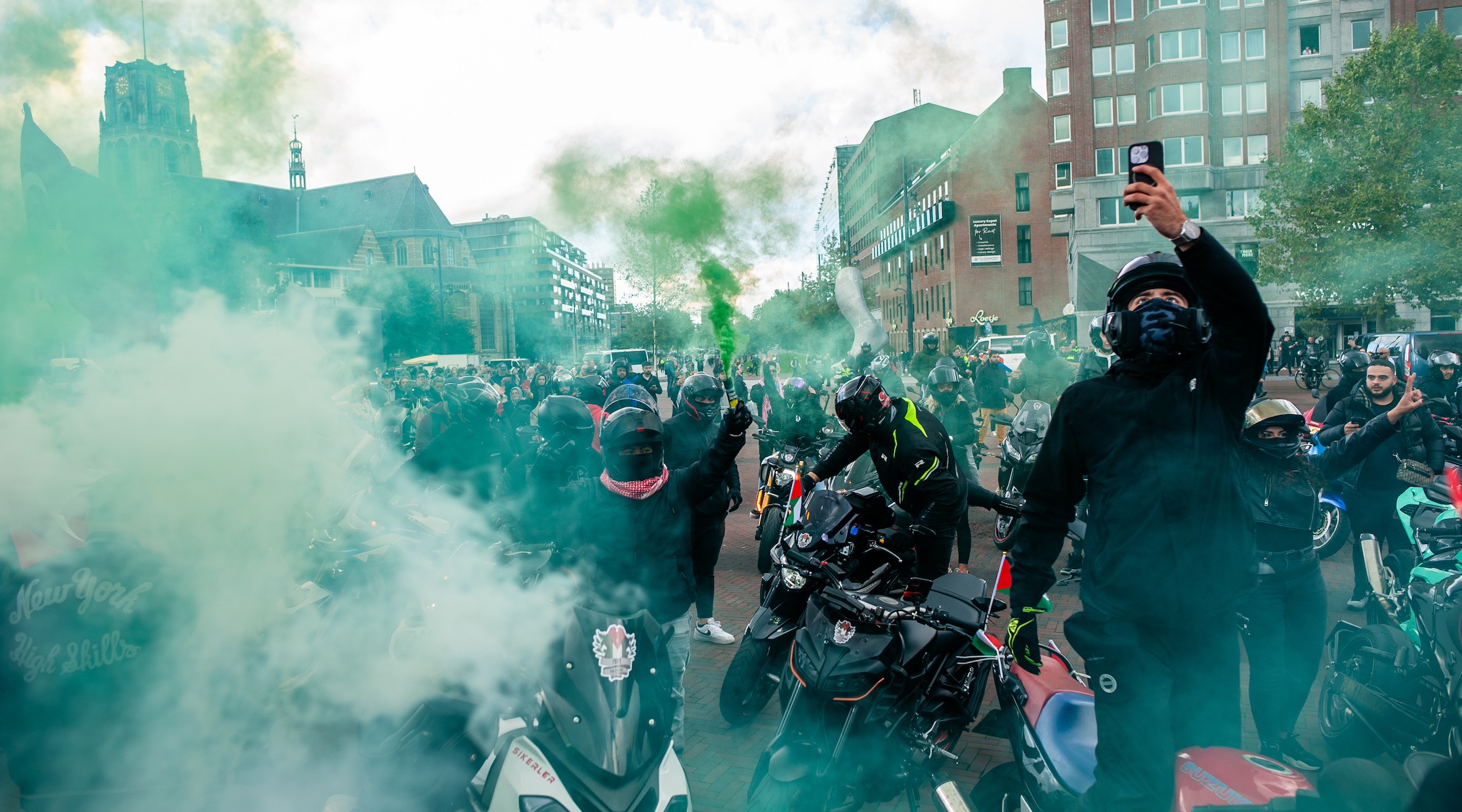 (JTA) — Reports of antisemitic incidents have spiked over 800% in the Netherlands since Oct. 7, a leading Dutch-Jewish watchdog has reported.
The surge only reflects antisemitic acts reported to the Center for Information and Documentation on Israel (CIDI), not all incidents filed to police departments and other anti-discrimination bureaus.
CIDI would not release specific incident numbers but said the barrage of reports it has received since the start of the Israel-Hamas war is 818% higher than its monthly average recorded over the past three years. The group tallied 183 total incidents for all of 2021.
"It is very worrying that Jews in the Netherlands are held responsible for conflicts taking place in the Middle East," read the CIDI report released on Tuesday. "It seems as if Israel is being used to beat Jews."
According to CIDI researcher and policy advisor Hans Wallage, it's not only the numbers that have grown — the range of attacks on Jews has increased as well.
"I see way more variety of different incidents that I didn't see before, and also more variety in the place where it happens," Wallage told the Jewish Telegraphic Agency. "There are a lot of schools — elementary, high schools, universities — having way more incidents that I didn't see before the 7th of October."
In one school, a Jewish boy was threatened with a knife and hit on the head with a bottle while classmates called him "kankerjood," a Dutch slur meaning "cancer Jew." Another boy was told that his classmates would throw him off a bridge and drown him because he was Jewish. Recurring reports describe students being accosted for wearing Star of David necklaces, being shown the Hitler salute and being told that Hitler "didn't finish his job."
Wallage believes the rash of school incidents has to do with social media, which gives children unprecedentedly rapid and unchecked access to hate speech, conspiracy theories and incitement.
"We don't have a filter as adults sometimes, but children completely don't have a filter of what to share — they share everything," he said. "What's a lie? After a while, if you read it all the time and share videos all the time online, it's going from the online world to the real-life world."
Most of the conspiracy theories circulating through Dutch schools follow old antisemitic tropes, simply repackaged for a younger generation, said CIDI director Naomi Mestrum.
"It's the same conspiracy theories," Mestrum told JTA. "Jews control the world and the media, and this [Hamas attack] must be fake, they staged this because it fits their agenda."
Outside of schools, CIDI has recorded mezuzahs torn off doors and swastikas sprayed on windows, along with frequent threats and verbal abuse. General antisemitic statements on social media are excluded from the figures, unless they were specifically sent to an individual through a direct message.
Shortly after Oct. 7, the only Jewish weekly magazine in the Netherlands — Nieuw Israelietisch Weekblad, known in English as the Dutch Jewish Weekly — switched from its clear plastic packaging to anonymous white envelopes, according to editor-in-chief Esther Voet. She said that her staff was flooded with calls from anxious subscribers who didn't want their neighbors to know they were Jewish.
Although it is typical for antisemitism to flare in the Netherlands during conflicts in Israel and the Palestinian territories, CIDI researchers said they have never seen a surge of incidents like this before. And like other Jewish communities across Europe, many Dutch Jews feel they are in new territory.
"People feel that it's different now, and it will be forever different from now on," said Mestrum.
—
The post Antisemitic incidents up 800% in the Netherlands since Oct. 7, Dutch watchdog reports appeared first on Jewish Telegraphic Agency.
Urban Israelis are flocking to the Gaza border to tend farms left suddenly without workers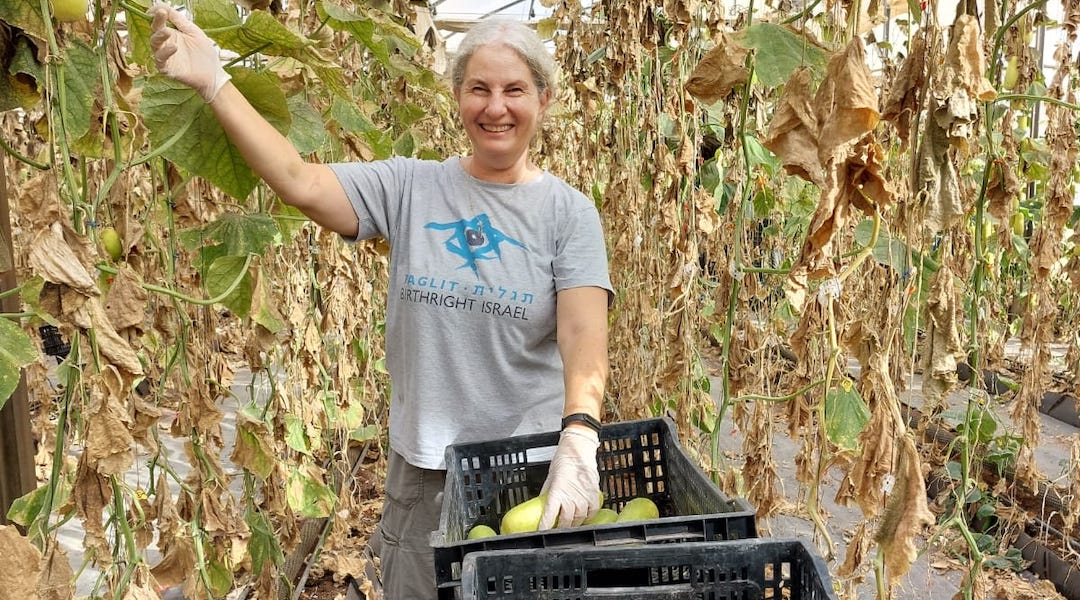 TEL AVIV (JTA) — By now, the dramatic rescue of Amir Tibon's family from Kibbutz Nahal Oz by his 62-year old father, retired IDF General Noam Tibon, has become one of the most widely shared stories of Oct. 7. 
Lesser known but also heroic is the tale of another of Tibon's family members, Dudik Laniyado, who put on his army uniform and sped into the line of fire to tend to the cows that were abandoned that day.
Laniyado, who is Noam Tibon's brother-in-law, is a dairy farmer at Kibbutz Kalya near the Dead Sea. Amid the news of the massacre, he heard from Tibon's rescue mission that the cows of Nahal Oz and other farms near the Gaza border were at risk.
"Dairy cows can live without being milked for one or two days," said Laniyado, but then they begin to dry out, a process that cannot be reversed. Going longer without being milked can cause injury and death.
When he arrived at the closed military area on Oct. 9, he found that Hamas terrorists had destroyed the milking area and the equipment used to feed the cows. Under fire from nearby gun battles, he opened all the gates on the farm and let the baby calves out of their cages, letting them move around for the first time in days and eat food that he gathered from a local agricultural center.
"We got to a place that is a war zone," he said. "There is enormous destruction to all the farms near the border area."
Laniyado was an early arrival to what has become a new passion for Israelis, one they say is nearly as vital to southern Israel's future as the country's war on Hamas in Gaza: tending the farms, animals and fields that have been left fallow by the massive disruption of Oct. 7 and its aftermath.
האיש הזה הוא גיבור. דודיק לניאדו. נשוי לדודה שלי, יעל תיבון. דודיק הוא רפתן וגר בקיבוץ קלי"ה בים המלח. הוא שמע שהפרות בעוטף נשארו בלי מי שיאכיל אותן. עלה על מדים ונסע להאכיל את הפרות בנחל עוז ומקומות נוספים. הציל אותן ואת העתיד של הקיבוצים. מעשה אדיר של אומץ, חסד ואהבה תחת אש. pic.twitter.com/yPLqeOJMDv
— Amir Tibon (@amirtibon) October 9, 2023
Thousands of Israelis have signed up to work the fields and pens, joining regional Whatsapp groups that place local farmers and volunteers where they are most needed. Slots fill within minutes as volunteers trek from their urban homes to pick crops whose regular workers are dead, departed or unable to enter the country. 
Popup farmers markets in city centers are packed with customers seeking to spend their money to help growers whose work they know has been upended. Help is even coming from overseas: Birthright Israel has even called upon its 850,000 alumni around the world to fly to Israel for volunteer opportunities that include picking fruit and vegetables. 
Like the hundreds of thousands of Israelis who have joined the military reserves, the volunteers are stepping in for a depleted workforce — and hoping that the region has a future after the guns stop blazing.
"What happened on [Oct. 7] was a kind of local Holocaust. Its effect could be a holocaust on the economy here," said Dudi Alon, who is the deputy head of the Gaza border's Eshkol Regional Council. He is among the few farmers and security staff remaining at his home of Moshav Yated, just east of the Kerem Shalom border crossing into Gaza.
"There are people who think we are all soldiers now and anyone who comes to help here is like a fighter," he added. "On the other hand, there are those who think it is a moral problem if you risk the lives of volunteers and farmers to work fields under fire."
Surveying his region, Alon believes Hamas aimed to destroy southern Israel's agriculture along with its population. Gaza-area farms, he said, produce 70% of Israel's tomatoes and 30% of its potatoes in addition to other vegetables and dairy products, and rely on a legion of foreign workers. 
Before Oct. 7, he said, the Eshkol Regional Council had 4,000 workers from Thailand who were experienced at farm work. Dozens of Thai workers were murdered on Oct. 7, and dozens more are hostages in Gaza. Most of the rest flew home to their country, leaving fewer than 1,000 now, a loss Alon calls "a death knell to agriculture here." (Guest workers from Gaza also contributed to the workforce.) Farms' planting cycles can last up to eight months, making it harder for them to restart production if they've been abandoned. 
"Hamas intentionally kidnapped and murdered foreign workers in order to frighten the foreign workers to ruin the economy here and they succeeded," said Alon. "Many incredible volunteers are coming to help and support us, [but] at the end of the day there is work that is physically difficult and requires special skills that cannot rely on volunteers." 
Many of the area's residents have been evacuated by the government to safer regions of the country, but a few have remained. Evie Atiya, who lives in Moshav Pri Gan and is still there, recounted that "10 terrorists entered on bikes and started to shoot at houses" on Oct. 7, killing four residents and trapping the entire village in their shelters for 48 hours before they were evacuated by the army. 
Shortly after leaving his shelter "terrified," Ataya learned that the Thai embassy had evacuated more than half of all the farm workers in the area and that only seven of his farm's 24 workers remained. 
"Everything has collapsed," he said. And while the government has long provided financial assistance to the area's farmers, the perceived insufficient response from the finance and agriculture ministries — matching the long hours residents waited in shelters before the army's arrival —  is symbolic of many Israelis' widespread disillusionment with the country's leadership following Oct. 7. 
"It seems like they weren't ready for this," he said, adding that it feels like "they are trying to help but that they are lost." 
Eitan Aharon, secretary of Moshav Mivtahim in the Eshkol Regional council, recently told the Israeli publication Zman Israel, "I am afraid farmers will commit suicide" before help arrives. 
On Wednesday, Israeli Prime Minister Benjamin Netanyahu defended his government's record on financial assistance to impacted communities. At a cabinet meeting, he announced that the government had budgeted nearly $3.4 billion in supplementary funds to help evacuees and local governments in the south and north in November and December. 
"I want to sharpen the point on the financial sum we are going to bring for the benefit of Israel's citizens," he said. "We have already spent many billions to help the evacuees, to help the families of the kidnapped and missing, to help the authorities in the north and south, the reservists, businesses. But we are going to bring much more."
Some government efforts are already being felt: On Thursday, the Ministry of Agriculture plans to convert Jerusalem's Cinema City mall into a market for farmers from the south and north.
Maaya Arfi works at HaShomer HaChadash, an Israeli organization helping connect Israelis to the land through agriculture. It was one of the first groups to raise the alarm about the labor need and continues to organize efforts to assist Israeli farmers. 
"In the next two weeks we can already be at 4,000 volunteers a day," Arfi said of her organization's initiative, which matches Israelis with farmers in need via a hotline and phone application. 
While the precise number of volunteers is unknown, a new poll of Israelis by Tel Aviv University and Ben-Gurion University of the Negev found that more than 40% of respondents had volunteered in some form in the third week of the war.
Some volunteers have come from other Israeli farming communities. Sara Goldsmith, a 57-year old tour guide from Kibbutz Sde Eliyahu, said volunteering to help farmers in the south was keeping her mind off her canceled business.
"October, November and December are peak season for tourism in Israel, and overnight I lost all my groups that I was supposed to be having," she said. "It's a very difficult time for all the tour guides across Israel and many are doing what I'm doing: helping out wherever we can. We don't know when our income is coming in but we have hands and the will to volunteer." 
On Monday, she traveled with a group of approximately 20 members of Kibbutz Sde Eliyahu — ranging in age from 15 to 80 — to help at Kibbutz Saad, which Sde Eliyahu had "adopted" following the outbreak of the war. Saad, which like Sde Eliyahu is a religious kibbutz, was fortunate to have its gate closed on Oct. 7 for Shabbat and was largely spared the worst of Hamas' attack. It instead endured its own kind of trauma, becoming a makeshift morgue, refuge and clinic for the victims of the massacre, especially those who escaped from the Nova music festival at the nearby community of Re'im.
At the kibbutz, Goldsmith helped pick cucumbers grown for their seeds, rather than for eating. Goldsmith's children have also enlisted in the war effort: Her daughter is serving in the military reserves and her son flew back from his home overseas to work full-time on a farm on the Gaza border.
"We are in a helpless situation," she said. "So when you do something you feel a little less helpless."
Another volunteer named Yael, who declined to share her last name out of privacy concerns, traveled from Tel Aviv to Moshav Yesha near Gaza last Saturday with a few friends and work colleagues from a Tel Aviv hospital to harvest tomatoes, passing military checkpoints and torched cars along the way. Working in the fields, she said, was particularly unnerving where there is "no safety gear and there are no shelters in the farms" to protect them from barrages of Hamas rockets, which largely target the south.
Her fear wasn't misplaced. During her shift, Yael heard "really big booms quite close" coming from Israeli airstrikes on Gaza. And at one point, she recalled, she looked around and "I just suddenly see people on the ground, and stood there frozen waiting for it to end." 
When her shift ended a few hours later, the farm owner showed her a crater from a rocket launched by Hamas that had just struck another part of the greenhouse, causing damage only to the tomato plants. 
Those dangers have led some people to flee the south. But Atiya says that no matter what happens, he is determined to stay and work the land. 
"Somebody needs to be here and make food from this land and this is what I do. It's not a choice if I am going back there," he said. "This is my land, this is my house, everything that I know."
Laniyado agrees that the government is flailing but said that conversations with the young soldiers in the area left him optimistic. According to some accounts, soldiers have tended greenhouses that were abandoned on Oct. 7.
"I joked with them and talked with them," Laniyado said. "I believe with complete faith that we will win the war, that we will re-establish the villages, the agriculture will return to what it was and we will learn a lesson and unite around the fact that we are all Jews and that we have no choice. We are dependent on each other."
—
The post Urban Israelis are flocking to the Gaza border to tend farms left suddenly without workers appeared first on Jewish Telegraphic Agency.