Israelis Rally on World Children's Day, Slam UN Silence on Kids Held Hostage in Gaza
The families of the hostages kidnapped from Israel last month and their supporters expressed outrage in various rallies and campaigns on World Children's Day on Monday over the silence from international bodies like the UN regarding the 40 children and babies being held by terrorists in Gaza.
Hundreds of people held simultaneous protests in Tel Aviv and New York outside the offices of UNICEF, the United Nations Children's Fund. Protesters noted that the UN agency ignored the children abducted by the Hamas terror group but did mark World Children's Day by posting a video on X/Twitter highlighting the suffering of Palestinian children in Gaza.
UNICEF chief Catherine Russell also published a special World Children's Day message which likewise made no mention of either the Israeli children murdered during Hamas' Oct. 7 massacre across southern Israel or those still in captivity after being abducted that day.
Hadas Calderon, the mother of two abducted children, Erez and Sahar, opened her remarks at the Tel Aviv rally by ringing a bell and calling out, "UNICEF, wake up!"
"If today is about children's rights, where are my children's rights?" she asked. "How is it possible that in the face of this horror, the world is silent? Organizations like UNICEF are silent. Have you forgotten your role?"
In the background, images of Calderon's children and the others being held hostage were projected onto the UNICEF building.
Yoni Asher, whose wife Doron and daughters Raz, 5, and Aviv, 3, are hostages in Gaza, said, "If I can feel sorrow and concern for every child in the world, how can an international organization like UNICEF not say the same. You cannot define yourself as an organization that protects children's rights if you cannot care for children on both sides of the fence."
The protest was disrupted by red alert sirens triggered by rockets fired from Gaza, prompting demonstrators to take cover on the ground.
Several prominent Israelis presented at the rally, including actors and performers; Vered Windman, CEO of Israel's National Council for the Child; and Shai Gross, the youngest hostage in the 1976 Entebbe hijacking. "I remember the fear, the all-consuming anxiety, and helplessness," recalled Gross, who was six when the Air France flight he was on was hijacked by Palestinian terrorists. "I came back a different child."
Windman addressed UNICEF officials, noting that children were taken from their beds on Oct. 7, some after having been forced to watch the murder of their parents.
"The return of the kidnapped children should not only be a matter for their families, nor only for the citizens of Israel — it should be an international matter," he said. "This is your professional, legal, and above all, your moral duty."
Speaking at the rally in New York, Omer Lubaton-Granot — the head of the hostages forum in New York who has four family members in captivity, including three children aged 9, 12, and 17 — said, "A search on the UNICEF website led to zero messages on the subject of the Israeli abductees in Gaza. There are updates on difficult stories in Kyrgyzstan, in Haiti, and in Africa — but there is not a single update on the largest abductee crisis in history."
Meanwhile, not far from the UNICEF building in Tel Aviv, a different demonstration took place at a Toys "R" Us storefront in the Dizengoff Center mall.
Conceptualized by Israeli photographer Ziv Koren, the toy store's window was turned into a somber space of remembrance to mark World Children's Day with an exhibit displaying toys collected from the ruins of Kibbutz Be'eri.
Of the 29 residents of Kibbutz Be'eri who are being held hostage in Gaza, 11 are children. Members of the kibbutz, including children, attended the Toys "R" Us exhibit.
A sinister video clip that was also released on Monday features the Be'eri toys as they once were and as they appear now, charred, broken, and falling apart.
View this post on Instagram
Also on Monday, the Israeli Association for Early Childhood launched a video campaign leveraging World Children's Day to raise awareness about the plight of the young abductees.
The video features superhero toys, each wrapped in flags from the United States, Germany, Argentina, and Japan, urging those countries to "bring my hero home." Below the superheroes is a child in a terrorist tunnel, covered in an Israeli flag.
The text that overlays the images reads: "Wake up world! When your children dream of superheroes, our children were kidnapped to Gaza by Hamas-ISIS and dream of freedom and their basic rights!"
The association said that World Children's Day was a "day (of no) rights (and no) children" for Israeli children.
"The terrible events of 7.10.23, murder, burning, rape, killing, kidnapping, and especially crimes done to children, babies, and toddlers, constitutes a blunt and intolerable violation" of the UN Convention on the Rights of the Child.
Israeli President Isaac Herzog met with families of the children at another event on Monday at the President's Residence in Jerusalem.
"Today is the UN's International Children's Day. A day designed to protect our children. Kidnapping children from their beds, kidnapping children in general [is] a barbaric act, a terrible act that violates all international codes. The enemy who kidnapped these children is trying to use them and the other abductees as a psychological tool, as a tool for extortion," Herzog said in a statement.
The World Children's Day events came amid news of a possible hostage deal, with the White House on Monday saying it was "closer than ever before" to reaching a deal to release those in captivity. The US and Qatar have been working through diplomatic channels to broker a deal between Israel and Hamas terrorists to release at least some of the hostages in Hamas-ruled Gaza.
The post Israelis Rally on World Children's Day, Slam UN Silence on Kids Held Hostage in Gaza first appeared on Algemeiner.com.
Conservative Judaism's flagship in mourning after death of 3 influential scholars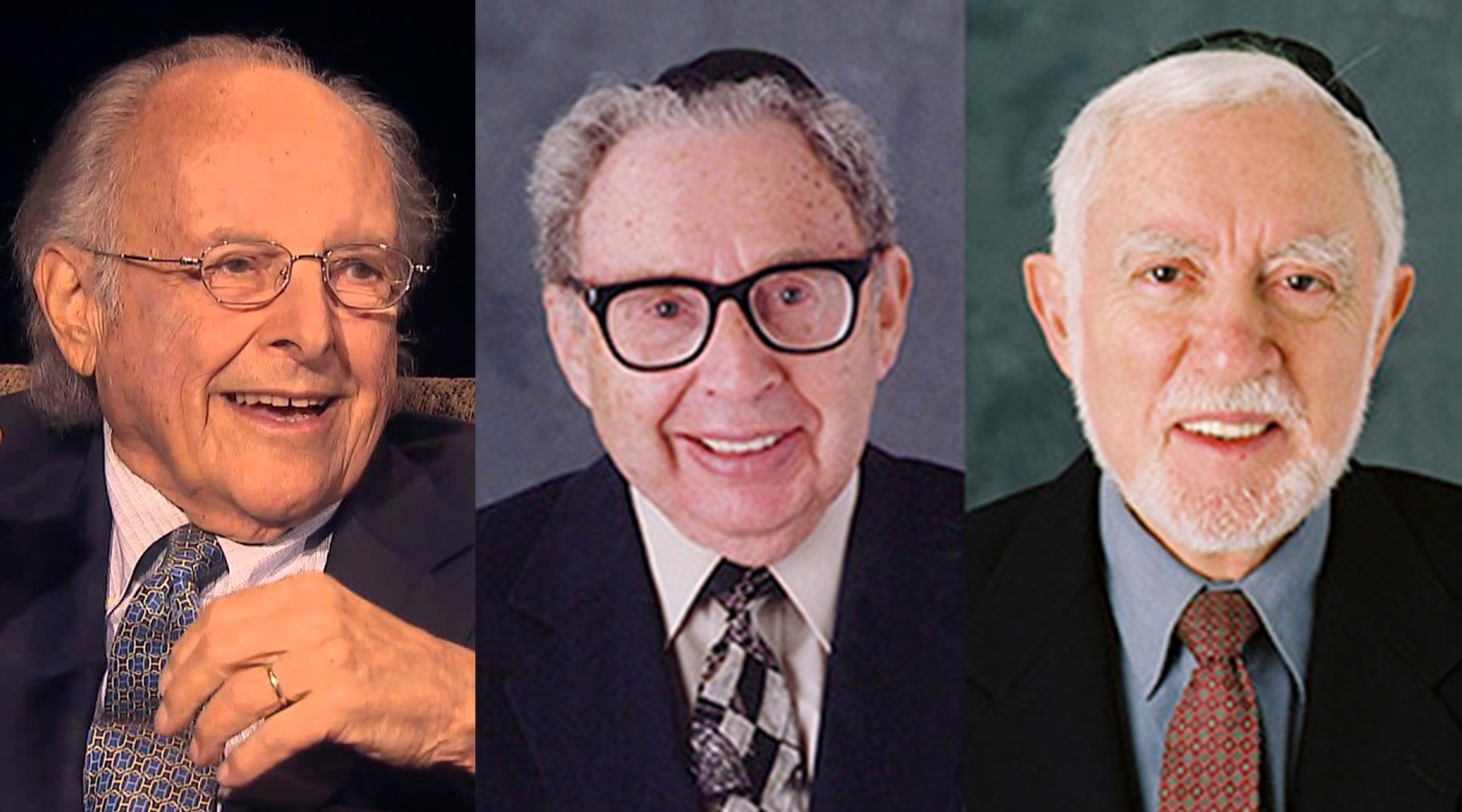 (JTA) — The Jewish Theological Seminary community is in mourning after three revered scholars long associated with the Conservative movement flagship died within days of each other.
Israel Francus, who died Nov. 15 at age 96, and Rabbi Avraham Holtz, who died the same day at age 89, were both professors emeritus at the seminary — Francus as a longtime professor of Talmudic and Holtz in Hebrew literature.
Samuel Klagsbrun, who died Nov. 11 at age 91, was a psychiatrist and medical director of a private psychiatric hospital who for many years taught pastoral psychiatry to JTS students, and was instrumental in the creation, in 2009, of the seminary's Center for Pastoral Education.
"Together, these three individuals reflect the breadth and depth of a JTS education," Shuly Rubin Schwartz, the chancellor of JTS, said in a statement to the Jewish Telegraphic Agency. She noted that the three represented "the importance JTS attaches to educating not only the texts, history, and ideas of our people but also ensuring that future clergy were attuned to the heart, soul, and emotional lives of the Jews they would serve."
Klagsbrun was perhaps the best known of the three outside of the seminary. The founder and executive medical director of Four Winds Hospitals in Katonah and Saratoga Springs, New York, he sought to reconcile the sometimes competing claims of religion and psychiatry, telling the New York Times in 2002, "Psychiatrists were not paying any attention to religion or the spiritual aspects of life. And religion and religious values and backgrounds and spiritual dimensions are extremely important to people's dynamics."
He was also known for his work on psychological challenges facing cancer patients, his approaches to the ethics of death and dying, and a devotion to improving hospice care.
Born in Antwerp, Belgium, Klagsbrun emigrated with his parents to Manhattan, where he attended the Ramaz school, Yeshiva High School and City College. He received a Seminary College degree from JTS in 1954 before earning a medical degree from Chicago Medical School.
Klagsbrun was a founding member of Or Zarua, a Conservative congregation on the Upper East Side of Manhattan. He and his wife, the writer Francine Klagsbrun, a longtime columnist for the New York Jewish Week and the author of a recent biography of Golda Meir, met at Camp Ramah in the Poconos. She survives him, as does his daughter Sarah and son-in-law Eric Weinstein, and three grandchildren.
Holtz, the Simon H. Fabian Professor Emeritus of Hebrew Literature at JTS, was an authority on the Nobel-prize winning Israeli author S.Y. Agnon, producing, in 1995, a fully annotated and illustrated edition of Agnon's masterwork "Hakhnasat Kallah," or "The Bridal Canopy."
In an interview with fellow Agnon scholar Jeffrey Saks in 2016, he explained why he modeled the annotated edition on the "Mikraot Gedolot," a collection of classic rabbinic commentaries of the Bible — a decision that drew the scorn of traditionalists. "You can understand the whole attack by the fact that I came from [the] Jewish Theological Seminary," said Holtz. "Only somebody coming from the Seminary would do such a sinful thing."
Holtz was ordained and received his doctorate at JTS, where he also taught and served as chair of its department of Hebrew Literature and as dean of Academic Development. In a eulogy, Schwartz described Holtz as "part of a cadre of younger, native-born scholars teaching at JTS in the 1960s who in retrospect proved to be harbingers of the explosion of Jewish studies in higher education in the United States."
Schwartz also quoted professor emeritus Judith Hauptman, who remembered him as having a command of Hebrew that was "so excellent and fluent that it could make your jaw drop. It was a privilege to read any text with him — whether it was a classic poem, a midrash, or an Agnon story. For Avraham the literature was his life's blood."
Holtz is survived by Toby Esther Berger, a retired senior lecture in chemistry at Barnard College, four children — Shalom Eliezer Holtz, Razelle Weinstein, Mordecai Yehiel Holtz and Miriam Malka Craime — their spouses and and numerous grandchildren.
A native of Poland and survivor of Auschwitz, Israel Francus was the Judge Abraham Lieberman Distinguished Service Professor of Talmudic Exegesis at JTS, where he taught generations of students in the close reading of the rabbinic literature at the heart of a rabbi's education. Among the many tributes shared on social media following his death, Rabbi Josh Gruenberg of Baltimore's Chizuk Amuno Congregation spoke about the "joy" of taking Francus' class.
"In the span of just one class, he could make you laugh to your core with is lightning-fast quips, remind you of the great care rabbis have always taken in understanding our tradition, lift you up with a compliment that inspired you to work harder, and make you cry as he shared heartfelt stories and lessons on the occasions of his teachers' yahrzeits," said Gruenberg.
Francus received bachelor's and master's degrees from both Columbia University and JTS as one of the first two graduates of JTS's joint program with Columbia. He was also ordained at JTS.
His published works include an analysis of a commentary on a Talmudic tractate by the 16th-century rabbi Elazar Azikri, as well as over 40 articles published in Israeli journals. An article on how to interpret a sugya — the essential literary unit of the Talmud — will be published posthumously in the journal Sinai.
"My father was modest about his accomplishments," Francus' son Yitzchak, an attorney living in Pittsburgh, said at his father's funeral, held Nov. 15 at JTS. "Not modest in the sense of self-abnegation, or in the showy sense of conceit internalized, but modest in the perspectival sense. He stood in awe of the Talmud. For him, simply participating in its eternal discourse was an almost unimaginable honor."
Francus is is survived by his wife, Tova (Shulzinger) Francus, an immunologist; his sons Yoseff, Yitzchak and Yaacov Francus; 10 grandchildren, and one great-granddaughter.
Holtz and Francus were both buried in Israel.
—
The post Conservative Judaism's flagship in mourning after death of 3 influential scholars appeared first on Jewish Telegraphic Agency.
Virginia Student Suspended After Reporting Antisemitic Incident at School, Parents Say
Fairfax County Public Schools (FCPS), a school division in Northern Virginia, has been sharply criticized for allegedly suspending an Asian-American student who exposed antisemitism at his high school.
School officials accused a student at Langley High School of leaking to the public a photograph of other students drawing and holding for display a US flag in which its stars were replaced with 25 swastikas and the words "Free Palestine" were written in between the stripes, the Fairfax County Times reported. The image had been drawn during a meeting of the Muslim Students Association.
The image was shared across the school, as anti-Israel students staged a "walkout" earlier this month, carrying another sign with swastikas on it and chanting "From the river to the sea, Palestine will be free" — a slogan widely interpreted to be a call for the destruction of Israel, which is located between the Jordan River and the Mediterranean Sea.
Langley school administrators reportedly suspended two students: the Muslim student who drew the swastikas on the US flag and an Asian-American student whom school officials said had publicized the photo that was widely circulated on social media.
Parents and local leaders expressed outrage at the school for disciplining a student for reporting antisemitism, arguing it will deter others from coming forward to expose such bigotry. On Friday, parents held a demonstration outside FCPS's administrative building in Falls Church, Virginia, to protest both the student's suspension and what they described as unheeded concerns about rising antisemitism in FCPS schools going back several years.
"What really has upset me about this is that the only way that they can prove that there is something is to take a picture, and then the student got suspended for taking a picture," one parent of a student attending Langley High School told a local CBS affiliate covering the protest. "There's a history of trying to silence or not allowing these images to come to fruition to show that we have a problem here.
FCPS has denied suspending the student for exposing an act of antisemitism.
"No student at Langley High School was suspended for reporting an incident of antisemitism to school administrators," FCPS superintendent Dr. Michelle Reid told WUSA. "We will continue to denounce all acts of antisemitism, Islamophobia, and hatred in any form."
Speaking to WUSA9, Eric Rozenman, a Jewish activist and writer, alleged that the country can plausibly deny suspending a student for reporting antisemitism because its student code of conduct is a mammoth document comprising vague rules and regulations, many of which can be cited as sufficient cause for sending a student home.
"They can make that claim because they have a long list of bureaucratic regulations in the student handbook about what is and isn't permitted," Rozenman said, explaining that the incident is an example of the FCPS' allegedly insufficient approach to addressing antisemitism, an issue that is currently being probed by the federal government.
In Nov. 2022, the US Department of Education's Office for Civil Rights (OCR) launched an investigation into a complaint, filed by the Zionist Organization of America (ZOA), alleging that Jewish students in the county continually face harassment and a hostile learning environment. Chants of "Heil Hitler," swastika graffiti, and scheduling of important tests on Jewish holidays are some of the indignities Jewish students have endured without recourse to school officials, the complaint said.
The complaint also alleged that antisemites work for the school board, hampering FCPS's ability to confront the scope of the problem and enact meaningful reforms. In May 2021, during Israel's last conflict with Hamas, FCPS official Abrar Omeish tweeted, "Israel kills Palestinians & desecrates the Holy Land…apartheid & colonization were wrong yesterday and will be today, here and there."
"We want [FCPS] to be able to recognize what is antisemitic and anti-Jewish in the first place," Rozenman said during Friday's demonstration. "Take it just as seriously as they would take something that was anti-Black, anti-gay, or anti-Muslim. This is the thing they're not doing. They can't recognize it or don't want to act."
Follow Dion J. Pierre @DionJPierre.
The post Virginia Student Suspended After Reporting Antisemitic Incident at School, Parents Say first appeared on Algemeiner.com.
Saskatchewan becomes the fourth Canadian province to make Holocaust education mandatory—while Manitoba is still considering the move