Conservative Judaism's flagship in mourning after death of 3 influential scholars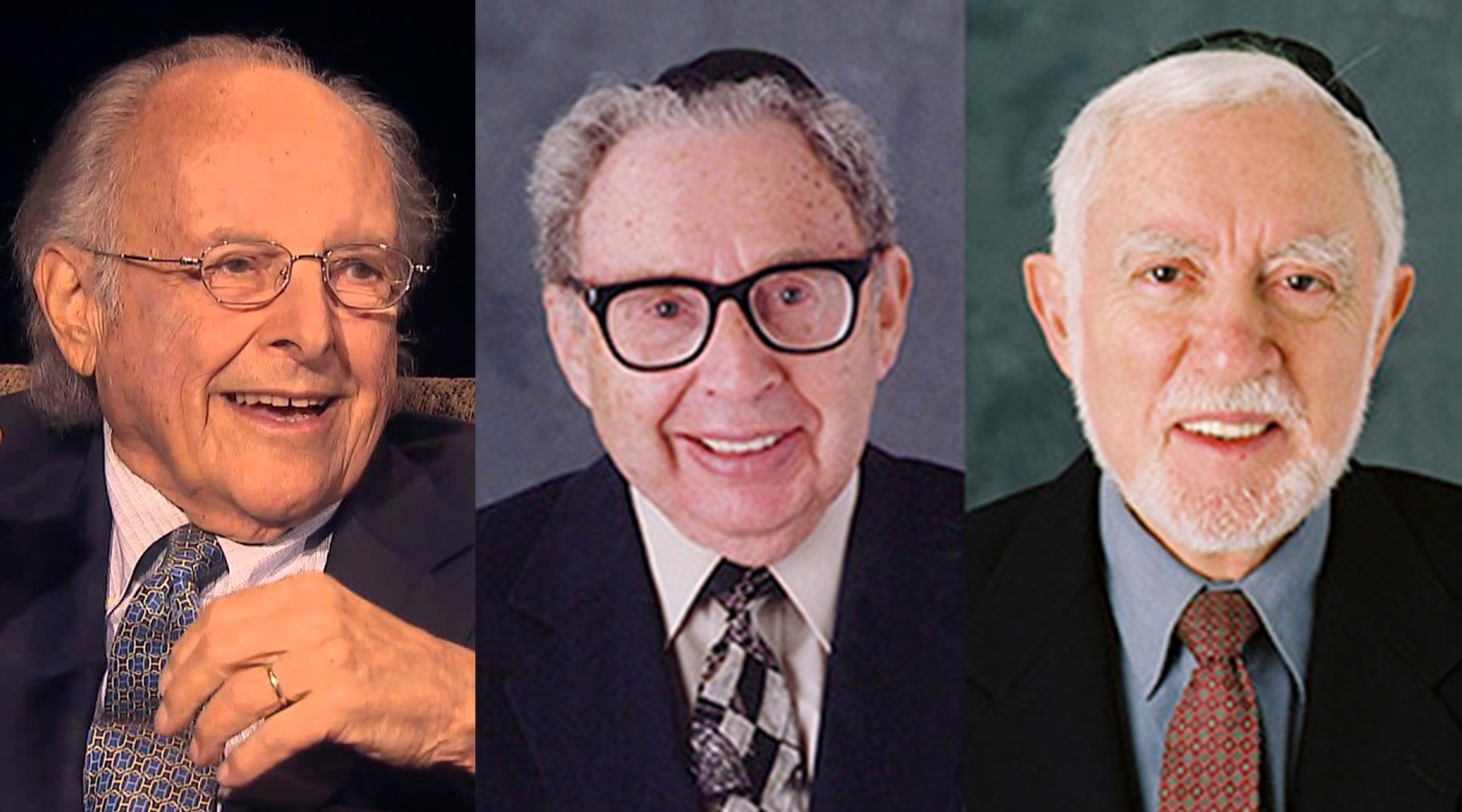 (JTA) — The Jewish Theological Seminary community is in mourning after three revered scholars long associated with the Conservative movement flagship died within days of each other.
Israel Francus, who died Nov. 15 at age 96, and Rabbi Avraham Holtz, who died the same day at age 89, were both professors emeritus at the seminary — Francus as a longtime professor of Talmudic and Holtz in Hebrew literature.
Samuel Klagsbrun, who died Nov. 11 at age 91, was a psychiatrist and medical director of a private psychiatric hospital who for many years taught pastoral psychiatry to JTS students, and was instrumental in the creation, in 2009, of the seminary's Center for Pastoral Education.
"Together, these three individuals reflect the breadth and depth of a JTS education," Shuly Rubin Schwartz, the chancellor of JTS, said in a statement to the Jewish Telegraphic Agency. She noted that the three represented "the importance JTS attaches to educating not only the texts, history, and ideas of our people but also ensuring that future clergy were attuned to the heart, soul, and emotional lives of the Jews they would serve."
Klagsbrun was perhaps the best known of the three outside of the seminary. The founder and executive medical director of Four Winds Hospitals in Katonah and Saratoga Springs, New York, he sought to reconcile the sometimes competing claims of religion and psychiatry, telling the New York Times in 2002, "Psychiatrists were not paying any attention to religion or the spiritual aspects of life. And religion and religious values and backgrounds and spiritual dimensions are extremely important to people's dynamics."
He was also known for his work on psychological challenges facing cancer patients, his approaches to the ethics of death and dying, and a devotion to improving hospice care.
Born in Antwerp, Belgium, Klagsbrun emigrated with his parents to Manhattan, where he attended the Ramaz school, Yeshiva High School and City College. He received a Seminary College degree from JTS in 1954 before earning a medical degree from Chicago Medical School.
Klagsbrun was a founding member of Or Zarua, a Conservative congregation on the Upper East Side of Manhattan. He and his wife, the writer Francine Klagsbrun, a longtime columnist for the New York Jewish Week and the author of a recent biography of Golda Meir, met at Camp Ramah in the Poconos. She survives him, as does his daughter Sarah and son-in-law Eric Weinstein, and three grandchildren.
Holtz, the Simon H. Fabian Professor Emeritus of Hebrew Literature at JTS, was an authority on the Nobel-prize winning Israeli author S.Y. Agnon, producing, in 1995, a fully annotated and illustrated edition of Agnon's masterwork "Hakhnasat Kallah," or "The Bridal Canopy."
In an interview with fellow Agnon scholar Jeffrey Saks in 2016, he explained why he modeled the annotated edition on the "Mikraot Gedolot," a collection of classic rabbinic commentaries of the Bible — a decision that drew the scorn of traditionalists. "You can understand the whole attack by the fact that I came from [the] Jewish Theological Seminary," said Holtz. "Only somebody coming from the Seminary would do such a sinful thing."
Holtz was ordained and received his doctorate at JTS, where he also taught and served as chair of its department of Hebrew Literature and as dean of Academic Development. In a eulogy, Schwartz described Holtz as "part of a cadre of younger, native-born scholars teaching at JTS in the 1960s who in retrospect proved to be harbingers of the explosion of Jewish studies in higher education in the United States."
Schwartz also quoted professor emeritus Judith Hauptman, who remembered him as having a command of Hebrew that was "so excellent and fluent that it could make your jaw drop. It was a privilege to read any text with him — whether it was a classic poem, a midrash, or an Agnon story. For Avraham the literature was his life's blood."
Holtz is survived by Toby Esther Berger, a retired senior lecture in chemistry at Barnard College, four children — Shalom Eliezer Holtz, Razelle Weinstein, Mordecai Yehiel Holtz and Miriam Malka Craime — their spouses and and numerous grandchildren.
A native of Poland and survivor of Auschwitz, Israel Francus was the Judge Abraham Lieberman Distinguished Service Professor of Talmudic Exegesis at JTS, where he taught generations of students in the close reading of the rabbinic literature at the heart of a rabbi's education. Among the many tributes shared on social media following his death, Rabbi Josh Gruenberg of Baltimore's Chizuk Amuno Congregation spoke about the "joy" of taking Francus' class.
"In the span of just one class, he could make you laugh to your core with is lightning-fast quips, remind you of the great care rabbis have always taken in understanding our tradition, lift you up with a compliment that inspired you to work harder, and make you cry as he shared heartfelt stories and lessons on the occasions of his teachers' yahrzeits," said Gruenberg.
Francus received bachelor's and master's degrees from both Columbia University and JTS as one of the first two graduates of JTS's joint program with Columbia. He was also ordained at JTS.
His published works include an analysis of a commentary on a Talmudic tractate by the 16th-century rabbi Elazar Azikri, as well as over 40 articles published in Israeli journals. An article on how to interpret a sugya — the essential literary unit of the Talmud — will be published posthumously in the journal Sinai.
"My father was modest about his accomplishments," Francus' son Yitzchak, an attorney living in Pittsburgh, said at his father's funeral, held Nov. 15 at JTS. "Not modest in the sense of self-abnegation, or in the showy sense of conceit internalized, but modest in the perspectival sense. He stood in awe of the Talmud. For him, simply participating in its eternal discourse was an almost unimaginable honor."
Francus is is survived by his wife, Tova (Shulzinger) Francus, an immunologist; his sons Yoseff, Yitzchak and Yaacov Francus; 10 grandchildren, and one great-granddaughter.
Holtz and Francus were both buried in Israel.
—
The post Conservative Judaism's flagship in mourning after death of 3 influential scholars appeared first on Jewish Telegraphic Agency.
Protester Sets Self on Fire Outside Israeli Consulate in Atlanta
i24 News – A protester was in critical condition on Friday after setting themself on fire outside the Israeli consulate in Atlanta, Georgia, U.S. authorities said. A security guard who tried to intervene was also wounded.
A Palestinian flag found at the scene was part of the protest, Atlanta Police Chief Darin Schierbaum said at a news conference. He added that investigators did not believe there was any connection to terrorism and none of the consular staff was ever in danger.
JUST IN: A pro-Palestine protester is in critical condition after they set themselves on fire in "political protest" outside of the Israeli Consulate office in Atlanta.
The protester was reportedly draped in a Palestine flag.
The protester has severe burns and unfortunately, a… pic.twitter.com/B8nUQAj2nU
— Collin Rugg (@CollinRugg) December 1, 2023
"We do not see any threat here," he said. "We believe it was an act of extreme political protest that occurred." Everyone inside the consulate building was said to be safe.
Anat Sultan-Dadon, Consul General of Israel to the southeastern U.S., said: "We are saddened to learn of the self-immolation at the entrance to the office building. It is tragic to see the hate and incitement toward Israel expressed in such a horrific way."
"The sanctity of life is our highest value. Our prayers are with the security officer who was injured while trying to prevent this tragic act. We are grateful to the city of Atlanta's law enforcement and first responders for all they do to ensure safety."
The post Protester Sets Self on Fire Outside Israeli Consulate in Atlanta first appeared on Algemeiner.com.
Released Israeli Hostages Call for Captives to Be Freed
Israeli hostages released in the past week by Hamas in Gaza called on Saturday for the immediate release of fellow captives left behind, a day after a temporary truce that had allowed scores to come home broke down.
Tens of thousands gathered at a rally in Tel Aviv outside Israel's defense headquarters, where they cheered Yelena Trupanov, 50, standing on a stage just two days after being freed.
"I came to thank you because without you I wouldn't be here. Now we must bring back my (son) Sasha, and everyone. Now."
Similar pleas from other released hostages were shown on video.
A seven-day truce, during which Hamas had released more than 100 hostages, collapsed on Friday after Hamas breached the ceasefire.
Israel said on Saturday it had recalled a Mossad intelligence agency team from Qatar, host of indirect negotiations with Hamas, accusing the Palestinian faction of reneging on a deal that would have freed all children and women held hostage.
More than 240 people – Israelis and foreign nationals – were abducted to Gaza on Oct 7. by Hamas terrorists who burst through the border with Israel and killed 1,200 people.
The post Released Israeli Hostages Call for Captives to Be Freed first appeared on Algemeiner.com.
IDF Foils Stabbing Attack Near Nablus in West Bank, Eliminates Terrorist
i24 News – The Israel Defense Forces (IDF) reported thwarting a stabbing attack on Saturday afternoon against reserve Battalion 7037 at the X junction near Nablus in the West Bank.
According to the IDF spokesperson, the event unfolded when the forces at the roadblock became suspicious of an individual approaching the barricade.
During the questioning process, the suspect suddenly drew a knife and advanced towards the IDF personnel.
ניסיון פיגוע דקירה אירע לפני זמן קצר לעבר כוח צה"ל במילואים מגדוד 7037 שפעל בחסם בצומת האיקס סמוך לעיר שכם שבמרחב חטיבת שומרון.
הכוח חשד במחבל שהגיע לחסם והחל לתחקר אותו, המחבל שלף סכין והחל להתקדם לעבר הכוח.
הלוחמים חתרו למגע והגיבו בירי לעבר המחבל שחוסל. אין נפגעים לכוחותינו. pic.twitter.com/mEaJs58hpE
— דובר צה״ל דניאל הגרי – Daniel Hagari (@IDFSpokesperson) December 2, 2023
The soldiers, faced with the threat, engaged in contact procedures and ultimately responded by opening fire on the assailant. The spokesperson confirmed that the attacker was neutralized due to the IDF's action.
It was also noted that there were no casualties among the IDF forces involved in the incident. According to the spokesperson, the situation at the X junction has stabilized, and IDF continues to maintain vigilance in the area to prevent further attacks.
The post IDF Foils Stabbing Attack Near Nablus in West Bank, Eliminates Terrorist first appeared on Algemeiner.com.