Jeff Tweedy's son became a 'pariah' on his college campus after speaking up for Israel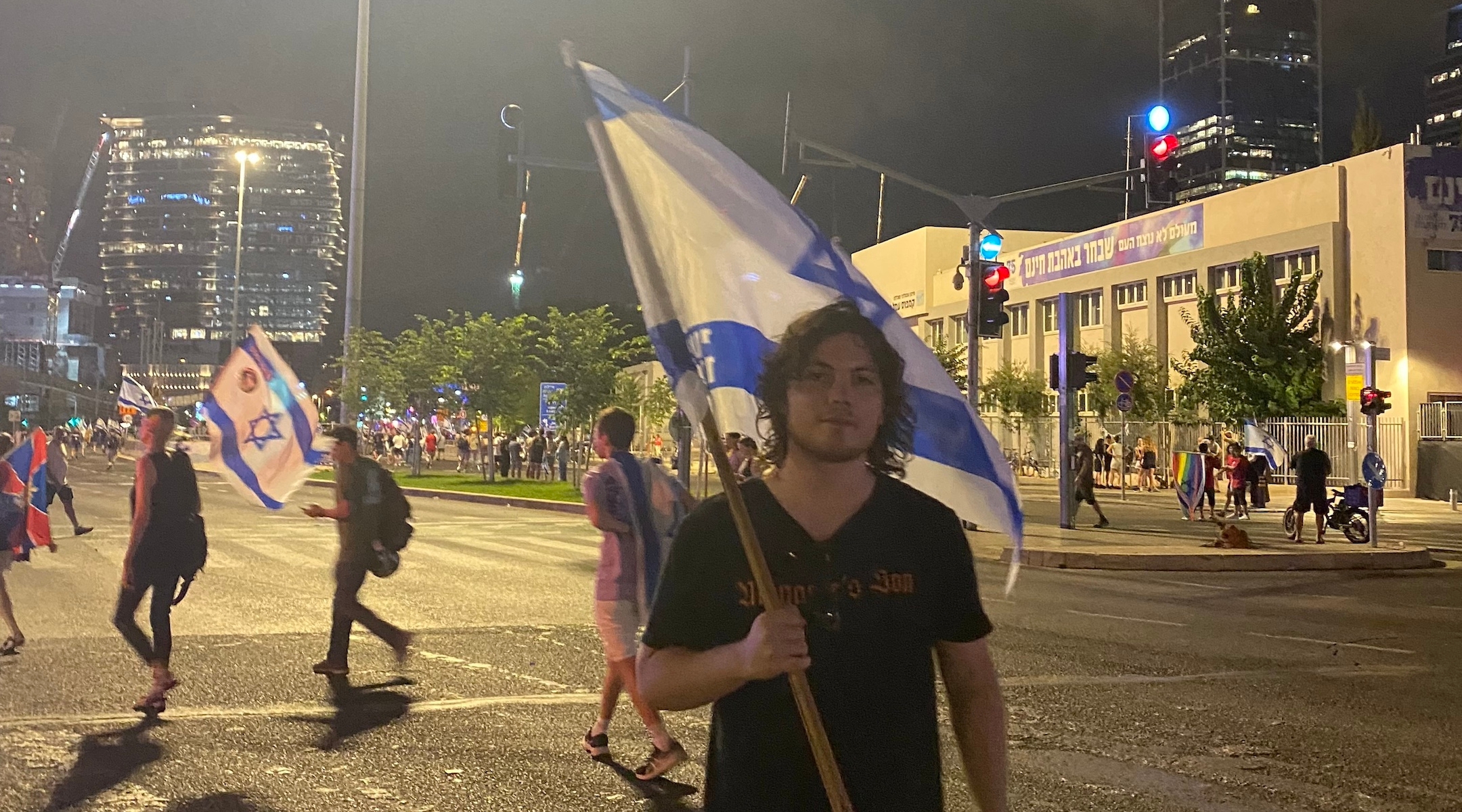 (JTA) — One big turning point in Sammy Tweedy's Jewish story took place when he was preparing for his bar mitzvah, and his rock star father, Wilco frontman Jeff Tweedy, converted to Judaism as part of the process.
Another occurred in 2020 when he was a sophomore in college and accepted a free Birthright trip to Israel — triggering an avalanche of criticism from his classmates at Sarah Lawrence College just outside of New York City.
"It was just like, I had done something very wrong by going to Israel, which I found to be very hypocritical," Tweedy recalled to the Jewish Telegraphic Agency last week. "Because nobody asked me, 'Hey, what's your opinion on this?' I would have even been OK with someone saying 'Hey, how do you justify going to Israel?' because I would have justified it to them."
Three years later, Tweedy has withdrawn from Sarah Lawrence, vowing never again to return to campus, in part because of the anti-Israel and antisemitic vitriol he said he has experienced there. As a group serving Jewish students in the region raises the alarm about the climate at Sarah Lawrence, Tweedy has become an unlikely standard-bearer in the movement to fight antisemitism on college campuses. He recently appeared in a New York Times article on the topic.
In particular, Tweedy represents what advocates say is a persistent and disquieting trend, made only more intense since Hamas' Oct. 7 attack on Israel, of liberal Jewish students who do not oppose Israel being made to feel unwelcome in progressive groups and spaces.
"As long as you're not willing to call for the destruction of the State of Israel and the expulsion or murder of the inhabitants of the State of Israel, you're in for some trouble as a Jewish young person or college student," he said.
"I just realized I might as well just be the one person in these environments, in these classrooms, presenting an opinion that is somewhat more sympathetic to Israel," Tweedy said, adding that he is not a fan of Israel's right-wing government and its main party. "Like, I'm not a Likudnik … but I think that people misunderstand fundamentally why Jewish people are there."
Growing up in Chicago — whose iconic Marina City skyscrapers feature on the cover of Wilco's "Yankee Hotel Foxtrot" album  — Sammy Tweedy attended the Reform Congregation Emanuel synagogue. He and his brother both celebrated their bar mitzvahs there, but he said he sometimes bristled at the messaging he heard about Israel at synagogue and in other Jewish spaces, recalling that he felt the need to constantly "deprogram" himself.
"There's … pro-current Israeli government policy propaganda that, you know, you are exposed to as a Jewish young person in America," he said.
"I was given (at worst) unquestioning perspectives on Israel and (more commonly) just consensus without question that Israel should exist," he added in a text message. "Which I agree with. But at summer camp and synagogue, those were just Zionist spaces."
Some young adults who say they were handed a one-sided perspective on Israel have gotten involved in criticizing the country from a Jewish point of view. IfNotNow, for example, was founded in 2014 by graduates of Jewish day schools and summer camps to oppose Israel's occupation of the West Bank and its war on Gaza at the time.
Tweedy went a different direction. After his Birthright trip, he enrolled in history classes about the Israeli-Palestinian conflict and found himself defending Israel. When students in class argued that "the Jewish connection to the land of Israel is completely fabricated," he would speak up, offering historical perspective about the Jewish history in the region that dates back to biblical times. He says he was soon labeled a "racist" around campus.
"I was like, 'What did I say that was racist? Why are they saying that?' It's because 'you said Jewish people are indigenous to Israel.' And I was like, that's not f—ing racist. That doesn't mean that Palestinians shouldn't be able to live in that land or call it Palestine or whatever," he said.
Tweedy also felt dismayed when the school's Students for Justice in Palestine chapter endorsed "armed struggle" against Israel and honored Khaire Alkam — who shot and killed seven Israelis at a synagogue — on a "wall of martyrs" in a campus building shortly after the attack this past January.
As word got around about his views, Tweedy was hit with a wave of social media messages from fellow students calling him out. Since Hamas' attacks on Israel on Oct. 7 and Israel's subsequent war in Gaza, the barrage increased. One post shared with the Jewish Telegraphic Agency read "the blood of gaza is on your hands." In another, a student admitted to harassing him. He sometimes joined in arguments, as shown in messages he shared with JTA.
He filed a bias incident report to administrators on Nov. 11, after he saw the campus SJP charter say in an online post that U.S. media is "controlled by Zionists." He said the school determined that the use of the word "Zionist" made the post acceptable.
A Sarah Lawrence spokesperson told JTA that the school does not share information on students with the media.
But Tweedy is far from the first Jewish Sarah Lawrence student to complain about the school's handling of reported antisemitic incidents. On Oct. 31, Hillels of Westchester — representing chapters at Sarah Lawrence and a handful of other nearby schools — sent a letter to Sarah Lawrence President Cristle Collins Judd alleging that since at least 2014, Jewish students have been "harassed, intimidated, bullied, and 'canceled' for simply expressing themselves as Jews, or discussing or identifying with Israel."
The group added in their letter that Briana Martin, the school's diversity, equity and inclusion director, sent a message to student groups after Oct. 7 that did not mention Israeli deaths. "We are aware of the ongoing conflict happening with Palestine, including the most recent events that happened over the weekend," she wrote. "It is disheartening and tragic, and we know many are deeply impacted by this." She also promoted an "Hour of Solidarity with Palestine" event organized by SJP.
"Since Saturday October 7th, our focus has been, first and foremost, on the welfare and education of all our students and it remains so," the Sarah Lawrence spokesperson said in a statement to JTA.
"We are deeply disappointed that, at such a challenging time, misleading claims are circulating, serving to fuel the information wars that have clouded the news these past several weeks," the statement continued. "We are actively engaged in direct conversations with students from our various Jewish student organizations, and have responded individually and collectively to concerns shared with us by students and families."
In responding to the Hillel group's first letter, Judd pointed to the college's current renovation of the school's Ruth Leff Siegel Center, which will "support cultural and spiritual student communities." But she also rejected the group's involvement in campus affairs.
"Hillels of Westchester has no official relationship with the College, nor do you speak in any official capacity for our students," Judd added.
Now, Hillels of Westchester Co-President Sheila Rennert said the group is in the "evidence-gathering phase" of a potential Title VI lawsuit against the school, alleging that the college has not followed through on its federal legal obligations to keep Jewish students safe.
Any redress through a future lawsuit won't affect Tweedy directly. The history and music major left to study abroad at Tel Aviv University in August, joining in the mass protests against the Israeli government's controversial plans to overhaul its judicial system and enjoying the city's "secular nightlife."
"I just felt very attached to that vision of Israel, and preserving that sort of modern, more tolerant idea of what Israel could mean, and I was having a really great time there," he said.
With Israeli universities on hiatus because of the war, he left Israel shortly after Oct. 7 and has been staying with his girlfriend in Florida, where he is finishing up his last semester of classes remotely.
He said he won't step foot on Sarah Lawrence's campus ever again.
"The feeling of being a pariah was so intense that I developed these stomach problems that just made life really difficult, and I think they went away since leaving. So just literally for my health I can't go back there," he said. "But I'm going to transfer credits and graduate from there and say goodbye and never donate a cent and tell everyone I know to avoid the school at all costs."
Tweedy wouldn't share his father's views on Israel, but he said everyone in the family has their own perspective. His older brother Spencer recently published a post on Substack criticizing "Jewish supremacy" in Israeli governance and calling for a ceasefire in the current war, which Israel and its allies say would allow Hamas to remain in power.
"I'm probably the most vocally pro-Israel, pro-normalizing the existence of Israel so that we can actually work to end this conflict," Sammy Tweedy said about his family. "But I think we all are united by this idea that you can't delegitimize the existence of one people or another and expect that to lead to any bettering of the situation."
After college, Tweedy wants to be a musician like his dad; he and Spencer have both played on some of their father's solo records. But he also wants to do something that has a concrete impact: He's considered writing about the Israeli-Palestinian conflict and applying to work for organizations that aim to build peace.
"I care about the region. And I want people to stop killing each other," he said.
—
The post Jeff Tweedy's son became a 'pariah' on his college campus after speaking up for Israel appeared first on Jewish Telegraphic Agency.
Jews Left Stranded as Chartered Buses Across US Allegedly Refuse to Drive Pro-Israel Supporters to Major DC Rally
Across the US, groups of American Jews and pro-Israel advocates traveling to Washington, DC for a massive rally on Tuesday organized to show support for Israel and denounce antisemitism were left stranded as chartered buses either refused to transport them or never showed up.
US Jewish groups organized the "March for Israel" to demand the release of hostages held captive by Hamas in Gaza and to demonstrate support for both the Jewish state and the Jewish community amid a global surge in antisemitism that has followed the Palestinian terror group's Oct 7. massacre across southern Israel.
Tuesday's rally was both the largest ever pro-Israel gathering and the largest Jewish gathering in US history, with nearly 300,000 people attending, according to event organizers.
However, large numbers of people traveling to attend the rally either could not show up or were forced to scramble last second and final alternative transportation due to multiple instances nationwide of buses not driving them.
Hundreds of American Jews from Detroit, for example, were left stranded at Dulles Airport in Virginia after drivers of chartered buses refused to transport them to nearby Washington, DC, according to multiple reports.
"I've been on the airplane unable to de-board because the bus drivers refuse to pick up Jews from the tarmac," one hopeful marcher — who was one of 900 passengers signed up by the Jewish Federation of Detroit to attend the event — said in a post published on Instagram. "Imagine this was the other way around, and drivers wouldn't pick up Muslims. It would be a hate crime."
According to pro-Israel social media accounts monitoring the situation, the bus drivers had staged a "mass sick out" after learning that their passengers were going to a rally in support of the Jewish state. The Algemeiner was unable to independently confirm that claim.
Meanwhile, VINnews reported that the plight of the passengers was made all the worse because their flights, charted specifically for the DC rally, did not pass through Transportation Security Administration (TSA) screening, thereby preventing the activists from waiting inside the airport terminal. Eventually, they were turned away and sent home.
Michigan State Sen. Jeremy Moss, a Democrat, was among those who traveled to Washington on one of the chartered planes that he said arrived at Dulles Airport on Tuesday morning. He told the Detroit News that his group waited hours to deplane before loading onto a bus and sat there for several minutes before unloading and getting back on the airplane. The group sat on the plane all afternoon and never made it to the rally.
"I'm still awaiting all of the details of why the bus drivers didn't show up," Moss said, expressing disappointment about not being able to attend the historic event in the nation's capital.
"I've spent my tenure in the Legislature fighting discrimination when seeking goods or services that are denied based on identity or affiliation," he added. "There are a lot of questions and we deserve to know the answers."
A similar incident happened in Westport, Connecticut, where hundreds of people set to take two buses booked with US Coachways to Washington were forced to drive down in 38 cars after the company cancelled their reservations, News 12 Connecticut reported. Jewish Federation of Greater Fairfield County CEO Carin Savel, whose group organized the trip, said the dispatcher told her there had been a scheduling error and the buses had been canceled.
Jewish and pro-Israel leaders expressed outrage over the inexplicable transportation issues. "To the bus company that refused to transport my local Jewish community off the tarmac at Dulles to the DC March for Israel rally: You're about to find out," tweeted Adar Rubin, Director of Mobilization at End Jew Hatred, an antisemitism watchdog.
Amid a historic surge in antisemitism since the Hamas terror group's Oct. 7 assault on Israel, critics have alleged the transportation issues were meant to sabotage the "March for Israel," where hundreds of thousands of Jewish Americans and pro-Israel advocates packed the National Mall in a historic show of solidarity with the Jewish state amid its war with Hamas.
Speakers at the rally included the famed human rights activist Natan Sharansky, US Sen. Chuck Schumer (D-NY), US Speaker of the House Mike Johnson (R-LA), and Israeli President Isaac Herzog, who appeared via live feed, among many other voices.
College students were also represented among the day's speakers.
"Our spirit is unbroken," George Washington University student Sabrina Soffer said during a speech delivered before the massive crowd. "Nothing at all can splinter the Jewish soul. The Jewish soul, the American resolve, allied together shall never surrender values of civilization, democracy, and humanity."
The marchers, who traveled from across the US, represented a full spectrum of the Jewish community and its allies. As one participant told The Algemeiner, it was an important display of unity and the peaceful intentions of the Jewish people.
"I think it's beautiful. It just shows that we are in peace, that we come in peace, and we're not interested in violence, and on the contrary we're fighting that in the world and all antisemitism and hatred of all kinds," said Beverly Mehl, from New York. "It's very important to show strength, to do something and take action."
The scale and success of the "March for Israel" was striking given that it was organized in just a matter of weeks. Natan Sharansky, the famed refusenik and international campaigner against antisemitism, highlighted the pressing need for a mass pro-Israel rally in a recent article for Tablet magazine and drew a comparison with marches in 1987 attended by hundreds of thousands to support Soviet Jewry.
"Immediately after the [Oct. 7] attack we found that all of us were being attacked, and so the world Jewry is feeling like one family, supporting one another, because I hear from so many who say they never imagined that they would be afraid in their countries," Sharansky told The Algemeiner ahead of the demonstration. "We all have to rally quickly to turn into one fighting family, and I think that's what Jews are doing now and why this demonstration is happening."
Follow Dion J. Pierre @DionJPierre.
The post Jews Left Stranded as Chartered Buses Across US Allegedly Refuse to Drive Pro-Israel Supporters to Major DC Rally first appeared on Algemeiner.com.
Hostage Gave Birth in Hamas Captivity, Netanyahu's Office Confirms
A woman kidnapped from Israel and brought to Gaza by Hamas terrorists on Oct. 7 has given birth while in captivity, the wife of Israeli Prime Minister Benjamin Netanyahu said in a letter released on Wednesday by the premier's office.
"One of the kidnapped women was pregnant. She gave birth to her baby in Hamas captivity," Sara Netanyahu wrote in a heartfelt letter addressed to US First Lady Jill Biden.
"You can only imagine, as I do, what must be going through that young mother's mind as she is being held with her newborn by these murderers," Netanyahu wrote. "We must call for the immediate release of them and all those being held … The nightmare that began over a month ago must end."
Netanyahu wrote that she was writing not only as Bibi's [the prime minister's] wife but first and foremost as a mother."
"For over a month now, 32 children have been held kidnapped in Gaza, brutally torn from their parents and their homes," she added. "These children are surely suffering from untold trauma, not only by being kidnapped, but having witnessed the brutal murder of their parents and siblings on that horrific October 7th."
Hamas terrorists on Oct. 7 invaded Israel from neighboring Gaza and massacred over 1,200 people, mostly civilians, and abducted over 240 others, taking them back to the Palestinian enclave as hostages. The hostages included both the elderly and young children — a point highlighted by Netanyahu, who noted one of the kids in captivity was a 10-month-old child "kidnapped before he learned how to walk or talk."
"We must speak out on behalf of these children," who now include a newborn baby, she said. "We must call for the immediate release of them and all those being held. We must demand the Red Cross visit them immediately. They have yet to do so."
The woman who gave birth in Gaza was reportedly a foreign worker in one of the Israeli towns bordering the Hamas-run coastal enclave until her Oct. 7 abduction.
Israel has said it would not agree to a ceasefire to fighting in Gaza unless all the hostages were released. Qatar, in coordination with the US, has been seeking to negotiate a deal between Hamas and Israel that includes the release of dozens of those being held captive.
Netanyahu's letter was released one day after the Israeli military confirmed the death of a 19-year-old soldier as a hostage of Hamas. The Palestinian terrorist group has released videos of hostages in recent weeks, showing them under duress attacking Israel's prime minister and saying they have been treated well. Israel has described the videos as "psychological warfare."
So far, Hamas has released only four hostages in two separate occasions.
Netanyahu also sent additional letters to the wives of French President Emmanuel Macron, British Prime Minister Rishi Sunak, and other leaders.
The post Hostage Gave Birth in Hamas Captivity, Netanyahu's Office Confirms first appeared on Algemeiner.com.
Israeli Startup Carries on Despite Gaza War Hitting Business Sector Hard
The resilience of the people of Israel has taken many forms during the current war with Hamas. With more than 50 percent of the population volunteering since Hamas' Oct. 7 massacre, Israeli civilians have been working hand in hand with the war effort.
The business sector in particular has been hit hard, with many finding it next to impossible to work on anything unrelated to the war. However, companies have been embodying Israel's "startup nation" mentality to find ways to endure despite such adversity.
Carrar is an Israeli startup that develops and produces thermal management systems for electric vehicle batteries, allowing for actions such as fast charging. Located near Sderot in southern Israel, not far from Gaza, the company employees many people who live in the kibbutzim that were attacked by Hamas terrorists on Oct. 7.
Avinoam Rubinstain, the startup's CEO, spoke about the fear the company had not knowing if its employees were dead or alive. Fortunately, they learned that all employees were able to remain safe in their safe rooms, though the trauma persisted.
Taking a week off prior to returning to the office, the team needed an elite Israel Defense Forces (IDF) unit to first come and scan the office to ensure no terrorists were hiding. They were then able to jump right back into action and complete a tight deadline to produce a battery pack for a client testing in Germany.
Carrar, which works with auto giants such as Volvo, Toyota, and GM, has done its best to keep some semblance of normalcy.
This has been tough, though, as roughly one third of their engineering team was called for reserve duty and are currently stationed in the north and south of the country protecting the borders. Reserve duty in particular has become a major challenge for business across Israel as more than 350,000 civilians were called from their homes to join the war.
For Carrar employees working either from home, the accelerator space they have been allowed to work out of in Tel Aviv at Drive TLV, or coming to their automotive lab, their head of HR has been visiting weekly to check in and ensure they are OK.
"We see our company as an island of stability for our workers," said Rubinstain.
Amid war, Carrar has been one of several examples of companies enduring amid adversity and, according to an Israeli investor, ensuring Israel remains the "startup nation."
The post Israeli Startup Carries on Despite Gaza War Hitting Business Sector Hard first appeared on Algemeiner.com.