'Jews not allowed': As Erdogan praises Hamas, antisemitism rises on the ground in Turkey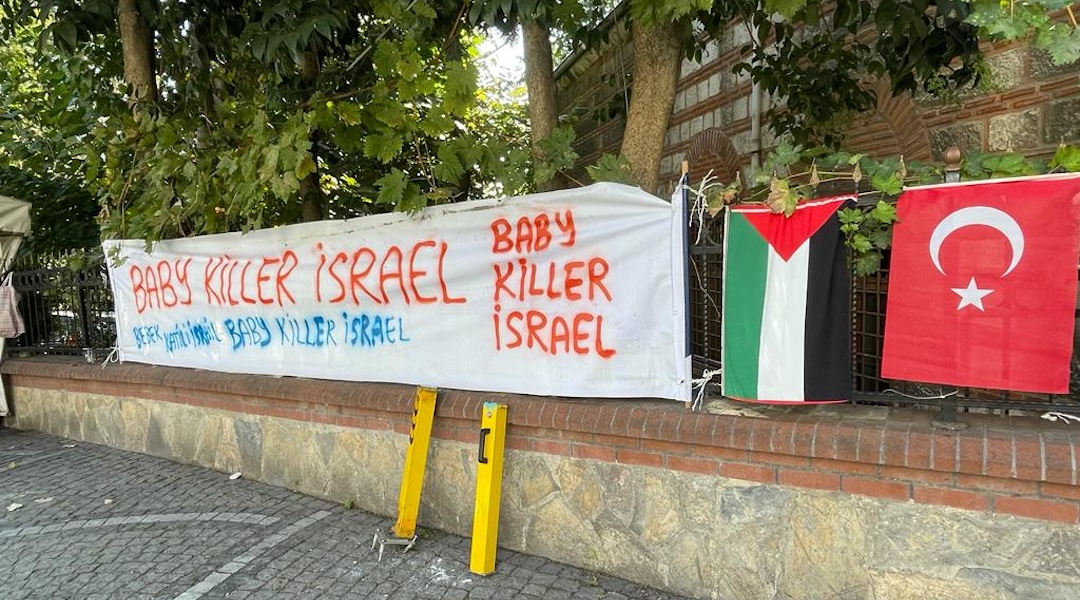 ISTANBUL (JTA) — "Jews not allowed," read the sign in English and Turkish above Rağman Şahaf, a used book store next to Istanbul University and not far from the city's famed Grand Bazaar.
Even after the sign was taken down on Friday, the store's owner said he stuck by the message.
"I do not want to buy anything from Jews right now, I do not want to sell anything to Jews right now, this is how I tell them," Ozkan Mustafa Küçükkural told the Jewish Telegraphic Agency.
"Maybe it should have said Zionist or Israeli, but I was angry and emotional," he added. "My brothers in Palestine are dying."
Anti-Israel banners and graffiti, along with Palestinian flags, have become commonplace across Istanbul, as many of its citizens fume over Israel's response to the Hamas attacks on Oct. 7 that left over 1,400 dead. Images have also circulated of taxis with signs saying that their drivers would not serve Israelis.
Antisemitic incidents have taken place beyond Istanbul, too. In Izmir — a city once home to tens of thousands of Jews now in the midst of a small-scale Jewish revival — a synagogue was defaced with graffiti that read "Murderer Israel" on Saturday.
Turkish President Recep Tayyip Erdoğan, who has had an up and down relationship with Israel over the course of his 20 years as Turkey's head of state, has come out firmly defending Hamas' actions on Oct. 7, calling the terrorist group a "a liberation group." In response, Israel recalled its diplomats from Turkey on Saturday.
It has all amounted to a tense atmosphere for Turkish Jews, who now number around 15,000 and descend mainly from Sephardic families but also include Ashkenazi, Romaniote and Mizrahi communities. That number was close to 80,000 in the founding year of Turkey's republic in 1923 — exactly 100 years ago on Sunday.
Antisemitic rhetoric has spread throughout Turkish politics, too. A day after a hospital in Gaza was hit by rocket fire on Oct. 17, a politician from Turkey's ruling AKP party, Süleyman Sezen, representing a small municipality called Atakum in the Black Sea city of Samsun, said at a public hearing that he was praying for the soul of Hitler, adding that the world will find peace when it is cleansed of Jews and that the Holocaust was "unfinished." Evidence showing that the explosion was likely from a Palestinian Islamic Jihad rocket has not nullified such outbursts.
"The Hitler rhetoric is not new in Turkey," said Turkish-Jewish publisher and author Rifat N. Bali, who has written about political Islam's portrayal of Jews. "I cannot say that it comes from ultranationalist political fractions… Why? Because they are fed day in, day out, pictures of 'babies killed by IDF.'"
On Oct. 10, Huda-Par parliamentarian Şahzade Demir addressed the Turkish parliament, calling to revoke citizenship for Turkish Jews if they volunteer for the Israeli military. Days later, Yeni Akit, a far-right media outlet, called for Turkish Jews to be denaturalized, under the false claim that they all have dual Israeli citizenship. (The Hrant Dink Foundation, a Turkish NGO devoted to minority issues in the country and named after a murdered Armenian-Turkish Journalist, has called out Yeni Akit as among the most prolific publishers of hate speech in Turkish media.)
"This fear scenario is not new. It was also brought up during the Mavi Marmara controversy, and the issue of citizenship of Jews who are citizens of the Republic of Turkey and who served in the Israeli army was brought to the agenda," said Serdar Korucu, who writes a column on antisemitism in Turkey for the Jewish site Avlaremoz. He was referencing a deadly clash between the Israeli army and a flotilla of pro-Palestinian activists from Turkey in 2010. "There has never been such a practice in the history of the Republic of Turkey. The harshest sanction would be to prevent them from doing military service in the future."
Several large pro-Palestinian protests have taken place in Istanbul since Oct. 7. In one demonstration, Turkish protesters briefly breached the fence of the Israeli consulate before being dispersed by Turkish police.
Erdogan, who had warmed to Israel in recent years, has regularly met with leaders of Hamas, which is considered a terrorist organization by the United States, the European Union and most Western powers. His foreign ministry said in a statement on Sunday that it rejects the idea that its rhetoric on Israel has been antisemitic.
"We reject the baseless accusations of anti-Semitism, and the slander and insults against our President and our country," read the statement released on Sunday. "It is known to everyone that Türkiye's track record on this issue is spotless — unlike many countries that support Israel unconditionally today.
"It is a truth acknowledged by all historians that Türkiye has been a safe haven for all those who were oppressed throughout history, including the Jews," it added.
In 1492, the Ottoman Sultan, Bayezid II, sent ships to Spain to ferry exiled Spanish Jews to his empire, resulting in the country's large Sephardic community of today. But Turkish Jews have also faced several periods of oppression, including an infamous tax in the 1940s and pogrom in the 1950s which have become the subject of a popular Turkish Netlfix series.
The local Jewish response to the situation has not been all shock and dismay. Jacob Behar, a Turkish Jew who owns a shop around the corner from the Istanbul shop that had the "Jews not allowed" sign, expressed disappointment at the sign but said it didn't make him feel insecure.
"It doesn't represent the general ideals of Turkish society," he told JTA. "My family has been here over 500 years, we wouldn't still be here if we didn't feel safe. Of course, there are individual things, but there are also individual things in Israel."
—
The post 'Jews not allowed': As Erdogan praises Hamas, antisemitism rises on the ground in Turkey appeared first on Jewish Telegraphic Agency.
'Merry Ham-mas': Australian Kmart removes Christmas ham bag from shelves after Jewish group complains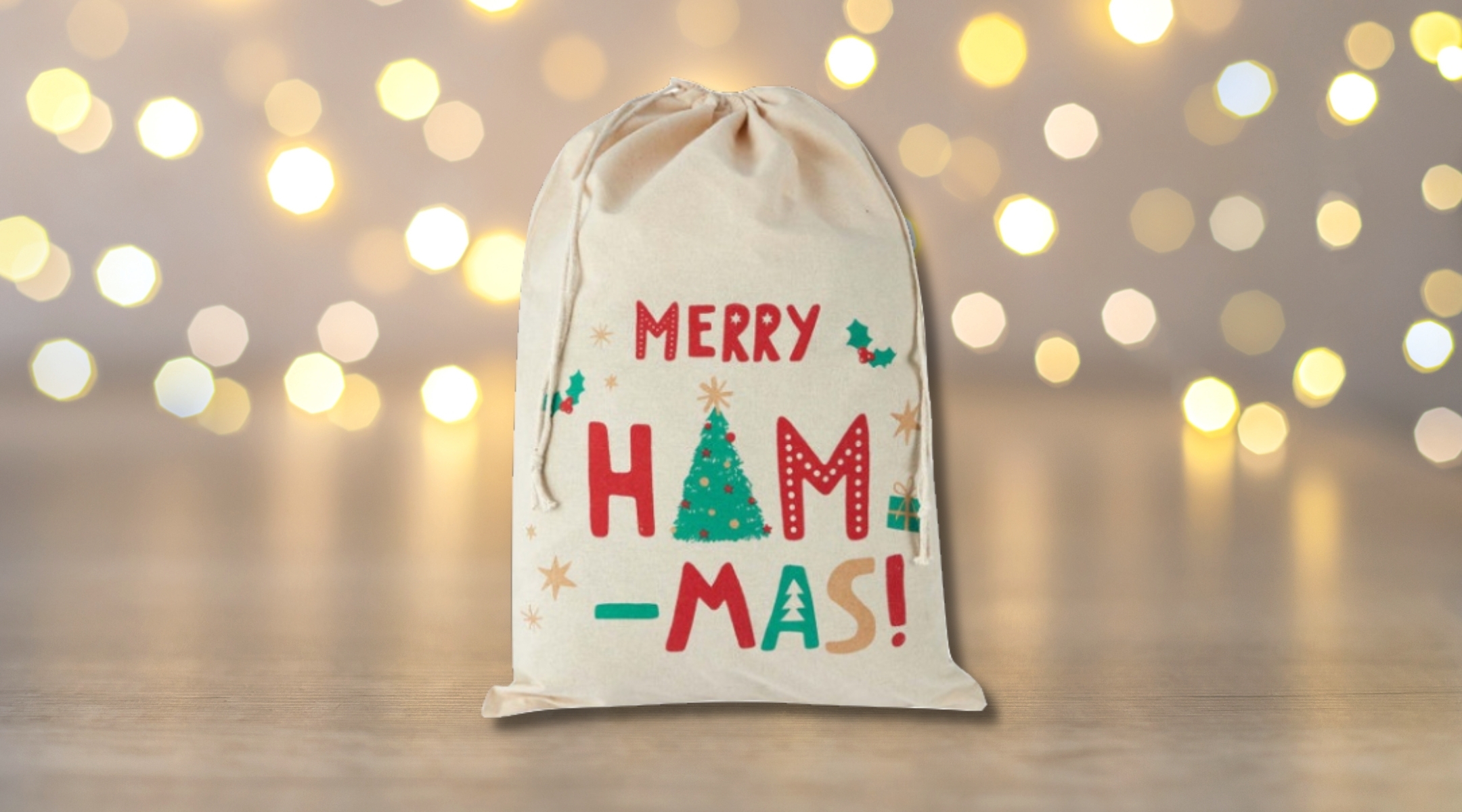 (JTA) — A ham bag has been removed from Australia's Kmart website after the Australian Jewish Association complained that its message, "Merry Ham-mas," looked too similar to Hamas, the terror group that invaded Israel on Oct. 7.
The text is printed on the ham bag in festive red and green lettering, with a Christmas tree replacing the first "A." 
"Although this is potentially funny (the AJA committee has tossed around some non-PC jokes) it's really not a good look," the AJA wrote in a post on X, formerly known as Twitter. "We suspect some product manager may cause the company some embarassment [sic]. So we've politely written to Wesfarmers corporate suggesting the product be pulled," the group wrote, referring to Kmart's parent company in Australia.
In an update posted about an hour after its first post about the subject, the AJA wrote that the organization had been contacted by Kmart senior management and that the ham bag had been taken off store shelves and the Kmart website.
Ham bags, when lightly dampened with water and some vinegar, are used to keep meat fresh. A description on the now-deleted Kmart webpage says the bag costs roughly $2.50, is made of cotton with a drawstring closure, and includes instructions for use. It is also machine washable and can be paid for in installments, the webpage said.
"We got it wrong on this occasion, and we apologise unreservedly," a spokesperson for Wesfarmers told The West Australian. "When designing this product we clearly didn't think through all the implications and the product has been removed from sale."
David Adler, president of the Australian Jewish Association, said he wanted "to give credit to Kmart management as they acted very quickly."
"It's not normal times, there are people that will distort things and will harass the Jewish community," he told the West Australian. "Of course, there are bigger issues to be addressed, dealing with the actual terrorism is important, but one of the other things we are dealing with is propaganda."
—
The post 'Merry Ham-mas': Australian Kmart removes Christmas ham bag from shelves after Jewish group complains appeared first on Jewish Telegraphic Agency.
At House hearing, pro-Palestinian protester interrupts Jewish student's recounting of antisemitic death threats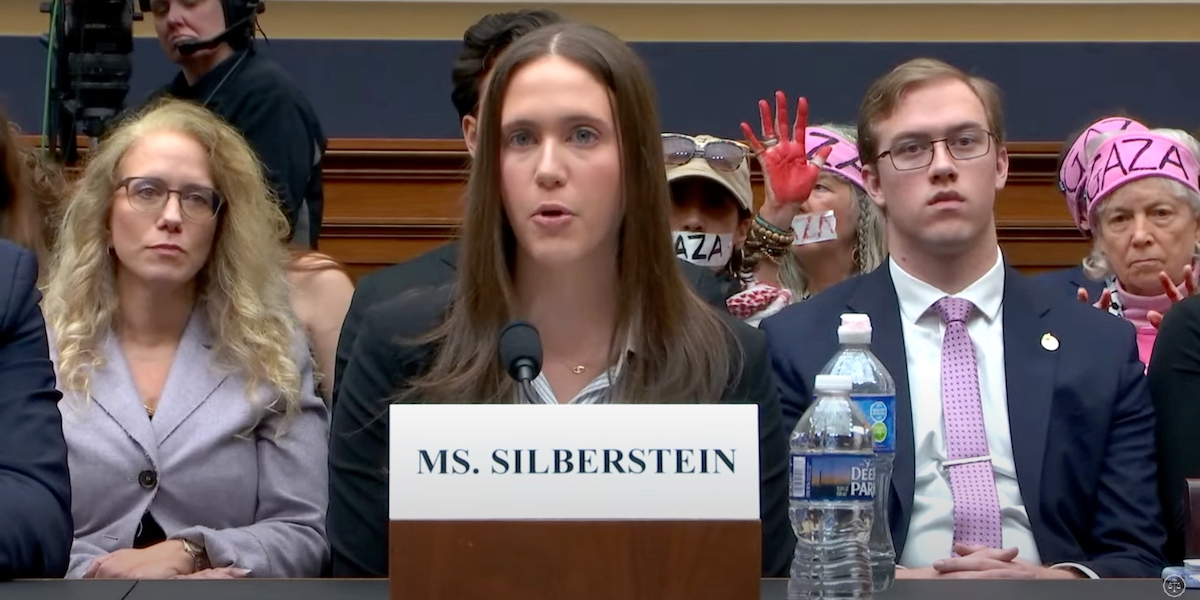 (JTA) – As Amanda Silberstein testified to the U.S. House of Representatives on Wednesday about how a student at her university had threatened to kill and rape Jewish students, she was interrupted.
"Free Palestine," a protester shouted from the audience during Silberstein's testimony at a hearing on free speech and antisemitism on college campuses. "Anti-Zionism is not antisemitism."
Silberstein is an undergraduate at Cornell University, where a student was recently arrested for making antisemitic death threats. Silberstein, a member of the student board at Cornell's Chabad-Lubavitch movement chapter, had just described how "professors and student organizations have been fueling Jew-hatred and spreading it across campus with disregard or potentially even with deliberate intent to incite." 
It was one of several times when pro-Palestinian protesters interrupted witnesses at the House Judiciary Committee hearing titled "Free Speech on College Campuses." Throughout the more than three-hour hearing, they called for a ceasefire in the Gaza Strip; decried a purported silencing of Palestinian students on campus; and protested the recent House censuring of Michigan Democratic Rep. Rashida Tlaib, who is Palestinian-American, for her use of the pro-Palestinian phrase "From the river to the sea," which Jewish groups and others have called antisemitic.
This was not the first time in recent days when pro-Palestinian protesters disrupted congressional proceedings: Last week, hecklers also tried to derail U.S. Secretary of State Antony Blinken as he implored Congress to allocate emergency funds for Israel. 
But the dissonance of the moment — Silberstein, unlike Blinken, was not using her testimony to advocate for Israel — exemplified the tense atmosphere, as Republicans and Democrats alike openly pondered the question of whether, and how, speech about Israel and Jews should be policed on campus and in the House. 
"I happen to believe in the eradication of Hamas. The same freedom of speech that protects my right to advocate that position is at stake here, is it not?" California Republican Rep. Tom McClintock said at one point to Kenneth Marcus, a witness who served in the Trump administration's Education Department and chairs the Brandeis Center for Human Rights Under Law, a pro-Israel group that has repeatedly brought legal challenges against universities it says fail to properly discipline anti-Zionist speech. 
The hearing was originally intended to focus on the issue of conservative college students allegedly being silenced. But in light of Hamas' Oct. 7 attack on Israel, it largely centered on antisemitism on campus and beyond as student and faculty rhetoric around Israel has reached a fever pitch. 
Silberstein had been invited to testify in part because Cornell recently canceled classes for a day because of the threats against its Jewish students. That incident followed a professor at the Ivy League university publicly praising the Hamas attacks, turning the school into a flashpoint for the rising temperature around antisemitic and anti-Zionist speech on campuses.
Some Republicans, including hardline right-wing Florida Rep. Matt Gaetz, suggested that efforts to restrict pro-Palestinian or pro-Hamas speech on campuses were misguided. Another, California Rep. Kevin Kiley, accused university administrators at schools such as Harvard of relying on free speech as an excuse to avoid condemning students with pro-Hamas views. 
A Cornell alum, Texas Rep. Wesley Hunt, condemned the school's administration for not immediately firing the pro-Hamas professor, suggesting administrators would have done so if he had shared anti-trans or anti-Black views instead.
One Democrat, Georgia Rep. Hank Johnson, said the hearing itself was hypocritical in light of the House's vote the previous night to censure Tlaib over speech related to Israel. 
"It's ironic that we're holding this hearing today about censorship and speech on campus, but last night, MAGA Republicans and others censured the only Palestinian voice in the House of Representatives because they didn't like what she had to say," Johnson said. "She didn't threaten anybody. She did not advocate for violence. She stated a view, as happens on college campuses." (Nearly two dozen Democrats also voted to censure Tlaib, saying that they believed her use of the phrase "From the river to the sea" implied threats of violence toward Jews and Israel.)
McClintock grilled Silberstein and Marcus about whether certain Israel-related speech should be protected on campus. He asked Marcus if "the mere repetition" of the phrase "From the river to the sea" should be "banned or punished."
In his answer, Marcus referred to an executive order by President Donald Trump that included some anti-Israel speech under the Education Department's civil rights protections. Speech, he said, could be used "as an indicator of the nature of conduct." He added that, if a violent antisemitic action followed anti-Israel speech, the prior speech could be policed as an example of predicting that conduct.
"Conduct often follows words," Silberstein said in agreement, linking chants at Cornell of "From the river to the sea" to antisemitic threats to students. "Speech advocating for violence should not be tolerated on a college campus," she added.
"Well, what about the eradication of Hamas?" McClintock asked her. Silberstein responded that Hamas is "a recognized terror organization," which led McClintock to ask, "So it depends upon your viewpoint, is that what you're saying?"
Gaetz, too, pushed Marcus on whether punishing students who voice support for Hamas amounts to the suppression of legitimate speech. He suggested that those who have called for the suppression of bigoted speech are being inconsistent. 
"I am reminded of the great philosopher Austin Powers, who said, 'There's only two things I can't stand: people who are intolerant of other people, and the Dutch,'" Gaetz said, referencing the series of spy comedies starring Mike Myers. "And a similar tension seems to be on display today."
Silberstein and Marcus were joined on the witness panel by Stacy Burdett, a senior executive at the Anti-Defamation League; two non-Jewish conservative campus activists; and Pamela Nadell, the director of American University's Jewish studies program and the author of a forthcoming book on antisemitism in America. 
Nadell sparred with Gaetz over whether criticisms of "globalists" or progressive Jewish philanthropist George Soros, both frequent targets of Gaetz's ire, should always be seen as antisemitic.
Elsewhere during the hearing, Judiciary Committee Chair Jim Jordan, a Republican, refused to respond to California Democratic Rep. Eric Swalwell's queries about why his committee left up a tweet reading "Kanye. Elon. Trump." for months after the rapper Kanye West embarked on a stream of antisemitic comments. 
—
The post At House hearing, pro-Palestinian protester interrupts Jewish student's recounting of antisemitic death threats appeared first on Jewish Telegraphic Agency.
Antisemitic incidents up 800% in the Netherlands since Oct. 7, Dutch watchdog reports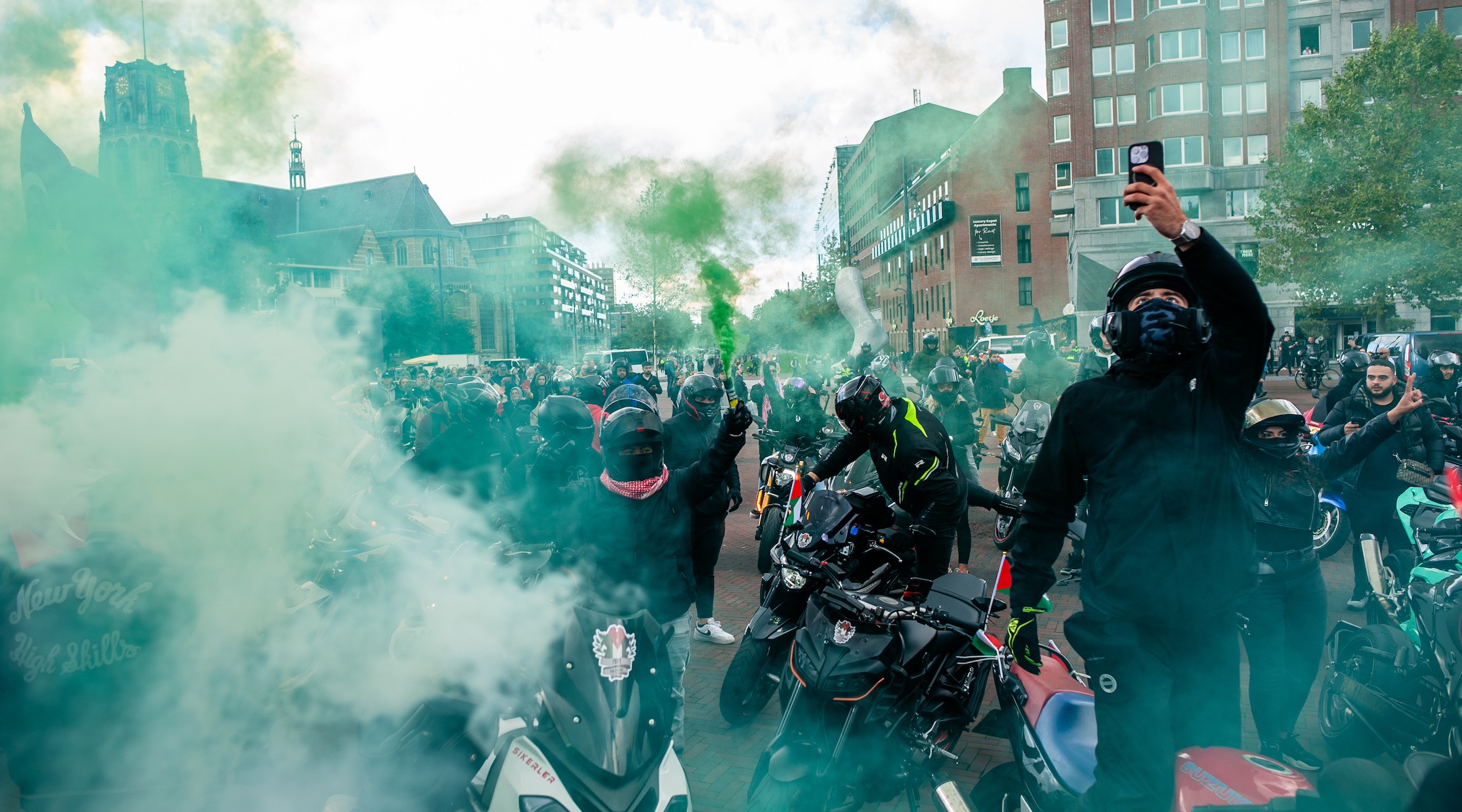 (JTA) — Reports of antisemitic incidents have spiked over 800% in the Netherlands since Oct. 7, a leading Dutch-Jewish watchdog has reported.
The surge only reflects antisemitic acts reported to the Center for Information and Documentation on Israel (CIDI), not all incidents filed to police departments and other anti-discrimination bureaus.
CIDI would not release specific incident numbers but said the barrage of reports it has received since the start of the Israel-Hamas war is 818% higher than its monthly average recorded over the past three years. The group tallied 183 total incidents for all of 2021.
"It is very worrying that Jews in the Netherlands are held responsible for conflicts taking place in the Middle East," read the CIDI report released on Tuesday. "It seems as if Israel is being used to beat Jews."
According to CIDI researcher and policy advisor Hans Wallage, it's not only the numbers that have grown — the range of attacks on Jews has increased as well.
"I see way more variety of different incidents that I didn't see before, and also more variety in the place where it happens," Wallage told the Jewish Telegraphic Agency. "There are a lot of schools — elementary, high schools, universities — having way more incidents that I didn't see before the 7th of October."
In one school, a Jewish boy was threatened with a knife and hit on the head with a bottle while classmates called him "kankerjood," a Dutch slur meaning "cancer Jew." Another boy was told that his classmates would throw him off a bridge and drown him because he was Jewish. Recurring reports describe students being accosted for wearing Star of David necklaces, being shown the Hitler salute and being told that Hitler "didn't finish his job."
Wallage believes the rash of school incidents has to do with social media, which gives children unprecedentedly rapid and unchecked access to hate speech, conspiracy theories and incitement.
"We don't have a filter as adults sometimes, but children completely don't have a filter of what to share — they share everything," he said. "What's a lie? After a while, if you read it all the time and share videos all the time online, it's going from the online world to the real-life world."
Most of the conspiracy theories circulating through Dutch schools follow old antisemitic tropes, simply repackaged for a younger generation, said CIDI director Naomi Mestrum.
"It's the same conspiracy theories," Mestrum told JTA. "Jews control the world and the media, and this [Hamas attack] must be fake, they staged this because it fits their agenda."
Outside of schools, CIDI has recorded mezuzahs torn off doors and swastikas sprayed on windows, along with frequent threats and verbal abuse. General antisemitic statements on social media are excluded from the figures, unless they were specifically sent to an individual through a direct message.
Shortly after Oct. 7, the only Jewish weekly magazine in the Netherlands — Nieuw Israelietisch Weekblad, known in English as the Dutch Jewish Weekly — switched from its clear plastic packaging to anonymous white envelopes, according to editor-in-chief Esther Voet. She said that her staff was flooded with calls from anxious subscribers who didn't want their neighbors to know they were Jewish.
Although it is typical for antisemitism to flare in the Netherlands during conflicts in Israel and the Palestinian territories, CIDI researchers said they have never seen a surge of incidents like this before. And like other Jewish communities across Europe, many Dutch Jews feel they are in new territory.
"People feel that it's different now, and it will be forever different from now on," said Mestrum.
—
The post Antisemitic incidents up 800% in the Netherlands since Oct. 7, Dutch watchdog reports appeared first on Jewish Telegraphic Agency.