JTA's 36 Jewish student athletes to watch this year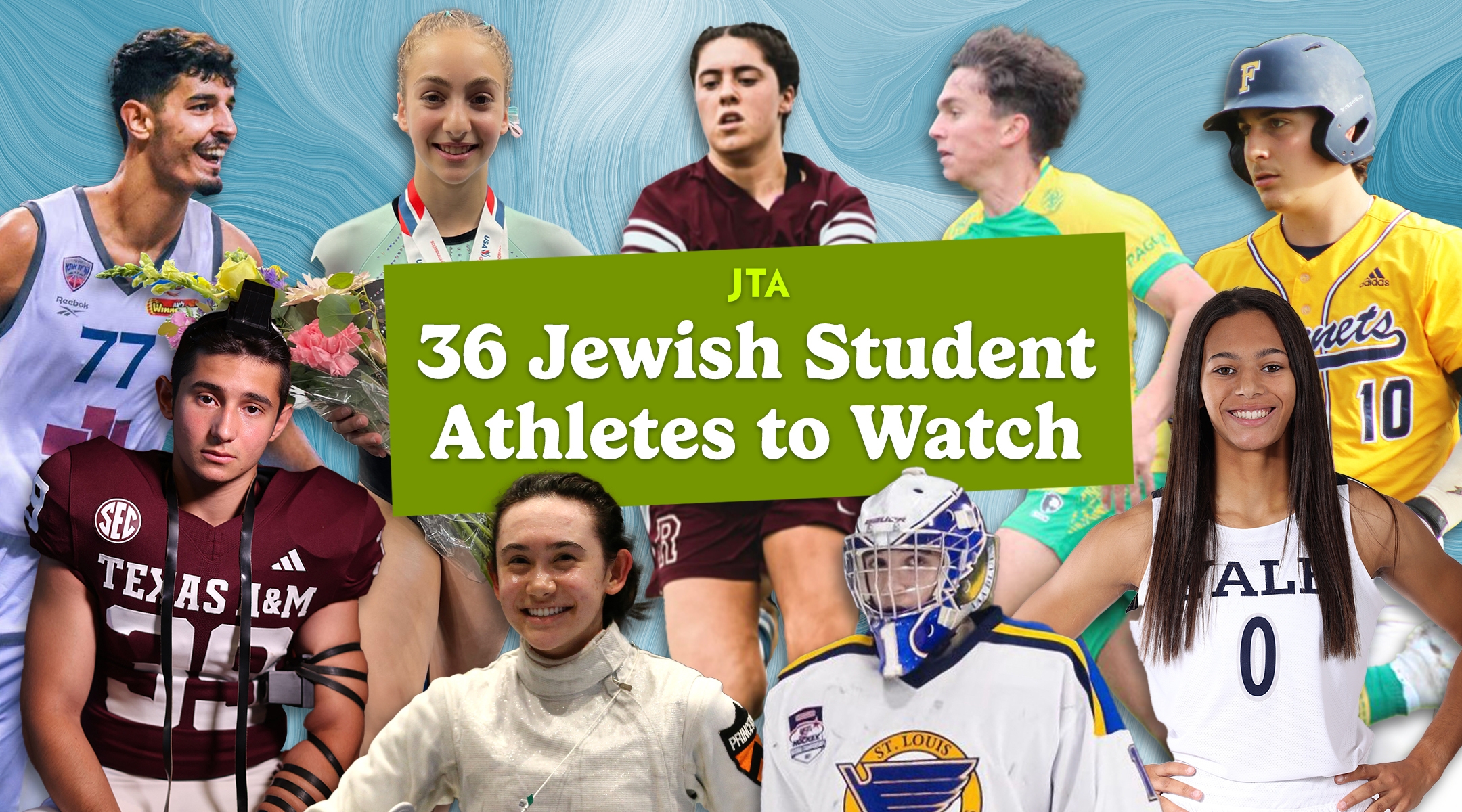 (JTA) — An internationally ranked foil fencer. An Orthodox Jew who walked onto a Division I college football team. An Israeli NBA draft prospect.
They are just some examples from our new list of 36 Jewish student athletes to watch.
These athletes hail from the United States, Israel, Argentina, Colombia and Singapore. They have won championships in national and international competitions in a wide range of sports, from judo to figure skating to cross country to soccer. One has even been drafted into Major League Baseball.
While there are no doubt countless more athletes worthy of recognition, this list contains 36 of the most promising young Jewish athletes around the world.
The purpose behind this project was twofold. First, we sought to highlight young Jewish athletes, a cohort who often lack adequate exposure and coverage in a crowded sports media ecosystem. These athletes' impressive accomplishments, inspiring stories and endless potential merit the attention and celebration of their communities — and of the Jewish world at large.
The second motivation is in the title of the project: Jewish student athletes to watch. While these honorees have already accomplished more than most young athletes, they are just getting started. Jewish sports fans curious about the next generation of stars should remember their names. In a few years, or even sooner for some on our list, they could follow in the footsteps of Aly Raisman, Sue Bird and Alex Bregman.
Here are the Jewish Telegraphic Agency's 36 Jewish student athletes to watch for the 2023-2024 school year.
Is there a Jewish athlete we should have on our radar? Drop us a line at sports@jta.org.
Caleb Guedes-Reed, Gabe Friedman, Mollie Suss, Grace Yagel, Rachel Bowes, Juan Melamed and Jacob Kessler contributed reporting, editing and production assistance to this project.
Alma Arcuschin, 18
Part of women's soccer renaissance in Argentina
Although Argentine soccer is known around the world for its men's team — led for several years by icon Lionel Messi — the women's game is on the rise. Arcuschin, who attended a Jewish high school, is also a member of the junior team for Club Atlético Platense, which plays in Argentina's top soccer league. She represented Argentina on its under-18 women's team at the 2022 Maccabiah Games in Israel and grew up playing at the Hacoaj Jewish sport club in Buenos Aires. Arcuschin is in her first year studying sports journalism at Instituto Superior DeporTEA.
Eliza Banchuk, 16, Shani Bakanov, 17, and Adar Friedmann, 17
Members of Israel's world champion rhythmic gymnastics team 
Eliza Banchuk, Shani Bakanov and Adar Friedmann are members of the Israeli rhythmic gymnastics team that won two gold medals — a first for Israel — at the 2023 Rhythmic Gymnastics World Championships in August. Eliza Banchuk, who lives in Rishon Lezion, has six gold medals of her own — four at the World Cup and one each at the World and European Championships. Bakanov, a Haifa native who started practicing gymnastics at four years old, has won 10 gold medals in international competitions — six at the Rhythmic Gymnastics World Cup, two at the Rhythmic Gymnastics European Championship and the two at the World Championships this year. And Adar Friedmann, who hails from Petah Tikva, has tallied eight gold medals — six at the World Cup and one each at the World and European Championships. The team has already qualified for the group competition at the 2024 Paris Olympics, where they will look to follow in the footsteps of gold medalist Linoy Ashram. All three gymnasts are in high school.
Aaron Berry, 20, and Peter Berry, 21
National wheelchair basketball champions 
Aaron and Peter Berry don't want to let tragedy define them. When they were 8 and 9 years old, respectively, a car accident during a family trip killed their parents and left the brothers paralyzed from the waist down. Everything changed when the Houston natives, who attended Jewish day school growing up, discovered wheelchair basketball. This past March, the brothers helped the University of Alabama mens' wheelchair basketball team win the National Intercollegiate Wheelchair Basketball Tournament, the team's fourth title in the past decade. Peter, who is considered among the best young players involved in the National Wheelchair Basketball Association and was recruited by Alabama at age 16, is likely to compete in the Paralympics in 2024. He is also considering a future professional career in Europe.
Alexis Blokhina, 19
Rising college tennis star
Alexis Blokhina is a sophomore tennis star at Stanford University, where she and her team won the 2022 PAC-12 women's tennis championship. Blokhina, who moved from California to Miami when she was 10, had competed in the juniors versions of all four Grand Slams by the age of 17. She advanced to the quarterfinals in girls doubles at the 2022 Australian Open and the round of 16 in girls singles at the 2021 U.S. Open. Her rising profile caught the attention of seven-time grand slam winner Venus Williams, who practiced with Blokhina prior to Wimbledon in 2022. Blokhina was the junior singles champion at the prestigious 2022 Indian Wells tournament, where she also finished as the runner-up in doubles. She additionally won gold medals in singles and doubles with Team USA at the 2022 Maccabiah Games.

Ava Brenner, 16
Six-time national junior karate champion
Ava Brenner is a six-time national junior champion in her age and weight class in the USA National Karate-do Federation, earning titles from 2014-2017 and 2019-2020. Brenner, a junior at John Hersey High School in Arlington Heights, Illinois, served as captain of the U.S. junior karate team at the 2022 Maccabiah Games, following in the footsteps of her father Darren, who competed in the 1997 Games and was the team's coach last summer. Brenner won two gold medals at the Games — becoming the first female athlete in three decades to win a Maccabiah gold medal in karate for the United States. She also teaches several karate classes a week in a program for disabled athletes.
Ariel Brunfman, 19
Rising through the ranks of pro soccer in Argentina
Ariel Brunfman, who attended a Jewish high school and is now studying management at Universidad de Belgrano, plays on the junior squad of Defensa y Justicia, one of the best teams in Argentina's top soccer league. Brunfman, a forward who played at the Jewish Hacoaj sport club growing up, represented Uruguay's under-20 team at the 2022 Maccabiah Games.
Ariella Burstein, 18
Trailblazing Colombian tennis player
Ariella Burstein has been called the first female professional athlete from Colombia's Jewish community. The Bogotá native, who was formerly ranked No. 1 in the city's local tennis federation, first earned points to qualify as a professional under the Women's Tennis Association at age 16. As a member of the Bogotá tennis league — and of her local Centro Israelita de Bogotá Jewish center — she won more than 40 titles in different national tournaments. She now studies psychology and plays tennis at Reinhardt University, a private university in Waleska, Georgia.
Aiden Cohen, 18
Judo and wrestling scion with Olympic ambitions 
Aiden Cohen, who trains in judo at his family's venerated Cohen Brothers Judo Club in Chicago, is a two-sport threat with an eye on the 2028 Olympics. Last year, Cohen won the gold medal in the sport for his weight class at the 2022 U.S. Youth National Cadet Championships, a silver medal at the National Junior Olympic Championships and a bronze medal at the Cadet European Cup, an annual 18-and-under judo competition. In wrestling, Cohen finished in third place in his category in the Illinois individual state finals in February. He now attends Harper College in Illinois, where he is continuing his training in both sports. 
Sophie Cohen, 21
West Point cadet and two-time judo champion 
Sophie Cohen is a cadet at the U.S. Military Academy at West Point. She won back-to-back titles at the National Collegiate Judo Association Championships in 2022 and 2023, both in the novice women's 52 kilogram category. Cohen, a Chicago native — but of no relation to Aiden — is majoring in Life Science and runs the Jewish Chapel Choir at West Point.
Arielle Epstein, 18
Made aliyah to go pro 
Arielle Epstein immigrated to Israel to play professionally for the F.C. Ramat Hasharon women's soccer team, which competes in Israel's Women's Premier League. But she's also remotely working toward a degree at Santa Monica College, a community college in Santa Monica, California. Epstein was a standout player at Los Angeles' Jewish Milken Community School and was also a member of the U.S. under-18 girls team that won a silver medal at the 2022 Maccabiah Games.
Gal Cohen Groumi, 21
Olympian and Big Ten champion
Gal Cohen Groumi is an Israeli swimmer who competes for the University of Michigan men's swim and dive team. He was born in Hod HaSharon, Israel, and is the nephew of former Israeli Olympic swimmer Eran Cohen Groumi. At 19, the younger Groumi competed for Israel at the 2020 Tokyo Olympics — where he was part of the team that finished eighth and set an Israeli record in the 4×100-meter medley relay. Since joining the Michigan team in the fall of 2021, Groumi has been a standout in the Big Ten conference, making the All-Big Ten First Team in 2023 and winning the conference's 200-yard individual medley championship two years in a row.
Lilah Grubman, 19
High school basketball star making a comeback at Yale
Lilah Grubman, a sophomore guard at Yale University, is eyeing a comeback after missing her freshman season with a torn ACL. Grubman was a two-time conference player of the year at Syosset High School in New York, where she scored over 1,000 points and led her team to four consecutive undefeated conference championships. She's not the first Jewish basketball star to come out of that same school — Syosset native and WNBA icon Sue Bird played there in ninth and tenth grade. In an interview on reporter Howard Megdal's "Locked on Women's Basketball" podcast, Grubman said, "Obviously it's an honor to be compared to someone like her. But I kind of just wanted to do my own thing and be known for being me." Grubman has also volunteered at a camp for children with special needs every summer since she was 12.
JJ Harel, 15
Junior Olympic track star with impressive medal count
By 13 years old, Joshua Jayden Harel had racked up 27 medals in international track and field competitions. At the 2022 American Athletic Union (AAU) Junior Olympics, Harel won three gold medals, including a 6-foot-5 high jump that broke a 42-year record for the under-14 age group. He also won gold in the triple jump and javelin, and he was the only athlete to achieve All American status — a title awarded to the top eight athletes in the country for each sport — in five events. He additionally appeared at the 2022 Maccabiah Games in Israel, where he won a gold medal in high jump and a silver medal in triple jump. Now 15 years old and just over 6-foot-3, Harel is a sophomore at Catholic Chaminade High School in the Los Angeles suburb of West Hills. Harel was born in Sydney, Australia, and has citizenship in three countries: the United States; Israel, through his father, a Houston native who served in the Israel Defense Forces; and Australia, where his mother is from. Though he attends a Catholic school, Harel occasionally wears a Star of David necklace and does not eat pork.
Sarah Jacobs, 16
Softball ace pitcher
Sarah Jacobs is a junior at Notre Dame High School in Sherman Oaks, California, where she is a star pitcher and first baseman. In her sophomore season — which made her a part of the Los Angeles Daily News' 2023 All-Area team and earned her First-Team Mission League honors — Jacobs posted a 10-1 record with a 1.92 earned-run average and 97 strikeouts in 80 innings. In her freshman year, Jacobs went 5-0 with a 1.63 ERA. According to her grandfather — who served as rabbi for Dublin's Jewish Progressive Congregation in the 1960s — Jacobs comes from "a long line of Jewish activists." She wears her name in Hebrew on a necklace.
Rebecca Kessler, 18
Up-and-coming DI goalie
Rebecca Kessler is in her first season with the Division I Binghamton University soccer program, where she is currently the backup goalie. In high school, the Scotch Plains, New Jersey, native was a two-time all-state selection, her team's MVP and a finalist for 2022 New Jersey Goalkeeper of the Year. Kessler's Players Development Academy team won the 2019 title in the Elite Clubs National League, a national youth soccer developmental league. Off the field, Kessler is a volunteer coach and is involved in her synagogue, where she volunteered at its religious school and has read Torah and blown the shofar at High Holiday services.
Elie Kligman, 20
Orthodox Jew looking to make baseball history 
Elie Kligman, who in 2021 became the second Orthodox Jew ever drafted by an MLB team, is a switch-hitting catcher in his first year at Division I Sacramento State, where he received a baseball scholarship. (Many draftees, especially those selected in later rounds, opt to play in college rather than begin their professional careers.) According to his father Marc Kligman, a lawyer and sports agent, Elie is believed to be the first observant Jew to receive a scholarship to play at his school. Kligman began his collegiate career at Wake Forest, before playing last season at Fullerton College, where he tallied a .406 on-base percentage with 23 hits and 20 runs scored in 31 games, while playing strong defense behind the plate. The Las Vegas native does not play on Shabbat and hopes to follow in the footsteps of fellow 2021 Orthodox draftee Jacob Steinmetz, who is currently in the Arizona Diamondbacks' minor league system. Both want to be the first Orthodox player in the big leagues.
Katie Krafchik, 14
Junior figure skater for Team USA
Katie Krafchik, who has been skating since she was five years old, has earned multiple top-five finishes in regional and national junior competitions — where she has competed for the junior division of Team USA. Those notable finishes include: fifth place at the 2023 U.S. Championships, second place at the 2023 Eastern Sectional Singles Final, second place at the 2022 U.S. Championship Series and fourth place at the 2022 Junior Challenge Skate, a national contest. She lives in New Hyde Park, New York.
Nikita Mae Jing-Yu Meyers, 17
Singaporean track star
Nikita Mae Jing-Yu Meyers is racking up medals in her home country. At the 83rd Singapore Open National Track & Field Championships in April, she won silver medals in long jump and the 4×100-meter relay, along with a bronze in the 4×400-meter relay. She is also president of the student council at Singapore Sports School, where she studies in its International Baccalaureate program. Meyers' father Paul had moved to Singapore from San Francisco in the early 1990s as a filmmaker. She and her siblings were raised in a Jewish home where they celebrated holidays, including a large annual Passover seder that they hosted for their Jewish and non-Jewish friends.
Eitan and Zev Moore, 22
Israeli twin ballplayers at MIT
Eitan and Zev Moore are sophomores at the Massachusetts Institute of Technology, where the twins each made an impression in their freshman season last year. Eitan, an outfielder, made 28 starts for MIT, racking up 30 hits and 12 RBI with 13 stolen bases. Zev, a shortstop, also started 28 games, tallying 35 hits, 27 runs scored and 19 RBI. The brothers, who are Orthodox, immigrated to Israel as children and went on to serve in the Israeli Defense Force — Eitan in intelligence and Zev as an elite athlete, earning an exemption that allows for a shorter service time. Both are longtime members of Israel's national baseball team.
Akira Morgenstern, 20
Second generation Maccabiah tennis player 
Akira Morgenstern, who describes himself as "Jewpanese" — an homage to his Jewish and Japanese heritage — is a starter on the Georgetown University Division I men's tennis team. As a senior in high school, Morgenstern was ranked No. 1 in his age division in his home state of Maryland and in the Mid-Atlantic region. He has competed at Maccabi tournaments in the United States and Israel — including playing alongside his father Michael — and he will participate in the Maccabiah Pan Am Games in Argentina later this year. Off the court, Morgenstern is involved in Israel advocacy on campus and is a legislative intern for U.S. Sen. Chris Van Hollen.
Blake Peters, 20
Led Princeton basketball to March Madness run
Blake Peters has been called "the most interesting man in the NCAA Tournament." The Evanston, Illinois, native plays Spanish classical guitar, is fluent in Mandarin and has political ambitions. During the 2022 NCAA Tournament, Peters made national headlines after scoring 17 points in 15 minutes during Princeton's upset win over Missouri. During the regular season, Peters only averaged 13.7 minutes of playing time but was still seventh in the Ivy League in three-point percentage (40.5%) and eighth in three-pointers made (54). Peters also won a gold medal with Team USA basketball at the 2022 Maccabiah Games. Prior to Princeton, Peters set numerous program records at Evanston Township High School, including for all-time career points (1,585). He was also nominated for an ESPY "Best Play" award for a full-court game-winning shot.
Carmel Renas, 17
Junior Olympic water polo player breaking down barriers 
Carmel Renas has been swimming since she was a toddler and began playing water polo in fifth grade. After winning regional championships, her local New York team qualified for the 2022 and 2023 Junior Olympics, during which they finished 17th out of 88 teams in their category. Renas additionally earned a silver medal at the 2022 Maccabiah Games and has twice been named an Academic All-American by USA Water Polo. Renas, a senior at Eleanor Roosevelt High School in Manhattan, is also the New York executive director of First Strokes, a nonprofit organization that helps provide access to swimming lessons for teenagers. She plans to continue playing water polo in college.
Jake Retzlaff, 20
Reform Jewish QB at BYU
Jake Retzlaff is a proud Jew who belongs to Temple Beth Israel, a Reform synagogue in Pomona, California, where he had a bar mitzvah. He's also on track to become the first-ever Jewish starting quarterback at Brigham Young University — the Utah school affiliated with the Church of Jesus Christ of Latter-day Saints. Retzlaff, who has chosen the nickname "BY-Jew," wears a Star of David necklace around campus and openly discusses his faith with teammates and coaches. He is currently the team's backup quarterback but is widely expected to take the reins of the Cougars when starter Kedon Slovis graduates after this year. Retzlaff joined BYU after a stellar sophomore season at Riverside City College in Riverside, California, about 60 miles east of Los Angeles. At Riverside, Retzlaff threw for 4,596 yards and 44 touchdowns with a 63% completion rate — and ESPN ranked him the top junior college quarterback in the country. Retzlaff is believed to be one of only five Jews at BYU, where 98% of the university's roughly 33,000 students are Mormon. 
Lacie Saltzmann, 15
Elite junior gymnast 
Lacie Saltzmann is one of approximately two dozen women who has earned a spot among the USA Gymnastics junior elite program. Saltzmann, who first started gymnastics in preschool, won the all-around competition at the prestigious 2022 Hopes Classic, along with numerous other top-5 and top-10 finishes at national competitions. Outside the gym, Saltzmann tutors younger children in her area and organizes charity bake sales — including a pop-up event at Williams-Sonoma that generated more than $1,000 in donations — to benefit the North Texas Food Bank and other organizations. Saltzmann, a North Carolina native who moved to Texas at 11 to pursue gymnastics, celebrated her bat mitzvah at Masada in Israel in 2021.
Sam Salz, 20
Believed to be the only Orthodox Jew on a DI football team
Sam Salz didn't play football in high school because his alma mater, Kohelet Yeshiva High School near Philadelphia, didn't have a team. That made his story especially unlikely when he walked onto the football team at Texas A&M University — a Division I school that plays in the vaunted Southeastern Conference (SEC) and had a spot in the Associated Press' top 25 preseason rankings. Salz wears a kippah under his helmet, dons uniform number 39 (in honor of the 39 kinds of work traditionally forbidden on Shabbat) and does not play on Shabbat — despite the fact that most college football games fall on Saturdays. The economics major says his unique journey has a deeper meaning. "I wanted to inspire kids, I wanted to inspire belief in Hashem," he said on Jewish sports podcast The Ball Habatim, using a Hebrew term for God. "If you believe in Hashem and you believe you can do it, nothing will hold you back in life."
Zevi Samet, 20
Basketball phenom at Yeshiva University
Taking the reins of Yeshiva University's decorated basketball team from NBA G League player Ryan Turell was no small task — but Zevi Samet, a 6-foot-1 guard from Monsey, New York, did not disappoint in his freshman season. Samet scored 558 points last season, a program record for a rookie. He led all of Division III in 3-pointers per game (3.96) and was selected as the Skyline Conference Rookie of the Year while earning a spot on the All-Skyline first team. He topped 30 points six times, with a season-high of 40. Samet has also said he would consider playing professionally in Israel.

Ben Saraf, 17
Israeli NBA Draft prospect
Ben Saraf is a 6-foot-6 point guard in his first season with the Israeli Premier League team Ironi Kiryat Ata. Saraf, who attends high school in Ramat Yam, is not yet a starter on the team but made his debut earlier this month in the Israeli Basketball League Cup. He appeared in the Adidas U18 Next Generation tournament each of the last two years, scoring 75 points in four games in this year's competition in February. Last year, Saraf played for Elitzur Maccabi Netanya in Israeli basketball's second tier, averaging 13.7 points in 32 games. He has been touted as a possible prospect for the 2025 NBA Draft by Sports Illustrated and by Josh Halickman, who covers Israeli sports for the Jerusalem Post and his own site, Sports Rabbi.
Audrey Schildkraut, 16
State champion in girls flag football 
Audrey Schildkraut is a three-sport athlete at Ridgewood High School in Ridgewood, New Jersey, where in her sophomore year she played junior varsity soccer, varsity basketball and most notably, flag football. In only its second year of existence, her school's girls flag football team went undefeated on its way to winning the state championship in June — by a score of 47-6. Schildkraut had a game-altering interception during the final, which was played at the training facility of the New York Jets (the NFL team sponsors the club sport in North Jersey, along with Nike and Gatorade). Schildkraut was one of only three sophomores, all from her school, named to the First Team All-North Jersey for girls' flag football. Flag football is on the rise in the United States, particularly among girls — according to a study by the Sports Business Journal, around 474,000 women between the ages of 6 and 17 played in 2022, a 63% increase from 2019.

Jonah Soltz, 17
Member of USA Gymnastics men's junior national team 
Jonah Soltz, a senior at Stadium High School in Tacoma, Washington, is a member of the USA Gymnastics men's junior national team. Heplaced first in his age group at multiple events in the 2022 and 2023 Men's Washington State Championships, and he qualified for the 2023 Xfinity U.S. Gymnastics Championships that took place in late August. Soltz has earned several top-five finishes in numerous events at national competitions, including in all-around, parallel bars, floor exercise and pommel horse. He also competed at the 2022 Maccabiah Games in Israel, where he earned a silver medal and was part of the gold medal-winning U.S. team. Soltz has said his goal is to make an NCAA DI team and to compete internationally.
Nelson Vickar, 17
Amateur hockey goalie on an NHL path
Nelson Vickar is a top goalie prospect who currently plays for the under-18 team in the St. Louis Blues' AAA amateur hockey league, which is supported by but not officially affiliated with the NHL team. Vickar previously played for the league's under-16 team as a 15-year-old, posting an .867 save percentage in 16 games in the 2022-2023 season. And in May, Vickar was drafted by the Madison Capitals of the United States Hockey League, the top junior ice hockey league under USA Hockey. The junior at Ladue Horton Watkins High School in St. Louis has high prospect ratings from the Scouting News, which ranks promising athletes. Vickar attended a Jewish elementary school and has been to Israel three times — including to watch his father Aaron compete in the hockey tournament at the Maccabiah Games, which he did in 1997 and 2017.
Maia Weintraub, 20
Olympian with several gold medals at international championships 
Fencer Maia Weintraub is currently ranked No. 4 in women's senior foil in the United States and No. 17 in the world. A junior at Princeton University, Weintraub has won numerous championships and gold medals at U.S. and international fencing tournaments, including U.S. national championships in 2019 (at age 16) and 2023. She has also taken home several gold medals at multiple fencing World Cups and at the 2019 European Maccabi Games. The Philadelphia native's success earned her an alternate spot on the U.S. team at the 2020 Tokyo Olympics, but expect her to keep climbing the ranks.
Danny Wolf, 19
7-footer on the rise at Yale  
At 7 feet tall, Danny Wolf is likely among the tallest Jewish athletes in all of sports. Wolf, who hails from Glencoe, Illinois, is in his sophomore season at Yale University, where he appeared in 21 games off the bench in his freshman season and earned the team's rookie of the year honor. This summer, Wolf won a silver medal with Team Israel at the FIBA under-20 European Championship in Heraklion, Greece, where he led the tournament with 12 rebounds per game and was second with 17.7 points per game. Wolf said the opportunity to play for Israel was an experience he won't forget. "Just being able to represent Israel in a way that I haven't been able to do in the past is something that I shouldn't take for granted," he told the Jerusalem Post.

—
The post JTA's 36 Jewish student athletes to watch this year appeared first on Jewish Telegraphic Agency.
JNS.org – The depraved and barbaric murder, rape and kidnapping of innocent children, women and men by Hamas on Oct. 7 will remain a blot on the history of humanity for eternity.
Unfortunately, since the massacre, the reaction of civilized society has also been such a blot. There have been a few bright spots, but the global response has been overwhelmingly troubling, disheartening and often simply dreadful.
The betrayal of the Jewish people by three elite university presidents last week was the final straw. The fact that Claudine Gay of Harvard, Sally Kornbluth of MIT and Elizabeth Magill of the University of Pennsylvania could not simply say "yes" to Rep. Elise Stefanik's question as to whether "calling for the genocide of Jews" violates the schools' codes of conduct or constitutes "bullying or harassment" was beyond the pale.
Magill has already resigned. The other two should do the same. They are a reflection of the moral nadir to which much of society has sunk. At a time when antisemitism in the US has risen by orders of magnitude, the three presidents' equivocation on the softest of "softball" questions cannot but embolden antisemites around the world.
Elie Wiesel's statement rings truer than ever: "We must take sides. Neutrality helps the oppressor, never the victim. Silence encourages the tormentor, never the tormented. Sometimes we must interfere. When human lives are endangered, when human dignity is in jeopardy, national borders and sensitivities become irrelevant." The presidents of every university should learn this lesson.
Campuses and universities are not the only ones to totally abdicate their responsibilities. The Red Cross has also been an extraordinary failure. The International Committee of the Red Cross (ICRC) has not been allowed to visit a single one of the hostages taken by Hamas on Oct. 7. This does not appear to bother them, as they have made no demands to do so. This dereliction of duty comes from the most powerful relief organization in the world, budgeted at $3 billion. The Geneva Convention and international law give the Red Cross enforcement powers, but they have thus far refused to use them. This recalls their failure to visit concentration camps during the Holocaust. Had they demanded to do so, countless lives could have been saved.
On another front, the authorities' inability to crack down on roving antisemitic mobs, whether at Hillcrest High School, the Macy's Thanksgiving Day Parade or during various bridge closures in New York City, is encouraging further bad behavior. The French, to their credit, have prevented such actions from the beginning. America must do the same.
Amidst all this darkness, Israel has been a shining light. After suffering the worst single day in its 75-year history, it remains a beacon of hope. Also heartening is that Jews the world over have come together in ways I have never seen in my lifetime and the outpouring of support from many Christians has been incredible. This is a fight for civilization and the soul of humanity. I believe with perfect faith that good will defeat evil. There is no other choice.
The post The World's Betrayal first appeared on Algemeiner.com.
Would Turkey Take in Gaza Refugees?
JNS.org – The Chinese tell us that crises are opportunities. Might this be true of the Israel-Hamas war as well?
After the war in Gaza ends, even if the education system is thoroughly changed to promote coexistence, these children will still learn from their parents and the surrounding Islamic milieu that once a territory is conquered and Islamized, it must be ruled by Muslims forever. Yes, there can be temporary ceasefires that last centuries, but Muslims are patient people.
This holds true for the Land of Israel as well. Muslims cannot recognize the right of Jews to permanently rule any part of a land once conquered by Muslims.
One must ask, then, how the issue of a Gaza that will remain at war with Israel can be addressed. Are there other options than perpetual Israeli control?
One possible option could be Turkey, even though its President Recep Tayyip Erdoğan is an implacable enemy of Israel. Would Erdoğan be interested in taking in voluntary immigrants from Gaza?
Although Erdoğan's Sunni Islamic identity is most important to him, he sees himself as very much an ethnic Turk as well. Turkey has a large Kurdish minority, which is also Sunni, but the Kurds see themselves as ethnically Kurdish, not Turkish.
Erdoğan himself has stated publicly that by 2038, the populations of Kurds and Turks will reach parity. According to his Interior Ministry, however, this is already the case. How, Erdoğan must be wondering, can Turkey stave off this impending "Kurdification" and keep Turkey overwhelmingly Sunni Muslim and culturally Turkish? He is faced with this question because the ethnic Turkish birthrate is far below replacement while the Kurdish birthrate is well above the Turkish birthrate.
One answer might be taking in Gaza refugees. Turkish Sunni culture is similar to that of the Sunni Arabs south of Turkey, including Syrians and Palestinians. Kurdish culture, on the other hand, is quite different. As a result, Arab immigrants from south of Turkey assimilate into the dominant Turkish culture, which is by far the dominant culture of Turkey.
This has proved to be the case with the four million Syrian Arabs who have fled to Turkey to escape their country's horrific civil war. Erdoğan happily accepted them, understanding that they would almost certainly integrate into Turkish culture rather than Kurdish culture. This would stave off the "day of reckoning" with Turkey's Kurds.
Erdoğan has done the same with Arab Sunnis from Gaza. He had his parliament pass a law allowing Palestinians to settle in Turkey, where they receive state support. These immigrants have included mostly males aged between 15-35, and some have been from Judea and Samaria as well as Gaza. Women and their families have also immigrated.
It is true that many people in Turkey resent this because they are prejudiced against Arabs. But they have been powerless to stop it, because Erdoğan wields near-absolute power in Turkey and is an adept politician who knows how to get what he wants.
Would large numbers of Gazans move to Turkey if given the chance? Based on conversations I have had over the years with Arabs from Judea, Samaria and Gaza, I believe that a great many would jump at the opportunity to start a new life elsewhere. They know they would be freer in countries like Turkey than they are under the tyrannical rule of Hamas and the Palestinian Authority. Moreover, given Turkey's generous policies towards them, these Palestinians would certainly have a brighter future in Turkey than they have now.
Moreover, Gazans largely support Hamas, which is a branch of the Muslim Brotherhood. Erdoğan is a major leader in that movement and would be happy to gain even more citizens who support his goal of spreading his Islamic radicalism. This is one reason he has given Hamas representatives refugee status in Turkey, as well as Turkish citizenship and passports. Clearly, accepting large numbers of Gazans would be a win-win for Erdoğan.
Moreover, allowing Gaza civilians currently displaced by the fighting to voluntarily immigrate should not just be considered, but viewed as a basic human right.
In the past, wars have often produced refugees. At the end of World War II, more than a million people were displaced. Germans left Czechoslovakia and what is today western Poland. When India was partitioned, millions of Hindus fled their homes in today's Pakistan and Bangladesh, while many Indian Muslims fled to those areas from Hindu-dominated India. Within five to 10 years, these refugees assimilated into the cultures of the countries to which they fled.
The Palestinian refugee problem is the only one that has never been solved. Maybe, given all of the above, Turkey could be at least part of the solution.
The post Would Turkey Take in Gaza Refugees? first appeared on Algemeiner.com.
America Wants to Help, But Is Undermining the War Effort
JNS.org – "We're determined to help Israel ensure that Oct. 7 never happens again," US Secretary of State Antony Blinken stated last week.
It was not the first time he made this promise. Similar statements were made during his four solidarity visits to Israel since the Oct. 7 massacre. However, concurrently with his statement, under American pressure, the Israeli war cabinet was forced to discuss an increase in fuel deliveries to the Gaza Strip, essentially supplying oxygen to Hamas terrorists fighting our soldiers through terror tunnels.
Soon after Blinken's declaration, a spokesperson for the State Department announced that the United States would oppose the creation of a buffer zone in the Gaza Strip, thus adding more constraints on Israel's actions, particularly the options at its disposal when it comes to protecting towns near the border.
There were also US statements that the duration of the war is not unlimited, along with pressure on Israel before the renewal of hostilities in southern Gaza to reduce the intensity of the fighting and increase humanitarian aid.
There is no room to doubt President Joe Biden's and his officials' commitment. The administration's support for Israel is unwavering and deserves much praise. The US has accepted Israel's right to destroy the military and governance capabilities of Hamas and has provided substantial and vital assistance. But at the same time, the US has been imposing limitations that prevent Israel from achieving these goals without heavy losses.
Moreover, the limitations imposed by the US will undoubtedly prolong the conflict, which is something Washington doesn't want. The best way to ensure a quick and effective military operation with minimal risk to the uninvolved population is to temporarily relocate this population outside the combat zones. However, there are also objections to this.
The increased pressure on Israel may be related to Biden's domestic travails ahead of the 2024 elections. It may stem from differences between how Washington sees Gaza and the reality on the ground.
Nevertheless, Israel cannot compromise on achieving its goals while minimizing the burden on its fighters—regardless of how long it takes. This is the message Israel has to drive home when US National Security Adviser Jake Sullivan visits in the coming days.
Those who insist on getting answers from the Israeli government over what happens "the day after" are doing so despite knowing full well that there are no good options in Gaza. If there were, they would have presumably been implemented during one of the many opportunities to do so over the years.
There is no obligation to debate between bad alternatives in public during the war itself. Attention should be solely directed towards victory, maintaining internal unity and minimizing the necessary involvement in issues that could stir controversy, whether internally or with our friends overseas.
The way Israel sees it, the question of "the day after" in Gaza is secondary to the more critical goal of the war: reestablishing the deterrence that was shattered on Oct. 7. The endgame of the war must be shaped primarily according to this criterion.
The toppling of the Hamas government, the destruction of its military capabilities, the killing or neutralization of most of its commanders and military units, along with the devastation resulting from all these will serve as pieces of the desired endgame puzzle.
Of course, Israel must not forget the hostages and should not leave them for "the day after." Israel's moral obligation towards the hostages and their families requires leaving an open channel for negotiations (preferably through Egypt, not Qatar, whose chief interest is to ensure Hamas survives). It must ensure that a sword is swiftly placed on the necks of Hamas leaders until they understand that the hostages are their responsibility and they must release them.
As the fighting continues, the IDF and the Shin Bet security agency continue to crack down on terrorists in Judea and Samaria. Israel's political leaders must decide whether to allow Palestinian workers from Judea and Samaria to return to work in Israel, which has been prevented since Oct. 7 except for a relatively small number of positions defined as critical even at this time.
The main argument for allowing them back into Israel is the fear that economic hardship, frustration and unemployment will push them to act against Israel. Another consideration is the impact on the Israeli economy, particularly housing construction. Against these considerations stands the concern over attacks they may perpetrate because they have been inspired by Hamas in Gaza or because they want to avenge the deaths there, especially in light of the images and propaganda broadcast continuously on Al Jazeera.
The successful counterterrorism operations in Judea and Samaria, followed by a not insignificant number of casualties, also add motivation for revenge. The security establishment is fully preoccupied with the fighting in Gaza and the intelligence efforts in Judea and Samaria. Its ability to track terrorist elements and neutralize them in advance is not guaranteed, as we have seen recently in the attacks at the Gush Etzion junction and in Jerusalem.
Today, the public in Israel is vigilant and shows a high degree of awareness regarding any Palestinian in Israel. This contributes to efforts at detection and neutralization. It will not be the same if tens of thousands of Palestinians are allowed into Israel. Another consideration, although not mentioned in setting policy, is the perception of the price Israel exacts.
Hamas in the Gaza Strip gains points in the battle for hearts and minds in Judea and Samaria because it managed to exact the release of terrorists and because it "stood up" to Israel. But Hamas could lose hearts and minds if Palestinians blame the terrorist organization for harming their livelihoods. It seems that, at this stage, the scale leans towards maintaining the current situation and not letting the workers back into Israel. Caution requires us to avoid unnecessary security risks in the short term.
Originally published by Israel Hayom.
The post America Wants to Help, But Is Undermining the War Effort first appeared on Algemeiner.com.