Leading German Philosopher Jürgen Habermas Declares Support for Israel, Opposition to Resurgent Antisemitism
One of Germany's most storied political theorists has issued a statement supporting Israel's military response to the Hamas atrocities of Oct. 7, decrying as well the surge of antisemitism in Germany during the intervening period.
"The current situation, created by the cruel attack by Hamas and Israel's response to it, has led to a cascade of moral and political statements and demonstrations," Jürgen Habermas observed in the statement published on Monday on the website "Normative Orders," which is devoted to philosophy and social theory. As well as Habermas, the scholars Nicole Deitelhoff, Rainer Forst, and Klaus Guenther all endorsed the statement.
"We believe that with all the conflicting views that are expressed, there are some principles that should not be disputed. They underlie the well-understood solidarity with Israel and Jews in Germany," the statement continued.
Arguably Germany's leading philosophical thinker in the post-World War II period, the 94-year-old Habermas drew on philosophers as varied as Immanuel Kant, Karl Marx, and Ludwig Wittgenstein in developing his influential theories of communication, which hold that all speech acts are guided by a "telos," or "purpose," based upon the ability of human beings to reason.
The statement also urged Israel to observe the "principles of proportionality" in its response. However, the authors were in no doubt that the Hamas pogrom was carried out "with the declared intention of eliminating Jewish life in general," adding: "Despite all the concern for the fate of the Palestinian population, however, the standards of judgment slip completely when genocidal intentions are attributed to Israel's actions."
The statement emphasized that "Israel's actions in no way justify antisemitic reactions, especially not in Germany. It is intolerable that Jews in Germany are once again exposed to threats to life and limb and have to fear physical violence on the streets." Postwar Germany's commitment to preserving both Jewish life and a secure existence for the State of Israel "is fundamental to our political life," the statement asserted.
Commenting on the statement, the Italian columnist Ricardo Canaletti said that it was "difficult to overestimate Jürgen Habermas' contribution to contemporary thought."
"Israel's right to exist, although not derived exclusively from Nazi crimes, finds in an understanding of that period a reason for legitimacy in the eyes of Westerners that cannot be questioned," Canaletti wrote in a piece for the MOW news outlet. "Whatever the judgment over these years, no European should question the right of the Jewish state to exist."
Canaletti noted that when "Habermas claims that the Federal Republic of Germany is also based on respect for the integrity of a state of Israel, he is saying something that in Italy, in a month of war, we haven't heard yet." He argued that Italy, like Germany, needed to base its postwar existence as a democratic republic on an awareness of its fascist period, which involved "racial laws, the hunt for Jews, and the political alliance with the Third Reich."
The post Leading German Philosopher Jürgen Habermas Declares Support for Israel, Opposition to Resurgent Antisemitism first appeared on Algemeiner.com.
Jewish New York Rangers star Adam Fox partners with local bagel chain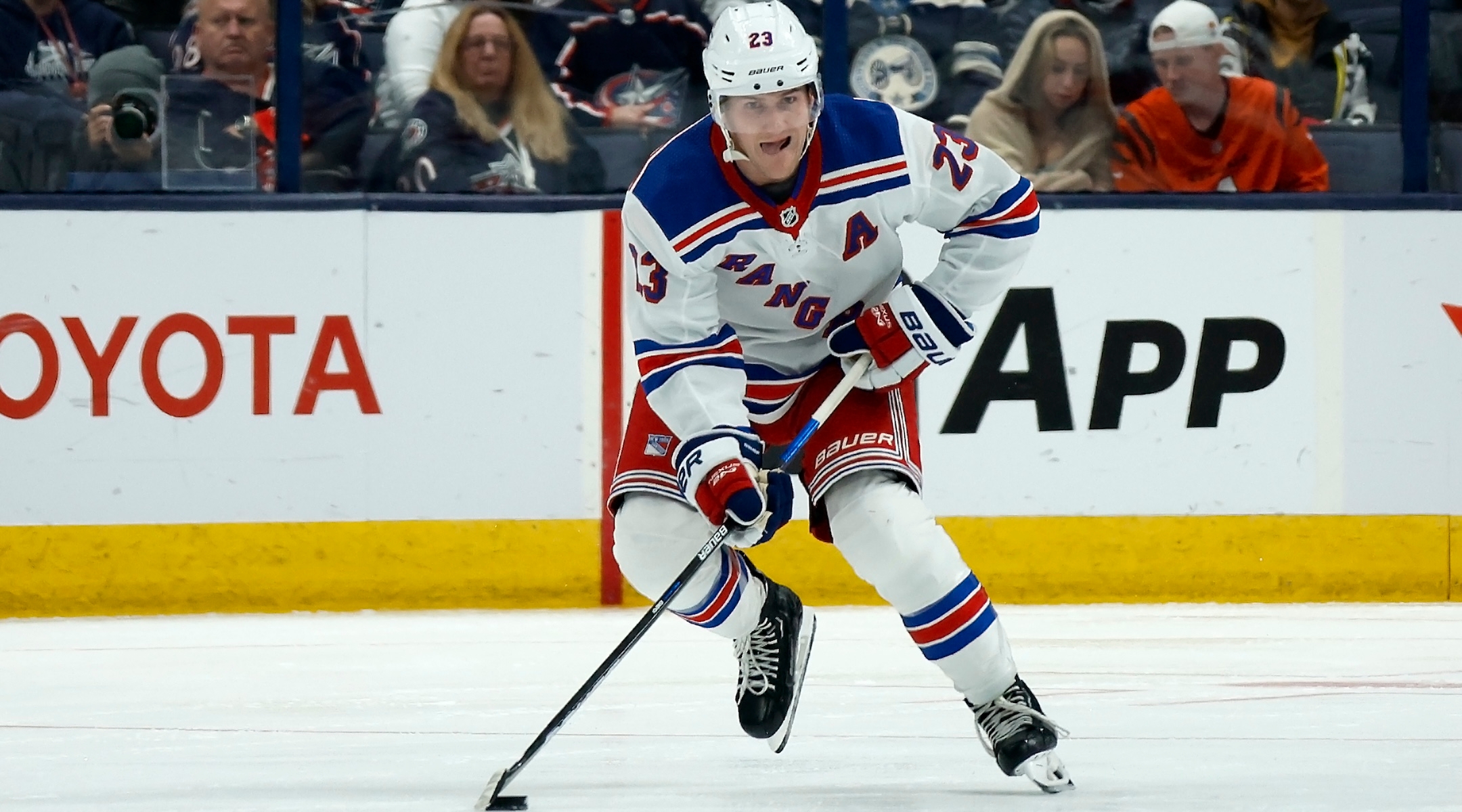 (New York Jewish Week) — At only 25 years old, New York Rangers star defenseman Adam Fox has already accomplished plenty.
The Jewish Long Island native was a star player at Harvard University. In 2021 he became the first Jewish player to win a major NHL award when he was named the league's best defenseman. He's also a two-time All-Star.
Now Fox, who got off to a hot start this season before suffering an injury on Nov. 2, is adding a different kind of achievement to his resume: one that comes coated in sesame seeds.
On Tuesday, Fox announced a new partnership with Brooklyn Bagel and Coffee Company, which is routinely ranked among the best and most popular bagel spots in the city. Curiously, despite the name, the mini-chain has three locations in Astoria, Queens and two in Manhattan — and none in Brooklyn.
"As a Jewish Kid from Long Island a bagel partnership is something I am extremely excited about," Fox said in a press release. "For as long as I can remember, bagels have been a part of every family gathering. Now playing in New York, I have had the opportunity to explore some of the best food in the world, and yet nothing feels like home quite like an egg & cheese on a bagel."
Fox's new venture will include a video series, aptly named "Bagels and Fox," where Fox will interview a number of internet personalities, including Ben Soffer, the Jewish influencer and podcast host known by his Instagram handle "BoyWithNoJob."
Fox will also have a new menu item named after him at all Brooklyn Bagel locations: "The Foxy," a sesame bagel with fried eggs, lox, cream cheese and tomato. The new sandwich is available starting Thursday. And Fox will make an appearance behind the counter Thursday morning at the chain's Chelsea location.
"We're absolutely thrilled to announce our incredible partnership with none other than the NY Rangers' superstar, Adam Fox!" Brooklyn Bagel founder Pete Voyiatzis said in the press release.
This is not Fox's first food-related sponsorship deal — he partnered with Dunkin' Donuts last year.
Fox, who grew up a Rangers fan in Jericho, told the Jewish Telegraphic Agency last year that his parents and brother attend most home games. He said he cherishes the opportunity to represent his local Jewish community in the NHL.
"There are a lot of Jewish residents on Long Island, so it's cool for me to represent that community," Fox said. "And, you know, there's not many Jewish athletes. So to be one of the few and have people who come from where I come from look up to me… I think it's definitely pretty special."
—
The post Jewish New York Rangers star Adam Fox partners with local bagel chain appeared first on Jewish Telegraphic Agency.
What 9 Jewish teens from across the US said they took away from marching for Israel in DC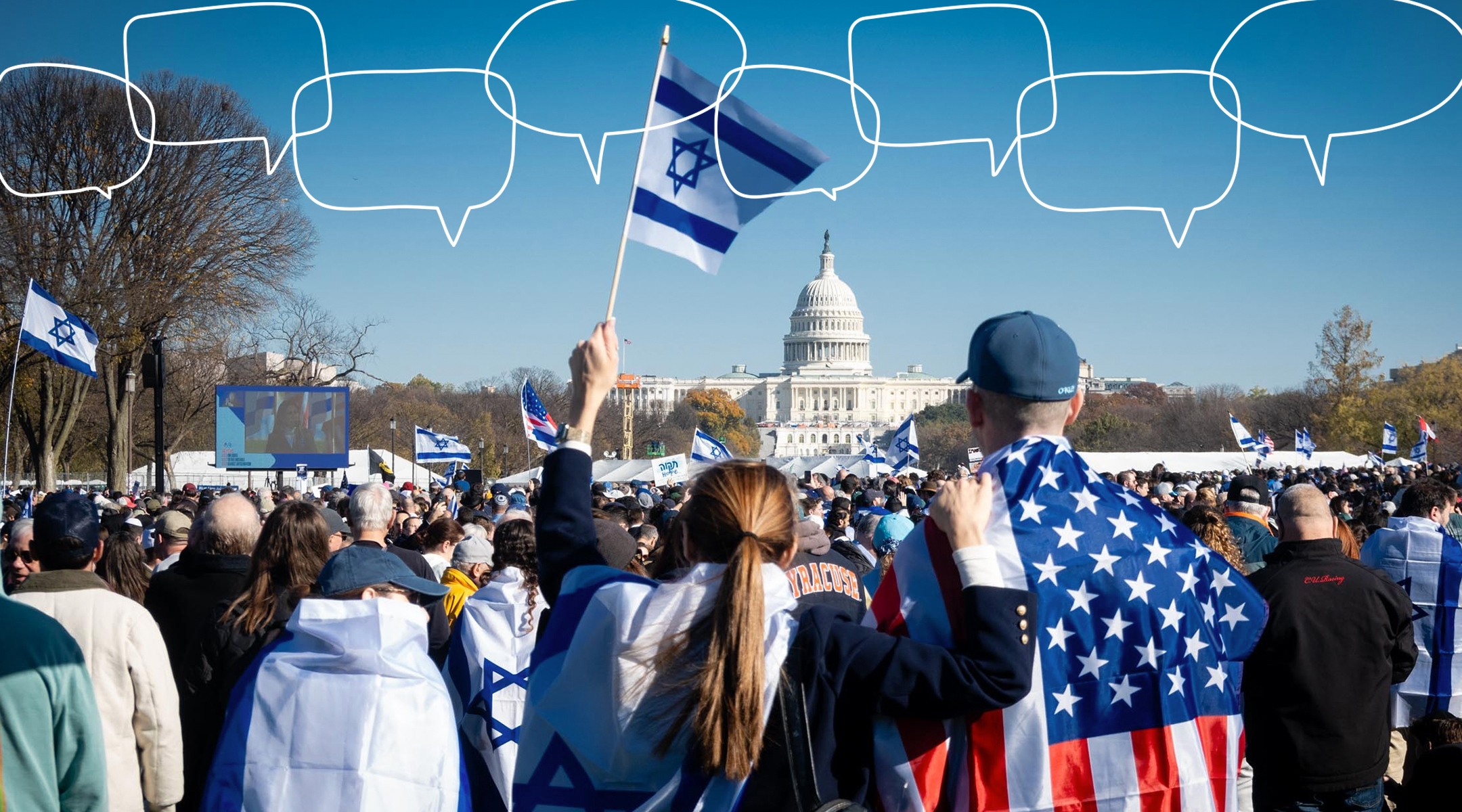 (JTA) — They went to Washington to support Israel and left the rally with a deepened sense of the Jewish community in the United States.
So said teenagers who were among the estimated 290,000 Israel supporters who gathered on the National Mall on Tuesday — one of the largest gatherings of Jews in U.S. history. JTA's Teen Journalism Fellows were at the March for Israel to report on their peers' experiences throughout the day; many heard from teens that they would be returning home inspired by the number of people, the range of Judaism represented, the support of non-Jewish allies and the overall feeling of hope.
Here's what nine young people who were proud to be a part of the historic gathering said during their day in D.C.
Isaac Shalit, 14, 
Austin, Texas
World War I Memorial, 10:34 a.m.
I'm feeling great. Everywhere you see there are people to represent Israel. It's great to see that there are a bunch of other people coming together for the same reason you are.
[At the minyan outside the White House Tuesday morning] there was a lot of singing, a lot of dancing. You saw completely different sects, completely different parts of Judaism. A guy in a full suit with a hat on, dancing with a guy without even a kippah on. It was great seeing everyone coming together for Israel.
Lior Markus, 16,
Toronto, Ontario
The National Mall, 11:59 a.m.
I haven't felt this many presence of Jews since I was last in Israel. There's a nice sense of patriotism of sorts — everyone is here to support our country, our people, our nation. It's beautiful, beautiful to see.
Juju Jennet, 17, 
Washington, D.C.
The National Mall, 12:10 p.m.
I'm here to support my fellow Jewish people and stand up against antisemitism. It's amazing to see all the Jewish people here and even supporters that aren't Jewish. It's just crazy to see these numbers, and it feels great that so many people are in support of Israel and are standing up against Hamas and rising antisemitism.
Yoshi Polotsky, 13,
Denver, Colorado
The National Mall, 12:25 p.m.
I'm here to represent Israel in the fight against Hamas. My heritage shows how much I love Israel. It feels like a really big community here. It's a warm, fuzzy family.
Adin Linden, 17,
New York City
The National Mall, 2:19 p.m.
I'm here to show my support for Israel, and to show the people who are fighting back against Israel in America that we're stronger than them. We're more united.
I've seen people from all different parts of my life, but also people who are more religious, people who are less religious, all different races, genders. It's just very powerful to see all these different groups coming together.
Emma Shalmiyev, 17,
Lower Merion, Philadelphia
Recorded on the bus returning home from the rally, 5:29 p.m
I feel moved and inspired. Each speaker expressed so much emotion. It was crazy and uplifting to see so many people come. The rally also showed me that people do care — not just Jews — and that there are so many of us. I didn't realize that before.
I remember thinking at the rally, there is hope. There may have been hope before but now there is so much more!
Hadas Winberg, 15,
Newton, Massachusetts
At the airport coming home from the rally, 7:41 p.m.
I went [to the rally] to have an impact on powerful people. But I also went to boost morale. For example, my aunt, who lives in Israel, shared that she was looking forward to hearing about the news in D.C. because all the news lately has been so bad. So I was also there to be part of something that positively impacts civilians and makes them feel supported. That is the most important thing that we can do now.
Aliya Ryman, 15, 
Bronx, New York
On the bus heading home from the rally, 8:46 p.m.
I wanted to come to this rally because I feel really connected to my Jewish identity and culture. I also knew that this was something that I'd remember forever — and a memory that I can pass on to future generations. So many people coming to stand up for Israel is very powerful.
I was horrified and devastated for the families who've lost loved ones and those whose family members are wounded or being held hostage. I wanted to show solidarity and let them know that we're all here to support them.
I also have a tremendous sense of pride in our people and their resilience. But the need for the rally in the first place worries me.
Chinka Fried, 19,
Israeli living in Lower Merion, Philadelphia
Recorded at home after the rally, 10:26 p.m.
I came to the rally to show support for Medinat Israel [the State of Israel] and Eretz Israel [the land of Israel], and to bring the [hostage] kids home. I saw the strength of the Jewish community in the U.S. There were so many people — so many different people and communities. I was very inspired. But I was also sad because we congregated as a result of tragedy in Israel and antisemitism in the U.S. Nonetheless, I am proud of the U.S. community and how it stands up for Israel. That was really nice to see.
—
The post What 9 Jewish teens from across the US said they took away from marching for Israel in DC appeared first on Jewish Telegraphic Agency.
In Washington, Jews manage to rally around an intentionally murky message. Will the unity last?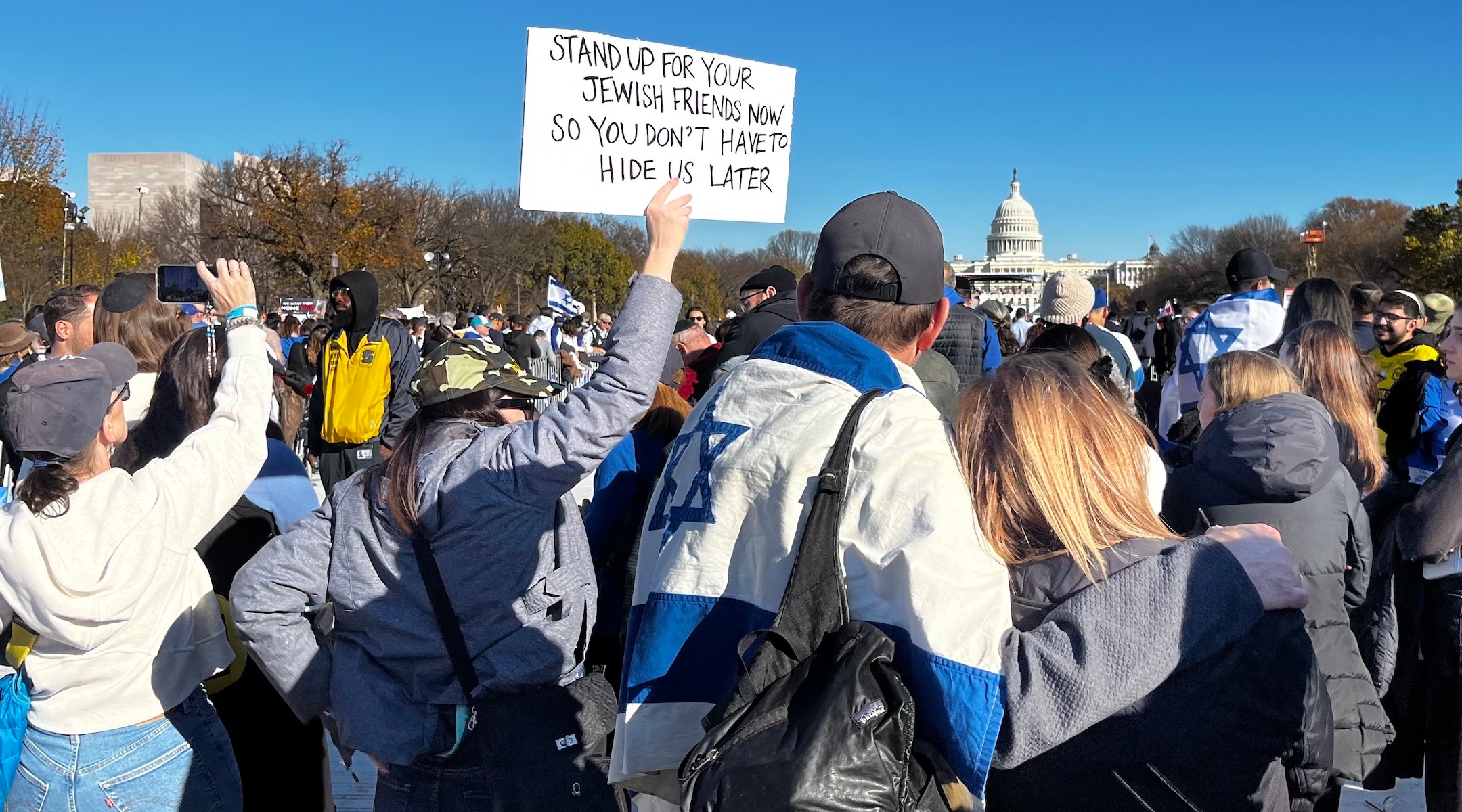 WASHINGTON (JTA) — I didn't cover or attend the Free Soviet Jewry rally in Washington in 1987, but I've seen the photographs. 
That rally, which drew some 250,000 Jews to the National Mall, was long considered a high point for Jewish street activism, the benchmark against which all demonstrations since have been measured. The rally apparently caught the attention of then-President Ronald Reagan and Soviet Premier Mikhail Gorbachev, who were to meet the next day. Over the next three years, hundreds of thousands of Jews left the "Evil Empire" for the United States and Israel. 
The best-known photos of that rally show a sea of people under a "Let My People Go" banner. In its laser-focused call on the Soviets to end the oppression of their Jews and allow them to emigrate, that rally's lack of complexity was perhaps its greatest strength. 
By contrast, Tuesday's March for Israel defied one simple slogan. The official organizers suggested three: "March for Israel. March to free hostages. March against antisemitism." It was a multi-pronged rallying cry for complicated times: The war launched when Hamas slaughtered 1,200 Jews on Oct. 7 has whipped up as many crises as it has emotions. 
That complexity and even confusion were reflected at Tuesday's march. A lot of the people in the massive crowd — estimates, backed by data from the folks handling security, put it at some 290,000 — carried signs with names and images of some of the 240 people kidnapped by Hamas in the initial attack. "Bring them home" was a common placard. One Orthodox feminist carried a sign with a verse from Jeremiah: "She refuses to be comforted, because her children are missing."  
Some signs thanked the Biden administration and Congress for giving Israel a wide berth, and significant financial backing, for its war on Hamas. Many of the signs echoed calls from the stage, including by Deborah Lipstadt, the State Department's special envoy on antisemitism, to "stand shoulder to shoulder" against the anti-Israelism expressed as antisemitism at pro-Palestinian rallies and on college campuses.
Meanwhile, the invitation to "March for Israel" was less a slogan than a set-up to an old Jewish joke: One catchphrase, three opinions. For many in the crowd, it meant "no ceasefire" and spurning calls on Israel from around the globe to halt the attacks that have so far, according to the Hamas-run Health Ministry in Gaza, cost more than 10,000 Palestinian lives. (The chant was heard perhaps the loudest when Van Jones, the CNN commentator, called for "no more rockets from Gaza, and no more bombs falling down on the people of Gaza" — an even-handed statement that drew boos and obscured his main point about liberals who have abandoned pro-Israel colleagues like him.)
"Let Israel finish the job!" read one sign held by a rally-goer. "Thank you Israel for fighting terror," read another. The Rhode Island Coalition for Israel unfurled a huge banner reading, "Destroy Hamas — No Ceasefire."
But if there was one "for Israel" message, it was one of apolitical unity, expressed in the "Philly stands with Israel" and "Cleveland stands with Israel" signs that seem to have been coordinated by one of the rally's two organizers, the Jewish Federations of North America. "Standing" doesn't commit the stander to a specific political agenda, except in this case to the baseline belief that Israel is a country that deserves to exist and defend itself if its people or security are threatened. At bare minimum, many attendees said they were there to counter pro-Palestinian demonstrations — including many arranged by non-Zionist Jewish groups — that seemed to reject even that much. 
That could be seen in the day's prevailing aesthetic: the blue and white Israeli flag. Many wore the flag as a cape. College students and day school kids daubed it on their faces. Groups were handing out little Israeli flags. Before Oct. 7, the huge crowds in Israel opposing their far-right government's judicial reforms had reclaimed the flag as a symbol of Jewish democracy. On Tuesday, it took on a particularly American meaning: to be Jewish here is to care deeply about Israel, putting aside the inevitable disagreements about what the country should be and what course it should be taking in its war on Hamas. 
That broad-tent message even allowed some left-wing Jewish groups to join the march, despite their qualms that it might support a right-wing agenda and ignore the growing civilian death toll in Gaza. Americans for Peace Now, J Street and the National Council of Jewish Women made up a "peace bloc" with T'ruah, the rabbinic human rights group. "I stand with Israelis. I stand with Palestinians. I stand with humanity," read a sign carried by T'ruah members. 
In an email to T'ruah followers, the group's CEO, Rabbi Jill Jacobs, said they'd be taking part "in a way that allows you to grieve with Israelis, stand with the families of hostages, support our Jewish community through rising antisemitism, and also grieve for innocent Palestinians." That message also seemed an effort to reclaim the left-wing conversation from the anti- and non-Zionist Jewish groups. One sign carried in the "peace bloc" read "Pro-Peace, Anti Hamas, Pro Israel, Anti Bibi," using Israeli Prime Minister Netanyahu's nickname. 
It's the rare Jewish event that can attract doves and hawks, black-hatted Orthodox Jews, queer Zionists waving rainbow flags, secular Israelis and busloads of suburban synagogue-goers of all denominations. And that's perhaps why — despite the grieving Israeli families, the missing hostages, the unrelenting bombardment of Gaza — the rally took on a festive mood at times. People seemed genuinely relieved to loudly and safely celebrate their attachment to Israel in a crowd where Israel's existence wouldn't be called into question, its right to defend itself was taken for granted and wearing a Star of David didn't mark them as "colonialists" or worse. 
That there wasn't a single slogan that can become the lasting image from this remarkable day isn't a surprise. It feels obvious that if the organizers had picked one agenda — no ceasefire, free the hostages, stand up against antisemitism — they would have lost a large chunk of the crowd and potential allies.
But in service of a hopeful future, there's one image that could endure — a message of unity that lasted at least for a few hours on Tuesday. A colleague saw a sign quoting Psalm 133: "How good and how pleasant it is that brothers (and sisters) dwell together."
—
The post In Washington, Jews manage to rally around an intentionally murky message. Will the unity last? appeared first on Jewish Telegraphic Agency.