London sees 1,350% jump in antisemitic hate crimes since start of Israel-Hamas war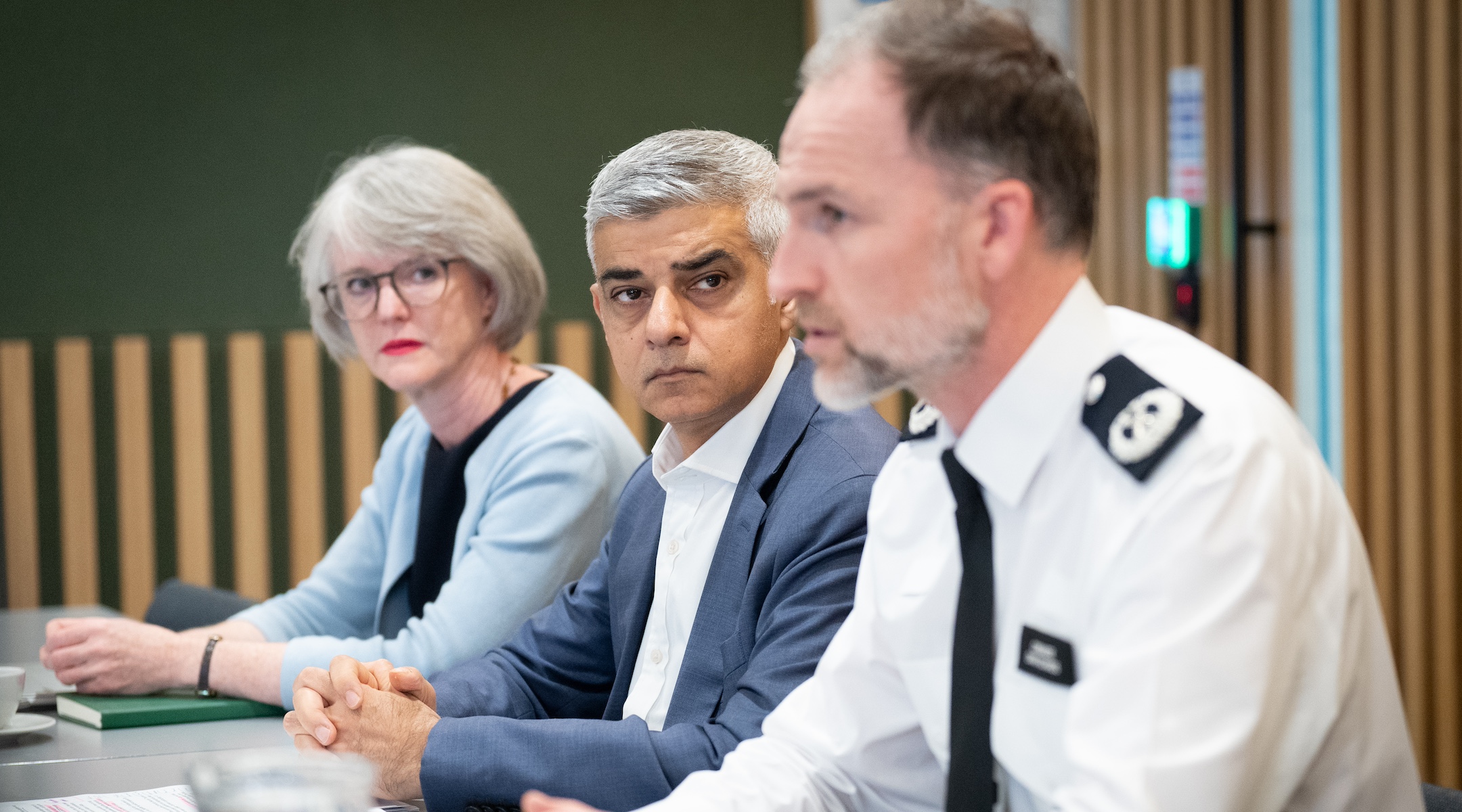 (JTA) — London's Metropolitan Police Service said that antisemitic offenses are up 1,353% in the city since fighting erupted between Israel and Hamas.
Between Oct. 1 and Oct. 18, antisemitic crimes surged from 15 to 218 incidents compared with the same period last year, police said on Friday. Islamophobic crimes went from 42 to 101, an increase of 140%. A total of 21 have been arrested for these categories of hate crimes in that period.
Last week, one man was arrested on suspicion of defacing posters in the Camden neighborhood that depicted Israelis taken hostage by Hamas. Another man was arrested in connection with Islamophobic graffiti at bus stops in the southern London neighborhoods of New Malden and Raynes Park.
Other reports include abuse targeted at individuals or groups, both in person and online.
Police prepared for tensions to flare in the capital after Hamas' Oct. 7 rampage through Israeli towns, which was quickly followed by Israel's pounding of Gaza with airstrikes. But ramped-up patrols, including police visits to 445 faith schools and 1,930 places of worship, have not stopped hate crimes from spiking across London.
London Mayor Sadiq Khan met with Muslim and Jewish faith leaders, police officials and community groups to discuss the crisis on Friday.
"I know how the conflict in Gaza and Israel is having a direct impact on London and Londoners," Khan said on X, the platform formerly known as Twitter. "Increasing cases of abhorrent antisemitism and Islamophobia seen in the capital show how important it is for us to be united against hate."
A pro-Palestinian rally drew about 100,000 demonstrators to the streets of central London on Saturday. More than 1,000 police officers also attended the protest and made 10 arrests for offenses involving fireworks, disruption of public order and assault of an emergency service worker. Five officers sustained minor injuries.
Police blocked protestors from reaching an area surrounding the Israeli embassy, citing security concerns. They referenced the same reason for preventing a Jewish organization, Campaign Against Antisemitism, from displaying images of children abducted by Hamas on billboard vans near a pro-Palestinian vigil on Oct. 18.
"There will be occasions where we try to avoid groups with strongly opposing views coming into immediate contact with each other," police said.
—
The post London sees 1,350% jump in antisemitic hate crimes since start of Israel-Hamas war appeared first on Jewish Telegraphic Agency.
'Finish them': GOP presidential candidates unite over what they'd advise Netanyahu about Hamas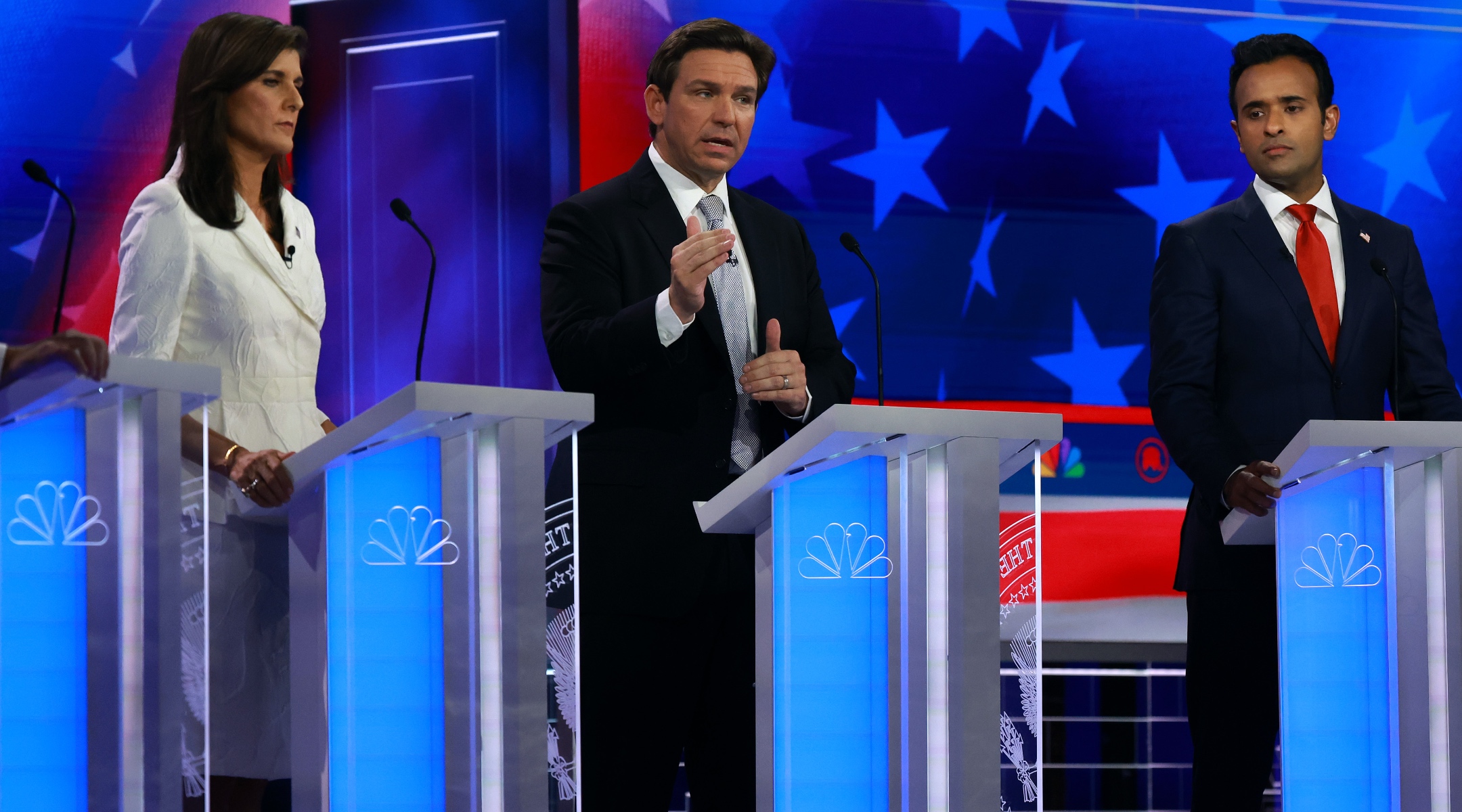 (JTA) — It was one of the few questions that united all five candidates at what was a no-holds-barred Republican primary debate: What would they advise Israel's prime minister as he wages war against Hamas?
The uniform answer: Finish them.
Israel and antisemitism featured large in the latest GOP primary debate in Miami on Wednesday, in part because a cosponsor of the debate was the Republican Jewish Coalition, which got to ask two questions, a first for a Jewish group. But they would have been asked even without the RJC's influence, because Hamas' Oct. 7 attack on Israel and the resulting war in Gaza has roiled the world and American politics.
NBC moderator Lester Holt made his second question what the candidates would advise Israeli Prime Minister Benjamin Netanyahu. First to answer was Florida Gov. Ron DeSantis.
"I will be telling Bibi finish the job once and for all with these butchers," said DeSantis, using Netanyahu's nickname. "They're terrorists. They're massacring innocent people. They would wipe every Jew off the globe, if they could."
The unalloyed backing for Netanyahu comes as President Joe Biden, who also at first unquestioningly backed Netanyahu, has in recent days faced Israeli resistance to his pressure for humanitarian pauses in the fighting.
All four candidates echoed DeSantis's reply. Nikki Haley, the former U.S. ambassador to the United Nations, suggested she had spoken with Netanyahu since Oct. 7, when Hamas terrorists invaded Israel, killing 1,400 people, mostly civilians, launching  the war. "The first thing I said to him when it happened was, I said 'Finish them. Finish them.'"
Vivek Ramaswamy, an entrepreneur who often bucks the Republican establishment on foreign policy, hewing to isolationism, was as bellicose, but also pivoted to a favored topic, the Mexican border, and suggested that he would seek to kill people there.
"I would tell him to smoke those terrorists on his southern border," he said. "And then I'll tell him as president of the United States, I'll be smoking the terrorists on our southern border."
South Carolina Sen. Tim Scott said he would tell Netanyahu, "Not only do you have the responsibility and the right to wipe Hamas off of the map, we will support you, we will be there with you." He took it a step further, saying he would also strike Iran, which is an ally of Hamas.
"You actually have to cut off the head of the snake and the head of the snake is Iran and not simply the proxies," he said.
Chris Christie, the former New Jersey governor, said Israel should have free rein, but also, unusually for a foreign politician, criticized Netanyahu for not being prepared.
"You must go in and make sure that Hamas can never do this again," he said. "And the fact is that Israel and their intelligence community failed. They failed here and they failed the people of the State of Israel. And so we need to work closely and better together to make sure that they're degraded."
Absent was Donald Trump, the frontrunner who is so far ahead in the polls he does not feel the need to join the debates. The first question posed by NBC moderator Lester Holt was how each of the five candidates would defeat Trump. That out of the way, Trump, who attended a rally elsewhere in Florida while the debate was underway, was barely mentioned again.
RJC's CEO Matt Brooks posed two questions and earned a shoutout from DeSantis for enduring a tough month. "I know it's been very difficult for the [Jewish] community and appreciate you guys rallying together in difficult times," DeSantis said.
Brooks' first question was whether the United States should use military force against Iran given strikes by its proxies on U.S. forces. DeSantis and Haley, who answered the question, avoided saying explicitly they would hit Iranian territory but said that they would retaliate more robustly than Biden has against the strikes by the proxies.
Brooks' second question was about the spike in antisemitism at U.S. universities. "Jewish students across the country are threatened and under attack," he said. "What do you say to Jewish students on college campuses who feel unsafe given the dramatic rise in antisemitism?"
DeSantis noted that he recently barred some pro-Palestinian groups from operating on Florida campuses, and Scott similarly backed pulling federal funds from universities that do not adequately deal with antisemitism, something the Biden Administration this week said would be its policy. Christie spoke about his experience dealing with antisemitic and anti-Muslim attacks as a U.S. attorney immediately after 9/11.
Haley gave one of the most impassioned responses, saying that rising antisemitism revealed a country with a troubled soul.
"We don't need to celebrate terrorists," she said, referring to protesters who have at times characterized Hamas's actions as "resistance." "We don't need to celebrate genocide. We don't need to celebrate violence towards anybody. We need to go back and soul-search in our country and remember what we are about and we are about taking care of people not going and making them live in fear."
Ramaswamy said he preferred to counter speech with more speech. "We don't quash this with censorship because that creates a worse underbelly," he said. "We quell it through leadership by calling it out."
Ramaswamy, who has flirted with the far right, at times seemed to speak in their direction. He chided the RNC for airing the debate on NBC, saying it should have chosen moderators such as Tucker Carlson, who was fired this year from Fox News, and Elon Musk, who has engaged with antisemites on X, the platform that he owns and renamed from Twitter. He called Volodymyr Zelensky, the Jewish president of Ukraine, a "Nazi" and accused him of persecuting Christians. Another of the cosponsors of the debate was Rumble, the video platform that gives free rein to the racist and antisemitic right.
Antisemitism also came up in a portion of the debate dealing with whether to shut down the social media video platform TikTok because its Chinese ownership poses a security risk. Politicians from both parties have alleged that TikTok's algorithms favor antisemitic and pro-Palestinian content, especially since the Oct. 7 attacks.
"TikTok is not only spyware, it is polluting the minds of American young people all throughout this country," Christie said. "And they're doing it intentionally and when you saw what happened in the last few weeks, with all of this antisemitic, horrible stuff that their algorithms were pushing out at a gargantuan rate."
Relatedly, Rep. Josh Gottheimer, a Jewish New Jersey Democrat, on Wednesday introduced legislation that would require TikTok to register as a foreign agent and to report on the promotion of hatred and terrorism on its platform or face stiff penalties. A press conference with Gottheimer; Republican Don Bacon of Nebraska, who is cosponsoring the bill; and the Anti-Defamation League CEO Jonathan Greenblatt said TikTok postings promoting false narratives about the Oct. 7 attacks, including describing them as flag operation, had wide reach on the platform.
The TikTok debate produced the evening's most stunning exchange in a raucous debate, when Ramaswamy hit back at Haley who had previously derided him for embracing the app, saying that her daughter was a frequent user. "Leave my daughter out of your voice," Haley said, leaning toward Ramaswamy. When he pressed on, she grimaced. "You're just scum," she said.
—
The post 'Finish them': GOP presidential candidates unite over what they'd advise Netanyahu about Hamas appeared first on Jewish Telegraphic Agency.
'Merry Ham-mas': Australian Kmart removes Christmas ham bag from shelves after Jewish group complains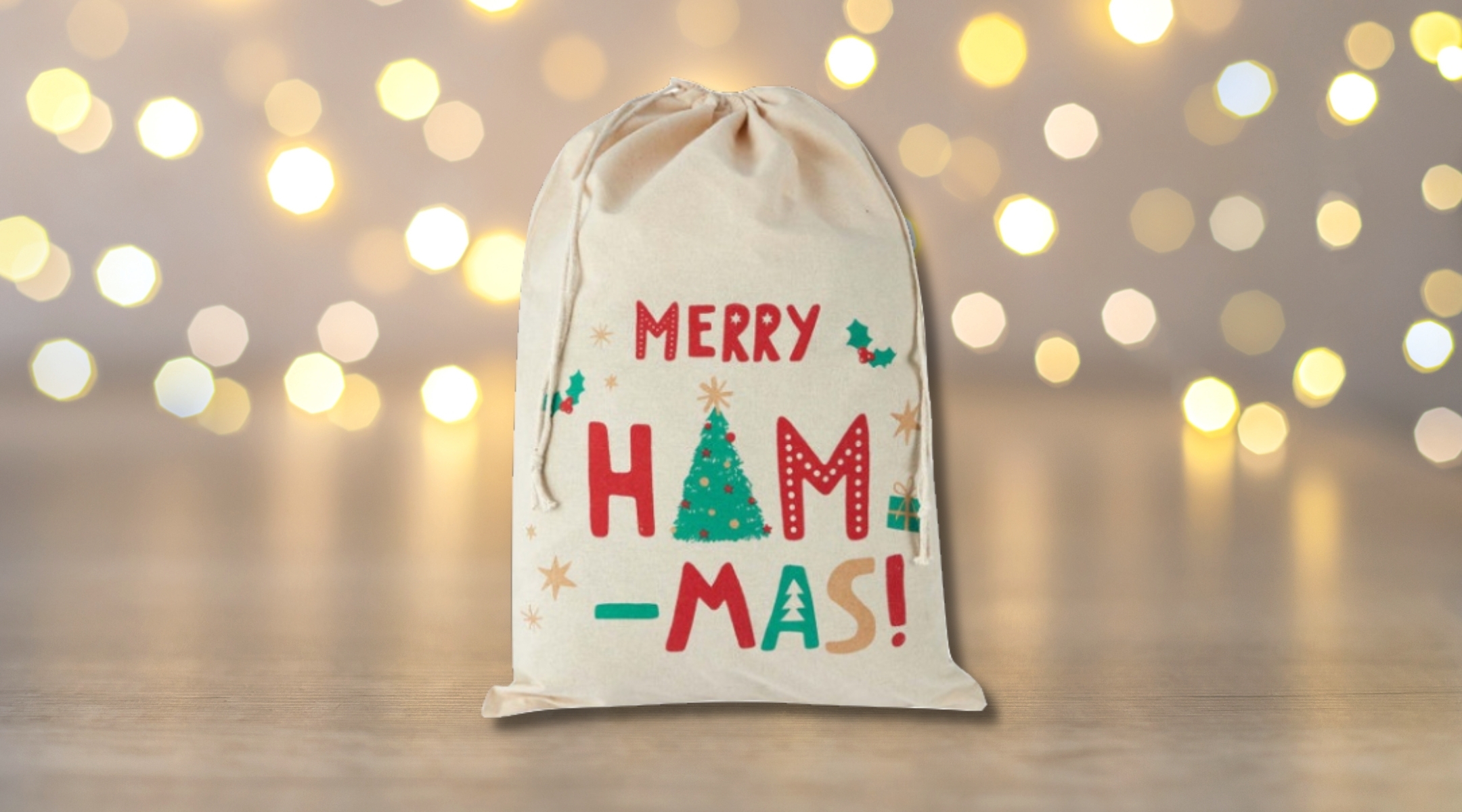 (JTA) — A ham bag has been removed from Australia's Kmart website after the Australian Jewish Association complained that its message, "Merry Ham-mas," looked too similar to Hamas, the terror group that invaded Israel on Oct. 7.
The text is printed on the ham bag in festive red and green lettering, with a Christmas tree replacing the first "A." 
"Although this is potentially funny (the AJA committee has tossed around some non-PC jokes) it's really not a good look," the AJA wrote in a post on X, formerly known as Twitter. "We suspect some product manager may cause the company some embarassment [sic]. So we've politely written to Wesfarmers corporate suggesting the product be pulled," the group wrote, referring to Kmart's parent company in Australia.
In an update posted about an hour after its first post about the subject, the AJA wrote that the organization had been contacted by Kmart senior management and that the ham bag had been taken off store shelves and the Kmart website.
Ham bags, when lightly dampened with water and some vinegar, are used to keep meat fresh. A description on the now-deleted Kmart webpage says the bag costs roughly $2.50, is made of cotton with a drawstring closure, and includes instructions for use. It is also machine washable and can be paid for in installments, the webpage said.
"We got it wrong on this occasion, and we apologise unreservedly," a spokesperson for Wesfarmers told The West Australian. "When designing this product we clearly didn't think through all the implications and the product has been removed from sale."
David Adler, president of the Australian Jewish Association, said he wanted "to give credit to Kmart management as they acted very quickly."
"It's not normal times, there are people that will distort things and will harass the Jewish community," he told the West Australian. "Of course, there are bigger issues to be addressed, dealing with the actual terrorism is important, but one of the other things we are dealing with is propaganda."
—
The post 'Merry Ham-mas': Australian Kmart removes Christmas ham bag from shelves after Jewish group complains appeared first on Jewish Telegraphic Agency.
At House hearing, pro-Palestinian protester interrupts Jewish student's recounting of antisemitic death threats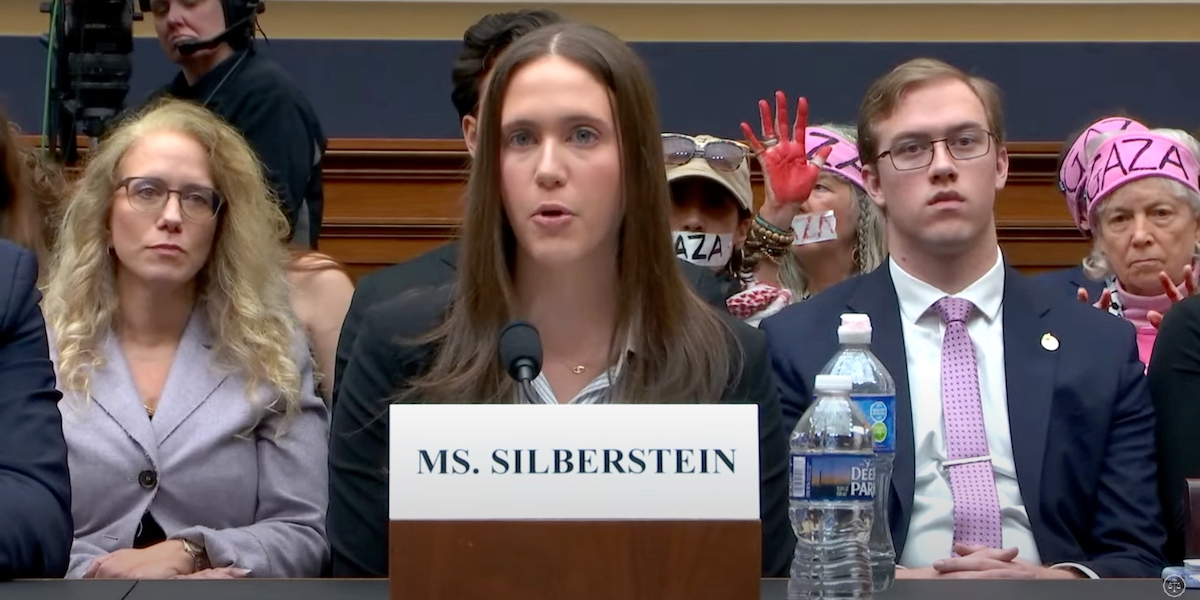 (JTA) – As Amanda Silberstein testified to the U.S. House of Representatives on Wednesday about how a student at her university had threatened to kill and rape Jewish students, she was interrupted.
"Free Palestine," a protester shouted from the audience during Silberstein's testimony at a hearing on free speech and antisemitism on college campuses. "Anti-Zionism is not antisemitism."
Silberstein is an undergraduate at Cornell University, where a student was recently arrested for making antisemitic death threats. Silberstein, a member of the student board at Cornell's Chabad-Lubavitch movement chapter, had just described how "professors and student organizations have been fueling Jew-hatred and spreading it across campus with disregard or potentially even with deliberate intent to incite." 
It was one of several times when pro-Palestinian protesters interrupted witnesses at the House Judiciary Committee hearing titled "Free Speech on College Campuses." Throughout the more than three-hour hearing, they called for a ceasefire in the Gaza Strip; decried a purported silencing of Palestinian students on campus; and protested the recent House censuring of Michigan Democratic Rep. Rashida Tlaib, who is Palestinian-American, for her use of the pro-Palestinian phrase "From the river to the sea," which Jewish groups and others have called antisemitic.
This was not the first time in recent days when pro-Palestinian protesters disrupted congressional proceedings: Last week, hecklers also tried to derail U.S. Secretary of State Antony Blinken as he implored Congress to allocate emergency funds for Israel. 
But the dissonance of the moment — Silberstein, unlike Blinken, was not using her testimony to advocate for Israel — exemplified the tense atmosphere, as Republicans and Democrats alike openly pondered the question of whether, and how, speech about Israel and Jews should be policed on campus and in the House. 
"I happen to believe in the eradication of Hamas. The same freedom of speech that protects my right to advocate that position is at stake here, is it not?" California Republican Rep. Tom McClintock said at one point to Kenneth Marcus, a witness who served in the Trump administration's Education Department and chairs the Brandeis Center for Human Rights Under Law, a pro-Israel group that has repeatedly brought legal challenges against universities it says fail to properly discipline anti-Zionist speech. 
The hearing was originally intended to focus on the issue of conservative college students allegedly being silenced. But in light of Hamas' Oct. 7 attack on Israel, it largely centered on antisemitism on campus and beyond as student and faculty rhetoric around Israel has reached a fever pitch. 
Silberstein had been invited to testify in part because Cornell recently canceled classes for a day because of the threats against its Jewish students. That incident followed a professor at the Ivy League university publicly praising the Hamas attacks, turning the school into a flashpoint for the rising temperature around antisemitic and anti-Zionist speech on campuses.
Some Republicans, including hardline right-wing Florida Rep. Matt Gaetz, suggested that efforts to restrict pro-Palestinian or pro-Hamas speech on campuses were misguided. Another, California Rep. Kevin Kiley, accused university administrators at schools such as Harvard of relying on free speech as an excuse to avoid condemning students with pro-Hamas views. 
A Cornell alum, Texas Rep. Wesley Hunt, condemned the school's administration for not immediately firing the pro-Hamas professor, suggesting administrators would have done so if he had shared anti-trans or anti-Black views instead.
One Democrat, Georgia Rep. Hank Johnson, said the hearing itself was hypocritical in light of the House's vote the previous night to censure Tlaib over speech related to Israel. 
"It's ironic that we're holding this hearing today about censorship and speech on campus, but last night, MAGA Republicans and others censured the only Palestinian voice in the House of Representatives because they didn't like what she had to say," Johnson said. "She didn't threaten anybody. She did not advocate for violence. She stated a view, as happens on college campuses." (Nearly two dozen Democrats also voted to censure Tlaib, saying that they believed her use of the phrase "From the river to the sea" implied threats of violence toward Jews and Israel.)
McClintock grilled Silberstein and Marcus about whether certain Israel-related speech should be protected on campus. He asked Marcus if "the mere repetition" of the phrase "From the river to the sea" should be "banned or punished."
In his answer, Marcus referred to an executive order by President Donald Trump that included some anti-Israel speech under the Education Department's civil rights protections. Speech, he said, could be used "as an indicator of the nature of conduct." He added that, if a violent antisemitic action followed anti-Israel speech, the prior speech could be policed as an example of predicting that conduct.
"Conduct often follows words," Silberstein said in agreement, linking chants at Cornell of "From the river to the sea" to antisemitic threats to students. "Speech advocating for violence should not be tolerated on a college campus," she added.
"Well, what about the eradication of Hamas?" McClintock asked her. Silberstein responded that Hamas is "a recognized terror organization," which led McClintock to ask, "So it depends upon your viewpoint, is that what you're saying?"
Gaetz, too, pushed Marcus on whether punishing students who voice support for Hamas amounts to the suppression of legitimate speech. He suggested that those who have called for the suppression of bigoted speech are being inconsistent. 
"I am reminded of the great philosopher Austin Powers, who said, 'There's only two things I can't stand: people who are intolerant of other people, and the Dutch,'" Gaetz said, referencing the series of spy comedies starring Mike Myers. "And a similar tension seems to be on display today."
Silberstein and Marcus were joined on the witness panel by Stacy Burdett, a senior executive at the Anti-Defamation League; two non-Jewish conservative campus activists; and Pamela Nadell, the director of American University's Jewish studies program and the author of a forthcoming book on antisemitism in America. 
Nadell sparred with Gaetz over whether criticisms of "globalists" or progressive Jewish philanthropist George Soros, both frequent targets of Gaetz's ire, should always be seen as antisemitic.
Elsewhere during the hearing, Judiciary Committee Chair Jim Jordan, a Republican, refused to respond to California Democratic Rep. Eric Swalwell's queries about why his committee left up a tweet reading "Kanye. Elon. Trump." for months after the rapper Kanye West embarked on a stream of antisemitic comments. 
—
The post At House hearing, pro-Palestinian protester interrupts Jewish student's recounting of antisemitic death threats appeared first on Jewish Telegraphic Agency.