Nasrallah, senior Hamas and PIJ leaders talk of achieving 'victory' over Israel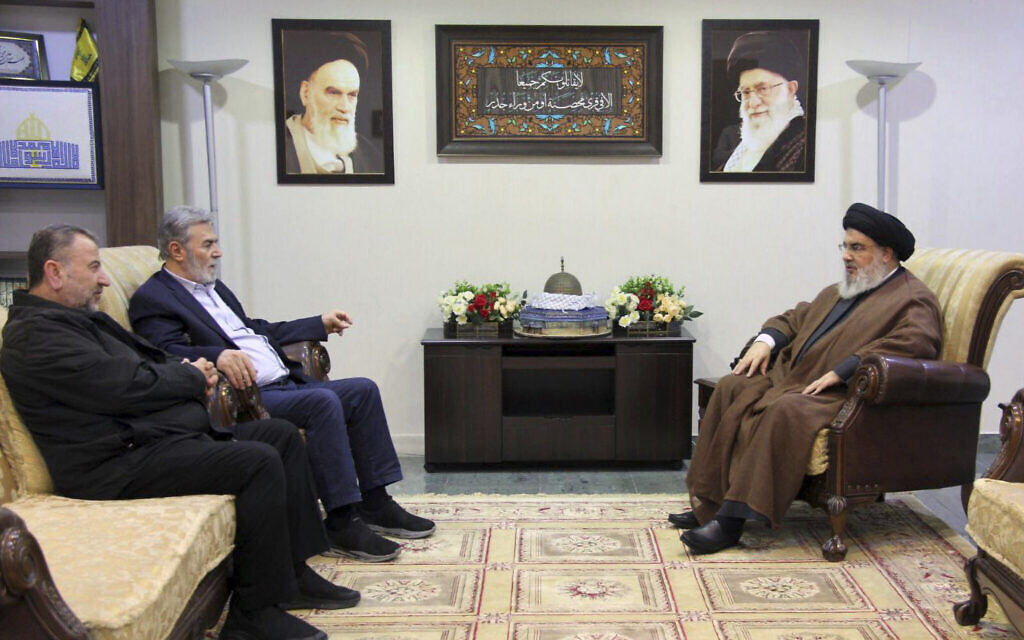 Meeting in Lebanon, terror chiefs say they plan to halt Israel's 'treacherous and brutal aggression'
Anti-Israel Crybullies and the Free Speech Inversion
The term "crybully" rose to prominence over the last decade, and describes a phenomenon that has become increasingly common on campus.
As defined at Dictionary.com, a crybully is "a person who self-righteously harasses or intimidates others while playing the victim, especially of a perceived social injustice."
This is a particularly accurate label for the crowd of anti-Israel activists who have spent decades working to silence and intimidate Jewish and Israeli voices on campuses, while also portraying themselves as victims of an attack on their free speech.
Anti-Israel activists have long engaged in conduct designed to suppress the ability of Jewish and Israeli voices to speak on campus. Through the so-called "Boycott, Divestment, and Sanctions" (BDS) movement, these activists have openly called to silence an entire category of speakers — namely, Israelis and anyone who supports Israel.
For decades, BDS activists have disrupted events, even including Holocaust memorial events, and one can only guess as to how many Israelis and Zionists have been overtly or quietly denied opportunities or platforms because of their identity.
The bullying became even more extreme over time. Student groups began banning Zionists, a term that includes most American Jews, or declaring that Zionists were not welcome on campus.
Jewish institutions on campuses became increasingly targeted for vandalism and threats. Overt expressions of antisemitism became increasingly normalized. And the effect has been palpable.
A recent survey found that 31.9% of Jewish students have "felt unable to speak out about campus antisemitism," and 38.3% said they "would be uncomfortable with others on campus knowing about their views of Israel." Less than half of Jewish students said they felt "very" or "extremely" physically safe on campus.
Another study found that among Jewish sorority and fraternity members, two-thirds had felt unsafe on campus at some point, and half had felt the need to hide their identity. Those students were not just withholding their speech; they felt afraid to even be identified as Jewish on campus.
Their fear is not unjustified.
Nationally, hate crimes against Jews are at shockingly high and disproportionate levels, with four times as many anti-Jewish crimes as anti-Muslim and anti-Arab crimes combined. One need only look at some of the recent scenes on campus, such as anti-Israel demonstrators besieging Jewish students locked in a room at Cooper Union, to understand why Jewish students are afraid.
Moreover, it is not the pro-Israel rallies and activists that have regularly descended into violence, intimidation, and vandalism — or barrages of antisemitic and genocidal chants.
It is the Jewish students who are being attacked at their own rallies or while putting up posters of innocent Israeli civilians taken hostage by Hamas. It is Jewish students who are being forced to reject a central part of their Jewish identity if they want to participate in university functions.
We know where much of this hate is coming from. As shown by one study, the presence of the major anti-Israel student organization, Students for Justice in Palestine (SJP), is one of the best predictors for the perception of a hostile climate for Jews on campuses.
As one New York appellate court ruling explained, a university's conclusion that an SJP chapter would "work against, rather than enhance [a university's] commitment [to] open dialogue" was "not without sound basis in reason" nor "taken without regard to the facts."
Which brings us to the "cry" part of "crybully."
Anti-Israel activists shriek and howl over alleged threats to their free speech. But the evidence is thin that there is any reason for anti-Israel students to feel that their freedom of expression is under any serious threat on campus.
Moves against various SJP chapters on universities have not been on the basis of their beliefs or expression, but rather their violations of legitimate university rules, and even plausible arguments that National SJP has run afoul of the Anti-Terrorism Act.
That a handful of students have lost out on job offers because they expressed support for a designated terrorist organization that had just murdered and raped its way through southern Israel is hardly a threat to free speech, either. Private actors are not restrained by the First Amendment, and as explained in Ilya Shapiro's brilliant piece at The Free Press, one can hardly qualify these examples as "cancel culture."
And while there has been a rise in hate crimes against Arabs and Muslims, the demographic typically associated with the Palestinian cause, the figures still pale in comparison to hate crimes against Jews, which have skyrocketed from their already disturbingly high levels. And those hate crimes are not being committed by Jews.
Unfortunately, some otherwise laudable free speech advocates are falling for the crybully trick, and adopting some perplexing positions. The Foundation for Individual Rights and Expression (FIRE), for example, has repeatedly opposed the use of the International Holocaust Remembrance Alliance's non-legally binding definition of antisemitism, incorrectly suggesting that it would limit speech. On the other hand, FIRE has curiously refused to take a position on BDS — which openly works to limit the speech of an entire category of people — and has even joined failed lawsuits against anti-BDS laws.
This is not to say that FIRE shouldn't stand up for anti-Israel activists when their legitimate rights are infringed. To the contrary, I encourage FIRE to continue to do so. But free speech advocates, like those at FIRE, should rethink their role in protecting America's sacred belief in free speech. When substantial numbers of Jews and Israelis are afraid to express themselves and are being pushed out of entire academic communities because of who they are, that is as big of a threat to free expression as any.
Just the other day, the concerned father of a Jewish student, who was personally facing intimidation on campus, shared with me his conversation with a senior university official. The official acknowledged that most Jewish students were afraid to even report the antisemitism they were facing, given the hostile climate. But, the father explained, the official wasn't saying this because he had any intention of addressing the hostile environment he just acknowledged existed. Rather, it was a warning: make a fuss over this and it might get even worse for your son.
That is the disturbing reality Jews and Israelis are facing on campus: not just hostility, but apathy from those in a position of responsibility to address the situation. That is why I hope free speech advocates will find a constructive way to help address the situation before it gets even worse.
David M. Litman is a Senior Analyst at the Committee for Accuracy in Middle East Reporting and Analysis (CAMERA). 
The post Anti-Israel Crybullies and the Free Speech Inversion first appeared on Algemeiner.com.
Tree of Life Synagogue Unveils Preliminary Design of New Memorial Honoring Victims of 2018 Shooting
Organizers have unveiled the first design for a new outdoor memorial at the Tree of Life synagogue in Pittsburgh that will pay tribute to the 11 people killed in the antisemitic mass shooting at the Jewish center in 2018.
The "10/27 Memorial" is being designed in collaboration with a group of the victims' family members, communal leaders, and congregational representatives. The design includes a walkway leading visitors into a garden memorial with 11 sculpted forms of open books, each representing one of the victims killed in the attack. The books represent the "Book of Life."
"To be inscribed in the Book of Life is to be inscribed in eternity, to be inscribed in memory," architect Daniel Libeskind said of the memorial. "It's not a cemetery. It has to be an affirmation of life."
Libeskind developed the preliminary design for the memorial in partnership with the Memorialization Working Group. He also serves as the lead architect for rebuilding the Tree of Life synagogue following the attack.
"Creating a meaningful memorial is a highly emotional and personal process, while at the same time, it must communicate to a broader audience," Libeskind explained. "For the 10/27 Memorial, we worked closely with the families and the congregations throughout the design process. It was through this collaboration that we created a memorial that celebrates those we lost and brings the families and the community together in healing."
Eleven Jewish worshipers were murdered and six others were injured in the shooting on Oct. 27, 2018, during Shabbat morning services at the Tree of Life synagogue, in the Squirrel Hill neighborhood of Pittsburgh. The massacre is considered the deadliest antisemitic attack in United States history, and the perpetrator, 46-year-old truck driver Robert Gregory Bowers, was arrested at the scene and charged with 63 federal crimes and 36 state charges. He was convicted and given the death penalty in August, but a date for his execution has not been scheduled.
"The journey to unveiling the preliminary memorial designs has been a long and emotional one, but I am grateful for a process that prioritized our hopes that our loved ones are remembered for how they lived, not solely for how they were murdered," said Diane Rosenthal, a member of the Memorialization Working Group whose two brothers, Cecil and David Rosenthal, were killed in the attack.
The post Tree of Life Synagogue Unveils Preliminary Design of New Memorial Honoring Victims of 2018 Shooting first appeared on Algemeiner.com.
CNN's Nima Elbagir Parachutes Into Israel to Whitewash Palestinian Prisoners
Over the past couple of weeks, CNN's chief international investigative correspondent, Nima Elbagir, has been reporting from Israel, focusing on the Palestinian prisoners who were released as part of the hostage deal between Israel and Hamas.
However, rather than providing an objective look at the subject, Elbagir's seven written and video reports are overly sympathetic to these prisoners, whitewashing them and their crimes while simultaneously deriding Israel's justice system.
In separate reports, Elbagir spotlighted four different female Palestinian prisoners, all of whom were released as part of the deal: Hanan al-Barghouti, Marah Bkeer, Malak Silman, and Fatima Shahin.
Hanan al-Barghouti's story is told by her sister-in-law, Iman al-Barghouti, who claims that "neither she nor Hanan is involved in the politics of this war, yet they suffer its consequences."
Aside from the fact that Hanan al-Barghouti's arrest was unrelated to the current war between Israel and Hamas (she was arrested in September 2023), it is inaccurate to portray Hanan as apolitical, as she was arrested on allegations of supporting terrorism.
Following the airing of Elbagir's report, Hanan al-Barghouti's political stance has been made very clear, as she has publicly expressed support for both Hamas and Hezbollah.
In her first interview after release from Israeli jails with Palestinian TV, Hanan Barghouti called 'mother' of the Palestinian prisoners describes the joy in the female wards on October 7th:
"We cheered at the top of our lungs 'We are all men of Muhamad Dief!'" pic.twitter.com/WMTMmEk2mE
— Gaza Report – اخبار غزة (@gaza_report) November 27, 2023
Elbagir also referred to al-Barghouti's brother, Nael al-Barghouti, the longest-serving Palestinian prisoner in Israeli jail, describing him as a "political prisoner."
In a written report that Elbagir published alongside other journalists, Nael al-Barghouti is also described as having first been arrested in 1978 for "engaging in attacks against the Israeli military."
What the terms "political prisoner" and "attacks against the Israeli military" don't tell us is that Nael al-Barghouti was originally incarcerated in 1978 for the murder of an Israeli bus driver, Mordechai Yekuel.
View this post on Instagram
In another video essay, Elbagir reported on the case of Marah Bkeer, who she describes as having been "just 16 when she was arrested."
In an interview with Elbagir, Marah's mother describes her as "a child and she's so innocent."
The impression one gets from this report is that Marah Bkeer was an innocent Palestinian teen who was unjustly incarcerated by Israel.
It's only at the end of the report that CNN notes that following its initial publication, the news organization was made aware that Bkeer was in jail for "stabbing an Israeli police officer."
The fact that Nima Elbagir could initially publish such a sympathetic portrayal of a prisoner without informing the viewer that she's imprisoned for committing a violent crime is the height of journalistic negligence, especially for someone considered to be the "chief international investigative correspondent."
The child is Marah Bakir. On Oct 12, 2015, age 15, she left school, took a knife and stabbed two Israelis in Jerusalem's Sheikh Jarrah quarter. Shot by police before she could finish off her victims, she was saved by an Israeli medic whose father was murdered some weeks earlier. pic.twitter.com/ZYfnCs5vE5
— This Ongoing War (@ThisOngoingWar) November 24, 2023
The third Palestinian prisoner who is profiled by Nima Elbagir is Malak Silman, whose boisterous reunion with her mother was highlighted by CNN in two separate reports.
While Elbagir does acknowledge the reason for Silman's imprisonment (she attempted to stab an Israeli police officer), she almost immediately downplays this by claiming in one report that her family, lawyers, and some human rights organizations have described her imprisonment as a "miscarriage of justice" and by noting in another report that she was imprisoned for attempted murder even though no one was injured (which is not the legal threshold for attempted murder).
Are you saying that membership of the Islamic Jihad terrorist organization is not grounds to call Malak Salman a terrorist, @nimaelbagir?!
All of these people were in prison for a reason. Most of them for committing violent acts of terror.
Shame on you, @CNN. pic.twitter.com/iolHEXxxHO
— HonestReporting (@HonestReporting) November 25, 2023
The last Palestinian prisoner featured in Nima Elbagir's reports was Fatima Shahin, who was arrested after stabbing an Israeli outside Gush Etzion in April 2023.
In her piece, Elbagir reports that Shahin was accused of "attempted murder" but then allows her to deny this and accuse Israeli forces of recklessly shooting at her.
At no point does Elbagir alert the viewer that, unlike Malak Silman, Shahin is accused of actually stabbing someone and wounding them.
In the report, Elbagir claims that Shahin was "only detained, not charged. She didn't go to trial. She wasn't given any opportunity to defend herself."
However, in acting as a passionate advocate for Fatima Shahin rather than as an objective journalist, Nima Elbagir is disregarding the fact that her incarceration is fairly recent and that, like in many other democratic countries, it can be a while before cases go to trial.
In addition, a report from June 2023 shows that Fatima Shahin had appeared at least once in a hearing before a judge.
View this post on Instagram
Alongside her sympathetic portraits of these four Palestinian prisoners, Nima Elbagir's bias against Israel is further evident in several of these reports.
Elbagir refers to the Israeli government's prohibition of public celebrations for these released prisoners in eastern Jerusalem as the demonization of "Palestinian joy."
In these reports, the testimonies of Palestinian prisoners and their families (including blatant falsehoods) are published without criticism and comment, but Israeli claims are investigated and denigrated.
In her report on the first batch of released Palestinian prisoners, Elbagir claims that "there is no grounds to call them terrorists" even though this group included Malak Silman (who is also a member of Islamic Jihad) and Fatima Shahin (who stabbed a civilian).
The Israeli military justice system is described as being "murky" and a report alleges that the administrative detention system allows "Palestinian prisoners to be detained indefinitely, without trial or stated charge." This ignores the fact that Jews can also be subjected to administrative detention, that there are a wide variety of safeguards in place, and that the detention has to be renewed by a judge every six months.
Lastly, Elbagir's reporting equates the families of Palestinian prisoners and Israeli hostages, with such statements as "Families on both sides … are dealing with the reality of those who won't be coming home," and "This week's diplomatic breakthrough offers a glimmer of hope for the families of Palestinian prisoners, as well as those of Israeli hostages."
This false moral equivalency between prisoners detained for violence and terrorism and hostages kidnapped from their homes is emblematic of Nima Elbagir's recent reporting from Israel — a sympathetic portrayal of Palestinian prisoners that depicts them as innocent victims of a malicious justice system, an empathetic eye to the families of these prisoners, and total disregard for the severity of their violent pasts.
The author is a contributor to HonestReporting, a Jerusalem-based media watchdog with a focus on antisemitism and anti-Israel bias — where a version of this article
first appeared.
The post CNN's Nima Elbagir Parachutes Into Israel to Whitewash Palestinian Prisoners first appeared on Algemeiner.com.