Progressive group quits Boston Jewish council rather than face expulsion over Israel criticism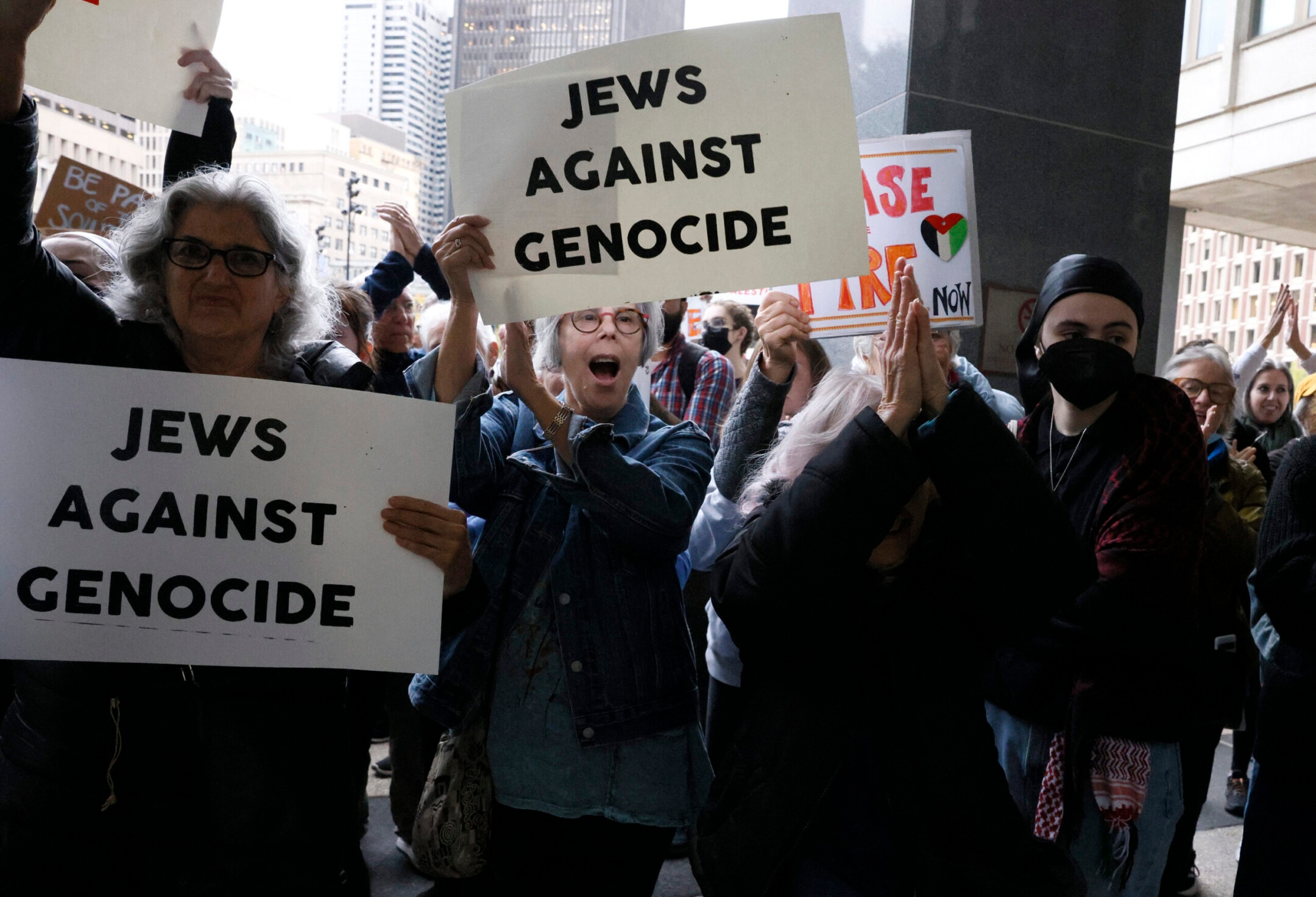 (JTA) — A progressive Jewish group that participated in a rally in Boston calling for a ceasefire in Gaza, and accusing Israel of "genocide," is leaving a local Jewish umbrella organization, saying it was told it would be expelled if it did not resign.
The departure of the Boston Workers Circle from the Jewish Community Relations Council of Boston marks a dramatic shift for both groups. The Workers Circle was a founding member of the Boston JCRC in 1944. Meanwhile, the JCRC has until now been fastidiously attached to a "big-tent" approach, allowing groups with staunch and divisive views to remain even in the face of sharp criticism.
In 2019, the JCRC's executive director, Jeremy Burton, fended off calls to remove the Workers Circle — then called the Workmen's Circle —  from the council after the group signed a statement initiated by Jewish Voice for Peace, an anti-Zionist group. After much discussion, the JCRC's constituent organizations voted to ban such alliances going forward, and the Workers Circle remained in the coalition.
But the Workers Circle violated that ban when it took part in a rally last Wednesday at Boston's City Hall Plaza that it organized alongside Kavod, a liberal community group; Jewish Voice for Peace; and IfNotNow, which is harshly critical of Israel and often partners with JVP. The event flier billed it as a message to Massachusetts Sen. Elizabeth Warren that "Boston Jews demand a ceasefire and a stop to genocide." Several Jewish protesters were arrested following the rally.
Burton said on Tuesday that the Boston Workers Circle's participation in the rally crossed red lines for his group.
"We appreciate the passion by which BWC expresses its concern for Palestinian safety," Burton said in a statement, adding that his group shares that concern. But, he added, "we cannot support those organizations that demonize Israel, hold Israel to a double standard, and ignore the safety and security of Israel and our community as a whole."
Rabbi Rebecca Zimmerman Hornstein, Boston Workers Circle's executive director, said she had been told — while the rally was still underway — that a discipline process in place within the JCRC would result in her group being kicked off the council. She said she had opted to resign rather than allow that process to unfold.
"In this traumatic time, when everyone's dealing with so much, it just didn't seem right to put everyone through a long and arduous process, both our community and the JCRC," she said.
Leaving the council means that the Boston Workers Circle will no longer be involved when the JCRC crafts policy statements and responses to current events. It also means that the JCRC will have one fewer progressive voice shaping communal affairs. 
The Boston JCRC put a different group on the opposite end of the political spectrum through an investigative process two years ago, ultimately determining that the right-wing Zionist Organization of America should remain on the council despite having "elevated white supremacist voices."
Both the JCRC and the Workers Circle lamented the split and accused the other of being out of touch with mainstream Jewish sentiment.
"It is unfortunate that at a time when we are experiencing and expressing a profound level of Jewish unity across the world, a small minority is seeking to exacerbate fractures and divisions within our people," Burton said in his statement.
"It's hard to understand why they see it as worthwhile right now to spend time expelling a founding member, meaning that our voice, which represents kind of a growing portion of the community, will no longer be at the table," Hornstein said.
The resignation is the second this year for the Workers Circle, founded in 1892 as a Jewish fraternal organization that now promotes Yiddish language and culture along with progressive values. In August, its national organization resigned from the Conference of Presidents of Major American Jewish Organizations, a national umbrella coalition, based on disagreements that included a split over discourse about Israel.
—
The post Progressive group quits Boston Jewish council rather than face expulsion over Israel criticism appeared first on Jewish Telegraphic Agency.
5 major Jewish groups team up to advocate for Israel and push for 'accurate' coverage of Israel-Hamas war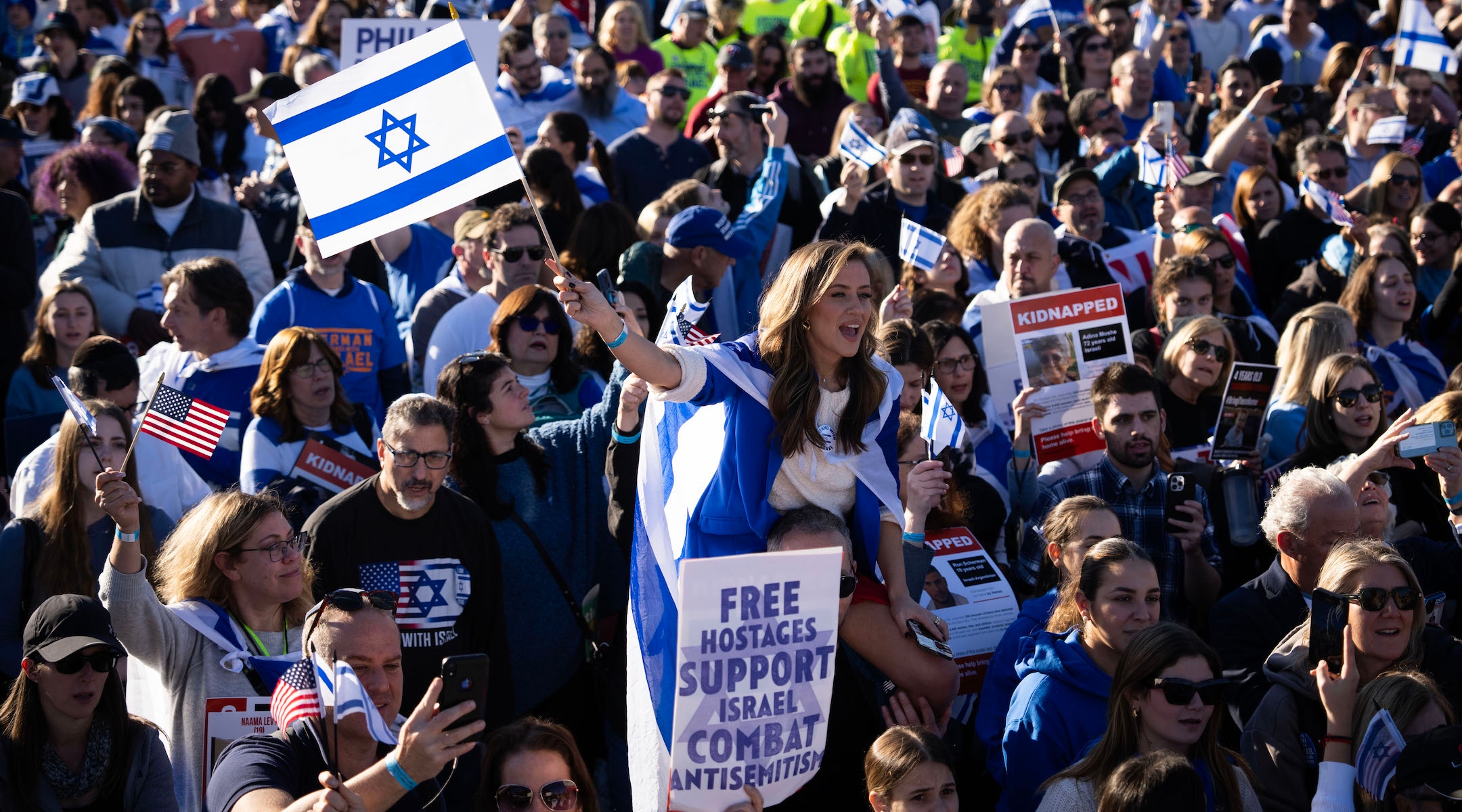 WASHINGTON (JTA) — Five major Jewish organizations have teamed up to maintain American support for Israel and fill what they say is a gap in coverage of the Israel-Hamas war.
"The 10/7 Project," named for the day Hamas launched the war with a deadly invasion from the Gaza Strip, has as backers the American Jewish Committee, which initiated the project; the American Israel Public Affairs Committee; the Jewish Federations of North America; the Anti-Defamation League; and the Conference of Presidents of Major American Jewish Organizations.
"The 10/7 Project is designed to promote continued U.S. bipartisan support for Israel by working to ensure more complete and accurate information about the Israel-Hamas war in real time for policymakers and the American public," the statement released Tuesday said.
The announcement was spurred, organizers said, by the mass turnout last month at a pro-Israel rally in Washington. Pro-Israel groups have been grappling with how to keep the atrocities Hamas terrorists committed on Oct. 7 in the spotlight while media attention turns to the devastation Israeli counterstrikes have since caused in Gaza, and as a growing number of Democrats are calling for a ceasefire.
"Since October 7, there has been a concerted and consistent effort from Israel's enemies to draw a false and dangerous equivalence between Hamas' deadly rampage to destroy the Jewish state and Israel's right to defend itself against terrorists," said Ted Deutch, the American Jewish Committee CEO and former Democratic congressman, in a release.
William Daroff, the Conference of Presidents CEO, said in a text message that it was worth keeping the atrocities front and center in part to confront a crop of people who have denied the magnitude or depravity of the attack.
"We must ensure that America and the entire world are told and retold the stories of the butchery of the October 7 massacre," he said in a text. "We must discredit and make outcasts of 10/7 deniers, who are Hamas sympathizers seeking to perpetuate false and misleading narratives by minimizing and rationalizing the most deadly day for the Jewish people since the Holocaust."
Daroff, whose group helped organize the mass rally along with JFNA, also said sustaining Jewish solidarity was key. All of the other groups partnering on the 10/7 Project are members of the Conference of Presidents, an umbrella body that supports Israel and advocates for other policies.
"We must work together, as one Jewish community, to successfully communicate to the American people the critical need to stand with Israel, as well as the importance of the US-Israel relationship to America and to Israel," he said.
—
The post 5 major Jewish groups team up to advocate for Israel and push for 'accurate' coverage of Israel-Hamas war appeared first on Jewish Telegraphic Agency.
First Jewish university in South America to open in Buenos Aires next year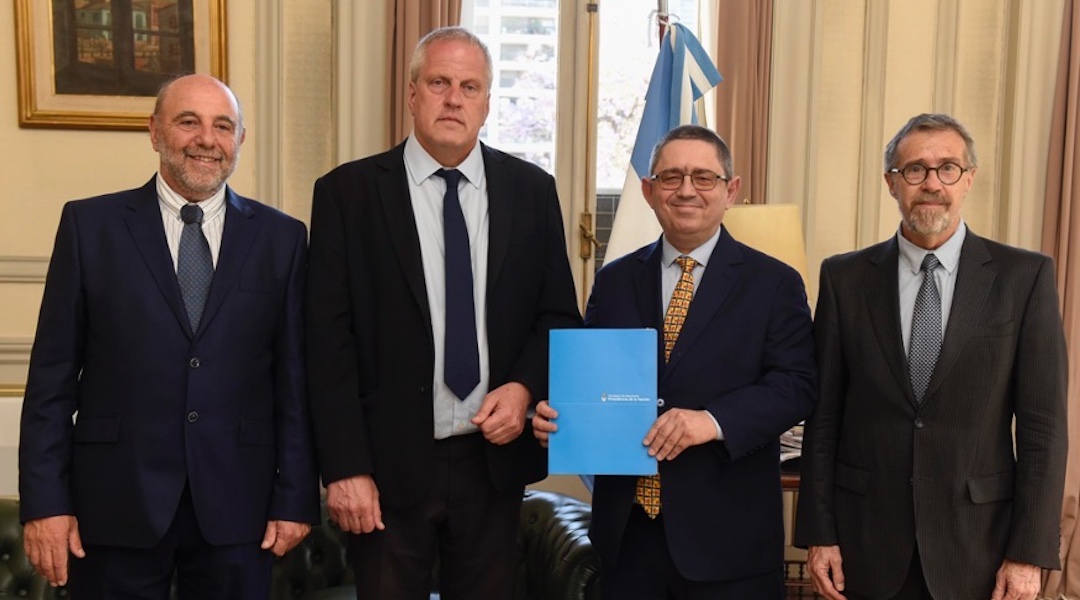 BUENOS AIRES (JTA) — South America is getting its first Jewish university next year.
The Latin American Rabbinical Seminary in Buenos Aires — which is affiliated with the Jewish Theological Seminary in New York, the Conservative movement's flagship — obtained legal approval last month to establish the Isaac Abarbanel Jewish University Institute. The school will confer diploma, bachelor's, master's and doctoral degrees in subjects ranging from Jewish and religious studies to ethics to ancient manuscripts.
"This makes Argentina better by allowing it to enrich its diversity and, at the same time, expand the scope of its academic proposal to other regions of the world," said Jaime Perczyk, Argentina's education minister, in a statement on Nov. 16. Rabbi Ariel Stofenmacher, the rector of the rabbinical seminary, said the university will be "a lighthouse beacon for Latin America."
One other Jewish university exists in the rest of Latin America: the Hebrew University of Mexico, which is located in Mexico City and run by an Argentine rabbi, Daniel Fainstein. The Latin American Rabbinical Seminary has had a continuing education institute under the Abarbanel name since 1978, but it has not conferred degrees titles.
The new university will include a center for the study of Hebrew manuscripts, including some from between the 9th and 15th centuries that are located at the Vatican Library. The digitized collection includes Torah scrolls, rabbinic literature, Jewish philosophy, liturgical books, poetry and kabbalistic texts.
The seminary is named after American rabbi Marshall Meyer, a New York native who worked to revitalize the Conservative movement in Buenos Aires from 1958 to 1984. In 1962, he created the Latin American Rabbinical Seminary, which ordains rabbis in Argentina and throughout Latin America. It has ordained approximately 110 Conservative rabbis since 1972.
Meyer, who was mentored by the activist rabbi Abraham Joshua Heschel, returned to the United States in 1984 and became the spiritual leader at Congregation B'nai Jeshurun in New York. He also served for a year as vice president of the University of Judaism in Los Angeles. He died in December 1993.
Isaac Abarbanel was a prominent 15th-century Jewish sage who worked in Portugal and, after the Spanish Inquisition, in Italy.
—
The post First Jewish university in South America to open in Buenos Aires next year appeared first on Jewish Telegraphic Agency.
Read the Hanukkah 2023 issue of The CJN's magazine (and stay tuned for a relaunched print publication in 2024)