Rishi Sunak visits synagogue as London is split by pro-Israel and pro-Palestinian protests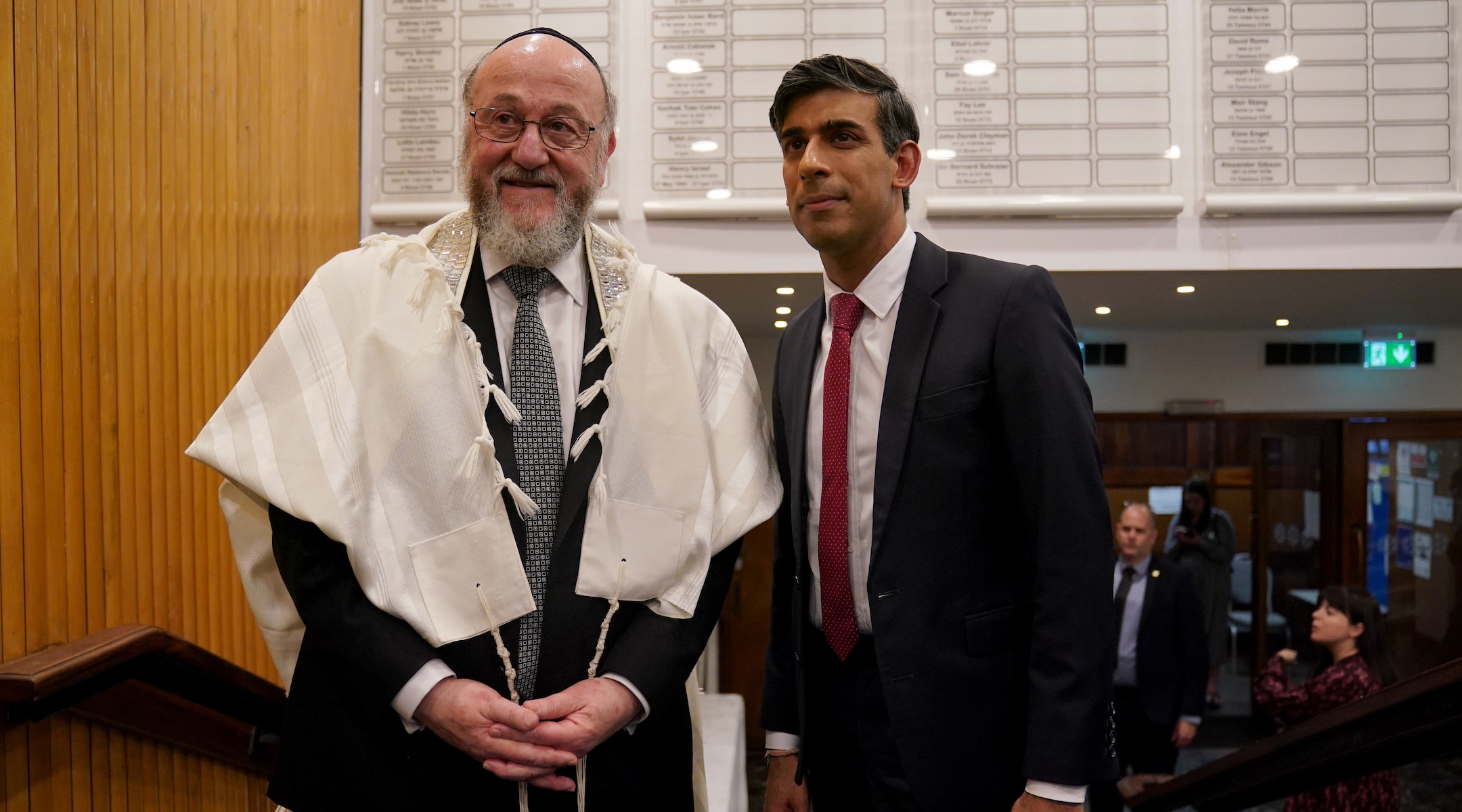 LONDON (JTA) — British Prime Minister Rishi Sunak said that his government's support for Israel was "unequivocal" in an address at a synagogue on Monday night, as Britain's Jewish community counted its dead and missing from Hamas' attacks on Israel and protesters clashed at a pro-Palestinian rally in London.
British leaders from across the political spectrum issued an almost unanimous declaration of support for Israel on Monday, capped by Sunak's attendance at a service at the Finchley United Synagogue in North London.
"I am unequivocal," Sunak told a packed audience. "There are not two sides to these events. There is no question of balance. I stand with Israel. We stand with Israel. The United Kingdom stands with Israel."
There are believed to be more than 10 British Jews dead or missing from the Hamas raids on towns near the Gaza Strip, including 20-year-old Nathanel Young, who was killed while serving with the Israeli military on Saturday.
The Foreign, Commonwealth and Development Office (FCDO), the United Kingdom's equivalent of a foreign affairs ministry, told the Jewish Telegraphic Agency that it was "in contact with – and assisting – the families of several individuals in Israel and the occupied Palestinian territories." There are thought to be between 50,000-60,000 Britons and dual nationals living in Israel and Gaza.
Sunak had earlier told Israeli Prime Minister Benjamin Netanyahu that London was prepared to provide Israel with "diplomatic, intelligence, or security support" to meet the challenge posted by Hamas.
Also among those thought to have been killed are photographer Danny Darlington, who went into hiding in a bunker in Nir Oz, a kibbutz near to the frontier with Gaza. "Our community has been destroyed," his sister said in a tribute.
Another British-Jewish man, Jack Marlowe, had been providing security at the music festival near Kibbutz Re'im that came under attack from Hamas. He has not been heard from since.
The Palace of Westminster, home to the British parliament, was lit up in Israeli colors on Monday night, along with the building that houses the FCDO. The prime minister's residence at 10 Downing Street had had an Israeli flag beamed onto its walls on Sunday evening.
Thousands gathered for two dueling demonstrations in London starting on Monday afternoon. Around 5,000 people attended a vigil in memory of those killed in the attacks near 10 Downing Street. Thousands of Israelis and British Jews were joined by senior politicians from Britain's three main political parties. Many were draped in Israeli flags and told JTA that they were attending as a show of support for family and friends in Israel.
Jacob Ziff, 26, who attended the vigil, said that "this horrible time has brought Jews closer together."
U.K. Chief Rabbi Ephraim Mirvis, who addressed the gathering, said that the "message of the Jews of the Diaspora" was that "your fate is our fate, your destiny is our destiny."
Rabbi Mirvis was followed by senior Conservative politicians, including Tom Tugendhat, Robert Jenrick and Iain Duncan Smith, as well as the leader of the Liberal Democrats Ed Davey and Shadow Foreign Secretary David Lammy of the Labour Party.
Lammy said there could be "no mincing of words with terror" and invoked Moses as he demanded that Hamas release the British and Israeli hostages that it was holding. "Someone once said: set my people free! Release them now!"
Lammy, who returned to London from his party's annual conference in Liverpool, has called for a policing "surge" to protect local Jews.  He wrote in Monday's Jewish Chronicle that "Security is the meaning of solidarity."
There was a reinforced police presence around Westminster as the vigil took place, although there were a small number of interruptions by individual protestors as the Mirvis spoke.
In West London, outside the Israeli embassy, thousands attended a demonstration condemning Israel. Protesters blocked the main road that runs alongside Hyde Park as demonstrators let off fireworks and flares amid a thicket of placards and Palestinian flags.
"Israel is a terror state," demonstrators chanted as the street became cloaked in smoke. "From the River to the Sea, Palestine will be free."
Some protesters clashed with a number of pro-Israel counter-demonstraters at the entrance to the nearby High Street Kensington underground train station before they were separated by police.
The Community Security Trust, an organization that provides security to Britain's Jewish community, said that it was already "seeing incidents of racist antisemitism against Jewish people and property" following the attacks in Israel.
The Metropolitan Police said that they would be increasing patrols across "key areas of London" to "reassure and protect." There had been reports of abuse and celebratory music being blasted from cars in various parts of London after the news of the attacks from Israel broke.
In Golders Green, a heavily Jewish area of North London, a railway bridge that bisects a main road was tagged with graffiti reading "Free Palestine."
A nearby kosher restaurant, Pita, had its doors smashed early on Monday morning, although authorities have not yet concluded whether it was an antisemitic attack. The Metropolitan Police said that they had received CCTV footage from the restaurant and that the incident was not being treated as a hate crime "at this stage."
Mike Freer, the area's member of parliament, told The Telegraph that he believed that the attack was "more than coincidental and that it couldn't be anything other than antisemitic."
"I hope I'm proved wrong but I think the timing is too coincidental for it to be anything other than an antisemitic attack," he said.
As concerns about potential antisemitic attacks rose, the Jewish Free School, one of London's more prominent Jewish schools, told parents that it was making wearing blazers "optional for the next week."
"The most important thing is ensure the safe passage of students between home and school and to make sure that this school is set up to care for our children during the school day," the email read, adding that there would be no detention so that all students could access school buses.
Addressing concerns from within the Jewish community about antisemitism and violence towards the community, Sunak told those gathered in north London: "We have already seen vile words on our streets and efforts to stir up community tensions. I say: not here. Not in Britain."
"My first duty is to protect you. We will not tolerate this hate," he said. "We will not tolerate this antisemitism. I promise you: I will stop at nothing to keep you safe."
—
The post Rishi Sunak visits synagogue as London is split by pro-Israel and pro-Palestinian protests appeared first on Jewish Telegraphic Agency.
Suspect identified but no arrest in death of Jewish man at Israel rally, Ventura County sheriff says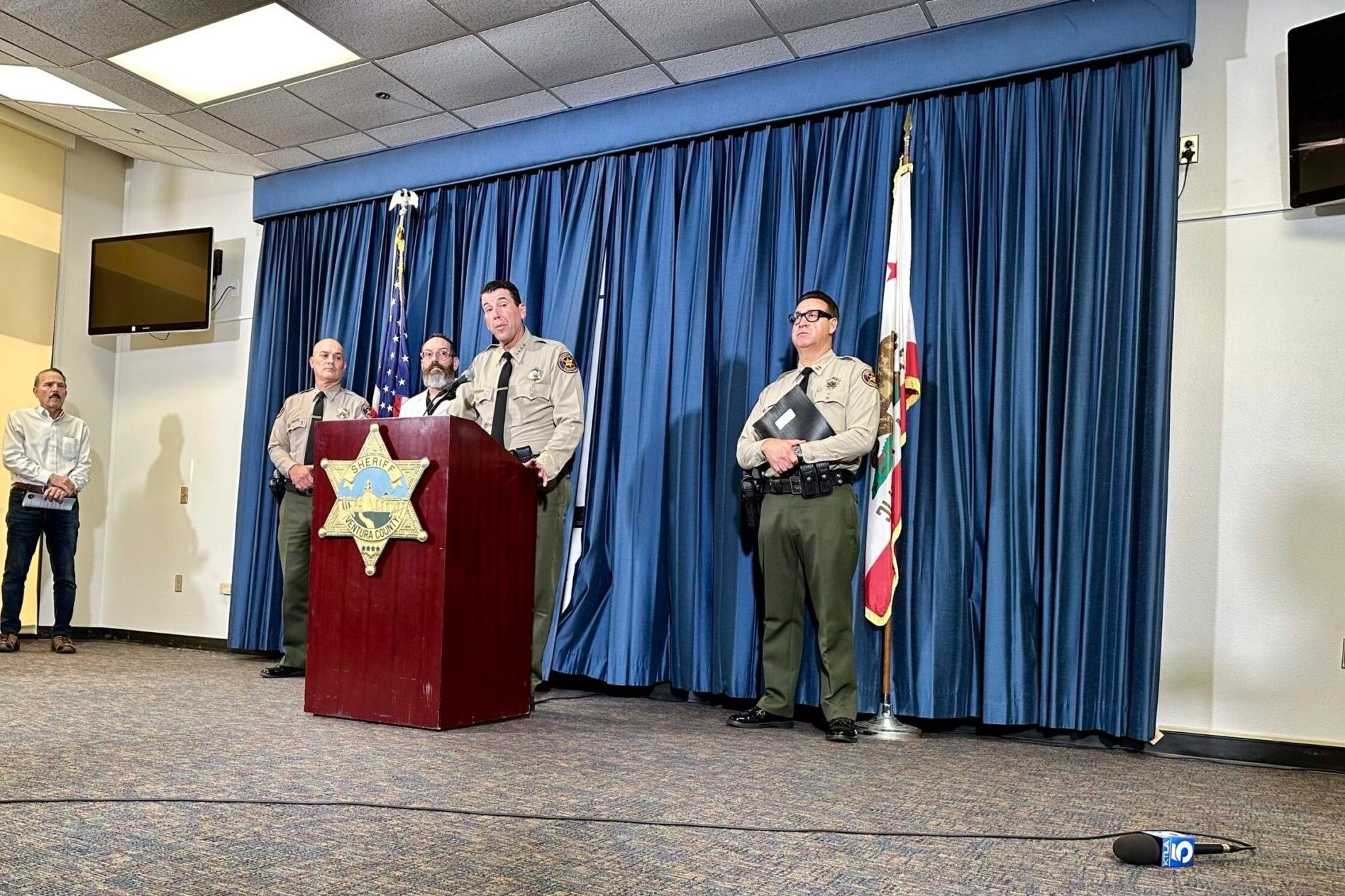 THOUSAND OAKS, California (JTA) — Police in Ventura County, outside Los Angeles, said they had identified a suspect but had not made any arrests in connection with the death of Paul Kessler, a 69-year-old Jewish pro-Israel activist who died after a confrontation with a pro-Palestinian protester on Monday.
Investigators have not ruled out the possibility of a hate crime, Sheriff James Fryhoff said during a press conference on Tuesday morning. And while the incident is being investigated as a homicide, a medical examiner explained that that term means Kessler's death resulted from human interaction — and not necessarily that a crime had been committed.
The case is attracting significant attention because it is the first death reported in connection with international protests for and against Israel in the weeks since Oct. 7, when Hamas attacked Israel, prompting Israel to declare war on the terror group.
Fryhoff declined to share many details of the ongoing investigation but sketched out the contours of what happened on Monday, when pro-Palestinian protesters gathered at a busy intersection in this southern California suburb, and pro-Israel demonstrators assembled at the same spot for a counter-protest. There were about 75 to 100 people in total between the two camps, he said, and police officers were monitoring the scene but were not stationed there.
He said multiple people had called 911 after Kessler fell following an altercation of some kind and that police had interviewed witnesses after arriving just minutes later.
"Witnesses provided conflicting statements about what the altercation, and who the aggressor, was. Some of the witnesses were pro-Palestine while others were pro-Israel," he said. "During the investigation at the scene, deputies determined that in the altercation with Mr. Kessler, he fell backward and struck his head on the ground. What exactly transpired prior to Mr. Kessler falling backward isn't crystal clear right now."
Fryhoff said a 50-year-old male who lives in nearby Moorpark, and who was a pro-Palestinian demonstrator, had been identified as a suspect in the case and was detained briefly on Tuesday afternoon while investigators executed a search warrant on his home. Fryhoff said the man, whom he did not identify, had cooperated with deputies at the scene of the incident. The man also said he had been among those to call 911, Fryhoff said.
Fryhoff exhorted anyone with video from the event to share it with the sheriff's office. A video from a nearby Shell gas station was obscured by the gas station sign, he said.
Kessler was conscious and responsive at the protest and again when officers interviewed him at a nearby hospital, Fryhoff said. His condition deteriorated and he was pronounced dead shortly after 1 a.m. Tuesday, nearly 12 hours after the incident.
The chief medical examiner said physicians who assessed Kessler, as well as an autopsy that was performed on him, observed an injury to his face that could have been caused by being struck with a megaphone — something the local Jewish federation said had occurred. But it was the blow to the back of Kessler's head that was fatal, said the examiner, Dr. Christopher Young.
The rallies took place at a busy intersection that Fryhoff said has been home to two other protests related to Israel and Gaza since Oct. 7.
"We've had 21 protests countywide since October 7. This was the only one so far that has had some type of violent encounter at all," he said.
The CEO of the Jewish Federation of Greater Los Angeles, Rabbi Noah Farkas, was at the press conference.
"We have to allow the investigation to continue," Farkas said. "We appreciate that it's being investigated as a homicide. And we hope the facts of the case will come out so that we have real clarity about what had happened. But at the same, we live in an environment that we know is very hostile to the Jewish community. … The environment was such that it could lend itself to violence."
Farkas said he urged the local Jewish community "to be vigilant and to stay calm" despite mounting reports of antisemitic incidents globally and several local incidents of violence, including an Oct. 25 home invasion in Studio City, California, in which the alleged intruder shouted "Free Palestine" and "Kill Jews."
"The last thing that anyone should want is for Jews in the community to take matters into their own hands and commit some kind of reprisal," he said. He also said Jews should continue to attend pro-Israel demonstrations, including ones planned for Beverly Hills on Nov. 19 and in Washington, D.C. next week. "That's how we can express ourselves," he said.
Fryhoff said his department assesses the risks related to each event before deciding whether to send officers.
"It's very clear that sometimes when law enforcement does arrive on scene, that we can be a catalyst for additional aggression, and so we try and limit our presence," he said. In this case, he said, "There was no indication of impending violence and so no additional resources were needed. … This event was not preventable."
—
The post Suspect identified but no arrest in death of Jewish man at Israel rally, Ventura County sheriff says appeared first on Jewish Telegraphic Agency.
A month after loved ones taken captive, families of hostages howl on global stage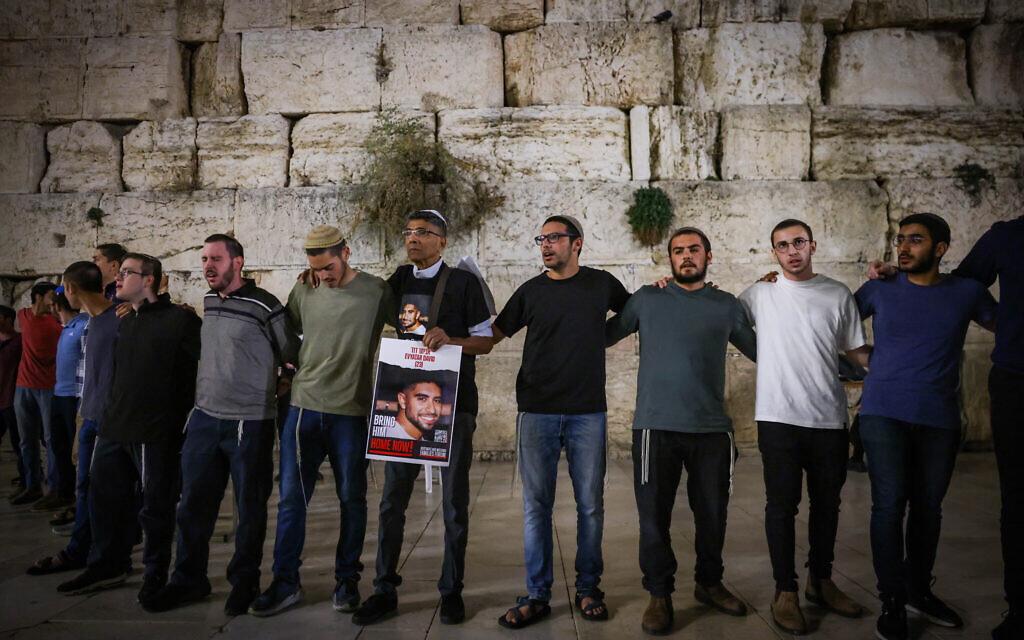 1 month after Oct. 7 massacre, the ruins of Kibbutz Kfar Aza testify to its horrors