Some Jews are taking down their mezuzahs due to antisemitism. Some non-Jews are putting them up.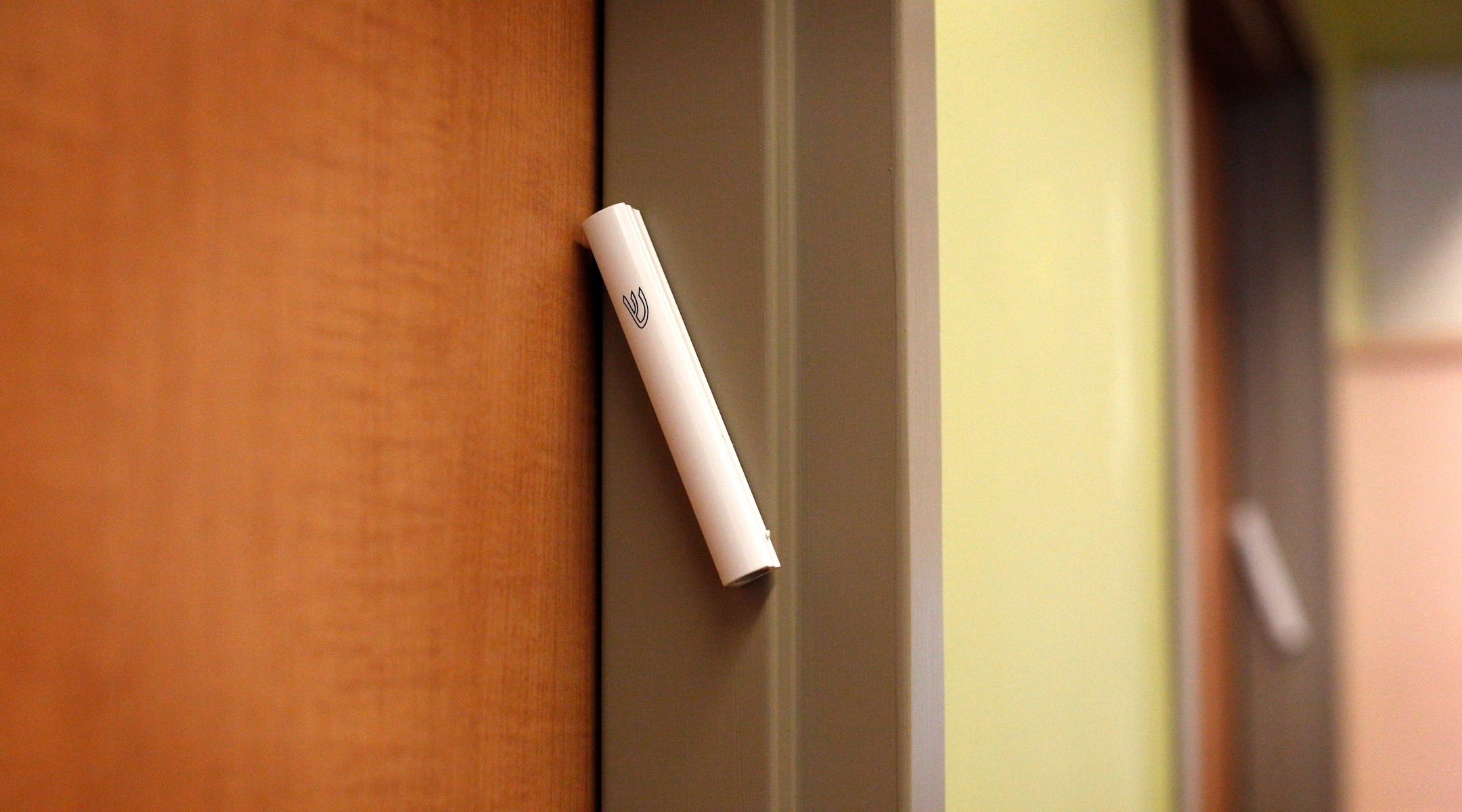 (JTA) – When a man broke into the home of a Jewish family in Studio City, California, last week yelling antisemitic language and "Free Palestine," neighbors quickly honed in on a key detail: The assailant had allegedly previously questioned the family about the mezuzah on their door.
This caused some fear among secular Jews on their block, said Menachem Silverstein, an Orthodox comedian and rabbi who is close friends with the victims. He said an Israeli neighbor told him that he was considering taking his family's mezuzah down.
But the response from Silverstein's non-Jewish neighbors, he said, "gave me goosebumps": They proposed putting up their own.
"I'm tearing up. I'm like, this is the most beautiful thing anybody has ever said to me," Silverstein recalled to the Jewish Telegraphic Agency. "It was the inspiration I needed, personally."
The neighbors ultimately decided that the break-in was a one-time incident and held off on following through with their offer. Still, Silverstein said, the mere gesture that they might be willing to support Jews in this way stuck with him at a time when so many Jews say they are feeling alone and unsupported by the non-Jews they know.
He compared the moment to the "I am Spartacus" scene in the 1960 movie, in which the hero's countrymen all identify as him in order to protect his identity. It also calls to mind the myth that the king of Denmark wore a yellow Star of David to shield the country's Jews under Nazi rule.
"If everyone has a mezuzah, no one has to take it down and you can't identify the Jews who have a mezuzah," he said.
And to Silverstein, the gesture invoked something even more gut-wrenching. "To me it felt like the precursor to 'We'll hide you when you're in our attic.'"
Silverstein's reaction taps into a broader conversation taking place in Jewish homes and communities around the world. As antisemitic sentiment has risen across the world in the wake of Israel's ongoing war with Hamas, which killed more than 1,400 Israelis in a terrorist attack on Oct. 7, Jews are questioning whether their mezuzahs — small boxes containing a passage from the Torah commanding Jews to inscribe the words on the doorposts of their homes — make them vulnerable to attacks by identifying their homes as Jewish.
In some places, as in Studio City, it seems that the fears have been justified. In Canada, an Ontario couple says they believe their mezuzah was a giveaway to vandals who spray-painted antisemitic graffiti on their garage. Jews in Paris and Berlin who have expressed concern about Jewish stars being painted on their buildings wonder whether it was their mezuzahs that tipped the vandals off.
Some are seeking ways to keep their mezuzahs up while making them inconspicuous. In Europe, some Jews have been buying up Camozuzah, a mezuzah disguised to look like a home alarm, originally developed by a Chabad-Lubavitch rabbi in Ireland in 2021 for Jewish university students concerned about antisemitism there.
Others may be removing their mezuzahs altogether. Jews in London and Berlin say they've taken their mezuzahs down as a safeguard against unrest. Levi Wolff, the rabbi at the Modern Orthodox Central Synagogue in Sydney, Australia, posted on Instagram this week that an anonymous person had left a mezuzah at his house, which he took to mean that "someone in our community has removed his/her mezuzah and is returning it to me, out of fear of their home being recognized as a Jewish home."
Wolff, who is affiliated with the Chabad-Lubavitch Hasidic movement, then implored Jews to keep their mezuzahs up and to not be afraid in the face of antisemitism, such as a pro-Palestinian protest in Sydney where participants recently chanted "Gas the Jews."  Other Chabad rabbis have emphasized that now is an ideal time to put up mezuzahs, an act that they counteracts darkness in the world, and many have taken steps to distribute mezuzahs in their communities.
Other spiritual leaders have struck a more cautious tone. Marc Katz, a rabbi at Temple Ner Tamid in Bloomfield, New Jersey, posted on Facebook Tuesday that, in light of Halloween, Jews should consider being extra cautious with how many visible signs of Jewish identity they display on their houses.
"It's OK to take down your outward signs of support for Israel or even your outward signs of Jewish identity (like your mezuzah) if you are truly worried for your safety," Katz wrote, in a post also shared by his synagogue. "At times that are unsafe, Jews are allowed to do the imperfect to protect themselves and their resources."
The rabbi cautioned his congregants that they should be prepared to return to normal "when the threat goes away."
Elsewhere, other non-Jews looking to stand in solidarity with Jews and Israel also shared plans to put up their own mezuzahs. One non-Jewish woman in Toronto went viral on the social network X, formerly known as Twitter, for sharing her own mezuzah affixed to the door of her apartment building. She says she procured it inexpensively from a Judaica shop after consulting with Jewish friends who told her that it wouldn't be insensitive.
"Some of our Toronto neighbours are facing harassment — just for being Jewish," wrote the woman, who identified herself as Susie Movat. "As a non Jew, I'm putting a mezuzah on my door to stand in solidarity with my friends who deserve to live without fear. Never again."
Some of our Toronto neighbours are facing harassment – just for being Jewish. As a non Jew, I'm putting a mezuzah on my door to stand in solidarity with my friends who deserve to live without fear. Never again. pic.twitter.com/grZ4lTqzqj
— susie movat (@MovatSusie) October 27, 2023
Some Jewish users applauded her. "While current events have seen so many of our neighbours rip off masks to show us the deep rot of systemic antisemitism, it has also blessed Jews by shining spotlights on those non-Jews in our midst who like Susie passed this "would you have hid Jews during the Holocaust" test," wrote Yoni Freedhoff, an Ottawa physician who tweets frequently on Canadian Jewish issues. The British Jewish historian Simon Schama, author of "The Story of the Jews," joined in the appreciation.
But others said they thought the gesture represented cultural appropriation, in the vein of Christian Passover seders, and questioned whether it was the strongest show of allyship. "You can donate to a synagogue's security fund (yeah, we have those, because we have to) or education fund," one representative user tweeted. "Appropriation is NOT the way."
Silverstein, who comes from a Chabad family, said he didn't interpret his neighbors' gesture as appropriative. Instead, he said, "It was such a beautiful thing to see non-Jews acknowledge the importance of a mezuzah."
As for whether Jews everywhere should consider taking their own down for protection, Silverstein advised, "Consult your local rabbi." But he noted Jewish tradition teaches that the mezuzah itself is historically its own form of protection.
"Our mezuzah is the security system. Our mezuzah has the Shema in it," he said. "Having that mezuzah up, as scary as it may seem, I truly feel that God will protect you."
—
The post Some Jews are taking down their mezuzahs due to antisemitism. Some non-Jews are putting them up. appeared first on Jewish Telegraphic Agency.
How 'decolonization' became the latest flashpoint in the discourse over Israel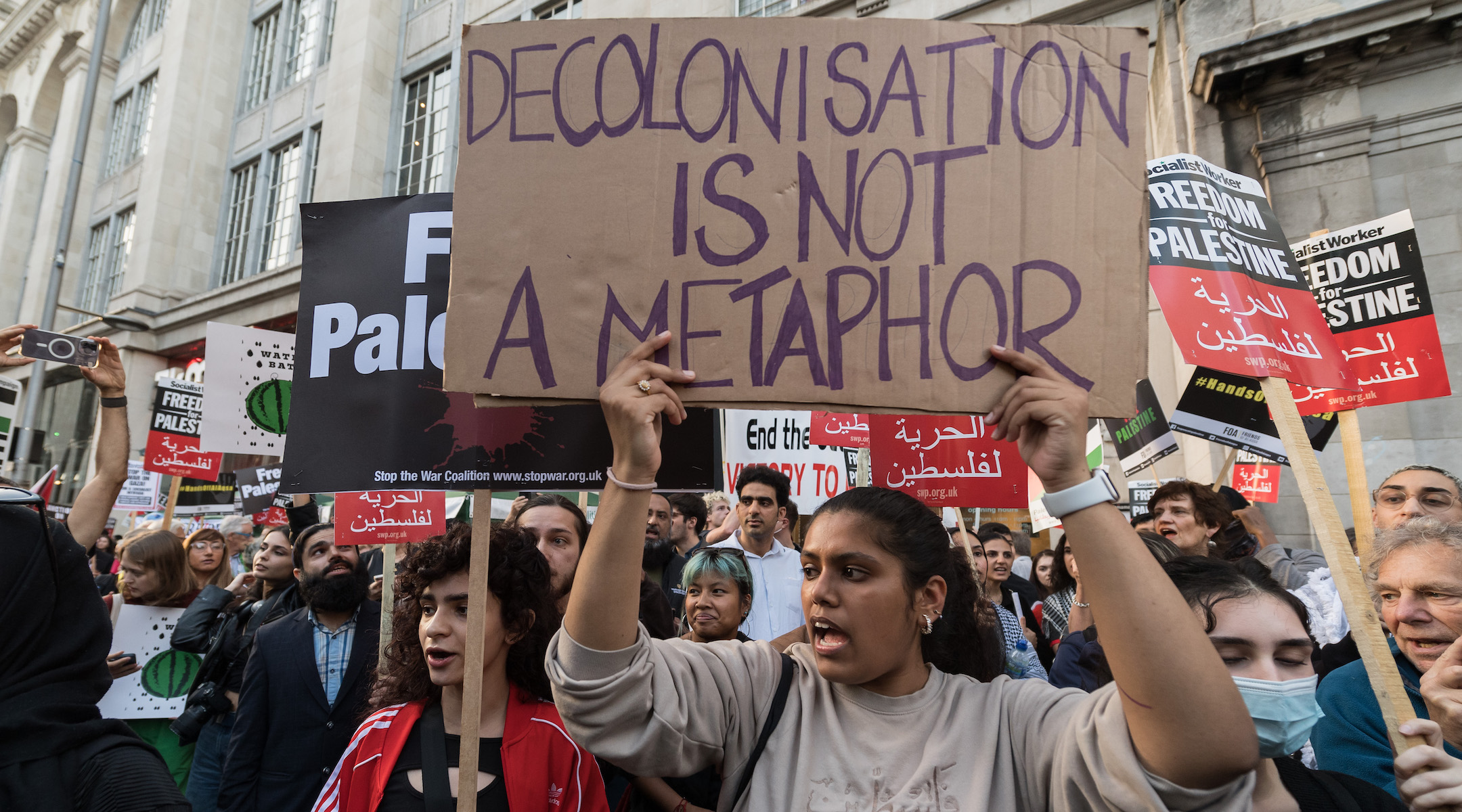 (JTA) — Attend or watch footage of a campus pro-Palestinian demonstration these days and you are likely to see someone carrying a sign reading "Decolonization is not a metaphor."  Almost immediately after the Hamas attack on Israel on Oct. 7, George Washington University Students for Justice in Palestine put out a statement praising the terrorists, declaring "Decolonization is NOT a metaphor."
 As a political slogan, it may not pack the same punch as "Free Palestine" or "From the river to the sea." But to activists on both sides of the Israeli-Palestinian divide, the charge that Israel is a "settler colonial" state and calls to "decolonize" Palestine are becoming an increasingly potent part of the toxic, perhaps unbridgeable, discourse. 
Two nearly simultaneous events inspired me to take a dive into the meaning of the slogan. The first was a news release from the American Jewish Committee announcing that, in light of the "terrifying increase" of antisemitism since Hamas' Oc7. 7 attack against Israel, it was adding new terms to its online "Translate Hate" glossary of antisemitic terms. Among those terms, alongside "from the river to the sea," is "settler colonialist." "Those who oppose the State of Israel as a Jewish state," writes AJC, use the term the charge that Israel "engages in ethnic cleansing by displacing and dispossessing a native or pre-existing population." It goes on to explain why the term is "categorically false." 
 More on that in a moment. The second event was a webinar in memory of Hayim Katsman, 32, the Israeli ethnographer and peace activist killed when Hamas infiltrated his kibbutz. The webinar was the launch of a new book of scholarly essays, "Settler Indigeneity in the West Bank," that features an essay by Katsman. Like many of the other Jewish and Israeli contributors to the book, Katsman appears to have been quite comfortable applying "colonialist" to describe Israel's national enterprise, in whole or in part. 
In the book's introduction, its editors, Rachel Z. Feldman and Ian McGonigle, explain why. They acknowledge the argument — put forth by AJC and others — that unlike the Europeans who colonized Africa, the Americas and Asia, Jews had a longstanding connection to and presence in the Land of Israel, and that the "early Zionist settlers did not have a home empire." (Or, as AJC puts it, "unlike European settler colonialists who settled colonies to enrich their motherlands, and who maintained a connection to their home countries to which they could return if they so wished, Jews who came to Mandatory Palestine had no motherland in Europe to enrich.")
However, write Feldman and McGonigle, aspects of political Zionism certainly resemble colonialism. "If we read Hertzl, if we read Jabotinsky, they're speaking about a colonizing project," Feldman said at the book launch, referring to two of political Zionism's founding fathers. "And, unfortunately, they were subject to the modalities of European thought that … looked at Palestinians as primitive people who could not possibly have a sovereign imagination of their own."
But "colonialism" doesn't tell the whole story of Israel, Feldman, assistant professor of religion at Dartmouth, told me on Friday. "I think that's where things can slide into antisemitism, when this just sort of blanket equation is made between Zionism and all European colonial projects. It would be missing the fact that Israel is the historic ancestral homeland of the Jews," she said. "But that doesn't mean that Jews haven't acted in ways that are settler colonial."
Ignoring those power dynamics — or, as many Palestinains and their supporters tend to do, denying any Jewish connection to the land — "will never get us closer to peace and reconciliation," Feldman continued. "This debate about who is more native is a fundamentally flawed debate and it leads to dehumanization of either Israelis or Palestinians. Both people are in this land together, and that is the absolute basis of any future kind of reconciliation." 
"Reconciliation" is barely on the minds of those who quote "Decolonization is not a metaphor," the 2012 paper by American academics Eve Tuck and K. Wayne Yang that poularized the phrase. The two argued that "decolonization" means exactly what it says: "repatriating land to sovereign Native tribes and nations, abolition of slavery in its contemporary forms, and the dismantling of the imperial metropole" – that is, the colonizing "homeland." It is not a handy bit of jargon for improving our societies and schools or fighting racism or "easing" an occupation, they write. 
The paper only mentions "Palestine" once, in a roll call of colonialist malefactors that includes Australia, the United States and apartheid South Africa, but it became a touchstone for radical movements that felt the widespread rhetoric of anti-colonialism had lost its bite. 
George Washington University Students for Justice in Palestine, since suspended by the administration, takes the phrase to its logical, violent extreme, calling the Hamas attack a "tangible, material event in which the colonized rise up against the colonizer and regain control of their lives." 
Another pro-Palestiniang group, Decolonize This Place, calls for "direct action and [is] driven by the belief that all colonized and oppressed people have the right to take back their land, to realize self-determination, and to win their liberation by any means necessary." The day after the Hamas attack , it said on Instagram: "[T]he heroic Palestinian resistance and the people's steadfastness continue, while settler colonial Israel, the US, and the 'international community' ignore that Israel is the violence."
"Softer" versions of decolonization call for divesting from countries and institutions that support colonialism. Corinna Mullin, who teaches international relations at the University of Tunis in Tunisia and recently at CUNY's John Jay College, used the "not a metaphor" phrase during a Nov. 17 Labor for Palestine teach-in in support of the boycott of organizations with "links to Zionism." "We need to materially decolonize these institutions so that they no longer are serving the causes of oppression and exploitation, but instead are in the service of liberation," she said.
Those who wave the "not a metaphor" sign at rallies may embrace all or none of these interpretations. AJC insists that the "settler colonialist" label is, however it is used, a slur. And when it is "used to say Jews do not have the right to national self-determination or to deny Israel's right to exist," it explains in the glossary, "that is antisemitism." The historian Simon Sebag Montefiore writes that the "decolonizing narrative is much worse than a study in double standards; it dehumanizes an entire nation and excuses, even celebrates, the murder of innocent civilians."
In his chapter for the "Settler Indigeneity" volume, about religious Jews living in the Negev, Katsman appears to agree with scholars who describe Israel's efforts to "'Judaize' Palestinian space" as colonialism in effect, if not intent. But he doesn't reject Israel, only those Jewish ideologues who want to erase the Green Line separating pre-1967 Israel from the West Bank. He bewails "the growing acceptance [among Jews] of a one-state reality between the river and the sea." 
That seems of a piece with the scholarship and activism for which he was known. His mother, the American-born Orthodox feminist activist Hannah Katsman, told Haaretz that he came to Kibbutz Holit after the army to help revive the desert outpost. Although he studied in the United States, he was determined to return home. Among other things, he took part in solidarity shifts to protect Palestinian communities harassed by Jewish settlers in the West Bank.
His dissertation, about political trends in Religious Zionism, was dedicated to "all life forms that exist between the Jordan River and the Mediterranean Sea."
"He was determined to understand the political rise to power of Israel's religious right wing, which he viewed as a serious obstacle to the establishment of a just and lasting peace," Feldman said in her opening remarks at the book launch. She also quoted Katsman, whom she got to know over the years, saying that he worked to create a world where "Israelis and Palestinians both are able to live full lives as equals under the law." 
Since his death at the hands of Hamas, Katsman has been held up as a counterpoint to the zero-sum nihilism represented by his murderers. Perhaps he should also be seen as a symbol of the possibility of two peoples sharing a land without either one trying to expel, dominate or colonize the other.
—
The post How 'decolonization' became the latest flashpoint in the discourse over Israel appeared first on Jewish Telegraphic Agency.
Treasure Trove: How some sheet music in the Theresienstadt Ghetto became a symbol of hope
Protester Sets Self on Fire Outside Israeli Consulate in Atlanta
i24 News – A protester was in critical condition on Friday after setting themself on fire outside the Israeli consulate in Atlanta, Georgia, U.S. authorities said. A security guard who tried to intervene was also wounded.
A Palestinian flag found at the scene was part of the protest, Atlanta Police Chief Darin Schierbaum said at a news conference. He added that investigators did not believe there was any connection to terrorism and none of the consular staff was ever in danger.
JUST IN: A pro-Palestine protester is in critical condition after they set themselves on fire in "political protest" outside of the Israeli Consulate office in Atlanta.
The protester was reportedly draped in a Palestine flag.
The protester has severe burns and unfortunately, a… pic.twitter.com/B8nUQAj2nU
— Collin Rugg (@CollinRugg) December 1, 2023
"We do not see any threat here," he said. "We believe it was an act of extreme political protest that occurred." Everyone inside the consulate building was said to be safe.
Anat Sultan-Dadon, Consul General of Israel to the southeastern U.S., said: "We are saddened to learn of the self-immolation at the entrance to the office building. It is tragic to see the hate and incitement toward Israel expressed in such a horrific way."
"The sanctity of life is our highest value. Our prayers are with the security officer who was injured while trying to prevent this tragic act. We are grateful to the city of Atlanta's law enforcement and first responders for all they do to ensure safety."
The post Protester Sets Self on Fire Outside Israeli Consulate in Atlanta first appeared on Algemeiner.com.