Tennessee lawmakers discuss safety, Israel support at Jewish school that foiled gunman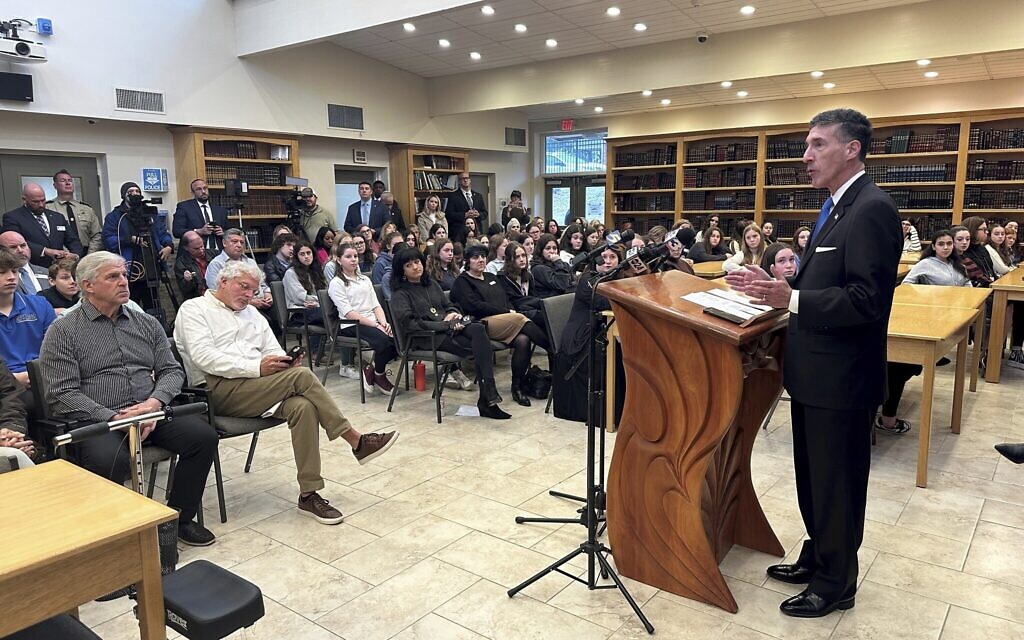 Despite bus driver boycott, thousands attend pro-Israel rally in Ottawa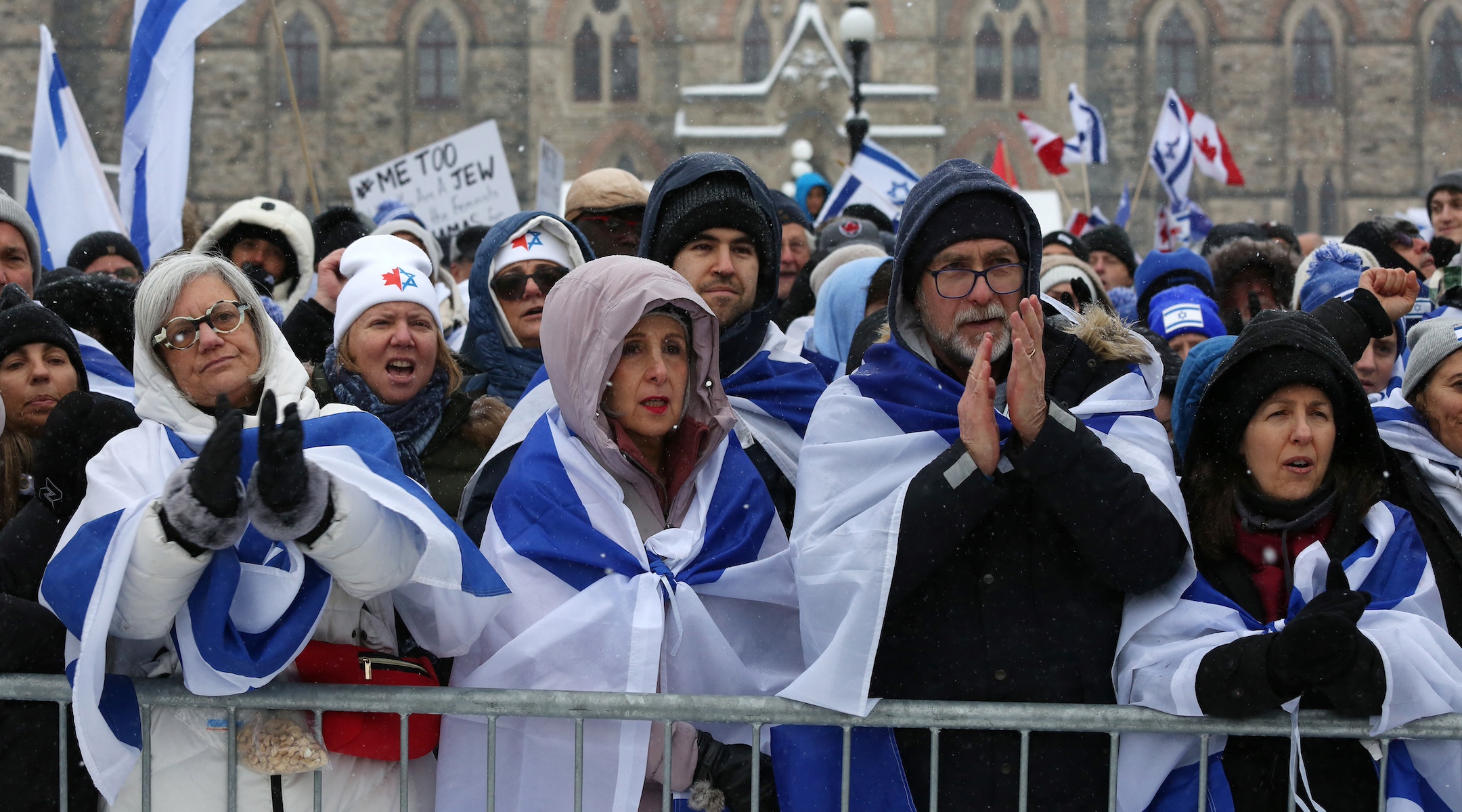 MONTREAL (JTA) — Despite a foot of snow in Montreal and chartered buses that never showed up in Toronto, thousands of Canadian Jews assembled on Parliament Hill in Ottawa on Monday to voice solidarity with Israel and decry a rise in antisemitism.
Despite concerns over overall security in Canada's capital city, which was tight, the rally's speakers included several prominent Canadian politicians, Jewish leaders, college students who feel unsafe on campus and family members of Israelis taken hostage or killed by Hamas on Oct. 7.
Local Jewish leaders called the event, organized by Jewish federations across Canada and the Centre for Israel and Jewish Affairs, a historic gathering. But just weeks after a similar incident in Detroit before a massive pro-Israel rally in Washington, 17 of 70 chartered buses did not show up to pick up rally-goers in Toronto.
Organizers called the no-show bus company antisemitic.
"Despite charging in full in advance and confirming its participation, the [unidentified] company did not send a single bus and has declined all communications while refusing to provide any explanations," said Adam Minsky, president and CEO of United Jewish Appeal Federations in Toronto.
"We are driven to the view that this shameful decision is intended to disrupt our peaceful rally out of hatred toward Jews," he added. "What happened today is sickening and outrageous. We will respond aggressively with every legal and public affairs tool at our disposal."
Israel's ambassador to Canada Iddo Moed, Liberal Party member of parliament Anthony Housefather and deputy Conservative Party leader Melissa Lantsman all spoke on Monday.
"This is not 1943. I'm grateful that Israel exists and has an army to fight back against those who launched this pogrom," said Housefather, who is Jewish and represents Montreal's heavily Jewish Mount Royal district.
Raquel Look, whose son Alexandre was murdered at the music festival in southern Israel attacked by Hamas on Oct. 7, called on Canadian politicians to take more action against antisemitism. Hate crimes against Jews — including multiple incidents that have involved Molotov cocktails thrown at Montreal-area synagogues — have spiked across Canada.
"Our sorrow is deep and immeasurable but today we want to channel this immense pain into a call for action," Look said. "Please let us honour his memory by standing up against the forces that seek to destroy Jewish and Canadians values we hold so dear."
—
The post Despite bus driver boycott, thousands attend pro-Israel rally in Ottawa appeared first on Jewish Telegraphic Agency.
The 'Hanukkah Erotica Book Club' aims to connect Jews — with romance novels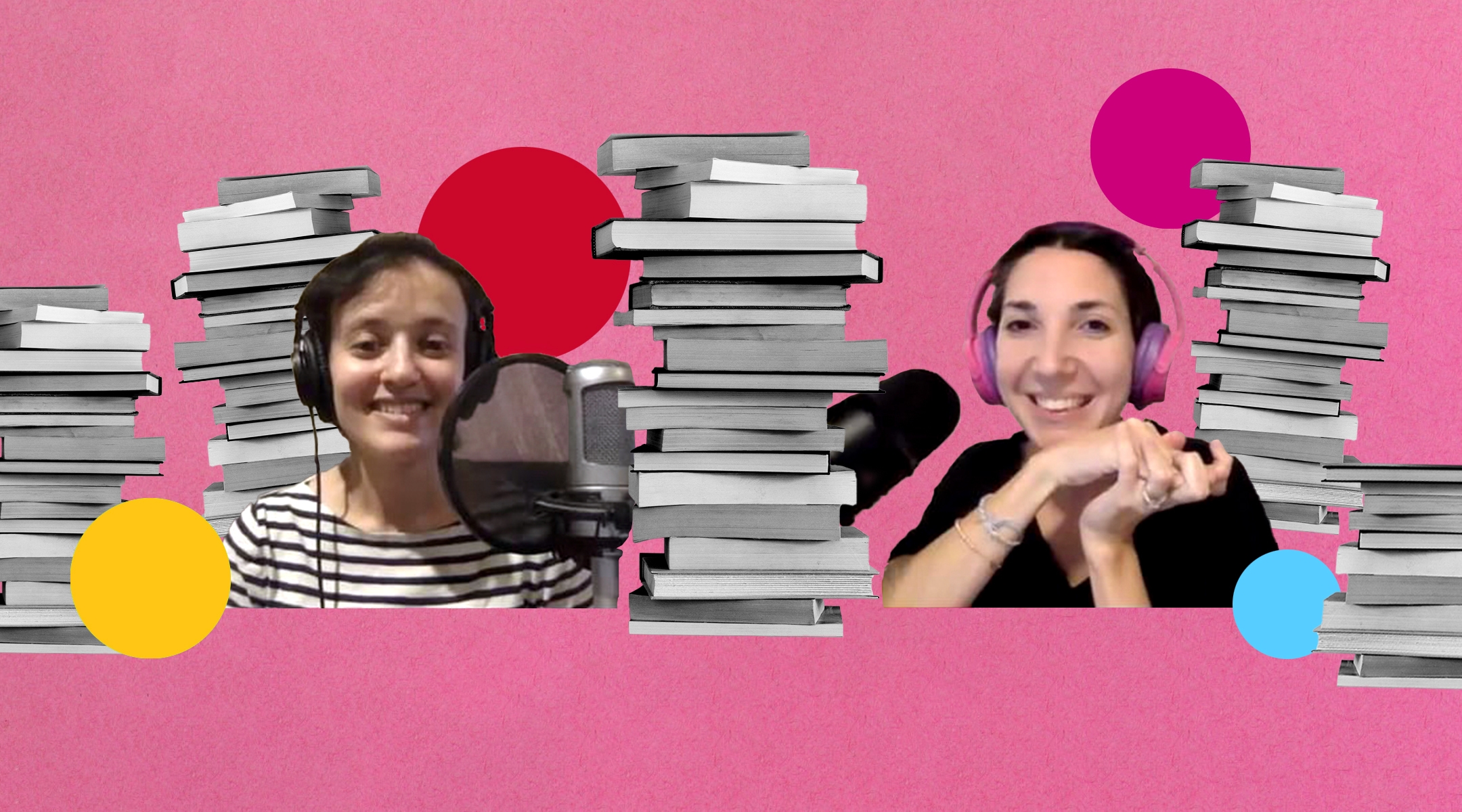 (New York Jewish Week) — First things first: Despite its name, there is no erotica and sometimes no Hanukkah in the Hanukkah Erotica Book Club.
Instead, the "book club" is actually a biweekly podcast about Jewish romance novels. Hosted by close friends and stepsisters Malya Levin and Rachel Mintz — who goes by her "Hebrew" name, Raizel, on the show — the duo discuss a different Jewish-themed romance novel each episode while simultaneously unpacking their Jewish identities and their experiences dating in New York City.
The podcast's name, Hanukkah Erotica, came from a nickname Mintz coined for a genre that she didn't even know existed until one year ago. That's when she read her first-ever Jewish romance novel, "I'll Be Home for Hanukkah" by KK Hedrin, about a big-city Jewish girl named Shayna Adler who finds herself living out a bizarre Hallmark Christmas-movie fantasy with a Jewish colleague when they get stuck in North Pole, Alaska over the holiday.
"I was very connected to the material," Mintz told the New York Jewish Week. "It felt very nostalgic to the early 20s Malya and I experienced."
Levin concurs. "Our relationship really formed during our early 20s on the Upper West Side, when we were coming into our own Jewish identities and having a lot of funny, stereotypical young single Jewish woman experiences," she said.
Mintz and Levin, both 38, met shortly after they graduated college, when their parents started dating. They quickly became close as Mintz was looking to move to the Upper West Side. Levin was already living there, and as they became involved in the Jewish communities in the neighborhood, their social circles began to intertwine.
Now married with children — Brooklynite and elder abuse lawyer Levin has four and New Jersey-based Mintz has two — the podcast gives them an opportunity to spend time with each other, bonding over their mutually beloved book genre.
Jewish romance novels are a burgeoning genre that are written about Jewish protagonists, usually by Jewish authors. Like other publishing categories, romance has become more diverse in recent years, with novels centering on people of color, gay and lesbian characters and the neurodivergent. Authors like Elissa Sussman — author of "Funny You Should Ask" — and Jean Meltzer — author of "The Matzah Ball" and "Kissing Kosher" — have released best-selling novels in the last few years about Jewish protagonists seeking love. Jewish romance authors have attempted to change the narrative about Jewish stories to include joy and positivity — as the genre rule of romance is that there always has to be a happily ever after.
Then there's The Ripped Bodice, a romance-only bookstore owned by Jewish sisters Leah and Bea Koch with locations in Brooklyn and Culver City, California. "We're very passionate about fostering diverse narratives in romance novels," Leah told the New York Jewish Week. "Highlighting Jewish representation in this genre is so important, especially for a group of people that is almost entirely represented by stories of tragedy. We love to introduce people to Jewish stories of love and joy."
To that end, the Brooklyn bookstore is hosting Hanukkah Erotica's first-ever live show on Dec. 13. Leah Koch calls the Hanukkah-themed event "a celebration of Jewish identity and inclusivity."
"For us, it's brought about a lot of thinking about our Jewish identity, Jewish practice," Mintz said of the Hanukkah Erotica Book Club. "It sounds silly, but these books have made us think about a lot of aspects about Jewish identity and Jewish peoplehood."
Mintz, a preschool director and adjunct professor, told the New York Jewish Week she has read romance novels for as long as she can remember; she treated the genre as "a palate cleanser between 'great books,'" she said.
Levin, meanwhile, had never read a romance novel when Mintz convinced her to read "I'll Be Home for Hanukkah." She admits she had many preconceived notions about the genre and was surprised by how much the novel resonated with her — right down to the protagonist bringing packets of tuna with her on vacation.
"Was this written for anyone except for me?" Levin recalls thinking. "That's what it felt like."
Mintz was shocked by the amount of feedback she got from friends after sharing passages and quotes from Jewish romance novels on Instagram — they were fascinated by these novels and wanted to know more about them, she said.
"It seemed like people were coming out of the woodwork and seemed interested in engaging in this conversation about this Jewish romance book," Mintz said. "And I know Malya and I kind of banter and have this rapport. So when she said 'this book is speaking to me,' I knew we needed to book club this together and do it on a podcast."
Levin and Mintz give the impression of being in conversation with their audience, almost as if one is not listening to a podcast, but rather chatting with old friends.
That's by design: The duo wanted "Hanukkah Erotica" to resemble a book club that discusses the books in the context of their lives. Both Mintz and Levin go into rambles about previous jobs, dating experiences and different segments of the romance community, giving listeners an insight into their lives. Their dynamic is casual and funny without trying to be.
"I don't know that we could talk about these books without weaving our own personal experiences in, because that's part of why we like these books," Mintz said. "If they're speaking to us, they're probably speaking to other people."
The stepsisters, while sharing a similar sense of humor and interests, grew up in very different Jewish communities: Mintz grew up Orthodox in Brooklyn and Passaic, New Jersey, while Levin was a member of a Conservative synagogue in Great Neck, New York. As Mintz and Levin draw upon their Jewish backgrounds, each host has moments when she can connect to aspects of a book that the other cannot.
On the podcast, which is produced by Levin's husband, William, the pair often debate the novels' depictions of Judaism and whether they find them to be accurate. They've taken on topics like whether an author took creative license when describing a Jewish deli that serves brisket and latkes with sour cream, or whether or not anyone goes to a Wednesday night Torah reading as a social event. (Turns out, said Levin, that some of their listeners do.)
One year and 25 episodes after starting "Hanukkah Erotica," many aspects of the podcast have changed. What was initially conceived as a short-term podcast only focusing on Hanukkah romance evolved into a broader discussion about the Jewish romance genre.
"Once we finished Hanukkah, we didn't feel done," Mintz added. "Once we realized there was more out there in Jewish romance, we still wanted to have this conversation."
They've since delved into High Holiday romances, Purim romances and Jewish summer camp romances. In the process, Mintz and Levin have realized that the world of Jewish romance extends into all the subgenres and tropes that non-religious romance does.
The podcast has also devoted episodes to Jewish romantic movies and television, featuring guest stars like Aleeza Ben Shalom from the Netflix reality show "Jewish Matchmaking" and Jonah Platt, star of Hulu's 2022 holiday film, "Menorah in the Middle."
With Hanukkah beginning on Thursday evening, Dec. 7, the pair are planning for their live Hanukkah episode to be about "Eight Kinky Nights" by Xan West, a novel described as "kinky polyamorous Chanukah f/f romance." (F/f stands for "female/female.") They also plan to cover "Round and Round," the new Hallmark Hanukkah movie starring Bryan Greenberg — who they hope to get on the podcast — as well as "Eight Dates and Nights," a new teen romance by Betsey Alderedge.
"For us, it's brought about a lot of thinking about our Jewish identity, Jewish practice," Mintz said of the Hanukkah Erotica Book Club. "It sounds silly, but these books have made us think about a lot of aspects about Jewish identity and Jewish peoplehood."
"The idea that Jewish Jewish readers like us can find themselves in any of these books, I think, is exciting. And we want to kind of broadcast that and highlight it," Mintz said.
—
The post The 'Hanukkah Erotica Book Club' aims to connect Jews — with romance novels appeared first on Jewish Telegraphic Agency.
An IDF soldier killed a civilian who shot at terrorists, raising hard questions about vigilante culture in Israel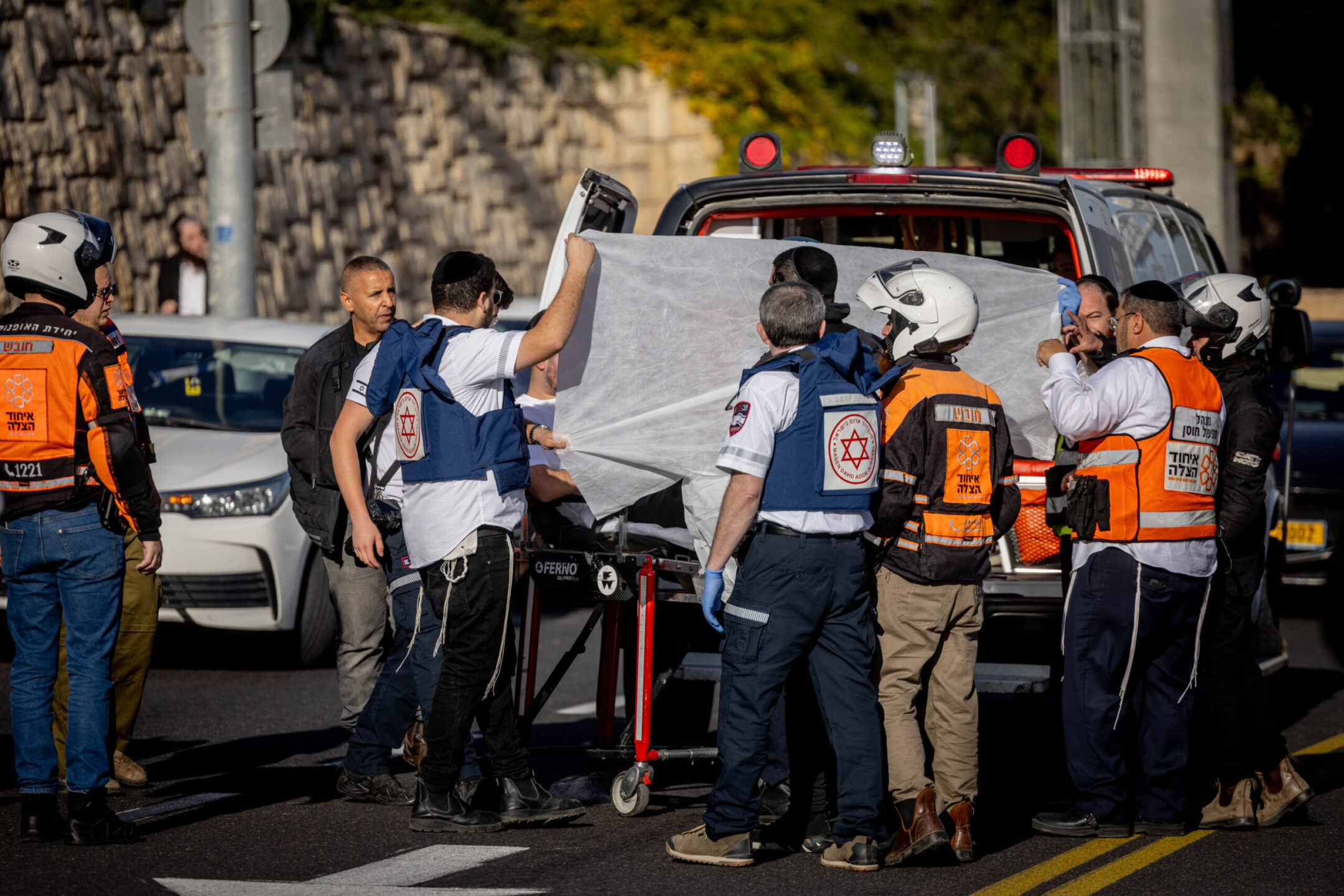 TEL AVIV (JTA) — When he spoke with a news anchor on Thursday night, Israeli reservist Aviad Frija was hailed by right-wing politicians and commentators as a hero for his role in responding to a terror attack at a Jerusalem bus stop earlier that day.
By Monday, Frija was arrested by the IDF and under investigation. The man he had shot was not a suspected terrorist but an Israeli civilian who had himself played a role in halting the attack.
According to video from the scene, Frija had shot the man, a 38-year-old lawyer named Yuval Doron Castleman, after Castleman had gotten on his knees, dropped his gun and put his hands in the air to show that he was not a threat. Castleman, a former police officer turned lawyer, was initially left bleeding on the ground and later died of his wounds, a day shy of his 38th birthday.
Castleman "did everything he needed to do so they could identify him. He went down on his knees, opened his jacket to show he didn't have any explosives on him, yelled at them, 'Don't shoot, I'm Jewish, I'm Israeli,' and they continued to shoot him," his father, Moshe Castleman, said on Israeli Army Radio.
Castleman's death has drawn scrutiny to the ways in which Israel's right-wing government has encouraged everyday Israelis to own guns and fight terror themselves — a gambit to boost security that, critics say, has instead led to the spilling of more Israeli blood. And Prime Minister Benjamin Netanyahu — who already faces widespread public disapproval over his handling of Hamas' Oct. 7 attack on Israel — has come in for more criticism in recent days over what some say was a flippant response to Castleman's death.
"This has allowed a jungle in terms of everything related to distributing weapons, using weapons," Eran Etzion, a former deputy head of Israel's National Security Council, said on Kan, Israel's public broadcaster. "This is a terrible thing that will have far-reaching consequences… an atmosphere where everyone will take a weapon, and use it."
Castleman's family is also castigating officials for their response. His father and sister Shaked have called his death an "execution," while his sister Noga said the family did not hear from the police until several hours after the incident and did not get the chance to comfort Castleman in his final hours of life.
"We carried on with our lives as he was fighting for his life," Noga said, according to Kan. "We weren't there to caress him, to call to him. I wouldn't wish upon anyone that they hear what happened to a loved one in such an unclear way."
After his death, said Shaked, "instead of mourning, we find ourselves in a war for justice."
For more than a year, Itamar Ben-Gvir, Israel's far-right national security minister, has encouraged private citizens to own guns and has made Israel's historically strict gun-control requirements more lenient. He has also pushed to loosen open-fire regulations for police officers, whom he oversees. Earlier this year, he praised an Israeli settler who killed a Palestinian in an altercation. (Frija is a member of the Hilltop Youth, a group of young extremist settlers, as well as a reservist in the IDF.)
Since Oct. 7, Ben-Gvir said in a recent government hearing, more than 260,000 people have applied for gun licenses. "When the war started, we knew that we were right when we said that every place that has a weapon can save a life," he said at a recent meeting of his party, Otzma Yehudit or Jewish Power.
But Ben-Gvir's policies have faced backlash. In recent weeks, Israeli media reported that U.S. officials were threatening to stop supplying guns to Israel if they continued to wind up in the hands of civilians. (The Department of State declined to comment, with an official telling JTA the department does not comment as a matter of policy on "the status of licensed direct commercial defense sales activities.") On Monday, the head of Israel's Firearm Licensing Department resigned in protest of the loosened gun ownership requirements.
And critics of Netanyahu's government have drawn a link between Ben-Gvir's policies and Frija's shooting of Castleman, even though Frija was in uniform at the time.
Moshe Yaalon, a former Netanyahu ally and defense minister, posted online that Ben Gvir's "populist calls" to loosen open-fire regulations "contributed to the tragic result." Yaalon and others also linked the shooting to a 2016 incident in which IDF soldier Elor Azaria shot dead a disarmed Palestinian terrorist who was lying on the ground. Azaria was tried and convicted but also became a hero to some on the right.
Netayahu's critics have also chided him for his initial response to the incident, in which he defended Ben-Gvir's policy though he acknowledged that it posed potential dangers.
"We know that in the waves of terror in the last decade and earlier, the presence of armed civilians often saves the situation and has prevented a huge disaster," he said. "I think that in the present situation we need to continue this policy. I fully support that. It may be that we will pay a price for this, and that's life."
The "that's life" comment particularly irked critics, and on Sunday, Netanyahu offered a more sympathetic message in a video shared to his social media in which he said he had spoken to Castleman's father.
"Yuval Doron Castleman is a hero of Israel. In a supreme act of bravery, Yuval saved many lives," Netanyahu said. "However, unfortunately, a terrible tragedy occurred there – and the man who had saved others was killed. There must be a thorough inquiry."
In the days following the incident, the IDF has released several statements indicating that its rules of engagement forbid firing upon suspects with their hands raised, and announced on Monday that Frija is being detained and questioned in what is called a "preliminary arrest." Since his initial interview, Frija has subsequently claimed that he was acting out of fear for his own life.
Critics of the shooting on the left do not see it as an isolated incident, but as the result of a culture that has been nurtured for years on the Israeli right. Avner Gvaryahu, director of the Breaking the Silence, an anti-occupation group focused on the experiences of combat veterans, described a "years-long campaign led by the right-wing politicians, organizations, spokespeople, and journalists to 'not tie the hands of our soldiers'" when they face a threat — though he noted that it was impossible to know what Frija was thinking in the moment.
Gvaryahu, whose organization leads tours in the West Bank, said he sees that culture taking hold there as well. He said, from what he's witnessed, rules of engagement for soldiers are "becoming more flexible, basically, making it easier to shoot."
In the face of the criticism, Ben Gvir and others on the right have portrayed the incident as a horrible accident. In an online post, right-wing journalist Yotam Zimri called the shooting a "terrible tragedy" and implied that it was wrong to place blame on Frija.
"There are no bad guys in this story except for the two Arab murderers," he said, referring to the two Hamas-affiliated terrorists who perpetrated Thursday's attack. "If you're looking for other bad guys, there's something wrong with you."
But during a visit with Castleman's family on Monday, Israeli President Isaac Herzog acknowledged that the state bore some responsibility for his death.
"I have come here not as a private citizen but as the president of the state of Israel, to ask forgiveness and express great appreciation for a hero of Israel who did something great and courageous," Herzog said, adding that Castleman "paid with his life in what I see as the worst and most outrageous way possible."
—
The post An IDF soldier killed a civilian who shot at terrorists, raising hard questions about vigilante culture in Israel appeared first on Jewish Telegraphic Agency.