Tens of thousands expected at DC March for Israel today; organizers announce livestream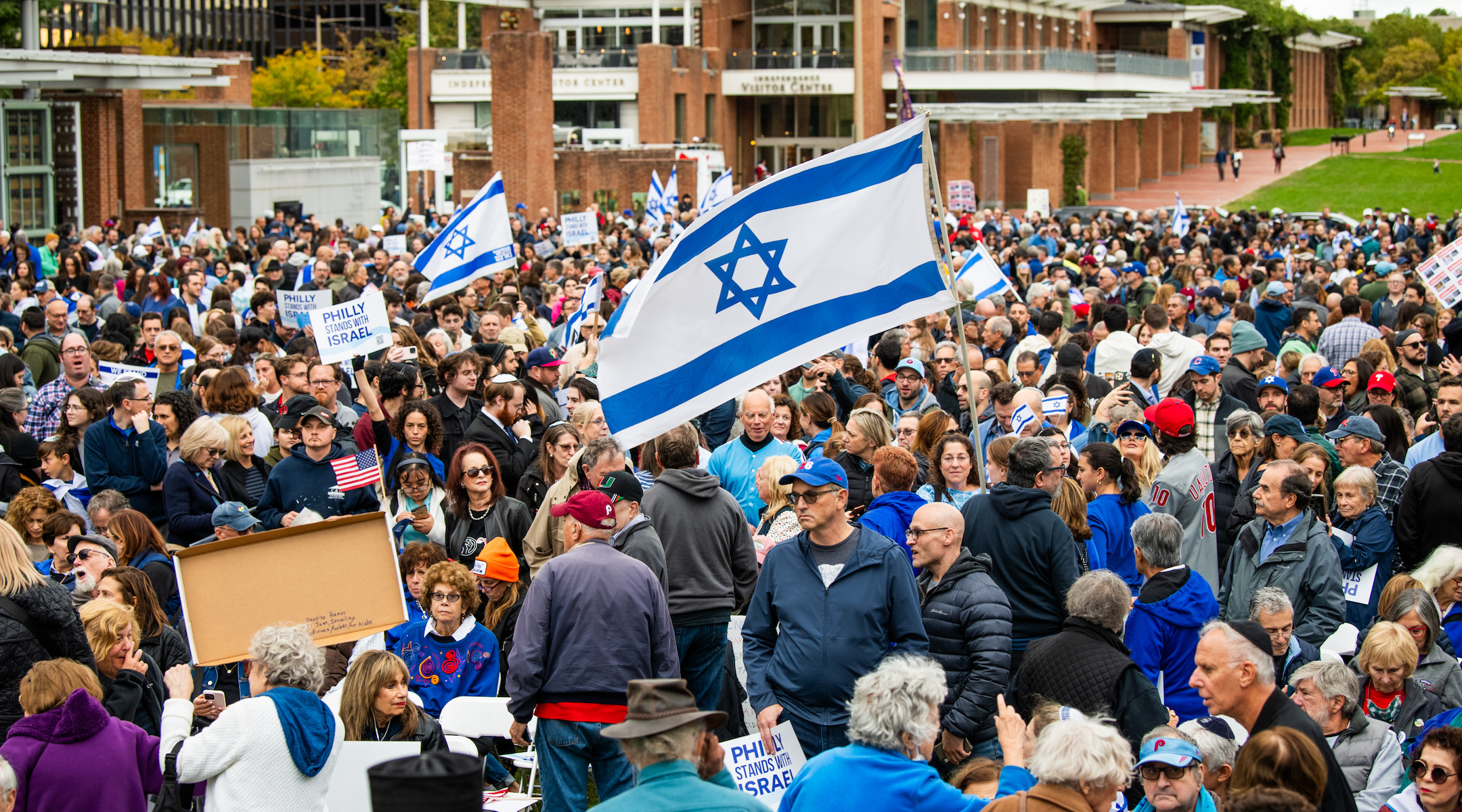 (JTA) — Tens of thousands of Jews and pro-Israel activists are arriving in Washington, D.C. on Tuesday for a mass pro-Israel rally that will feature senior Israeli and American officials and that aims to bolster support for Israel's war against Hamas in Gaza, as well as the fight against antisemitism in the United States and beyond.
Tuesday's rally aims to demonstrate broad support for Israel's war effort and to call for the release of the hostages, in addition to condemning antisemitism. The rally's organizers — the Jewish Federations of North America and the Conference of Presidents of Major American Jewish Organizations — applied for a permit for 60,000 people, though more may come. Buses and flights organized by Jewish schools, community centers, synagogues and other organizations are bringing groups to the rally from across the country.
The organizers have announced that the event will also be livestreamed.
The rally, beginning at 1 p.m. on Tuesday on the National Mall, will include speeches from Speaker of the House Mike Johnson, a Republican, as well as Democratic House Minority Leader Hakeem Jeffries, Senate Majority Leader Chuck Schumer, a Democrat, and Republican Sen. Joni Ernst. Other members of Congress and the Senate are also scheduled to speak, as is Ambassador Deborah Lipstadt, the State Department's antisemitism envoy.
Israeli President Isaac Herzog will also speak, as will Israeli Ambassador Mike Herzog, his brother. No members of Israel's right-wing government, which has been deeply unpopular within Israel since Hamas' Oct. 7 attack on Israel, are scheduled to speak.
Natan Sharansky, the former Soviet dissident and past chair of the Jewish Agency for Israel, will also speak. Sharansky is perhaps the only speaker on Tuesday's lineup who also addressed the two previous mass Jewish rallies in Washinton, D.C. — in 1987 on behalf of Soviet Jewry, and in 2002 to support Israel during the Second Intifada.
No leaders of large Jewish organizations are scheduled to give major speeches. One segment will feature relatives of hostages held by Hamas in Gaza, including Rachel Goldberg, the American-Israeli mother of Hersh Goldberg-Polin. Another will include college students discussing campus antisemitism.
Another portion includes non-Jewish speakers, including John Hagee, the conservative evangelical founder of Christians United for Israel; President Rochelle Ford of Dillard University, a historically Black university in New Orleans; and Anila Ali, a Pakistani-American activist and president of the American Muslim & Multifaith Women's Empowerment Council.
The lineup also includes Israeli pop singers Omer Adam and Ishay Ribo; the Maccabeats, an Orthodox men's a cappella group; and Jewish actors Debra Messing and Tova Feldshuh. CNN commentator Van Jones will also speak.
The roster of speakers has drawn some criticism. Rabbi Jill Jacobs, CEO of the liberal rabbinic human rights group T'ruah, expressed dismay that Hagee and Johnson will be speaking from the podium. And there have been complaints that the rally does not include more religious Jewish elements, though some haredi Orthodox leaders have encouraged their followers to attend. Some attendees held prayers services on Tuesday morning in Washington.
The rally was announced last week, roughly a month after Hamas terrorists attacked Israel, killing and wounding thousands and taking more than 200 captive. Since then, Israel has fought a war in Gaza aiming to depose Hamas, an aim the Biden administration has vocally supported. The war has sparked mass pro-Palestinian protests around the world decrying the thousands of civilian casualties in Gaza and calling for a ceasefire. The fighting has also led to a spike in antisemitism in the United States, Europe and around the world.
—
The post Tens of thousands expected at DC March for Israel today; organizers announce livestream appeared first on Jewish Telegraphic Agency.
IDF Soldier Held Captive by Hamas in Gaza Confirmed Dead
Cpl. Noa Marciano, from the city of Modi'in in central Israel, has died as a hostage of the Hamas terror group in Gaza, the Israel Defense Forces (IDF) confirmed on Tuesday.
Marciano was a member of the army's combat intelligence arm and was kidnapped from her base in Nahal Oz, a kibbutz in southern Israel, during Hamas' Oct. 7 cross-border assault across southern Israeli communities in which terrorists murdered over 1,200 people and kidnapped more than 240 others.
Hamas on Monday released a propaganda video of Marciano, 19, identifying herself and reciting the names of her parents and her hometown. The video then cut to images of her lying dead with a bloody head wound.
The Palestinian terror group said Marciano's death was due to IDF military strikes in Hamas-ruled Gaza following the Oct. 7 atrocities. However, experts have said it appears more like she was bludgeoned to death, presumably by her captors.
"Our hearts go out to the Marciano family, whose daughter, Noa, was brutally kidnapped by the Hamas terror organization," the IDF said in a statement. "Hamas continues to use psychological terror and behaves inhumanely, through videos and photos of hostages, as it has done in the past."
The military added that it is "using all means, both intelligence and operational, to bring the hostages home."
The IDF confirmed Marciano's death based on intelligence, not the Hamas video, according Israel's Channel 12 news.
Hamas has released other videos of hostages in recent weeks, showing them under duress attacking Israeli Prime Minister Benjamin Netanyahu and saying they have been treated well.
Netanyahu has pledged to bring all hostages home, saying that it is the top priority of the country and that no ceasefire in Gaza will happen until they are released.
Families of hostages have been protesting in Tel Aviv and Jerusalem demanding that their loved ones be returned. Marciano's mother, Adi Marciano, had traveled around the world to lobby for her release along with family members of the other captives held in Gaza, who include children and the elderly.
On Tuesday, Israeli Foreign Minister Eli Cohen and families of hostages met with the head of the International Red Cross, which has been advocating for the well-being and release of the captives, in order to plead for their help. Hamas has forbidden the Red Cross from entering where the hostages are being kept and ensuring their safety.
Hamas has said it would release the hostages in exchange for Israel handing over all Palestinian prisoners sitting in Israeli jails. So far, Hamas has released only four hostages in two separate occasions.
Israel also announced last month that an IDF private, Pvt. Ori Megidish, held hostage by Hamas was liberated during ground operations in Gaza.
Meanwhile, Palestinian Islamic Jihad, another terrorist group based in Gaza, released a hostage video last week of two Israelis being held in Gaza. The group said in a statement that it is willing to release the pair, Hanna Katzir, 77, and Yagil Yaakov, 12, both of Kibbutz Nir Oz, for "humanitarian reasons."
The vast majority of the roughly 240 hostages in Gaza are believed to be in the hands of Hamas, but Islamic Jihad, a smaller and allied terrorist group in the Palestinian enclave, has said previously it held at least 30 captives.
The post IDF Soldier Held Captive by Hamas in Gaza Confirmed Dead first appeared on Algemeiner.com.
Meeting a deadline, Education Department briefs Jewish groups on new efforts to combat campus antisemitism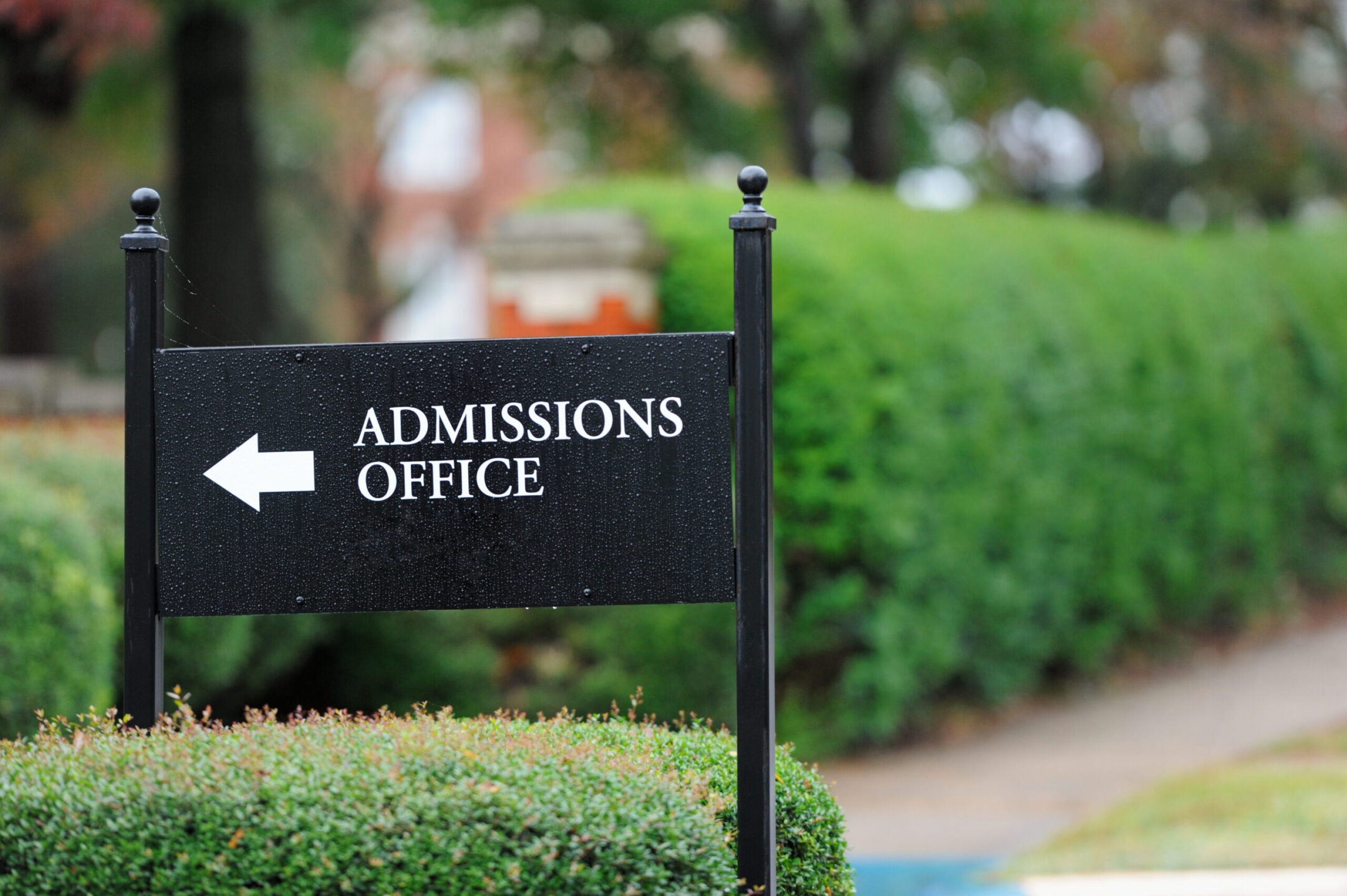 WASHINGTON (JTA) — Top Education Department officials met their own deadline in responding to a spike of antisemitism on college campuses by holding a virtual hourlong briefing on Monday with Jewish organizational leaders.
Some of those leaders offered praise that the department was sticking to its promise to draft a plan for campus antisemitism within two weeks, while others said they were frustrated by the pace of progress.
The virtual hour-long briefing on Monday came two weeks after Miguel Cardona, the secretary of education, met in person with Jewish leaders alarmed by reports of antisemitic attacks and harassment on campuses following Hamas' Oct. 7 attack on Israel and Israel's military response.
"It was a continuation of their efforts to be transparent about what they're doing to address antisemitism, both in K through 12 schools and in higher education institutions," said Talya Steinberg, the associate director for government relations at the National Council of Jewish Women.
Participants said they appreciated the attention; Cardona himself briefly introduced the proceeding and two of his top officials, Cindy Marten, the deputy secretary, and Catherine Lhamon, the assistant secretary for the Office of Civil Rights, ran the session.
Officials described the outsized volume of complaints they had received since Oct. 7 and their continuing visits to campuses to meet with Jewish students. They reviewed reminders they sent to federally funded colleges last week that they have a legal obligation to address complaints of antisemitism, and they reported that they would meet this week in Washington with leaders of federally funded colleges and K-12 schools to discuss the issue.
At least two Jewish officials present said the presentation was welcome but they were concerned that the department was not being proactive enough.
"We appreciated that the secretary, the deputy secretary, and everybody else on the team is taking this seriously," said Nathan Diament, the Washington director of the Orthodox Union. "They realize this is a crisis. But we're still looking to them to match their actions to the moment in terms of being as aggressive as possible and as proactive as possible."
Kenneth Marcus, the chairman of the Brandeis Center, a Jewish civil rights group with an emphasis on campuses, said there were further specific steps the Biden administration could take, including identifying cases of discrimination when they hit the news and not waiting for reports from Jewish groups.
"They shouldn't have to wait for us," said Marcus, who held Lhamon's job in previous Republican administrations. "We're all overstretched." Among other measures, he recommended that the department's Office of Civil Rights initiate investigations based on publicly available news and information "rather than simply waiting for complaints to roll in."
A number of those who attended said they appreciated that the process would necessarily be deliberate, as each complaint is assessed and investigated and every accused institution and individual gets due process.
Amy Spitalnick, the CEO of the Jewish Council for Public Affairs, a national public policy group, said it was unreasonable to expect the department to accelerate complaints about antisemitism over other complaints.
"It's important to actually follow the process because there should be one transparent standard for any Title VI complaint no matter the student's background," she said, referring to the section of the 1964 Civil Rights Act that bars discrimination. "And so that means going through that process, it means investigating, it means requiring if there is a violation found they can seek voluntary action before removing funds and then if necessary, removing the funds."
Cardona said last week that removing federal funding from schools that fail to address antisemitism is an option, and Lhamon wrote a letter to federally funded colleges reminding them that they are obligated under the law to address complaints of antisemitism and other forms of religious bigotry.
Rabbi Jill Jacobs, who directs T'ruah, a rabbinic human rights group, said campuses should provide Jewish students with immediate relief but added that the federal government needed to be judicious in how it applied the penalties available to it.
"A student on campus might want something to happen immediately and the campuses do have responsibilities to make sure that students feel safe," she said. "That's largely the responsibility of adults on any given campus. But that doesn't mean that the [Biden] administration needs to jump in and just pull money without even investigating and finding out what the facts are."
Some 30 officials from an array of organizations, including the Jewish Federations of North America, the Conference of Presidents of Major American Jewish Organizations, Hillel, the Reform, Orthodox and Conservative movements, and Jewish civil rights groups, attended the meeting over Zoom.
Steinberg said that it was evident that the complaints, filed through the Office of Civil Rights website, had spiked. "They just really stressed they're going to continue to do investigations of cases," she said. "They kind of focused on the great amount of cases that are coming in. Especially after  Oct. 7, it's been an influx of submissions."
The Education Department's media office did not reply to a request for comment.
—
The post Meeting a deadline, Education Department briefs Jewish groups on new efforts to combat campus antisemitism appeared first on Jewish Telegraphic Agency.
Vivian Silver, veteran Canadian-Israeli peace activist, declared dead in Hamas massacre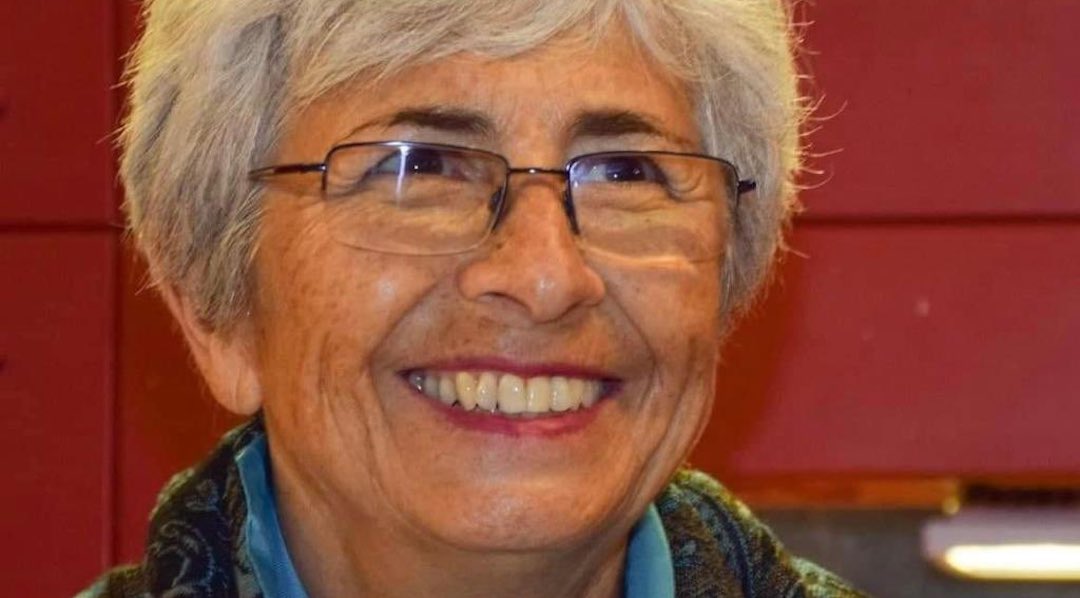 (JTA) — Vivian Silver, a Canadian-Israeli peace activist who had been presumed kidnapped by Hamas, was declared dead after her remains were found at her home.
Her death was confirmed to JTA by multiple activists who said they were in touch with Silver's family. Shifra Bronznick, a prominent Jewish social justice activist and lifelong friend of Silver's, learned from Silver's son that her remains were identified via her DNA. 
"Vivian was always persistent in the pursuit of peace and justice," Bronznick told JTA on Monday evening. "She was a lifelong feminist, a committed activist, a fearless leader, an exceptional friend and a loving mother, wife and grandmother."
Until Monday, Silver, 74, was assumed to be among the more than 200 people held captive by Hamas. She is now among the approximately 1,200 people murdered by the terror group in its Oct. 7 attack. Hamas terrorists killed more than 100 people at Silver's home community, Kibbutz Be'eri, in one of the day's worst massacres. 
She is one of several peace activists to have been killed or captured by Hamas on Oct. 7. Hayim Katsman, 32, who worked with Palestinians in the southern West Bank, was killed in his home in another community on the Gaza border. Yocheved Lifschitz, who helped ferry Palestinians from Gaza to medical care in Israel, was taken captive by Hamas and released in late October; her husband Oded, also involved in peace work, remains missing.
"A woman of infinite, deep, ongoing compassion, humanity and dedication to Arab-Jewish partnership and peace. Yes. Peace," Anat Saragusti, an Israeli writer and feminist activist, wrote on social media in a post announcing Silver's death. John Lyndon, the executive director of the Alliance for Middle East Peace, wrote that "she wanted to be free & at peace. Rest in power, Vivian."
Silver's sons, like the family members of many of those presumed hostage, lobbied extensively for her release, traveling the country and speaking to journalists around the world to call attention to her story. One son, Yonatan Zeigen, stood out for his calls for a ceasefire, an unusual position in Israel. He said he had learned from his mother to seek peace above all else.
"I would tell her, 'Israel is dead. It's hopeless,' and she would say, 'Peace could come tomorrow,'" Yonatan, a social worker in Tel Aviv told the Washington Post in a story published last week.
Chen Zeigen, her other son, is a doctoral student in archaeology at the University of Connecticut. She is also survived by four grandchildren.
On the day of the massacre, according to the Washington Post story, Silver took a call with a radio station where she pushed back against the idea that the Palestinians were "insane." In messages with Yonatan, she expressed fear, frustration and love. "I'm with you," he wrote to her. Her last message back to him was, "I feel you."
Born in Winnipeg, Canada, she was the longtime director of  the Arab Jewish Center For Empowerment, Equality, and Cooperation, which organized projects joining communities in Israel, the Gaza Strip and the West Bank. In 2014, after the last major war between Israel and Hamas, she helped found Women Wage Peace, which promotes peace-building actions among women from all communities and across the political spectrum.
Speaking to Forbes in 2021 for a series on women who assist the vulnerable, Silver said she remembered feeling relief after the government built bomb shelters in Kibbutz Be'eri, which had been subject to rocket fire from Gaza for more than a decade.
"In 2009, the [Israeli] government only built shelters for communities that were four kilometers from the border. The community I live in is four and a half kilometers from the border, so we didn't have shelters then," Silver told Forbes. "Now we do, so psychologically we feel better, and we feel safer, and in fact, we are safer, we're a lot safer than the people in Gaza."
At a 2018 Women Wage Peace event on the Gaza border in 2018, she said that the Israeli government needed to change its approach in order to bring peace to the area. "Show the required courage that will bring changes of policy that will bring us quiet and security," she said then, addressing the government. "Returning to the routine is not an option."
Appealing to women across the border, she said, "Terror does not make anything better for anyone, you too deserve quiet and peace."
Bronznick first met Silver in the early 1970s when both were involved in organizing a national conference of Jewish women. They remained friends and, for a period of six years, took an annual trip together — the last one was to Santa Fe, New Mexico. When Silver would stay at Bronznick's home, she would prepare an Israeli breakfast, Bronznick recalled. 
"She would be passionately advocating for peace right now," Bronznick said, referring to Israel's war against Hamas, launched following the Oct. 7 attack. "She never gave up on bridge-building. She never gave up on making change. She never gave up on people… She always focused on people, children, what motivated them, what meant something to them."
Before Oct. 7, Silver was due for another stay at Bronznick's home in New York City in early December. On top of each of the days in Bronznick's calendar, she had written "Viv."
—
The post Vivian Silver, veteran Canadian-Israeli peace activist, declared dead in Hamas massacre appeared first on Jewish Telegraphic Agency.