The Academy Promotes Hamas
JNS.org – Do academic organizations represent intellectual values—above all objectivity? Or do they represent the current state of their communities and those communities' prejudices and obsessions?
Hamas' horrific Oct. 7 massacre is a litmus test for human decency. So, how did academics and intellectuals react?
The Middle East Studies Association (MESA) has made its position known, saying, "There can be no justification for the targeting of civilians. Many of our members have been directly affected and we join them in grieving."
But the next 845 words of MESA's statement did not focus on Hamas, but instead excoriated Israel's response to the Hamas massacre, accusing Israel of "indiscriminately bombarding [Gaza's] population and infrastructure" and committing "ethnic cleansing" by calling on civilians to leave Hamas-controlled territories lest they "face certain death in a ground invasion." MESA also emphasized Israel's "broader political, administrative and legal system of racial discrimination and domination—regularly enforced through violence."
No additional thoughts were spared for Israelis until the last sentence, which stated, "the only path forward on the ground is one premised on the equal rights of Palestinians and Israelis to live in dignity and safety," which implies a magical "one-state solution" that will certainly not be called "Israel."
MESA's fall into moral decrepitude is emblematic of most of academia. Founded in 1966, the organization represents over 2,000 academics specializing in the Middle East. Like many academic associations, it sponsors a journal and conference.
The number of individual members has dropped, however, since MESA chose to boycott Israel in 2022. It has a diminishing number of institutional members as well, since universities do not want to be seen as adopting policies of discrimination based on racial, ethnic or national origin. George Washington University, which housed MESA until this year, was one of those that broke their association. The organization is now homeless and its conference has become biannual due to lack of interest.
But MESA is far from the only group of academics to cheer Hamas, let alone adopt Israel boycotts. At the University of Michigan, over 1,000 faculty members signed a letter blaming the "decades-long Israeli occupation of Palestine and the structural apartheid Palestinians residing both within Israel and the Occupied Territories endure on a daily basis" for Hamas's genocidal violence. Apparently, the signatories believe that Hamas and the Gaza civilians who followed them on their rampage have no moral capacities whatsoever and can only behave like utter barbarians, including live-streamed dismemberment.
New York University's Faculty for Justice in Palestine condemned "the brutal killing of civilians that occurred in Israel on October 7th, which constitutes a war crime," but excoriated Israel for "occupation, expropriation, ethnic cleansing and the denial to the Palestinians in the West Bank and Gaza of the most basic human and civil rights," as well as "colonial racial violence."
The statement also accused the university of bending to "immense pressure from trustees, alumni and donors to be perceived as 'pro-Israel,' even at the cost of tolerating or promoting violations of academic freedom and free speech rights." The signatories appear to believe that academics can never be questioned or criticized. Such beliefs are typical of totalitarian states, but have little to do with "academic freedom" or "free speech."
At the notoriously bigoted City University of New York, the faculty union escalated the hatred in emails to its 23,000 members decrying what it called a "Zionist genocidal campaign." The union encouraged members "to channel your grief and rage over the nearly 1,000 Palestinians martyred, including nearly 300 children, into upcoming rallies across CUNY campuses and New York City." The faculty, it seems, embraces the Islamic fundamentalist concept of the "martyr," just as Hamas does.
Perhaps the most deranged statement was from Oxford University's University and College Union, which claimed the war was "a direct consequence of decades of violent oppression of the Palestinian people by the Israeli state" and that "only a mass uprising on both sides of the green line and across the Middle East can free the Palestinian people." This call for a massive war that would consume the entire region is a horrific one, but has been echoed by many other academics.
Reflexively anti-Israel and anti-American biases in academia are partially the work of the tenured radicals of the 1960s and 1970s, steeped in fetishization of the Third World and vicarious admiration for hideously violent and often terrorist "liberation movements," the "Palestinian cause" and "struggles against colonialism." These academics have now trained generations of students who have assumed leading roles in numerous universities.
Moreover, fields like Middle East studies are increasingly dominated by individuals from communities in the US and abroad that have imbibed the prejudices of their cultures of origin, which are then confirmed by their teachers.
Thus, wide swaths of academia now see themselves as scholar-activists, saviors working for "liberation." But who and what to "liberate" is an open question. So, for them, evil needs a specific name and location. In this Manichean theology, saving Palestinians take first place, with the Jews cast as metaphysical villains, giving license to overt antisemitism. This is not scholarship; it is political religion. It is an apocalyptic fundamentalism in which the downtrodden must be saved, evil defeated and the empty lives of activists given new meaning.
None of this has anything to do with an objective understanding of the world. It is a crusade to wrestle the future into a particular shape, one in which Israel does not exist.
It would be possible to dismiss all this if the crusaders were confined to the ivory tower, but they are not, and people are getting hurt. The consequences of their bigoted ideology have resulted in ugly demonstrations on campus and in the streets, as well as acts of antisemitic violence.
Students, along with allies on the far-left, including Antifa and BLM, have applauded Hamas's slaughter of Israelis or denied it occurred at all. They lie relentlessly, blaming Israel for a "genocide" that is not happening and for bombing a hospital Israel did not bomb. As a direct result, Jewish individuals, institutions and neighborhoods have been targeted.
There are no easy solutions to this problem except for holding bigoted academics and their equally bigoted students responsible for their hatreds. Exposing their words and forcing them to act within the bounds of normal human decency is a good start.
The post The Academy Promotes Hamas first appeared on Algemeiner.com.
Alan Hevesi, tarnished NYC pol who championed Holocaust restitution, dies at 83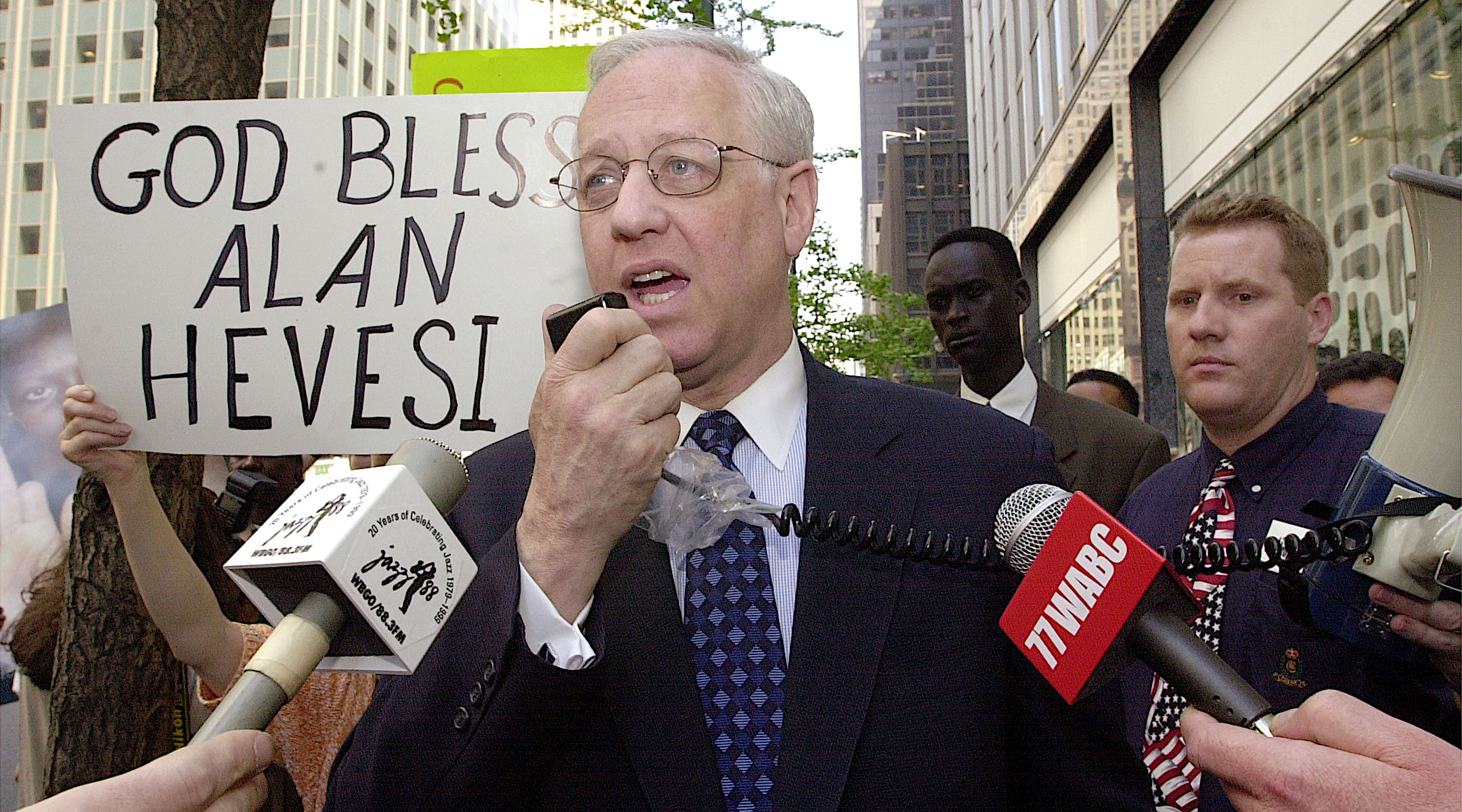 (New York Jewish Week) — Former New York City Comptroller Alan Hevesi, grandson of a chief rabbi of Budapest and a leader in the fight to recover assets of Holocaust survivors before corruption charges ended his political career, died Thursday in an assisted living home on Long Island. He was 83.
The nearly lifelong resident of Forest Hills represented the Queens, New York community in the state Assembly for more than 20 years before being elected city comptroller in 1993. Using the gears of government, in 1997 he barred the Union Bank of Switzerland (UBS) from leading a $1.3 billion letter of credit deal with the city, punishing the bank for failing to cooperate fully in helping Holocaust victims recover lost assets.
The next year he outlined sanctions on Swiss banks in an effort to force them to continue negotiations on lost and stolen assets in their coffers. He also pressured Deutsche Bank, which was seeking to buy New York-based Bankers Trust Corp., to contribute to a slave-labor reparations fund.
"I believe that if international institutions want to participate in the global economy they have to accept global values, and providing restitution for Holocaust survivors is part of that," Hevesi told the N.Y. Daily News in 1998.
He was elected state comptroller in 2002 after losing the Democratic primary for mayor the previous year.
He resigned from office in 2006, after winning a second term, in a plea bargain with the Albany District Attorney in which he admitted using state employees and vehicles to chauffeur his ailing wife, Carol. In 2010, he pleaded guilty to a second-degree corruption charge, acknowledging he accepted $1 million in gifts from a friend and political backer. For that charge he served 20 months in prison.
"I want them to see [the mistake] in the context of a 35-year career in public service," he told the Forward in 2006, referring to his former supporters. "I wrote the nursing home reform law. I wrote the law saying there will be no medical experiments on human beings — based on the Nuremberg [Code]. I think there's been a rush to judgment."
Hevesi, who was born in Manhattan, was the son of Jewish immigrants who left Hungary in 1938 to escape the Nazis. His paternal grandfather, Simon Hevesi, was rabbi of Budapest's famed Dohány Street synagogue, and served as the chief rabbi of Hungary from 1927 until his death in 1943. Of the relatives who remained in Hungary, 55 were murdered in concentration camps.
Hevesi's father, Eugene, was an official with the American Jewish Committee. His mother, Alicia, was a music publisher. Alan Hevesi was president of the Bnai Zion fraternal organization in the early part of the 2000s and often attended meetings of the Conference of Presidents of Major American Jewish Organizations. As comptroller he made investment in Israel a priority, including $100 million in biotech and other industries there, arguing that they not only helped the Jewish state but would bring solid returns for New York's pension-holders.
Carol, his wife, died in 2015. Survivors include Andrew Hevesi, an Assembly member from Queens; Daniel Hevesi, a former State Senator; a daughter, Laura Hevesi, and three grandchildren.
—
The post Alan Hevesi, tarnished NYC pol who championed Holocaust restitution, dies at 83 appeared first on Jewish Telegraphic Agency.
UK cabinet member Suella Braverman fired after saying police are more lenient with pro-Palestinian protesters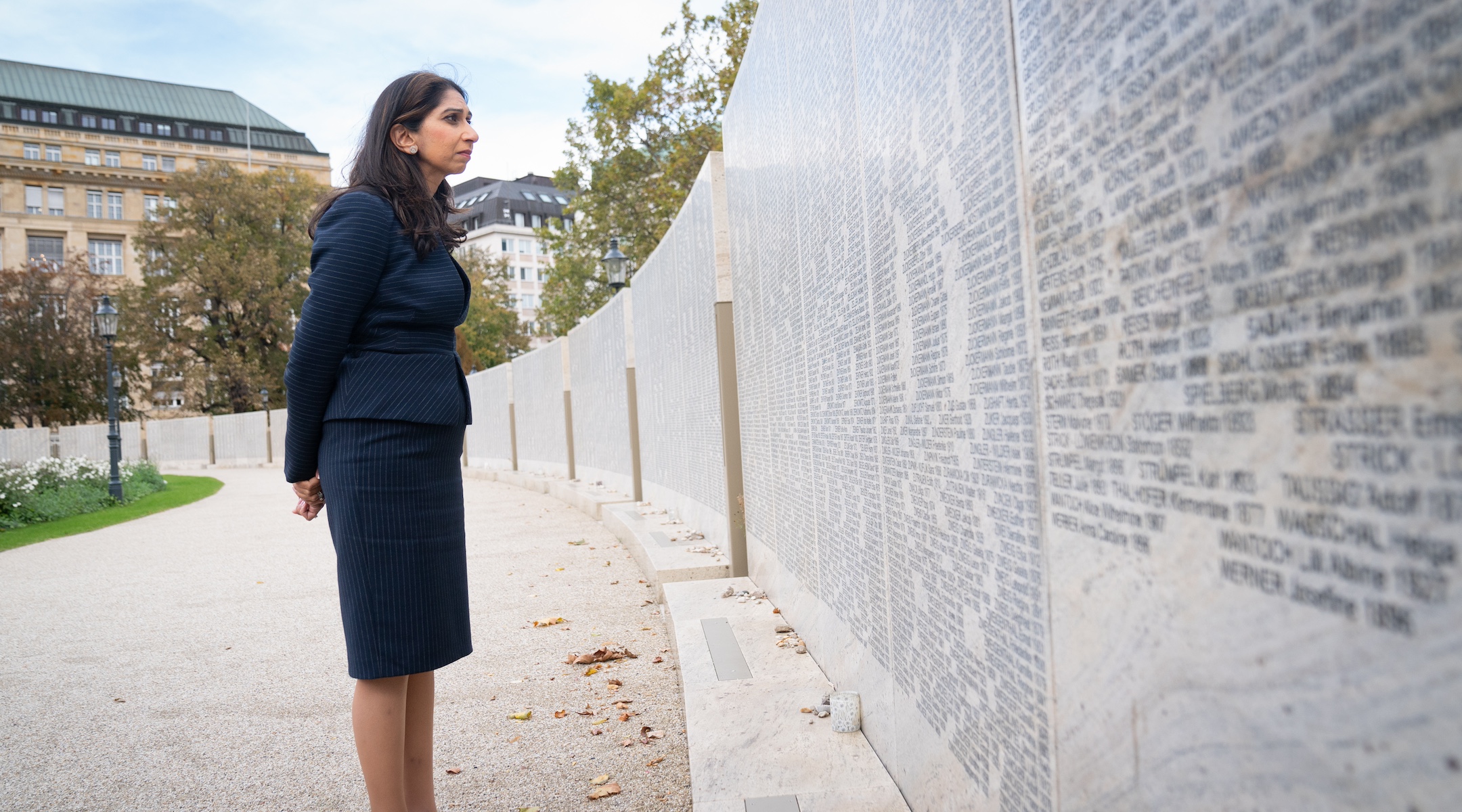 (JTA) — British Prime Minister Rishi Sunak fired his home secretary, Suella Braverman, on Monday, days after she published an op-ed arguing that British police are more lenient with pro-Palestinian protesters than they are with far-right ones.
The article, published without Sunak's approval, highlighted how divisive pro-Palestinian protests have been in the United Kingdom and around the world. Ahead of a massive pro-Palestinian rally in London this weekend that drew hundreds of thousands of people, Braverman wrote that the city's Metropolitan Police "play favorites" with different groups of protesters.
While many global pro-Palestinian rallies since Hamas' attacks on Israel on Oct. 7 have included antisemitic incidents and chants, protest groups say that authorities have focused on fringe figures who do not represent their movement.
Most of the arrests at the London rally involved far-right counterprotesters. But Sunak, who has voiced strong public support for Israel in its war in Gaza, condemned "Hamas sympathizers" who joined in the march, "singing antisemitic chants and brandishing pro-Hamas signs and clothing."
Braverman, whose parents immigrated from Kenya and Mauritius, is married to Israeli-British citizen Rael Braverman and has been outspoken on antisemitism issues. As a vocal leader to the right of Sunak politically, some think she will run to lead the Conservative Party if it loses to Labour in the United Kingdom's next elections.
Braverman's article and Sunak's reaction have split the party. "Bad call by Rishi caving in to the left!" tweeted Conservative lawmaker Andrea Jenkyns.
Labour leader Keir Starmer — who has prioritized regaining the trust of Jewish voters following his predecessor Jeremy Corbyn's years-long antisemitism scandal — has also staked out a staunch pro-Israel position on the war, leading to tensions within his party.
—
The post UK cabinet member Suella Braverman fired after saying police are more lenient with pro-Palestinian protesters appeared first on Jewish Telegraphic Agency.
New Netflix Holocaust Series Shines Bright Light During a Dark Time
A bartender must give up the location of a blind girl who is making illegal radio broadcasts, or be shot in 10 seconds. It's 1944, and the Nazis know they are losing the war in a new Netflix miniseries All The Light We Cannot See. As the Nazi, Lars Eidinger (Reinhold von Rumpel) appears to be impersonating Christoph Waltz's Oscar winning role in Inglourious Basterds.
In the French Saint-Malo, Marie (Aria Mia Loberti) is a blind girl who risks her life to transmit radio messages. She reads the novel Twenty Thousand Leagues Under The Seas, but, as instructed by her uncle Etienne (Hugh Laurie), it serves as codes to help the Allied bombers. Mark Ruffalo plays her father, Daniel. Werner Pfennig (Louis Hofmann) hears the girl's broadcast, and is assigned to find her.
The cinematography gives the needed foreboding feeling, and Loberti is fantastic as Marie. She is legally blind, and it's hard to believe this was her first role, and that she'd never even auditioned for anything before.
Von Rumpel is trying to track down a piece of jewelry called the Sea of Flames, and he's willing to kill for it. Meanwhile, Marie's father warns her about the danger of the jewelry, and a curse associated with it.
Ruffalo delivers a slightly above average performance, while Hofmann and Loberti's acting styles are natural and unforced.
In a flashback scene where she says goodbye to Werner as he joins the Nazis, Luna Wedler is excellent as Jutta, his sister, who warns him not to be impressed or convinced by them. Ed Skrein is fantastic as Herr Siedler, and deserved more screen time. Hugh Laurie does a fine job as Etienne, who has a dramatic life saving moment.
A number of scenes lack tension, including one in a bakery and one with someone being tortured, as we have no doubt what his decision will be.
The fourth and final episode is the strongest, in which Reinhold asks Daniel: "Is pain stronger than love?"
Though some of the writing is stilted, a line delivered by an unlikely hero is brilliant. The series lacks action or much character development, but it gets better as it goes on. The plot is simple and there are few surprises. It is beautifully shot but lacks meaningful music, though the flashbacks are well done and are not disruptive. The symbolism is a bit too on the nose.
Though there are some cliches, the series is worth watching for the acting of Loberti and the inspiring story of good vs. evil. Based on the book by Anthony Doerr, it is an intriguing tale of resistance, and the series adaptation could have been brilliant with a few touches to make the plot and the characters richer.
If you're a fan of World War II related stories and can be satiated with only a few action scenes, you will enjoy the series.
The author is a writer based in New York.
The post New Netflix Holocaust Series Shines Bright Light During a Dark Time first appeared on Algemeiner.com.