The Jewish Sport Report: The future of Jewish sports is brighter than ever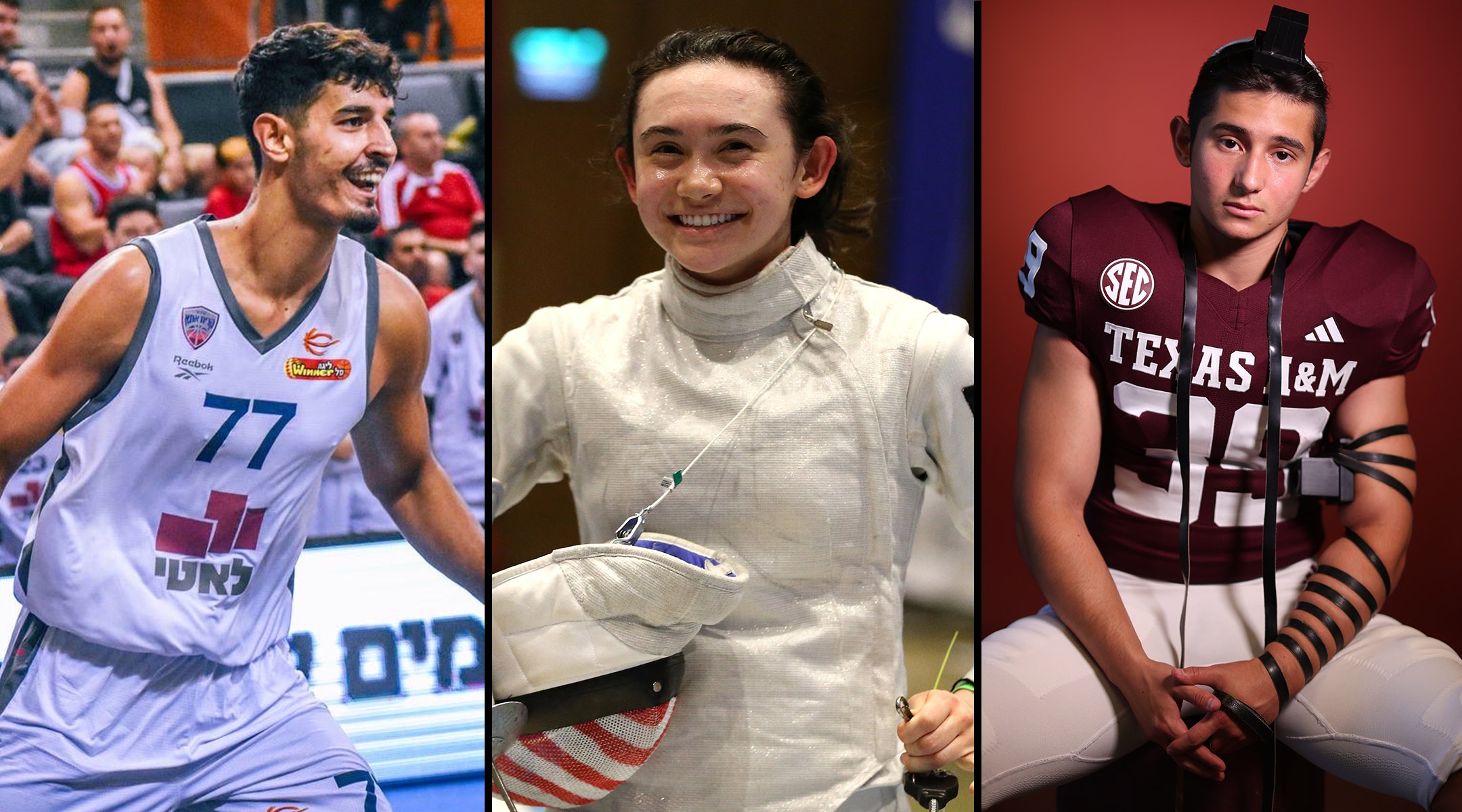 This article was sent as a newsletter. Sign up for our weekly Jewish sports newsletter here.
Hello there! Do you live in New York or know a sports fan who does? Come meet the team behind the Jewish Sport Report at a Nets game next week!
We are offering an exciting $62 package that includes: a ticket to the Brooklyn Nets preseason game against Israeli team Maccabi Ra'anana on Thursday, Oct. 12; a ticket to the Nov. 12 regular season matchup between the Nets and Deni Avdija's Washington Wizards; and a special Israeli Heritage Night Brooklyn Nets hat.
You can grab tickets here — see you there!
Meet JTA's 36 Jewish Student Athletes to Watch
The future of the Jewish sports world is in good hands.
You may have seen our list of JTA's 36 Jewish Students Athletes to Watch, which we announced earlier this week. It's an exciting group — there are Olympians, pro athletes, Division I stars and international champions. And they're all in high school or college.
If you're an avid Jewish Sport Report reader (we hope you are!), you may know some of their names already — like Elie Kligman, who was drafted into the MLB in 2021, or Sam Salz, the Orthodox Jew who walked onto the vaunted Texas A&M football team.
But there are lots of athletes on the list whose names you should know. Ava Brenner has won six junior national karate championships. JJ Harel broke a 42-year high jump record. Alexis Blokhina has already trained with Venus Williams. Maia Weintraub is the No. 4 ranked women's foil fencer in the United States. Jake Retzlaff could become the first Jewish starting QB at BYU.
Meet all 36 athletes here — and prepare to be impressed!
Halftime report
DON'T LET THE DOOR HIT YOU ON THE WAY OUT. A hockey player at the University of Michigan was booted from the top-ranked team after he and another varsity athlete were implicated in an incident of anti-LGBTQ vandalism outside a Jewish center on campus. The school's Jewish Resource Center has declined to press charges against the students, who made a public apology at a Shabbat dinner.
WHO BY FIRE(D). Speaking of unexpected exits, the San Francisco Giants fired Jewish manager Gabe Kapler last week after four seasons with the club. Kapler had won the 2021 National League Manager of the Year award after a 107-win season. The league's other Jewish skipper, Bob Melvin, will remain in his role with the San Diego Padres — despite many predictions that he'd also be out of a job.
NOT TOO SHABBY. Team Israel finished in sixth place in the European Baseball Championship, which included games just before and just after Yom Kippur to accommodate the team's religious players. Israel went 3-3 in the tournament, including a 14-1 blowout win over Switzerland and a rough 12-2 loss to the Netherlands. Israel will host the 2025 tournament.
OUCH. Israeli soccer star Manor Solomon will be out at least a couple months after tearing his meniscus during a practice with his Premier League club Tottenham. The injury means Solomon will miss Israel's next four Euro 2024 qualifying matches — the national team is set to face Switzerland and Kosovo next week and Romania and Andorra in November.
FREE STUFF! The Washington Wizards announced its promotional schedule for the upcoming NBA season, and Israeli player Deni Avdija is set to have a big week in late January. On Jan. 24, Wizards fans will receive a hat designed by the 22-year-old, and on Jan. 31, they'll get a bobblehead celebrating the small forward's fashion sense.
Jews in sports to watch this weekend
IN BASEBALL…
The Division Series playoffs start Saturday, and four of the eight teams still in contention have a Jewish player (or two!). Here's the schedule — and some notes — for this weekend:
Saturday at 1 p.m. ET: The Baltimore Orioles host the Texas Rangers. The O's have not announced their rotation yet, but Dean Kremer is likely to start later in the series. It will be the Team Israel alum's postseason debut. Game 2 is Sunday at 4:07 p.m. ET.
Saturday at 4:45 p.m. ET: The Houston Astros host the Minnesota Twins. Alex Bregman has played in a (ridiculous) 86 playoff games in his career and is in the all-time top-10 in postseason RBIs, walks and runs scored. The 29-year-old is already a 2-time World Series champion. Game 2 is Sunday at 8:03 p.m. ET.
Saturday at 6:07 p.m. ET: The Atlanta Braves host the Philadelphia Phillies. For the Braves, ace Max Fried is slated to return from his stint on the injured list and start Game 2 on Monday. Braves outfielder Kevin Pillar will be playing in his first postseason since 2016. For the Phillies, catcher Garrett Stubbs has appeared in the last three postseasons — last year with Philly and the previous two with Houston — but has yet to have an at-bat.
IN FOOTBALL…
It's Week 5 in the NFL — here are the Jewish matchups to watch:
Sunday at 4:25 p.m. ET: Greg Joseph and the Minnesota Vikings host Taylor Swift's new favorite team, the Kansas City Chiefs.
Monday at 8:15 p.m. ET: A.J. Dillon and the Green Bay Packers face the Las Vegas Raiders.
(Jake Curhan's Seattle Seahawks and Michael Dunn's Cleveland Browns both have byes this week.)
IN BASKETBALL…
The NBA Preseason is here! This weekend, catch Domantas Sabonis, the All-Star big man who is converting to Judaism, and his Sacramento Kings against the Toronto Raptors Sunday at 8 p.m. ET
IN HOCKEY… 
As the NHL Preseason wraps up, watch Devon Levi and the Buffalo Sabres against Mark Friedman and the Pittsburgh Penguins tonight at 7 p.m. ET. At the same time, Jack Hughes and the New Jersey Devils face the New York Islanders. And tonight at 10 p.m. ET, Quinn Hughes and the Vancouver Canucks host the Calgary Flames.
IN SOCCER…
Goalkeeper Matt Turner and Nottingham Forest play Crystal Palace tomorrow at 12:30 p.m. ET. ICYMI, check out our profile of the Jewish USMNT member here. Over in the MLS, Daniel Edelman and the New York Red Bulls play Toronto F.C. tomorrow at 7:30 p.m. ET.
Join the Jewish Sport Report in Chicago!
The Cubs and White Sox may not be playing in the postseason, but the Jewish Sport Report is headed to Chicago for an important matchup later this month. On Oct. 23, I'll be sitting down with an all-star panel of Jewish baseball experts to talk all things baseball and Chicago. Come join us!
We'll see you next week, and in the meantime, ponder this: which is taller? A rabbi holding a lulav or 7-foot-4 NBA prodigy Victor Wembanyama?
—
The post The Jewish Sport Report: The future of Jewish sports is brighter than ever appeared first on Jewish Telegraphic Agency.
Jewish man dies after being struck by pro-Palestinian protester, LA Jewish federation says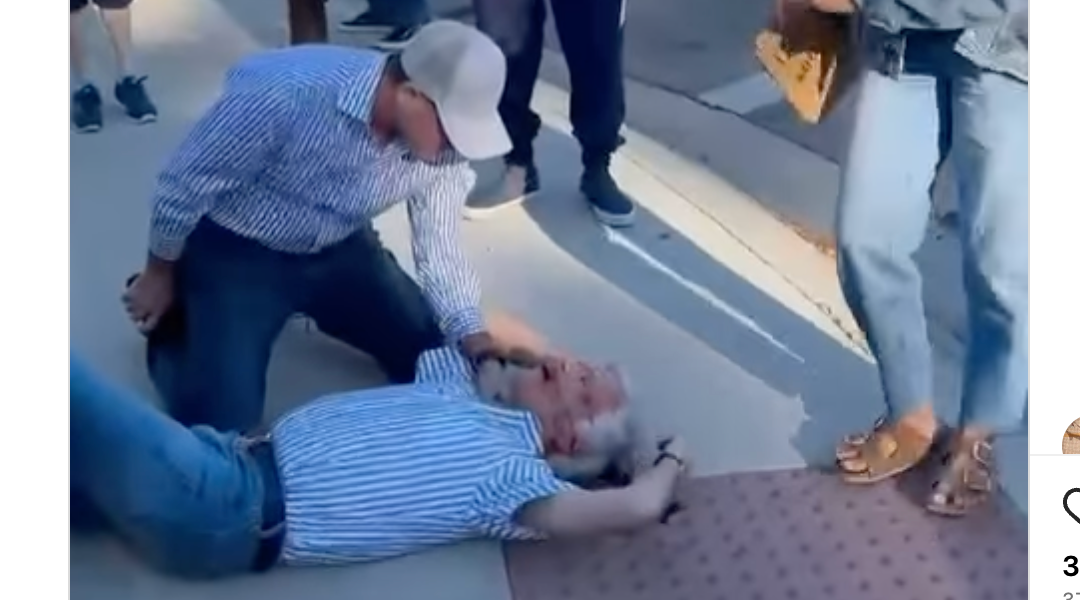 This is a developing story.
(JTA) — A Jewish man has died after a pro-Palestinian protester struck him in the head with a megaphone on Sunday, according to the local Jewish federation.
The altercation occurred at a pro-Palestinian protest on Sunday in Westlake Village in the Los Angeles area. According to a statement by the Jewish Federation of Greater Los Angeles, the man was struck in the head with a megaphone held by one of the protesters and died of his wounds on Monday. The Jewish Telegraphic Agency has confirmed that the man's name is Paul Kessler. A Jewish security official confirmed the account of how he died.
A brief video circulating on social media shows an elderly man in a blue-and-white striped shirt and jeans lying on a sidewalk and clutching his head in a pool of blood. A woman wearing pro-Palestinian symbols crouches down to tend to him, as does another man. An Israeli flag is leaning against a nearby wall.
JTA calls to the Ventura County Sheriff's Office and Misaskim, a local group that assists with Jewish burial, were not immediately returned. The federation said in its statement that it is awaiting more information from law enforcement.
"We are devastated to learn of the tragic death of an elderly Jewish man who was struck in the head by a megaphone wielded by a pro-Palestinian protestor in Westlake Village," the federation statement says. "Our hearts are with the family of the victim."
The man's death occurred a month into a war between Israel and Hamas in Gaza, which began after the terror group invaded Israel on Oct. 7, killing and wounding thousands. Mass pro-Israel and pro-Palestinian demonstrations have occurred nationwide and globally, and officials have warned of rising antisemitism and islamophobia in the weeks since Oct. 7. While other physical altercations and assaults have taken place surrounding protests or the hanging of posters, this is the first death reported due to a protest connected to the war.
The federation's statement also referenced previous antisemitic incidents in the area this year, including the arrest of a man in February who shot two men outside their synagogues. On Oct. 26, a man was arrested after breaking into a Jewish family's home and saying he wanted to kill Jews. The suspect in that case did not injure anyone.
"We remind you that this is the fourth major antisemitic crime committed in Los Angeles this year alone," the statement said. "Violence against our people has no place in civilized society. We demand safety. We will not tolerate violence against our community. We will do everything in our power to prevent it."
—
The post Jewish man dies after being struck by pro-Palestinian protester, LA Jewish federation says appeared first on Jewish Telegraphic Agency.
National Jewish groups put out the call for a massive 'March for Israel' in DC on Nov. 14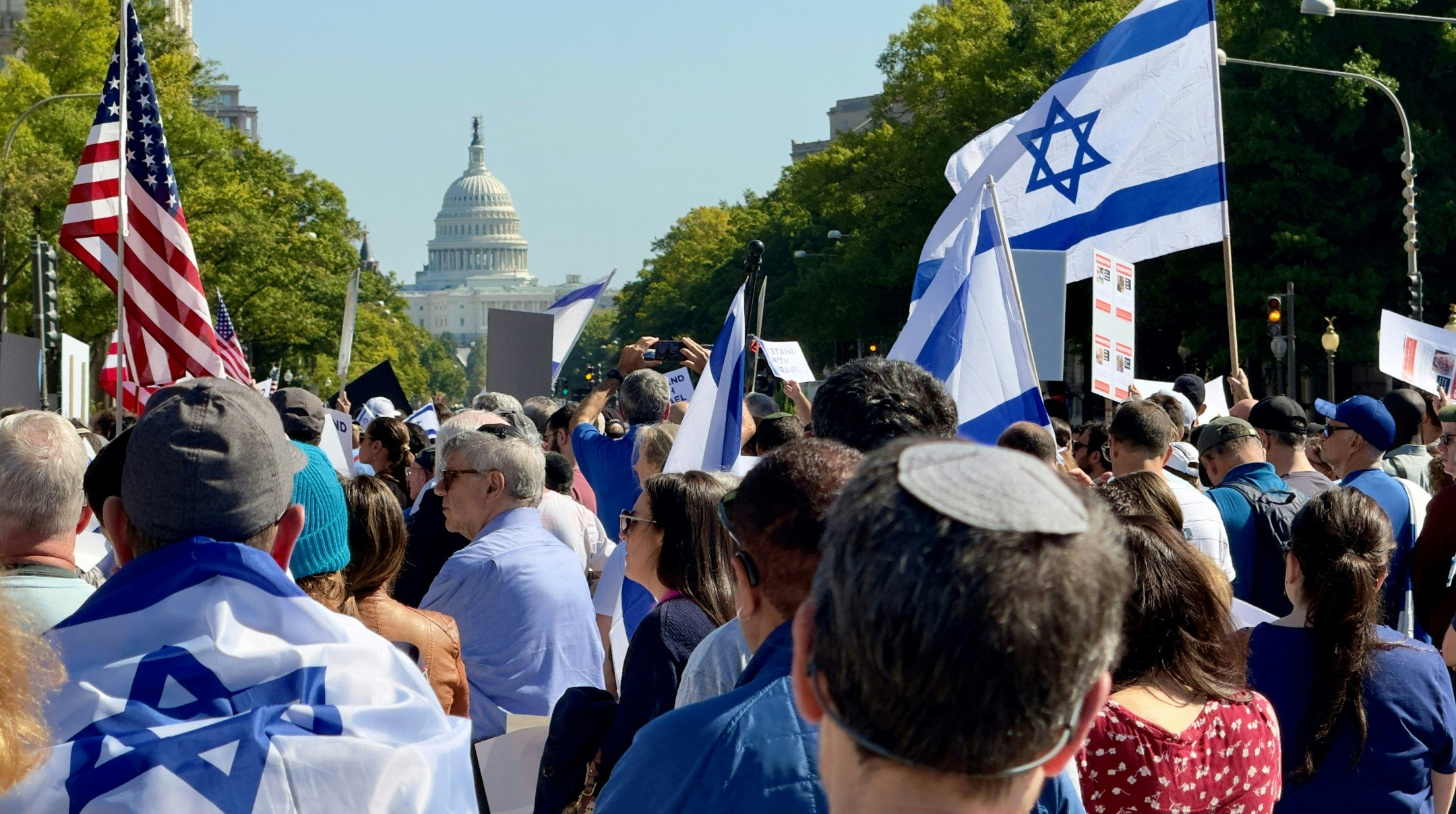 WASHINGTON (JTA) — National Jewish organizations are calling on Jews from around the country to travel to Washington, D.C., on Nov. 14 for a mass pro-Israel rally they hope will rival major Jewish demonstrations in 2002 and 1987 in size and impact.
The March for Israel has three goals, according to Eric Fingerhut, CEO of Jewish Federations of North America, which is organizing the rally jointly with the Conference of Presidents of Major American Jewish Organizations.
Participants will be demanding for the return of the estimated 240 hostages Hamas terrorists abducted during its Oct. 7 attack on Israel, Fingerhut said. They will also be calling for efforts to combat antisemitism, which has spiked worldwide since the attack. And they will be demonstrating their support for the unabashed backing Israel has so far received from both parties in Congress and the Biden administration.
"All three elements are important to all of our communities," Fingerhut said. "We're proud of what our government has done" to support Israel "but we want them to know how much support there is not only for what they've done, but also for the continued efforts that are going to be needed as this long conflict continues."
The rally, which will take place just over five weeks after Hamas' deadly assault on Israel, was formally announced on Monday night. But efforts to fill buses and planes were already breaking into public view over the weekend.
"All classes for Yeshiva University undergraduate schools and high schools for Tuesday November 14 are canceled," Rabbi Ari Berman posted on social media on Sunday. "We are going to Washington to stand with Israel."
It's the kind of move that Fingerhut and William Daroff of the Conference of Presidents said in a joint interview they were asking of affiliated groups, including Jewish community centers, day schools and other Jewish organizations. So far, they said, the response has been enthusiastic.
Daroff said the hope was that the rally would have the impact of a 2002 pro-Israel rally during the Second Intifada and a 1987 mass rally to support Soviet Jewry, each of which drew more than 100,000 Jewish demonstrators to the National Mall.
"Just as the American Jewish community and our allies spoke out with mass events in 1987 in support of Soviet Jewry and in 2002 in support of Israel during the Second Intifada, we are now in a similar moment where the American Jewish community and the American people are speaking out loudly and clearly in support off the people of Israel and demanding the unconditional return of the hostages," he said.
The Biden Administration has so far backed Israel in its refusal to consider a ceasefire until the hostages are returned and Hamas is disabled. There have been calls from some on the progressive left for a ceasefire. Biden has asked Congress for $14 billion in emergency assistance for Israel, including $10 billion in defense assistance.
Reports of antisemitic expression and assault have spiked since Oct. 7 on campuses and in cities across the world. Biden wants Congress to appropriate hundreds of millions of dollars to help secure vulnerable institutions; on Monday Sen. Chuck Schumer, the Jewish Democrat who is the majority leader, announced plans to up the annual funding for security grants to $1 billion, from $250 million.
Hamas terrorists killed 1,400 people, most of them civilians, wounded thousands and abducted more than 200 in their Oct. 7 raid. Since then, Israel has launched counterstrikes and more than 10,000 Gaza residents have been killed, according to the Hamas-controlled Gaza health ministry, among them 3,000 children. It is not known what portion of that number are civilians, and what portion have been killed by rockets launched by Palestinian militants that have fallen short of Gaza's border with Israel.
The rally follows mass pro-Palestinian demonstrations in cities around the world, including in Washington on Saturday, and aims to show that Israel enjoys just as much support.
"We've all heard voices of hatred and antisemitism around the globe glorifying the October 7 attacks," a flyer for the event says. "But these voices will never drown out this of Americans who stand against terror and with Israel."
Daroff and Fingerhut said there were no confirmed speakers yet, although they had invited lawmakers and officials from the Biden administration at the highest level. They said that although their organizations were leading the effort, they were asking groups to put out the word in their own name about the rally, which will take place from 1 to 3 p.m. near the U.S. Capitol. (Hundreds of protesters affiliated with Jewish Voice for Peace, an anti-Zionist group, were arrested there last month while calling for a ceasefire.) Some groups, including the Conservative movement, had already done so as of Monday.
Fingerhut and Daroff said they were encouraging Jewish community centers and Jewish day schools to shut down for the day and send their students to Washington. Some had already taken up the call: North Shore Hebrew Academy on Long Island, for example, said it would bus students to D.C. for the day, and the Detroit Jewish federation on Monday invited locals to reserve spots on a chartered flight.
Ronald Halber, the director of the Greater Washington D.C. Jewish Community relations Council, said he expected all 10 campuses in the D.C. area to empty their buildings on the day.
"We have an obligation with a 300,000-strong Jewish community to bring a substantial number of people," Halber said.
—
The post National Jewish groups put out the call for a massive 'March for Israel' in DC on Nov. 14 appeared first on Jewish Telegraphic Agency.
How New Yorker writer Ariel Levy adapted Philip Roth's filthiest book for the stage