The Jewish Sport Report: Your Jewish guide to the new NHL season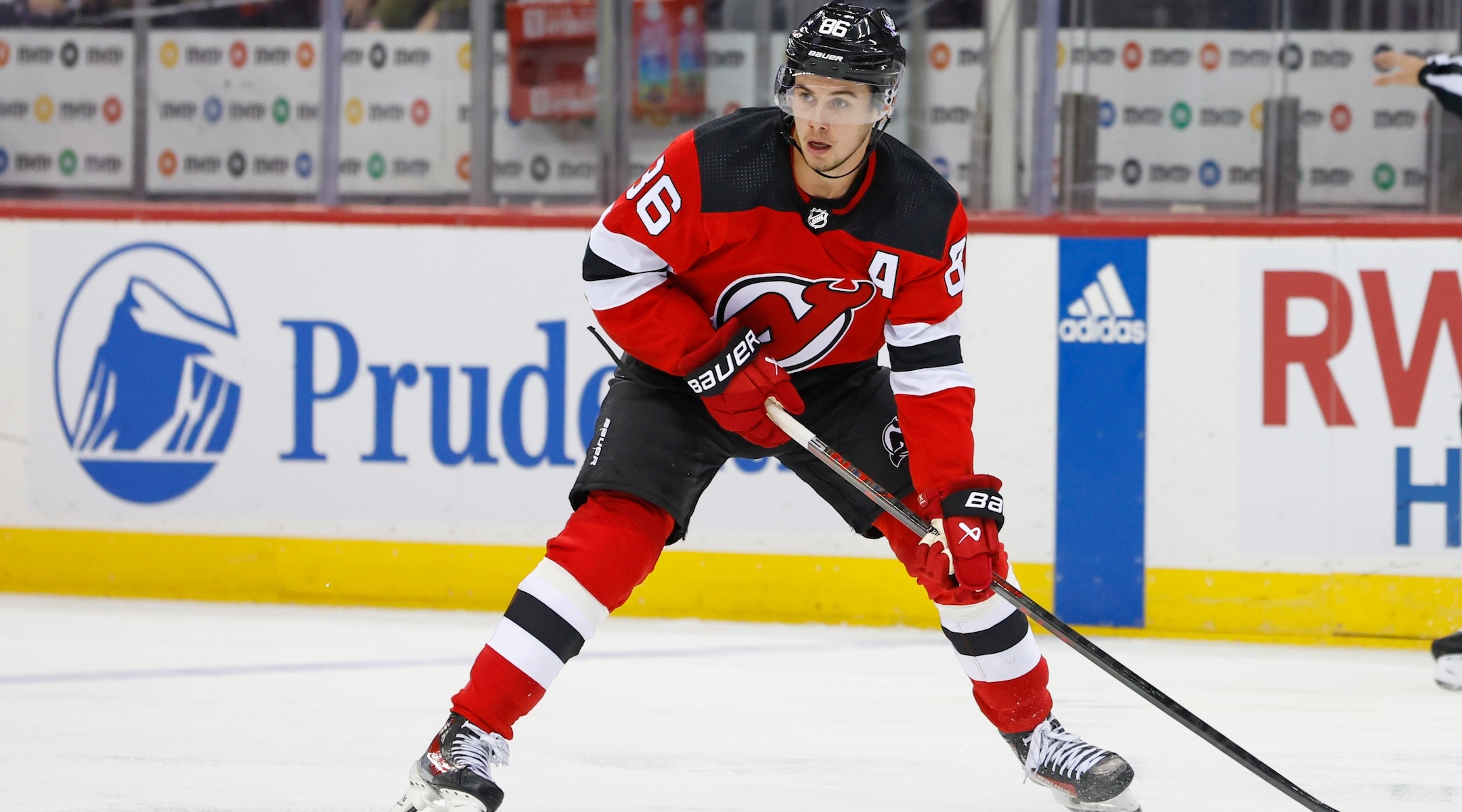 This article was sent as a newsletter. Sign up for our weekly Jewish sports newsletter here.
Hello, Jewish sports fans! It's hard to believe, but we hit send on the very first edition of the Jewish Sport Report two years ago this week. Whether you're an original fan or joined the team more recently — thanks for reading.
If you're enjoying the newsletter, please share it with your friends! And if you're so inclined, you can always donate to support our coverage.
Now, onto the news!
The NHL is more Jewish than you think
The NHL season is underway, and the league is chock full of Jewish players to watch.
You may know some of the stars, like Jack Hughes, Adam Fox and Zach Hyman. But there are actually 11 known Jewish players who started the season on an NHL roster, plus a few veterans and prospects currently vying for a spot, too.
Here are the Jewish players on NHL teams:
Jakob Chychrun, Ottawa Senators defenseman
Adam Fox, New York Rangers defenseman
Cole Guttman, Chicago Blackhawks center
Jack Hughes, New Jersey Devils center
Luke Hughes, New Jersey Devils defenseman
Quinn Hughes, Vancouver Canucks defenseman
Zach Hyman, Edmonton Oilers left winger
Luke Kunin, San Jose Sharks center
Devon Levi, Buffalo Sabres goaltender
Jake Walman, Detroit Red Wings defenseman
Jason Zucker, Arizona Coyotes left winger
Read our full Jewish NHL season preview right here.
Halftime report
"I AM A JEW." A group of 19 current and former Jewish MLB players — almost all of whom have played and/or coached for Team Israel — participated in a video the team shared yesterday, calling for fans to stand up against antisemitism and in support of Israel. The video features Alex Bregman, Ryan Braun, Shawn Green, Kevin Youkilis, Ian Kinsler and many others.
PROUD. Speaking of Team Israel, Kinsler, who has played for and managed Israel, donned his blue and white jersey this week when he threw out the ceremonial first pitch at the Texas Rangers' Game 3 ALCS matchup against the Houston Astros.
MAY HER MEMORY BE A BLESSING. Another Israeli star athlete has been identified among the more than 1,400 killed in the war. Karina Pritika, 23, a former rhythmic gymnast, was one of the more than 250 victims at the desert music festival where former soccer star Lior Asulin was also killed.
OFF-PITCH. Yeshiva University is known for its vaunted basketball program, but the Maccabees' soccer team is also solid, starting the season with a 5-1-2 record. The New York Times looked at how the Orthodox school's athletes are responding to the violence in Israel, on and off the pitch.
MARCHING ON. Following their matchup against the Brooklyn Nets last week, the Maccabi Raanana basketball team continued their U.S. tour in Cleveland, where they lost 120-89 to the Cavaliers. "The fact that we're continuing to play these games, we're representing Israel and we're competing, I think it gives people hope," said assistant coach Abe Kuhn. At the team's game against the Minnesota Timberwolves, Raanana players warmed up in shirts with the names and faces of Israeli hostages.
RED CARDS. Across European soccer, a few players have faced consequences for their reactions to the Israel-Hamas war. Dutch player Anwar El Ghazi was suspended by his Bundesliga club Mainz for a social media post about the conflict. In France, Nice defender Youcef Atal is being investigated on charges "of defending terrorism"after posting an allegedly antisemitic video.
NOT A FAN. The Tottenham Hotspur club is known for its strong Jewish ties. They also feature the Premier League's only Israel player, Manor Solomon. So how has the club responded to the war in Israel? The Athletic spoke to Tottenham fans to find out. Spoiler alert: many are unhappy with their team.
SPEAKING OUT. New England Patriots owner Robert Kraft, a longtime supporter of Israel, spoke with Jewish ESPN reporter Jeremy Schaap about the ongoing war. "I had the privilege to go there and to see what's happened this week, and it's just sad," Kraft said in the clip.
ON THE RISE. MLB veteran and former Team Israel pitcher Craig Breslow has emerged as a leading candidate in the Boston Red Sox's search for a new baseball boss, following last month's firing of fellow Jewish Yale graduate Chaim Bloom. Breslow has worked for the Chicago Cubs since 2019 but still lives in the Boston area.
Jews in sports to watch this weekend
IN BASEBALL…
The Championship Series are nearing their end, as the World Series rapidly approaches. Catch Alex Bregman and the Houston Astros against the Texas Rangers in a pivotal Game 5 tonight at 5:07 p.m. ET and Garrett Stubbs and the Philadelphia Phillies against the Arizona Diamondbacks in Game 4 tonight at 8:07 p.m. ET. The NLCS then continues Saturday at 8:07 p.m., and the ALCS continues on Sunday at 8:03 p.m. ET.
IN HOCKEY…
Jakob Chychrun and the Ottawa Senators play Jake Walman and the Detroit Red Wings Saturday at 1 p.m. ET, while Adam Fox and the New York Rangers face the Seattle Kraken Saturday at 10 p.m. ET.
IN FOOTBALL…
It's Week 7 in the NFL — wow that was fast — and all four Jewish players are in action.
Sunday at 1 p.m. ET: Michael Dunn and the Cleveland Browns face the Indianapolis Colts.
Sunday at 4:05 p.m. ET: Jake Curhan and the Seattle Seahawks host the Arizona Cardinals.
Sunday at 4:25 p.m. ET: A.J. Dillon and the Green Bay Packers play the Denver Broncos.
Monday at 8:15 p.m. ET: Greg Joseph and the Minnesota Vikings host the San Francisco 49ers on Monday Night Football.
IN BASKETBALL…
The NBA Preseason is wrapping up, with the regular season set to tip off next week. Catch Deni Avdija and the Washington Wizards in their final tune-up tonight at 7:30 p.m. ET against the Toronto Raptors.
IN GOLF…
David Lipsky is in action at the Zozo Championship in Japan this weekend.
IN RACING…
If the all-Texas ALCS isn't enough, the Formula One United States Grand Prix is this weekend in Austin. Watch Aston Martin driver Lance Stroll on the grid Sunday at 3 p.m. ET.
New kits
Friend of the Jewish Sport Report Ethan Zohn, the former "Survivor" winner and longtime Maccabi USA soccer player, is leading an effort to raise $100,000 to support Maccabi USA to help support young athletes competing in this year's Pan Am Maccabi Games in Argentina. Zohn helped design this new Maccabi soccer jersey that will be at the centerpiece of the fundraiser — with all the money being raised through sponsorships.
—
The post The Jewish Sport Report: Your Jewish guide to the new NHL season appeared first on Jewish Telegraphic Agency.
Publisher removes Jewish stereotypes from classic Georgette Heyer romance novel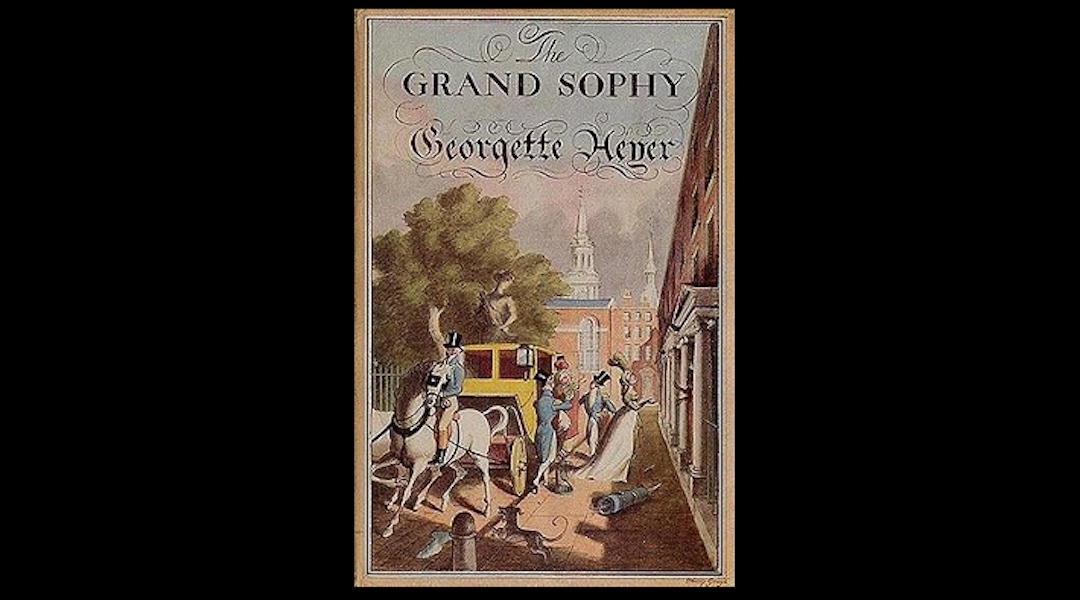 (JTA) — The U.S. publisher of Georgette Heyer, who is widely considered the originator of the historical romance genre, has modified part of one of her books that includes Jewish stereotypes.
The New York Times reported last week that publisher Sourcebooks worked with an array of sensitivity readers and experts on modifying "The Grand Sophy,"originally published in 1950, before releasing new versions of multiple Heyer books this year.
Heyer's books — which also pioneered the Regency romance genre, and subsequently inspired legions of authors, including Jewish "Bridgerton" novelist Julia Quinn — have sold millions around the world. In "The Grand Sophy," the main character interacts with a villainous moneylender named Goldhanger, who is a "thin, swarthy individual, with long, greasy curls, a semitic nose, and an ingratiating leer."
The new Sourcebooks edition deletes the details about the moneylender's appearance that have been associated with antisemitic stereotypes and changes the character's name to Grimpstone. He is now described as a "thin individual with an ingratiating leer."
Another revision gets rid of a reference to Jews being tight with "purse-strings."
"We don't want to throw off a 25-year-old who's just discovering Heyer," a senior vice president and editorial director at Sourcebooks told the Times. Sourcebooks did not respond to a Jewish Telegraphic Agency request for more detail on the revisions.
The Heyer estate asked Mary Bly, a romance novelist and literary scholar, to write introductions to the new versions. But the author's estate did not want her to mention the offensive language and how it was changed, a stance that led Bly to quit the project.
The Heyer estate's website states that her publisher in the United Kingdom, Penguin Random House, has decided "to leave the books as the author wrote them."
"They do not endorse the language or depictions in some of these books, but encourage readers to consider the works critically and in their historical and social context," a statement reads.
Heyer's work is the latest among recent debates about revising old texts to fit contemporary language standards. Roald Dahl and Agatha Christie books were also modified earlier this year.
Sourcebooks began acquiring Heyer titles in 2007 and has sold over two million copies of Heyer books so far, but the Times reported that the publisher eyes an even larger audience. The Netflix adaptation of "Bridgerton," which premiered in 2020, has become one of the streaming giant's most-watched shows and reignited interest in the Regency romance genre.
—
The post Publisher removes Jewish stereotypes from classic Georgette Heyer romance novel appeared first on Jewish Telegraphic Agency.
Los Angeles charter school says teachers who taught first graders about 'genocide of Palestine' will not return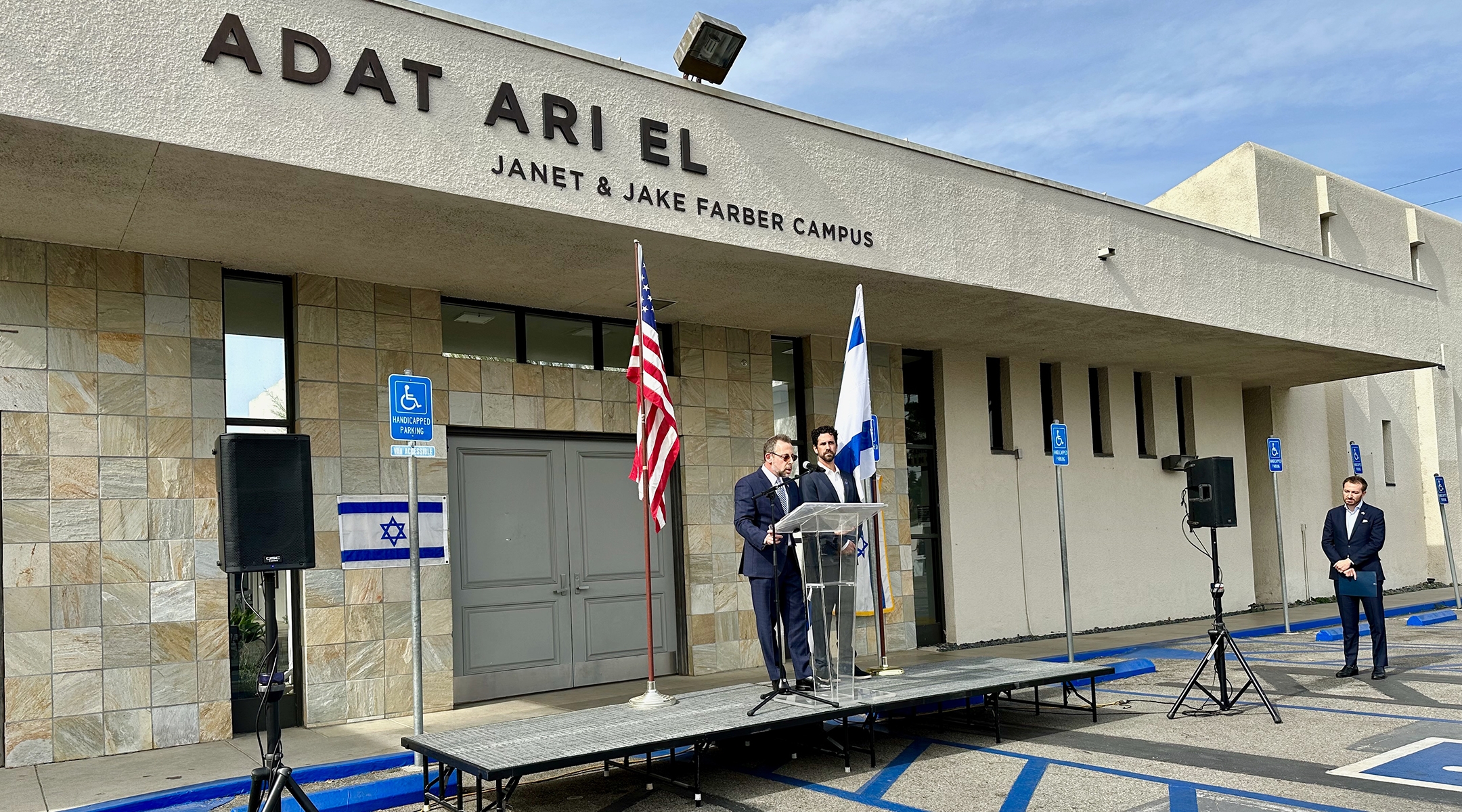 LOS ANGELES (JTA) — The Los Angeles charter school that stirred controversy at the synagogue where it is housed after first-grade teachers taught lessons about "the genocide of Palestine" announced steps on Friday to "repair this harm."
Two teachers have been removed from the school and the principal has been placed on leave at Citizens of the World Charter School-East Valley, announced Melissa Kaplan, the school network's executive director, at a press conference held outside Adat Ari El synagogue.
Hye-Won Gehring, the school's principal, had relayed complaints from her staff to the synagogue's rabbi about Israeli flags that were hung up on the campus after Hamas' Oct. 7 attack on Israel, according to Kaplan and Brian Schuldenfrei, Adat Ari El's senior rabbi. Kaplan said Gehring would be going on a two-week leave to "focus on learning how to combat antisemitism and engage in sensitivity training to learn from this experience."
Gehring had sent an email to Schuldenfrei on Oct. 16 asking how long the flags would be up, according to the rabbi. Kaplan called the question "insensitive and inappropriate," and Schuldenfrei recounted that he had told Gehring her email was "offensive."
"I told the principal that inquiring when our flags were coming down was like asking someone on Sept. 11 to take down their American flags just a few days later. It is painfully insensitive," Schuldenfrei said during the press conference. He added that the principal had apologized to him, but that "this was not the end of the issue."
Gehring made a brief statement at the press conference.
"I am deeply apologetic for my insensitive questions to Rabbi Schuldenfrei and how I mishandled this important set of events," Gehring said. "I did not understand the impact of my actions, and I am committed to creating a safe environment for all of my students, including my Jewish students, staff and families."
Kaplan, who was not made available to reporters after the press conference, acknowledged the "pain and distress" that many in the Jewish community are experiencing, and said she "deeply apologize[s] for these missteps" on behalf of her staff.
"CWC unequivocally condemns the social media posts by our staff members, including the use of the word 'genocide' to describe Israel's actions," Kaplan said. "CWC unequivocally condemns the disturbing suggestion that Jews should leave the region, and we unequivocally condemn any lesson that creates bias or fear among our students."
Kaplan added that the findings of the investigation would be kept confidential, but that the community will receive updates as needed, and that the outcome of the process would inform any further consequences from this episode. She also said that CWC is coordinating with the Anti-Defamation League to train its leadership and staff.
During his remarks, Schuldenfrei shared the sequence of events that occurred at the school, saying that he hopes the incident can be "an educational moment."
Schuldenfrei questioned why the content of the lessons was not reviewed, saying that the teachers "weaponized their role as educators to indoctrinate the youngest of children with a radical and hateful agenda."
"We know what happens when a blind eye is turned to such hatred, and we will not cower in the corner while our campus and community is defiled," Schuldenfrei said.
Schuldenfrei also referenced teshuvah, the Jewish idea of repentance, adding that he finds it "heartening to see Citizens of the World take these first steps," and he reiterated his synagogue's commitment to working with the school "to ensure that this is a learning moment for everyone."
In an interview with the Jewish Telegraphic Agency, Schuldenfrei acknowledged that is it rare for synagogues to call press conferences — an indication, he said, that "we're living in rare times where we feel, unlike any other time since the Holocaust, we feel the pressure of this pernicious antisemitism. And we also feel for something like that to occur in our own backyard, we felt that we couldn't simply stand by."
Schuldenfrei said he is comfortable with the first steps the school is taking and hopes his community is, too. He also said he hopes this debacle does not dissuade future collaborations between Jewish and non-Jewish groups. He noted that his synagogue offers its space to church groups, Alcoholics Anonymous meetings and other non-Jewish events.
"We as Jews are proud Americans, and here at Adat Ari El, one of the holiest endeavors we engage is working with non-Jews," he said. "We want this to specifically be a home to Jews, but we want this to be a campus that is of service to all of humanity."
The final speaker at the press conference was Nick Melvoin, a school board member for the Los Angeles Unified School District and a Democratic candidate for Congress who is running for the district that Adam Schiff currently represents. (Schiff is running for a Senate seat that has a primary vote in March.) Melvoin commended the school for its efforts to respond to the incident and added that he will be bringing a policy package to the district's board of education to address concerns of bias and antisemitism.
Melvoin said he would push for a comprehensive definition of antisemitism; a thorough review of curriculum to ensure that there is no bias; and the inclusion of Jewish experiences and antisemitism in diversity, equity and inclusion frameworks; and funding for students to visit Holocaust museums.
—
The post Los Angeles charter school says teachers who taught first graders about 'genocide of Palestine' will not return appeared first on Jewish Telegraphic Agency.
Hebrew pocket watch, frozen in time of Titanic wreck, headed for auction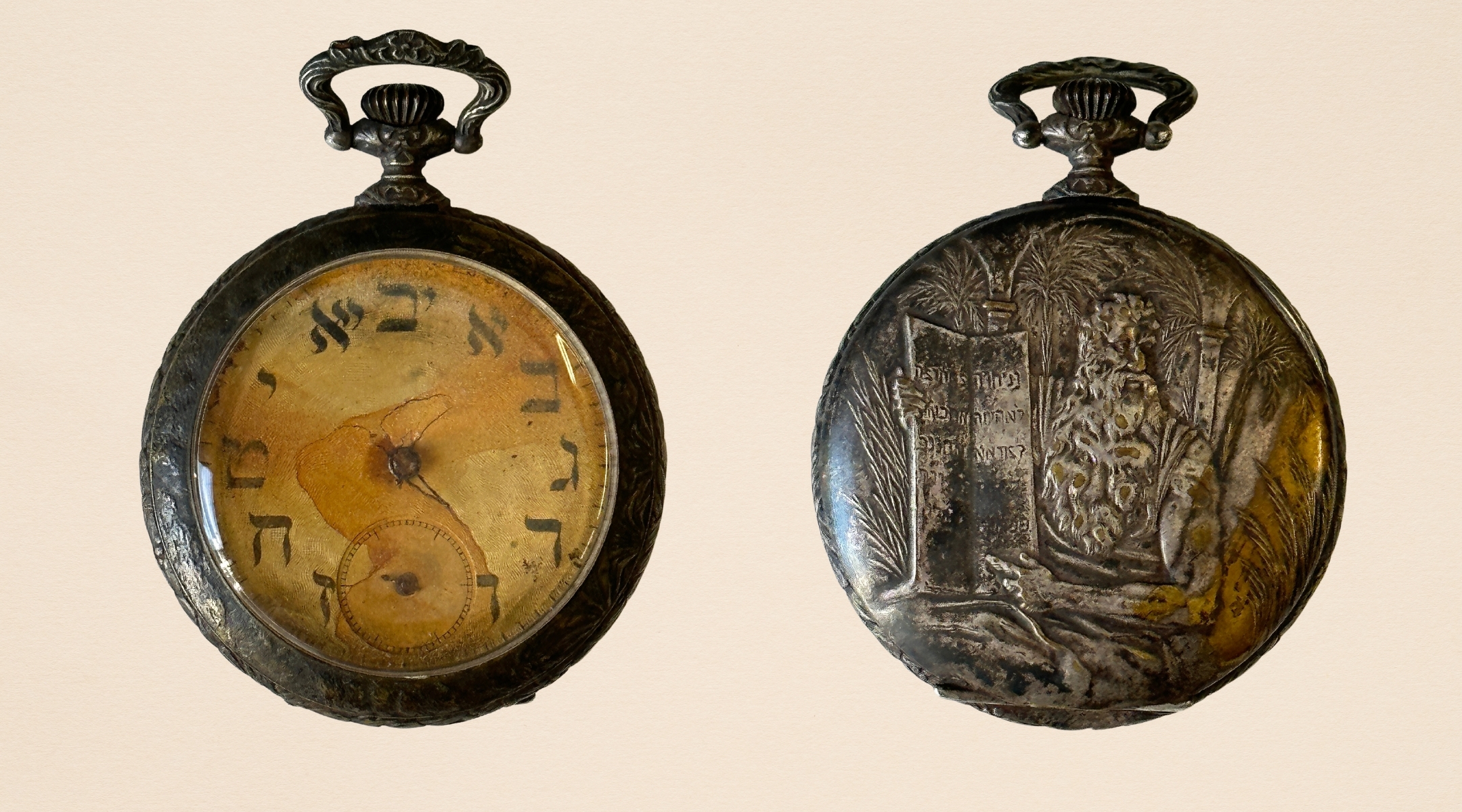 (JTA) — A pocket watch, frozen in time when the Titanic went underwater, is set to sell at auction Saturday, with an expected sales price of nearly $100,000.
That's nearly 30 times the value of the ticket that Sinai Kantor, a Russian Jew on his way to New York City, spent for his ticket on the "unsinkable" ship.
Numbers on the Swiss-made, silver-on-brass watch are written in Hebrew numerals and its hands are nearly all deteriorated, due to saltwater exposure — but dried water marks indicate that time stopped at 2:25 a.m., about five minutes after the Titanic sank. Its back features an embossed, solemn, muscular Moses holding the Ten Commandments on a background of date palms.
The silver pocket watch once belonged to Kantor, 34, a second-class passenger traveling with his wife Miriam, 24. The pair were recently married university graduates, on their way to New York where Kantor planned to sell furs while they studied dentistry and medicine, as part of a flood of Jewish immigration underway at the time.
Kantor paid £26 — worth about $3,100 today — for ticket No. 244367 on the Titanic, which they boarded on April 10, 1912, in Southampton, England.
"On the night of the disaster, like so many couples, they were forced to separate because of the 'women and children only' rule," Michael Findlay, former president of the Titanic International Society told the Washington Post. "Mr. Kantor had to remain behind."
Miriam alone was saved in lifeboat 12, according to information provided by the auction house. According to records collected by Titanic enthusiasts, she later became a U.S. citizen, taking the name Mary, and worked as a pharmacist in Brooklyn before being institutionalized at a psychiatric hospital where she spent the rest of her life before dying at 63 in 1950.
Kantor's body was recovered eight days after the accident. His pocket watch and some of his other possessions, including his Russian passport, a notebook, money, wallets, a telescope and a corkscrew were returned to his widow in May 1912 by the White Star Line, according to Henry Aldridge and Son, the auction house selling his possessions and other Titanic memorabilia. Kantor was buried at Mount Zion Cemetery in Queens.
His watch was previously sold at auction in 2018 for $57,500.
Of the timepieces that survived the shipwreck, most are stopped between 2:20 and 2:30, Findlay said. "It all depends when the individual went into the water," he said. "It's haunting."
—
The post Hebrew pocket watch, frozen in time of Titanic wreck, headed for auction appeared first on Jewish Telegraphic Agency.