The radical Jewish photographers who fought injustice with their cameras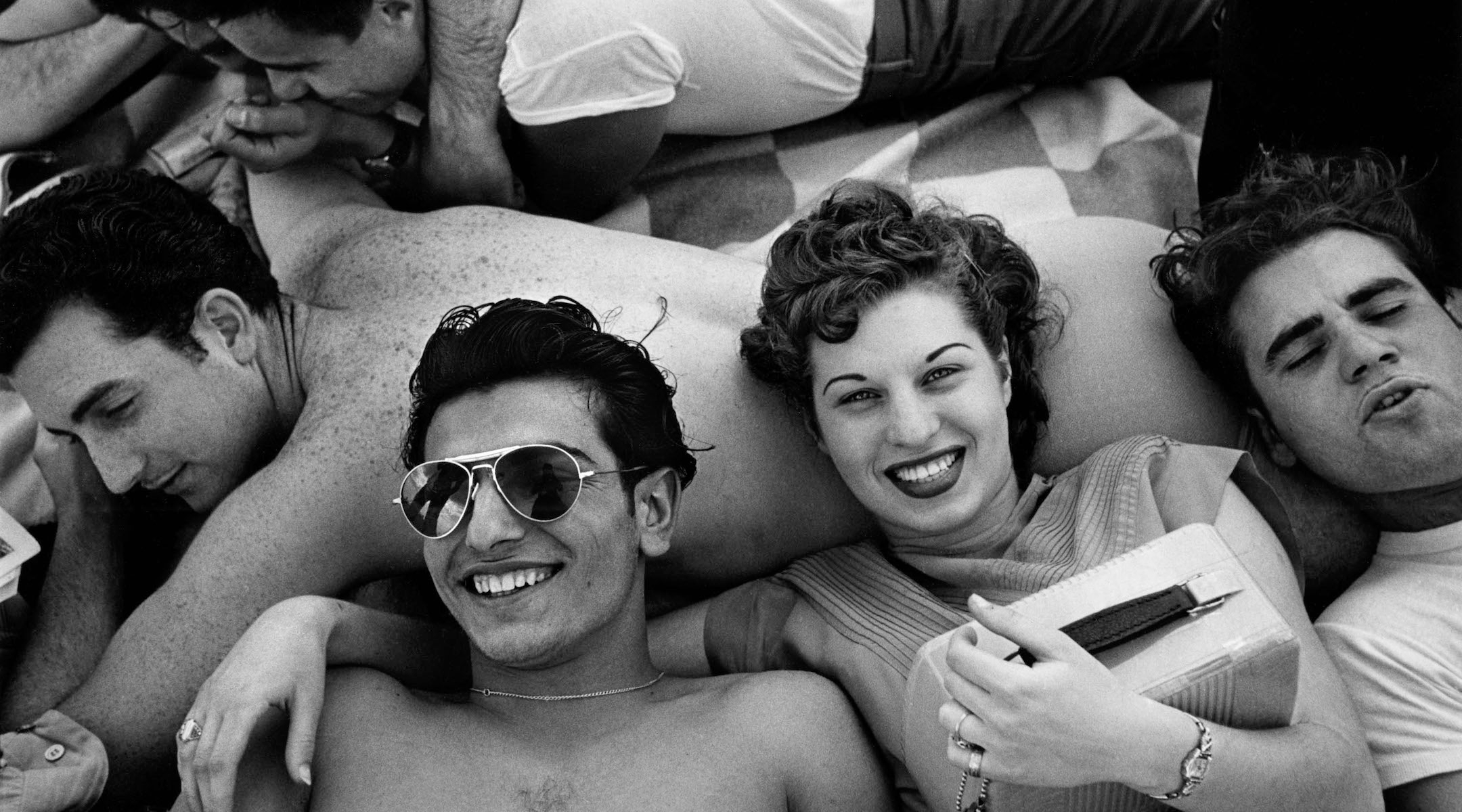 (New York Jewish Week) — A multi-generational group of people congregate on a building stoop on Hester Street; an African-American man leans on a lamppost; a gaggle of teenagers pile on top of each other at the beach in Coney Island; a hoard of children — in various states of undress — play with a broken mirror in the street. 
These are only a few examples of the 150 black-and-white snapshots of New York City street life in the 1930s and '40s that appear in the new book "Walkers in the City: Jewish Street Photographers of Midcentury New York" by historian and scholar Deborah Dash Moore. The photos are the work of the New York Photo League, a group of socially conscious street photographers whose aim was to showcase the living conditions of the city's working class, as well as spotlight their everyday lives and relationships. 
The Photo League operated in New York from 1936 until 1951; the cooperative of like-minded photographers ceased to exist after it was placed on a Department of Justice blacklist in 1947 on the suspicions that it had anti-American, communist associations. Most of the photographers in the league were left-wing and working class. Many of them were also Jewish — immigrants or the children of immigrants from Russia and Eastern Europe. 
Members of the Photo League included well-known Jewish photographers like Sol Libsohn, Sid Grossman, Morris Engel, Harold Feinstein, Helen Levitt, Weegee (born Usher Felig) and a young Marvin E. Newman (who died this month at age 95). "Touched by left-wing radicalism that flourished among second-generation Jews in the 1930s, these photographers considered photography a social and political tool," Dash Moore writes in the book's prologue. "It could influence how people interpreted their conditions."
In "Walkers in the City," Dash Moore explores how these photographers' Jewish sensibilities allowed them to capture both intimate and hectic moments of New Yorkers' everyday lives. "A focus on their fellow New Yorkers affirmed the capability of photography to help them grasp their world," Dash Moore writes. "And with understanding came the potential power to change society."
The New York Jewish Week caught up with Dash Moore via Zoom from Ann Arbor, Michigan, where the New York City native is a professor of history and Judaic studies at the University of Michigan. We spoke about the genesis of the book, her favorite images from the collection and how the photographers' Judaism had impacted their work.
This interview has been lightly edited for length and clarity.
What drew you to this subject of documentary photography and the New York Photo League?
I co-authored a book — that was not a Jewish book — on New York that came out in 2001. It was called "Cityscapes: A History of New York in Images." I could have used prints — my co-author, who had the earlier half of the book, used a lot of print sources and stuff like that — but I was intrigued with the photographs. However, we had no money — we had like $25 for permission to publish a photo. So we wrote this very nice letter to all these different photographers, and a bunch of them said, "You must be kidding," and "no." 
But then there were others who said, "OK, where do you see my stuff?" I said, "Well, the New York Public Library, Museum of the City of New York." They said, "Oh, that's only a small piece of what I produce. You have to come to my studio." So I started to go to these photographers' studios. This would have been in the late 1990s, because the book came out in 2001. So we've got these studios and I'm seeing lots of great photos and after a while it's dawning on me: "Oh, this one's Jewish, that one's Jewish, the other one is Jewish. These people, these photographers, they're all so Jewish. That was sort of lodged in the back of my head. 
Twelve years or so ago, I had a fellowship at the Frankel Institute for Advanced Judaic Studies at the University of Michigan. The theme that year was "Jews and the City" and it was at that point I thought, OK, let's look at urban photography and Jews.
The New York Photo League wasn't specifically a Jewish group. Is this a new thesis that you're offering, that their photos presented a very Jewish way of looking at the city? Or do you think they saw themselves that way? 
No, they didn't see themselves that way. They had far more conventional understandings of what it means to be Jewish: You had to be religious, you had to keep kosher. They didn't fit any of those categories, so they did not see themselves that way. So yes, I am suggesting that this was basically a Jewish group. Now, does that mean that everybody there was Jewish? No, of course not. But it did mean that the non-Jews who joined the Photo League were comfortable in what was essentially a Jewish milieu. They were comfortable being around Jews. The Photo League was a Jewish organization in that way, in my terms. 
The styles of talking about photographs, the way in which they decided what made for a good photograph, what was important to photograph — all these things were essentially inflected by Jewish concerns at the time in the 1930s and '40s. Many of them were political concerns. This is the middle of the Great Depression — so they were about how you create a more just society in New York City. How do you deal with the incredible exploitation and inroads of capitalism that leave so many people impoverished? 
Many of them, of course, came out of poor homes. They knew a lot of economic insecurity themselves. These were among their specific concerns. They also were very much aware that the standard pictures of New York City, which were produced by companies to make a lot of money, were pictures of the Empire State Building and of the Statue of Liberty and of the famous things like the skyline, et cetera. To them, that was not New York. New York, to them, was its people. So you had to figure out, how do you take pictures of the people of New York? One could be even more specific: It was the working-class people. These were the people who made New York.
Do you have a favorite photo in the book?
I love most of the pictures in the book, which is why they're in the book. I really liked the cover picture. I think that [Morris] Engel's photograph "East Side Sweet Evelyn" really captures New York in the late '30s. But also it's a real Photo League photo. I mean, how do you know it's New York? Well, the guy is going down into the subway. The advertising has this great picture of "eyes examined" and this man looking at a woman. It speaks to the power that men have to look at women, which happens all the time on the streets of New York. It speaks to what I call "the circulation of gazes." That also happens in New York. The woman, we can be pretty sure, knows she's being looked at, although she looks straight ahead. This very much epitomizes New York. It says "the city" in so many different ways.
The photographers themselves were really aware of what their presence meant, and aware of how they were capturing people's experiences. When they took photographs, they wanted people to get a chance to see those photographs. So they often came back regularly to the neighborhood and they handed out prints to people. They felt that there was a reciprocity that was important. I think that piece, and the emotions connected with that, are really important. That was very much in the Jewish, New York, Photo League spirit. It's not a candid that you're snapping and that you're never going to relate to that person again.
What are you hoping that non-Jews or non-New Yorkers will take away from your curation of these photos?
I hope that they take away a sense of the vibrancy of the time — of the ways in which people made connections and developed an appreciation of each other, and a sense of how this was fostered by the city. There's so much anti-city stuff that exists. But the City of New York was a place that fostered this kind of interconnection, where you could learn about people who were different from you. Most of the photographs that these photographers took were not of Jews, but they were of New Yorkers. It was a way, in a sense, to come to understand your neighbors and how to be a neighbor.
So many people find cities frightening. They don't know how to deal with the diversity of cities. They don't know how to deal with differences. There's fear and paranoia. Photographers said: "No, don't be afraid."
"Walkers in the City: Jewish Street Photographers of Midcentury New York" was published Sept. 15 by Cornell University Press. Dash Moore will be in conversation with Manhattan Borough Historian Robert W. Snyder at the Center for Jewish History on Thursday, Sept. 28.
—
The post The radical Jewish photographers who fought injustice with their cameras appeared first on Jewish Telegraphic Agency.
Israeli Forces Launch Storm of Gaza's Khan Younis in 'Second Stage' of Ground Campaign
Israeli forces launched their storm of the main city in the southern Gaza Strip on Tuesday.
In what appeared to be the biggest ground assault since a truce collapsed last week, residents said Israeli tanks had entered the eastern parts of Khan Younis for the first time, crossing from the Israeli border fence and advancing west.
Some took up positions inside the town of Bani Suhaila on Khan Younis' eastern outskirts, while others continued further and were stationed on the edge of a Qatari-funded housing development called Hamad City, residents said.
The Israelis, who seized the northern half of Gaza last month before pausing for the week-long truce, say they are now extending their ground campaign to the rest of the enclave to fulfill their objective of annihilating its Hamas rulers.
"We're moving ahead with the second stage now. A second stage that is going to be difficult militarily," government spokesperson Eylon Levy told reporters in a briefing.
Israel was open to "constructive feedback" on reducing harm to civilians as long as the advice is consistent with its aim of destroying Hamas, he said.
A spokesperson for the Hamas-controlled Gaza health ministry said hospitals in the southern Gaza Strip are "totally collapsing" amid the fighting, saying they "cannot deal with the quantity and quality of injuries that arrive."
Washington has called on its close ally Israel to do more to reduce harm to civilians in the next phase of the Gaza war, which Israel launched following Hamas' Oct. 7 massacre. Palestinian terrorists led by Hamas invaded the Jewish state and rampaged across southern Israeli communities, murdering 1,200 people and seizing 240 hostages.
According to Hamas-controlled Gaza health authorities, thousands of people have died during Israel's military campaign of air strikes and ground operations — although experts have cast doubt on the reliability of casualty figures coming out of Gaza, which also do not note how many killed were terrorists.
Israel says blame for harm to civilians falls on Hamas fighters who operate among them, including from tunnels below ground that can be destroyed only with huge bombs.
Since the truce collapsed, Israel has been posting an online map to tell Gazans which parts of the enclave to evacuate. The eastern quarter of Khan Younis was marked out on it on Monday, and is home to hundreds of thousands of people, many of whom took flight on foot.
"What civilians should do to stay safe is listen to the instructions that are coming out from our Twitter accounts, from our website, and also to look at the leaflets that are landing in their areas," Israeli military spokesperson Richard Hecht told reporters on Tuesday.
Gazans say there is no safe place left to go, with remaining towns and shelters already overwhelmed.
The post Israeli Forces Launch Storm of Gaza's Khan Younis in 'Second Stage' of Ground Campaign first appeared on Algemeiner.com.
Iran Says Not Involved in Any Actions Against US Military Amid Wave of Attacks by Tehran-Backed Groups
Iran's UN envoy Amir Saeid Iravani said his country has not been involved in any actions or attacks against US military forces, the semi-official Tasnim news agency reported on Tuesday.
The United States has blamed Yemen's Iran-allied Houthi group for a series of attacks in Middle Eastern waters since war broke out between Israel and the Palestinian terrorist group Hamas on Oct. 7.
Iran-backed militias have also been carrying out attacks targeting US forces in Iraq and Syria.
In a briefing with reporters on Monday, US national security adviser Jake Sullivan said Washington has "every reason to believe that these attacks, while they were launched by the Houthis in Yemen, are fully enabled by Iran."
This week, three commercial vessels came under attack in international waters in the southern Red Sea. The Houthis acknowledged launching drone and missile attacks against what they said were two Israeli vessels in the area.
Iran's Foreign Ministry spokesperson Nasser Kanaani also dismissed as "baseless and unconstructive" remarks by the British government that said Iran was responsible for any attacks by the militant groups it supports.
"As we have clearly stated before, resistance groups are not taking orders from Tehran to confront the war crimes and genocide committed by Israel," Kanaani added.
The post Iran Says Not Involved in Any Actions Against US Military Amid Wave of Attacks by Tehran-Backed Groups first appeared on Algemeiner.com.
Israel Investigates Possible Trading Knowledge Ahead of Oct. 7 Hamas Massacre
Israeli authorities are investigating claims by US researchers that some investors may have known in advance of a Hamas plan to attack Israel on Oct. 7 and used that information to profit from Israeli securities.
Research by law professors Robert Jackson Jr. from New York University and Joshua Mitts of Columbia University found significant short-selling of shares leading up to the attacks, which triggered a war nearly two months old.
"Days before the attack, traders appeared to anticipate the events to come," they wrote, citing short interest in the MSCI Israel Exchange Traded Fund (ETF) that "suddenly, and significantly, spiked" on Oct. 2 based on data from the Financial Industry Regulatory Authority (FINRA).
"And just before the attack, short selling of Israeli securities on the Tel Aviv Stock Exchange (TASE) increased dramatically," they wrote in their 66-page report.
In response, the TASE referred Reuters to the Israel Securities Authority, which said: "The matter is known to the authority and is under investigation by all the relevant parties."
A spokeswoman for the securities regulator did not elaborate, and Israeli police did not immediately comment.
The researchers said short-selling, in which investors expect the share price to fall, allowing it to be bought back at a lower price at a profit, prior to Oct. 7 "exceeded the short-selling that occurred during numerous other periods of crisis."
That includes the recession following the financial crisis in 2008, the 2014 Israel-Gaza war, and the COVID-19 pandemic.
They wrote that for Leumi, Israel's largest bank, 4.43 million new shares sold short over the Sept. 14 to Oct. 5 period yielded profits of 3.2 billion shekels ($862 million) on that additional short-selling.
"Although we see no aggregate increase in shorting of Israeli companies on US exchanges, we do identify a sharp and unusual increase, just before the attacks, in trading in risky short-dated options on these companies expiring just after the attacks," they said.
"Our findings suggest that traders informed about the coming attacks profited from these tragic events, and consistent with prior literature we show that trading of this kind occurs in gaps in US and international enforcement of legal prohibitions on informed trading."
The professors referred to patterns in early April when it was reported that Hamas was initially planning its attack on Israel. "Short volume in EIS (the MSCI Israel ETF) peaked on April 3 at levels very similar to those observed on Oct. 2, and was far higher by an order of magnitude than other days prior to April 3," they said.
The story of the new study was first reported on Israel's financial news website The Marker.
($1 = 3.7120 shekels)
The post Israel Investigates Possible Trading Knowledge Ahead of Oct. 7 Hamas Massacre first appeared on Algemeiner.com.