These queer newlyweds are modeling Jewish joy for LGBTQ youth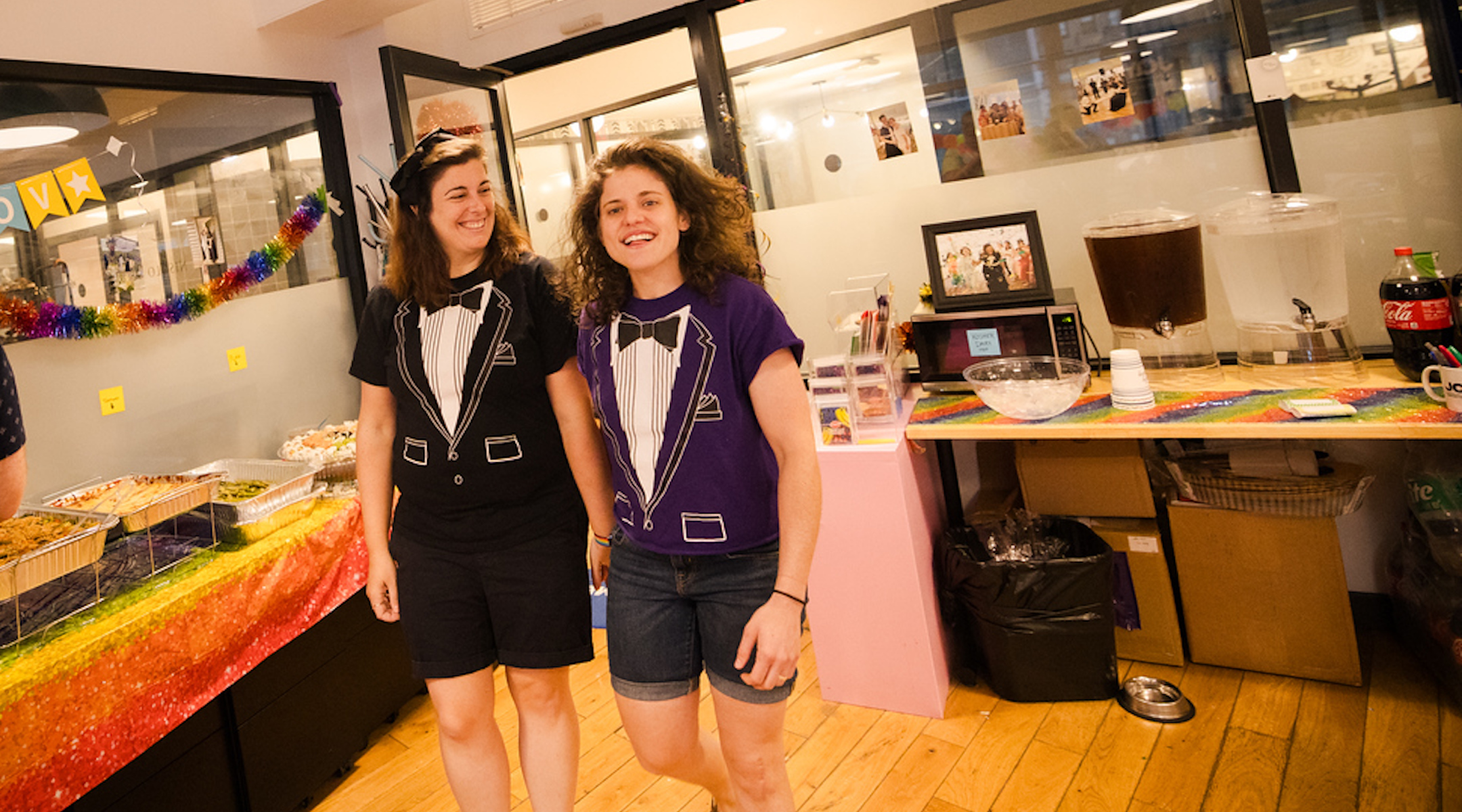 (New York Jewish Week) — The table at the center of the room, set for 16, was festooned with a rainbow tablecloth and sparkles, and surrounded by about a dozen college-age guests. At its head were two chairs decorated with rainbow necklaces and flags and set for the guests of honor: Both place settings came with a headband with the word "bride" written across the top.  
The group had come together last week for a sheva brachot, a Jewish celebration in which loved ones and community members gather in the week following a wedding to bless the newlyweds over a festive meal. The celebrations are common among observant couples.
But for many of the celebrants, even those who had attended other such festive meals, the dinner was still a milestone: It was their first time attending a sheva brachot for an LGBTQ couple, Rachael Fried and Henna Warman, who were married on Sept. 3.  
The dinner was hosted by Jewish Queer Youth, and for one of the brides, Rachael Fried, it was more than just a celebration of her marriage. It was also a step forward for the cause she champions: supporting Orthodox LGBTQ youth and showing them that they, too, can live full lives despite Orthodox Judaism's traditional rejection of LGBTQ relationships. 
While some Orthodox communities have tried to make space for LGBTQ members, the vast majority of Orthodox rabbis, citing prohibitions in traditional Jewish law, do not conduct LGBTQ weddings. Orthodox LGBTQ Jews have said they feel marginalized and discriminated against in the communities where they grew up, and recent manifestations of that discrimination have catalyzed JQY's work. 
"Queer youth from Orthodox homes don't really get to celebrate or see a lot of communal happiness or shared queer joy today," Fried, 36, who is JQY's executive director, told the New York Jewish Week. "It can also be really hard for a lot of JQYers to envision a future for themselves."
JQY serves Orthodox youth ages 13 to 23, and the celebration was part of a larger initiative the group is launching called "Share your simcha," a Hebrew term connoting a lifecycle celebration. The initiative invites queer Jews celebrating various life events to share their experiences with JQY members so that the young people can see a world in which they, too, can celebrate traditional Jewish milestones and other joyous moments.  
"When you hear about queer life experiences, you usually hear lots of negative ones — you don't really hear about the positive ones," said Shlomo Satt, who attended the sheva bracha with his fiancé, Mattan Rozenek. "There's certainly no frame of reference for queer joy or queer simchas. How many gay weddings as a teenager did I see? Zero. We've never been to a gay wedding and we're getting married."
Satt, who grew up in a Haredi community in Far Rockaway, Queens, said that he chose to join JQY for a sheva brachot by "putting myself in the perspective of the young queer person."
"It would have meant the world to me to realize I don't have to sacrifice anything. I can have a life. I don't need to lose anything," he said.
JQY's entire membership was invited to Thursday night's celebration, which took place in Times Square at the JQY "Drop-In Center," a space where members can meet with social workers and psychologists, eat snacks, participate in support groups and hang out with fellow queer Jews. 
The meal carried many of the hallmarks of a standard sheva brachot, and a few differences. It took place five days after the wedding and guests ate a sumptuous dinner of baked ziti, sushi, salad and cupcakes. 
But instead of the seven blessings traditionally recited at the end of the meal — a repetition of the blessings said under the chuppah — guests went around the room offering personalized blessings for the couple's marriage and future.
Amid those blessings, one JQY member shared a memory of when Fried helped them navigate a stalled subway after a JQY meeting late one evening. They wished upon Fried and Warman that "even when taking unexpected paths, they will always find their way back home."
Others wished the couple "a lifetime of happiness" and to "appreciate the mundaneness and the quiet moments of living every day with your soulmate." 
Fried and Warman, a 32-year-old psychiatric nurse practitioner, also offered to answer any questions about the logistics — and emotions — involved in planning and executing a queer Jewish wedding. 
The two met on the Jewish dating app JSwipe at the beginning of the pandemic. Both grew up in traditional Orthodox communities — Fried in Fairfield, CT and Warman in the Brooklyn neighborhood of Flatbush. 
One attendee asked them why they decided to switch the words of one of the seven blessings from "chosson v'kallah" — bride and groom — to "Rachel v'Henna," their names. They said it was a friend's idea and that it made the blessings feel more natural and personal. 
Another asked what the biggest surprise of the wedding was, and a third what they felt most unprepared for. 
"The biggest surprise was that, for all the stress of worrying about who would come and who wouldn't come from my family, it didn't end up mattering at all once the wedding was happening," Warman said. "It was just such a happy day, I really couldn't notice or care." 
And when it came to what they were least prepared for, the answer could have come from any newlywed: "Keeping up the stamina of dancing the whole night," Fried said. 
Those answers could be of use to Satt and Rozenek, the engaged couple at the dinner, who said they hope to host a sheva brachot with JQY when they get married next month. Rozenek said he wished he had been able to meet queer, observant couples earlier in life — not just so he could see his identity reflected, but for help answering the kinds of questions asked by attendees at last week's event.
"It's like networking, so to speak," Rozenek said. "Once you know somebody [queer] who is getting married, you can say to yourself, 'If and when I have a wedding, I know where I can turn to.' We want to continue that train and help people realize: you are not the first person to ever do this," he said. 
The "Share your simcha" initiative was something Fried and other JQY staff had been formulating in recent years as a way to "bring Jewish queer joy to our community," Fried said. She added, "The tagline for this initiative is to 'celebrate Jewish queer joy today and picture a queer Jewish tomorrow.' That is exactly what we're trying to do."
JQY decided to expedite the program in June, when the wedding of two Orthodox women went viral in Orthodox Whatsapp groups and on Twitter, where users lambasted the ceremony. In light of that, JQY wanted to show their support and joy for the couple, who had been members of the organization in the past, Fried said. 
The launch of the initiative also follows what has been a busy year for the organization, which has been involved in an ongoing legal battle against Yeshiva University, the Modern Orthodox flagship, over its refusal to recognize an LGBTQ student group. After a judge ruled that the university must recognize the club, called the YU Pride Alliance, the university temporarily suspended all student clubs at the beginning of the 2022-2023 school year. JQY responded by offering funding and event space to any student club affected by that decision. (The Pride Alliance later put its demands on hold pending the legal appeals process, and the school's student groups were reinstated.)
Fried and Warman's celebration was the fourth hosted by JQY since June as part of the "simcha" initiative. There have also been two other weddings, as well as an upsherin, a ceremony held at a boy's third birthday in which his hair is cut for the first time. The boy's two mothers were previously members of JQY.
In addition to being a way to showcase queer joy for younger Jews, Fried and Warman said it was a treat to be celebrated by a community that can relate to their identities. 
"As much as this is for the youth, it's also for the people who are celebrating," Fried said. "I don't really get to have a celebration where it is just the queer community celebrating my simcha, so it's cool to have this queer space for this queer simcha."
—
The post These queer newlyweds are modeling Jewish joy for LGBTQ youth appeared first on Jewish Telegraphic Agency.
A Jewish-owned hot dog empire began on this Coney Island street corner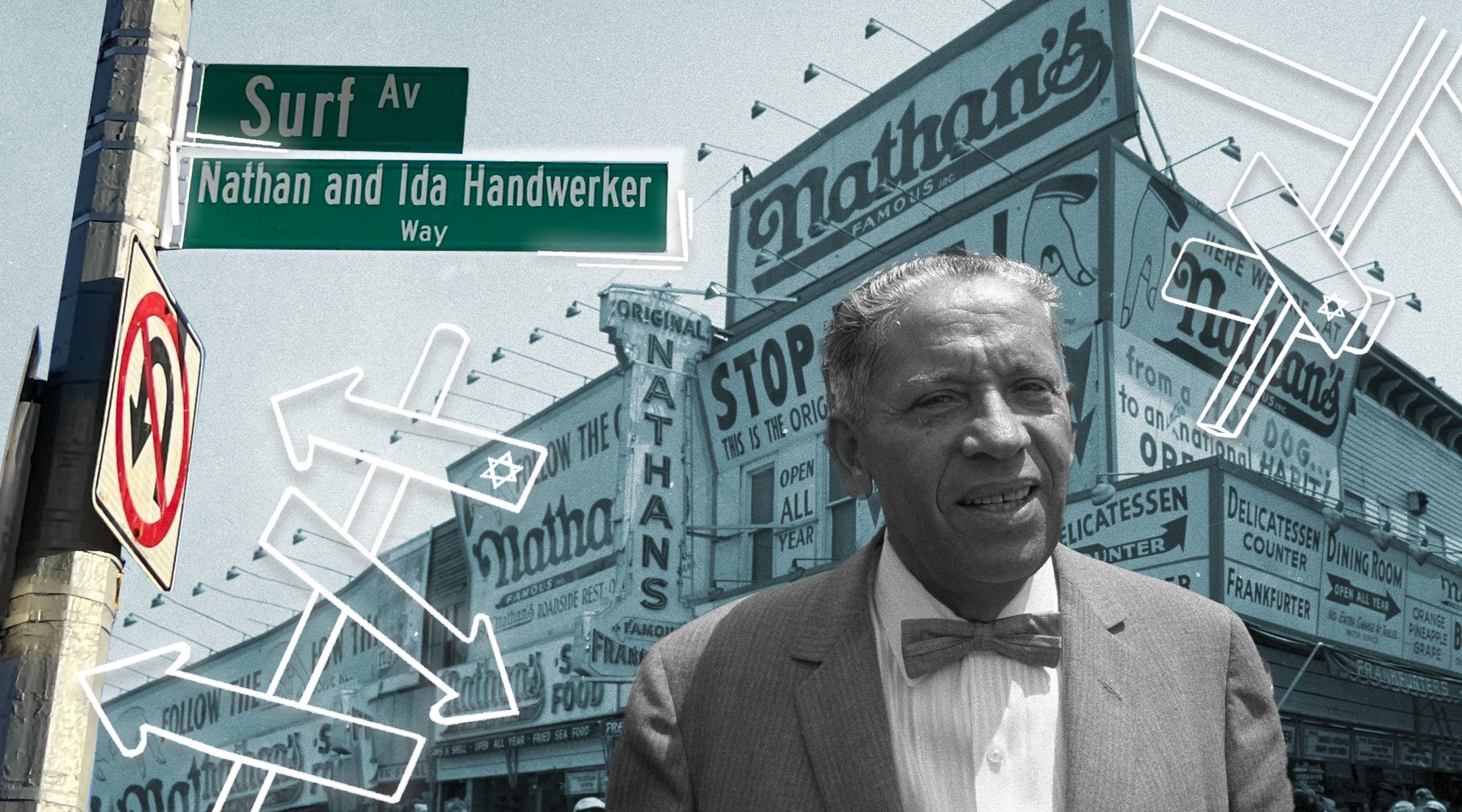 (New York Jewish Week) — For many generations of New Yorkers, eating a Nathan's Famous hot dog from their Coney Island flagship location is a staple of summer. The iconic hot dog stand just celebrated its 107th season at the city's iconic beachside destination. 
Nathan's Famous — which started as a nickel hot dog stand and grew to a franchised business that today has over 350 locations in 12 countries — may be most famous today for its annual Fourth of July hot dog eating contest. It is named for its founder, Nathan Handwerker, a Polish Jewish immigrant who, along with his wife, Ida, opened Nathan's Famous in 1916, when he was 19.
"It was his life," Handwerker's grandson, Lloyd Handwerker, who made a 2014 documentary and wrote an accompanying book about his family history, both titled "Famous Nathan," told the New York Jewish Week
"He had brilliant instincts about running a business — basic ideas which seem simple, but they work well," Lloyd said. "Which is keeping the price low, having the quality be great, being a stickler, paying people well and caring about the customer."
On Sept. 24, 2016, the 100th anniversary of the founding of Nathan's Famous, New York City co-named the corner of the Surf and Stillwell Avenues Nathan and Ida Handwerker Way. 
"Nathan and Ida Handwerker worked together for over 50 years and were part of the few generations who formed the rich Coney Island culture that is now renowned throughout the nation and all over the world," Lloyd Handwerker's cousin, William, said at the unveiling event. "It is an honor to celebrate their legacy by memorializing their names on the street corner that houses the original Nathan's."
(Lloyd was supposed to give a speech alongside his family, but his father, Sol, died just days before the ceremony.) 
Also present that day was Eric Adams, who at the time was Brooklyn Borough President, and Mark Treyger, the Jewish city council member for District 47, which includes Coney Island. "The corner of Surf and Stillwell Avenues in Coney Island is now known as Nathan and Ida Handwerker Way, after the husband and wife team who grew a hot dog food cart into a brand that is known worldwide," Treyger said at the ceremony. 
"The inspiring story of these two immigrants, who came to this country facing an uncertain future, working hard to create a product that means so much to so many, is what the American Dream is all about," he added.
Handwerker arrived in the United States from Poland in 1912 and took a job as a delivery boy during the week. On the weekends, he sliced rolls at Feltman's German Gardens, a restaurant in Coney Island — where he met a waitress who would become his wife. 
By 1916, the couple had saved $300, enough to open their own, competing hot dog restaurant. They used Ida's secret spice recipe to make their hot dogs, for which they charged 5 cents — half the price of a dog at Feltman's. 
Considering the low price of the product, customers were skeptical at first, so Handwerker allegedly hired men to wear white coats while eating his hot dogs. The image would lend his business credibility, as customers figured that if doctors were eating the hot dogs, they could, too. 
The business grew steadily over the next half century, with Handwerker working 18-20 hours a day cooking food, selling it and running the business. When the company went public in 1968, Handwerker was elected chairman of the board.
"As a grandfather, he was a very sweet, soft guy. I had no idea what kind of boss he was," said Lloyd. "It's different for different people, but I found out he was pretty tough. He was a stickler, and he was clearly a perfectionist about everything — about the quality, about the workers."
As for Ida Handwerker, in addition to creating the recipe for the hot dogs, she was often in the back kitchen, peeling and chopping onions, garlic and potatoes, Lloyd said. "My grandmother, too, my dad said, was also pretty tough in her own way," he said. "She worked in the business for many, many years alongside [Nathan], especially in the early days. She was a great grandmother, warm and wonderful. But I guess they both came up hard and tough."
By the time Nathan Handwerker died in 1974 at 81, Nathan's Famous Hot Dogs was a household name. Over the years, the hot dog stand became a favorite for celebrities like Barbra Streisand and Regis Philbin. In 1936, the hot dogs were served at a lawn party hosted by President Franklin D. Roosevelt in honor of King George VI and Queen Elizabeth. 
The Coney Island location was also an essential stop for politicians from City Council members to the president of the United States. "No one can hope to be elected to public office in New York without having his picture taken eating a hot dog at Nathan's," former New York Gov. Nelson A. Rockefeller once told Handwerker during a campaign visit to Coney Island, according to the New York Times. 
Handwerker retired to Florida in 1972, with his son Murray taking over and expanding the business. Nathan's first hot dog eating contest was that same year.
Lloyd Handwerker, who was 17 when his grandfather died, began working on his film in the 1980s, and over the course of 30 years he interviewed some 75 friends, family members and associates of Nathan's Famous. "My grandfather was always telling stories around the dining room table at the holidays and dinners," he said. "By the time I took a video class and had access to a camera, my grandfather and my grandmother had passed away, but I still thought 'we should be preserving this history.'"
Though he never worked at Nathan's Famous, Lloyd, who grew up in a Reform Jewish household in Long Island, said that he has fond memories of visiting his grandparents' office in Coney Island, as well as celebrating Jewish holidays at their house in Florida. "My grandmother cooked amazingly, so I have a lot of great memories of Passover in particular," he recalled. Lloyd said that though his grandfather grew up traditionally religious in Poland, he didn't keep many traditional customs by the time he came to the United States. 
And yet, some tenets of Judaism were deeply ingrained in the entrepreneur: Though he didn't hire a rabbi to certify the kitchen, Handwerker coined the term "kosher-style" for his restaurant, because his hot dogs were made with 100% beef and therefore could be kosher. 
Plus, "the one day that the restaurant was closed out of the whole year was Yom Kippur, so it still obviously meant something to him," Lloyd said of his grandfather. 
Nathan's Famous is now owned by Smithfield, a subsidiary of the Chinese meat and food processing company WH Group. However, the family still owns the original Coney Island building and is the landlord for Nathan's Famous there.  
"As far as his legacy, he was obviously very proud of what he created," Lloyd said of Nathan. "He was a pretty humble guy, but look at what he did: He came from starvation in Poland, without an education. He didn't know how to read or write, he was basically illiterate and he built this institution that  everyone has a story about. It's amazing."
—
The post A Jewish-owned hot dog empire began on this Coney Island street corner appeared first on Jewish Telegraphic Agency.
​​Biden's new book ban czar is a longtime progressive Jewish leader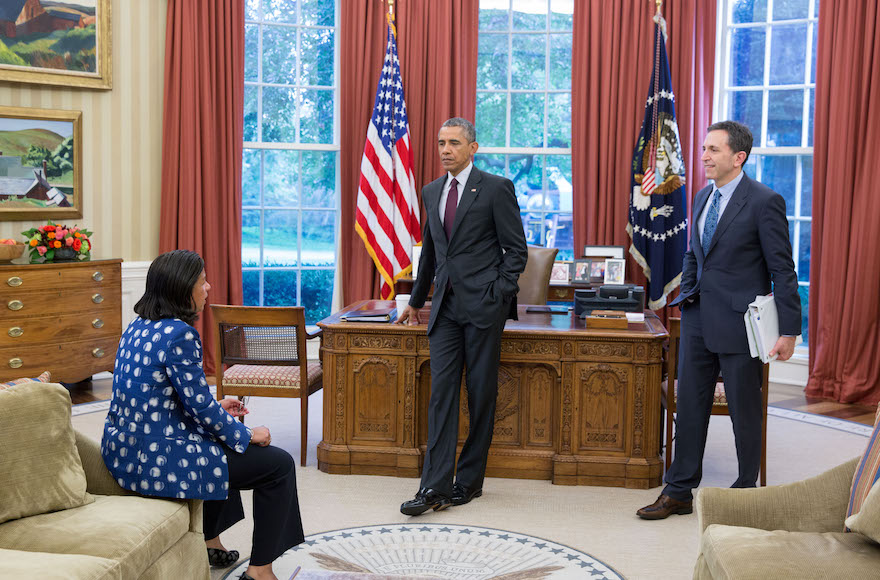 (JTA) – The Biden Administration's new point person for combating book bans at school districts and public libraries across the country is a gay, Jewish progressive activist who has served as a government liaison to the Jewish and LGBTQ communities.
The appointment of Matt Nosanchuk comes as the thousands of book challenges nationwide have focused on books with LGBTQ as well as Jewish themes, in addition to works about race. Nosanchuk was named a deputy assistant secretary in the Department of Education's civil rights office earlier this month. In that role, he will lead training sessions for schools and libraries on how to deal with book bans — and warn districts that the department believes book bans can violate civil rights laws.
An Education Department official recently told the 74, an education news site, that the bans "are a threat to students' rights and freedoms."
"I am excited to return to public service to work on behalf of the American people," Nosanchuk posted to LinkedIn earlier this month. "There is a lot of important work to do!"
The Education Department declined to make Nosanchuk available for an interview. He has already taken heat from conservative outlets, which have pushed the narrative that the books being removed from schools and libraries are too sexually explicit for children. Kayleigh McEnany, the Fox News host who served as Donald Trump's press secretary, called him a "porn enforcer" on-air.
But his appointment has been celebrated by librarians and book access activists. "This is a step forward for the Biden Administration, who has heard the concerns of parents and taken action, but it is just the beginning," the National Parents Union, a progressive parental education activist group, said in a statement.
Nosanchuk's career has largely focused on working with the LGBTQ and Jewish communities. In 2009, after serving in a number of roles in Washington, D.C., Nosanchuk was appointed as the Department of Justice's liaison to the LGBTQ community — a position he held while Obama was still publicly opposed to same-sex marriage. He later worked on the Obama administration's opposition to a law barring same-sex couples from receiving federal benefits.
He subsequently served as the White House liaison to the Jewish community during Obama's second term, and in 2020 was the Democratic National Committee's political organizer for Jewish outreach and LGBTQ engagement. That same year, he cofounded the New York Jewish Agenda, a progressive policy group that he led until earlier this year.
Nosanchuk's first webinar in his new role was held Tuesday in partnership with the American Library Association, an organization with which a number of Republican-led states have recently cut ties. He begins his work after a year that has seen several school districts take aim at books focused on Jewish experiences or the Holocaust.
Two weeks ago, a Texas school district fired a middle school teacher reportedly for reading a passage from an illustrated adaptation of Anne Frank's diary to eighth-grade students. Other schools' removals of "The Fixer," a Jodi Picoult novel about the Holocaust and other texts have been likened to Nazi and Stalinist book burnings —  comparisons that proponents of the book restrictions reject.
Democratic politicians, including House Minority Leader Hakeem Jeffries, have accused Republicans of wanting "to ban books on the Holocaust." A recent Senate hearing on book bans included testimony from Cameron Samuels, a Jewish advocate for access to books, along with numerous references to "Maus," a graphic novel by Art Spiegelman about the Holocaust that was pulled from a Tennessee middle school curriculum last year.
PEN America, a literary free-speech advocacy group, welcomed Nosanchuk's appointment.
"Book removals and restrictions continue apace across the country, as the tactics to silence certain voices and identities are sharpened," the group said in a statement. "Empowering the coordinator to address this ongoing movement is critical."
—
The post ​​Biden's new book ban czar is a longtime progressive Jewish leader appeared first on Jewish Telegraphic Agency.
Ohio high school football coach resigns after players use 'Nazi' in play calls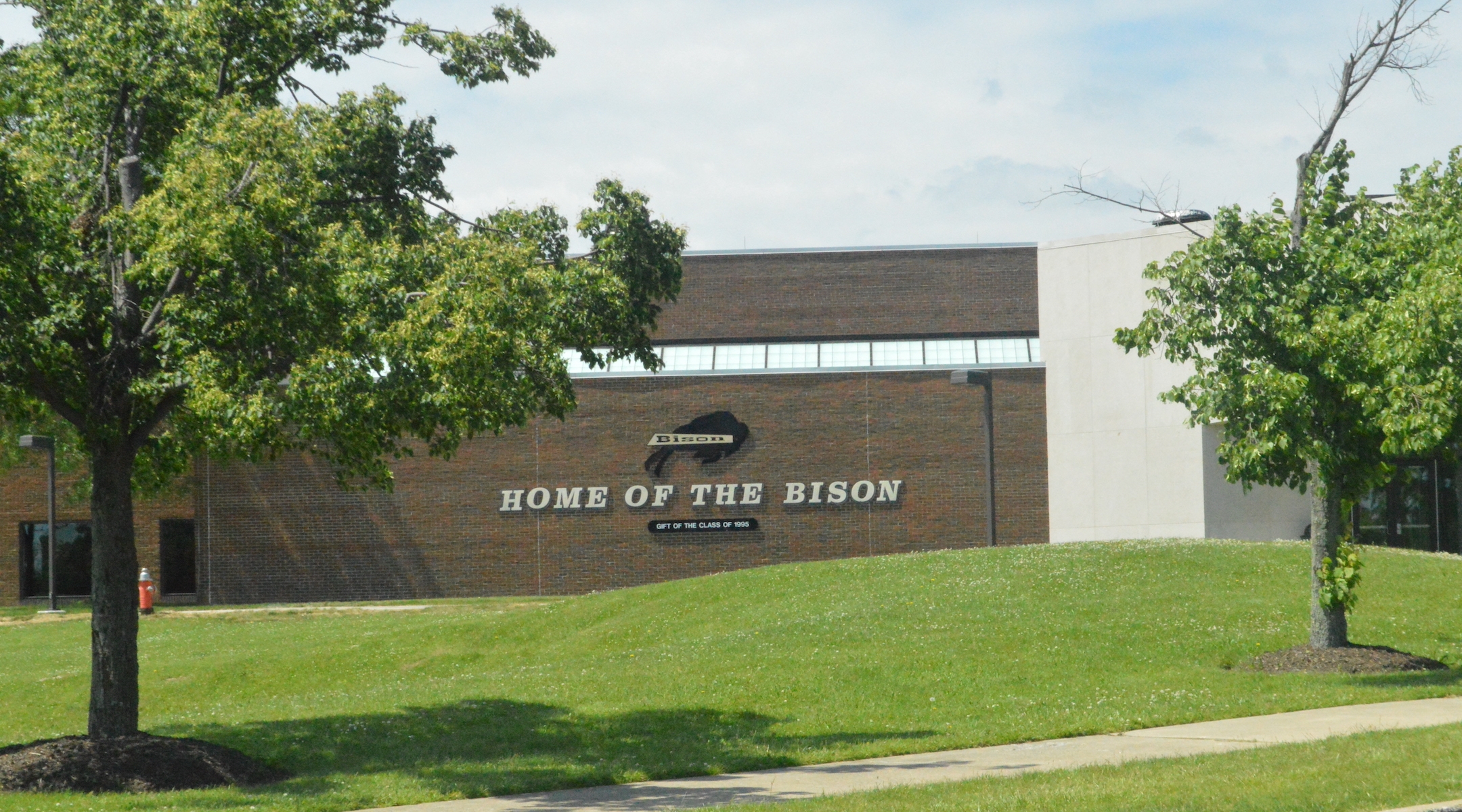 (JTA) — A high school football coach in suburban Cleveland has resigned after his team used the word "Nazi" in addition to racial slurs in its play calling during a game on Friday against a team in a heavily Jewish town.
Tim McFarland, the coach of Brooklyn High School in Brooklyn, Ohio, submitted his resignation Monday and apologized via a statement written by the district, the Cleveland Jewish News reported. Local Jewish groups have also reached out to district officials, who have indicated a willingness to work with them.
Brooklyn was playing the team from Beachwood, a suburb with the second-highest rate of Jewish residents in the country.
The offensive play calls were first flagged by Beachwood's head coach, Scott Fischer, at halftime, the school's athletic director told parents in an email after the game.
"During my discussion with Coach Fischer at halftime, we agreed that if these actions continued we would pull our team off the field," wrote the school's athletic director, Ryan Peters, as reported by the Cleveland Jewish News. Peters said that McFarland admitted to using the "Nazi" play and agreed to change the name of the play for the game's second half. The mother of a Beachwood cheerleader told the Cleveland Jewish News they couldn't hear the offensive language in the stands.
The language was also condemned by the mayor and city council of Beachwood.
It was not the first time in recent memory a high school football team employed antisemitic language in its play calling. In 2021 a Boston-area school was found to have used terms including "Auschwitz," "yarmulke" and "rabbi" in its own plays for at least a decade, part of what an investigation revealed was a long history of antisemitic and homophobic behavior. That school's football coach was also fired, and the state of Massachusetts soon passed new laws to require genocide education in high schools in response to that and other antisemitic school sports incidents in the state.
In recent months, Jewish high school sporting events in Miami and Los Angeles were home to alleged antisemitic taunts. Both were alleged to have come in response to antagonistic or even racist behavior by Jewish students, according to local reports. Another high school in the Sacramento area is investigating reports that four students made Nazi salutes on social media earlier this month.
—
The post Ohio high school football coach resigns after players use 'Nazi' in play calls appeared first on Jewish Telegraphic Agency.