Thousands rally in Times Square to demand release of Hamas hostages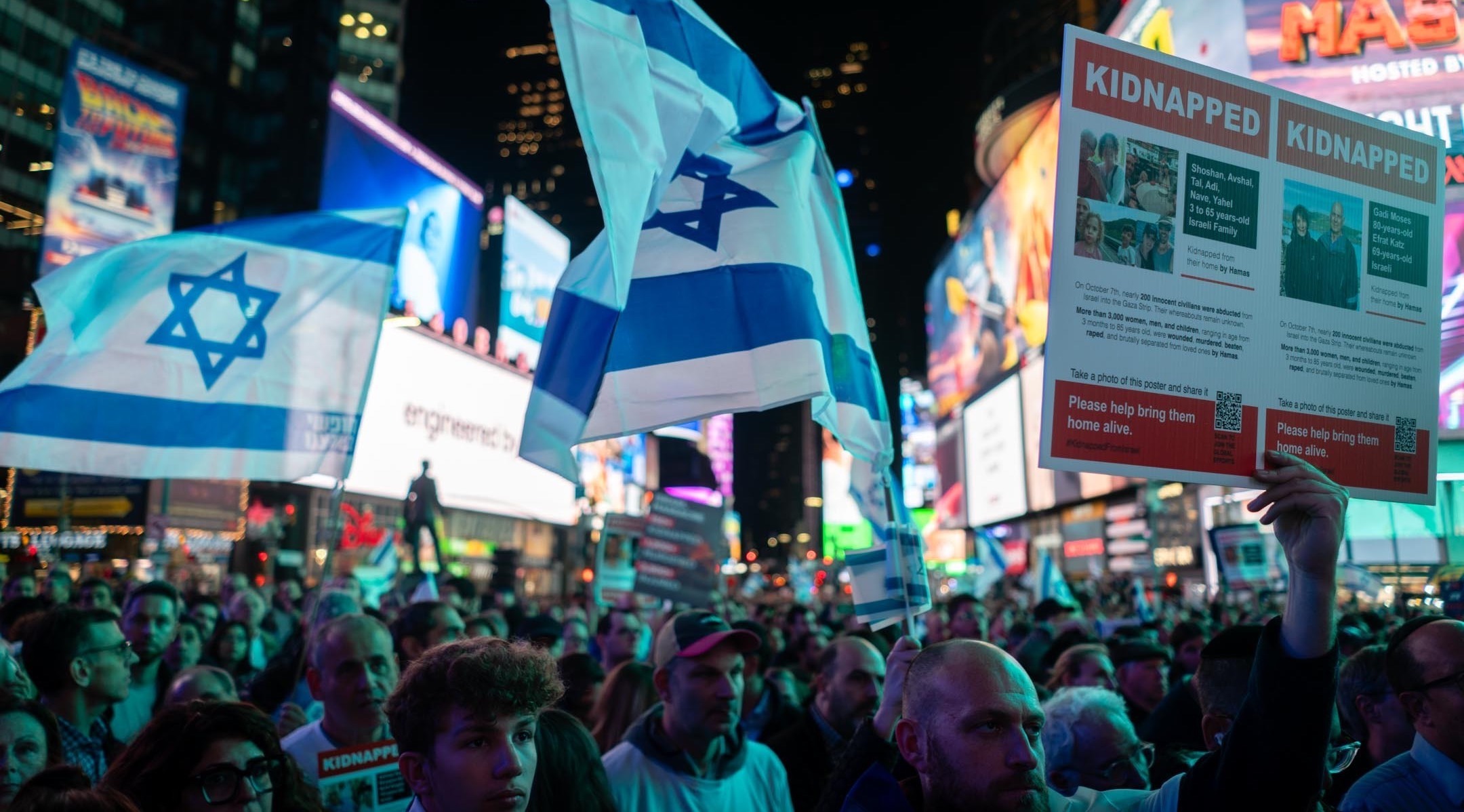 (New York Jewish Week) — Ronen and Orna Neutra told large crowd in Times Square that their son, Omer, had captained his soccer team at his Long Island high school and loved the NBA. They last spoke to Omer on Oct. 6 while he was stationed with his tank unit on the Gaza border and he said he looked forward to a restful Shabbat.
"Omer is now considered to be held by Hamas," his father said. "Omer, we know that you're alive and you're strong."
"We pray for your swift return," he said.
The parents delivered the speech as part of a massive "Bring Them Home" rally Thursday evening organized by the Israeli American Council and backed by a range of Jewish groups. Thousands Israel supporters packed into Times Square for the event, bearing Israeli and American flags and photos of the 200 hostages held by terrorists in Gaza.
Additional photos of the hostages were displayed on the LED billboards along Broadway and Seventh Avenue.
Community leaders including Senate Majority Leader Chuck Schumer and Israel's ambassador to the UN, Gilad Erdan, addressed the crowd, vowing to bring back the hostages and defeat Hamas, and leading chants of "Bring them home." Israeli star Shiri Maimon sang Israel's national anthem, "Hatikvah."
"To free the hostages we will persist and persist and persist," said Schumer, who had recently returned from a trip to Israel."In every generation they have risen to afflict us," he said. "But we know in every generation we fight back until we win."
—
The post Thousands rally in Times Square to demand release of Hamas hostages appeared first on Jewish Telegraphic Agency.
The Jewish Sport Report: The Hughes brothers make even more Jewish hockey history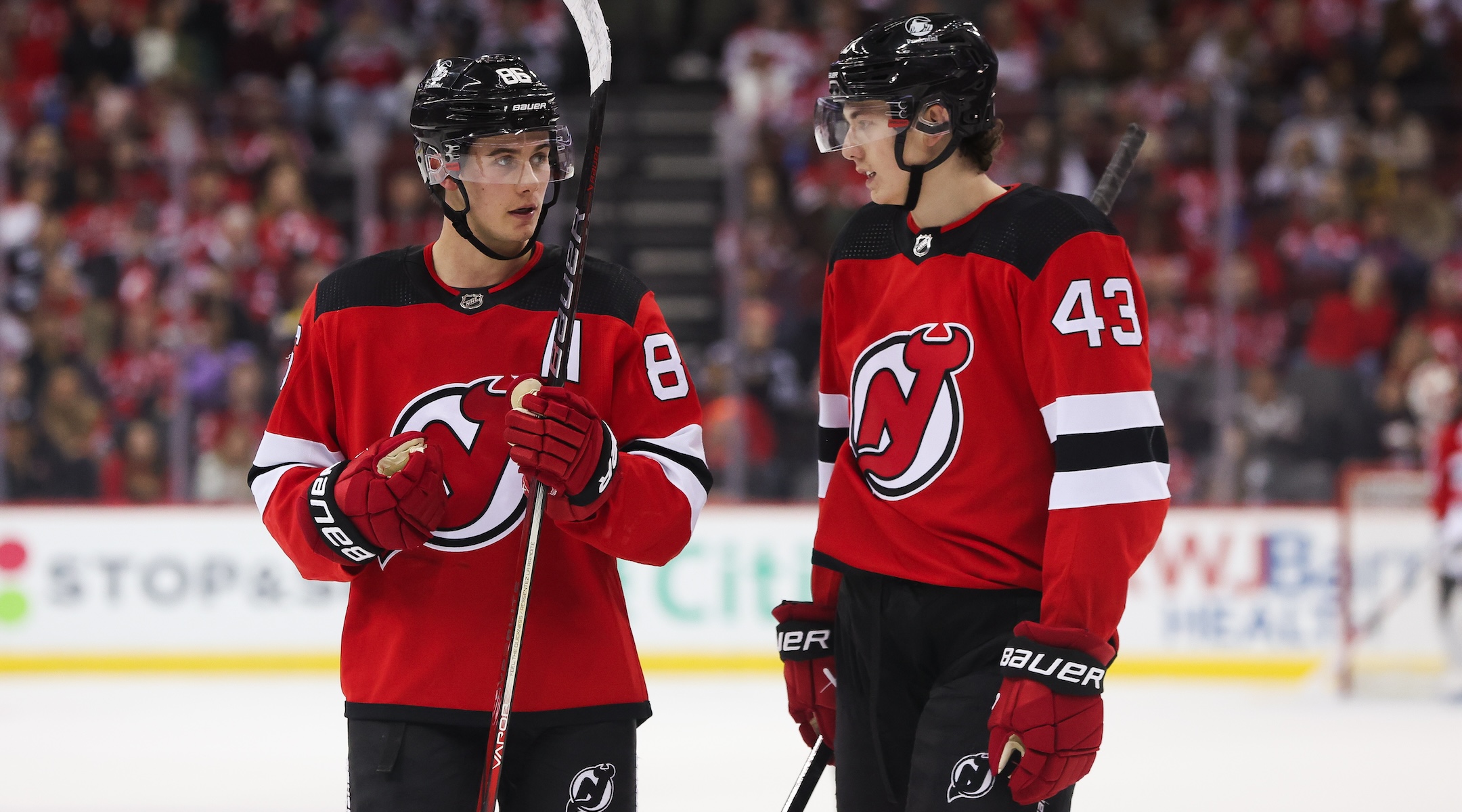 This article was sent as a newsletter. Sign up for our weekly Jewish sports newsletter here.
Hello and Happy Hanukkah! 
What do sports and Hanukkah have in common? Sure, there's lots of fried food involved, but I'm talking about the idea of miracles. Underdogs. Victory against all odds.
A couple years ago, the Jewish Sport Report team put our heads together and listed what we thought were the eight greatest Jewish sports miracles ever — one for each night of the holiday — plus a shamash to ignite them all.
Check out our list here, and let us know what other Jewish sports miracles you would put on your hanukkiah.
The National Hughes League
Jack, Luke and Quinn Hughes made Jewish hockey history this week when they became the first trio of Jewish brothers to play in the same NHL game (and I thought my two brothers and I had a shot…).
Jack and Luke's New Jersey Devils came out on top against Quinn's Vancouver Canucks in what many dubbed the "Hughes Bowl." But all three brothers showed why they're among the NHL's brightest stars: Jack scored a goal with two assists, Luke scored a power play goal (assisted by Jack) and Quinn had two assists.
"I thought both Luke and Quinn played really well," Jack Hughes told ESPN after the Devils' 6-5 win. "A lot of fun to play with them."
"Getting a picture in warmups was pretty cool," Luke said. "I haven't really let it all sink in yet. For me, it's seeing him off ice, I haven't seen (Quinn) in a couple of months, and it's been the five of us. Our whole family has been here for two days, going to dinner and hanging out. It's been great for our family."
Read more about the Hughes brothers' historic day here.
Halftime report
Canadian-Israeli businessman Sylvan Adams donated $100 million to Ben-Gurion University in Beersheva as southern Israel works to rebuild after Hamas' Oct. 7 attack. Adams, who won a cycling world championship for Israel earlier this year, has been a significant supporter of the sport's growth in the country.
MATCHMAKER, MATCHMAKER. Speaking of $100 million donations, New England Patriots owner Robert Kraft is giving another $100 million to his Foundation to Combat Antisemitism as a matching donation after the Norman R. Rales and Ruth Rales Foundation pledged the same amount.
BRIGHT FUTURE AHEAD. Here's a name Jewish hockey fans will want to know: Zeev Buium, a star defenseman at the University of Denver who is considered among the top prospects for the 2024 NHL Entry Draft. Buium's mother Miriam played pro basketball in Israel.
HOMESICK. Injured Tottenham player Manor Solomon said this week that it's been hard to think about anything other than the ongoing war in his home country. "These days are truly terrible," he told the Israeli news site Ynet. "Every day, you just look at the news and your phone, and the television is on all the time to see what's happening. We all hope that all the hostages will return and that there won't be any more losses for us."
FLYING HIGH. Businessman David Rubenstein may soon add another line to his already lengthy resume. Rubenstein, the cofounder of a private equity firm who also chairs the Kennedy Center for the Performing Arts (among a number of prestigious chairmanships) is reportedly interested in buying his hometown Baltimore Orioles. Bloomberg estimates Rubenstein's net worth at $4.6 billion.
Jews in sports to watch this weekend
IN BASKETBALL…
Deni Avdija and the Washington Wizards face the Brooklyn Nets tonight at 7:30 p.m. ET. Domantas Sabonis and the Sacramento Kings play the Phoenix Suns tonight at 9 p.m. ET. In the G League, Amari Bailey and the Greensboro Swarm face the Delaware Blue Coats tomorrow at 6 p.m. ET, and Ryan Turell and the Motor City Cruise take on the Windy City Bulls Sunday at 6 p.m. ET. The Orthodox prospect has not seen much playing time yet this season.
IN HOCKEY…
Jake Walman — who will soon have his own bobblehead — and the Detroit Red Wings host Jakob Chychrun and the Ottawa Senators tomorrow at 7 p.m. ET. Devon Levi, who's back in the NHL after a brief AHL stint, and his Buffalo Sabres host the Montreal Canadiens tomorrow at 7 p.m. ET. Sunday at 4 p.m. ET, Jack and Luke Hughes' New Jersey Devils face off against Zach Hyman's Edmonton Oilers.
IN FOOTBALL…
Here's the Jewish schedule for Week 14 in the NFL:
Sunday at 1 p.m. ET: Michael Dunn and the Cleveland Browns host the Jacksonville Jaguars.
Sunday at 4:05 p.m. ET: Jake Curhan and the Seattle Seahawks play the San Francisco 49ers, while Greg Joseph and the Minnesota Vikings face the Las Vegas Raiders.
Sunday at 8:15 p.m. ET: A.J. Dillon and the Green Bay Packers play the New York Giants on "Sunday Night Football."
IN SOCCER…
After a rough 5-0 loss against Fulham on Wednesday, Matt Turner and his Premier League club Nottingham Forest host the Wolves tomorrow at 10 a.m. ET.
Cleats for a cause
The Minnesota Vikings will be sporting Israel-themed cleats on Sunday. The shoes feature Stars of David, Israeli and American flags and the phrases "I Stand With Israel," "Am Yisrael Chai" and "Bring Them Home." The team is owned by Mark Wilf, a Jewish philanthropist who's currently serving as chairman of the board of the Jewish Agency for Israel.
This Sunday against the Raiders, various people within the Vikings organization will be supporting Israel on their feet.
Kicker Greg Joseph's cleats and sneakers that will be worn by the Wilfs and team CEO Andrew Miller.
Custom designed by @stadiumck. pic.twitter.com/SWfxm8PNLr
— Darren Rovell (@darrenrovell) December 8, 2023
—
The post The Jewish Sport Report: The Hughes brothers make even more Jewish hockey history appeared first on Jewish Telegraphic Agency.
California Coffee Shop Apologizes for Anti-Israel Employees Blocking Jewish Woman From Bathroom With Antisemitic Graffiti
Farley's Coffee in Oakland, California, issued an apology on Thursday after three staffers at the family-owned coffee shop blocked a Jewish woman from using the store's restroom, which will filled with antisemitic graffiti, and made anti-Israel comments.
The Jewish woman recorded a video, later shared on social media, that showed employees at Farley's Coffee standing in front of the door to the bathroom and asking her to leave the shop. The employees did not want the woman to go inside the bathroom and record antisemitic graffiti that said "Zionism=Fascism," and also accused her of "misgendering" an employee.
In a statement posted on Instagram, Farley's Coffee insisted "we're not antisemitic," and said it is "committed to ongoing staff training" after the incident.
"We do not support hate speech; this does not reflect our values," the coffee shop said. "After a customer used the bathroom and wished to return to document the graffiti, they were initially denied access and then allowed to re-enter to document the graffiti. The staff handled the situation poorly, and we apologize for this error and the distress caused to the customer."
The video recorded by the Jewish woman showed her repeatedly telling the three coffee shop staff members she wanted to use the restroom. One employee, seen wearing a yellow beanie and a face mask, told her: "This is a private property. I do need you to leave."
Another employee — wearing glasses, a black shirt, and a black apron — chimed in and said: "We've given you all your food. You've eaten, you're holding up s—t. I know Israel loves taking private property and saying it's their own, but we gotta head …"
A third employee, who had dyed blue hair and was wearing a red face mask, remained silent during the ordeal but stood in front of the restroom's closed door.
"I want to go into the restroom," the woman said repeatedly, noting that she "was patroned here" and had "a right to go into the restroom." The coffee shop employees keep telling her she needed to leave the establishment.
The back and forth continued for some time until another person, who claimed to work next door, offered to let the Jewish woman use their restroom. But the Jewish woman said she wanted to specifically use the one at the coffee shop and "should not be excluded and other people allowed." The employees kept on denying her entry until one of them told the woman she could use their other restroom.
"No, I want to use this," the woman said. A Farley's Coffee employee then replied, "All you want to get is a video of it saying that Zionism is fascism. Because it is."
"If you agree with it, why are you afraid that I will take a picture of it?" the Jewish woman replied. Finally, the third employee opened the bathroom door for the woman.
The woman entered and recorded the words "Zionism = fascism" written on the frame of the mirror that was above the bathroom sink. While recording the graffiti, one employee shouted, "History doesn't start in 1948, lady," referring to the year that the modern state of Israel was established. The Jewish woman then recorded the baby changing station inside the bathroom where someone had written, with spelling errors, that "your neutrality" is enabling "genocide" and "Free Palestine." Two of the employees then said "Free Palestine" as the Jewish woman continued recording.
Oakland, CA – 3 antisemitic employees at Farley's East coffee house (33 Grand Ave.) are filmed denying a Jewish woman's access to a bathroom after she complained that it was filled with antisemitic graffiti.
After FINALLY allowing her inside the restroom, the employees start… pic.twitter.com/t3rFMyRIDH
— nycphotog (@nycphotog) December 7, 2023
Farley's Coffee said it has "taken corrective measures with our staff and removed the offensive graffiti."
The post California Coffee Shop Apologizes for Anti-Israel Employees Blocking Jewish Woman From Bathroom With Antisemitic Graffiti first appeared on Algemeiner.com.
Jewish TikTok Employees Open Up About Antisemitism From Colleagues, Lack of Support From Management
Current Jewish and Israeli employees of TikTok opened up this week about facing antisemitism at the Chinese-owned social media company following the Hamas terrorist attacks on Oct. 7 in southern Israel and the ensuing war between the Jewish state and the terror organization controlling Gaza.
The employees, who opted to stay anonymous, detailed to Fox Business being targeted by coworkers of the video-sharing app with harassment and even calls to boycott companies and products related to Israel. They also said employees openly express antisemitic and anti-Israel sentiments on the company's internal chat system, Lark.
Screenshots obtained by Fox Business even show multiple TikTok employees celebrating the Oct. 7 Hamas massacre and promoting the Boycott, Divestment, and Sanctions (BDS) movement against Israel. The screenshots also show that even after Jewish employees reported to their managers about feeling threatened, TikTok failed to address their concerns.
One employee said many Jews working at TikTok feel like the company "no longer has any control over the 40,000 moderators working to fact-check and remove content that is inflammatory, inciting, and simply incorrect." Another employee said, "The teams dealing with policy at TikTok have always been overwhelmingly staffed with individuals who are openly hostile to Israel and whose opinions often blur the lines on antisemitism."
The same employee claimed that TikTok allows "the permissible posting of anything violent or gory relating to issues sympathetic to Palestinians. But when videos depicting evidence of atrocities against Jews are removed before the world can see them, we then feel that the world's most popular media platform is working against us as a people."
The Jewish employees who spoke to Fox Business all expressed similar sentiments that they have received insufficient support from senior management at TikTok in response to their concerns.
"Currently, the atmosphere for Jewish employees at TikTok is very difficult," said a Jewish employee based in the US. "We feel we were not provided with the relevant support that was afforded to our peers working in other tech companies at the outset of the conflict. We feel that we had to fight for recognition that something horrible had happened to us and fight for recognition of our very difficult feelings of insecurity."
The same employee said Jews working for the company feel they "should keep his or her head down far more than any other minority in terms of expressing themselves culturally or politically." In addition, the employee added, "many of us who expressed this to our [human resources] HR representatives were simply shrugged off."
A TikTok spokesperson denied the claims made by the employees, saying they "do not reflect the experience of the majority of our employees."
"TikTok has strong policies against discrimination and harassment in the workplace, and employees are encouraged to report their concerns – anonymously if they so choose," the spokesperson said to Fox Business. "Every incident is investigated by the appropriate internal team."
"Hateful ideologies, including antisemitism, are not and have never been allowed on our platform," the spokesperson added. "From Oct. 7 to Nov. 17, we have removed more than 1.1 million videos in the conflict region for breaking our rules, including content promoting Hamas, hate speech, terrorism ,and misinformation. Community guidelines are applied equally to all content, and our recommendation algorithm does not 'promote' one side of an issue over another."
In November, a group of more than 50 Jewish TikTok social media influencers, content creators, and celebrities blasted TikTok in an open letter for not doing more to counteract antisemitism and online hatred on the platform. Many of them — including Sacha Baron Cohen, Debra Messing, and Amy Schumer — then participated in a private video call with TikTok executives and accused the video-sharing app of "creating the biggest antisemitic movement since the Nazis."
"There are Jews [working within TikTok and outside] who are trying to fight this antisemitism," said one of the employees who spoke to Fox Business. "But there are two problems. One is that people are afraid of losing jobs and are therefore not speaking out enough. The other problem is that those at the top do not really care about fighting this and are making no real effort to change it."
Several members of the US Congress are also pushing to ban TikTok in the US, arguing in part that the platform, which is owned by the Chinese company ByteDance, is a national security concern and also promoting anti-Israel content as the Israel-Hamas war rages on.
The post Jewish TikTok Employees Open Up About Antisemitism From Colleagues, Lack of Support From Management first appeared on Algemeiner.com.