Gov't approves emergency regulations that could pave way to closing Al Jazeera offices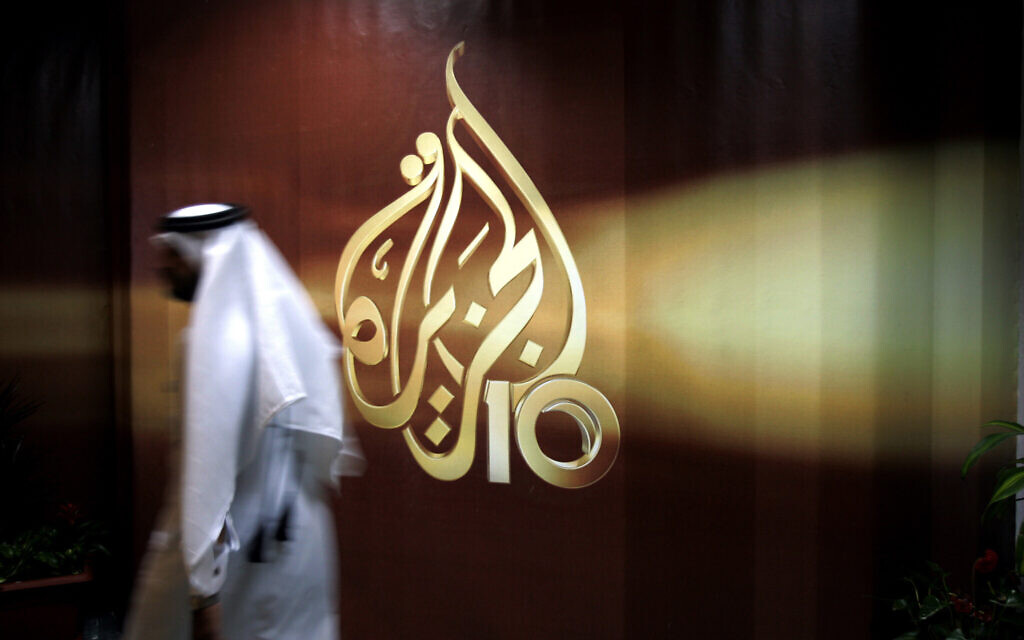 Regulations cover foreign news channels; Karhi says Qatar-owned outlet has harmed national security; proposal to shutter outlet in Israel to be filed next week
How a Jewish educator took the Hanukkah llama from TJ Maxx meme to teachable moment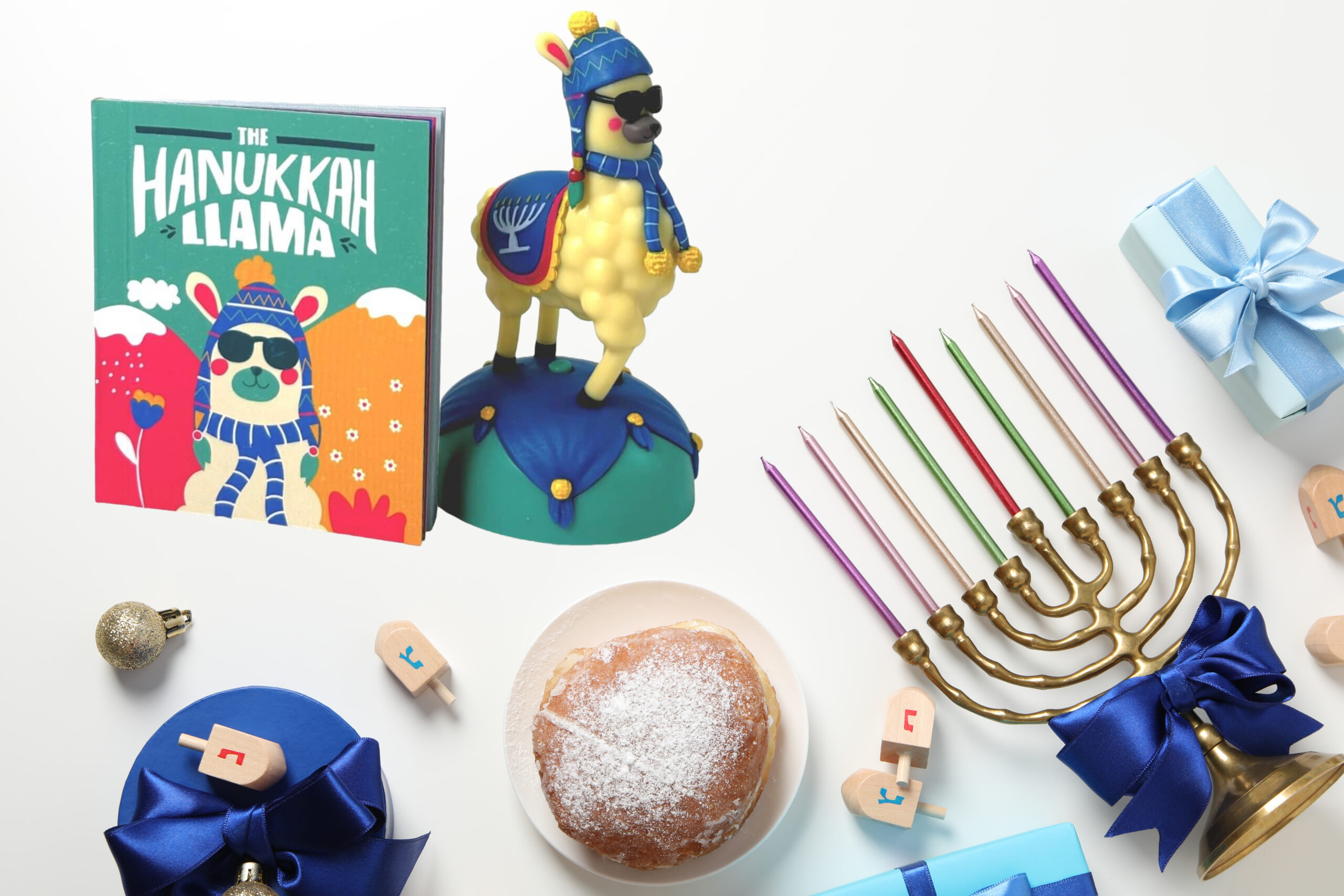 (JTA) — For years, the Hanukkah llama has been a corny cliche that skeptics of the big-box Hanukkah industrial complex love to hate.
What does a South American animal have to do with a holiday commemorating a Jewish miracle in the Middle East? Is a not-quite rhyme enough to justify "Happy Llamakah" sweaters and socks? Just why are the aisles of TJ Maxx and other stores hawking holiday merchandise filled with Hanukkah llama items, alongside "Oy to the World" dish towels and gnomes decked out in blue and white?
"Llamas are particularly adorable, and they're easy to dress up in Hanukkah fashion, whether it's sweaters or scarves, or kippot," offered Rabbi Yael Buechler, a designer of Jewish holiday merchandise and a keen observer of the Jewish marketplace,  as a reason for the enduring and befuddling mashup. "And they also have wide backs, so that serves as great storage space for dreidels, hanukkiot."
In 2020, the trend expanded to include a picture book about a family of llamas celebrating Hanukkah written by a Jewish children's book author. And now, for the first time, a professional Jewish educator has given the Hanukkah llama a deeply Jewish backstory, in an effort to endow a kitschy character with substance.
"I think a lot about what engages learners and how we engage learners," said Sara Beth Berman, the author of a 32-page miniature book released last month by Hachette Press. "And so taking a piece of the zeitgeist and attaching it to a story that is meaningful, I think is great."
Berman was recruited to add a story to a toy that lacked one. The team at Running Press Minis, a division of Hachette Book Group, was gearing up to create the company's first Hanukkah product in more than two decades.
Running Press puts out tiny "kits" — a toy and a companion text — that make for ideal gifts. The company has put out multiple Christmas kits, and even a "holiday armadillo," a reference to the "Friends" episode where Ross Geller is dismayed not to find Hanukkah costumes to make the holiday more interesting for his son, who is mesmerized by Christmas. But since "The Little Book of Hanukkah" in 2000, which predated the toy pairing, Running Press hadn't tackled Hanukkah.
The company knew it wanted to produce a tiny llama with an accompanying book, but it didn't have an author lined up. Jordana Hawkins, Running Press' licensing manager, was friendly with Berman's husband, knew her reputation as an educator and reached out.
"I wanted a Jewish writer to write it and she has a really great sense of humor," Hawkins told JTA. "She has a really great style and she's a great writer. And I thought she would be a great fit for it."
The book is a modern retelling of the Hanukkah story, with Lex Lexabee, the "llama constabulary" of Jerusalem who is acquainted with Mattathias and his sons, including Judah Maccabee, the hero of the Hanukkah story. Lex wears sunglasses, a menorah throw blanket, a blue winter hat, and a scarf with yellow pompoms. Judah Maccabee is the leader of the "Holy Llamas of Jerusalem" — a city that, in this version of the story — is surrounded by snow-capped mountaintops. The story begins in 168 B.C.E., when the Syrian Goat Greeks, led by the mountain goat version of King Antiochus, take over the holy llamas' place of worship, the Holy Temple of Jerusalem.
Berman, the director of youth and family education at New York's Temple Shaaray Tefila, was determined to pack seriousness into a 32-page, 3-inch book meant as a gag gift. She was particularly determined to show readers how Jews count time, by introducing, from the very beginning of the book, the years in BCE, and not the Christian BC.
"In Jewish academia, calling it 'Before the Common Era' and 'Common Era' is the way," Berman explained. "But most of the people who are like, 'Oh look, a Hanukkah llama' — the vast majority of the population isn't familiar with how academics talk about how our calendar works. So I was really nerdily excited to get that in the book."
Berman also uses the actual story to explain the "shamash," the word used for the "helper" candle of the menorah, when Lex officially becomes Lex Lexabee as he turns into Judah Maccabee's "number one support llama" during the fight to take back the Temple.
The book includes Hanukkah songs and activities, but no blessings. And the accompanying figurine plays one of those songs aloud to what the company says is "a toe-tapping beat."
"I want people to experience Judaism through joy when they can," Berman said. "The more joy the merrier. I want Jewish people to feel seen and if this is a small way that people manage their feelings around the holiday season, I'm glad to be a positive part of it."
For Buechler, just knowing that a seasoned Jewish educator had a hand in the kind of product she might otherwise shake her head about is exciting.
"What we're seeing here is a Jewish educator authoring a book and a mainstream Hanukkah toy. And that's significant, because it marks a new model for Hanukkah merchandise," Buechler said. "This is a new path towards bringing modern merchandise that is well-educated into the Hanukkah market."
—
The post How a Jewish educator took the Hanukkah llama from TJ Maxx meme to teachable moment appeared first on Jewish Telegraphic Agency.
Rabbi David Wolpe resigns from Harvard antisemitism committee over president's 'painfully inadequate testimony' on campus antisemitism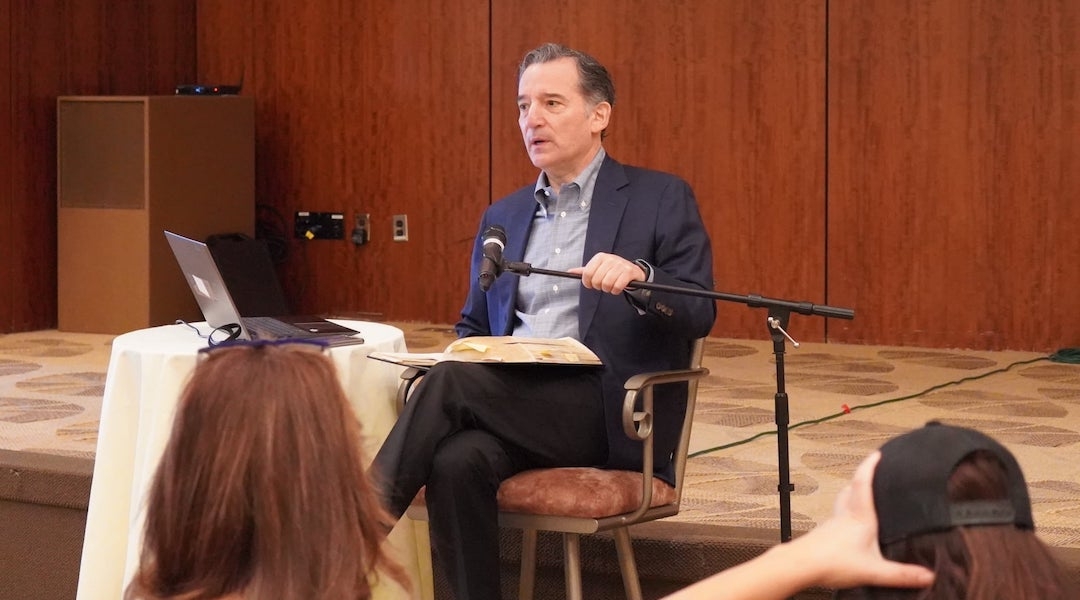 (JTA) — Rabbi David Wolpe is stepping down from the antisemitism advisory committee at Harvard University, citing "events on campus and the painfully inadequate testimony" of the university's president, Claudine Gay, during a congressional hearing this week on campus antisemitism.
"Without rehashing all of the obvious reasons that have been endlessly adumbrated online, and with great respect for the members of the committee, the short explanation is that both events on campus and the painfully inadequate testimony reinforced the idea that I cannot make the sort of difference I had hoped," Wolpe wrote Thursday on X, formerly Twitter.
1/3 Resigning, a Hanukkah Message: As of today I have resigned from the antisemitism advisory committee at Harvard. Without rehashing all of the obvious reasons that have been endlessly adumbrated online, and with great respect for the members of the committee, the short…
— David Wolpe (@RabbiWolpe) December 7, 2023
Wolpe, who is a visiting scholar at Harvard Divinity School and a rabbinic advisor to the Anti-Defamation League, has built a reputation as one of the country's most prominent and sought-after rabbis and Jewish thinkers. He recently left his pulpit at Los Angeles' Conservative Sinai Temple, where he is now an emeritus after more than two decades as senior rabbi, and is the author of eight books.
His exit from the committee is a blow to Harvard's signature effort to fight antisemitism on campus in the wake of Hamas' Oct. 7 attack on Israel. Harvard's administration announced the advisory committee after facing backlash for what critics called an insufficient response to a student group statement that blamed the Oct. 7 attack on Israel. Upon announcing the committee at a Shabbat dinner, Gay said it would "educate our community so that they can recognize and confront antisemitism wherever they see it."
Since it was announced at the beginning of November, the committee has met frequently. The Jewish Telegraphic Agency has learned that Gay did not directly consult the committee about the congressional hearing before it took place. Her testimony drew intense criticism when she appeared to equivocate in defining antisemitic speech.
In a statement to JTA, Gay said she appreciated Wolpe's input and added, "Antisemitism has no place in the Harvard community, and I am committed to ensuring no member of our Jewish community faces this hate in any form."
After a wave of criticism, Gay released a statement on Wednesday saying that Harvard students would face consequences if they called for genocide.
"There are some who have confused a right to free expression with the idea that Harvard will condone calls for violence against Jewish students," Gay said. "Let me be clear: Calls for violence or genocide against the Jewish community, or any religious or ethnic group are vile, they have no place at Harvard, and those who threaten our Jewish students will be held to account."
In his thread of posts on X, Wolpe said he considered Gay to be "both a kind and thoughtful person," and that most Harvard students "wish only to get an education and a job, not prosecute ideological agendas."
But he added that many students believe in what he called an "evil" ideology that fuels hatred of Jews.
"However, the system at Harvard along with the ideology that grips far too many of the students and faculty, the ideology that works only along axes of oppression and places Jews as oppressors and therefore intrinsically evil, is itself evil," he wrote. "Ignoring Jewish suffering is evil. Belittling or denying the Jewish experience, including unspeakable atrocities, is a vast and continuing catastrophe. Denying Israel the self-determination as a Jewish nation accorded unthinkingly to others is endemic, and evil."
—
The post Rabbi David Wolpe resigns from Harvard antisemitism committee over president's 'painfully inadequate testimony' on campus antisemitism appeared first on Jewish Telegraphic Agency.
Hate or just a crime? Either way, Jewish restaurants are finding support after vandalism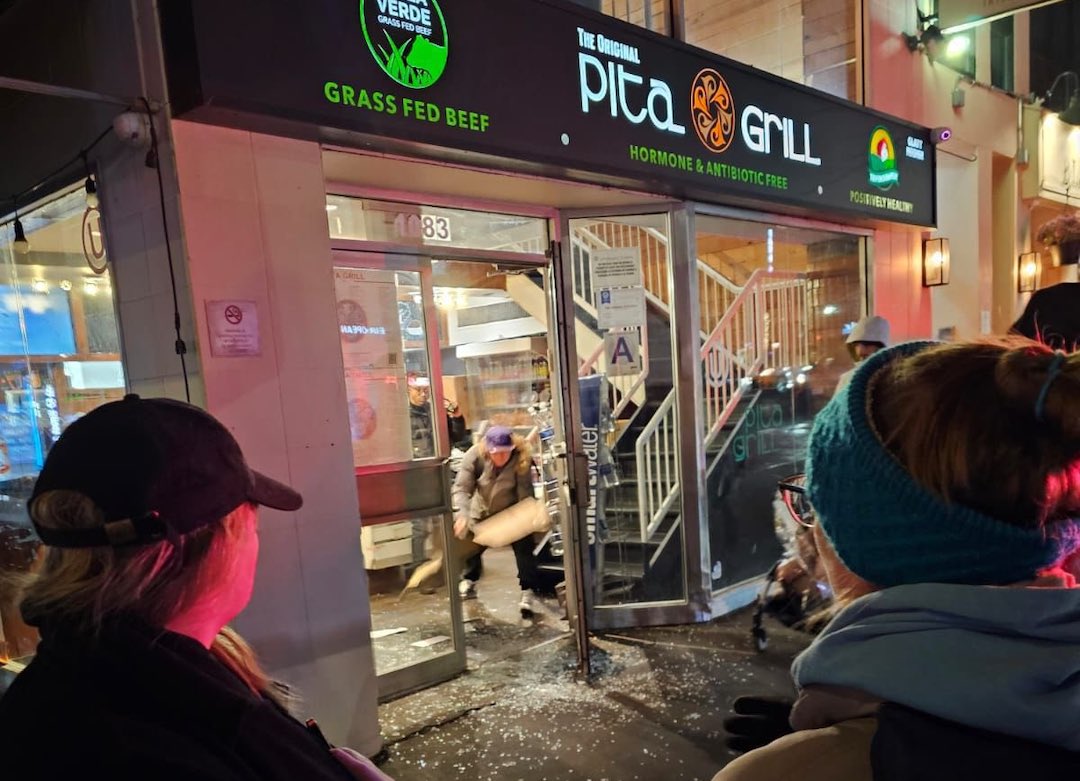 (JTA) — On a Saturday in late November, vandals smashed the front entrance of Pita Grill, a kosher restaurant in New York's Upper East Side, and stole e-bikes in front of the restaurant. 
Law enforcement quickly concluded that it was not a hate crime, but a standard robbery. The restaurant was closed for Shabbat at the time of the break-in. But rumors quickly swirled that the Middle Eastern eatery was the target of an antisemitic attack. Prominent Jewish influencers shared videos of the attack on social media and asked followers to support the restaurant. Many showed up.
"We never know people's motives and if their intention was, 'Oh, this is a kosher restaurant, there's a scooter there, I'm gonna take advantage and hurt them and this is a good target,'" Elan Kornblum, creator of the 98,000-member Facebook group Great Kosher Restaurant Foodies, told the Jewish Telegraphic Agency. 
"We're kind of walking around thinking that people are out to get us and if there's a crime that it must be antisemitic," he added. "We're all on edge."
Pita Grill, which did not respond to JTA requests for comment, is one of a series of kosher restaurants nationwide that have seen outpourings of public support in the wake of vandalism or break-ins since Hamas' Oct. 7 attack on Israel, which triggered a spike in antisemitic incidents around the world. Law enforcement has concluded that some of these incidents were hate crimes, while others were not. Still others are under investigation. 
Some of the incidents are clearly antisemitic in nature. A string of restaurant attacks has drawn widespread attention over the past two months. 2nd Avenue Deli, a kosher restaurant on Manhattan's Upper East Side, was vandalized with a swastika in late October. Canter's Deli in Los Angeles was also vandalized with a swastika, launching a hate crime investigation by the Los Angeles Police Department. Earlier this week, pro-Palestinian protesters in Philadelphia accused a falafel restaurant of "genocide."
Other attacks have fallen in a vast gray area where the question of antisemitism may be in the eye of the beholder. Caffe Aronne, also on the Upper East Side, saw a bump in business after reports that baristas quit en masse over the war — though what actually took place appears to be murkier.
And a kosher pizza restaurant in Skokie, Illinois was tagged with a symbol that included a swastika in it; law enforcement later contended that it was not a hate crime because it was a gang symbol belonging to the Maniac Latin Disciples, a street gang from Chicago founded in the 1960s by someone named Albert "King Hitler" Hernandez. The restaurant did not return JTA calls for comment.
At Sushi Tokyo, a kosher eatery in Manhattan's Chelsea neighborhood, a vandal threw a chair past a waiter wearing a kippah and smashed a window of an outdoor dining shed. The incident is still under investigation, but one patron of the restaurant said she felt a climate of fear there.
"I noticed everyone is in caps, hiding their yarmulkes, which people would not normally do," said Adie Horowitz, who went to Sushi Tokyo with a friend following the vandalism in order to show support. 
Rachel Sass, an analyst at the ADL Center on Extremism, explained that Jews' personal experience of antisemitism doesn't always match up with what law enforcement concludes. Even if an incident isn't a hate crime, she suggested, it may feel like a hate crime.
"We're trying to see and hear and represent the feelings of our constituency, which we consider to be the entire Jewish community in the United States," she said. "We try to really hear and reflect and validate these feelings that people have, even if that sometimes is a different conclusion than law enforcement comes to."
In some cases, restaurateurs say police have prematurely dismissed evidence of antisemitism. In early November, Taste of Tel Aviv in Houston was hit by what police called a burglary that did not look like a hate crime.
"Based on the preliminary investigation and evidence review, it appears that this incident was not motivated by hate," said a Nov. 7 statement by Houston Police. "It is believed to be the work of a lone individual who was burglarizing the business and trying to steal anything of value before fleeing the scene."
But the owners do believe hate was at play. During the weeks leading up to the break-in, the restaurant had prominently displayed an Israeli flag, and owner Pamela Baylis told local press that she had also received a bomb threat.
Baylis, who is not Jewish and co-owns the restaurant with Gabi Algrably, who is, told JTA she does not believe the incident was solely a burglary. She said the perpetrator destroyed prayer books and stole kippahs, tefillin and ceramics made by local children featuring Stars of David. He also urinated in the restaurant, she said. 
"The man threw $578 on the floor. He took no money with him. He left all the cash behind. All he did was destroy religious items," she said. "He took the stuff that the guys wrap around their arms and put on their head."
The burglary investigation is ongoing and the local Jewish federation told JTA it is in communication with the Houston Police Department and is advocating for the police to continue investigating all options — including hate crimes. The Houston Police Department did not respond to JTA's requests for updates on the case. 
"We have no criticism of HPD, we just want to make sure that they are doing all that they can to investigate possible hateful incidents," a spokesperson for the federation said.
Taste of Tel Aviv has also had a slew of negative reviews on its Facebook page, a tactic several Jewish and Israeli restaurants have been facing since Oct. 7. On Google Maps, all three Falafel Yoni locations across the border in Montréal have close to a five-star average rating. But starting about five weeks ago, they began receiving an onslaught of one-star reviews — about 20 of them within one or two days — co-owner Yoni Amir said. 
At least one of those reviews — which have since been deleted by Google after they were reported — combined a critique of the "tasteless" food with an accusation that the restaurant was passing off Palestinian cuisine as Israeli. "Did you know it's a palestinian dish or you are going to appropriate it just like everything else?" the review said.
The falafel restaurant — along with a pizza restaurant Amir owns — has also been put on multiple online boycott lists together with other Jewish- and Israeli-owned restaurants in the area. (A similar list exists of "Zionist restaurants" in New York City that was compiled into a Google Map, which was then removed from the app.) Vandals have also placed stickers and posters on Falafel Yoni, charging its owners with genocide.
"The only reason my restaurants are being targeted are because A, I was born in Israel and because B I'm Jewish," Amir told JTA. "There's no other reason — there's nothing from a political stance or anything like that — that separates my restaurants from a neighboring restaurant who isn't being targeted for the posters."
Sass said that when looking at the landscape of attacks on restaurants, she tries to be "fact-based" in her assessment. But she added that sifting through which attacks are clear-cut antisemitism and which are not can be challenging when people's emotions and perceptions are at play. 
"People's experience of antisemitism can be very subjective," she said. "It's important for people to feel validated when they're experiencing this harm."
—
The post Hate or just a crime? Either way, Jewish restaurants are finding support after vandalism appeared first on Jewish Telegraphic Agency.