TikTok Bin Laden Craze Shows Facts Are Not Important, and Jew-Hating Is Cool
It should not come as a surprise that many young people posted Osama Bin Laden's "Letter To America" on TikTok and praised him.
The first reason is that on social media, people are rewarded by posting things that are controversial. Facts and morality don't matter. Second, the entire American educational system, especially colleges, don't teach the truth about the September 11 attacks and the anti-Western and jihadist mentality that fueled them.
If one simply uses Google to do some research for five minutes, it is clear that Osama Bin Laden was furious that American troops defended Saudi Arabia. He issued a fatwa, or edict, against America in 1996, literally called "Declaration of War against the Americans Occupying the Land of the Two Holy Places." Israel was not a focus.
If his primary problem was with Israel, one would have thought he would try to attack there. Instead, his attacks were on American embassies in East Africa in 1998, the USS Cole in Yemen, and the 9/11 attacks on the World Trade Center, the Pentagon, and one other target that was missed when passengers overtook United Flight 93 on that Tuesday morning.
Almost all Americans used to be united against Bin Laden.
But now, as it has become cool and "sophisticated" to justify terrorism, antisemitism, and hate in America — and because professors teach hateful and false narratives with no repercussions — we should not be surprised to see this hatred spread online.
It's good to question things. But when young people believe there is no such thing as facts, it's a problem. Without such a foundation, everything crumbles. Many today are useful idiots that justify evil. In an America where young people are taught to view all police officers as evil, and American soldiers as evil, this is a logical next step.
Many of those who posted about Bin Laden's letter in a positive way will most assuredly say they are being silenced. But the opposite is happening.
Many people and organizations on social media profit more from lies than they do from the truth. This is why many podcasts feature various conspiracies that have no factual support. The idea that people know the "real" truth, and that the conventional wisdom is wrong, is quite attractive to people.
We live in an age where no one does any research or independently verifies facts. We live in an age where young people no longer possess critical thinking skills — the ability to analyze competing information, and decide what they think is more accurate.
We live in a world where people are posting that the Hamas attack of October 7 was a lie, despite video evidence filmed by Hamas terrorists themselves. And it's more than TikTok. On Instagram, there is a video claiming that the world misses Saddam Hussein, the brutal Iraqi dictator who used chemical weapons against his own people.
There is also a failure of parents not educating their children, but many also have no idea what their children are posting. Young people are addicted to social media. Parents are often ambivalent or helpless to stop it.
Many of the people spreading hate online use the phrase "my truth," and end the inquiry at that.
I'd like to see a bank robber tell a judge "my truth is that I didn't rob the bank." It wouldn't work — or would it? It's hard to tell, but most of these bank robbers would still go to jail.
Yet for some reason, it is acceptable for people to use the phrase "my truth" when vilifying Israel, America, and many other things. They should change it to, "my lie."
The author is a writer based in New York.
The post TikTok Bin Laden Craze Shows Facts Are Not Important, and Jew-Hating Is Cool first appeared on Algemeiner.com.
Brooklyn Museum Fair Sells Anti-Israel Prints Calling to 'Globalize the Intifada'
The Brooklyn Museum in New York hosted a fair where one exhibitor was seen selling items that promoted the destruction of Israel and a global intifada "from NYC to Gaza."
The Printed Matter's Sunday Zine Fair showcased over the weekend more than 60 exhibitors "with an emphasis on self-publishing artists and collectives, archives and libraries, and rare and out-of-print dealers," according to a description of the free event provided by the museum. A zine is a small circulation, self-published work of original or appropriated texts and images.
The fair was organized and hosted by Printed Matter, Inc, a nonprofit organization founded in 1976 by artists and art workers. Its founding members included artists of Jewish descent such as Pat Steir, Sol Lewitt, and Ingrid Sisch.
As part of the fair, one exhibitor sold prints that featured the phrase "From the river to the sea, Palestine will be free" — a slogan widely interpreted as a call for the destruction of Israel, which is located between the Jordan River and the Mediterranean Sea, and to replace it with "Palestine." Another print on sale read, "From NYC to Gaza, globalize the intifada," and had an image of a New York City Police Department car on fire. A separate print in favor of "Free Palestine" read, "Do not be complacent. Do not speak for propaganda. Speak up."
A visitor who attended the fair took a photo of the controversial items and shared them on social media.
"Calling for an intifada is not art it's hate speech and a call to kill Jews [sic]," the attendee wrote in the photo's caption. "I took this photo and was told, 'You don't belong here,' by the woman calling for Jewish death and hiding behind an iPad. Is this free speech? Is calling for Jewish genocide artistic expression?"
Spotted at the Brooklyn museum. pic.twitter.com/zPuzMJynxR
— Viral News NYC (@ViralNewsNYC) November 20, 2023
The Brooklyn Museum said on its website that it "does not endorse or approve the content of any zines" included in the event. It further told Ynet: "The Brooklyn Museum was not involved in selecting the content on view. We do not condone the statements made on these zines, and they do not express the views of the museum."
The post Brooklyn Museum Fair Sells Anti-Israel Prints Calling to 'Globalize the Intifada' first appeared on Algemeiner.com.
'Fauda' Actor Idan Amedi Directs Strike on Gaza Building 'In Memory of' Oct. 7 Victims
Israeli actor and musician Idan Amedi, who is best known for his role in the hit series Fauda on Netflix, directed a strike on a building in the Gaza Strip while serving as an Israeli reservist in the Israel Defense Forces (IDF).
Amedi dedicated the strike to victims of the deadly Hamas rampage across southern Israel on Oct. 7.
In a video shared on Instagram on Monday, Amedi sat in an armored vehicle in Gaza with his comrades and spoke into a communication device, saying in Hebrew: "In a minute we will blow this building in memory of all the victims, our brothers and sisters who were massacred on Oct. 7." He also paid tribute to two fellow soldiers from Israel's Yamam anti-terrorism special forces unit who were killed in action in Gaza, Alexei Shmakalov and Dror Alton.
"May God and us avenge their blood," Amedi said before counting down the strike on the building. The clip ends with a closeup of the target shown on a screen inside the armored personal carrier, as well as the hit on the building.
View this post on Instagram
Amedi joined the IDF as a reservist and has been actively fighting in Gaza since Israel began its military campaign against Hamas targets in the Palestinian enclave. Israel has been targeting Hamas since the terror group invaded Israel, killed over 1,200 people, and took over 240 others as hostages on Oct. 7.
The actor previously paid tribute to victims of the terror attacks when he visited a beach in Gaza with fellow Israelis and raised the flag of the Supernova music festival, where Hamas killed hundreds of young people.
Fauda crew member Matan Meir, 38, was killed in action earlier this month while fighting in Gaza as an IDF reservist.
The post 'Fauda' Actor Idan Amedi Directs Strike on Gaza Building 'In Memory of' Oct. 7 Victims first appeared on Algemeiner.com.
Henry Ford's history with antisemitism to become a movie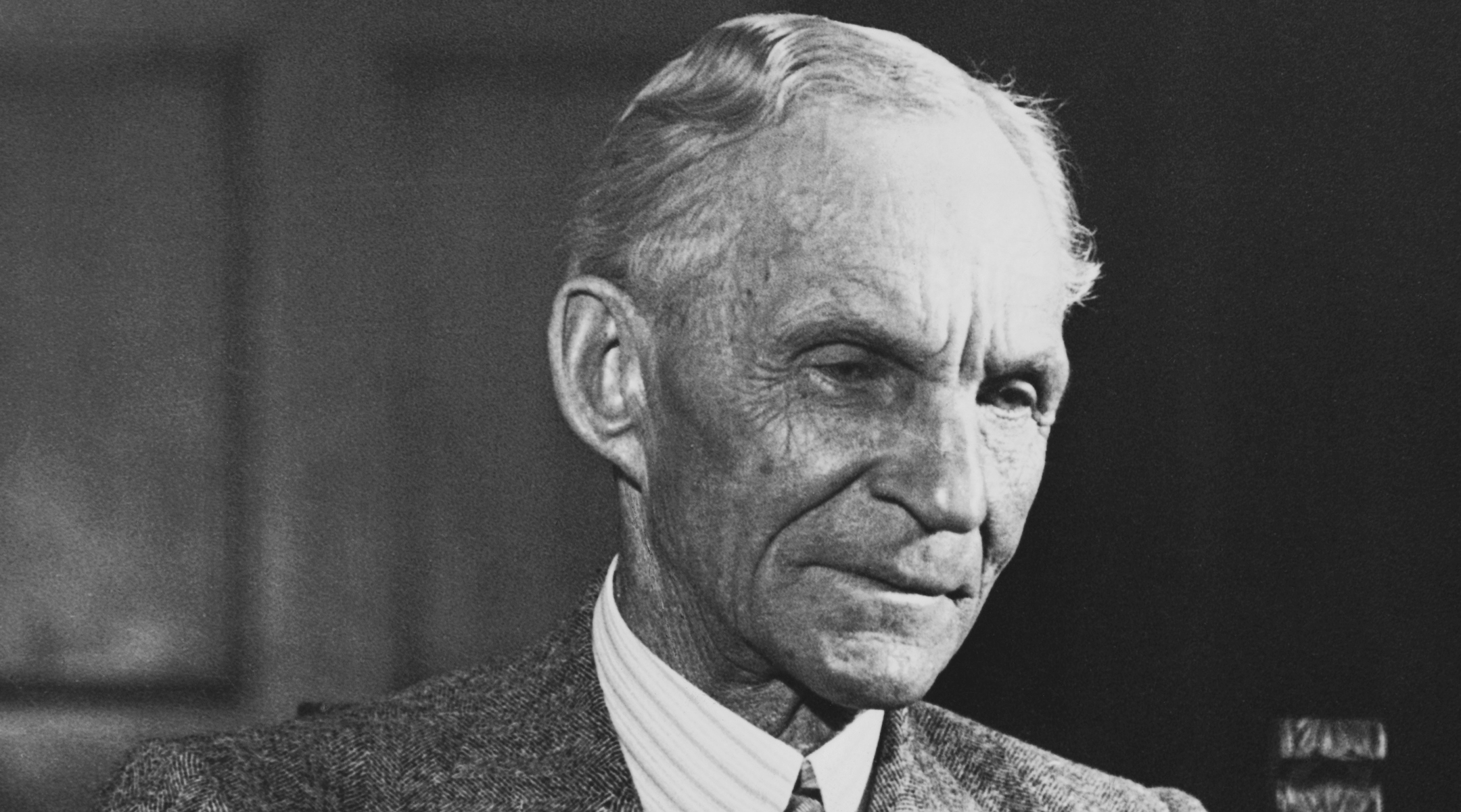 (JTA) — A lawsuit filed by a Jewish labor activist in 1925 took down Henry Ford's antisemitic newspaper, The Dearborn Independent, in a real-life drama that riveted Americans.
A century later, the saga is set to become an on-screen drama, too, as a Jewish-interest production company is developing a film based on an academic study of Ford's antisemitism and the libel lawsuit that blunted its reach.
Leviathan Productions is adapting the 2012 book "Henry Ford's War on Jews and the Legal Battles Against Hate Speech" by Victoria Saker Woeste, a research professor at the American Bar Foundation. The book focuses on Ford's acquisition of the Independent in 1919, which he transformed into an antisemitic tabloid while at the height of his fame and influence as an automotive visionary.
Under Ford's ownership, the Independent published, among other headlines, "The International Jew: The World's Problem," and the paper was freely distributed at Ford dealerships. It played a major role in disseminating "The Protocols of the Elders of Zion," an antisemitic forgery purporting to detail the secret plan for Jewish world domination, throughout the United States in the interwar period. That document continues to animate antisemitism today.
Aaron Sapiro, a farm workers' rights advocate, sued the paper for libel in 1925 after it published antisemitic allegations about his California cooperative farming movement. The trial two years later was a major First Amendment case and resulted in Ford agreeing to shutter the paper. 
Leviathan Productions launched last year with a goal of bringing more Jewish stories to screen. It was founded by Ben Cosgrove, a film and TV producer whose credits include the Oscar-winning "Syriana," and Josh Foer, journalist and co-founder of the adventure travel brand Atlas Obscura as well as of the online Jewish text repository Sefaria. The company previously announced that it is producing a film version of "The Pledge," a nonfiction account of U.S. Jews' role in Israel's 1948 war for independence, and a horror film based on the Golem of Prague.
Ford's antisemitism was also a plot point in the 2020 HBO adaptation of the Philip Roth novel "The Plot Against America." In the story's alternate-history United States where Charles Lindbergh becomes president, Ford serves in his cabinet and helps implement antisemitic policies. A recent experimental documentary, "Ten Questions For Henry Ford," directed by Jewish filmmaker Andy Kirshner, also delved into his antisemitism.
—
The post Henry Ford's history with antisemitism to become a movie appeared first on Jewish Telegraphic Agency.