Top Hamas official claims group is not responsible for defending Gazan civilians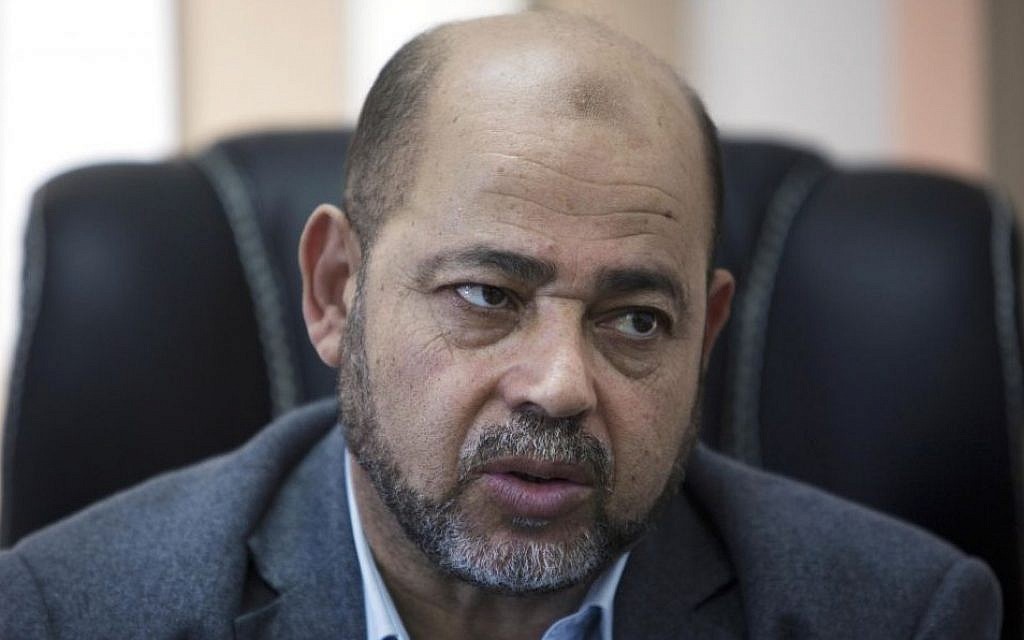 Meta oversight board will rule — at unusual speed — on two deleted posts related to Israel-Hamas war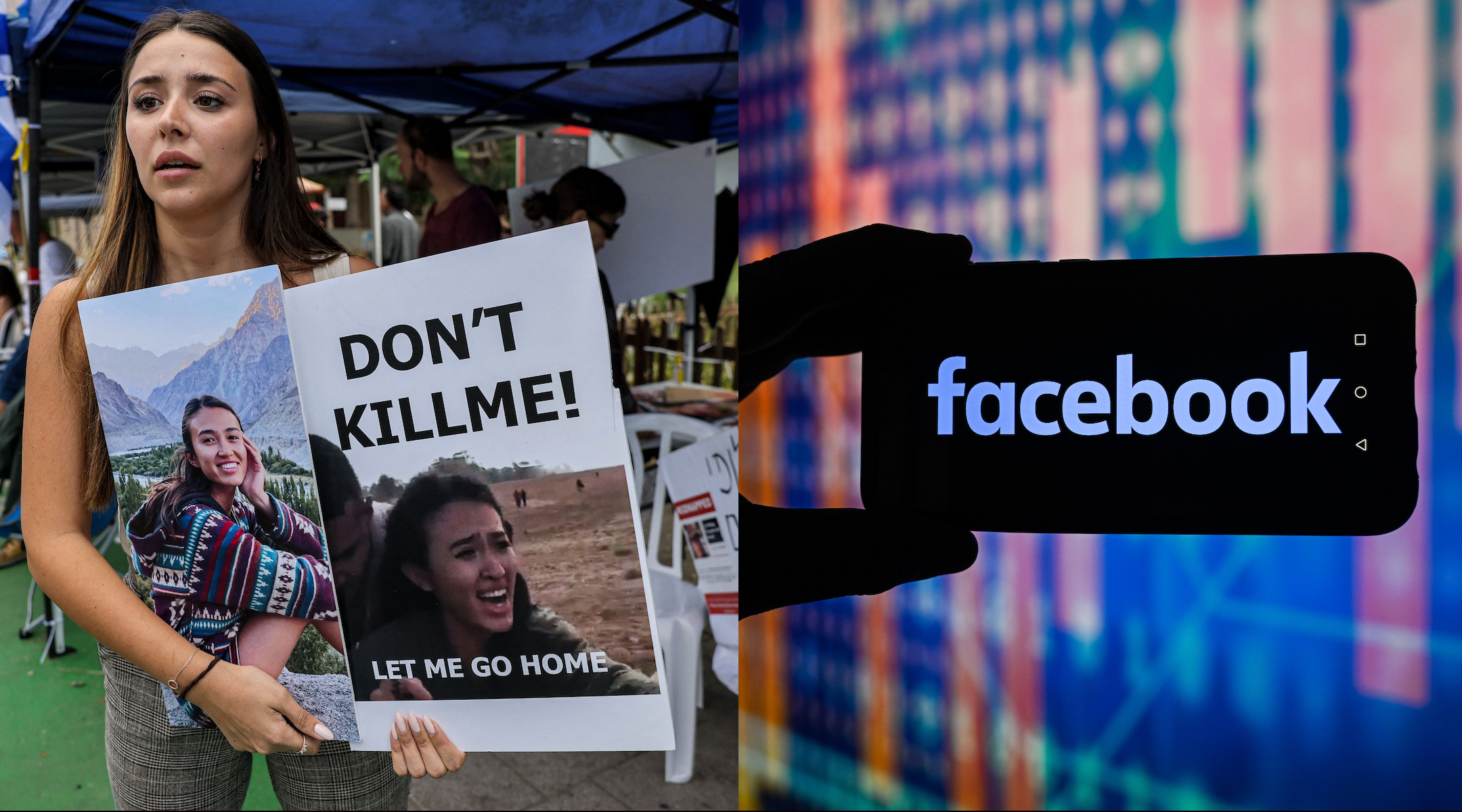 (JTA) – The independent panel that rules on disputes at the world's largest social media company is taking up two challenged posts about the ongoing Israel-Hamas war, in cases with potential ramifications for how users will be able to talk about the war online.
The cases are the first to be taken on under a new expedited process adopted by the oversight board at Meta, which owns Facebook and Instagram, earlier this year. 
The two appeals relate to posts about the war from both sides of the conflict. One is about a Facebook video appearing to show a Hamas militant kidnapping a woman during the terror group's Oct. 7 attacks in Israel. The other was an Instagram video appearing to show the aftermath of a strike outside Al-Shifa hospital in the Gaza Strip.
Meta had initially removed both of the videos, claiming they violated the company's terms of service, which specifically prohibit sharing violent content. But the company has since changed its mind, restoring both with tags warning of graphic content. The oversight board said it would issue a decision on the matter within 30 days, and the company is bound to follow the board's decisions.
Social media has become the primary way most of the world has engaged with the war, as more and more images and videos purporting to be from Israel and Gaza circulate online — joining a stew of content that includes a large amount of misinformation and doctored or mislabeled images. Meta and other social media companies X/Twitter and TikTok have struggled with how to balance allowing freedom of expression on their platforms with curbing violent imagery or the spreading of terror propaganda.
In the case of the disputed posts, Meta initially claimed both violated its rules on sharing violent and graphic content. The company has also designated Oct. 7 as a terrorist attack, subject to rules that any content showing "identifiable victims" of such an attack is forbidden from its platforms. It has updated its own rules frequently since Oct. 7, most recently determining that hostage footage shown "in order to raise awareness and condemn the attacks" is permissible.
"Meta's goal is to allow people to express themselves while still removing harmful content," the company wrote in an update to its policies Tuesday. "If the user's intent in sharing the content is unclear, we err on the side of safety and remove it."
The disputed Oct. 7 Facebook video was posted by a user who appeared to be condemning Hamas and "urge[d] people to watch the video to gain a 'deeper understanding' of the horror that Israel woke up to on October 7, 2023," according to the oversight board's description of the post. The board did not share the post itself, but the description suggests that the video showed Noa Argamani, who became an early symbol of the hostage crisis after being abducted with her boyfriend from the Nova music festival. She remains a hostage in Gaza.
The video purporting to show the hospital bombing, meanwhile, was posted by a user who referred to the Israeli army as the "usurping occupation" and tagged various human rights organizations, the board said. The Al-Shifa hospital has become an epicenter of both Israel's military operation and the larger information war, as Israel targeted the hospital while claiming that Hamas was using it as a command center — a claim that Israel later backed up by taking media outlets on a tour of a tunnel network connected to the hospital.
Even though both posts were restored, the oversight board's rulings on them could affect how Meta moderates content about the war, and how permissive the company will be about images depicting its victims. Meta's oversight board has taken up other Jewish issues in the past, including the company's failure to remove a Holocaust-denying post and its decision to remove a post of a journalist criticizing Kanye West's praise of Hitler.
"Crisis situations are not an excuse for social media platforms to suspend rules or default to censorship, they're a reminder to double down on efforts to protect voice and safety," Thomas Hughes, director of the Oversight Board Administration, said in a statement. "The Israel-Hamas conflict underscores the many challenges to content moderation during crisis situations. The Board looks forward to reviewing how Meta is following through on its human rights commitments, as well as past recommendations from the Board on how to manage crises." 
Jewish former Meta executive Sheryl Sandberg has also become ensnared in an information war related to the conflict, as her claim that Hamas raped female Israeli victims of Oct. 7 has been disputed on the very platforms she used to oversee.
Both TikTok and X have faced intense criticism for allowing antisemitic content to spread on their platforms, and — in X's case — for owner Elon Musk's own engagement with antisemitic content.  
—
The post Meta oversight board will rule — at unusual speed — on two deleted posts related to Israel-Hamas war appeared first on Jewish Telegraphic Agency.
Under fire, Harvard and UPenn presidents condemn calling for genocide of Jews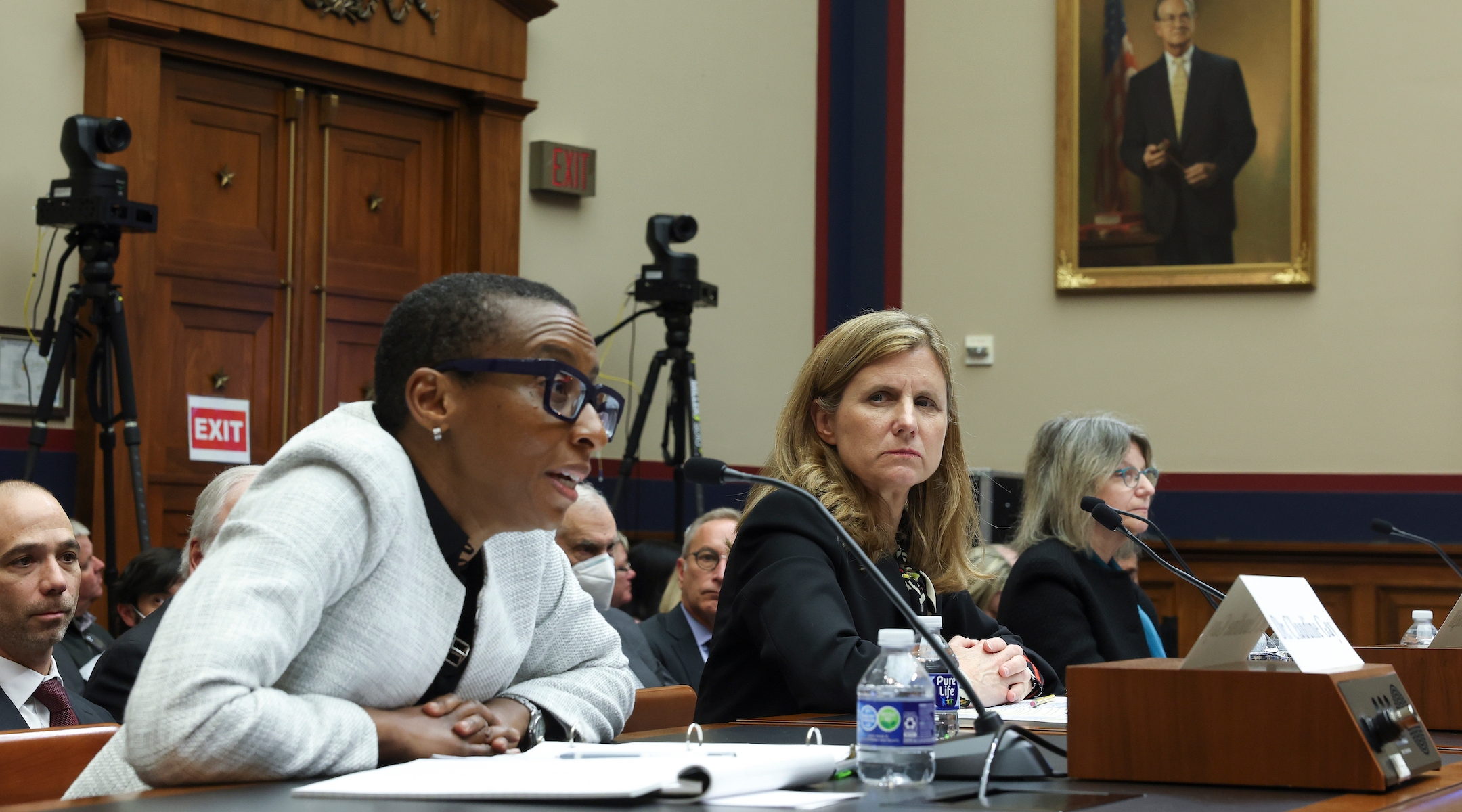 (JTA) — Facing criticism and calls to resign, the presidents of the University of Pennsylvania and Harvard University condemned calling for the genocide of Jews.
Penn's president, Liz Magill, promised to launch a process to clarify and evaluate the school's policies regarding speech on campus. She said calls for genocide of Jews are "evil, plain and simple."
The statements by Magill and Harvard President Claudine Gay follow a congressional hearing on Tuesday in which Rep. Elise Stefanik, a Republican from New York, asked them whether calling for the genocide of Jews would constitute harassment under their school's code of conduct. Gay and Magill, along with Massachusetts Institute of Technology President Sally Kornbluth, all responded under oath that the answer depends on "context."
In a statement Wednesday, Gay said students would face consequences if they called for genocide.
"There are some who have confused a right to free expression with the idea that Harvard will condone calls for violence against Jewish students," Gay said. "Let me be clear: Calls for violence or genocide against the Jewish community, or any religious or ethnic group are vile, they have no place at Harvard, and those who threaten our Jewish students will be held to account."
Video of the exchange at the congressional hearing has gone viral and has prompted criticism of the three leaders from Jewish groups, students, donors and elected officials, including the Biden administration. White House spokesman Andrew Bates said in a statement that calls for the genocide of Jews are "dangerous and revolting."
The U.S. Holocaust Memorial Museum wrote on X, formerly known as Twitter, "Opposing calls for genocide against Jews shouldn't be difficult or controversial."
Kornbluth, who is Jewish, does not appear to have publicly addressed the exchange.
Magill has taken flak for her statement from the board chair of Penn's business school as well as Pennsylvania Gov. Josh Shapiro, who called on the university's board to discuss her remarks and come to a "serious decision." As governor, Shapiro is a non-voting trustee of the university, which is private.
Following Shapiro's remarks, Magill released a video statement in which she said that she had answered Stefanik's question based on the broad free speech protections laid out by the U.S. Constitution. She said, however, that she should have answered differently and, invoking the long history of antisemitism, said that she personally viewed a call for the genocide of Jews as "harassment or intimidation."
She stopped short of saying such a call would violate university policy, but said that Penn's leadership would begin a process to conduct "a serious and careful look at our policies."
"I was not focused on, but I should have been, the irrefutable fact that a call for genocide of Jewish people is a call for some of the most terrible violence human beings can perpetrate," she said. "It's evil, plain and simple. I want to be clear: A call for genocide of Jewish people is threatening, deeply so. It is intentionally meant to terrify a people who have been subjected to pogroms and hatred for centuries and were the victims of mass genocide in the Holocaust."
She concluded, "As president I'm committed to a safe, secure and supportive environment so all members of our community can thrive. We can and we will get this right."
—
The post Under fire, Harvard and UPenn presidents condemn calling for genocide of Jews appeared first on Jewish Telegraphic Agency.
Young voters, Democrats in New York City disapprove of Israel's war effort in Gaza, poll finds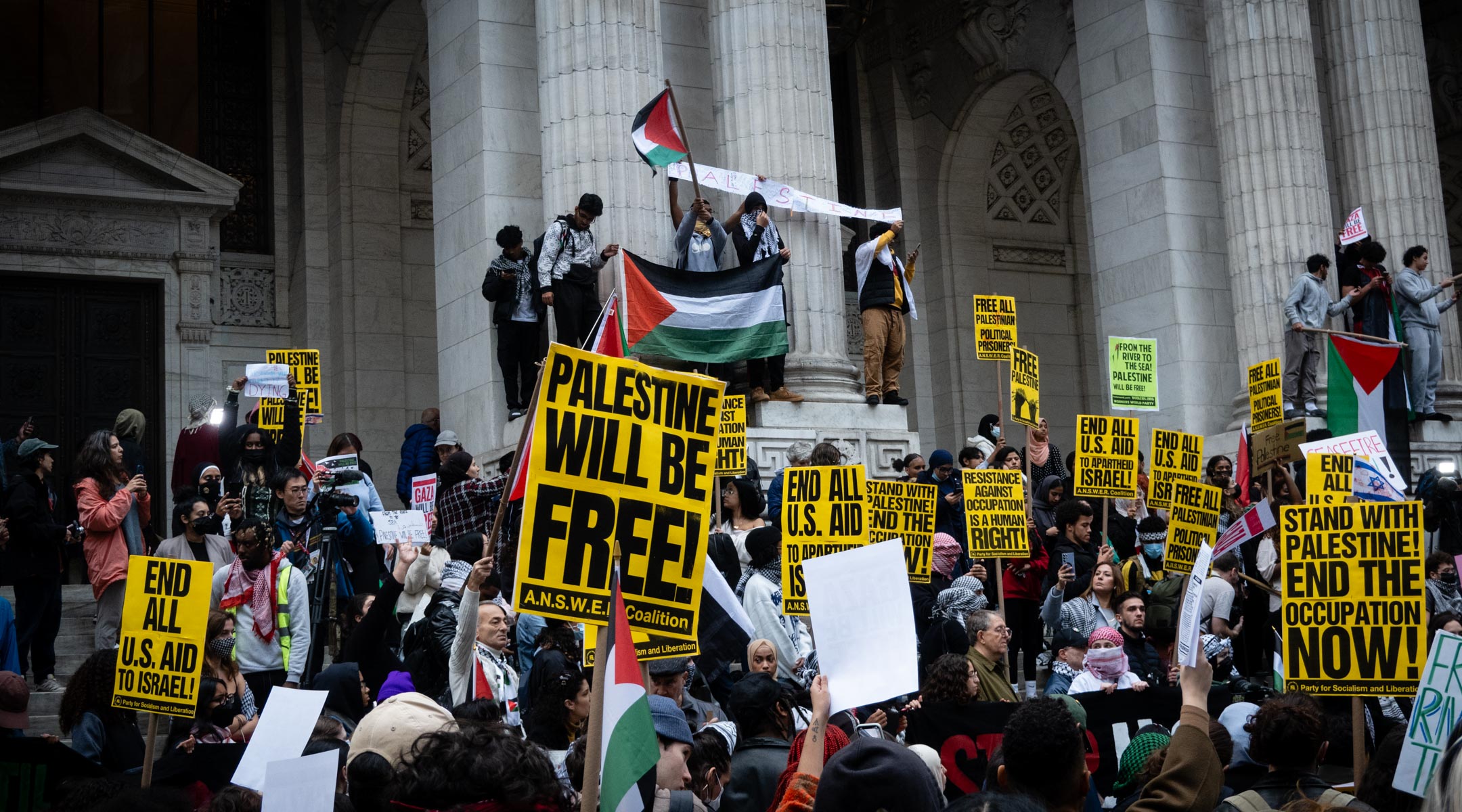 (New York Jewish Week) — A majority of young people and self-identified Democrats in New York City disapprove of Israel's response to Hamas' Oct. 7 attack, according to a poll released on Wednesday, which also found that New Yorkers view antisemitic prejudice in the city as a serious problem.
A majority of Democrats, 55%, disapprove of Israel's handling of the war, while 28% approve. Among respondents aged 18-34, 56% disapprove of Israel's conduct while 24% approve, according to the poll from Quinniapac University. Republicans were more supportive, with 73% approving of Israel's war effort.
Only 37% of New Yorkers overall approved of Israel's war against Hamas, while 45% disapproved. The remainder did not have an opinion.
The survey queried 1,297 self-identified registered voters in New York City between Nov. 30 and Dec. 4. It had a margin of error of 2.7%.
Views of the conflict were also split along racial lines, with 55% of white New Yorkers approving of Israel, while 59% of Black respondents, 44% of Hispanic respondents and 62% of Asians disapproved. Among  Jews, 72% approved of Israel's response.
Respondents were also divided regarding sending more military aid to Israel, with 45% in support and 46% opposed. Eighty-one percent of Jews were in favor of further aid to Israel.
The survey found that 72% of New Yorkers are concerned about prejudice against Jews, with 43% calling it a "very serious problem." Close to a quarter said antisemitism was not so serious, and eight percent said it was not an issue at all.
Among Jews, 90% viewed antisemitism as a concern, with 63% seeing the prejudice as very serious, and 27% as somewhat serious. Eight percent rated it as not so serious.
Data from the New York Police Department and Jewish security groups has indicated a surge in antisemitic hate crimes since Hamas' Oct. 7 attack, with 62 anti-Jewish incidents reported to police last month.
A majority of New Yorkers — 63% — also said that anti-Muslim prejudice was a problem, including 53% of Jews (the survey did not include data for Muslims as a separate category). There are consistently fewer hate crimes against Muslims than against Jews in New York City, according to NYPD data, although there has also been an uptick in Islamophobic incidents since the outbreak of the war.
The poll found that New Yorkers broadly disapproved of New York City Mayor Eric Adams, who had a 28% job approval rating. The figure represented the lowest job approval rating for a New York City mayor since Quinnipiac began polling the city's voters in 1996. Most other New York City officials received similarly low ratings.
The poll showed that voters disapprove of Adams' handling of a range of issues, from crime to the arrival of migrants to homelessness, and also do not find him trustworthy or a strong leader. The poll did not ask voters' opinion of Adams' vocal support for Israel during the war.
Affordable housing and crime were ranked as the most urgent issues facing the city.
—
The post Young voters, Democrats in New York City disapprove of Israel's war effort in Gaza, poll finds appeared first on Jewish Telegraphic Agency.