Toronto school board employee Javier Dávila is under investigation again—this time for comments he made on social media
NYU announces antisemitism research center as Jewish students file discrimination suit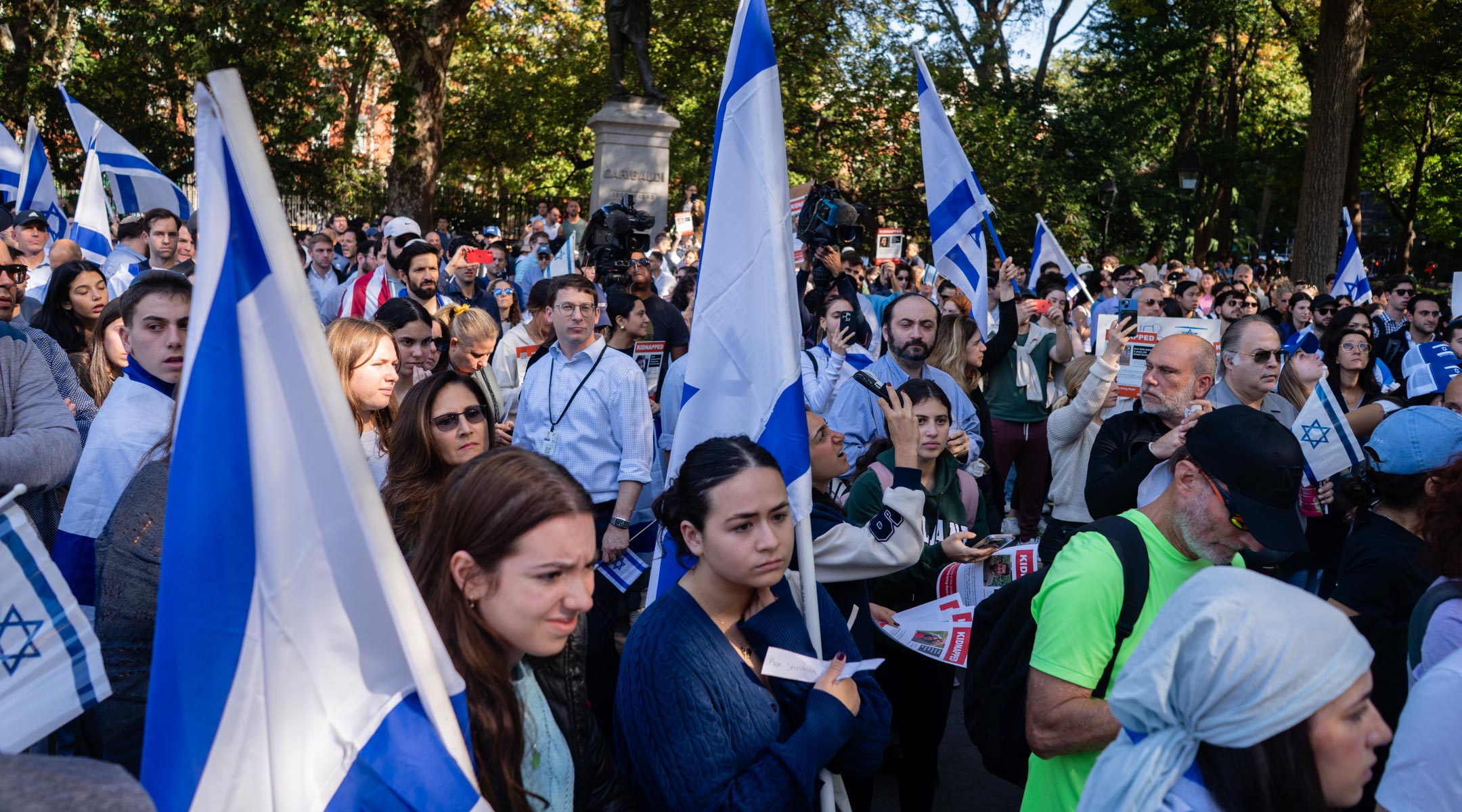 (New York Jewish Week) — New York University says it will launch a center dedicated to studying and combating antisemitism, as U.S. universities grapple with strident anti-Israel activities that Jewish students say often veers into discrimination.
The Center for the Study of Antisemitism center will research both "classical" anti-Jewish discrimination and "the 'new antisemitism' and its links to anti-Zionism," NYU President Linda G. Mills said in a statement on Wednesday.
The announcement came the same day that NYU was hit with a lawsuit filed by three Jewish students alleging that the university allowed hostile, discriminatory environment that violated their civil rights protections. The students — Bella Ingber, Sabrina Maslavi and Saul Tawil — say the school did not apply its anti-discrimination policies as they faced antisemitic incidents, which they said accelerated after Hamas' attack on Israel Oct. 7. 
The new research center is expected to open in the fall of 2024 and will study how antisemitism manifests and ways to counter discrimination against Jews. The institute will convene scholars from a range of disciplines, including the social sciences, Judaic studies, history, social work, public policy, psychology and law.
The university's statement said a recent "seven-figure donation" will fund the academic center, without elaborating. Officials declined to respond to additional questions about who was funding the new initiative.
Mills cited the Hamas attack on Israel in her statement announcing the center, saying antisemitism was on the rise before the terrorists' incursion, but that "since Oct. 7, the increase has been truly terrifying." The Hamas assault killed 1,200 Israelis, mostly civilians, and took over 200 others hostage. The attack, and Israel's devastating response against the terror group, have fueled an outpouring of antisemitism in the United States, according to law enforcement and Jewish security groups.
The NYU center will provide funding to faculty, students and fellows for research; hold undergraduate and graduate courses; host conferences, webinars and speaker series; conduct training seminars; and coordinate measures to "create an atmosphere free of anti-Jewish prejudices," the statement.
U.S. Congressman Daniel Goldman, who is Jewish and represents the district covering NYU's main campus, said he had held "constructive conversations" with university leaders and applauded NYU for launching the center.
The Jewish Community Relations Council of New York also celebrated the announcement. Last year, the Jewish group partnered with New York City's public college system, the City University of New York, to address antisemitism on its campuses. NYU is a private institution.
Two representatives of the Jewish advocacy group the Academic Engagement Network, which organizes academics to counter antisemitism on U.S. campuses, also welcomed the NYU announcement and said it would cooperate with the initiative.
"NYU's commitment to this scholarship and research will ensure that Jewish inclusion is supported and addressed alongside all forms of bias and discrimination," the Academic Engagement Network's Miriam F. Elman and Naomi Greenspan said in a joint statement.
NYU said the antisemitism center would investigate the ways antisemitism and other forms of discrimination feed into each other. In addition to research, the center will conduct training at the university and elsewhere to guard against antisemitism and other forms of hatred, and will engage with non-academics including members of the media, law enforcement and government.
The center will work closely with NYU's Skirball Department of Hebrew and Judaic Studies, and the inaugural faculty advisory panel includes several professors from the department.
Rabbi Yehuda Sarna, the executive director of the university's Bronfman Center for Jewish Student Life, will also be an adviser.
NYU, like a number of other universities has long grappled with anti-Israel activities on campus that some Jewish students said amounted to antisemitism. Eitan Gutenmacher, an NYU student activist with the New Zionist Congress, told the New York Jewish Week late last month that as an Orthodox Jew, he was afraid to be on campus due to classmates' support for "the so-called resistance" against Israel, but added that the administration was working with Jewish students to make them feel safe and was taking steps to address antisemitism.
The bigger problem was the "enthusiasm on campus from a huge portion, thousands in the student body, that are openly anti-Jewish, that are openly against the existence of a Jewish state," he said.
Mills issued a statement that unequivocally condemned the Hamas attack days after the assault.
Other New York campuses, including Columbia University, Cooper Union, and some colleges from the City University of New York have also faced harsh criticism for anti-Israel activities in the past month, including condemnation of the administrations.
New York City has seen a surge in antisemitic incidents since the outbreak of the Israel-Hamas war, according to Jewish security groups and the New York Police Department.
—
The post NYU announces antisemitism research center as Jewish students file discrimination suit appeared first on Jewish Telegraphic Agency.
'A constant series of lies': George Santos, who lied about being Jewish, says he won't run again after House ethics report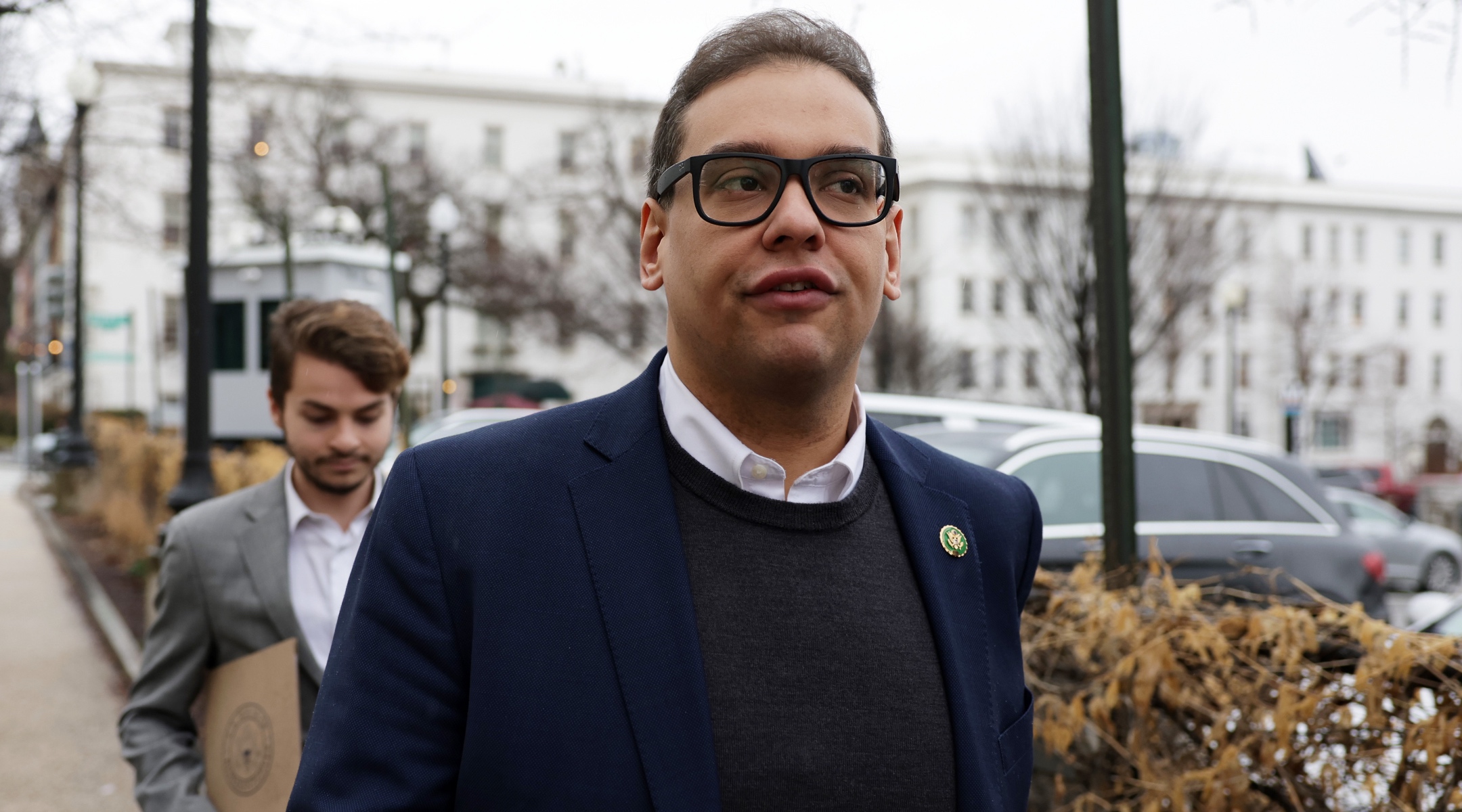 WASHINGTON (JTA) — The Ethics Committee of the U.S. House of Representatives found that Rep. George Santos, the Long Island Republican who lied about being Jewish, had likely committed "substantial violations of federal law."
The committee referred its findings to the Department of Justice, where Santos is already under investigation. In response, Santos said on X, the social media platform formerly known as Twitter, that he would serve out his term but would not run again. Republicans and Democrats alike immediately said they would seek his expulsion before then.
"Representative Santos sought to fraudulently exploit every aspect of his House candidacy for his own personal financial profit," the bipartisan report published Thursday said.
Santos lied about his family history and life story on the campaign trail, and the report touched at times on those fabulist tendencies. But its focus was on the allegations of fraud that he now faces in a federal court.
"Representative Santos has been the subject of significant public reporting about his many alleged fabrications, including allegations that he has lied about his degrees, his religion, his work experience, his family, and numerous other aspects of his biography," it said. "But Representative Santos' lies go far beyond inaccuracies on a resume."
It listed the many fraud allegations Santos faces. "He sustained all of this through a constant series of lies to his constituents, donors, and staff about his background and experience," it said.
Amontg Santos' many lies are that he is the descendants of Jews and Holocaust survivors. When the revelations came fast and furious after his election a year ago, many of his fellow Republicans, including Jewish Republicans, repudiated him and called on him to resign, citing his fabrications about Jewish ancestry among others.
Santos, who has remained defiant, blasted the committee in his statement after the report, but also said for the first time that he would not run again.
"I am humbled yet again and reminded that I am human and I have flaws, but I will not stand by as I am stoned by those who have flaws themselves," he said. "I will continue on my mission to serve my constituents up until I am allowed. I will however NOT be seeking re-election for a second term in 2024 as my family deserves better than to be under the gun from the press all the time."
That may not be soon enough for his colleagues. Reps. Dan Goldman, a New York Democrat who is Jewish, and Michael Guest, the Mississippi Republican who chairs the committee, separately said they would launch efforts to expel Santos.
Santos represents a swing district and a number of Democrats have already lined up to run to replace him.
—
The post 'A constant series of lies': George Santos, who lied about being Jewish, says he won't run again after House ethics report appeared first on Jewish Telegraphic Agency.
A new book remembers Marty Glickman, the Jewish broadcasting icon famously benched at the Berlin Olympics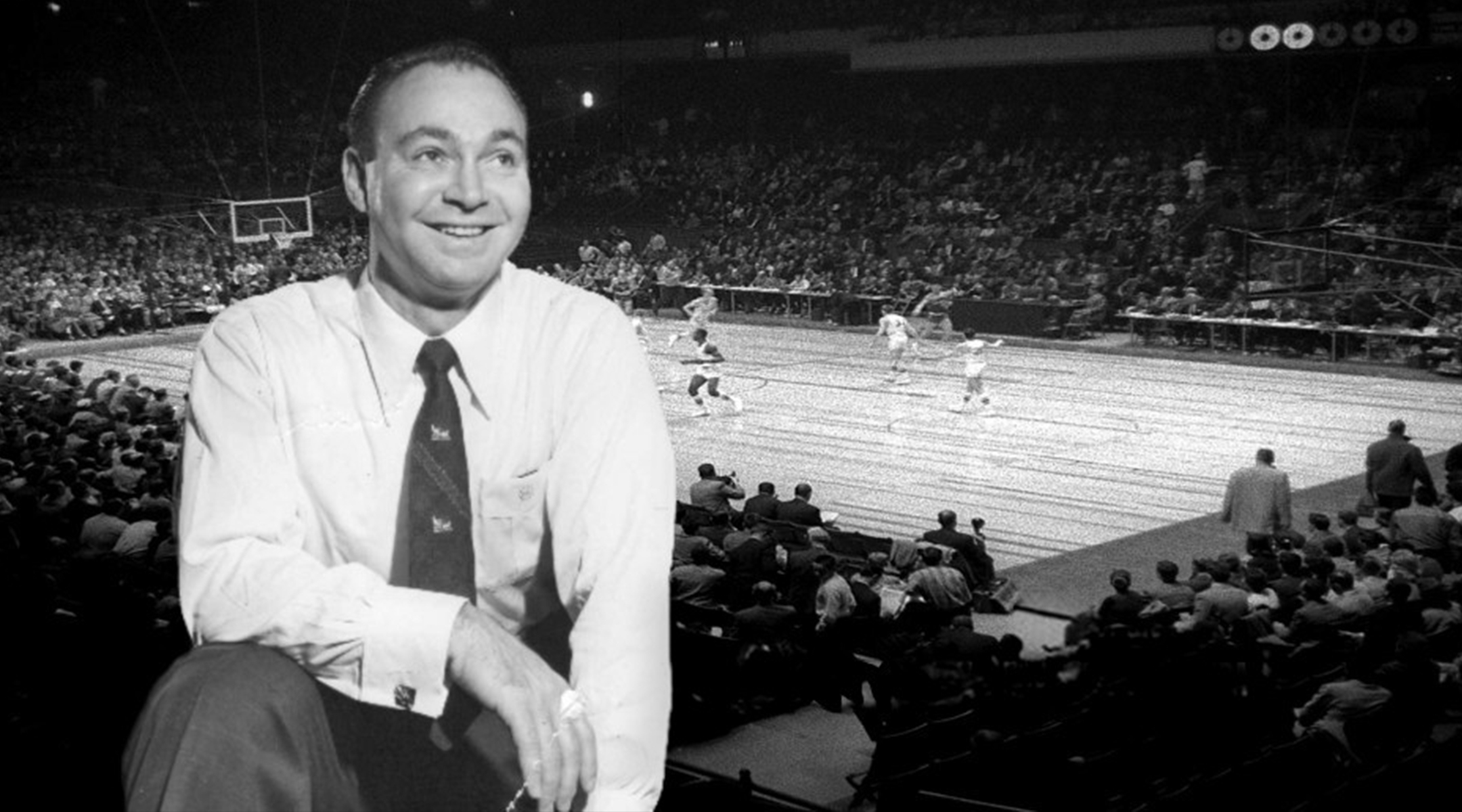 (New York Jewish Week) — Like many New York sports fans of his era, Jeffrey Gurock has a distinct memory related to legendary Jewish broadcaster Marty Glickman.
When Gurock, 74, was growing up, one Sunday morning he and his family made the trek from the Bronx to visit his aunt and uncle in Yorktown Heights, about 50 miles northeast of New York City. The Giants broadcast had been blacked out in his Parkchester neighborhood, but at his aunt and uncle's house, Gurock was able to pick up the telecast from nearby New Haven.
"But we turned down the sound and listened to Marty Glickman on the radio," Gurock recalled in an interview with the New York Jewish Week. "He was our story."
From the late 1940s until the 1990s, Glickman was the voice of New York sports. Glickman spent years as the television and radio broadcaster for just about every New York team, including the Jets, Giants, Knicks and Rangers, plus pre- and post-game coverage of the Yankees and Brooklyn Dodgers. Glickman was the first TV announcer for the NBA, and was also known for his college football broadcasts.
And now Gurock, a historian and professor at Yeshiva University, recently published "Marty Glickman: The Life of an American Jewish Sports Legend," a book about the beloved sportscaster who died in 2001 at 83.
Gurock, who has written and edited more than two dozen books, including a few about Jews and sports, said his newest work is much more than a sports book.
"The takeaway from the book is the difficulties that second generation Jews have in their chosen field, particularly if they're in the public eye, to make it, maintain their identity and to avoid the scourges of antisemitism," he said.
Part of what made Glickman unique, Gurock writes, is the way he spoke to all New Yorkers — Jews and non-Jews alike — in a way that felt personal. He didn't shy away from his Jewishness, and in fact rebuffed advice that he should change his name to one that sounded less Jewish.
In addition to his classical New York intonation and vernacular, the Flatbush native sprinkled Yiddishisms into his vocabulary, too. "The word choice synthesis was a source of pride to his Jewish listeners, as one of their own integrated sports reporting with their ancestral roots at a time when so many others hid where they came from," Gurock writes in the book.
Beyond all the games and famous soundbites, Glickman's legacy is perhaps best illustrated by the number of accomplished broadcasters, many of them also Jewish, who count him as their mentor. Greats like Marv Albert, Ian Eagle and Bob Costas were "disciples" of Glickman's, as Gurock put it, and some served as Glickman's proxies as Gurock researched and wrote the book.
One interview stood out above the others, Gurock said: his conversation with NBA Hall of Famer and broadcaster Bill Walton, an Emmy-award winner who has credited Glickman with helping him overcome his stutter. Gurock said Walton told him that Glickman "was the most important person in my life."
"Why was he so great?" Gurock asked Walton.
"Because I used to stammer, and he taught me how to speak," Walton said.
Aside from his broadcasting pedigree, Gurock said he was interested in exploring Glickman's life because of his famous encounter with antisemitism at the 1936 Berlin Olympics.
Before he called games with his signature "Swish!" catchphrase, Glickman was a track and football star at James Madison High School in Brooklyn and Syracuse University, and earned a spot as a sprinter with the U.S. Olympic team as a teenager. Glickman traveled to Germany and trained with the team, only to be inexplicably replaced, along with another Jewish teammate, on the morning of the 400-meter relay.
As Gurock writes in the book, Glickman "was certain that he was egregiously excluded because some American Olympic officials did not want to embarrass Hitler should a Jew end up standing on the victory platform." (It's important to note, however, that one of their replacements was Jesse Owens, the African-American runner who in the same games would win four gold medals.)
Glickman rarely spoke about the incident until decades later, when in the 1980s he began sharing his story, including through initiatives with the United States Holocaust Memorial Museum.
"I think that Glickman was like most American Jews of that generation, that when you face antisemitism you didn't confront it head on, particularly when you saw it all around you," Gurock said. "Then the world changes, the Jewish world changes. In a sense, the Jewish community rediscovers Glickman, and says, look, you have something very important to teach us."
Despite his infamous benching due to purported bigotry, Glickman would go on to a decorated career in sports. During an era when many Jews struggled to fit in, especially in prominent, public-facing fields, Glickman had a seat at the table, Gurock said. Literally.
"There's a story of him eating pork chops at the training table" for one of the local teams, Gurock said, noting that Glickman was a secular Jew. "The interesting thing is, he's at the training table, right?"
In other words, Gurock said, "It's not whether you win or lose, but whether you're allowed to play the game." Or in Glickman's case, call it.
—
The post A new book remembers Marty Glickman, the Jewish broadcasting icon famously benched at the Berlin Olympics appeared first on Jewish Telegraphic Agency.