'Unorthodox' author Deborah Feldman is a lightning rod in Germany's debate about criticizing Israel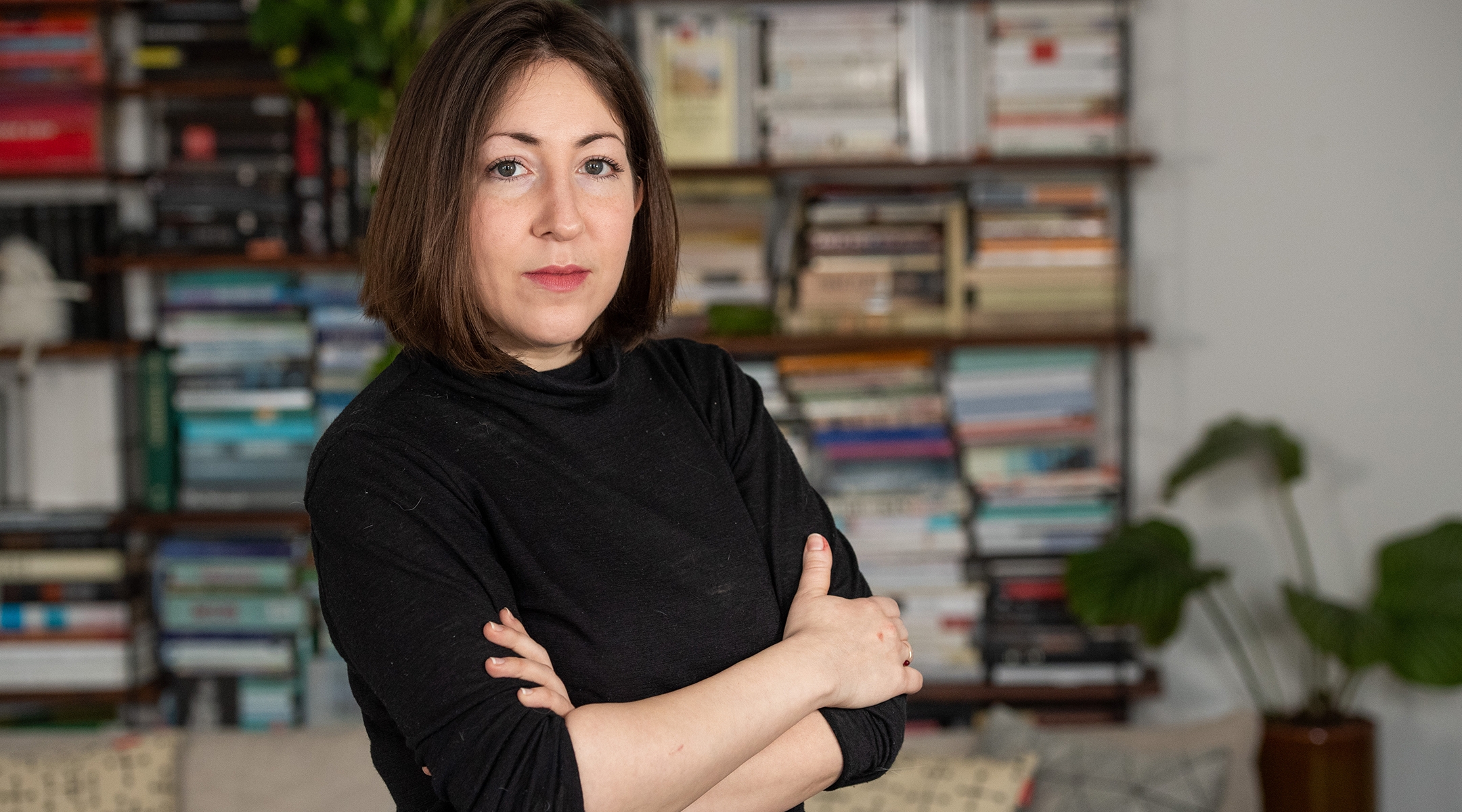 (JTA) — The TV series "Unorthodox" took the world by storm in 2020. Now, recent comments about Israel by the story's Berlin-based Jewish heroine, author Deborah Feldman, have created a storm of another kind.
Feldman, 37, a dual American-German citizen, rose to fame through her story of fleeing the Satmar Hasidic community of Brooklyn to the welcoming streets of Berlin. She is now making the rounds of German and British media, unabashedly criticizing Israel's war against Hamas and taking umbrage at what she considers Germany's misguided support for the Jewish state.
Her pet peeve: German eagerness "to lecture us on how any criticism of Israel is antisemitic." On a recent talking heads TV program on the broadcaster ZDF, German Vice Chancellor Robert Habeck said "Israel has the right to defend itself and Germany has the obligation to stand by Israel."
"Israel must also adhere to international law and do everything in its power to protect civilians," he said. "But Israel's task is almost impossible since Hamas hides behind civilians."
With Habeck listening remotely on a big screen behind her, Feldman, the granddaughter of Holocaust survivors from Hungary, told him she was "appalled" that Jews are "selectively protected" in Germany. Though antisemitism is on the rise, she said, "sometimes empty synagogues" get police protection while other places where Jews gather — such as kosher restaurants or Jewish museums — have to take care of themselves. JTA has not confirmed this, and Feldman and her attorney have not responded to JTA requests for comment.
Feldman has garnered support from some, derision from others. The controversy hits a raw nerve in Germany, where criticism of Israel has been subject to intense scrutiny for decades after World War II. But there has long been a growing thirst for Jewish voices to break the supposed taboos.
Most Jews in Germany rush to Israel's side in times of crisis, whether or not they like the country's government and its policies towards the Palestinians. German politicians and mainstream Jewish organizations, such as the Central Council of Jews in Germany, usually dismiss voices like Feldman's as an annoying fringe phenomenon — but Jewish leadership has become increasingly uncomfortable with the dynamic.
In the latest issue of the New York Review of Books, Berlin-based American Jewish scholar Susan Neiman decried Germany's "silencing of critical Jewish voices," including Feldman's.
Neiman, director of the Einstein Forum foundation in Berlin, noted that several venues had canceled events promoting Feldman's new book, "Judenfetisch" ("Jew Fetish"), which argues that German guilt over the Holocaust has distorted its relationship to Jews and Israel. Neiman also said the Chabad Lubavitch movement in Berlin is "suing Feldman to take the book off the shelves." JTA has learned that Chabad won its suit on Nov. 1 over a false allegation related to state funding for Ukrainian-Jewish refugees in Berlin. Books on the shelves of shops can stay where they are, but the offending material will be removed from future editions, said Chabad's attorney Nathan Gelbart.
Some book tour events may have been canceled, but Feldman, who moved to Berlin in 2014, has still been getting plenty of publicity, noted writer Mirna Funk — "more than any of us," said Funk. The German-born Jewish novelist and journalist recently shared the Arik Brauer Journalism Prize from the Vienna-based Middle East think tank Mena-Watch for writing on the Middle East, with Israeli-German psychologist and author Ahmad Mansour.
"Deborah has no idea about Jews in Germany and no idea about Israel, but since Oct. 7 German media has dragged her onto many TV shows and quoted her in many newspapers," Funk said in an Instagram post.
"The woman comes from an anti-Zionist sect in Brooklyn and is considered a representative of Germany's Jewish community," Funk wrote. "It's slowly getting to the point where I can only stand it all if I can beam myself 15 years or so into the future and look back on this time, after the nightmare is over."
Though German foreign policy has been overall very supportive of Israel, popular support for the Jewish state has waned steadily since the 1960s. Politics reflects that shift, with increasing government criticism of Israel's settlement policy over the years. Germany no longer automatically stands up for Israel in European Union and United Nations forums.
Sacha Stawski, president and founder of the Frankfurt-based pro-Israel initiative Honestly Concerned, agreed that there is a distinct popular appetite for Jewish Israel critics.
"People like Deborah Feldman have made a business model out of being anti-Zionist, and being outspoken Israel haters," Stawski told JTA.
Such critics are "well-received guests on all the major talk shows," he said. "For somebody like Feldman to claim that people are trying to shut her up and that she's not able to raise her voice is the greatest bullshit I have ever heard."
Feldman and Neiman also are among the more than 100 signatories to a recent open letter in N+1 magazine from Jewish writers, artists and intellectuals in Germany, condemning what they describe as an indiscriminate crackdown on voices critical of Israel. The letter was also published in German in the left-wing daily Tageszeitung.
The letter was the brainchild of American writer Alex Cocotas, 36, who moved to Germany eight years ago after living in Israel for a couple of years. It started as a text message to a handful of friends who, like him, were "horrified about what was happening in Israel, but also about what was happening here in Germany as well," he told JTA.
What triggered the action was a government ban on certain statements and symbols at pro-Palestinian demonstrations following Oct. 7. After participants in one Berlin rally celebrated the brutal attack, German Chancellor Olaf Scholz announced that the group that called for the rally would be banned. Schools in Berlin were told they could also bar the wearing of the Palestinian flag, keffiyeh headscarves and other pro-Palestinian symbols.
It was such broad measures that the open letter targeted. While condemning the Hamas attack, the writers said the banning of "public gatherings with presumed Palestinian sympathies" — including those called by Jews — serves to "suppress legitimate nonviolent political expression that may include criticisms of Israel."
Cocotas said that despite his efforts to reach the mainstream Jewish community in Germany,  most of the signatories were American or Israeli Jews living here.
In laws shaped by the post-war reckoning with its National Socialist past, Germany bars Holocaust denial and the use of Nazi slogans and symbols. Germany also has formally accepted the International Holocaust Remembrance Alliance's working definition of antisemitism, which includes the denial of Israel's right to exist as a form of antisemitic hate speech.
"In the U.S. you can deny the Holocaust in public, and you will not be prosecuted," said Cocotas, adding that he recognized the differences between German and American laws. But "I don't consider 'Free Palestine' to be an antisemitic statement. It should be protected speech."
His concerns  echo those of Germany's commissioner on antisemitism and Jewish life, Felix Klein, who recently told the Guardian newspaper that the broad restriction of protests was "worrying,"  because "demonstrating is a basic right."
"It's unfortunate that it's a very small group of Hamas supporters and people that are hating Israel that cause all this trouble," Klein said.
Another American transplant to Berlin, William Glucroft, told JTA that he believes the restrictions are deeply problematic. "As a writer and journalist, I can only be for unfettered access to public expression," Glucroft, who signed the open letter, told JTA in an email. "As a Jew, my safety and well-being are only thanks to democratic ideals of equal protection and rule of law. That has to be there for everyone."
"Germany's understanding of its history leads it to think it owes something to Israel, a country that did not exist" during the Third Reich, he continued. Germany itself "blurs the line between Jews and Israel, which endangers Jews and by the IHRA definition that Germany itself endorses, is antisemitic."
Micki Weinberg, founder of the Berlin based SHIUR Jewish learning project, also received the open letter. But he declined to sign.
"I completely understand one's interest to have empathy with the Palestinians — and I do — but that doesn't mean ignoring attacks on Jews and denigrating a legitimate fear," he told JTA by text message.
"If the letter simply acknowledged the real risk of antisemitism within Islamist and pro-Palestinian/Anti-Israel groups and asked for a separation between legitimate pro-Palestinian demos and antisemitic pro-Palestinian demos, then that would be fine."
Funk, who calls both Berlin and Tel Aviv home, said she was surprised to find the name of an Israeli friend among the signatories.
"I texted him after I saw his name on the list: 'What the f— are you doing?' There is a huge disconnect between the established Jewish community in Germany and the Israelis," she said. "They simply don't understand Germany."
"I would not sign, because Palestinians are not suppressed," she said, noting that there are 5.5 million Muslims in Germany and about 100,000 registered members of Jewish communities.
"They are not being silenced," said Funk. "They are demonstrating on the streets every f—ing day for Gaza. So I don't know what they are talking about."
—
The post 'Unorthodox' author Deborah Feldman is a lightning rod in Germany's debate about criticizing Israel appeared first on Jewish Telegraphic Agency.
After uproar, NY State Sen. Julia Salazar fires staffer who endorsed Hamas attack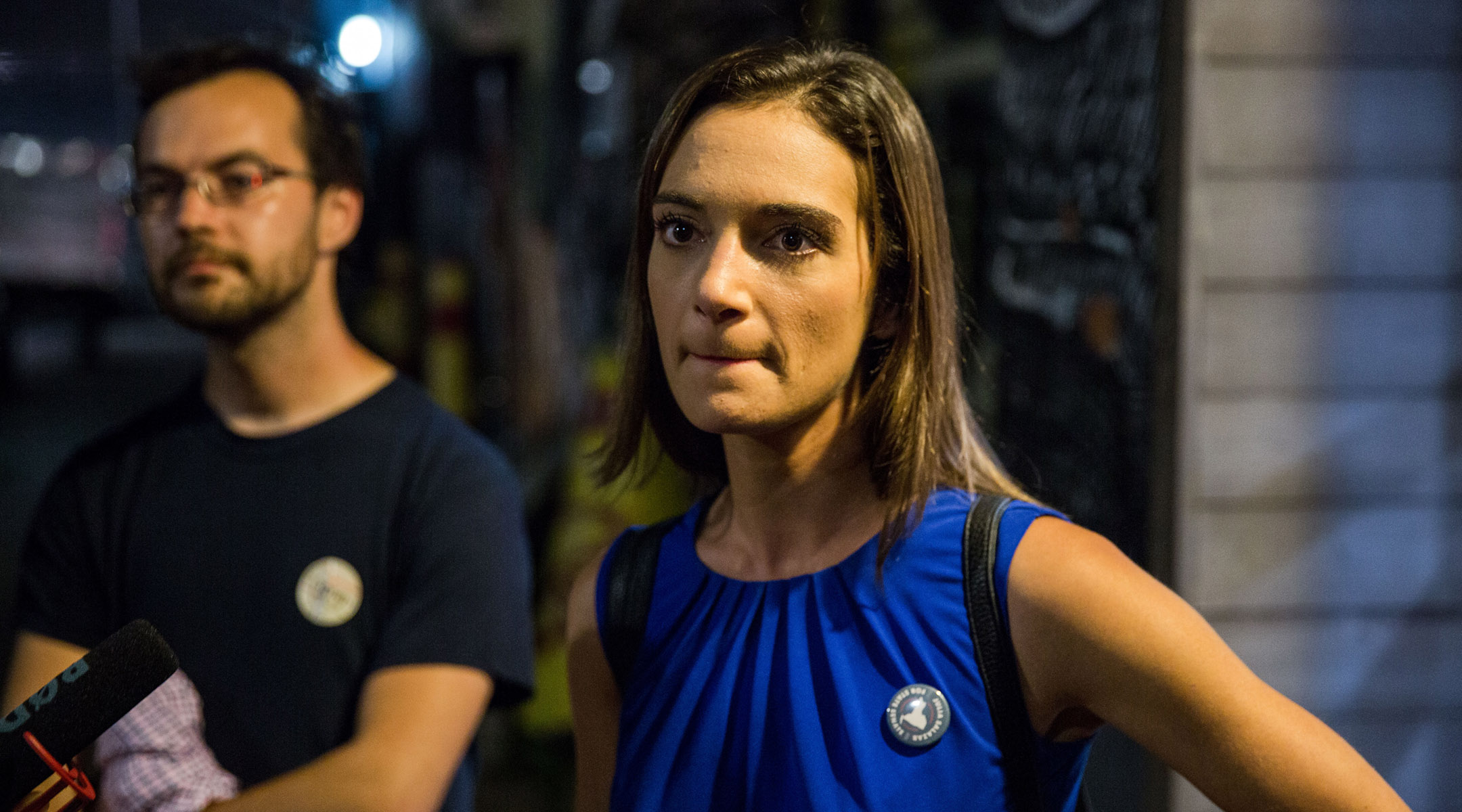 (New York Jewish Week) — New York State Senator Julia Salazar fired a staffer who endorsed the Oct. 7 Hamas attack on Israel.
The decision came Monday morning, according to the Albany Times Union, after Salazar had distanced herself from the comments by Sarah Campbell, her communications and policy director.
According to screenshots published by the New York Post on Saturday, Campbell wrote the phrase "by any means necessary" on her personal account on X, formerly known as Twitter, on Oct. 7. The phrase is seen as justifying Hamas' violence and has been used by protest groups in New York that celebrated the attack and that call for Israel's destruction. 
More than a month later, on Nov. 12, Campbell posted, "I don't condemn Hamas, I condemn Israel. Who has reigned more terror: Hamas in the entirety of their existence, or Israel in just the last 30 days?"
The screenshot of the Nov. 12 post showed that her account had been made private, so that only approved followers could see her posts. The account has since been deleted.
Salazar's office did not immediately respond to a request for comment.
After the posts surfaced, Salazar addressed the report in a post on X, writing that her staffer posted the comments to her "personal, locked social media account without my knowledge."
"Her personal thoughts are not mine, and do not reflect me or my office in any way at all," Salazar wrote. "I'm not going to allow anyone to wrongly pin another person's reckless and completely unacceptable words onto me or my office."
The Post also reported that Isabel Anreus, Salazar's chief of staff, liked an Oct. 7 post that said, "The stuff happening in Palestine really cheers me up." During the attack, Hamas terrorists killed approximately 1,200 people, mostly civilians, and took more than 200 people captive. Anreus' account is also now private.
Salazar, a Democrat who represents north Brooklyn, was elected to the State Senate as a member of the Democratic Socialists of America in 2018. The group's New York City branch came under fire for endorsing a rally held in Times Square on Oct. 8, before Israel had fully launched its counteroffensive in Gaza, that backed the Palestinian "right to resist." 
Salazar has repeatedly called for a ceasefire and criticized Israeli strikes on Gaza since the beginning of the war, and also condemned the Hamas attack and has demanded the release of hostages held by Hamas.
—
The post After uproar, NY State Sen. Julia Salazar fires staffer who endorsed Hamas attack appeared first on Jewish Telegraphic Agency.
What we know — and don't yet — about the hostage deal to release Israelis held by Hamas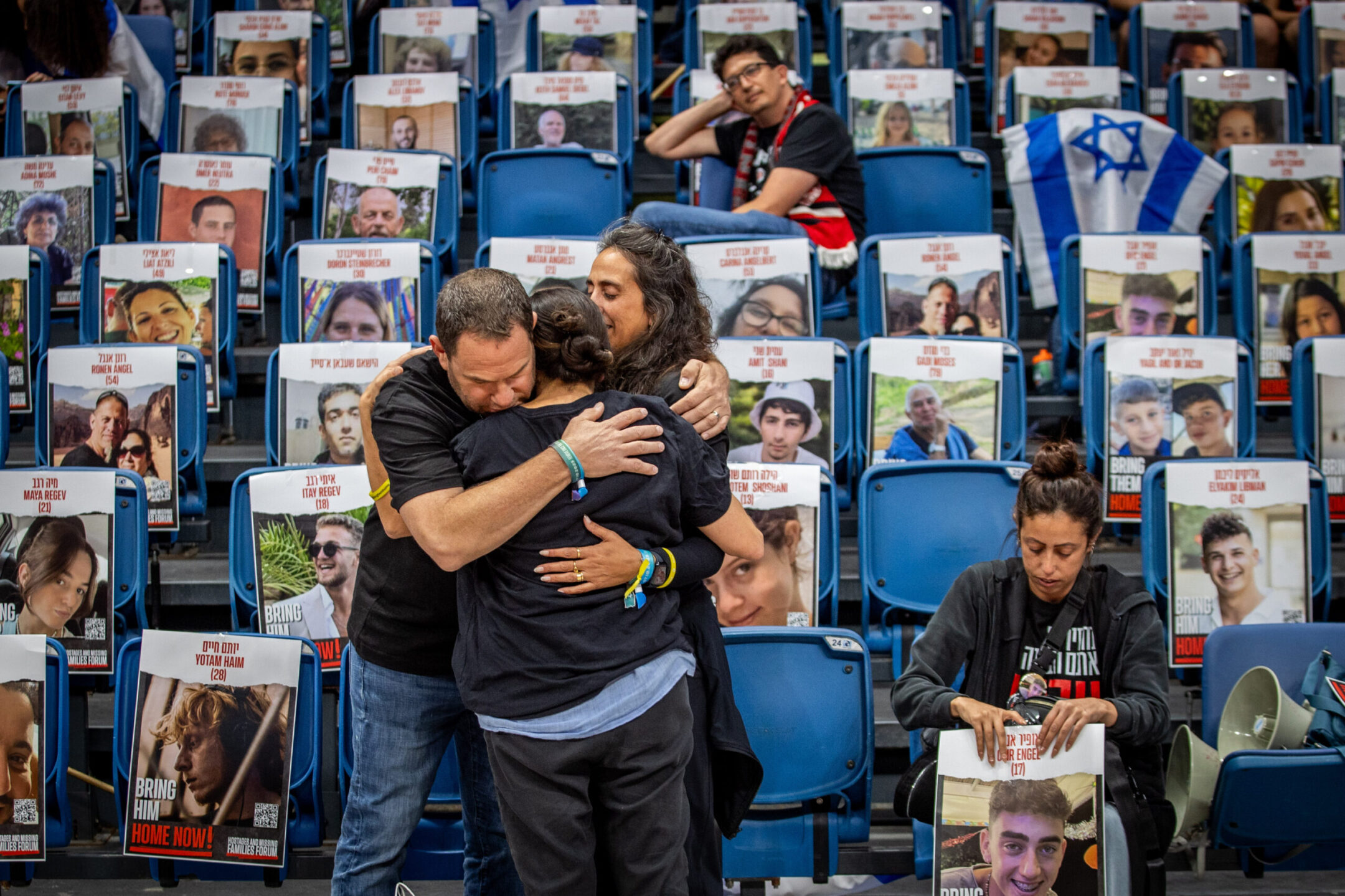 (JTA) — When it attacked Israel on Oct. 7, killing 1,200 people and wounding thousands, Hamas also took an estimated 240 people hostage. Following weeks of breathless advocacy, protest and anxiety that spread across the world, some of those captives are about to be released in a deal between Israel and Hamas.
The hostages range from Israeli soldiers to the elderly to small children. The deal expected on Tuesday would free children, women and some of the oldest hostages in exchange for women and youths held by Israel on national security charges and would trigger a pause in the war between Israel and Hamas. It would be Israel's first prisoner exchange with Hamas in more than a decade and by far the largest in history.
The agreement is a milestone in what has become a worldwide campaign, led by the captives' relatives, to raise awareness of their plight and push for their release. The movement has seen cities across the globe papered with posters bearing the hostages' faces and names (many of which have been taken down) and empty Shabbat dinner tables set up from Tel Aviv to New York City's Times Square to represent the captives. A call to release the hostages was a central demand of the rally that brought more than 200,000 Jews to a rally in Washington, D.C. last week.
And the deal may be just the first stage in ongoing negotiations to bring the six-week-old war to an end. Here's what you need to know about the impending agreement, what it might mean and what we still don't know.
How many hostages will be released and who are they?
Under the reported deal, 50 hostages will be released each day during the initial pause, likely starting on Friday. Afterward, Hamas can extend the truce by releasing an additional 10 hostages a day. Up to 80 hostages could be released.
The first tranche of hostages to be released will include children held by Hamas — a number Israel estimates at 40. They include a 10-month-old baby and his 4-year-old sister, Kfir and Ariel Bibas; Abigail Mor Idan, 3, a U.S. citizen who is being held without anyone else in her family; Emily Hand, whose parents first believed her to be dead and who just turned 9 in captivity; Erez and Sahar Kalderon, whose grandmother and cousin were murdered; and Yigal Yaakov, 13, who appeared in a hostage video released earlier this month.
Israel reportedly pressed hard for mothers to be released with their children, and Israeli reports suggest that demand is being met. Elderly women who are held hostage are also expected to be released as part of the deal.
What about the rest of the hostages?
About a month ago, Hamas released two women, ages 79 and 85; the husband of one of them is still being held by Hamas. Hamas also released an American mother and daughter last month. Neither of those releases was subject to an agreement with Israel. Israel rescued one hostage, a soldier, on Oct. 30.
In addition, some of the hostages are known to have died after being taken captive. Others were severely injured before being abducted to Gaza. The condition and location of the remaining hostages may not easily be known. Even those who are alive could be hard to find, in a region where the vast majority of people have been displaced since Oct. 7.
Some of the hostages are soldiers and do not appear to be represented in the deal at all. It also appears that adult men who are not soldiers are not set for imminent release.
Notably, the deal applies only to Israeli hostages. Perhaps dozens of the hostages are foreign nationals who were in Israel as guest workers, including Thai and Filipino citizens and students from Tanzania. (One of them, Clemence Matanga, died in Gaza.) Hamas also took about a dozen U.S. citizens hostage, though most if not all hold Israeli citizenship as well.
Some hostages are not in Hamas' control. Hostages were held by three different terrorist groups in Gaza: Hamas, Palestinian Islamic Jihad and a smaller militia. Negotiations have involved only Hamas, which controls Gaza. According to Israeli reports, only 30 of the estimated 40 child hostages are being held by Hamas.
What is Israel giving up to get the hostages back?
According to the contours of the deal reported by Israeli media, Israel will release three Palestinian prisoners for every hostage released, meaning that up to 240 Palestinians will go free. That represents only a tiny fraction of the approximately 5,000 Palestinians held in Israeli prisons prior to Oct. 7.
It's also a much smaller number than the 1,000 prisoners Israel released in 2011 in exchange for Gilad Shalit, a soldier who Hamas had taken hostage five years earlier. As opposed to the 2011 exchange, this time Israel says it has agreed only to release women and minors who did not kill anyone.
Israel is also agreeing to pause its offensive in Gaza for at least four days and to suspend aerial surveillance for six hours a day during that time, in part so Hamas can locate additional hostages. Israeli soldiers will remain in northern Gaza, which they invaded last month, during the pause.
The number of trucks bringing in humanitarian aid during the pause will increase under the terms of the deal. Two weeks ago, Israel began allowing 100 trucks a day into Gaza, a goal the United States had laid out. Under the deal, that number will increase to 200 a day.
How will this affect Israel's war against Hamas?
A big question is whether and to what extent Israel's war in Gaza will continue after this group of hostages are released. Israel says it plans to resume fighting as soon as the truce expires. But a provision in the reported terms of the deal allows for an extension of the truce if Hamas releases more hostages — 10 freed captives for each additional day of calm.
A lot can happen during a pause in fighting: Both sides can regroup, but there could also be continued talks that would lay the groundwork for a more lasting cessation of hostilities — something protesters around the world and a small but growing group of Democratic lawmakers in the United States support. Israel has so far rejected calls for a permanent ceasefire because its stated goal is to depose Hamas.
Previous Israel-Hamas humanitarian pauses have also been broken — plunging both sides back into the fighting.
Plus, international sentiment that has been firmly on Israel's side up to now could shift. Some, though not all, of Israel's goals have been met, and a pause in the fighting may allow humanitarian groups to assess the devastation. Already, the United States is signaling that it may not support an expansion of Israel's military campaign in southern Gaza without stronger assurances from Israel that it will protect civilians.
According to the Hamas-run Gaza Health Ministry, more than 12,000 Palestinians have been killed in the fighting, though the number does not distinguish between civilians and combatants, and does not say how many have been killed by misfired Palestinian rockets.
Who helped broker the deal?
Both the United States and Qatar acted as go-betweens for Israel and Hamas, which refuse to negotiate directly. Both are already involved in the fighting: The United States has stood firmly behind Israel's military campaign in Gaza and provides it with aid, while Qatar is the home base of Hamas' political leadership.
This is far from the first time Israel and Hamas have conducted indirect negotiations. During their last major round of conflict, in 2021, Egypt brokered a ceasefire with the support of Jordan and the United States.
Does everyone in Israel support the deal?
No. Members of the far-right bloc in the government said they oppose a deal, calling it short-sighted. The Religious Zionist party, led by Bezalel Smotrich, issued a statement calling it "bad for Israel's security, bad for the hostages, and bad for the soldiers of the IDF."
Their argument is that sending Palestinian prisoners back into Gaza lays the groundwork for future attacks. Yahya Sinwar, the mastermind of Oct. 7, was released from an Israeli prison in the 2011 prisoner exchange. The far-right lawmakers also say Israel will be demonstrating that it is willing to make compromises to win back hostages, potentially raising the cost to get the rest of the hostages out.
Family members of the hostages have clashed with the far right in calling for their relatives' release. At a meeting in Israel's parliament this week, far-right legislators yelled at family members of the hostages and one accused them of supporting Hamas.
Other right-wing parties have said they will support the deal, giving it far more than enough support to clear a government vote.
—
The post What we know — and don't yet — about the hostage deal to release Israelis held by Hamas appeared first on Jewish Telegraphic Agency.
South African Parliament Votes to Close Down Israeli Embassy in Pretoria
South Africa's parliament on Tuesday voted decisively in favor of the closure of the Israeli Embassy in Pretoria, one day after the Jewish state recalled its own envoy back to Jerusalem for consultations amid growing hostility from the ruling African National Congress (ANC) and left-wing parties over the ongoing war in Gaza.
A motion submitted by the far left Economic Freedom Fighters (EFF) was backed by the ANC, passing with 248 votes in favor to 91 against. Members of the centrist Democratic Alliance (DA) largely voted against the motion. After its passage, several members of parliament, many of them bedecked in Palestinian flags and keffiyeh scarves, chanted the slogan "From the River to the Sea, Palestine Will Be Free" — widely interpreted as a call for Israel's elimination as a sovereign state.
The parliamentary vote coincided with a virtual meeting of the BRICS bloc of states — Brazil, Russia, India, China, and South Africa — on the conflict in Gaza triggered by the Oct. 7 Hamas pogrom in southern Israel that was hosted by South African President Cyril Ramaphosa.
Slamming Israel for actions that were "tantamount to genocide," Ramaphosa declared that the "root cause of this conflict is the illegal occupation of Palestinian territory by Israel."
"The actions by Israel are in clear violation of international law, including the UN Charter and the Geneva Convention read together with its protocols. Let this meeting stand as a clarion call for us to combine our efforts and strengthen our actions to end this historical injustice," Ramaphosa told the meeting, which included delegations from new BRICS member states Saudi Arabia, Argentina, Egypt, Ethiopia, Iran, and the United Arab Emirates. UN Secretary-General António Guterres was also in attendance.
Ramaphosa's speech followed last week's decision by South Africa to refer what it called Israel's "genocide" in Gaza to the International Criminal Court for an investigation, with its cabinet calling on the ICC on Monday to issue an arrest warrant against Israeli Prime Minister Benjamin Netanyahu.
"Given that much of the global community is witnessing the commission of these crimes in real time, including statements of genocidal intent by many Israeli leaders, we expect that warrants of arrest for these leaders, including Prime Minister Benjamin Netanyahu, should be issued shortly," South African minister in the presidency, Khumbudzo Ntshavheni, told reporters.
Earlier this month, South Africa recalled its ambassador to Israel and withdrew all its diplomatic staff from the country.
South African Jews meanwhile expressed regret at Israel's decision to withdraw its Ambassador, Eliav Belotserkovsky, blaming the ANC's "hostility and discrimination against the world's only Jewish state" for Jerusalem's decision.
In a statement, the chair of the South African Zionist Federation (SAZF), Rowan Polovin, condemned the "South African government's one-sided and irresponsible rhetoric during this period," which "alongside a refusal to even engage in dialogue with Israel, has had absolutely no impact on establishing peace between Israel and the Palestinians."
Polovin added that "South Africa's act is one of self-sabotage that has removed our country from having any meaningful role to play contributing to an end to the current war started by Hamas, or any peace efforts into the future. All it has achieved is deepen the divisions in South Africa, undermine our country's international standing and economic interests, and harm the constitutional rights of our citizens."
The post South African Parliament Votes to Close Down Israeli Embassy in Pretoria first appeared on Algemeiner.com.