US Jewish day schools are enrolling Israeli children who have been displaced by war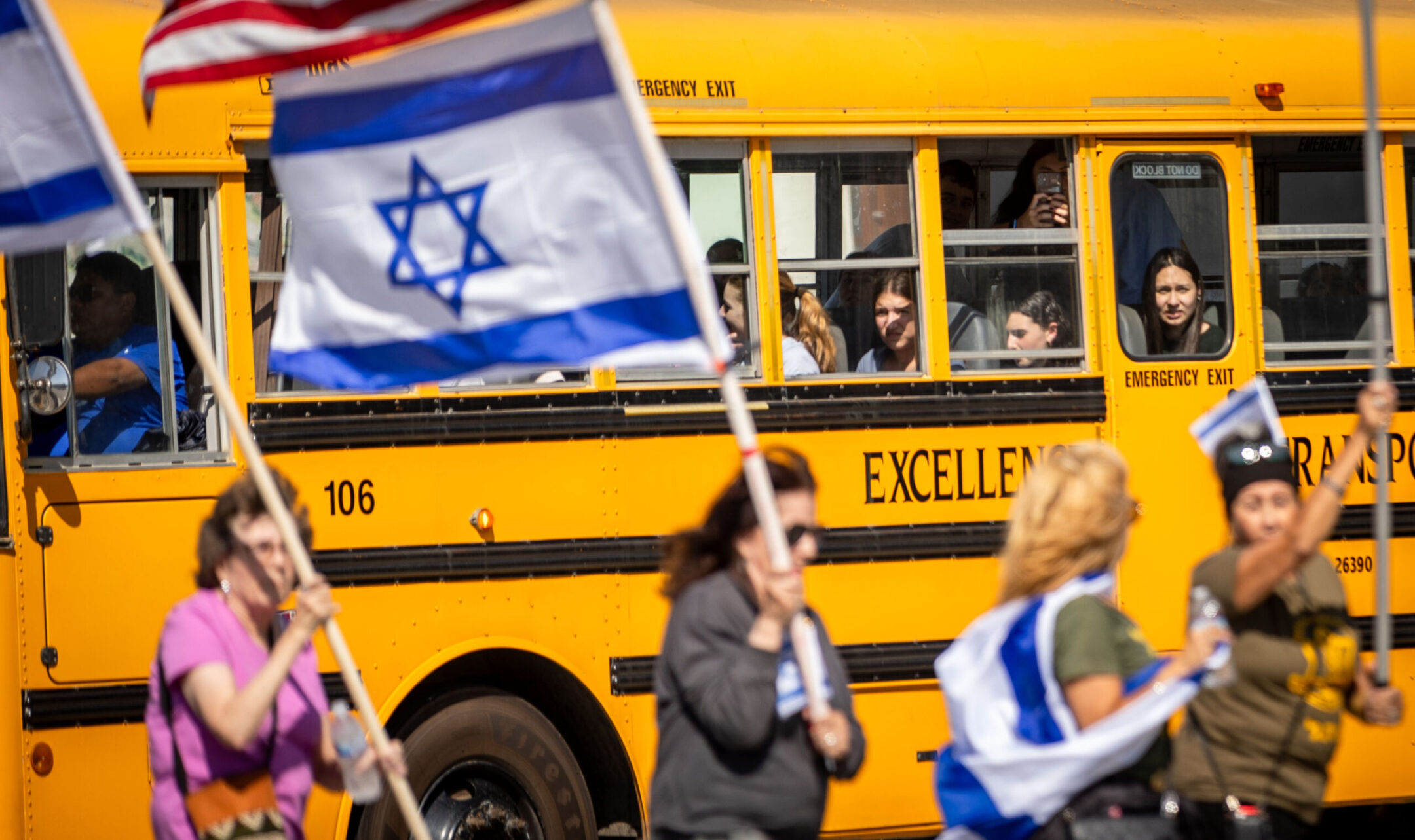 (JTA) — More than a month after the start of the school year, Jewish day schools across the United States are experiencing a surge of new students: Israeli children whose own schools have been shuttered by war.
Within days after Hamas' attack on Israel Oct. 7, Prizmah, the North American network for Jewish day schools, began getting calls from school leaders about accepting Israeli students amid the war.
So far, 50 schools have sent inquiries, according to CEO Paul Bernstein, trying to figure out everything from how to incorporate students who are not fluent in English to how to cover the unexpected expenses of new families who hadn't planned on paying for school.
"It's really not a trivial question to take in a student during the year," Bernstein told the Jewish Telegraphic Agency.
And yet many of those schools have Israeli children newly on their rosters, with others joining them this week — a testament, Bernstein said, to the drive that Jewish day schools have to support Israel and Israelis.
"We think it's an important contribution that a school can make to its community," he said. "Of course, none of us wants Israelis to be disconnected from home and not able to be in Israel, but where they are here and with us, every school wants to do as much as possible to support them."
Israeli schools were at the tail end of a Sukkot holiday break when Hamas attacked, sending the country into crisis and eliciting the largest-ever call-up of Israeli soldiers. Schools remained closed for more than a week before a scattershot reopening began, with some schools holding classes on Zoom and others, in relatively safe zones and with adequate bomb shelters, holding frequently interrupted classes in person. Two weeks after the attack, just 40% of the schools that are permitted to operate in person are doing so.
Given the uncertainty, some families that were visiting the United States during the holiday break have opted to stay. And others have chosen to join them, relocating temporarily from Israel for the relative safety and stability of the United States.
In northern New Jersey, 14 students from Israel had enrolled by the end of last week at Solomon Schechter Day School of Bergen County. Another nine were in discussions about enrolling, according to Steve Freedman, the head of school, who said most of those who have enrolled so far have strong English proficiency and family connections in the area.
Since the onset of the Israel-Hamas war, four families at the school have already mourned relatives killed in Israel.
"It's not like our children don't know that there's a war going on or a conflict, however it's described to them by their parents, in Israel," Freedman said. "So they know that there are families who are staying here right now during the war. And so they know that they're welcoming children who left their home and they're very excited to welcome them and be their friend and it's actually very sweet."
Homework is optional for the new Israeli students. As they adjust to their new school, expectations will change, but for now, teachers are "feeling out what they're up to doing," Freedman explained. For older  students, who use MacBooks in the classroom, more laptops are being ordered.
"Our community is completely overwhelmed by what we're doing in the most positive way," Freedman said. "There's a real sense of pride that our community is doing it."
New students have also enrolled in schools in New York, Maryland, California and elsewhere in New Jersey. In most cases, the schools are not necessarily counting on any tuition payments.
"The mitzvah on our end is just taking them all in and the money's not the issue," said Freedman, whose school is taking the rare step of charging monthly tuition for the Israeli families, in acknowledgment of their desire to go home, and waiving payments for families for whom that is an impediment.
"They're not receiving handouts. This is like a dignity thing," he said. "And so we're just feeling each family out so that they're comfortable and can do what they can do without feeling badly in any way."
The Rodeph Sholom School in Manhattan is taking the same approach, according to Danny Karpf, the head of school.
"We're just saying, 'Come,'" he said. "What we're going to start doing is saying people can pay what they feel comfortable paying on a monthly basis, as they're here."
Across the board, the usual admissions process has been pared down to the basics.
"Let's make sure we have a phone number, we know who the parent is, we can reach them in an emergency, we need to know if they have allergies," Karpf said, rolling off the barebones requirements. "We need to know how old they are, so we know what class to put them in, and let's figure it out."
Many of the dozen or so new students at Rodeph Sholom do not speak English. But the school is already built for that, Karpf explained, with a program for kids who don't speak English fluently, and a Hebrew program for Hebrew speakers.
The next steps, he said, are figuring out how to fit as many students as possible in the school, and then raising money to meet their needs. (An Israeli initiative to support Jewish day schools has distributed resources to support teaching about the war but not yet any funding.)
"We have so many families in our community who are directly affected in many ways," Karpf said. "It's a way for our children who were already here, whether they're Israeli or not, to feel more proximate to the conflict in a meaningful way, where children can connect with children and know that they are actually making a difference in comforting and supporting and befriending children who are directly impacted by their family and friends being attacked."
On Monday, the Joseph Kushner Hebrew Academy & Rae Kushner Yeshiva High School, an Orthodox school in New Jersey, announced that it had already taken in 11 students from five families and expected more to come.
"We are grateful to our JKHA faculty who are seamlessly transitioning students to their classrooms, working together with families to ensure their children acclimate and have a smooth transition to our school and to our students during this trying time," the school wrote on Facebook.
In Maryland, a pair of Israeli siblings began classes Wednesday at Charles E. Smith Jewish Day School, a pluralistic school that already has resources in place to support Israeli students. (The school serves many families of Israeli diplomats assigned to Washington, D.C.). Three more students are set to start classes this week, including another pair of siblings, and inquiries have come to the elementary, middle and high school divisions.
The school — which is mournin  a recent graduate killed Friday while serving in the Israeli army — has guidance counselors in place as well as a program for students who are not yet fluent in English. By the end of the week, the new students already had invitations for weekend activities, said Dorie Ravick, director of admissions at the lower school.
"I spoke to one of our current families who is having one of the new students over on Sunday. So they're really doing their best to welcome everyone," she said.
Ravick said not all of the children fully understood the reason for their new classmates.
"They don't necessarily know why they're coming because they're still pretty little," she said. "The younger ones are just excited to have a new friend."
The welcoming committees have been out in full force at other schools, too, as local Jewish families look for ways to make a difference at a time of crisis.
"Our parents are tripping over each other to try to make these families feel welcome to the point that we have to say, 'Give them some time. They need some time to acclimate,'" said Freedman, of Solomon Schechter Day School in New Jersey. "In really bad times, you're seeing some of the best of who we are."
—
The post US Jewish day schools are enrolling Israeli children who have been displaced by war appeared first on Jewish Telegraphic Agency.
As Hamas supporters deny rapes, investigation raises questions about whether forensic evidence from Oct. 7 was collected
Editor's note: This story includes graphic details of sexual atrocities.
An investigation by The Times of Israel raises questions about whether forensic evidence of rape was collected from victims of Hamas' Oct. 7 attacks. Such evidence would bolster eyewitness accounts and recovery workers' reports of rape to counter denials by Hamas supporters and other propagandists.
Physical evidence required to meet legal standards for charges of rape decomposes within a week, so if rape kits were not administered immediately following the attacks, that evidence is gone. The Times of Israel reported that it is "not clear" if "rape kits were ever collected," saying that a police spokesperson refused to answer the question. 
Recovery workers interviewed by The Times said they found ample evidence of rape, including numerous victims stripped and bloody from the waist down, with mutilated genitals, broken pelvises and broken legs. Those gruesome observations were consistent with accounts of sexual assault provided by eyewitnesses and by Hamas terrorists who were captured and interrogated by Israeli authorities. The Hamas gunmen's confessions included "having sex with dead bodies" in order "to dirty them."
But rape kits were not routinely administered by recovery teams prioritizing the identification of 1,400 corpses, many of which had been mutilated, burned or blown to bits, The Times found. Bodies that could be identified were returned to families and prepared for burial as fast as possible; some 200 remain unidentified.
A campaign of denial
Despite "significant evidence of systematic sexual abuse," The Times said, "morgue officials have not designated individual cases as rape because of a lack of court-compliant physical proof." The decision to "not use time-consuming crime scene investigation protocols to document rape cases has, however, fueled international skepticism over Hamas's sexual abuse of victims."
In addition to the rape denial, many have also denied the Oct. 7 attacks happened at all. Israelis and others have drawn comparisons between this and Holocaust denial.
The Times said that "skepticism" comes amid attempts by pro-Palestinian activists and others to downplay the "scale of Hamas' atrocities" and to condemn Israel's war on Gaza, which Gaza health officials say has killed more than 10,000 people. 
Though Israeli officials have repeatedly stated that Hamas terrorists committed rape along with murder and kidnapping, the government has "not released explicit footage or pressed rape survivors to share their stories," The Times said. This has led "many media outlets" around the world to frame accounts of rape on Oct. 7 "as a claim rather than a fully substantiated fact. Social media is now awash with memes parodying 'not believing women' who are Israeli or Jewish."
On Wednesday, Israeli police released a horrific account by a survivor who witnessed, from her own hiding place, a young woman being gang-raped, then murdered. That account was immediately met with comments online dismissing the report as "fantasy," asking why rape kits and other physical evidence have not been made public, and suggesting that the Israelis themselves were the perpetrators. 
The Times interviewed several workers who "had firsthand encounters with bodies they perceived to be abused" — for example, a woman shot in the head, found face-down on a bed, naked from the waist down. The worker who found her did not take photos of the scene, but said that others did photograph victims they believed had been raped and sent those pictures to authorities. The Times said it was unable to obtain such images from government sources who cited victim privacy and the need to protect intelligence sources.
The post As Hamas supporters deny rapes, investigation raises questions about whether forensic evidence from Oct. 7 was collected appeared first on The Forward.
How Tuesday's rally in DC is trying to pitch a broad pro-Israel tent
WASHINGTON (JTA) — When it sends a contingent to the mass pro-Israel rally in Washington, D.C. next week, Americans for Peace Now will be standing alongside a group led by someone it accused of racist tweets. 
That group, the Zionist Organization of America, has accused Americans for Peace Now of supporting antisemitism. 
Leaders of both groups said they would still protest together on Nov. 14. 
"It is nearly certain that some speakers at the rally will say things that we disagree with, and they will certainly not say everything that we believe needs to be said," said an alert from APN, a left-wing pro-Israel group. "But we will not cede this ground to those with whom we disagree. We will stand together as a community alongside other Jewish organizations in our Peace Bloc and yes, alongside those who do not share our views."

Morton Klein, the president of the right-wing ZOA, sounded the same note: "The Hamas Jew-hater types are after all of us, no matter our political views, so I'm proud to stand together with my fellow Jews who understand this is a flight to protect all Jews, no matter their political position or religious beliefs," he said. 
Securing the presence of those two groups along with others that are firmly on the right and left was one of the goals of the rally, which was called last week and aims to attract tens of thousands to demonstrate for Israel, on behalf of the hostages held by Hamas, and against antisemitism.
The rally's goal is to shore up support for Israel's war effort more than a month after Hamas' Oct. 7 attack on Israel sparked an Israeli invasion of Gaza aimed at deposing the terror group. That invasion has sparked growing criticism of a mounting civilian death toll along with calls for a ceasefire. But the rally also aims to show that even as American Jews have become increasingly polarized, a broad spectrum of Jewish organizations and their supporters can still unite behind an overarching message of backing Israel and opposing antisemitism. 
"It's just indicative of the clarity that comes from October 7," said William Daroff, the CEO of the Conference of Presidents of Major American Jewish Organizations, which is organizing the rally along with the Jewish Federations of North America. "We must stand together as one, and we can put aside our differences, big differences and small differences, and focus on the commonality of our connectivity to Israel and our connectivity to each other as Jews here and around the world."
To that end, organizers have curated the rally to feature speakers and branding that attract a broad consensus. By the same token, they are eschewing steps that could alienate segments of the Jewish organizational world.
The rally has no official cosponsors, and leaders of organizations will not be delivering any major speeches from the stage. The emphasis from the podium, Daroff said, will be on the tragedy of Oct. 7 and the need to free hostages, as well as the danger of antisemitism on campus and elsewhere. 
"We are talking to families of hostages and survivors and evacuees and others who were affected by Oct. 7 In Israel," he said, referring to possible speakers. A program for the rally has not been issued 
"We're also talking to students who have experienced hate on our campuses," he said. And invitations have already gone out to top congressional leaders and to top Biden administration officials, he said, "as well as the top-flight entertainers and people from the entertainment industry."
The rally is being promoted by major Conservative, Reform, Reconstructionist and Orthodox groups. Along with APN, the pro-Israel left will be represented by the liberal lobby J Street. APN's president, Hadar Susskind, said the lack of cosponsors made it easier to join. He didn't have to worry about APN's logo showing up alongside those of groups it opposes.
"The concept that no one is co-sponsoring this, I think, is very smart," he said. "Because, frankly, had I been asked to co sponsor it. I'm not sure that I would have. Co-sponsoring, to me, is a different level than just 'we're going to it.'" 
A poll released by the Jewish Federations on Thursday showed that large majorities of American Jews fear rising antisemitism and back military aid to Israel. 
The entirety of the Jewish left will not be represented on Tuesday, though they may organize their own demonstration: Jewish organizations that have accused Israel of genocide and advocated in protests for an immediate ceasefire, Jewish Voice for Peace and IfNotNow, did not respond to requests for comment on whether they would counterprotest.
Rally organizers hope to have the same impact as mass Jewish-led National Mall rallies in 2002, when the Second Intifada was raging in Israel, and in 1987 on behalf of Soviet Jewry. Those rallies topped 100,000 attendees. But judging by this rally's permit request, its attendance will be lower. Organizers have asked the National Park Service for space to accommodate 60,000 people. 
But Daroff still believes the showing will be significant. 
"We hear of just thousands and thousands of people coming to Washington — schools that are closing and bringing their whole student bodies and universities doing the same,  federations that are chartering planes, people coming from the West Coast. Huge numbers of people coming from South Florida," he said. "It wouldn't surprise me if all of Boca Raton's synagogues convened on the National Mall on Tuesday."
That doesn't mean there won't be political tensions. At the time of the announcement on Monday night, the Biden administration and Israel were more or less in lockstep in terms of rejecting pressure from the left for a ceasefire. Biden officials are reportedly now pressing for a three-day pause in fighting to deliver humanitarian relief; if Israel resists, those political statements could play out among the speakers from the podium. On Thursday, Israel agreed to pauses of several hours per day for humanitarian relief. 
Daroff said security would be tight — another overarching concern of American Jews. "The very first call that I made, as we were considering having this event, was to Secretary [Alejandro] Mayorkas at the Department of Homeland Security," he said. National security agencies will also be providing security for the event. 
"We will have literally hundreds of security officials who will be around as well, including our own private security," he said. "There will be metal detectors, magnetometers and I'm confident that on November 14, at one o'clock, among the safest places on the planet will be our little piece of the National Mall."
This article originally appeared on JTA.org.
The post How Tuesday's rally in DC is trying to pitch a broad pro-Israel tent appeared first on The Forward.
Hebrew pocket watch, frozen in time of Titanic wreck, headed for auction
(JTA) — A pocket watch, frozen in time when the Titanic went underwater, is set to sell at auction Saturday, with an expected sales price of nearly $100,000.
That's nearly 30 times the value of the ticket that Sinai Kantor, a Russian Jew on his way to New York City, spent for his ticket on the "unsinkable" ship.
Numbers on the Swiss-made, silver-on-brass watch are written in Hebrew numerals and its hands are nearly all deteriorated, due to saltwater exposure — but dried water marks indicate that time stopped at 2:25 a.m., about five minutes after the Titanic sank. Its back features an embossed, solemn, muscular Moses holding the Ten Commandments on a background of date palms.
The silver pocket watch once belonged to Kantor, 34, a second-class passenger traveling with his wife Miriam, 24. The pair were recently married university graduates, on their way to New York where Kantor planned to sell furs while they studied dentistry and medicine, as part of a flood of Jewish immigration underway at the time.
Kantor paid £26 — worth about $3,100 today — for ticket No. 244367 on the Titanic, which they boarded on April 10, 1912, in Southampton, England.
"On the night of the disaster, like so many couples, they were forced to separate because of the 'women and children only' rule," Michael Findlay, former president of the Titanic International Society told the Washington Post. "Mr. Kantor had to remain behind."
Miriam alone was saved in lifeboat 12, according to information provided by the auction house. According to records collected by Titanic enthusiasts, she later became a U.S. citizen, taking the name Mary, and worked as a pharmacist in Brooklyn before being institutionalized at a psychiatric hospital where she spent the rest of her life before dying at 63 in 1950.
Kantor's body was recovered eight days after the accident. His pocket watch and some of his other possessions, including his Russian passport, a notebook, money, wallets, a telescope and a corkscrew were returned to his widow in May 1912 by the White Star Line, according to Henry Aldridge and Son, the auction house selling his possessions and other Titanic memorabilia. Kantor was buried at Mount Zion Cemetery in Queens.
His watch was previously sold at auction in 2018 for $57,500.
Of the timepieces that survived the shipwreck, most are stopped between 2:20 and 2:30, Findlay said. "It all depends when the individual went into the water," he said. "It's haunting."
This article originally appeared on JTA.org.
The post Hebrew pocket watch, frozen in time of Titanic wreck, headed for auction appeared first on The Forward.