US warns Iran against escalation, boosts military readiness, pulls some Iraq staff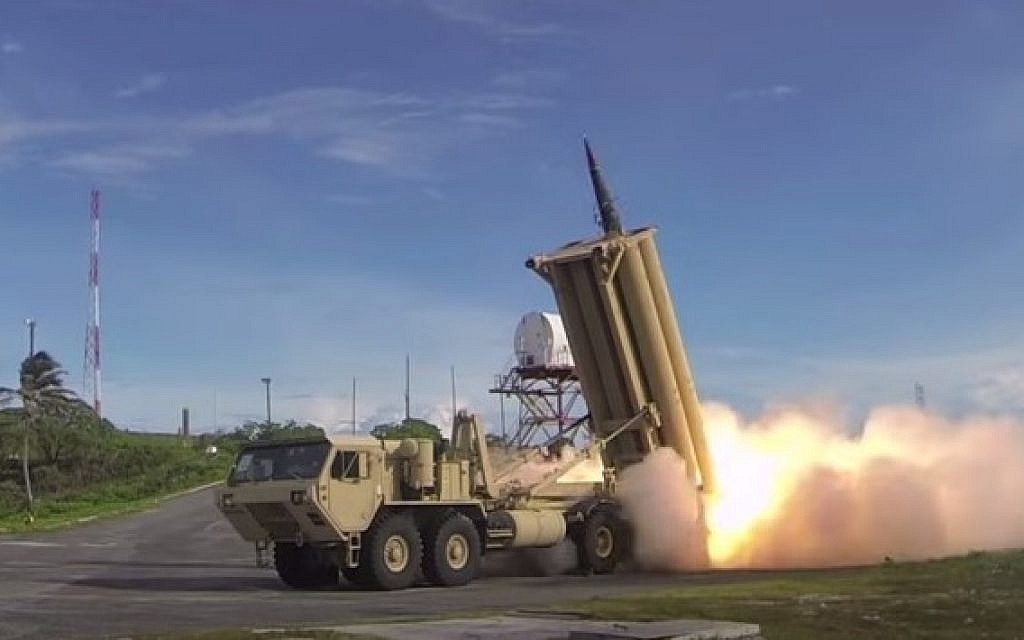 Pentagon bolsters regional air defenses as tensions boil over Israel-Hamas war, following attacks on US troops in Iraq, Syria by pro-Tehran militias
Thousands gather for pro-Israel rally in NYC 30 days after Oct. 7 massacre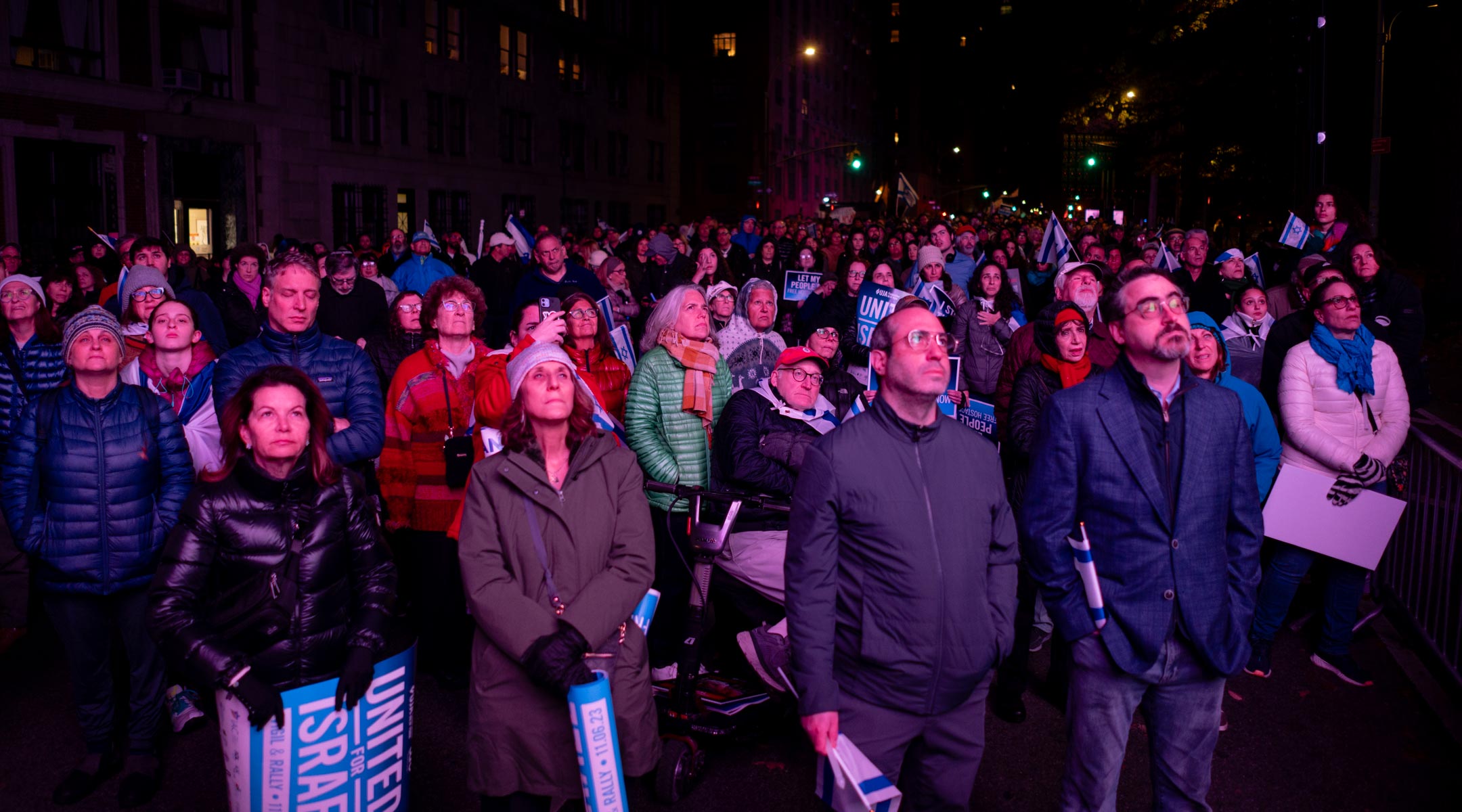 (New York Jewish Week) — Thousands gathered next to Central Park on Monday night for a vigil and rally marking 30 days since Hamas' Oct. 7 attack on Israel.
Speakers at the event, held along Central Park West on Manhattan's Upper West Side, mourned the attack's 1,400 victims, demanded the release of the more than 200 hostages held by Hamas and decried rampant antisemitism in the U.S. in recent weeks. Organizers estimated the crowd size at around 12,000 people.
Participants carried photos of the hostages and signs reading, "Bring our children home," "Let my people go," and "We stand with Israel." Thousands streamed past police cruisers on their way to the event chanting, "Bring them home" and singing Israel's national anthem, "Hatikvah."
Speakers included Sen. Chuck Schumer and Rep. Daniel Goldman, both Jewish Democrats; actors Brett Gelman and Debra Messing; and two relatives of hostages. Israeli singers Gad Elbaz and Idan Raichel performed for the audience.
The rally occurred around the 30-day milestone that traditionally marks the end of an acute Jewish mourning period, known as shloshim, following a death. It happened a little more than a week before a mass pro-Israel is due to take place on the National Mall in Weshington D.C. That rally will also call for the release of the hostages, decry antisemitism and cheer on continued American support for Israel as it fights a war against Hamas in Gaza, with the aim of deposing the terror group.
Ofri Haggai, an Israeli whose aunt and uncle were shot and taken hostage by Hamas, told the crowd, "All I'm asking from anyone who can help us is to bring all the hostages home."
"They are not part of any conflict, they are not part of any war, they are civilians, babies, kids, mothers, fathers, grandparents who just want to be brought home safely," she said.
Haggai  knows only that her aunt and uncle were badly injured and kidnapped. She does not know if they have received any medical care or their whereabouts, she said.
Goldman decried a "small but very loud fringe" in Congress that has opposed Israel since the attack, and urged the crowd to keep demonstrating to shore up support for the country. His mention of President Joe Biden, who has firmly supported Israel, drew cheers from the crowd.
"Every opportunity you have to rally, to express your support for Israel, I promise you it matters," he said.
The event was led by the UJA Federation New York and the Jewish Community Relations Council of New York, and was co-sponsored by an array of Jewish groups including the Israeli American Council, the Anti-Defamation League, the Union for Reform Judaism and the Orthodox Union.
—
The post Thousands gather for pro-Israel rally in NYC 30 days after Oct. 7 massacre appeared first on Jewish Telegraphic Agency.
Proposed legislation would expand number of hate crime-eligible charges in New York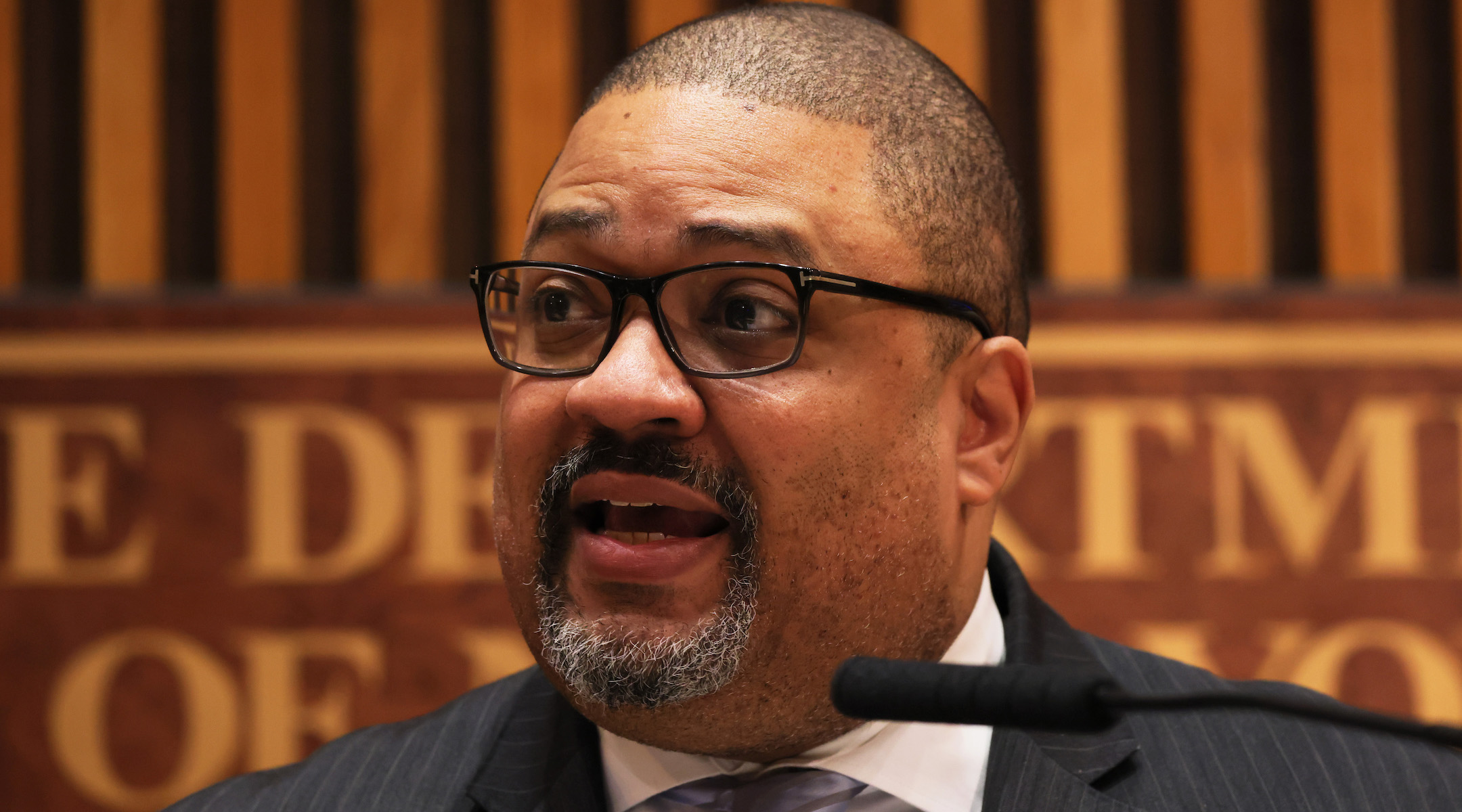 (New York Jewish Week) –  When three Upper East Side synagogues and one Hatzalah ambulance were tagged with antisemitic graffiti earlier this year, Manhattan District Attorney Alvin Bragg found that the act couldn't be prosecuted as a hate crime. According to state law, graffiti isn't eligible as a hate crime charge. 
But new state legislation introduced on Monday afternoon, the Hate Crimes Modernization Act, would increase the list of hate crime-eligible charges in the state from 66 to 97 to include crimes such as graffiti, gang assault, aggravated murder and sexual abuse. 
"As New Yorkers we can and should exercise our First Amendment rights to voice our opinions and petition the government about foreign policy and any other matters. We can disagree vigorously about policy," Bragg said. "What we cannot do, and what we will not accept, is engaging in violence, harassment or property destruction against our fellow New Yorkers based on religion or ethnicity or any of the other protected categories specified in the statute."
Jewish New Yorkers are protected from discrimination and hate crimes under the New York City Human Rights law. Classifying more crimes as hate crimes would make the consequences more severe for the perpetrator. When a specific offense is classified as a hate crime — that is, a charge that the person committing the offense was motivated by hatred of a person in a protected class — the crime and sentence can become more severe. 
Bragg noted that antisemitic incidents have skyrocketed in the month since Hamas' Oct. 7 attack on Israel. Since that date, the Anti-Defamation League has reported 646 antisemitic incidents across the country, a 400% increase over the same period last year. 
Antisemitic incidents have similarly spiked in and around New York City in the same time span, according to data from the NYPD and a regional Jewish security agency. 
And yet, Bragg said, he believes such crimes remain underreported and hopes that a broader definition of what constitutes a hate crime will aid in prosecuting more hate-based violence. 
"I want to make it crystal-clear that harassment or violence against Jews here in Manhattan or against Muslims or Arab Americans here in Manhattan is plainly not acceptable," Bragg said. "My office will, and does, investigate and prosecute hate crimes vigorously. And with the help of the state legislature, we hope to ensure that the scope of what we do, the scope of our hate crimes law, becomes sufficient to protect all of New York's diverse communities."
Despite graffiti itself not being included in the definition of a hate crime, Bragg was able to indict Lenny De La Rosa, the alleged perpetrator of the antisemitic graffiti, with four counts of criminal mischief as a hate crime on Oct. 31.
The legislation is sponsored by State Senator Brad Hoylman-Sigal, whose district includes much of Manhattan's West Side, and State Assemblymember Grace Lee, whose district includes Chinatown and the Lower East Side. Both are Democrats.
"We haven't seen the level of hate crimes in New York as we're seeing right now," said Hoylman-Sigal, who is both gay and Jewish. "Hate fueled attacks are on the rise, targeting almost every racial and ethnic group." 
Last week, Gov. Hochul announced up to $75 million in grants for local police departments and religious institutions to prevent and prosecute hate crimes, as well as to increase security.  
"This legislation will make law what any New Yorker knows: If a crime is motivated by bias or bigotry, then it's a hate crime, plain and simple," Hoylman-Sigal said. "Let's protect New Yorkers. Let's fight the rising tide of bigotry. Let's send a message to those who might perpetrate hate crimes: New York does not welcome you."
—
The post Proposed legislation would expand number of hate crime-eligible charges in New York appeared first on Jewish Telegraphic Agency.
PM: Israel will have 'indefinite overall security responsibility' for Gaza post-war