Variety's star-studded Hollywood summit on antisemitism takes a turn amid war in Israel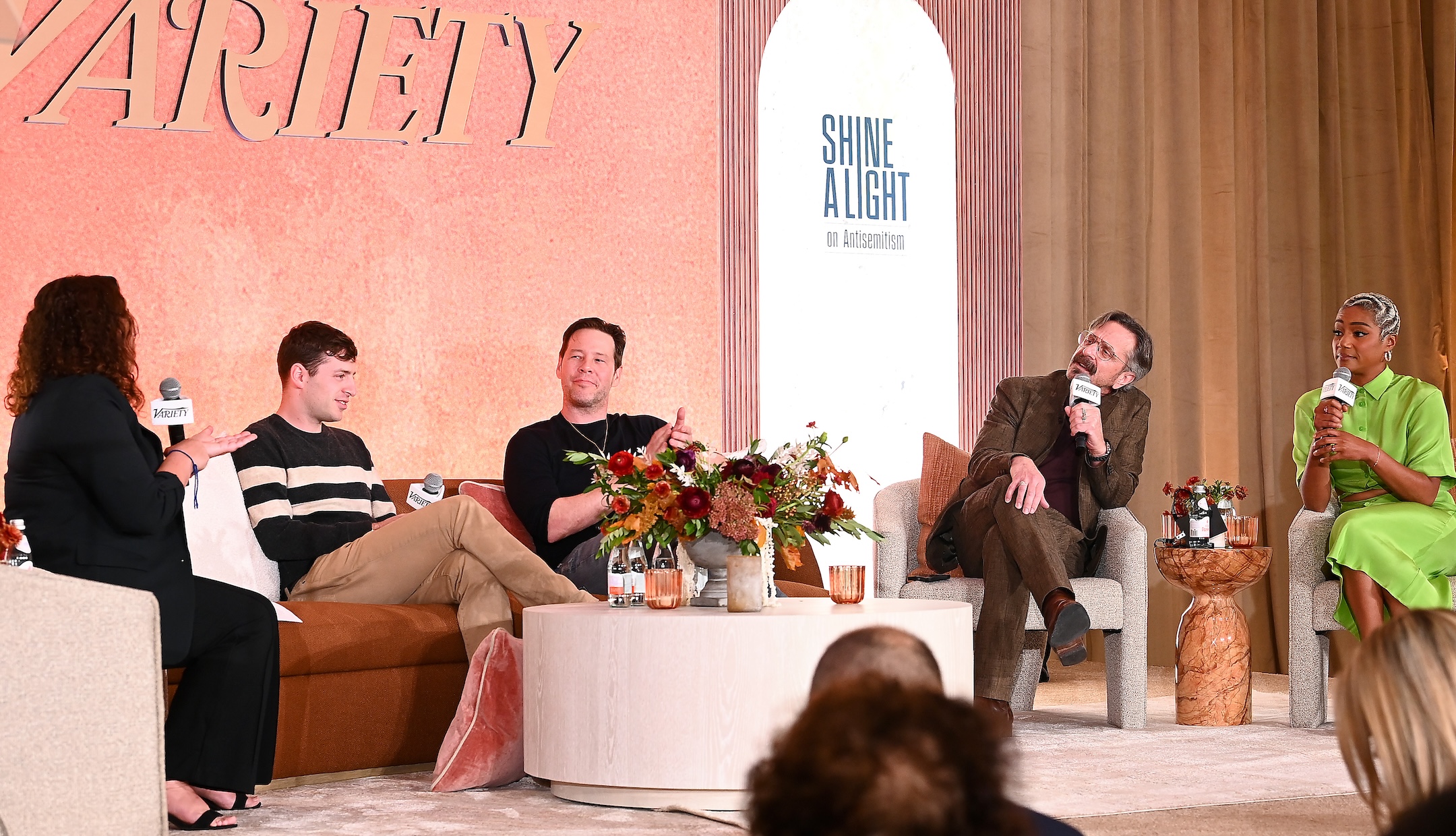 WEST HOLLYWOOD, Calif. (JTA) — When he heard that Hamas had called for a global day of protest last week to accompany its deadly attack on Israel, Alex Edelman's mind turned, naturally, to jokes.
Riffing on the traditional Hebrew holiday greeting "chag sameach," the Jewish comedian wondered aloud to a packed room of Hollywood industry members and Jewish leaders, "Do you say 'Rage Sameach?'"
Moments later, Edelman struck a more somber tone about the violence in Israel, which his brother A.J. Edelman has represented in the Olympics. "For me, Israel is a sort of home," Edelman said, tearing up on stage.
Edelman — whose one-man Broadway show about his encounter with white supremacists made him a star last year — was speaking at Variety magazine's star-studded summit on antisemitism and Hollywood. Edelman told the Jewish Telegraphic Agency that he chose to be part of the event because "I wanted to be with other Jews, and without sounding canned, with non-Jewish allies, who are interested in wrestling with a more nuanced understanding of antisemitism."
Although the summit was planned months before Hamas' attack on Oct. 7, it was dominated by what is going on in Israel and Gaza. Edelman's two comments about Israel were indicative of the tenor of the daylong, invite-only event: It flip-flopped between seriousness and humor, as the speakers attempted to process the news while simultaneously sticking to a pre-planned event schedule.
Put on in partnership with several Jewish organizations, the summit featured a series of panel conversations with Jewish A-list stars including Edelman, Julianna Margulies, Tiffany Haddish, Marc Maron, Josh Malina and Josh Peck, plus remarks from leaders of Jewish groups such as the Anti-Defamation League, the American Jewish Committee and the USC Shoah Foundation. (A previously planned keynote address by SAG-AFTRA president Fran Drescher was scrapped due to developments in the actors union's strike negotiations.)
The event covered a number of topics related to antisemitism and entertainment: representation, social media, comedy, the history of Jews in Hollywood and others. The original event agenda included only one panel about Israel, but much of the day's conversations revolved around the war.
Several speakers echoed the sentiment that the violence in Israel had only made the summit more important and timely because of the online conversation and wave of antisemitic incidents around the world tied to peoples' responses to the war. The program began with a prayer for peace and with the message, shared by Variety's chief production officer Claudia Eller and others throughout the afternoon, that the magazine "stands in solidarity with Israel."
CNN commentator Van Jones said he had attended because of the current pain of many in the Jewish community.
"People are hurting," he told JTA. "I know as a Black person, we look to see who understands our pain. This is a group of people who is grieving, and nobody should grieve alone."
During one particularly poignant moment during the talk that was specifically intended to focus on Israel, Israeli actress Swell Ariel Or shared that seven of her childhood friends had been killed.
Or, the star of Netflix's "The Beauty Queen of Jerusalem," moved to the United States two weeks ago, right before Hamas' attack, and said she feels a degree of guilt that she's not in her home country.
The panel, titled "Israel and the Entertainment Industry," focused on the idea that Hollywood ought to create more content that shares the real-life, everyday stories of Israel and Israeli culture. The Tony-winning play "The Band's Visit," which was also adapted into a film, was given as an example of such a story.
During an earlier panel, producer Matti Leshem, whose production company made the 2021 HBO film "The Survivor," commended U.S. President Joe Biden for his administration's response to the war, eliciting a full round of applause from the audience.
Some panels alluded to other trends that had inspired the summit in the first place — such as the rise in antisemitic incidents in the United States and recent high-profile scandals like the one surrounding Ye, the rapper formerly known as Kanye West.
"We're very proud to be able to do this," Variety CEO Michelle Sobrino-Stearns told JTA. She pointed out that her magazine has also published a special section of 28 articles on antisemitism, penned by Jewish influencers, celebrities and others, some of whom participated in the summit.
In the first celebrity conversation of the day, award-winning actor Julianna Margulies said "it is shocking" how few members of her industry have spoken out against antisemitism.
"The last thing I thought in my life is that I would be the one actress speaking up for Jews," she told Eller during their chat. "But I'm proud to be here and I hope to inspire other people to speak up."
Margulies shared her personal Jewish story, talked about her efforts to expand Holocaust education in New York City public schools and gave her take on the debates over Jewish representation in Hollywood.
The Golden Globe and Emmy award-winning actor said she "came to my Judaism quite late in life." She said she is raising her son Jewish and enjoys celebrating Shabbat every week. "It's about being together," she said. "And that's what I love about Judaism – it's about community."
When it comes to the debate on "Jewface" — whether non-Jews should play Jewish characters on screen — Margulies said, "It's a slippery slope." She added that while she would never play a character of a different race, she said actors should be allowed to act.
On the other hand, Margulies also advocated for more casual depictions of Jewishness on screen — characters who happen to be Jewish, whether or not that identity is relevant to the plot.
She recalled that the costume department for the Apple TV+ hit "The Morning Show" had given her a cross necklace to wear for her character Laura Peterson. Margulies said she didn't think much of it at first, since her character's faith was not prominent in the show. But as she returned for a second season, Margulies said her mentality changed. "What if Laura Peterson was wearing a Star of David, or a chai?" she said, suggesting that subtle Christianity shouldn't always be the default.
On one panel about comedy, which featured perhaps the most famous speakers of the day, Edelman, Ike Barinholtz, Maron and Haddish discussed the role of comedy as a response to tragedy.
Maron, who has infused Jewishness and jokes about antisemitism into much of his comedy over a decades-long standup and TV career, said his father still warns him to be careful when he's touring — especially because of how vocally Jewish he is in his stand-up.
Haddish shared her experience discovering her Jewish heritage and noted the importance of recognizing the various different ethnicities Jewish people can represent.
"I thought it was important to be here so that the narrative can be heard that we do care, that we are sticking together, that comedy is important for the soul and can heal," she told JTA after the panel.
"I do think Jews are able to find comedy in horrible things, in horrible moments," said Barinholtz, who has starred in "The Mindy Project" and more recently in  "History of The World: Part II." "And I don't think we're there yet with [Israel], I don't know if we ever will be."
—
The post Variety's star-studded Hollywood summit on antisemitism takes a turn amid war in Israel appeared first on Jewish Telegraphic Agency.
Javier Milei cites Hanukkah story, gives menorah to Zelensky during inauguration as Argentina's president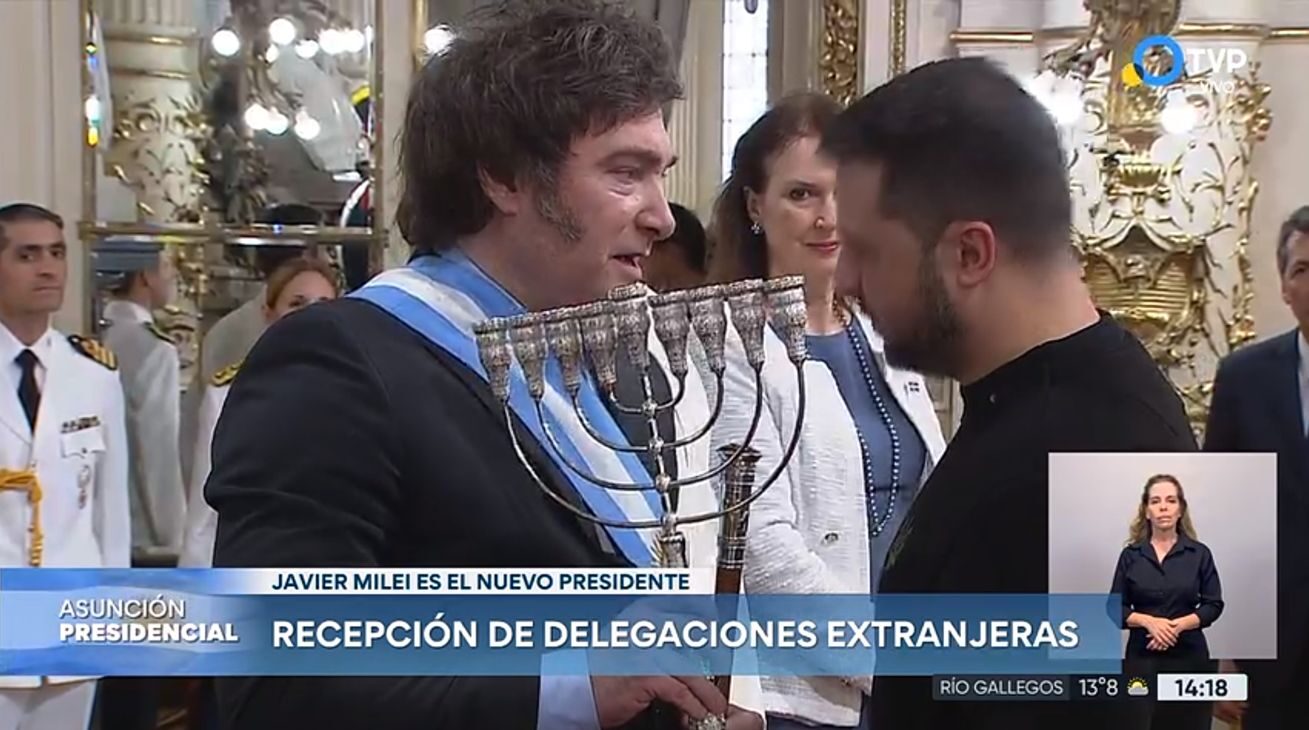 (JTA) — Javier Milei invoked the story of the Maccabees in his inaugural address as Argentina's president on Sunday, extending the right-wing populist's prominent fascination with Judaism as he celebrated his own improbable victory.
"It is not by chance that this assumption takes place in the holiday of Hanukkah, the festival of light, and that the same celebrates the true essence of freedom," Milei said during his speech on the steps of the parliament building in Buenos Aires. "The war of the Maccabees is the symbol of the victory of the weak over the powerful, of the few over the many, of the light over darkness and overall of the truth over untruth."
Milei, 53, defied expectations when he was elected last month. A self-declared "anarcho-capitalist" who was the most right-wing of the five candidates, he ascended rapidly over the last year as he assailed the outgoing government, saying that its policies had fueled unemployment and inflation.
He delivered his speech with his back to the country's lawmakers, in a break with tradition allowing him to face a large rally outside the parliament building.
Toward the tail of his speech warning Argentineans to prepare for a difficult economic reforms, he said he recalled how he and his now-vice president, Victoria Villaruel, had initially been told that their two-year-old political party, Freedom Advances, would have little influence.
"We were told we couldn't do anything because we were only two in 257 congressmen," he said. "And I also remember that my answer that day was a quote from the Book of Maccabees, 3:19, that goes: It is not the size of the army that victory in battle depends on, but strength comes from heaven."
The speech was in keeping with Milei's unusual relationship with Judaism. The non-Jewish economist has been studying with an Argentinean rabbi and has said he is interested in converting, though he says he does not see the role of president as compatible with Jewish observance. He visited the grave of the Chabad-Lubavitch rabbi in New York City in his first trip abroad after being elected and has vowed to make Israel — where he promised to move Argentina's embassy from Tel Aviv to Jerusalem — his first foreign destination as president.
At campaign rallies, Milei has often walked on stage to the sound of a shofar, and in one of his final public appearances before the election, Milei was seen waving an Israeli flag among a large crowd in Rosario.
One Israeli flag was visible amid the sea of Argentinean flags at his speech in footage of the inaugural event broadcast to Argentineans.
Milei, whose term will last four years, was flanked by world leaders, including the king of Spain; Chilean President Gabriel Boric, a left-wing critic of Israel; Hungarian Prime Minister Viktor Orban, a populist who cruised to a fourth term last year; and Ukraine's president, Volodymr Zelensky, who was making his first trip to Latin America since Russia attacked his country in February 2022. Jair Bolsonaro, the populist leader recently unseated in Brazil, also attended.
Milei handed a menorah to Zelensky, who is Jewish, after the two leaders greeted each other warmly outside Casa Rosada, the country's government headquarters, in a handoff captured on the live TV broadcast of the ceremony. Zelensky has embraced Milei as he has sought to build support for Ukraine in Latin America.
On Saturday night, on the eve of his inauguration, Milei met with a group of relatives of Israeli hostages kidnapped in Gaza since Oct. 7, lighting the Hanukkah candles with them and Israeli Foreign Minister Eli Cohen, who was in the country for the inauguration.
—
The post Javier Milei cites Hanukkah story, gives menorah to Zelensky during inauguration as Argentina's president appeared first on Jewish Telegraphic Agency.
Moroccans Demand Halt to Ties with Israel
Moroccans waving Palestinian flags took to the streets of the capital Rabat on Sunday calling on the government to cut ties with Israel in protest against Israel's military campaign against the terrorist group Hamas in the Gaza Strip.
Protests against Israel's war in Gaza have repeatedly drawn thousands of people in Morocco since the conflict began two months ago, mostly led by pan-Arab and Islamist groups.
Sunday's march by about 3,000 protesters was the first to have been led by the PJD — Morocco's biggest Islamist party which led the elected government from 2011 until 2021 — a sign the movement is growing more vocal in opposition.
Protesters chanted "Palestine is not for sale," "Resistance go ahead to victory and liberation" and "the people want an end to normalization," referring to the policy of Morocco and other Arab states normalizing ties with Israel.
Israel vowed to annihilate Hamas, which has ruled Gaza since 2007, after Hamas terrorists burst across the fence on Oct. 7 and went on a rampage through Israeli towns, gunning down families in their homes, killing 1,200 people and seizing 240 hostages.
Since then, Hamas-controlled health authorities in Gaza say thousands of people have been killed during Israel's military campaign, although experts have cast doubt on the reliability of casualty figures coming out of Gaza.
Morocco agreed to strengthen ties with Israel in 2020, under a deal brokered by the US administration under then President Donald Trump that also included Washington recognizing Moroccan sovereignty over the disputed territory of Western Sahara.
Despite their policy of normalizing ties with Israel, Moroccan authorities have said they continue to back the creation of a Palestinian state and have urged a permanent ceasefire in Gaza and the protection of all civilians there.
Islamist and leftist parties and groups in Morocco have increasingly spoken out against the normalization policy since the start of the war in Gaza on Oct. 7.
Protesters on Sunday also called for a boycott of brands they accuse of supporting Israel.
"We call on Morocco to end diplomatic relations with Israel," said Ahmed El Yandouzi, as he was queuing to sign a petition with a Palestinian scarf around his neck.
Although Morocco and Israel have not yet completed the process of setting up full embassies in each other's countries as they agreed to do, they have moved closer together, signing a defense cooperation pact.
The PJD was in office when Morocco agreed the normalization deal with Israel, with its then leader Saad Dine El Otmani signing it as prime minister, but the policy was ultimately set by King Mohammed, who sets overall strategy.
The new PJD leader, Abdelilah Benkirane, has said signing the agreement was a mistake.
The royal court has previously asked the PJD to stop criticizing Morocco's ties with Israel.
The post Moroccans Demand Halt to Ties with Israel first appeared on Algemeiner.com.
Violence Escalates Between Israel, Lebanon's Hezbollah
Violence escalated at Lebanon's border with Israel on Sunday as the terrorist group Hezbollah launched explosive drones and powerful missiles at Israeli positions and Israeli air strikes rocked several towns and villages in south Lebanon.
Israel and the Iran-backed Hezbollah have been trading fire since the war in Gaza erupted two months ago, in their worst hostilities since a 2006 conflict. The violence has largely been contained to the border area.
Israeli attacks in south Lebanon included air strikes on the town of Aitaroun which destroyed and damaged numerous houses, Lebanon's National News Agency said. It did not say if there were any casualties.
The Israeli army did not immediately respond to a request for comment.
Senior Hezbollah politician Hassan Fadlallah, in a statement sent to Reuters, said Israeli air strikes were a "new escalation" to which the group was responding with new types of attacks, be it "in the nature of the weapons (used) or the targeted sites."
The Israeli army earlier said "suspicious aerial targets" had crossed from Lebanon and two were intercepted. Two Israeli soldiers were moderately wounded and a number of others lightly injured from shrapnel and smoke inhalation, it said.
Israeli fighter jets carried out "an extensive series of strikes on Hezbollah terror targets in Lebanese territory," it said. Sirens sounded in Israel at several locations at the border.
In Beirut, residents saw what appeared to be two warplanes streaking across a clear blue sky, leaving vapor trails behind them.
Hezbollah statements say its attacks aim to support Palestinians in the Gaza Strip.
Senior Hezbollah official Sheikh Ali Damoush said in a speech on Sunday the group would continue in its effort to "exhaust the enemy, and will not stop unless the aggression against Gaza and Lebanon stops."
Israeli Prime Minister Benjamin Netanyahu has warned that Beirut would be turned "into Gaza" if Hezbollah started an all-out war.
In one of several attacks announced by Hezbollah on Sunday, the group said it had launched the explosive drones at an Israeli command position near Ya'ara. In another, Hezbollah said it had fired Burkan (Volcano) missiles, which carry hundreds of kilograms of explosives.
Israeli air strikes were also reported on the outskirts of the Lebanese village of Yaroun, not far from the location of another of the Israeli positions Hezbollah said it had targeted on Sunday.
Those air strikes broke windows of houses, shops and a school in the nearby village of Rmeich, Toni Elias, a priest in Rmeich, told Reuters by phone.
Violence at the border has killed more than 120 people in Lebanon, including 85 Hezbollah fighters and 16 civilians. In Israel, the hostilities have killed seven soldiers and four civilians.
The post Violence Escalates Between Israel, Lebanon's Hezbollah first appeared on Algemeiner.com.