'Very much a family thing': US Jewish summer camps mourn Israeli alumni killed in Hamas war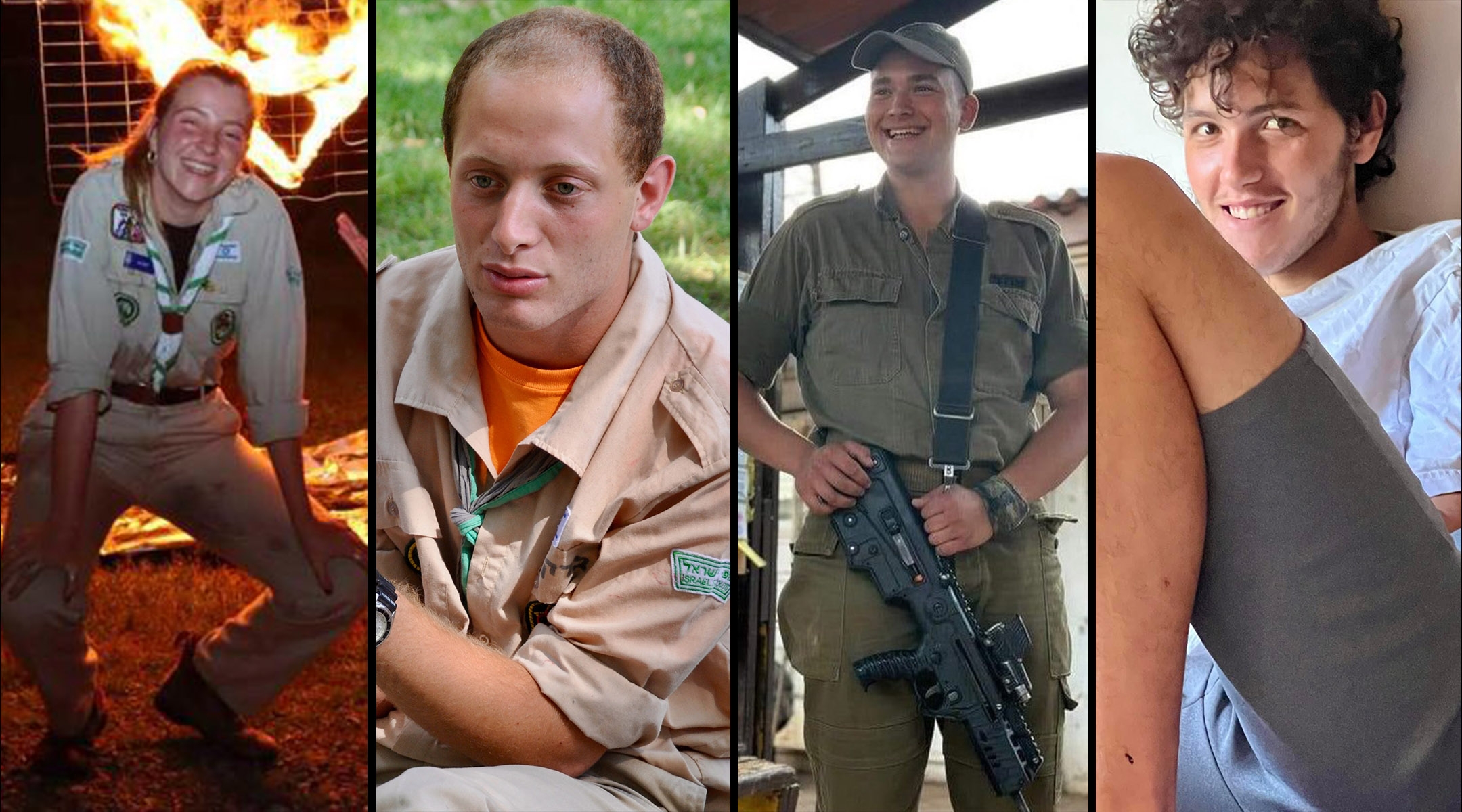 (JTA) — As news broke of Hamas' surprise attack on Israel on Oct. 7, David Weinstein shared the grief and fear of many in the American Jewish community. But as the director of Camp Tel Yehudah, a Jewish summer camp in New York, the violence soon hit very close to home.
"Like everybody else, we were horrified and worried and scared and concerned about our people in Israel," Weinstein told the Jewish Telegraphic Agency. "But it became very personal very quickly."
Weinstein received a call that first morning that a former staff member, Gili Adar, was missing. He would later learn that Adar, 24, who worked at Tel Yehudah in 2019 and 2022 as part of its Israeli scouts program, was one of the more than 250 people killed at the Tribe of Nova music festival.
The devastating news didn't end there. Three other Tel Yehudah community members were also killed: Yuval Halivni, who was a member of the camp's Israeli scout delegation in 2012; Reem Betito, a camper in 2018 who served in the Israel Defense Forces' elite Golani unit; and Laor Abromov, 20, who was a camper in 2019 and was also killed at the music festival.
"Much of that week, again, while keeping an eye on all of the bigger situation, and our concern for everybody, was really, really about the loss of part of our family," Weinstein said.
Located in Barryville, New York, Tel Yehudah is the teen leadership camp of the Young Judaea network, a group of camps and youth programs specially designed to build connections between young Jews and Israel — including by having Israeli staff and campers at camp each summer.
As more details began to trickle out about the extent of the violence and loss in Israel, the wider Tel Yehudah community gathered, in person and online, to grieve and process together.
A Young Judaea virtual Havdalah service on Oct. 14 attracted around 700 people, Weinstein said, with breakout rooms that lasted for hours afterward. Staff and alumni also came together for a 20s and 30s Shabbat in New York City, as well as other informal gatherings.
"We have so many people over the years who went to Tel Yehudah who have moved to Israel, and are involved in so many important organizations and movements in Israel that people are very much in touch with," Weinstein said. "Part of the Tel Yehudah family lives in Israel, and part of the Tel Yehudah family lives here. So it's very much a family thing."
Tel Yehudah was far from the only American Jewish summer camp to experience the deaths of past campers or staff on Oct. 7 in Israel, though it appears to have been the hardest hit. They may even have been especially vulnerable to loss because of their unique role as supercharged sites of interchange between U.S. and Israeli young adults.
"Israelis coming to camp has been a part of the American Jewish camping enterprise since the founding of the state," said Sandra Fox, author of "The Jews of Summer: Summer Camp and Jewish Culture in Postwar America" and herself a Tel Yehudah alum.
Fox said the number of Israelis working at American Jewish camps increased after World War II and particularly in the 1960s and 70s, when air travel became more accessible and affordable. Fox said Tel Yehudah had Israeli staff as early as 1949.
While many synagogues and Jewish communities have Israeli emissaries — "shlichim" in Hebrew — through the Jewish Agency for Israel, Fox said the camp experience can be unique because it's often younger Israelis, some who work at camp before their army service.
"This is an opportunity to meet more Israelis and create connections, with both campers and staff depending on which camp, and younger ones, so they can connect to people that are closer to their age," Fox said. "The shlichim that come to the communities are usually young families. But a counselor could be pre-army or post-army, and if you're a preteen or teenage camper, they're a lot more relatable. So I think that that has a strong impact on the degree of connection they can make."
A number of other Jewish camps around the United States are also mourning the loss of former staff and campers. The Ramah camping network has a page devoted to Israel on its website that lists two alumni who are among the more than 200 hostages being held by Hamas — Hersh Goldberg-Polin, who has also participated in programming with Camp Tel Noar in New Hampshire, and Omer Neutra, who also attended Young Judaea's Sprout Lake camp before moving to Israel after high school.
The page also lists two family members of Ramah alumni who have been killed in the violence: Israeli swimmer Eden Nimri, 22, whose sister Hadar worked at Camp Ramah in the Berkshires in 2016 and 2017, and Adi Vital Kaploun, 33, whose mother is an alum of Camp Ramah in Canada.
Pinemere Camp in Stroudsburg, Pennsylvania, shared on Oct. 10 that 2022 staff member Ilay Nachman was killed. "His infectious laugh, caring nature, and love of Israel made him a pleasure to be around, and the type of role model both campers and staff could look up to," the camp wrote in a Facebook post.
Herzl Camp in Webster, Wisconsin, shared that alum Netta Epstein, 21, was killed by Hamas in his home. Epstein attended Herzl from 2014 to 2016 and 2018, and his sister Rona also spent three summers there.
Yannai Kaminka, 20, who was reportedly among the first Israeli Defense Force soldiers killed in the attacks, had attended the Union for Reform Judaism's Eisner Camp in Great Barrington, Massachusetts, in 2016 as part of a program with the Israel Movement for Reform and Progressive Judaism that brought Israeli teens to American Jewish summer camps.
Ruben Arquilevich, who oversees the URJ's 14 camps, said the movement has around 350 Israeli staff across its camps each summer, adding that the relationships Israelis build with campers are long-lasting and "transformational."
According to the Foundation for Jewish Camp, some camps have launched initiatives to support Israeli community members, including through letter-writing campaigns, sending care packages and offering virtual programming for children in Israel.
Weinstein also noted that Young Judaea's gap year program currently has 75 teens, many of them Tel Yehudah alumni, living at Kibbutz Ketura in southern Israeli, which Young Judaea established in 1973 in the aftermath of the Yom Kippur War. The participants are supporting Israelis in the south who have been displaced by the current war.
"Now we've got these new kids, the same age as the kids who established the kibbutz 50 years ago, who are down on the kibbutz, and helping once again after a war to rebuild," Weinstein said.
—
The post 'Very much a family thing': US Jewish summer camps mourn Israeli alumni killed in Hamas war appeared first on Jewish Telegraphic Agency.
Israel Orders More Evacuations in Khan Younis after US blocks UN's Gaza ceasefire call
Israel ordered residents out of the center of Gaza's main southern city Khan Younis on Saturday and pounded the length of the enclave, after the United States wielded its U.N. Security Council veto to shield its ally from a demand for a ceasefire.
Since a truce collapsed last week following Hamas's refusal to release female hostages, Israel has expanded its ground campaign into the southern half of the Gaza Strip by launching the storming of Khan Younis. Simultaneously, both sides have reported a surge in fighting in the north.
Israel's Arabic-language spokesperson posted a map on X highlighting six numbered blocks of Khan Younis that residents were told to evacuate "urgently." They included parts of the city center that had not been subject to such orders before.
Israel issued similar warnings at the start of this week before storming the eastern parts of the city. Residents said they feared new evacuation orders heralded a further assault.
"It might be a matter of time before they act against our area too. We have been hearing bombing all night," said Zainab Khalil, 57, displaced with 30 of her relatives and friends in Khan Younis near Jalal street where troops told people to leave.
"We don't sleep at night, we stay awake, we try to put the children to sleep and we stay up fearing the place would be bombed and we'll have to run carrying the children out. During the day begins another tragedy, and that is: how to feed the children?"
The vast majority of Gaza's 2.3 million residents have already been forced from their homes, many fleeing several times. With fighting raging across the length of the territory, residents and U.N. agencies say there is now effectively nowhere safe to go, though Israel disputes this.
Israel has blocked Gazans from fleeing along the main north-south route down the spine of the narrow strip, and is shunting them instead towards the Mediterranean coast.
THOUSANDS MISSING PRESUMED DEAD
A house in the city was engulfed in a roaring blaze after being struck overnight.
Footage obtained by Reuters inside another hospital in Deir al-Balah, the Jaffa hospital, showed extensive damage from a strike on a mosque next door. The obliterated ruins of the mosque could be seen through the blown-out windows.
There were no new figures on Saturday for dead and wounded from other parts of Gaza, including the entire northern half, where hospitals have ceased functioning and ambulances often can no longer reach the dead.
"We believe the number of martyrs under the rubble might be greater than those received at hospitals," health ministry spokesperson Ashraf al-Qidra told Reuters.
An ambulance worker in Gaza City's Shejaiya district told Reuters by telephone that crews were often unable to respond to calls they were receiving from the wounded.
"It pains our hearts, but we have tried before in the past days to head there and our teams came under Israeli fire," he said, asking his name not be printed for fear of reprisals. "We believe there are martyrs in some of the areas east of Shejaiya and some other places, but no one can get in."
Northern Gaza families were posting messages on the internet pleading with emergency crews to venture into Gaza City.
"We appeal to the Red Cross and the civil emergency to immediately go to Attallah house. People are besieged inside their house in Jala street in Gaza City, near Zaharna building. The house is on fire," wrote members of the Attallah family.
U.S. VETO MAKES WASHINGTON 'COMPLICIT'
In a vote at the United Nations on Friday, 13 of the Security Council's 15 members backed a resolution calling for an immediate humanitarian ceasefire. It was blocked by Washington's veto, while Britain abstained.
Israel launched its campaign to annihilate Hamas after the Iran-backed Islamist group's fighters burst across the Gaza border fence on Oct. 7, killing 1,200 people, raping women, and capturing 240 hostages in a rampage though Israeli towns.
Israeli forces say they are limiting civilian casualties by providing them with maps showing areas that are safe, and blame Hamas for causing harm to civilians by hiding among them, which the terrorists deny.
Washington has continued to support Israel's position that a ceasefire would benefit Hamas. "We do not support this resolution's call for an unsustainable ceasefire that will only plant the seeds for the next war," Deputy U.S. Ambassador to the U.N. Robert Wood told the Security Council before exercising Washington's veto.
Ezzat El-Reshiq, a member of Hamas' political bureau, condemned the U.S. veto as "inhumane." Mahmoud Abbas, president of the Palestinian Authority which lost control of Gaza to Hamas in 2007, said the veto made the United States complicit in Israeli war crimes.
Israel's U.N. Ambassador Gilad Erdan said in a statement: "A ceasefire will be possible only with the return of all the hostages and the destruction of Hamas."
The post Israel Orders More Evacuations in Khan Younis after US blocks UN's Gaza ceasefire call first appeared on Algemeiner.com.
US Government Uses Emergency Authority to Provide Tank Shells to Israel
The Biden administration has used an emergency authority to allow the sale of about 14,000 tank shells to Israel without congressional review, the Pentagon said on Saturday.
The State Department on Friday used an Arms Export Control Act emergency declaration for the tank rounds worth $106.5 million for immediate delivery to Israel, the Pentagon said in a statement.
The shells are part of a bigger sale that was first reported by Reuters on Friday that the Biden administration is asking the U.S. Congress to approve. The larger package is worth more than $500 million and comprises of 45,000 shells for Israel's Merkava tanks, regularly deployed in its offensive in Gaza.
As the war intensified, how and where exactly the U.S. weapons are used in the conflict has come under more scrutiny, even though U.S. officials say there are no plans to put conditions on military aid to Israel or to consider withholding some of it.
U.S. Secretary of State Antony Blinken determined and provided detailed justification to Congress that the tank shells must immediately be provided to Israel in the national security interests of the United States, according to the Pentagon statement.
The sale will be from U.S. Army inventory and consist of 120mm M830A1 High Explosive Anti-Tank Multi-Purpose with Tracer (MPAT) tank cartridges and related equipment.
"Israel will use the enhanced capability as a deterrent to regional threats and to strengthen its homeland defense," the Pentagon said, adding that there will be no adverse impact on U.S. defense readiness as a result of the sale.
The post US Government Uses Emergency Authority to Provide Tank Shells to Israel first appeared on Algemeiner.com.
David Ellenson was my rabbi. I can't believe we won't learn from him anymore.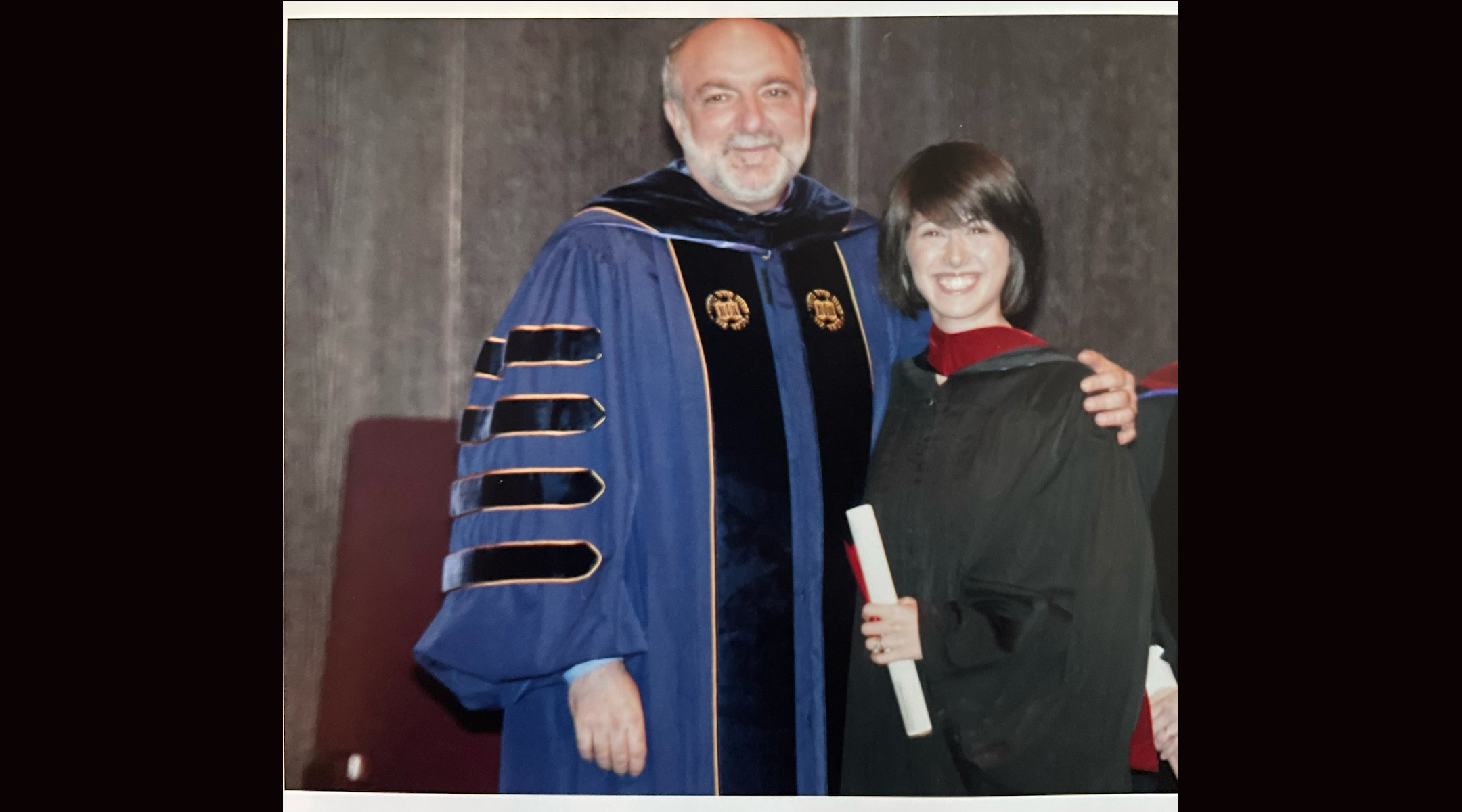 (JTA) — It is the 24th of Kislev, one of the darkest days of the year, when we cannot wait to bring in the light of Hanukkah — and I just received the call that my teacher, my mentor, my rabbi, David Ellenson, has died. I was meant to meet with him today. It is hard for the child of a rabbi, who is also a rabbi, and teaches rabbis, to find a rabbi of her own. But David was my rabbi. The moment I choke on the words "Baruch Dayan Emet," tears fall from my eyes.
I suddenly remember what David taught me in the aftermath of Sept. 11: "Rabbi Shimon Ben Gamliel said: Do not make monuments for the righteous — their 'd'varim' are their memorial" (Jerusalem Talmud Shekalim 11a). D'varim can mean words, and it can mean deeds, and David embodied the best of both.
The rabbis taught that it is forbidden to delivery a eulogy on Hanukkah except for sages of Torah — and that David was. I know that I am but one of a legion of his students who call him "my rabbi," and will share their memories of him and continue to transmit his wisdom. David's d'varim, words and love shared over 25 years, have shaped me as a thinker, rabbi, human, parent, spouse, teacher and friend.
In 2001, my husband and I were a few feet away when a terrorist bomb detonated in central Jerusalem. It was David, then president of HUC-JIR, who sat with me as a first-year student in Jerusalem. He was there on one of his many visits during the height of the second intifada, and he said nothing. Just sat with me, held my hand, hugged me as I shook.
Years later, he was my thesis advisor, and together we struggled with theological questions and the development of liberal Zionism. David had encyclopedic knowledge of where, on an exact page, I might find a paragraph of Rawidowicz or Hildesheimer, and on what volume and page in the Talmud I could find something that would support or refute or confuse my reading of a piece of liturgy. We had arguments over the nature of Jewish Peoplehood, of what makes us a collective body, of God and Torah and Jewish history and Jewish legacy.
Our work together extended into my current role supporting a new generation of rabbis through Atra: Center for Rabbinic Innovation, where he came on as a rabbinic advisor. Just this Tuesday, in my Google doc — that he had, of course, converted to a Word document — he added this comment in the margin: "October 7th has changed everything. I think it will be a watershed moment in American Jewish identity and American Jewish-Israeli relationships." This week, with the shared goal of helping our rabbis adapt their leadership to this moment, we were grappling with the shifting nature of individual and public Jewish commitments in a moment when liberalism and Judaism were not necessarily in sync. Intellectual, but also pointed towards the real work that rabbis are doing today.
David was my rebbe. He pastored me through the untimely and sudden death of my father, whom he knew before my birth. He never hesitated to share his paramount love for, pride in and commitment to his wife and family; just this week, he waited to schedule a meeting until he helped send his grandchildren off to school. I know that relative to his family and his close friends, my loss is small, and I pray that this community of his students can support them in their profound grief. Yet David took to heart the teaching of Sanhedrin 19b that one who teaches Torah to the child of a friend is like another parent. David knew that all of us need to feel that type of love, and I am in awe of his ability to offer both validation and instruction, often at the same time. Not only to me, but to many hundreds of us who have lost our rabbi, our teacher, for he was a Gadol HaDor, a great rabbi of our era.
It's hard to believe that David's d'varim, words and actions are, as of the 24th of Kislev, past tense. I will not be meeting with him today, or any day. I will never again feel his hug, hear Torah from his mouth between sips of Diet Coke. I will never hear his feedback on this week's writing; won't have his ongoing advice as I seek to continue the work of advancing strong rabbinic leadership.
We Jews follow blessings with action, words with deeds. When we soon say "may his memory be for a blessing," we rabbis can make it so when we learn and build upon David's Torah; seek to extend his boundless love as we offer guidance with affirmation and pastoral care with empathy; to have open-eyed, spiritually attuned, and proactive care for Israel and the Jewish people; to ensure that our actions and commitments reflect our highest values. I know that my life's work, supporting rabbis and the future of Jewish spiritual leadership, will always be guided and enriched by his wisdom and his actions.
May we, the students who learned from, who loved, and who experienced the love of our rabbi, David Ellenson, shlit"a (the master), continue to build upon, to share, and to animate his d'varim, his words and deeds, and together strengthen the monument that will serve as his memorial and legacy.
—
The post David Ellenson was my rabbi. I can't believe we won't learn from him anymore. appeared first on Jewish Telegraphic Agency.