What's happening in Israel's war against Hamas in Gaza? The latest and what could come next, explained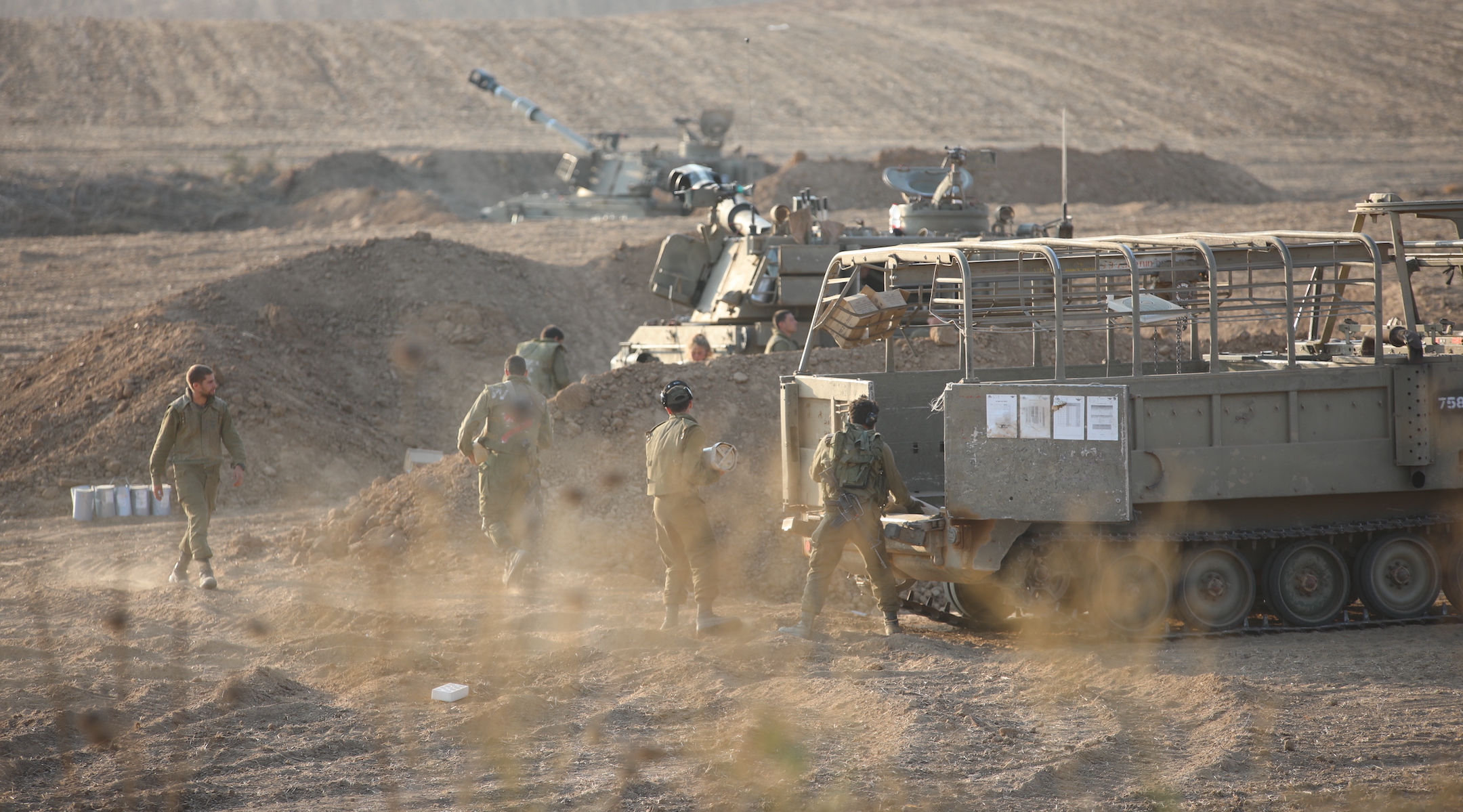 (JTA) — Shortly after Hamas invaded Israel on Oct. 7, killing 1,400, wounding thousands and taking 200 captive, Israel declared war and vowed to defeat the terror group.
Since then, Israel has conducted punishing airstrikes in Gaza, killing thousands and preparing for a ground invasion as it is still counting bodies and learning of atrocities from Hamas' incursion. It is also exchanging fire with Hezbollah, the Lebanese terror group, and cracking down in the West Bank. 
The international response has also changed: alongside widespread horror at Hamas' mass murder, Israel and its supporters are calling for a return of the hostages while its critics are pushing for a ceasefire and humanitarian aid for civilians in Gaza. President Joe Biden has staunchly backed Israel, traveling to the country this week and delivering an Oval Office address calling for aid — a question on which Americans appear split.

"We are fighting for our home, and it will take a long time," Benny Gantz, a former defense minister and Israeli military chief who recently joined the government, said earlier this week. "The war in the south and, if needed, also in the north or anywhere else will take months, and the rebuilding will take years — and only when that is completed will we win."
Here's what is happening in Israel's war with Hamas in Gaza — and what might happen next.  
What is happening right now in Israel's war with Hamas in Gaza?
In the days following Hamas' invasion, Israel's leaders made clear that their goal would be to defeat and dismantle the terror group. Since Oct. 7, Israel has been bombing Gaza from the air, destroying Hamas positions and senior commanders, and exacting a heavy death toll. 
Hamas is an Islamist organization that is designated as a terror group by the United States and European Union, and is dedicated to Israel's destruction. It is an offshoot of the Muslim Brotherhood and has controlled Gaza for more than 15 years.
Israel has killed at least 1,500 Hamas terrorists who invaded the country and, as of Friday, was still finding Gazans in Israel. 
According to the Hamas-run Gaza Health Ministry, more than 4,000 Palestinians have been killed in Gaza since the war began, and footage has shown ruins of whole neighborhoods in the coastal territory. 
Hamas and other terror groups have continued barraging Israel with rockets, and some of the casualties in Gaza have been due to failed rocket launches by those groups. That includes, according to the United States and Israel, a Palestinian rocket that struck a Gaza hospital earlier this week. Hamas has claimed that Israel is responsible for that blast. 
Israel has been preparing for a large-scale invasion of the Gaza Strip, and has called up more than 300,000 military reservists. Last week, it also called on residents of the northern half of the Gaza Strip — more than 1 million people — to evacuate to the territory's southern half. Hundreds of thousands have reportedly evacuated, though Hamas told residents to stay put. 
"We've moved to attack," Defense Minister Yoav Gallant said on Oct. 12. "I say now to everyone: We will wipe out this thing called Hamas. We will wipe it off the earth. This thing won't continue to exist."
What could happen next? 
How, exactly, Israel could defeat Hamas — and what happens afterward — remains unclear. Israel has fought several rounds of conflict with the Gaza terror group over the past 15 years, but none that promises to be this extensive. 
The most major Israel-Hamas war up to this point took place in 2014, but in some measures it already pales in comparison. More than 2,100 Palestinians and 70 Israelis were killed in that conflict, numbers that have already been dwarfed since Oct. 7. And while that war lasted 50 days, a former senior Israel Defense Forces official estimated that this one could take six to eight months.
On Friday, Gallant said Israel's war on Hamas would unfold in three stages: a campaign from the air and on the ground; a lower-intensity campaign that will aim to "eliminate pockets of resistance"; and the establishment of a new Palestinian governing entity in Gaza that would remove Israel's responsibility for running the territory. The operation will reportedly focus on the Hamas stronghold of Gaza City
But who would that be? Right now, no one has the answer. Israel could attempt to install the Palestinian Authority, which governs Palestinian areas of the West Bank, in Gaza — but the P.A. was expelled from the territory in 2007 after a brief civil war with Hamas. On Friday, Israeli Prime Minister Benjamin Netanyahu rejected a handoff to the P.A. "All talk of decisions to hand over the Gaza Strip to the Palestinian Authority or any other party is a lie," he said.
Gaza is also home to other terror groups, the largest of which is Islamic Jihad, which also fires rockets at Israel. 
When Israel's ground invasion will begin is also, as of now, an open question. On Oct. 19, Gallant said it would come "soon." But former Prime Minister Naftali Bennett, who is currently out of political office, urged "patience" in a post on social media, saying that it was safer right now for Israel's air force to "crush, crush, crush" Hamas.
Could there be a regional war?
Israeli officials appear to be most anxious about a second front opening on Israel's northern border, where the major Lebanese terror group Hezbollah has shot missiles at Israel and Israel has fired back. Israel fought a month-long war in 2006 with Hezbollah that, until this month, was its bloodiest in decades. 
Hamas and Hezbollah are both funded by Iran, a chief Israeli adversary that warned earlier this week that "other multiple fronts will open and this is inevitable" if Israeli strikes continue. 
On Thursday, the United States intercepted three missiles heading toward Israel that were launched by an Iranian proxy in Yemen. The action was extraordinary in two ways: Israel has not considered the Iranian allies in Yemen to be an immediate threat, and has rarely relied on the American military to defend against attacks aimed at its territory. The United States has moved forces to the region as a warning to regional adversaries of Israel not to get involved in the fight. 
Facing the prospect of escalating fighting, Israel has evacuated tens of thousands of residents on its southern and northern borders. Most of the city of Sderot, with a population of 30,000, has been evacuated, and on Friday, the northern town of Kiryat Shemona, which has 20,000 residents, was evacuated. 
Israel is also cracking down on Palestinians in the West Bank. In overnight raids on Friday, the IDF arrested dozens of Hamas operatives, including the group's spokesman. Israel has conducted hundreds of arrests in the West Bank since Oct. 7, and 70 Palestinians have been killed, according to Palestinian groups. That toll includes 13 Palestinians and one Israeli who were killed in clashes in the Nur Shams refugee camp Thursday. 
The IDF is also investigating a unit that, according to footage, abused Palestinians and left-wing activists in the West Bank. According to Haaretz, a group of soldiers and settlers beat, stripped and burned cigarettes on the Palestinians, leading to the dismissal of an officer.
How is the United States involved?
Biden has spoken out multiple times in support of Israel since Oct. 7 and traveled there on Oct. 18 — a rare if not unprecedented trip by a U.S. president to a war theater where American troops aren't fighting. He also called for humanitarian aid to Palestinians and for Israel to obey the laws of war. The vast majority of Congress also supports Israel's war effort, though the absence of a speaker of the House means that its members can't approve an aid package. 
On Thursday night, Biden delivered a rare Oval Office address in which he made the case that aid to Israel's and Ukraine's war efforts was vital for protecting American interests across the globe. On Friday, he made his formal aid request: more than $100 billion in total across the globe, including more than $14 million for Israel to bolster its military supplies, including its Iron Dome missile defense system. 
"Hamas and Putin represent different threats," Biden said in his address, referring to the Russian president who launched an invasion of Ukraine last year. "But they share this in common. They both want to completely annihilate neighboring democracies."
Pro-Israel and pro-Palestinian rallies have taken place across the country, and a recent poll by CBS and YouGov shows that Americans at large support Israel. More than 50% of Americans sympathize with Israel "a lot," compared to 28% with the Palestinians. 
When it comes to aiding Israel with weaponry, though, opinions are mixed. On one hand, most Americans approve of Biden's support for Israel or say he should be more supportive. But on the other hand, only 48% said the United States should send weapons or supplies to Israel. 
What is happening with the hostages?
Hamas took more than 200 hostages during its invasion of Israel, including citizens of the United States and countries across the globe. Israel confirmed that approximately 30 of the hostages are children and up to 20 are elderly. More than a dozen are American citizens. 
Families of the hostages have embarked on a global campaign, rife with symbolism, to keep the world's eyes on their captured family members. They have met with world leaders, including Biden and Netanyahu. They have enlisted celebrities such as Gal Gadot and Helen Mirren to advocate for their loved ones' release. They have set up empty Shabbat dinner tables in public spaces worldwide. And they have wallpapered cities around the world with posters bearing the hostages' photos and names. 
World leaders including United Nations Secretary General Antonio Guterres have called for the hostages' immediate release. Earlier this week, Hamas released a video of one of the hostages, and on Friday, it freed two American hostages — a mother and a daughter reportedly from the Chicago area.
Israel has also led small military incursions into Gaza to recover hostages, though none has yet been rescued alive. 
This is not the first time Hamas has taken hostages. In 2006, it captured Israeli soldier Gilad Shalit, who was exchanged for 1,000 Palestinian prisoners five years later this month. It is currently holding two Israelis who entered Gaza before this year, as well as the bodies of two soldiers killed in the 2014 war. 
What is happening with the Palestinians and humanitarian aid?
Israel has blockaded Gaza since Hamas took control of the territory more than 15 years ago, and days after Hamas' invasion, Israel initiated a "complete siege" of Gaza. Israel did not let food, water, electricity or fuel into the territory. 
Since then, the humanitarian situation in the territory has become increasingly dire, with reports of residents drinking salty water and medical care scarce and dwindling. Guterres traveled to the Rafah border crossing on Gaza's border with Egypt in support of humanitarian aid, and while in Israel, Biden negotiated a deal for aid to travel into Gaza via that border crossing. 
It appears, however, that the aid hasn't yet entered the territory. On Friday, trucks of aid were seen sitting on the Egyptian side of the border, an Egyptian aid worker told CNN.
In addition, Israel has weighed creating "safe zones" for Palestinian civilians in the southern Gaza Strip where they would receive protection from the war, though at this stage, Israel is conducting airstrikes throughout the territory. 
How is the war changing Israel's politics?
Hamas' attack, the most lethal day for Jews since the Holocaust, appears to have completely taken Israel's right-wing government by surprise, and in recent days, several military and intelligence officials, and government ministers, have apologized or taken responsibility for failing to prevent the massacre. 
"We are responsible. I, as a member of the government, am responsible," Education Minister Yoav Kisch said. "We were dealing with nonsense."
Days after the invasion, Netanyahu brought Gantz's centrist National Unity party into the government to form an emergency coalition to prosecute the war. Gantz, Gallant and Netanyahu now form a three-person war cabinet that is in charge of the campaign. All other government legislation, including Netanyahu's controversial push to weaken the judiciary, has been shelved for now. 
But Netanyahu has yet to publicly take responsibility, something 80% of Israelis want him to do. 
—
The post What's happening in Israel's war against Hamas in Gaza? The latest and what could come next, explained appeared first on Jewish Telegraphic Agency.
Spain's Balearic Islands officially recognize centuries of injustice against crypto-Jews on Majorca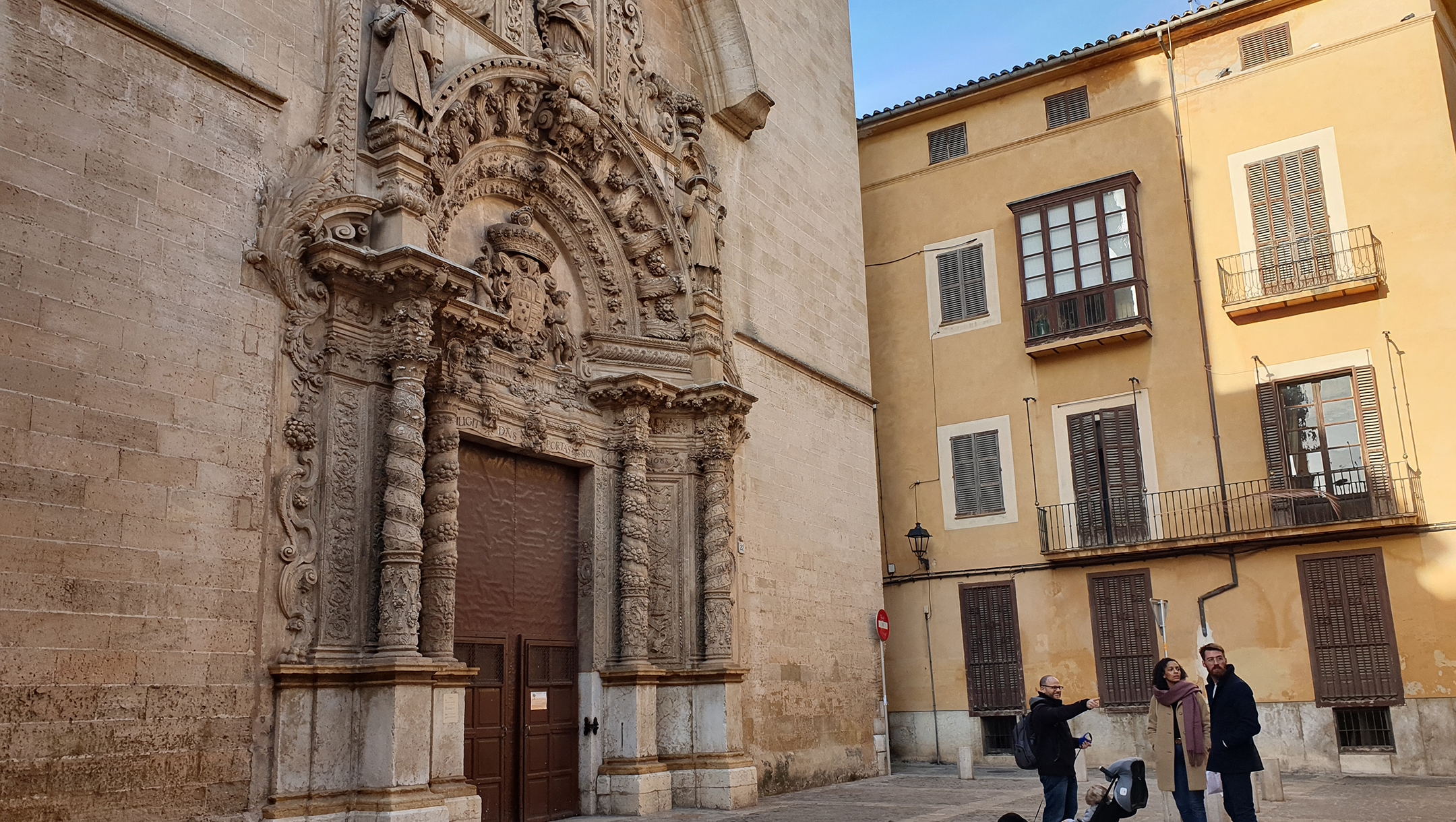 MADRID (JTA) — In a landmark acknowledgment, the parliament of Spain's Balearic Islands issued an official recognition of the "marginalization and discrimination" endured by the islands' chuetas, or local Crypto-Jews from Majorca.
In a statement, the Federation of Jewish Communities in Spain group welcomed the news in mid-September and asked for chueta history to be taught in local schools.
Today, most chuetas on Majorca talk openly and proudly about their Jewish heritage, marking a significant change after a history of humiliation, fear and secrecy that lasted hundreds of years.
Chuetas trace their Jewish heritage back to ancestors persecuted and killed during the 16th and 17th centuries. The name likely comes from the word "xueu" for Jew in Mallorquín, a dialect of Catalan spoken in Majorca. Some linguists think the term also comes from "xulla" (pig fat), as conversos in medieval Spain were frequently obliged to prove that they had renounced their faith by publicly eating pork, which was prohibited under Jewish law.
Despite the fact that most Spanish Jews had converted to Catholicism decades before the formal expulsion of Jews from Spain in 1492, chuetas continued to face distrustful neighbors and were often victims of violence for centuries after. They were barred from intermarrying with other Majorcan families, leading to a close-knit community that secretly maintained their religious Crypto-Jewish traditions — such as praying or celebrating syncretic religious holidays outside Monti Sion, a Catholic church built on top of the former main synagogue in Palma de Majorca's Jewish Quarter.
Their history received increased attention and has been discussed more openly in Spain since the death of Francisco Franco in 1975. Franco's pro-Catholic regime had actively perpetuated anti-chueta sentiment, but the community has since seen a period of revival and acceptance.
The Majorcan government issued an apology in May 2011 for a 1691 event known as the "burning of the Jews," carried out by the Spanish Inquisition, during which nearly 40 Jews were killed in front of an audience of about 30,000 people.
Further reparations came in September of that year when an Israeli rabbinic from the Bnei Brak Rabbinical Court ruled that chuetas could return to Judaism or immigrate to Israel without undergoing formal conversion, contingent upon proof of their Jewish ancestry. Since chuetas only married between themselves, only 15 families' surnames survived. Miró, the family name of the celebrated abstract artist Joan Miró, was one of them. Others included Pico, Aguiló, Fuster, Martí, Picó, Pomar and Segura.
More recently, the chueta community has revived their tradition of publicly celebrating major Jewish holidays — events not seen in over five centuries on the island. In 2019, they began celebrating Purim again, then in 2021, they constructed a public sukkah. In 2022, they organized a menorah lighting ceremony for Hanukkah.
The community's size is estimated at 800 to 1,000 members.
—
The post Spain's Balearic Islands officially recognize centuries of injustice against crypto-Jews on Majorca appeared first on Jewish Telegraphic Agency.
Antisemitism scholars like me study perpetrators. We should know more about their victims.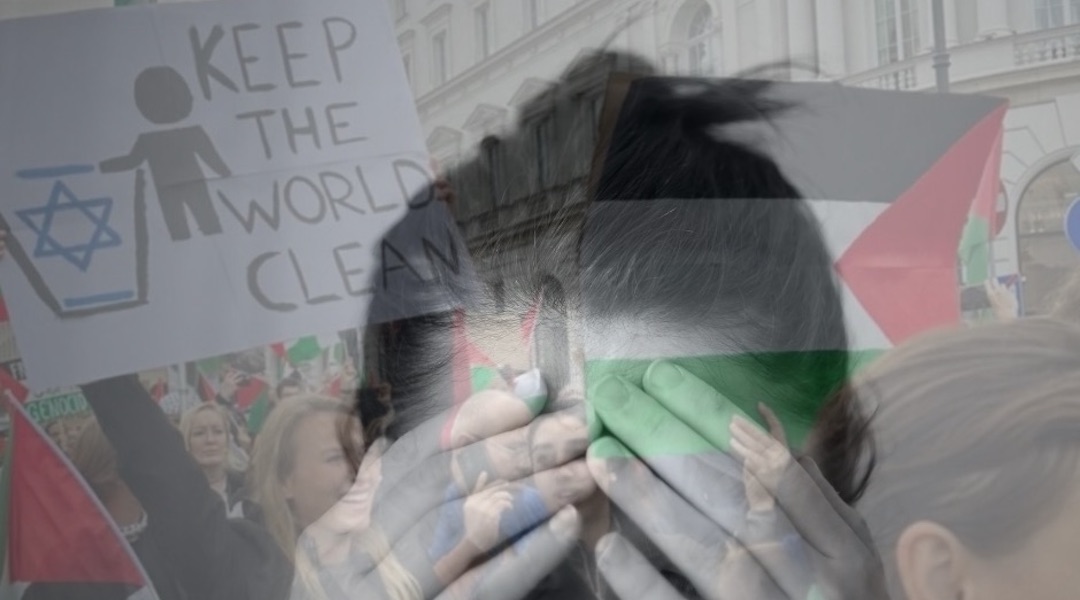 (JTA) — The ruthless Hamas attack on civilian communities inside Israel shocked not only Israelis but much of the world. Pictures and grisly videos — some broadcast live by the perpetrators — flooded the world. Many governments and elected officials in the West swiftly expressed solidarity with Israel and empathy for the countless innocent victims, condemning the slaughter.
At the same time, as news was still coming out about the scope of Hamas attack and days before Israel's retaliation, in cities and on college campuses across the United States, pro-Palestinian rallies and demonstrations showed a shocking lack of empathy for the massacred and kidnapped Israelis, among them young people attending a music festival, elderly Holocaust survivors, women, and children.
As a scholar of antisemitism watching these rallies, I wondered why there was such a reflexive disregard, even contempt, for Jewish victims. Why weren't Jewish and Israeli victims of violence seen as human victims of violence but were immediately pushed into the political discourse about the Israeli government's policies and actions? Why was their humanity erased?
Some of this contempt surely stems from the polarization wrought by the Israeli-Palestinian conflict. Some is rooted in centuries of theologically grounded habits of thinking about Jews as unworthy of the respect accorded to other kinds of human beings, and even unworthy of having their own land.
But some blame for this I think can also be laid on how those who study and write about antisemitism, including myself, have approached this subject.
For almost a century, most of us have focused on dissecting antisemitic ideas and ideologies. But — with the very important exception of those studying the Holocaust—we have not paid enough attention to the effect these ideas, images, and actions have on Jews as human beings.
Having taught a comparative course on antisemitism and racism at Fordham University, I have been thinking a lot about different scholarly approaches to the study of antisemitism and racism and their social impact.
Consider for example how scholars generally approach anti-Black racism. Many have focused on the impact of racism on Black communities and Black individuals — no matter how successful and accomplished they are. President Barack Obama spoke about being "mistaken for a waiter at a gala" and acknowledged the experience many Black Americans have had of being "mistaken for a robber and to be handcuffed, or worse." We all can picture Ruby Bridges trying to get to school. We can think of Addie Mae Collins, Cynthia Wesley, Carole Robertson,and Carol Denise McNair, killed in the 16th Street Baptist Church bombing in 1963. We can all picture George Floyd and understand the significance of the words uttered by Eric Garner: "I can't breathe."
Yet, few Americans, or students on college campuses, would be hard-pressed to name a victim of antisemitism, or explain, beyond the deaths of millions of Jews in Europe, how indeed Jews have experienced antisemitism. Few would know that the college admissions process is the way it is in part because it was designed to exclude Jews from elite universities. Few would be able to articulate how Jews must feel when antisemitic memes circulate online, or when they hear slurs, see swastikas or Stars of David spray-painted on walls in workplaces, or see demonstrations near their neighborhoods, organized on Saturdays and coinciding with the Shabbat, in which people hold signs that say, "keep the world clean" — the obvious implication being, of Jews.
The focus on the Black experience of racism has a long history: It goes back at least to the publication of slave narratives and continues to the present day, as we read the works of James Baldwin, Ta-Nehisi Coates, Toni Morrison or George Yancy.  In contrast, scholars of antisemitism have long focused not on victims but on proponents and perpetrators.
One result is that most educated Americans have been trained to acknowledge the full range of anti-Black racism and its impact on individuals, from public lynchings to microaggressions. In contrast, Jews tend to be viewed as privileged, with the harm done to them downplayed or unseen.
There is a cost to both approaches. The works on racism have been subsumed under "Black history," and the relatively recent effort to shift the gaze onto white supremacists and their ideologies, and to make them part of our understanding of American history, has led to a fierce backlash, including book bans.
In contrast, the focus on antisemitic ideas and their perpetrators has arguably resulted in a comparative lack of empathy for the Jews victimized by such ideas. Even worse: paradoxically, by studying and writing about the perpetrators, we spotlight and preserve their antisemitic ideas. Our readers then are exposed to toxic ideas without seeing their impact on real people.
The Biden-Harris's U.S. National Strategy to Combat Antisemitism, released in May, advocated for "(1) increasing awareness and understanding of antisemitism, including its threat to America, and broaden appreciation of Jewish American heritage; (2) improving safety and security for Jewish communities; (3) reversing the normalization of antisemitism and countering antisemitic discrimination; and (4) building cross-community solidarity and collective action against hate."
Coupling "increasing awareness and understanding of antisemitism" with "appreciation of Jewish American heritage" is helpful in diversifying the image of Jews and their role in society. Indeed, teaching about Jewish history and culture is one of the most powerful antidotes to antisemitism.
But, as the responses to the Hamas massacres in Israel suggest, we need to do more to build empathy and recognize the impact of antisemitism on Jewish individuals — from microaggressions to outright violence.
A version of this article first appeared in Public Seminar.
—
The post Antisemitism scholars like me study perpetrators. We should know more about their victims. appeared first on Jewish Telegraphic Agency.
Lianne, Noiya & Yahel Sharabi, 48, 16, 13: 'Our 3 beautiful girls'