Where to order Yom Kippur break-fast meals in NYC in 2023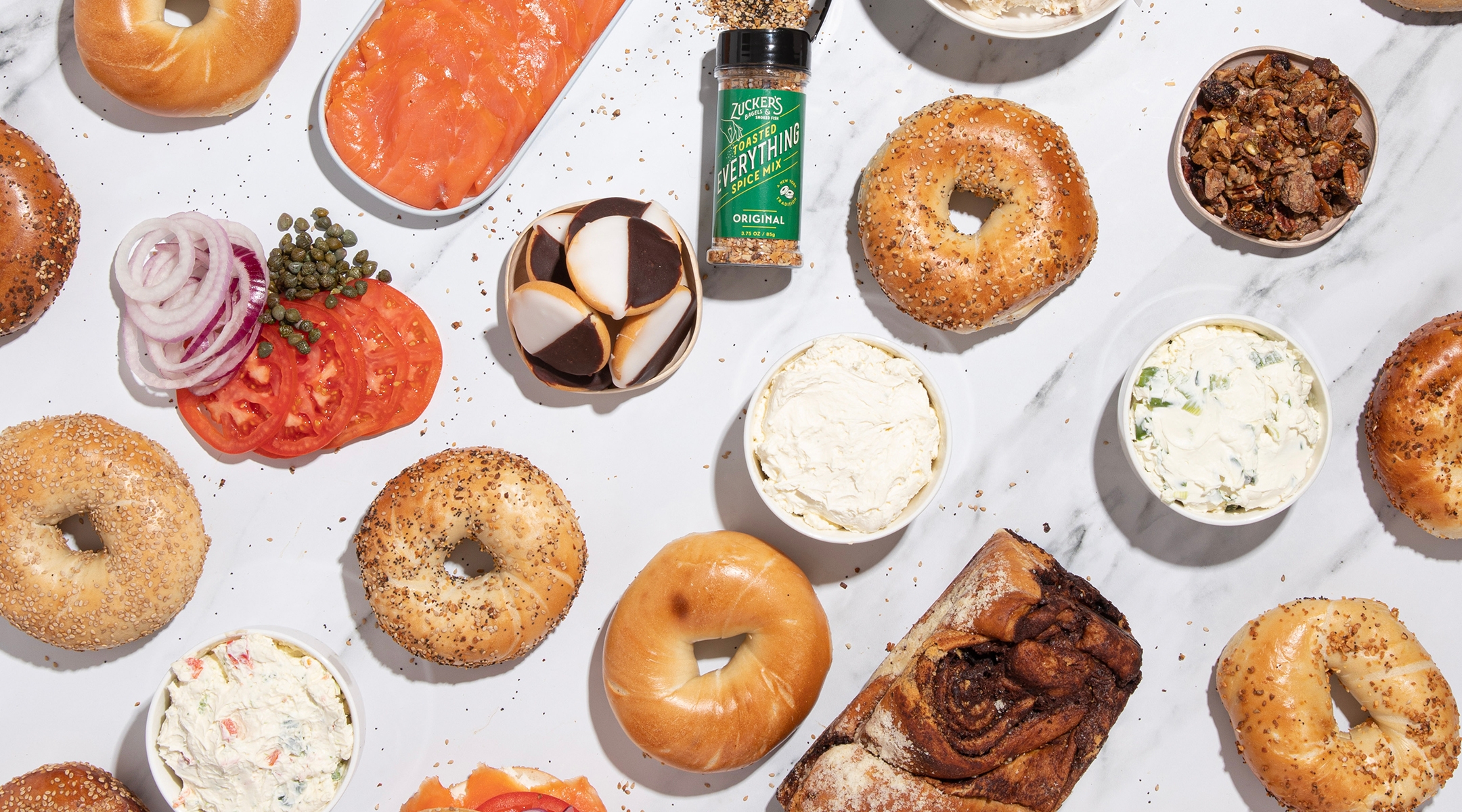 (New York Jewish Week) — Thousands of pounds of smoked salmon are consumed in New York City at the conclusion of the fast on Yom Kippur, the Jewish Day of Atonement, which this year begins on Sunday night and ends the following evening.
For lox lovers, there's no shortage of spots to cater a traditional Ashkenazi meal (which often consists of bagels, smoked fish, plus schmears and all the fixings). 
But there's no reason to draw the line there. In this vast and diverse city of ours, there are a host of other delicious ways to break the fast — without breaking a sweat over the stove. Whether you want a platter of Yemenite flatbreads delivered or a variety of vegetarian Ethiopian stews to go, keep reading for 12 places across the city that are preparing Yom Kippur break-fast meals this year. 
Multiple locations in Manhattan 
For Yom Kippur break-fast, Breads Bakery is offering an assortment of cakes, breads, smoked salmon and schmears. If you're feeding a crowd, the 12-serving Jerusalem Bagels and Atlantic Smoked Salmon Platter ($125) includes Jerusalem bagels (oblong, sesame seed-coated bagels), smoked salmon, scallion cream cheese and capers. For $65, there's a platter of six Jerusalem bagels with a choice of four spreads, including hummus, egg salad, tuna salad, labneh, tzatziki and tahini. As a bonus, the Israeli-style bakery also has a new dessert on this year's menu: milk-and-honey rugelach. Kosher-style, but not certified kosher. 
2. Edith's
Williamsburg, Brooklyn
Edith's, the Williamsburg eatery that celebrates Jewish cuisine from around the world, has a selection of items that can be picked up or delivered for your Yom Kippur break-fast. An $85 Bagels & Spreads Platter includes assorted cream cheeses served with sliced cucumber, tomatoes and pickled onions. Or, for the same price, there's a Malawach and Spreads platter that includes the Yemenite flatbread paired with butter, housemade jam, grated tomato, zhug (a fiery green hot sauce) and labneh. A la carte items are also available. Not kosher. 
3. Gertie
Williamsburg, Brooklyn
Williamsburg's Jewish diner, Gertie, has a break-fast menu available for pickup or delivery. For $150, there's the Gertie x Jake Cohen Deluxe Bagel Spread, which includes six bagels with smoked fish and schmears, plus three slices of cake from Cohen, a cookbook author/influencer, as well as a signed copy of his latest book, "I Could Nosh." A la carte items also available. Not kosher. 
Gravesend, Brooklyn
Family-owned Mansoura Pastries has been producing Middle Eastern sweets and treats for five generations, selling break-fast-appropriate items such as baklava (15 pieces for $30) and mamoul, a flower-shaped cookie dusted with sugar and filled with pistachio (12 pieces for $24). The bakery also sells a variety of candied nuts and nougats as well as chocolate-dipped fruits and nuts. Drop by the Kings Highway bakery or order online for delivery via UPS. Kosher. 
Gravesend, Brooklyn
Beat it, bagels! Merlyne's Cuisine is a caterer specializing in Syrian specialties like cheese sambusak —  a fluted buttery pastry filled with cheese ($18/dozen) —  or calsonnes, a cheese-filled ravioli-type pasta ($18 per dozen); tomato or spinach mini tarts ($20 per dozen), or a 9-inch spinach tart for $42. Pick up in Brooklyn or local deliveries available in the borough. Yom Kippur orders are due Monday, Sept. 18; order form here. Kosher. 
Two locations in Manhattan (plus Los Angeles)
Gluten-free bakery Modern Bread & Bagel has a variety of platters perfect for a Yom Kippur break-fast meal. Their Bagels, Cream Cheese, Smoked Fish and The Works Platter ($179) serves 10 and includes a dozen bagels and 24 ounces of smoked fish, plus assorted schmears and fixings. Other platters and a la carte items available, too. Yom Kippur pre-orders will be available for pickup and local delivery on Sunday. The cut off to order is Thursday at noon. Kosher. 
7. Moss Cafe
Riverdale, Bronx
This lively kosher cafe — where produce is procured from small local farms — has a variety of Yom Kippur break-fast options, including a dairy-free Herbed Egg Salad Platter ($140, serves 10) that includes egg salad made with local, cage-free eggs and housemade mayonnaise served with bread, microgreens and lacto-fermented pickles. Other items are also available. Items will be available to pick up on Sunday between 1 p.m. and 4 p.m.; delivery to the Upper West Side, Westchester County and Teaneck, New Jersey, is also available. Order deadline is Tuesday at 9 p.m. Kosher. 
Two locations in Manhattan
Second Ave. Deli offers far more than pastrami: For the break-fast meal, you can order smoked fish and bagels, too. The Nova Scotia Salmon platter runs $19.95 a person and includes lox, bagels, non-dairy cream cheese, tomatoes, onions and capers. Salads, tuna, rugelach and babka are available, too. $125 minimum on all deliveries; $100 minimum on orders you pick up. Kosher. 
9. Seudah Glatt Kosher Caterers
Gravesend, Brooklyn 
Get your choice of dairy, meat or pareve prepared foods from Seudah. Look online under "Local Takeout – Pickup" for dairy choices running from cheese balls (6 pieces for $4.50) and cheese bourekas (6 pieces for $7.50). Meat options range from mini beef kibbeh ($1/piece) and apricot chicken ($10 for a half chicken). Salads and pareve sides are also available; items must be picked-up at Seudah's store on Kings Highway in Brooklyn. Kosher. 
10. Shelsky's
Cobble Hill, Brooklyn 
This popular Brooklyn spot has a variety of break-fast platters available for pickup on Sunday or Monday, Sept. 25. One option is the Smoked Goodness Platter ($40/person, eight-person minimum) with "hand-sliced Eastern Gaspé Nova, whole-filleted smoked whitefish, wild-Alaskan sable, and kippered salmon beautifully arranged on a platter with thinly-sliced red onions and capers"; the order also comes with bagels and plain and scallion cream cheese. For the non-fish eaters, Shelsky's is preparing deli, crudite and fruit platters, too, plus a variety of sweets. Pre-order deadline is Monday, Sept. 18. Not kosher. 
11. Tsion Cafe
Harlem
For Yom Kippur, Ethiopian Israeli Tsion Cafe has a vegan Ethiopian Veggie Combo that owner Beejhy Barhany considers the best way to break the fast. The combo is served with injera, a flatbread made with teff flour, accompanied by an assortment of veggie stews (red lentils, yellow split peas, cabbage with potatoes and carrots, ground chickpeas,and collard greens). Each stew is packaged individually and easy to warm up for consumption at any time. $21 per serving. Orders for pickup only on Friday and Saturday from 7-10 p.m. Not kosher. 
12. Zucker's Bagels
Multiple locations in Manhattan
Local chain Zucker's Bagels and Smoked Fish has an expansive High Holiday menu consisting of a variety of offerings for Yom Kippur gatherings both large and small. The High Holidays Essentials Kit ($115, serves six) includes a choice of bagels, three cream cheeses (plain, veggie and scallion), Eastern Nova Scotia salmon, babka, mini black-and-white cookies, plus a jar of toasted everything seeds tucked inside a Zucker's thermal bag. Customers can also order a la carte by phone or email from their extensive menu. Orders must be placed 48 hours in advance; stores are open on Yom Kippur until 3 p.m. with deliveries being made until 5 p.m. Not kosher. 
—
The post Where to order Yom Kippur break-fast meals in NYC in 2023 appeared first on Jewish Telegraphic Agency.
Juan Bradman, Cuban-Jewish exile whose life inspired a novel, dies at 90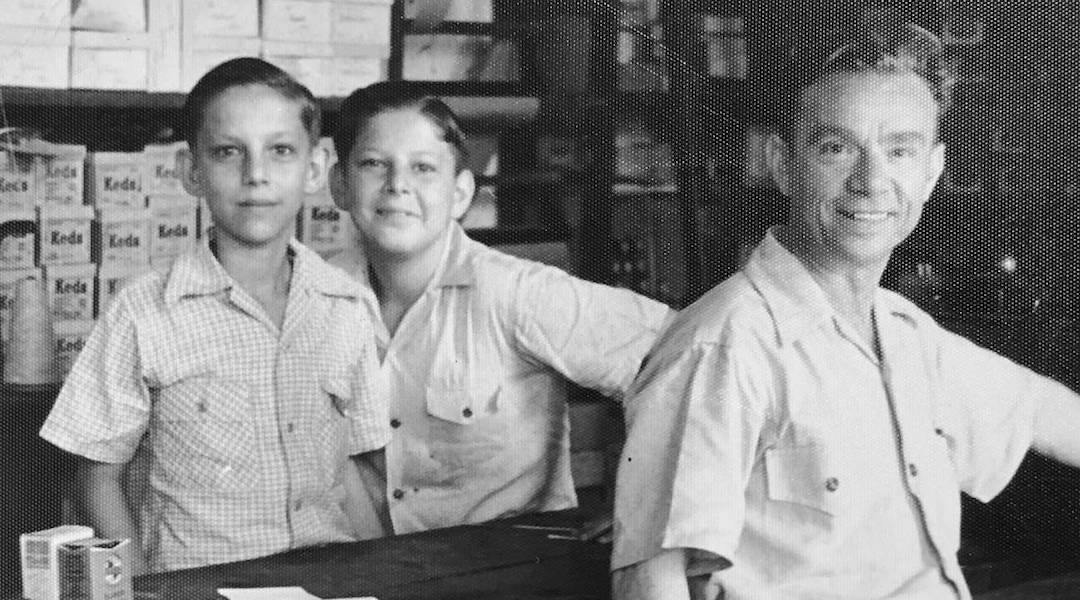 (JTA) — Juan Bradman was still in his twenties when he became a circuit judge in rural Cuba, traveling among the provinces. 
 But in1962, after the communist takeover by Fidel Castro, he and his wife Pola fled Cuba for the United States with their daughter Miriam, who had just celebrated her first birthday.
 Years later, Miriam Bradman Abrahams would remember her parents' story of exodus and exile in the forward to a novel inspired by their lives. "The Incident at San Miguel," written by A.J. Sidransky, was published in March.
"They would leave behind all they knew for another climate, language and culture," she wrote of her parents. "They could barely imagine the enormity of what faced them. This leaving and arriving, setting down roots and then suddenly having to pull them up to survive, has been part of Jewish DNA for millennia. It is the biblical story of Abraham, Noah, Joseph and Moses." 
Juan Bradman, who lived in Brooklyn, died Sept 23, at the age of 90.
In many ways, Bradman's was an archetypal story of the more than 90% of Jews who, having found a refuge in Cuba from hardship in Europe, fled once again after Castro's revolution. After leaving Cuba and putting down roots first in Yonkers, New York and later Brooklyn, Bradman refused to return to Cuba, harboring fears about his safety and his family's in the country from which he fled. Yet he remained connected to the country by his brother, Salomon, who supported the revolution and chose to remain after the communist takeover. 
Despite their political differences and years of estrangement, when the Cuban government opened travel for Cuban citizens to the United States in 2001, Juan sponsored Salomon and his wife for a month's visit in Brooklyn. (Salomon died in 2012.)
A fictionalized version of their reunion, as well as Juan's brief encounter with Cuban revolutionary Che Guevara, are featured in "The Incident at San Miguel."
Bradman never lost his bitterness over Castro's takeover of the country, which replaced the dictatorship of Fulgencio Batista with years of deepening repression and economic malaise.
"Fidel was a ruthless Stalinist dictator with a charismatic personality," Bradman told his daughter after Castro's death in 2016. "He destroyed the island, running it as his own personal domain. I thank Castro for being the reason we came here. We would not have lived the same quality of life, had we stayed there. History should remember him as a tyrant rather than as a hero or savior. There is an end to everything, and I hope this is the beginning of the end of communism in Cuba."
Juan Bradman was born on June 24, 1933, the son of Rifka and Yechezkiel Bradman. He and his wife Pola's parents were refugees from Poland and Belarus. Bradman studied law at the Universidad de Havana before it was closed by the government; he later completed his law degree through the "back door," according to his family. A stint as a lawyer at the National Bank of Cuba was cut short by political upheaval in Cuba, and in 1959 he was appointed a traveling judge for constituents in the Cuban countryside. 
In 1962, he, his wife and daughter fled Cuba "with nothing but six cigars in his pocket, one suitcase of clothes, and a smuggled law degree," according to a family obituary. "On arriving in Miami, Juan was questioned by immigration authorities to clear up a case of mistaken identity of a cousin with the same name."
The family continued on to the Yonkers home of an aunt who served as their sponsor, and later settled in Midwood, Brooklyn. Unable to practice law in the United States, he earned a degree from Columbia University, and later a master's degree in social work. After retiring as a social worker he trained as a docent at the Museum of Jewish Heritage in New York City, where he taught about the Holocaust and shared his immigrant background with visitors.
Bradman was an active member of his synagogue's Men's Club and served on the board of his children's school, Yeshiva Rambam.
Survivors include his wife and his daughters, Sheila Feirstein and Miriam Bradman Abrahams.
In her forward to the novel based on her parents' lives, Bradman Abrahams wrote about the ways their parents' Cuban, American and Jewish identities shaped the lives of their daughters.
"My parents valued education above all else," she remembered. "Brooklyn's public schools were not the best back then. Our parents chose to enroll my sister and me in Jewish day school. How I think, speak and react today, what I cook and eat, how I communicate with my parents, my husband, grown kids, and community are a direct result of being tri-lingual and tri-cultural."
—
The post Juan Bradman, Cuban-Jewish exile whose life inspired a novel, dies at 90 appeared first on Jewish Telegraphic Agency.
A suburban NJ megamall is offering gender-segregated swimming to accommodate its Orthodox clientele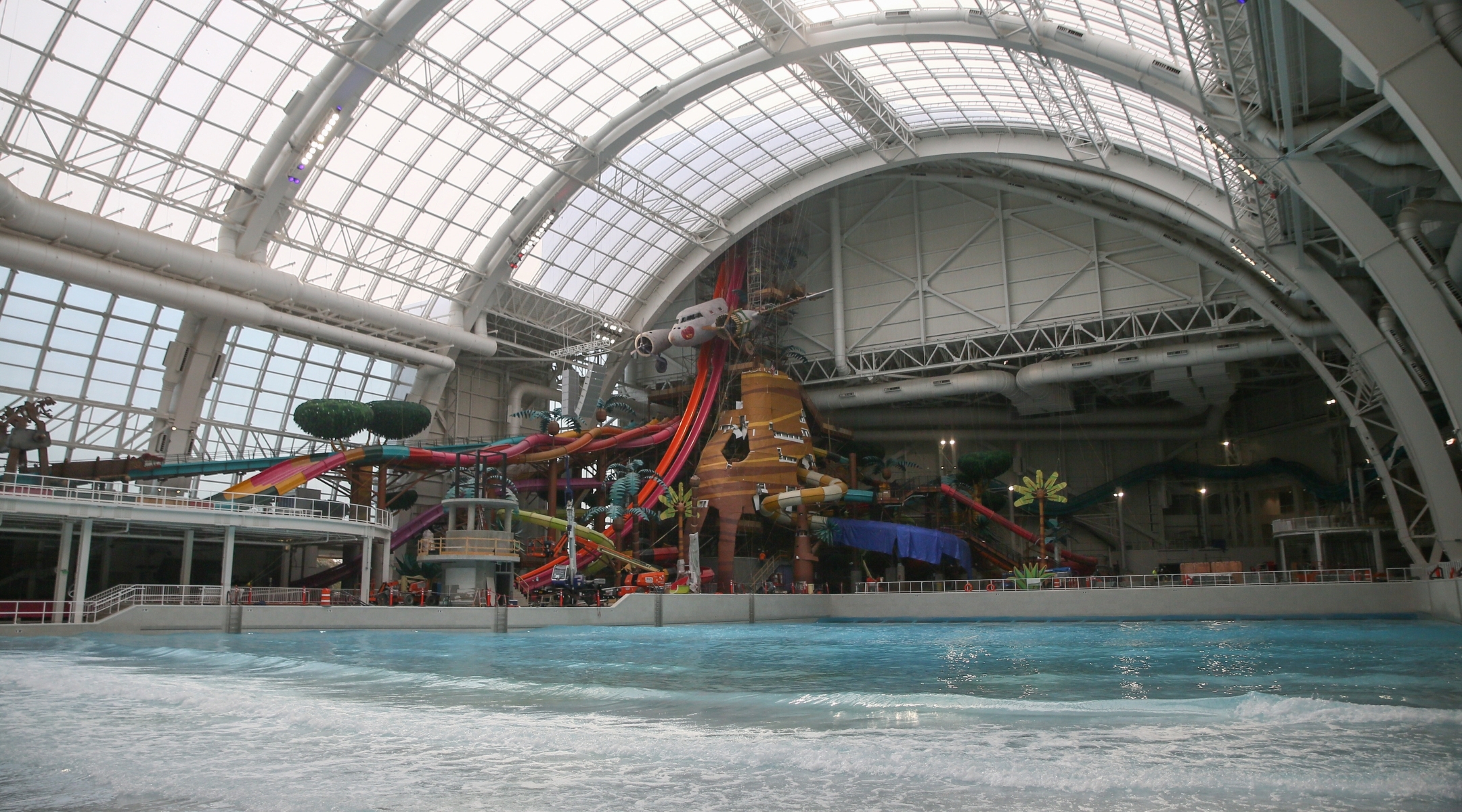 (JTA) — Featuring 15 water slides, cabanas and an enormous wave pool, the largest indoor water park in the United States is open to all customers almost every day of the year.
Almost.
The calendar for the DreamWorks Water Park at American Dream Mall in East Rutherford, New Jersey, features blackout dates a couple weeks from now, corresponding to two weekdays in the middle of the upcoming Jewish holiday of Sukkot. But while the park's website says "No Tickets available," that isn't actually the case.
Patrons can head over to an Instagram page affiliated with the mall and aimed at Jewish visitors, called "L'chaim American Dream," where they will see water park tickets being sold at $79 a pop for those very dates — Oct. 2 and 4.
But there's a twist: The tickets are technically for a private event at the water park, hosted by a separate company that will segregate attendees by gender. On Oct. 2, the park is open to women only and two days later, is open only to men.
The gender-segregated hours are meant to serve haredi Orthodox Jews who abide by strict modesty laws prohibiting men and women from wearing revealing clothing — such as bathing suits — in public. Having separate times for men and women would enable customers to use the waterpark without running afoul of their Jewish observance.
It's one of the many ways the mall, which opened in 2020, caters to an Orthodox clientele — along with a food court with 13 kosher restaurants and a department store with clothes that adhere to Orthodox standards of modest dress. Accessible to Orthodox communities in Brooklyn, New Jersey and upstate New York and housing a host of activities appropriate for young children, American Dream has made itself into a top destination for Orthodox families. Families are expected to flood to its attractions — including miniature golf courses, ice skating, a theme park and more — during the intermediate days of Sukkot, when haredi yeshivas are typically closed and outings are de rigueur.
In its outdoor spaces, the mall will house multiple sukkahs, the temporary huts erected during the holiday where many Jews eat their meals during the holiday. But the water park's gender-segregated hours represent the most substantive change planned for the holiday — and to some potential visitors, they are welcome.
"Most women to the right of left-wing Modern Orthodox would seek out this kind of arrangement in order to swim," said Rifka Wein Harris, a haredi attorney who has advocated for changes in the way Orthodox Jews are portrayed in the media. Otherwise, she said, "I would only swim in a women's-only environment that was not subject to public view," such as one that was "gated or enclosed or indoors, around other women."
Yet for those who advocate for Orthodox women's inclusion, gender segregation on a weekday afternoon at a large suburban mall has set off alarm bells.
"Individuals can make their own decisions as to how they want to conduct their religious practice," said Daphne Lazar Price, executive director of the Jewish Orthodox Feminist Alliance and an adjunct professor at Georgetown University Law Center. "But to have a large corporate entity make these kinds of decisions for everyone is problematic."
The waterpark has offered men- and women-only hours in the past, geared toward Orthodox customers on Sukkot, as well as on Hanukkah and the intermediate days of Passover. On those holidays, as on the intermediate days of Sukkot, observant Jews aren't prohibited from engaging in commerce or swimming, and their children are generally off of school.
But in the past, those opportunities have been offered at night, after the park's normal hours of business. This is the first time when it will be gender-segregated during the day.
"This is really the first time we're doing something during daytime hours, which is usually open for the public," said a representative of American Dream who responded to a JTA inquiry but declined to give their name or title. "You're expecting that most of the public or the kids are in school and not coming during that time. "We're able to close it, close up for gender-separated hours, during these specific days."
The mall is operated by Triple Five Group, a Canadian conglomerate owned by the Ghermezian family, who are Jewish and also own the Mall of America. In this case, the gender-segregated days are being run under the auspices of a private company that rented the water park for those hours, according to the American Dream representative, who declined to disclose the company's name.
For some haredi customers, the accommodation is welcome. "This is our [only] chance to go swimming at all, other than the bungalow colony," Wein Harris said, referring to summer vacation complexes in upstate New York that often offer separate swimming hours to accommodate Orthodox guests. "And for people like me who don't have a bungalow, we never swim."
But Lazar Price says the gender-segregated hours are of a piece with "alarming growing trends" she has witnessed — and she isn't alone. Elana Sztokman, a feminist activist and sociologist, has watched with concern as Orthodox magazines and advertisements have declined to show women's faces. Now, it seems to her that American Dream is encouraging a communal impulse to separate genders in a way that, she says, will abet the exclusion of women.
"Suddenly what it means to be religious for a man means to be in a completely woman-free world. You can't have women on the streets, you can't have women near you," she added. "These dynamics tell you that this has nothing to do with protecting women. It has to do with creating women free-zones so that men don't have to deal with the fact that women exist."
Gender segregation in public spaces has long been hotly debated in Israel, which has a large haredi community with political representation that sits in the current right-wing government. Some public buses in Israel have enforced gender separation, and there has been a proposal to have some publicly maintained natural springs do so at times.
Sztokman, who lives in Israel, sees a common thread between the policy at American Dream mall and the separation of men and women in her country.
"I feel like what's happening in America is an extension of this because the haredi communities are connected; the religious communities are connected. If one practice becomes a norm then in one place, then the other communities have to 'keep up with the Cohens' kind of thing," Sztokman said. "You can't be less religious than your religious cousin across the ocean. You have to keep up."
In the United States, institutions that attempt to enforce gender segregation in order to appeal to haredi customers have, in the past, run afoul of the law. In 2018, a federal appeals court ruled that an over-55 condominium complex in the heavily Orthodox city of Lakewood, New Jersey, was in violation of the Fair Housing Act because it offered separate swimming hours for men and women. Three non-Orthodox residents, including a married couple, filed a lawsuit against the complex after they were fined for refusing to get out of the pool when coed swimming hours had finished.
But when it comes to public accommodations such as publicly accessible swimming pools, the law appears to be different, said Michael Helfand, a scholar of religious law and religious liberty at Pepperdine University who is also a legal adviser to a branch of the Orthodox Union.
"Generally you can't do this," Helfand said. "But New Jersey has an exception that allows this kind of gender separation, gender exclusion under some circumstances."
The federal Civil Rights Act does not bar discrimination in public accommodations on the basis of sex. The New Jersey law that Helfand cited permits a number of establishments to restrict entry by sex if they are places that could be "reasonably restricted exclusively to individuals of one sex." The list includes summer and day camps, resorts, dressing rooms, bathhouses, gyms, schools and swimming pools.
"There's strong reason to think that having separate hours at a private New Jersey swimming pool would not subject the swimming pool to liability under New Jersey's anti-discrimination law," Helfand said. "There's likely intuition that under some circumstances, that kind of gender separation, given a particular clientele, given a particular business might, quote-unquote, make sense."
Wein Harris is excited by the prospect of enjoying an environment that accords with her religious requirements at an attraction that bills itself as the "largest indoor water park in North America."
"I am overwhelmingly happy that our needs are being seen in a world where they're not otherwise being seen," she said.
—
The post A suburban NJ megamall is offering gender-segregated swimming to accommodate its Orthodox clientele appeared first on Jewish Telegraphic Agency.
Golden Globes expels Egyptian member who tweeted about 'Zionists' stronghold' in Hollywood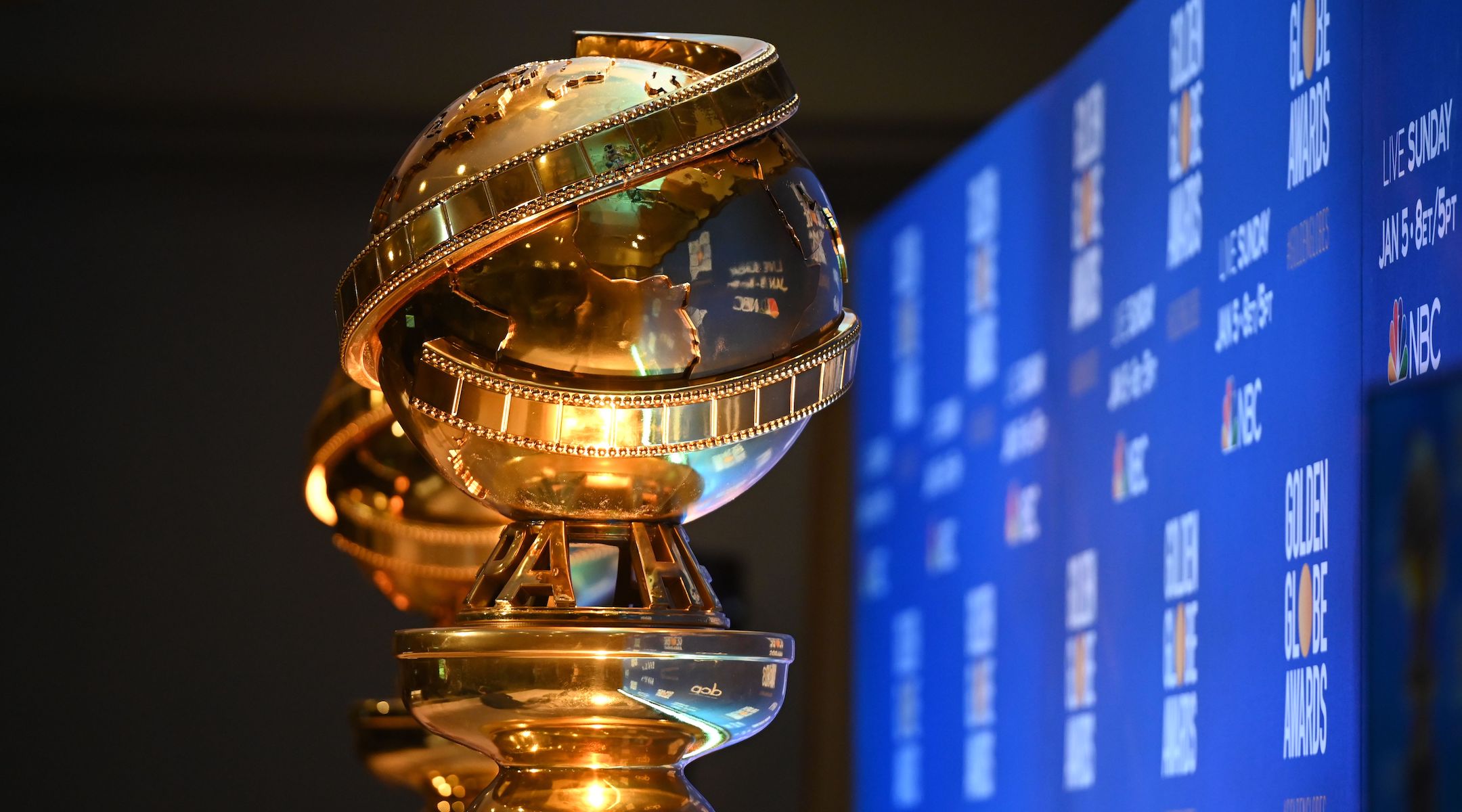 (JTA) — The organizers of the Golden Globes expelled an Egyptian member of its voting body over the weekend following the discovery of old tweets in which she seemed to espouse conspiracy theories about Israel and Zionists.
The Hollywood Foreign Press Association did not say why it had expelled the film critic Howaida Hamdy along with two other members, beyond noting that they had violated the organization's code of conduct. According to The Hollywood Reporter, members of the body had complained about the behavior of Hamdy and two others who were also recently expelled.
Hamdy, a critic and editor for several Arabic-language publications, had been the subject of a report this summer by the Committee for Accuracy in Middle East Reporting and Analysis (CAMERA), a pro-Israel watchdog group.
The group had found that in 2013, Hamdy allegedly tweeted in Arabic: "Hollywood is the Zionists' stronghold" and said "most films" are "oriented and biased," in writing about the zombie movie "World War Z." She said the film presented "Israel and its citizens as the embodiment of nobility, humanism and sacrifice — a repulsive thing." "World War Z" is partially set in Israel and depicts the Mossad responding to the outbreak of a deadly zombie virus.
That tweet has since been deleted, but CAMERA noted another 2013 tweet, in which Hamdy states in Arabic: "Behind every Islamist terrorist there is a Zionist-American plot that moves him." That tweet was still visible as of Tuesday. 
CAMERA also heavily criticized two different reviews Hamdy wrote of a Palestinian film, one in Arabic and one in English, in which she used varying language to refer to the director's depictions of Palestinian resistance movements. 
Following the CAMERA report, the Hollywood Foreign Press Association opened an investigation. Hamdy had joined the group in 2021 following intense controversy that the international awards body had a closed-rank membership that lacked diversity. The Golden Globes awards were not televised that year owing to the backlash, and the association vowed to diversify its ranks.
—
The post Golden Globes expels Egyptian member who tweeted about 'Zionists' stronghold' in Hollywood appeared first on Jewish Telegraphic Agency.