A chaotic response to Israel's turmoil a reveals a fraught new dilemma for Jewish legacy organizations
WASHINGTON (JTA) — Major American Jewish organizations that hoped to send a unified message about the turmoil in Israel yesterday instead found themselves tussling, partly in the public eye, about what exactly they wanted to say. 
Should they praise the massive anti-government protests that have taken shape in recent months? Should they criticize Israel's sitting government? What, if anything, should they endorse as a next step in the ongoing crisis?
Five large Jewish organizations — all known for their vocal pro-Israel advocacy — began Monday afternoon trying to answer those questions in a unified voice that sent a positive message: praise for a decision to pause the government's divisive judicial overhaul.
Instead, in a somewhat messy process that unfolded over the course of the afternoon, they ended up sending out a number of different statements that contrasted in subtle yet telling ways. The scramble to publish a statement reflecting consensus — and the resulting impression that consensus was lacking — was a reflection of how Israel's politics have created a rift in the U.S. Jewish establishment.
For decades, large American Jewish groups have publicly supported Israel's foreign policy, and mostly stayed quiet on its domestic conflicts. Now, a domestic policy issue threatening to tear Israel apart has compelled at least some of them to do two unusual things: opine on Israel's internal affairs, and publicly chide the government that, in their view, is responsible for the crisis.
"For a long time any criticism of Israel, even criticism of very difficult policies, was thought to be disloyal, and couldn't be spoken out of love," said Rabbi Rick Jacobs, the president of the Union for Reform Judaism, which was not a signatory to the statement but is a constituent of the group that organized it. "I think we now understand that there's plenty of legitimate criticism and activism that comes from that very place."
The five groups that began composing the statement together were the Jewish Federations of North America, the American Jewish Committee, the Anti-Defamation League, the Conference of Presidents of Major American Jewish Organizations and the American Israel Public Affairs Committee. All have historically been seen as centrist, pro-Israel and representative of the American Jewish establishment, speaking for American Jews in international forums and in meetings with elected officials. All have annual budgets in the tens of millions of dollars, if not more.
Any vocal criticism from those groups has largely been limited to Israel's treatment of non-Orthodox Jews. Because most American Jews are themselves not Orthodox, American Jewish groups have felt more comfortable advocating for policies that, they believe, will allow more of their constituents to feel welcome in the Jewish state. 
But events this year have prompted the groups to speak out on another Israeli domestic issue: the judicial overhaul being pushed by Prime Minister Benjamin Netanyahu, which aimed to sap the Israeli Supreme Court of much of its power and independence. The court has, in the past, defended the rights of vulnerable populations in Israel such as women, the non-Orthodox, Arabs and the LGBTQ community.
"The recognition that what happens in Israel, the policies of the Israeli government and a broader range of issues in this particular case — on judicial reform, the perception of Israel as a vibrant democracy for all of its citizens — that perception has a significant impact on American Jewish life and American Jewish engagement," said Gil Preuss, CEO of Washington, D.C.'s Jewish federation.
Most of the five groups had previously endorsed calls for compromise on the judicial reform proposal. The federations had also come out against one of its key elements. So when Netanyahu announced on Monday — in the face of widespread protests and dissent from allies — that he would pause the legislative push to allow time for dialogue, they all hoped to express their support. 
What to write after that sentiment, however, proved contentious. A version of the statement put out by the American Jewish Committee included sharp criticism of Israeli politicians that was not in the other statements. 
The Jewish Federations of North America sent out an addendum to the statement that was sympathetic to anti-Netanyahu protesters.
And the American Israel Public Affairs Committee ultimately opted out of the statement altogether — but not before a version had already been released in its name. 
None of the five groups responded to requests for comment on the process behind the statement, but insiders said the differences between the statements, and AIPAC's opting out, had little to do with policy differences. Instead, they blamed the confusion on missteps in the rush to get the statement out in the minutes after Netanyahu's remarks, which aired in Israel at 8 p.m. and in the early afternoon on the East Coast, where all of the groups are based.
The statement that ultimately appeared, after declaring that the groups "welcome the Israeli government's suspension" of the reforms, said that the raucous debate and protests over the legislation were "painful to watch" but also "a textbook case of democracy in action."
A key line included rare advice to Israel from the establishment Jewish groups: "As a next step, we encourage all Knesset factions, coalition and opposition alike, to use this time to build a consensus that includes the broad support of Israeli civil society."
The Conference of Presidents was the first to release the statement, just past 2 p.m., less than an hour after Netanyahu had completed his remarks. It listed its co-endorsers as the AJC, the ADL and JFNA.
Five minutes later, the AJC put out a version of the same statement that added AIPAC to the endorsers. It included the same sentence offering advice, plus another two that added criticism and a caution: "Israel's political leaders must insist on a more respectful tone and debate. A hallmark of democracy is public consensus and mutual consideration."
Statements from JFNA and ADL, which went out subsequently, hewed to the Conference of Presidents version. An AIPAC official told JTA that the group did not want to sign onto the statement because it had wanted more time to add edits.
Just before 3 p.m., more than 40 minutes after its initial email, AJC sent out an email advising recipients that its inclusion of AIPAC was an error. 
But its new statement still included the line criticizing politicians, which the other groups had eschewed. In the end, AJC removed that line, too: It is absent from the version of the statement posted on the group's website.
AIPAC ultimately settled on posting a tweet that stuck to praising Israel for its democratic process, without further comment.
"For many weeks, Israelis have engaged in a vigorous debate reflective of the Jewish state's robust democracy," it said. "Israel's diverse citizenship is showcasing its passionate engagement in the democratic process to determine the policies that will guide their country."
JFNA, in an explanatory email to its constituents attached to the joint statement, was more pointed in its criticism of Netanyahu. On Sunday night, the prime minister had summarily fired his defense minister, Yoav Galant, for publicly advocating a pause on the legislation. That decision sparked protests across Israel, which in turn prompted Netanyahu to announce exactly the same pause and compromise that Gallant had proposed. 
"The response across Israeli society was immediate and angry," said the email signed by Julie Platt, the chairwoman of JFNA, and Eric Fingerhut, its CEO. "Spontaneous protests gathered in the streets and commentators expressed shock at a decision to fire a Defense Minister for having expressed concern about the risks to the country's military position … Netanyahu's own lawyer in his corruption trial announced that he could no longer represent him."
The groups weren't alone in releasing pained statements about Israel's volatility — which has also stirred anguish among groups that have previously defended the Israeli right.
This week, Rabbi Moshe Hauer of the Orthodox Union, who met earlier this month with far-right Israeli Finance Minister Bezalel Smotrich, praised Israel's leaders for "the recognition of the value of taking time, engaging with each other with honesty and humility, and proceeding to build consensus." (Smotrich, for his part, supports the overhaul and opposed pausing the legislation.)
"Our Sages taught, 'Peace is great; discord is despised'," Hauer, the group's executive director, said in an emailed statement to JTA. "We are deeply shaken by the upheaval and discord that has gripped our beloved State of Israel. In recent weeks, the Jewish tradition and the democratic value of vigorous debate have been replaced by something very dangerous and different."
The two largest non-Orthodox movements were open about their opposition to the overhaul. "We believe ardently that the proposed judicial reform is fraught with danger and goes against the principles of democracy," the Conservative movement's Rabbinical Assembly said in a statement Tuesday. 
A statement from the leadership of the Reform movement, including Jacobs, castigated Netanyahu for agreeing to create a national guard under the authority of Itamar Ben-Gvir, the far-right national security minister, and for being "willing to risk the safety and security of Israel's citizens to keep himself and his coalition in power."
That strong language, Jacobs suggested, reflects the wishes of those who fund establishment Jewish groups and congregations. He said those groups were hearing from donors whose frustration with the Netanyahu government is reaching a boiling point.
"I hear of donors telling organizations, 'I have to tell you, I don't hear your voice, speaking out in favor of Israel's democracy at this very vulnerable moment. So I'll tell you what, why don't you hang on to my phone number when you find your voice?'"
—
The post A chaotic response to Israel's turmoil a reveals a fraught new dilemma for Jewish legacy organizations appeared first on Jewish Telegraphic Agency.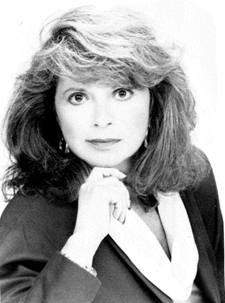 Phyllis Pollock died at home Sunday September 3, 2023 in Winnipeg, after a courageous lifetime battle with cancer.
Phyllis was a mother of four: Gary (Laura), daughter Randi, Steven (deceased in 2010) (Karen), and Robert. Phyllis also had two grandchildren: Lauren and Quinn.
Born in Fort Frances, Ontario on February 7, 1939, Phyllis was an only child to Ruby and Alex Lerman. After graduating high school, Phyllis moved to Winnipeg where she married and later divorced Danny Pollock, the father of her children. She moved to Beverly Hills in 1971, where she raised her children.
Phyllis had a busy social life and lucrative real estate career that spanned over 50 years, including new home sales with CoastCo. Phyllis was the original sales agent for three buildings in Santa Monica, oceanfront: Sea Colony I, Sea Colony II, and Sea Colony. She was known as the Sea Colony Queen. She worked side by side with her daughter Randi for about 25 years – handling over 600 transactions, including sales and leases within the three phases of Sea Colony alone.
Phyllis had more energy than most people half her age. She loved entertaining, working in the real estate field, meeting new and interesting people everyday no matter where she went, and thrived on making new lifelong friends. Phyllis eventually moved to the Sea Colony in Santa Monica where she lived for many years before moving to Palm Desert, then Winnipeg.
After battling breast cancer four times in approximately 20 years, she developed metastatic Stage 4 lung cancer. Her long-time domestic partner of 27 years, Joseph Wilder, K.C., was the love of her life. They were never far apart. They traveled the world and went on many adventures during their relationship. During her treatment, Phyllis would say how much she missed work and seeing her clients. Joey demonstrated amazing strength, love, care, and compassion for Phyllis as her condition progressed. He was her rock and was by her side 24/7, making sure she had the best possible care. Joey's son David was always there to support Phyllis and to make her smile. Joey's other children, Sheri, Kenny, Joshua and wife Davina, were also a part of her life. His kids would Facetime Phyllis and include her during any of their important functions. Phyllis loved Joey's children as if they were her own.
Thank you to all of her friends and family who were there to support her during these difficult times. Phyllis is now, finally, pain free and in a better place. She was loved dearly and will be greatly missed. Interment took place in Los Angeles.
Gwen Centre Creative Living Centre celebrates 35th anniversary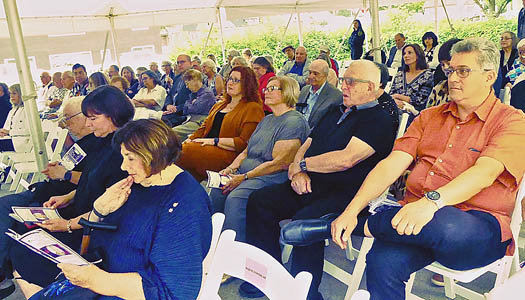 By BERNIE BELLAN Over 100 individuals gathered at the Gwen Secter Centre on Tuesday evening, July 18 – under the big top that serves as the venue for the summer series of outdoor concerts that is now in its third year at the centre.
The occasion was the celebration of the Gwen Secter Centre's 35th anniversary. It was also an opportunity to honour the memory of Sophie Shinewald, who passed away at the age of 106 in 2019, but who, as recently as 2018, was still a regular attendee at the Gwen Secter Centre.
As Gwen Secter Executive Director Becky Chisick noted in her remarks to the audience, Sophie had been volunteering at the Gwen Secter Centre for years – answering the phone among other duties. Becky remarked that Sophie's son, Ed Shinewald, had the phone number for the Gwen Secter Centre stored in his phone as "Mum's work."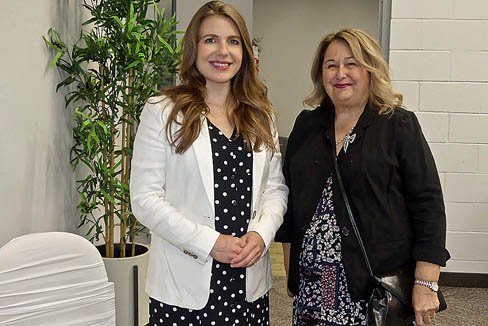 Remarks were also delivered by Raquel Dancho, Member of Parliament for Kildonan-St. Paul, who was the only representative of any level of government in attendance. (How times have changed: I remember well the steadfast support the former Member of the Legislature for St. John's, Gord Mackintosh, showed the Gwen Secter Centre when it was perilously close to being closed down. And, of course, for years, the area in which the Gwen Secter Centre is situated was represented by the late Saul Cherniack.)
Sophie Shinewald's granddaughter, Alix (who flew in from Chicago), represented the Shinewald family at the event. (Her brother, Benjamin, who lives in Ottawa, wasn't able to attend, but he sent a pre-recorded audio message that was played for the audience.)
Musical entertainment for the evening was provided by a group of talented singers, led by Julia Kroft. Following the concert, attendees headed inside to partake of a sumptuous assortment of pastries, all prepared by the Gwen Secter culinary staff. (And, despite my asking whether I could take a doggy bag home, I was turned down.)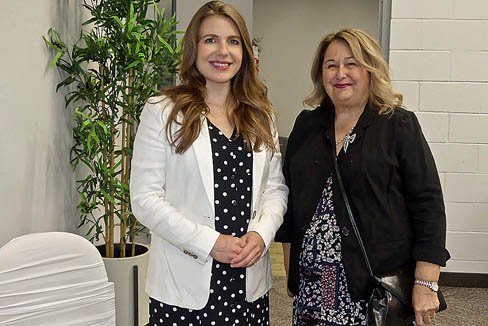 Palestinian gunmen kill 4 Israelis in West Bank gas station
This is a developing story.
(JTA) — Palestinian gunmen killed four people and wounded four in a terror attack at a gas station near the West Bank settlement of Eli, the Israeli army reported.
An Israeli civilian returning fire at the scene of the attack on Tuesday killed one of the attackers, who emerged from a vehicle, and two others fled.
Kan, Israel's public broadcaster, said one of those wounded was in serious condition. The gunmen, while in the vehicle, shot at a guard post at the entry to the settlement, and then continued to the gas station which is also the site of a snack bar. A nearby yeshiva went into lockdown.
Israeli Defense Minister Yoav Gallant announced plans to convene a briefing with top security officials within hours of the attack. Kan reported that there were celebrations of the killing in major West Bank cities and in the Gaza Strip, initiated by terrorist groups Hamas and Palestinian Islamic Jihad. Hamas said the shooting attack Tuesday was triggered by the Jenin raid.
The shooting comes as tensions intensify in the West Bank. A day earlier, Israeli troops raiding the city of Jenin to arrest accused terrorists killed five people.
The Biden administration spoke out over the weekend against Israel's plans to build 4,000 new housing units for Jewish settlers in the West Bank. Israeli Prime Minister Benjamin Netanyahu also finalized plans to  transfer West Bank building decisions to Bezalel Smotrich, the extremist who is the finance minister. Smotrich has said he wants to limit Palestinian building and expand settlement building.
Kan reported that the dead terrorist was a resident of a village, Urif, close to Huwara, the Palestinian town where terrorists killed two Israeli brothers driving through in February. Settlers retaliated by raiding the village and burning cars and buildings.
—
The post Palestinian gunmen kill 4 Israelis in West Bank gas station appeared first on Jewish Telegraphic Agency.