Alarmed by their country's political direction, more Israelis are seeking to move abroad
TEL AVIV (JTA) — When Daniel Schleider and his wife, Lior, leave Israel next month, it will be for good — and with a heavy heart.
"I have no doubt I will have tears in my eyes the whole flight." said Schleider, who was born in Mexico and lived in Israel for a time as a child before returning on his own at 18. Describing himself as "deeply Zionist," he served in a combat unit in the Israeli army, married an Israeli woman and built a career in an Israeli company.
Yet as Prime Minister Benjamin Netanyahu returned to power, assembled a coalition that includes far-right parties and started pushing changes that would erode hallmarks of Israeli democracy, Schleider found himself booking plane tickets and locating an apartment in Barcelona. Spain's language and low cost of living made the city a good fit, he said, but the real attraction was living in a place where he wouldn't constantly have to face down the ways that Israel is changing.
Israel's strength over its 75 years, Schleider said, is "the economy we built by selling our brains.… And yet, in less than half a year, we've managed to destroy all that."
Schleider has been joining the sweeping protests that have taken root across the country in response to the new right-wing government and its effort to strip the Israeli judiciary of much of its power and independence. But while he considered recommitting to his country and fighting the changes rather than fleeing over them, he also accepts the government's argument that most Israelis voted for something he doesn't believe in.
"I have a lot of internal conflict," he said about the protests. "Who am I to fight against what the majority has accepted?"
Schleider is far from alone in seeking to leave Israel this year. While Israelis have always moved abroad for various reasons, including business opportunities or to gain experience in particular fields, the pace of planned departures appears to be picking up. No longer considered a form of social betrayal, emigration — known in Hebrew as yerida, meaning descent — is on the table for a wide swath of Israelis right now.
Many of the people weighing emigration were already thinking about it but were catalyzed by the new government, according to accounts from dozens of people in various stages of emigration and of organizations that seek to aid them.
"I've already been on the fence for a few years — not in terms of leaving Israel but in terms of relocating for something new," said Schleider.
"But in the past year, with all the craziness and everything, I realized where the country was going. And after the recent elections, my wife — who had been unconvinced — was the one who took the step and said now she understood where the public is going and what life is going to be like in the country. You could call it the straw that broke the camel's back," he said.
"And then when the whole issue of the [judicial] revolution started, we just decided not to wait and to do it immediately."
Ocean Relocation, which assists people with both immigration to and emigration from Israel, has received more than 100 inquiries a day from people looking to leave since Justice Minister Yariv Levin first presented his proposal for judicial reform back in January. That's four times the rate of inquiries the organization received last year, according to senior manager Shay Obazanek.
"Never in history has there been this level of demand," Obazanek said, citing the company's 80 years' experience as the "barometer" of movement in and out the country.
Shlomit Drenger, who leads Ocean Relocation's business development, said those looking to leave come from all walks of life. They include families pushed to leave by the political situation; those investing in real estate abroad as a future shelter, if needed; and Israelis who can work remotely and are worried about the country's upheaval. Economics are also a concern: With foreign investors issuing dire warnings about Israel's economy if the judicial reforms go through, companies wary to invest in the country and the shekel already weakening, it could grow more expensive to leave in the future.
The most common destination for the new departures, Drenger said, is Europe, representing representing 70% of moves, compared to 40% in the recent past. Europe's draws include its convenient time zones, quality-of-life indices, and chiefly, the relative ease in recent years of obtaining foreign passports in countries such as Portugal, Poland and even Morocco. Many Israelis have roots in those countries and are or have been entitled to citizenship today because their family members were forced to leave under duress during the Holocaust or the Spanish Inquisition.
On the other hand, Drenger said, emigration to the United States, where the vast majority of the 1 million Israeli citizens abroad live, has declined significantly. The United States is known for its tough immigration laws and high cost of living in areas with large Israeli and Jewish communities, and even people who have no rights to a foreign passport have an easier time obtaining residency rights in Europe than the United States.
Some Israelis aren't picking anywhere in particular before leaving. Ofer Stern, 40, quit his job as a tech developer, left Israel and is now traveling around the world before deciding where to settle.
"We're living in a democracy and that democracy is dependent on demography and I can't fight it," he said, alluding to the fact that Orthodox Jews, who tend to be right wing, are the fastest-growing segment of the Israeli population. "The country that I love and that I've always loved will not be here in 10 years. Instead, it will be a country that is suited to other people, but not for me."
While others have already started their emigration process, American-born Marni Mandell, a mother of two living in Tel Aviv, is still on the fence. Her greatest fear is that judicial reforms could open the door to significant changes in civil rights protections — and in so doing break her contract with the country she chose.
"If this so-called 'reform' is enacted, which is really tantamount to a coup, it's hard to imagine that I want my children to grow up to fight in an army whose particularism outweighs the basic human rights that are so fundamental to my values," Mandell said.
Most people who look into emigrating for political reasons do not end up doing so. In the weeks leading up to the United States' 2020 presidential election, inquiries to law firms specializing in helping Americans move abroad saw a sharp uptick in inquiries — many of them from Jews fearful about a second Trump administration after then-President Donald Trump declined to unequivocally condemn white supremacists. When President Joe Biden was elected, they largely called off the alarm.
The Trump scenario is not analogous with the Israeli one for several reasons, starting with the fact that the Israelis are responding to an elected government's policy decisions, not just the prospect of an election result. What's more, U.S. law contains safeguards designed to prevent any single party or leader from gaining absolute power. Israel has fewer of those safeguards, and many of those appear threatened if the government's proposals go through.
Casandra Larenas had long courted the idea of moving overseas. "As a childfree person, Israel doesn't have much to offer and is a really expensive country. I've traveled around so I know the quality of life I can reach abroad," she said. But she said she had always batted away the idea: "I'm still Jewish and my family are still here."
That all changed with the judicial overhaul, she said. While not against the idea of a reform per se, Laranes is firmly opposed to the way it is being carried out,  saying it totally disregards the millions of people on the other side. Chilean-born, Laranes grew up under Augusto Pinochet's military dictatorship.
"I still remember [it] and I don't want something like that again," said Larenas, who has purchased a plane ticket for later this spring and plans to take up residency abroad — though she said she would maintain her citizenship and hoped to return one day.
The departure of liberal and moderate Israelis could have implications on Israel's political future. Israel does not permit its citizens to vote absentee, meaning that anyone who leaves the country must incur costly, potentially frequent travel to participate in elections — or cede political input altogether.
Benjamin-Michael Aronov, who grew up with Russian parents in the United States, said he was taken aback by how frequently Israelis express shock that he moved to Israel in the first place. "The No. 1 question I get from Israelis is, 'Why would you move here from the U.S.? We're all trying to get out of here. There's no future here.'"
He said he had come to realize that they were right.
"I thought the warnings were something that would truly impact our children or grandchildren but that our lifetime would be spent in an Israeli high-tech, secular golden era. But I'm realizing the longevity of Tel Aviv's bubble of beaches and parties and crazy-smart, secular people changing the world with technology is maybe even more a fantasy now than when Herzl dreamt it," Aronov said. "I found my perfect home, a Jewish home, sadly being undone by Jews."
Not everyone choosing to jump ship is ideologically aligned with the protest movement. Amir Cohen, who asked to use a pseudonym because he has not informed his employers of his plans yet, is a computer science lecturer at Ariel University in the West Bank who voted in the last election for the Otzma Yehudit party chaired by far-right provocateur Itamar Ben-Gvir. Cohen was willing to put aside his ideological differences with the hared Orthodox parties if it meant achieving political stability — but was soon disillusioned.
"None of it is working. And now we're on our way to civil war, it's that simple. I figured, 'I don't need this nonsense, there are plenty of places in the world for me to go,'" he said.
Cohen stuck with the country after one of his brothers was killed in the 2014 Gaza War. Now, he said, his other brothers have recently followed his lead and applied for Hungarian passports in an effort to find a way to move abroad permanently.
"I'm not alone," he said. "Most of my friends and family feel the same way."
Others still, like Omer Mizrahi, view themselves as apolitical. A contractor from Jerusalem, Mizrahi, 27, headed to San Diego, California, a month ago as a result of the reform. Mizrahi, who eschewed casting a vote in the last election, expressed a less common impetus for leaving: actual fear for his life. Mizrahi described sitting in traffic jams in Jerusalem and realizing that if a terror attack were to unfold — "and let's be honest, there are at least one or two every week" — he wouldn't be able to escape in time because he was caught in a gridlock. "Our politicians can't do anything about it because they're too embroiled in a war of egos."
Now 7,500 miles away, Mizrahi says he feels like he's finally living life. "I sit in traffic now and I'm happy as a clam. Everything's calm."
Back in Israel, Schleider is making his final preparations for leaving, advertising his Tesla for sale on Facebook this week. He remains hopeful that the massive anti-government protests will make a difference. In the meantime, though, his one-way ticket is scheduled for April 14.
"I dream of coming back, but I don't know that it will ever happen," he said. "We made a decision that was self-serving, but that doesn't mean we're any less Zionist."
—
The post Alarmed by their country's political direction, more Israelis are seeking to move abroad appeared first on Jewish Telegraphic Agency.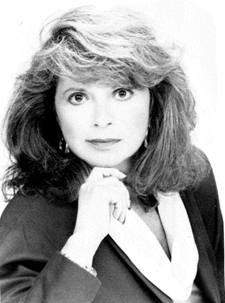 Phyllis Pollock died at home Sunday September 3, 2023 in Winnipeg, after a courageous lifetime battle with cancer.
Phyllis was a mother of four: Gary (Laura), daughter Randi, Steven (deceased in 2010) (Karen), and Robert. Phyllis also had two grandchildren: Lauren and Quinn.
Born in Fort Frances, Ontario on February 7, 1939, Phyllis was an only child to Ruby and Alex Lerman. After graduating high school, Phyllis moved to Winnipeg where she married and later divorced Danny Pollock, the father of her children. She moved to Beverly Hills in 1971, where she raised her children.
Phyllis had a busy social life and lucrative real estate career that spanned over 50 years, including new home sales with CoastCo. Phyllis was the original sales agent for three buildings in Santa Monica, oceanfront: Sea Colony I, Sea Colony II, and Sea Colony. She was known as the Sea Colony Queen. She worked side by side with her daughter Randi for about 25 years – handling over 600 transactions, including sales and leases within the three phases of Sea Colony alone.
Phyllis had more energy than most people half her age. She loved entertaining, working in the real estate field, meeting new and interesting people everyday no matter where she went, and thrived on making new lifelong friends. Phyllis eventually moved to the Sea Colony in Santa Monica where she lived for many years before moving to Palm Desert, then Winnipeg.
After battling breast cancer four times in approximately 20 years, she developed metastatic Stage 4 lung cancer. Her long-time domestic partner of 27 years, Joseph Wilder, K.C., was the love of her life. They were never far apart. They traveled the world and went on many adventures during their relationship. During her treatment, Phyllis would say how much she missed work and seeing her clients. Joey demonstrated amazing strength, love, care, and compassion for Phyllis as her condition progressed. He was her rock and was by her side 24/7, making sure she had the best possible care. Joey's son David was always there to support Phyllis and to make her smile. Joey's other children, Sheri, Kenny, Joshua and wife Davina, were also a part of her life. His kids would Facetime Phyllis and include her during any of their important functions. Phyllis loved Joey's children as if they were her own.
Thank you to all of her friends and family who were there to support her during these difficult times. Phyllis is now, finally, pain free and in a better place. She was loved dearly and will be greatly missed. Interment took place in Los Angeles.
Gwen Centre Creative Living Centre celebrates 35th anniversary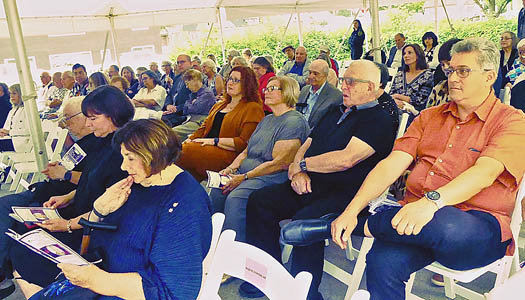 By BERNIE BELLAN Over 100 individuals gathered at the Gwen Secter Centre on Tuesday evening, July 18 – under the big top that serves as the venue for the summer series of outdoor concerts that is now in its third year at the centre.
The occasion was the celebration of the Gwen Secter Centre's 35th anniversary. It was also an opportunity to honour the memory of Sophie Shinewald, who passed away at the age of 106 in 2019, but who, as recently as 2018, was still a regular attendee at the Gwen Secter Centre.
As Gwen Secter Executive Director Becky Chisick noted in her remarks to the audience, Sophie had been volunteering at the Gwen Secter Centre for years – answering the phone among other duties. Becky remarked that Sophie's son, Ed Shinewald, had the phone number for the Gwen Secter Centre stored in his phone as "Mum's work."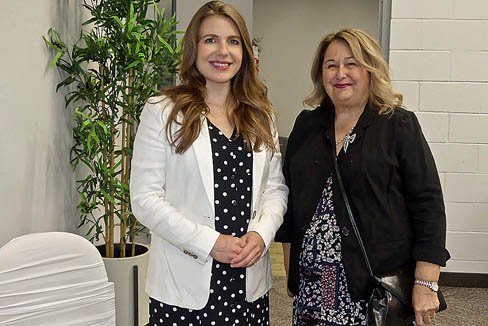 Remarks were also delivered by Raquel Dancho, Member of Parliament for Kildonan-St. Paul, who was the only representative of any level of government in attendance. (How times have changed: I remember well the steadfast support the former Member of the Legislature for St. John's, Gord Mackintosh, showed the Gwen Secter Centre when it was perilously close to being closed down. And, of course, for years, the area in which the Gwen Secter Centre is situated was represented by the late Saul Cherniack.)
Sophie Shinewald's granddaughter, Alix (who flew in from Chicago), represented the Shinewald family at the event. (Her brother, Benjamin, who lives in Ottawa, wasn't able to attend, but he sent a pre-recorded audio message that was played for the audience.)
Musical entertainment for the evening was provided by a group of talented singers, led by Julia Kroft. Following the concert, attendees headed inside to partake of a sumptuous assortment of pastries, all prepared by the Gwen Secter culinary staff. (And, despite my asking whether I could take a doggy bag home, I was turned down.)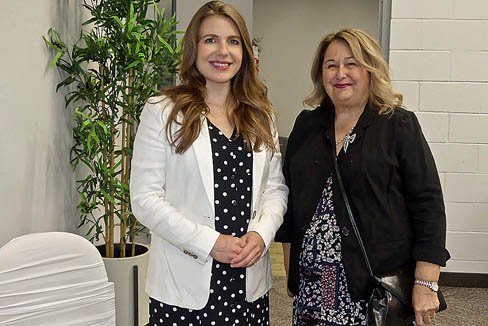 Palestinian gunmen kill 4 Israelis in West Bank gas station
This is a developing story.
(JTA) — Palestinian gunmen killed four people and wounded four in a terror attack at a gas station near the West Bank settlement of Eli, the Israeli army reported.
An Israeli civilian returning fire at the scene of the attack on Tuesday killed one of the attackers, who emerged from a vehicle, and two others fled.
Kan, Israel's public broadcaster, said one of those wounded was in serious condition. The gunmen, while in the vehicle, shot at a guard post at the entry to the settlement, and then continued to the gas station which is also the site of a snack bar. A nearby yeshiva went into lockdown.
Israeli Defense Minister Yoav Gallant announced plans to convene a briefing with top security officials within hours of the attack. Kan reported that there were celebrations of the killing in major West Bank cities and in the Gaza Strip, initiated by terrorist groups Hamas and Palestinian Islamic Jihad. Hamas said the shooting attack Tuesday was triggered by the Jenin raid.
The shooting comes as tensions intensify in the West Bank. A day earlier, Israeli troops raiding the city of Jenin to arrest accused terrorists killed five people.
The Biden administration spoke out over the weekend against Israel's plans to build 4,000 new housing units for Jewish settlers in the West Bank. Israeli Prime Minister Benjamin Netanyahu also finalized plans to  transfer West Bank building decisions to Bezalel Smotrich, the extremist who is the finance minister. Smotrich has said he wants to limit Palestinian building and expand settlement building.
Kan reported that the dead terrorist was a resident of a village, Urif, close to Huwara, the Palestinian town where terrorists killed two Israeli brothers driving through in February. Settlers retaliated by raiding the village and burning cars and buildings.
—
The post Palestinian gunmen kill 4 Israelis in West Bank gas station appeared first on Jewish Telegraphic Agency.