How Judy Blume's 'Are You There God? It's Me, Margaret' broke taboos around interfaith marriage
(JTA) — When Judy Blume's young adult novel "Are You There God? It's Me, Margaret" appeared in 1970, intermarried families were a small segment of the American Jewish population. Perhaps 17% of Jews were married to someone who wasn't Jewish; today, 42% of married Jews have a spouse who is not Jewish, and in the past decade, 61% of Jews married non-Jewish partners. 
Through the 1960s, middle-grade and young adult fiction rarely acknowledged the existence of these families, reflecting and reinforcing their outsider status. Today it is routine for authors to address the reality of inter-religious and culturally mixed families, portraying them with insight and compassion. (See "Not Your All-American Girl" by Wendy Wan-Long Shang and Madelyn Rosenberg, "Becoming Brianna" by Terri Libenson and "The Whole Story of Half a Girl" by Veera Hiranandani.)
This change was made possible partly by Blume's story of sixth-grader Margaret Simon and her one-sided conversations with God. 
Blume's status as a pioneer in young adult literature is usually associated with her honest approach to the emotional, physical and sexual milestones of growing up, with her works still attracting readers and still finding an honored place on lists of banned books. That legacy is being celebrated in April with a new documentary, Amazon Prime Video's "Judy Blume Forever," and a theatrical release by Lionsgate of a feature film version of "Are You There God?"
Yet her treatment of contested identity in intermarried families is as revolutionary as her openness about bras, menstruation and sexual feelings. Actors Lena Dunham and Molly Ringwald, comedian Samantha Bee and many authors, including Raina Telgemeier, Tayari Jones and Gary Shteyngart, have cited Blume's influence on both their lives and their work. Book lists for intermarried families frequently list the novel as a resource.
Margaret Simon is 11 years old at the start of "Are You There God?" Her Jewish dad and Christian mom have pointedly ignored the possibility that their daughter might have questions about her identity. Along with other issues of teen angst, she feels compelled to decide if she is Jewish, Christian or neither. Without any guidance, the last alternative leaves her in a frightening void. As she pointedly asks God, in her ongoing series of questions for Him, "I can't go on being nothing forever, can I?"
Margaret's parents, Barbara Hutchins and Herb Simon, fell in love and defied their respective parents by marrying out of their faiths. They assure Margaret that she has no religion, but can choose one when she is older, oblivious to the fact that this solution seems more of a burden than a promise of future freedom. Their avoidance of any serious engagement with either religion or culture renders any possible choice unlikely. 
Blume situates Margaret's search within the specific landscape of post-World War II America. When the Simons decide to leave their Upper West Side home in New York City and move to suburban New Jersey, their decision suggests a coded reference to their religious status. Long Island is "too social," an implied euphemism for "too Jewish." Living there might have made it harder for their relatively unusual situation to be discreetly ignored. On the other hand, the more affluent Westchester and Connecticut are "too expensive" and "too inconvenient." Farbrook, New Jersey has enough Jews for it to feel right for Herb, but not so many as to make their mixed family stand out. 
Margaret also suspects that her parents' are determined to put distance between the Simons and Sylvia, her paternal grandmother, who lives in New York City. This gregarious woman shows up at their new home unannounced and toting deli foods, making it clear that Margaret's one unambiguous connection to Judaism is not going to disappear. While Barbara's parents utterly rejected her when she married a Jew, Sylvia has pragmatically decided to accept what she cannot change. In the postwar era, more Jews began to abandon or minimize religious practice, while still maintaining ethnically distinct customs. Like holiday observance or synagogue attendance, ethnic Jewish culture is also absent from the Simon home. Sylvia's Jewish food, her frequent trips to Florida, even her combination of sarcasm and smothering warmth, provide Margaret with markers of the tradition her parents have eschewed. 
Still, when Sylvia repeatedly asks Margaret if her (nonexistent) boyfriends are Jewish, the young girl is baffled. Given her own lack of consciousness of herself as Jewish, why would Margaret care?
In the larger world of Farbrook, Margaret's new friends seem to have more secure identities, conveniently defined by membership either in the "Y" (Young Men's Christian Association) or the Jewish Community Center. Perfunctory attendance at Hebrew school until after one's bar mitzvah is the furthest extent of her peers' Jewishness. Margaret explains that her parents are "nothing" and that, prior to their marriage, they were Jewish and Christian, as if those identities could be cast off like an article of clothing. When Mr. Benedict, her enthusiastic young teacher, distributes a questionnaire, Margaret completes the prompt "I hate" with "religious holidays." He attempts to draw her out about this troubling answer, and she scornfully observes that her teacher acted as if "he had uncovered some deep, dark mystery." 
On one level, he has. Her mother's blandly universal definition of God as a "nice idea," who "belongs to everybody," is clearly a denial of the fractures in her family members' lives. 
Blume also captures the essence of mid-century non-Orthodox Judaism as comfortably accessible, yet also somewhat empty. On a visit to Grandma Sylvia's elegant temple, the atmosphere is quietly decorous, the sanctuary filled with well-appointed congregants and beautifully arranged flowers. Sylvia's rabbi greets Margaret with an enthusiastic "Good Yom Tov," which he translates as "Happy New Year," although it is actually a generic holiday greeting. 
When Margaret later visits Presbyterian and Methodist churches, she notes the remarkable similarity among all three experiences.
The novel's one incident of specific religious practice involves Margaret's brief, unfinished confession in a classmate's Catholic church. Having participated in bullying, Margaret tries to assuage her guilt through a ritual alien to both her father's Judaism and her mother's Protestant Christianity. She even momentarily confuses the priest with the silent God of her conversations. Nothing could be further from her parents' rejection of religion, or from Grandma Sylvia's loving assurance to Margaret that "I knew you were a Jewish girl at heart."
When Margaret's Christian grandparents decide to resume contact, the suppressed anger in the Simon home finally erupts. Herb is furious, and accuses his in-laws of only wanting to meet Margaret "to make sure she doesn't have horns!" — a caustic reference to a persistent antisemitic myth. Blume had subtly foreshadowed this disruption of the status quo in a parallel event at school. When a Jewish student, backed by his parents, refuses to sing Christmas carols, the implicit agreement of the town's Jews to quietly conform is broken. A Christian girl, in what seems an act of retaliation, then refuses to sing Hanukkah songs. These acts of resistance reinforce Margaret's marginal status. Her intermarried family represents neither conformity with postwar norms nor an assertion of Jewish pride.
Blume appears to tip the scales in her portrayal of Mary and Paul Hutchins, Margaret's maternal grandparents. Entirely unlikeable, simultaneously pushy and cold, they insist that the granddaughter they had never acknowledged is Christian. After their failed visit, Grandma Sylvia returns, along with her sweet and obviously Jewish new boyfriend, Mr. Binamin ("rhymes with cinnamon"). Readers rooting for the triumph of Margaret's Jewish roots may breathe a sigh of relief here, but hope for a satisfying ending is illusory. Margaret's search for a stable sense of self is still unfinished, and will not be satisfied by choosing membership in either the Y or the JCC. 
For young readers, the novel's discussion of religious identity proved as life-changing as its honest portrayal of puberty and menstruation. "I related to that kind of conflict of religion," the comedian Chelsea Handler, who grew up in a mixed Jewish-Mormon home, told Blume in 2020. "At that time, I just found out my mom was Mormon, on top of thinking she was Jewish, and your books were such a reprieve for me and such a joy."
More than 50 years ago, Judy Blume tackled a difficult subject, about both changing demographics and the search for authenticity in American Jewish life. Margaret's conclusion that "twelve is very late to learn" about the essence of who you are still poses a challenge, while her persistent search for a meaningful identity offers a degree of optimism.
—
The post How Judy Blume's 'Are You There God? It's Me, Margaret' broke taboos around interfaith marriage appeared first on Jewish Telegraphic Agency.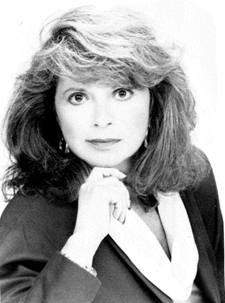 Phyllis Pollock died at home Sunday September 3, 2023 in Winnipeg, after a courageous lifetime battle with cancer.
Phyllis was a mother of four: Gary (Laura), daughter Randi, Steven (deceased in 2010) (Karen), and Robert. Phyllis also had two grandchildren: Lauren and Quinn.
Born in Fort Frances, Ontario on February 7, 1939, Phyllis was an only child to Ruby and Alex Lerman. After graduating high school, Phyllis moved to Winnipeg where she married and later divorced Danny Pollock, the father of her children. She moved to Beverly Hills in 1971, where she raised her children.
Phyllis had a busy social life and lucrative real estate career that spanned over 50 years, including new home sales with CoastCo. Phyllis was the original sales agent for three buildings in Santa Monica, oceanfront: Sea Colony I, Sea Colony II, and Sea Colony. She was known as the Sea Colony Queen. She worked side by side with her daughter Randi for about 25 years – handling over 600 transactions, including sales and leases within the three phases of Sea Colony alone.
Phyllis had more energy than most people half her age. She loved entertaining, working in the real estate field, meeting new and interesting people everyday no matter where she went, and thrived on making new lifelong friends. Phyllis eventually moved to the Sea Colony in Santa Monica where she lived for many years before moving to Palm Desert, then Winnipeg.
After battling breast cancer four times in approximately 20 years, she developed metastatic Stage 4 lung cancer. Her long-time domestic partner of 27 years, Joseph Wilder, K.C., was the love of her life. They were never far apart. They traveled the world and went on many adventures during their relationship. During her treatment, Phyllis would say how much she missed work and seeing her clients. Joey demonstrated amazing strength, love, care, and compassion for Phyllis as her condition progressed. He was her rock and was by her side 24/7, making sure she had the best possible care. Joey's son David was always there to support Phyllis and to make her smile. Joey's other children, Sheri, Kenny, Joshua and wife Davina, were also a part of her life. His kids would Facetime Phyllis and include her during any of their important functions. Phyllis loved Joey's children as if they were her own.
Thank you to all of her friends and family who were there to support her during these difficult times. Phyllis is now, finally, pain free and in a better place. She was loved dearly and will be greatly missed. Interment took place in Los Angeles.
Gwen Centre Creative Living Centre celebrates 35th anniversary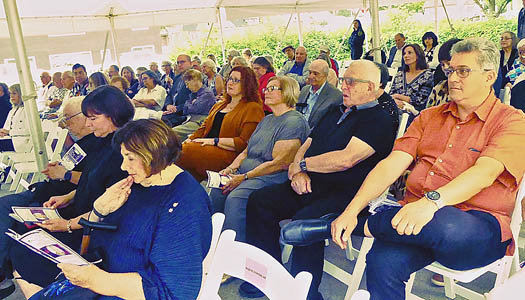 By BERNIE BELLAN Over 100 individuals gathered at the Gwen Secter Centre on Tuesday evening, July 18 – under the big top that serves as the venue for the summer series of outdoor concerts that is now in its third year at the centre.
The occasion was the celebration of the Gwen Secter Centre's 35th anniversary. It was also an opportunity to honour the memory of Sophie Shinewald, who passed away at the age of 106 in 2019, but who, as recently as 2018, was still a regular attendee at the Gwen Secter Centre.
As Gwen Secter Executive Director Becky Chisick noted in her remarks to the audience, Sophie had been volunteering at the Gwen Secter Centre for years – answering the phone among other duties. Becky remarked that Sophie's son, Ed Shinewald, had the phone number for the Gwen Secter Centre stored in his phone as "Mum's work."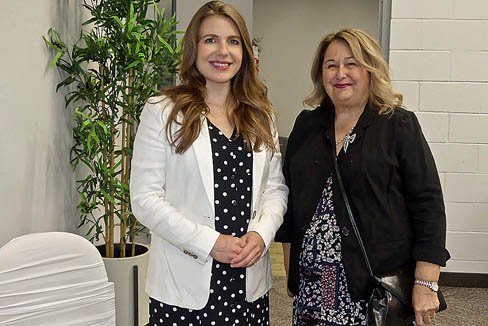 Remarks were also delivered by Raquel Dancho, Member of Parliament for Kildonan-St. Paul, who was the only representative of any level of government in attendance. (How times have changed: I remember well the steadfast support the former Member of the Legislature for St. John's, Gord Mackintosh, showed the Gwen Secter Centre when it was perilously close to being closed down. And, of course, for years, the area in which the Gwen Secter Centre is situated was represented by the late Saul Cherniack.)
Sophie Shinewald's granddaughter, Alix (who flew in from Chicago), represented the Shinewald family at the event. (Her brother, Benjamin, who lives in Ottawa, wasn't able to attend, but he sent a pre-recorded audio message that was played for the audience.)
Musical entertainment for the evening was provided by a group of talented singers, led by Julia Kroft. Following the concert, attendees headed inside to partake of a sumptuous assortment of pastries, all prepared by the Gwen Secter culinary staff. (And, despite my asking whether I could take a doggy bag home, I was turned down.)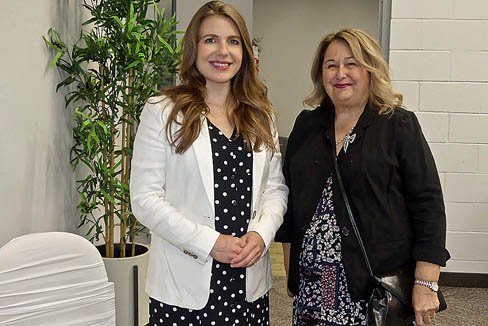 Palestinian gunmen kill 4 Israelis in West Bank gas station
This is a developing story.
(JTA) — Palestinian gunmen killed four people and wounded four in a terror attack at a gas station near the West Bank settlement of Eli, the Israeli army reported.
An Israeli civilian returning fire at the scene of the attack on Tuesday killed one of the attackers, who emerged from a vehicle, and two others fled.
Kan, Israel's public broadcaster, said one of those wounded was in serious condition. The gunmen, while in the vehicle, shot at a guard post at the entry to the settlement, and then continued to the gas station which is also the site of a snack bar. A nearby yeshiva went into lockdown.
Israeli Defense Minister Yoav Gallant announced plans to convene a briefing with top security officials within hours of the attack. Kan reported that there were celebrations of the killing in major West Bank cities and in the Gaza Strip, initiated by terrorist groups Hamas and Palestinian Islamic Jihad. Hamas said the shooting attack Tuesday was triggered by the Jenin raid.
The shooting comes as tensions intensify in the West Bank. A day earlier, Israeli troops raiding the city of Jenin to arrest accused terrorists killed five people.
The Biden administration spoke out over the weekend against Israel's plans to build 4,000 new housing units for Jewish settlers in the West Bank. Israeli Prime Minister Benjamin Netanyahu also finalized plans to  transfer West Bank building decisions to Bezalel Smotrich, the extremist who is the finance minister. Smotrich has said he wants to limit Palestinian building and expand settlement building.
Kan reported that the dead terrorist was a resident of a village, Urif, close to Huwara, the Palestinian town where terrorists killed two Israeli brothers driving through in February. Settlers retaliated by raiding the village and burning cars and buildings.
—
The post Palestinian gunmen kill 4 Israelis in West Bank gas station appeared first on Jewish Telegraphic Agency.