An app that can generate 64,000 kosher cheesecake recipes aims to prove AI's value for Orthodox Jews
(JTA) — Sara Goldstein's regular cheesecake recipe is like the rest of the kosher food she makes and shares on her Instagram account — "straightforward, and I wouldn't say too adventurous."
But she tried something special this year ahead of Shavuot, a Jewish holiday that begins Thursday night, when dairy foods are traditionally on the menu. In honor of the holiday, she whipped up a bourbon caramel cheesecake, with candied pecans on top.
Goldstein's baking shakeup was spurred by an online tool that, using artificial intelligence, allows users to mix and match ingredients that can be made into more than 64,000 different cheesecake recipes. For Goldstein, a chef and kosher recipe developer who lives in Lakewood, New Jersey, CheesecakeWizard.AI offers a welcome challenge.
"You have to be extra creative in the kosher world because it's very limited," she said. "And I think it definitely opened people's eyes to what's possible. I mean, saying there's 64,000 combinations that are kosher —  it's really, really cool."
The app's creator, Brooklyn marketing executive Avi Bree, doesn't just want to push the bounds of what gets served on Shavuot tables. He's also looking to prove to clients his value in a world of AI-generated press releases — and to show his fellow Orthodox Jews that ChatGPT and other AI tools can be a boon to Jewish observance, not a threat, despite concerns about internet use in his community.
"Not everybody who is going to go to this website is actually going to actually bake the cheesecake," Bree said. "They'll futz around with it, and they'll push a couple buttons and it'll make us all meshuggeneh trying to come up with the craziest flavor.… While they're doing it, the company that's sponsoring it, their logo and their name is there."
The app asks users to select their crust, filling and topping preferences, then uses artificial intelligence to spit out a recipe to match. An image integration feature called Midjourney allows users to see computer-generated pictures of what their cheesecakes might look like — from carrot-cake crusts to maple and sweet potato filling to savory toppings such as an olive tapenade.
Since its launch last week, Cheesecake Wizard has been used by about 12,000 people to generate 45,000 recipes — though it remains to be seen how many actual cheesecakes result. Bree said that like Goldstein, he had been drawn to the "boozy options" in the Cheesecake Wizard interface and hoped that when the holiday begins Thursday night, he'll get a chance to partake.
"After a very long week of work, I'd like to sit down on Shavuos eating cheesecake, and having a splash of bourbon on top would definitely, you know, add a little more enjoyment to the holiday festivities," he said.
Bree's experiment with AI started last spring, when clients began to drop him because, they said, they could use the new technology to create their marketing materials instead. He decided to explore the new terrain. Passover was approaching, and Bree's first venture was a day-trip generator, inspired by the hassle Orthodox families can face when deciding what to do in the middle of the weeklong holiday, when Jewish schools and workplaces are closed.
CanWeGoNow launched on the first day of chol hamoed, the period of the holiday when travel is allowed, and quickly crashed as the link ricocheted across WhatsApp groups that are the primary form of communication for many Orthodox Jews. Bree called his wife from synagogue and said he needed to scrap their own family's plan to take their six children to an amusement park. He had to spend the time getting the site back up.
"I said, 'Pessel, the bottom line is I stepped into something that might be amazing,'" he recalled. "I generally don't work on chol hamoed, but if there's a loss involved, the rabbinical leaders say you can work. So I said, 'If I don't take care of this, the whole thing's going to fold.'"
Ultimately, 20,000 people generated tens of thousands of trip ideas in the United States, Israel, England, Australia and even Mexico, where hundreds of people at a kosher-for-Passover hotel got wind of the app.
Bree lost money on the venture, but he gained confidence that AI could catch on in his community, despite some of his Orthodox peers' ambivalence toward new technologies. Now, he has relaunched his marketing firm to focus squarely on using AI to reach Orthodox audiences. (Its name, MarketAIng, makes the gambit visible.)
"The Jewish community is always a little bit behind, let's just face it," he said. "Our tradition is what kept us going all these thousands of years, so anytime something new comes into the picture, we're always a little more wary and always a little more concerned. So AI really hasn't made inroads yet."
Bree's latest effort hit a turning point while he was in synagogue, which he referred to as "a mini-networking event" that he attends three times a day for prayers. A self-described ultra-Orthodox Jew, he had been casting about for a kosher corporate partner for the cheesecake bot. An acquaintance named Akiva overheard him lamenting his lack of connections to a fellow worshiper after evening services.
Akiva said his wife worked for a kosher dairy-products company called Norman's. A few WhatsApp messages later, Bree was in touch with executives there — and now the company's name and logo appear on the website, and its products are inserted into the cheesecake recipes that the tool generates. Goldstein has also promoted the company on her social media posts about Cheesecake Wizard.
The sell wasn't totally straightforward, Bree said. An executive "was a little bit nervous because of the internet aspect," he recalled. "Right now in the Jewish community, it's a weird sort of policy we have, like, we don't encourage you to use it but if you're going to use it, have a filter on it."
Indeed, internet use has been a fraught topic in haredi Orthodox communities, with rabbis warning that online access can be a gateway to inappropriate content that conflicts with and diverts attention from Jewish practice.
Some Orthodox leaders have urged Jews to reject the internet entirely. In 2012, a rally warning of the dangers of the web drew more than 40,000 men to Citi Field in New York; last year, two massive rallies for women urged them to delete their social media profiles and give up their smartphones.
With the abrupt arrival of consumer-facing AI in recent months, the technology has drawn specific attention from some rabbinic leaders for the first time. Last month, a dozen rabbis from the traditionalist Skver Hasidic community, based in New Square, New York, explicitly banned its use.
"It is possible that at this point, not everyone knows the magnitude and scope of the danger, but it has become clear to us in our souls that this thing will be a trap for all of us, young and old," the rabbis wrote in their decree last month. "Therefore, the use of 'AI' is strictly prohibited in any shape and form, even by phone."
Despite these warnings, many haredi Orthodox Jews use the internet for work, shopping and other activities. But in some communities, users are expected to install "kosher" filters that block content considered inappropriate, and many Orthodox yeshivas require parents to install filters as a condition of enrollment. Bree said his own children's Brooklyn yeshiva required a phone filter, which he installed, and that he made sure to construct his apps so that they would function on phones whose function is limited to WhatsApp and basic communication tools.
He also said that while Norman's was persuaded to move forward with the cheesecake app because it had its own website, he was considering adding a disclaimer.
"We might have to actually make a little statement on the website saying something along the lines of, you know, 'Please abide by your rabbinical guidelines regarding internet use,'" Bree said. "Because people were saying, 'Oh, what are you pushing internet for?' We're not pushing it. If you're using it anyways, then you could use this."
Goldstein said she wasn't sure she would become a regular AI user but thought that Cheesecake Wizard, for which she posted an instructional video for her followers on Wednesday, was a comfortable entry point for her community. "I definitely think it'll take people a little while, maybe, to warm up to the concept, but it's a great way to introduce it," she said.
In her heavily Orthodox town of Lakewood, Goldstein said a wide range of internet uses are tolerated — and that she sees a value in remaining online.
"I'm not telling people to come start using Instagram, start using AI — it's if you're here [and] it's where you're at, then this is a fun way to make something amazing, to elevate something for chag," Goldstein said, using the Hebrew word meaning holiday. "For people who are already out there on the internet — whether you need it for work, or just, you're not at that place yet to completely eradicate internet from your life — here's a way to take these tools and do something even spiritual with it."
—
The post An app that can generate 64,000 kosher cheesecake recipes aims to prove AI's value for Orthodox Jews appeared first on Jewish Telegraphic Agency.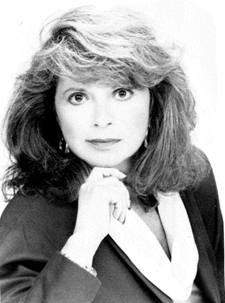 Phyllis Pollock died at home Sunday September 3, 2023 in Winnipeg, after a courageous lifetime battle with cancer.
Phyllis was a mother of four: Gary (Laura), daughter Randi, Steven (deceased in 2010) (Karen), and Robert. Phyllis also had two grandchildren: Lauren and Quinn.
Born in Fort Frances, Ontario on February 7, 1939, Phyllis was an only child to Ruby and Alex Lerman. After graduating high school, Phyllis moved to Winnipeg where she married and later divorced Danny Pollock, the father of her children. She moved to Beverly Hills in 1971, where she raised her children.
Phyllis had a busy social life and lucrative real estate career that spanned over 50 years, including new home sales with CoastCo. Phyllis was the original sales agent for three buildings in Santa Monica, oceanfront: Sea Colony I, Sea Colony II, and Sea Colony. She was known as the Sea Colony Queen. She worked side by side with her daughter Randi for about 25 years – handling over 600 transactions, including sales and leases within the three phases of Sea Colony alone.
Phyllis had more energy than most people half her age. She loved entertaining, working in the real estate field, meeting new and interesting people everyday no matter where she went, and thrived on making new lifelong friends. Phyllis eventually moved to the Sea Colony in Santa Monica where she lived for many years before moving to Palm Desert, then Winnipeg.
After battling breast cancer four times in approximately 20 years, she developed metastatic Stage 4 lung cancer. Her long-time domestic partner of 27 years, Joseph Wilder, K.C., was the love of her life. They were never far apart. They traveled the world and went on many adventures during their relationship. During her treatment, Phyllis would say how much she missed work and seeing her clients. Joey demonstrated amazing strength, love, care, and compassion for Phyllis as her condition progressed. He was her rock and was by her side 24/7, making sure she had the best possible care. Joey's son David was always there to support Phyllis and to make her smile. Joey's other children, Sheri, Kenny, Joshua and wife Davina, were also a part of her life. His kids would Facetime Phyllis and include her during any of their important functions. Phyllis loved Joey's children as if they were her own.
Thank you to all of her friends and family who were there to support her during these difficult times. Phyllis is now, finally, pain free and in a better place. She was loved dearly and will be greatly missed. Interment took place in Los Angeles.
Gwen Centre Creative Living Centre celebrates 35th anniversary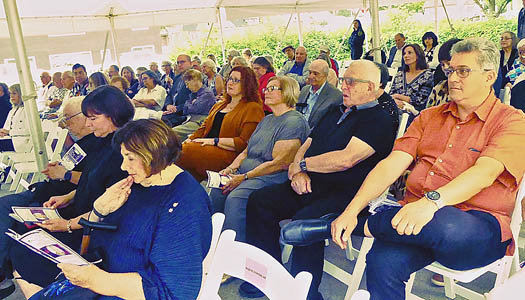 By BERNIE BELLAN Over 100 individuals gathered at the Gwen Secter Centre on Tuesday evening, July 18 – under the big top that serves as the venue for the summer series of outdoor concerts that is now in its third year at the centre.
The occasion was the celebration of the Gwen Secter Centre's 35th anniversary. It was also an opportunity to honour the memory of Sophie Shinewald, who passed away at the age of 106 in 2019, but who, as recently as 2018, was still a regular attendee at the Gwen Secter Centre.
As Gwen Secter Executive Director Becky Chisick noted in her remarks to the audience, Sophie had been volunteering at the Gwen Secter Centre for years – answering the phone among other duties. Becky remarked that Sophie's son, Ed Shinewald, had the phone number for the Gwen Secter Centre stored in his phone as "Mum's work."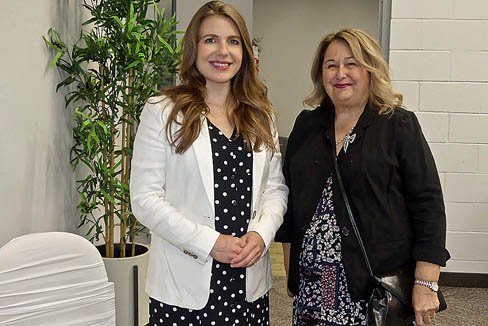 Remarks were also delivered by Raquel Dancho, Member of Parliament for Kildonan-St. Paul, who was the only representative of any level of government in attendance. (How times have changed: I remember well the steadfast support the former Member of the Legislature for St. John's, Gord Mackintosh, showed the Gwen Secter Centre when it was perilously close to being closed down. And, of course, for years, the area in which the Gwen Secter Centre is situated was represented by the late Saul Cherniack.)
Sophie Shinewald's granddaughter, Alix (who flew in from Chicago), represented the Shinewald family at the event. (Her brother, Benjamin, who lives in Ottawa, wasn't able to attend, but he sent a pre-recorded audio message that was played for the audience.)
Musical entertainment for the evening was provided by a group of talented singers, led by Julia Kroft. Following the concert, attendees headed inside to partake of a sumptuous assortment of pastries, all prepared by the Gwen Secter culinary staff. (And, despite my asking whether I could take a doggy bag home, I was turned down.)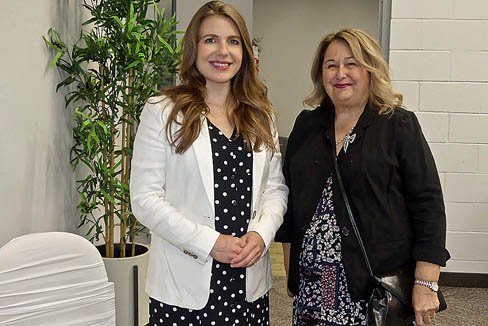 Palestinian gunmen kill 4 Israelis in West Bank gas station
This is a developing story.
(JTA) — Palestinian gunmen killed four people and wounded four in a terror attack at a gas station near the West Bank settlement of Eli, the Israeli army reported.
An Israeli civilian returning fire at the scene of the attack on Tuesday killed one of the attackers, who emerged from a vehicle, and two others fled.
Kan, Israel's public broadcaster, said one of those wounded was in serious condition. The gunmen, while in the vehicle, shot at a guard post at the entry to the settlement, and then continued to the gas station which is also the site of a snack bar. A nearby yeshiva went into lockdown.
Israeli Defense Minister Yoav Gallant announced plans to convene a briefing with top security officials within hours of the attack. Kan reported that there were celebrations of the killing in major West Bank cities and in the Gaza Strip, initiated by terrorist groups Hamas and Palestinian Islamic Jihad. Hamas said the shooting attack Tuesday was triggered by the Jenin raid.
The shooting comes as tensions intensify in the West Bank. A day earlier, Israeli troops raiding the city of Jenin to arrest accused terrorists killed five people.
The Biden administration spoke out over the weekend against Israel's plans to build 4,000 new housing units for Jewish settlers in the West Bank. Israeli Prime Minister Benjamin Netanyahu also finalized plans to  transfer West Bank building decisions to Bezalel Smotrich, the extremist who is the finance minister. Smotrich has said he wants to limit Palestinian building and expand settlement building.
Kan reported that the dead terrorist was a resident of a village, Urif, close to Huwara, the Palestinian town where terrorists killed two Israeli brothers driving through in February. Settlers retaliated by raiding the village and burning cars and buildings.
—
The post Palestinian gunmen kill 4 Israelis in West Bank gas station appeared first on Jewish Telegraphic Agency.