Documentary explores the 'Talmudic' relationship between writer Robert Caro and his famous longtime editor
(New York Jewish Week) — Bob Gottlieb, who as editor-in-chief of Simon & Schuster, Alfred A. Knopf and The New Yorker ushered into print some of the 20th-century's most accomplished writers — Nora Ephron, Toni Morrison, Salman Rushdie, John Cheever and Ray Bradbury, to name a few — believes editing is a service job, one that should go unnoticed by the reader. 
And yet, it is the relationship between editor and writer that his daughter Lizzie Gottlieb, a documentary filmmaker, explores in her latest film, "Turn Every Page: The Adventures of Robert Caro and Robert Gottlieb," which premiered at the Tribeca Film Festival in 2022 and is now screening at theaters across the country. 
Lizzie's documentary sets out to explore the sometimes tense but ultimately caring relationship between her father, Bob, and one of his longest running authors, Robert Caro, who over the course of 50 years has produced "only" five major books: "The Power Broker," a classic biography of urban planner Robert Moses, and four volumes of "The Years of Lyndon B. Johnson."
Jews born and raised in Manhattan, Caro and Gottlieb have worked together since Gottlieb helped cut 350,000 words out of the first draft of "The Power Broker," bringing it down to a book that ultimately ran 1,338 pages when it was published in 1974. 
The thing they squabble over most often? Semicolons, still. Or, maybe, Caro's overuse of the word "looms."
The film, seven years in the making, takes on the ways Moses shaped New York City, the mysteries of LBJ's political power, the sausage-making of bestselling books and the idiosyncrasies of two workaholics. It is also a story of two now elderly men — Caro is 87, Gottlieb is 91 — in what Bob Gottlieb calls an "actuarial" contest to finish Caro's highly anticipated fifth volume of his Johnson biography. 
"My dad and I are very close. We're in constant contact with each other. If something funny happens, I call my dad. If something sad or confusing happens, I'll call him. We're just in each other's lives all the time, so I didn't feel that there was a secret I needed to uncover or something unexamined in our relationship," said director Lizzie Gottlieb, who also teaches documentary filmmaking at the New York Film Academy. 
"But the one thing I really knew nothing about in his life was his relationship with Bob Caro," she said. "Because it was so different from anything else, and it was so kind of private. So really, the whole movie is the process of me understanding something that I didn't understand before." 
The New York Jewish Week recently caught up with Gottlieb to talk about the making of the film, what it was like growing up in a high-profile family and how Jewishness impacts the work of the two men.

This interview has been lightly edited for length and clarity.
New York Jewish Week: You've been working on this movie for seven years. When did you realize you needed to make this movie and how did it get from start to finish?
For a long time, people would say to me, "You should make a film about your father." I have an incredible father. He's done a lot of great things. He's interesting and funny. But I just thought, a film whose message is "look how great my dad is" is not a movie that anybody wants to see. 
And then my father was given some award and Bob Caro was presenting the award. Bob Caro gave a speech about working with my dad over what was then 45 years. He talked about how he needs him, and he respects him and how they're so productive. Then he started talking about their arguments. Somebody in the audience asked what they fought about and he said, "We have very different feelings about the semicolon." Everybody erupted into laughs and it just hit me like a bolt of lightning. I thought, "This is the movie, this is the story."
I wanted a story that had forward momentum and had something big at stake. A film about two men in their 60s who had done a lot of great stuff is not that interesting. But a film about two men who are hovering around 90 and are still in it, and engaged in their work, who have a dedication and passion and are in a race against time to finish their life's work, felt really, really compelling to me.
People say, "Are you sure you should be wasting [Caro's] time with a movie? He needs to be writing." My producer Jen Small said we should put on the poster, "No Lyndon Johnson books were harmed in the making of this film."
Do you think you had a perspective that made you the best person to try and talk about their relationship and document it, or was it challenging to make the leap of them being willing to open up to you?
There was definitely a pursuit of them. I called my father and I was like, "I have the best idea ever. I'm going to make a film about you and Robert Caro." He said, "No way. Absolutely not. Never. It would not be good for our relationship."
I just kept pestering and pestering and pestering him. Finally, he said I could call Bob Caro but he would say no and of course Bob Caro did initially say no. Then he said that he'd seen another film of mine and I could come and speak to him. Eventually, Caro said, "I've never seen a film about a writer and an editor, and I think this could be meaningful. I don't think anyone's ever seen this before." So he let me start, but he had this kind of hilarious condition, which was that he didn't want to ever appear in the same room as my father. That seemed funny and a little maddening and sort of endearing. It also seemed like an irresistible challenge to try to make a buddy film where they don't appear in the same room as each other. A woman came to a screening recently and she said, "It's a love story, and they don't get together until the last scene."
They both say that somehow the making of this movie has brought them closer together and that they have developed a real friendship after 50 years. Maybe just having to articulate what their relationship has meant to each other has made them appreciate it more.
What was it like to grow up in your household, with your father as this major editor and your mother (actress Maria Tucci) on Broadway? 
I grew up in a really incredible household. My mother's an actress, my father's a publisher and editor. Our house was this kind of vibrant, boisterous household that was always filled with eccentric, incredible people — actors and writers. My dad's writers would come for dinner and then my mother would go off and do a play on Broadway and then come back at midnight and make another dinner. It was incredible. So I feel that both of their work was kind of integrated into our life and into our family. All of his writers were really like family members, except for Bob Caro, who never came over and who I never met. I think that there's something particular and peculiar about their relationship that they needed to stay apart and only come together over work. I guess that was something that intrigued me and that's part of why I wanted to make the movie.

The Jewishness in the film is a bit more implicit, though you discuss it when talking about their upbringings. How do you think their Jewish identities have impacted their work?
I don't want to presume to speak for either of them about their Jewishness. I know they both very strongly identify as New York Jews, which probably means something slightly different to each of them, but I think it's essential to their definitions of themselves. Their humor may be particularly Jewish as well. David Remnick uses a word at the end of the movie, where he says Caro needs to have "sitzfleisch" in order to finish the book. It's this Yiddish [and German] word that means the ability to sit for long, long periods of time and apply yourself to something. I think that that is something that these two guys have: It's almost a Talmudic focus on their craft, and without that they wouldn't be who they are. So to the extent that that's a Jewish quality, I think that's essential to their being, to their achievements. There's something like a Talmudic scholar in going over all these things, the industriousness and the empathy as well, this sort of looking at a thing from all sides and dedicating yourself to this pursuit.
Bonus question: You briefly show the various eccentric collections your dad has, including plastic handbags and kitschy Israeli record albums from the '60s and '70s. What is that about?
Yes, he has a lot of collections. He also has a collection of macramé owls. There are many that are not in the movie. Maybe that's a Talmudic thing as well, like a deep dive into whatever it is that is interesting to him. He says that every subject gets more interesting the deeper you get into it. When something strikes him as charming or funny or curious, he goes all the way with it. My mother doesn't love them. There's a little bit of a power struggle there, but he wins. You grow up with something and you don't really think about it. But I knew I had to find a way to put this in the movie. People kept saying it's irrelevant, it's to the side, but I knew I had to because it's so weird and says so much about him.
—
The post Documentary explores the 'Talmudic' relationship between writer Robert Caro and his famous longtime editor appeared first on Jewish Telegraphic Agency.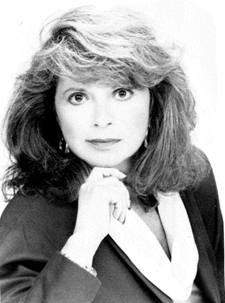 Phyllis Pollock died at home Sunday September 3, 2023 in Winnipeg, after a courageous lifetime battle with cancer.
Phyllis was a mother of four: Gary (Laura), daughter Randi, Steven (deceased in 2010) (Karen), and Robert. Phyllis also had two grandchildren: Lauren and Quinn.
Born in Fort Frances, Ontario on February 7, 1939, Phyllis was an only child to Ruby and Alex Lerman. After graduating high school, Phyllis moved to Winnipeg where she married and later divorced Danny Pollock, the father of her children. She moved to Beverly Hills in 1971, where she raised her children.
Phyllis had a busy social life and lucrative real estate career that spanned over 50 years, including new home sales with CoastCo. Phyllis was the original sales agent for three buildings in Santa Monica, oceanfront: Sea Colony I, Sea Colony II, and Sea Colony. She was known as the Sea Colony Queen. She worked side by side with her daughter Randi for about 25 years – handling over 600 transactions, including sales and leases within the three phases of Sea Colony alone.
Phyllis had more energy than most people half her age. She loved entertaining, working in the real estate field, meeting new and interesting people everyday no matter where she went, and thrived on making new lifelong friends. Phyllis eventually moved to the Sea Colony in Santa Monica where she lived for many years before moving to Palm Desert, then Winnipeg.
After battling breast cancer four times in approximately 20 years, she developed metastatic Stage 4 lung cancer. Her long-time domestic partner of 27 years, Joseph Wilder, K.C., was the love of her life. They were never far apart. They traveled the world and went on many adventures during their relationship. During her treatment, Phyllis would say how much she missed work and seeing her clients. Joey demonstrated amazing strength, love, care, and compassion for Phyllis as her condition progressed. He was her rock and was by her side 24/7, making sure she had the best possible care. Joey's son David was always there to support Phyllis and to make her smile. Joey's other children, Sheri, Kenny, Joshua and wife Davina, were also a part of her life. His kids would Facetime Phyllis and include her during any of their important functions. Phyllis loved Joey's children as if they were her own.
Thank you to all of her friends and family who were there to support her during these difficult times. Phyllis is now, finally, pain free and in a better place. She was loved dearly and will be greatly missed. Interment took place in Los Angeles.
Gwen Centre Creative Living Centre celebrates 35th anniversary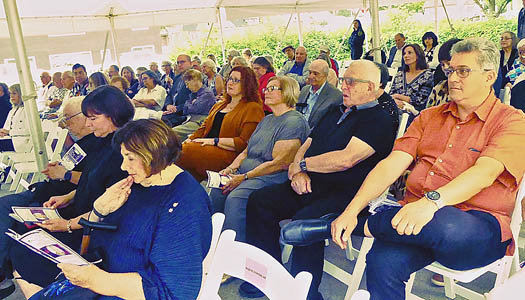 By BERNIE BELLAN Over 100 individuals gathered at the Gwen Secter Centre on Tuesday evening, July 18 – under the big top that serves as the venue for the summer series of outdoor concerts that is now in its third year at the centre.
The occasion was the celebration of the Gwen Secter Centre's 35th anniversary. It was also an opportunity to honour the memory of Sophie Shinewald, who passed away at the age of 106 in 2019, but who, as recently as 2018, was still a regular attendee at the Gwen Secter Centre.
As Gwen Secter Executive Director Becky Chisick noted in her remarks to the audience, Sophie had been volunteering at the Gwen Secter Centre for years – answering the phone among other duties. Becky remarked that Sophie's son, Ed Shinewald, had the phone number for the Gwen Secter Centre stored in his phone as "Mum's work."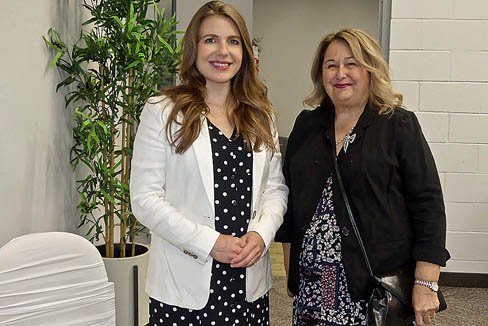 Remarks were also delivered by Raquel Dancho, Member of Parliament for Kildonan-St. Paul, who was the only representative of any level of government in attendance. (How times have changed: I remember well the steadfast support the former Member of the Legislature for St. John's, Gord Mackintosh, showed the Gwen Secter Centre when it was perilously close to being closed down. And, of course, for years, the area in which the Gwen Secter Centre is situated was represented by the late Saul Cherniack.)
Sophie Shinewald's granddaughter, Alix (who flew in from Chicago), represented the Shinewald family at the event. (Her brother, Benjamin, who lives in Ottawa, wasn't able to attend, but he sent a pre-recorded audio message that was played for the audience.)
Musical entertainment for the evening was provided by a group of talented singers, led by Julia Kroft. Following the concert, attendees headed inside to partake of a sumptuous assortment of pastries, all prepared by the Gwen Secter culinary staff. (And, despite my asking whether I could take a doggy bag home, I was turned down.)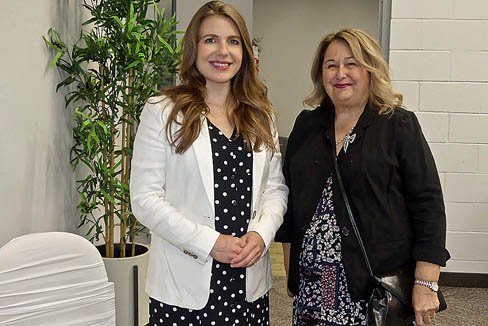 Palestinian gunmen kill 4 Israelis in West Bank gas station
This is a developing story.
(JTA) — Palestinian gunmen killed four people and wounded four in a terror attack at a gas station near the West Bank settlement of Eli, the Israeli army reported.
An Israeli civilian returning fire at the scene of the attack on Tuesday killed one of the attackers, who emerged from a vehicle, and two others fled.
Kan, Israel's public broadcaster, said one of those wounded was in serious condition. The gunmen, while in the vehicle, shot at a guard post at the entry to the settlement, and then continued to the gas station which is also the site of a snack bar. A nearby yeshiva went into lockdown.
Israeli Defense Minister Yoav Gallant announced plans to convene a briefing with top security officials within hours of the attack. Kan reported that there were celebrations of the killing in major West Bank cities and in the Gaza Strip, initiated by terrorist groups Hamas and Palestinian Islamic Jihad. Hamas said the shooting attack Tuesday was triggered by the Jenin raid.
The shooting comes as tensions intensify in the West Bank. A day earlier, Israeli troops raiding the city of Jenin to arrest accused terrorists killed five people.
The Biden administration spoke out over the weekend against Israel's plans to build 4,000 new housing units for Jewish settlers in the West Bank. Israeli Prime Minister Benjamin Netanyahu also finalized plans to  transfer West Bank building decisions to Bezalel Smotrich, the extremist who is the finance minister. Smotrich has said he wants to limit Palestinian building and expand settlement building.
Kan reported that the dead terrorist was a resident of a village, Urif, close to Huwara, the Palestinian town where terrorists killed two Israeli brothers driving through in February. Settlers retaliated by raiding the village and burning cars and buildings.
—
The post Palestinian gunmen kill 4 Israelis in West Bank gas station appeared first on Jewish Telegraphic Agency.