Eli Rosenbaum takes skills honed Nazi-hunting to investigating war crimes in Ukraine
WASHINGTON (JTA) –– During the 35 years Eli Rosenbaum spent hunting Nazis, he always looked up to his forebears in the profession. But it was only recently, as he ventured into Ukraine to track down Russian war criminals, that he felt a personal connection with the investigators who pursued Adolf Hitler's henchmen in the years following World War II.
For the first time in his career, Rosenbaum was seeking evidence of crimes as soon as, or almost as soon as, they were committed.
"I'm accustomed to working on atrocity crimes when the conflict is over — World War II, Rwanda, Bosnia, Guatemala, et cetera," he told the Jewish Telegraphic Agency recently. "But in this case, the atrocities are being committed every day."
Rosenbaum said he has been working "if not 24/7, 20/7" since June, when Merrick Garland, the Jewish U.S. attorney-general, named him to lead the Justice Department's War Crimes Accountability Team in Ukraine. Rosenbaum had previously spent the bulk of his career in the Justice Department's Office of Special Investigations, which he directed from 1995 to 2010. The OSI tracked down and deported 70 Nazis hiding in the United States. In 2004, it expanded its purview to track down war criminals from other conflicts who had entered the United States.
Rosenbaum's current team, he said in congressional testimony in September, "provides Ukrainian authorities with wide-ranging technical assistance, including operational assistance and advice regarding criminal prosecutions, evidence collection, forensics, and relevant legal analysis."
Rosenbaum rattles off names and events in the evolution of war crimes prosecution in a way that sends a listener scrambling to a search engine. He's been a war crimes geek since college, when he took a film course and a professor screened Leni Riefenstahl's Nazi propaganda film, "Triumph of the Will."
Rosenbaum told his parents about the movie. His father, Irving, a refugee from Nazi Germany who enlisted in the U.S. Army, had been tapped to interrogate Nazis and their enablers after the war because he spoke German.
"I mentioned to my dad that I was taking this course and we had just seen this film. And my father said, 'Oh, Leni Riefenstahl. I questioned her after the war.' I [said], 'Oh, my God. Really?'"
Rosenbaum recalls his father responding, "Yeah, and I have the report on it. Might your professor want to see it?"
As a student at Harvard Law School, Rosenbaum interned in 1979 for the then-just-established OSI, where he spent the next three decades. Garland, in naming Rosenbaum, said that made him a natural fit for the Ukraine job, noting at the time Rosenbaum's experience in coordinating among different U.S. government departments.
Describing his work to JTA, Rosenbaum repeatedly circled back to the pioneers of war crimes prosecution, among them, Aron Trainin, the Soviet Jewish scholar, and Robert Jackson, the U.S. Supreme Court justice who established the framework for prosecuting Nazis for the "crime of aggression" at the Nuremberg trials, a concept unknown until then.
The relevance of their theories persists, he said, because Russia is not a signatory to the agreement that established the International Criminal Court, making it difficult to prosecute Russians in that body. Instead, Ukraine wants to set up a special tribunal to try Russians, modeling it on the proceedings at Nuremberg.
"We look to Nuremberg routinely, it is the mother of all trials for international crimes," Rosenbaum said. "It's in many ways the origin of international criminal law."
Rosenbaum feels the "crime of aggression" is particularly relevant in the Ukraine case because Russia's invasion was unprovoked. He described how the "crime of aggression" became, with President Harry Truman's blessing, part of the canon in international law enshrined in the principles framing the Nuremberg trial, and then in the United Nations charter.
Rosenbaum is awed by Jackson and his intellectual journey.
"There's an amazing letter that he wrote to Harry Truman, which I just reread the other day, in the course of my Ukraine work, in which he explains to the president why …  there's no precedent for prosecuting aggression.  In the old days, this was how nations behaved. They attacked one another and, under international law, they were considered to have equal standing," Rosenbaum said. "So [Jackson] said that had to end, and he persuaded President Truman, and now we have that crime in international law."
Rosenbaum says Ukraine proves Jackson's prescience. He quoted Jackson's opening statement at the Nuremberg trials: "What makes this inquest significant is that these prisoners represent sinister influences that will lurk in the world long after their bodies have returned to dust."
Rosenbaum, like Jackson before him, is appealing to the U.S. government to expand its capacity to prosecute war crimes. In his congressional testimony, Rosenbaum described one area of frustration: Unlike crimes of genocide, war crimes must have a U.S. party (as perpetrator or victim) to be prosecutable in a U.S. court.
"This means that if a war criminal from the current conflict in Ukraine were, for example, to come to the United States today and were subsequently identified, our war crimes statute would not apply, thus potentially allowing that war criminal and others to walk the streets of our country without fear of prosecution," Rosenbaum said in his congressional testimony.
Another parallel with World War II that has surprised Rosenbaum is that he is getting reports from survivors of Russian atrocities who are gathering evidence in real time. He mentioned two men he admires: Rudolf Vrba and Alfred Wetzler, Slovak Jews who fled Auschwitz and were the first to describe, in a detailed report, the mechanics of the Nazi genocide to the outside world.
"I got to meet Rudolf Vrba, who was a witness for [the OSI] in our very first case that was going to trial — eventually it didn't go to trial, the defendant gave up — but it was an Auschwitz case in Chicago, and Rudolf came out there," Rosenbaum said. "It's just amazing that we have his analogs in people who are gathering evidence, people are escaping from Russian captivity."
Another pair of Nuremberg trials-era researchers that Rosenbaum names as relevant again are Budd and Stuart Schulberg, Jewish brothers who worked for the OSS, the predecessor to the CIA under legendary Hollywood director John Ford. The brothers tracked down films of atrocities that the Nazis themselves had produced, which the Schulbergs then compiled for presentation at the trials. (Budd Schulberg went on to be a celebrated novelist and screenwriter.)
Rosenbaum is a contributing expert to a just-released hour-long documentary on the brothers, titled "Filmmakers for the Prosecution."
"The Schulberg brothers really pioneered something that's extremely important in the history of law enforcement and accountability in courts, [which] is something we take for granted here in the 21st century, and that is the presentation of full-motion film [and] video evidence in courts of law," he said.
Such evidence-gathering is happening today in Ukraine as well, Rosenbaum said.
"The Ukrainian authorities with which we work very closely have a website onto which the public or to which the public can upload their own videos," he said. "And now that everybody who has a cell phone, has a video camera…so much evidence of the aftermath of atrocities and even the perpetration of atrocities has been captured via moving images.,"
He says he has been rattled at times by researching war crimes as they happen, especially during his visits to Ukraine.
"It was an unforgettably moving experience to meet our colleagues in the middle of a war in Ukraine," he said. "One of the senior prosecutors was actually in his military fatigues, because he had taken off briefly from his unit for this meeting, and then he went right back."
—
The post Eli Rosenbaum takes skills honed Nazi-hunting to investigating war crimes in Ukraine appeared first on Jewish Telegraphic Agency.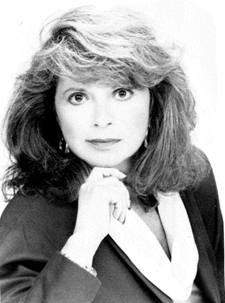 Phyllis Pollock died at home Sunday September 3, 2023 in Winnipeg, after a courageous lifetime battle with cancer.
Phyllis was a mother of four: Gary (Laura), daughter Randi, Steven (deceased in 2010) (Karen), and Robert. Phyllis also had two grandchildren: Lauren and Quinn.
Born in Fort Frances, Ontario on February 7, 1939, Phyllis was an only child to Ruby and Alex Lerman. After graduating high school, Phyllis moved to Winnipeg where she married and later divorced Danny Pollock, the father of her children. She moved to Beverly Hills in 1971, where she raised her children.
Phyllis had a busy social life and lucrative real estate career that spanned over 50 years, including new home sales with CoastCo. Phyllis was the original sales agent for three buildings in Santa Monica, oceanfront: Sea Colony I, Sea Colony II, and Sea Colony. She was known as the Sea Colony Queen. She worked side by side with her daughter Randi for about 25 years – handling over 600 transactions, including sales and leases within the three phases of Sea Colony alone.
Phyllis had more energy than most people half her age. She loved entertaining, working in the real estate field, meeting new and interesting people everyday no matter where she went, and thrived on making new lifelong friends. Phyllis eventually moved to the Sea Colony in Santa Monica where she lived for many years before moving to Palm Desert, then Winnipeg.
After battling breast cancer four times in approximately 20 years, she developed metastatic Stage 4 lung cancer. Her long-time domestic partner of 27 years, Joseph Wilder, K.C., was the love of her life. They were never far apart. They traveled the world and went on many adventures during their relationship. During her treatment, Phyllis would say how much she missed work and seeing her clients. Joey demonstrated amazing strength, love, care, and compassion for Phyllis as her condition progressed. He was her rock and was by her side 24/7, making sure she had the best possible care. Joey's son David was always there to support Phyllis and to make her smile. Joey's other children, Sheri, Kenny, Joshua and wife Davina, were also a part of her life. His kids would Facetime Phyllis and include her during any of their important functions. Phyllis loved Joey's children as if they were her own.
Thank you to all of her friends and family who were there to support her during these difficult times. Phyllis is now, finally, pain free and in a better place. She was loved dearly and will be greatly missed. Interment took place in Los Angeles.
Gwen Centre Creative Living Centre celebrates 35th anniversary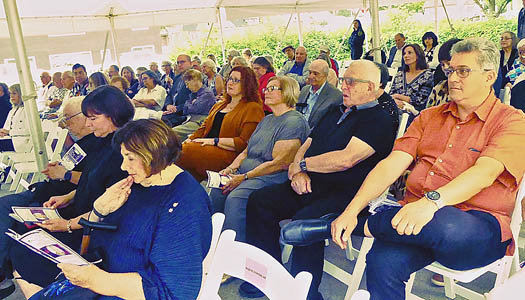 By BERNIE BELLAN Over 100 individuals gathered at the Gwen Secter Centre on Tuesday evening, July 18 – under the big top that serves as the venue for the summer series of outdoor concerts that is now in its third year at the centre.
The occasion was the celebration of the Gwen Secter Centre's 35th anniversary. It was also an opportunity to honour the memory of Sophie Shinewald, who passed away at the age of 106 in 2019, but who, as recently as 2018, was still a regular attendee at the Gwen Secter Centre.
As Gwen Secter Executive Director Becky Chisick noted in her remarks to the audience, Sophie had been volunteering at the Gwen Secter Centre for years – answering the phone among other duties. Becky remarked that Sophie's son, Ed Shinewald, had the phone number for the Gwen Secter Centre stored in his phone as "Mum's work."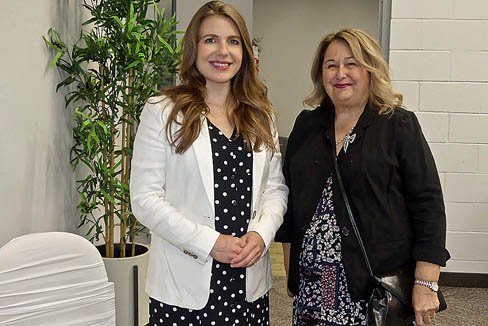 Remarks were also delivered by Raquel Dancho, Member of Parliament for Kildonan-St. Paul, who was the only representative of any level of government in attendance. (How times have changed: I remember well the steadfast support the former Member of the Legislature for St. John's, Gord Mackintosh, showed the Gwen Secter Centre when it was perilously close to being closed down. And, of course, for years, the area in which the Gwen Secter Centre is situated was represented by the late Saul Cherniack.)
Sophie Shinewald's granddaughter, Alix (who flew in from Chicago), represented the Shinewald family at the event. (Her brother, Benjamin, who lives in Ottawa, wasn't able to attend, but he sent a pre-recorded audio message that was played for the audience.)
Musical entertainment for the evening was provided by a group of talented singers, led by Julia Kroft. Following the concert, attendees headed inside to partake of a sumptuous assortment of pastries, all prepared by the Gwen Secter culinary staff. (And, despite my asking whether I could take a doggy bag home, I was turned down.)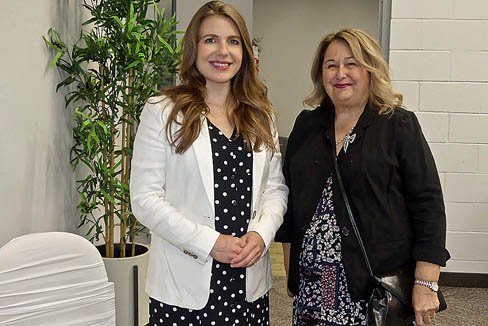 Palestinian gunmen kill 4 Israelis in West Bank gas station
This is a developing story.
(JTA) — Palestinian gunmen killed four people and wounded four in a terror attack at a gas station near the West Bank settlement of Eli, the Israeli army reported.
An Israeli civilian returning fire at the scene of the attack on Tuesday killed one of the attackers, who emerged from a vehicle, and two others fled.
Kan, Israel's public broadcaster, said one of those wounded was in serious condition. The gunmen, while in the vehicle, shot at a guard post at the entry to the settlement, and then continued to the gas station which is also the site of a snack bar. A nearby yeshiva went into lockdown.
Israeli Defense Minister Yoav Gallant announced plans to convene a briefing with top security officials within hours of the attack. Kan reported that there were celebrations of the killing in major West Bank cities and in the Gaza Strip, initiated by terrorist groups Hamas and Palestinian Islamic Jihad. Hamas said the shooting attack Tuesday was triggered by the Jenin raid.
The shooting comes as tensions intensify in the West Bank. A day earlier, Israeli troops raiding the city of Jenin to arrest accused terrorists killed five people.
The Biden administration spoke out over the weekend against Israel's plans to build 4,000 new housing units for Jewish settlers in the West Bank. Israeli Prime Minister Benjamin Netanyahu also finalized plans to  transfer West Bank building decisions to Bezalel Smotrich, the extremist who is the finance minister. Smotrich has said he wants to limit Palestinian building and expand settlement building.
Kan reported that the dead terrorist was a resident of a village, Urif, close to Huwara, the Palestinian town where terrorists killed two Israeli brothers driving through in February. Settlers retaliated by raiding the village and burning cars and buildings.
—
The post Palestinian gunmen kill 4 Israelis in West Bank gas station appeared first on Jewish Telegraphic Agency.