Embracing their place on 'the fringes,' queer artists reimagine Jewish ritual garments for all bodies
(JTA) — Binya Kóatz remembers the first time she saw a woman wearing tzitzit. While attending Friday night services at a Jewish Renewal synagogue in Berkeley, she noticed the long ritual fringes worn by some observant Jews — historically men — dangling below a friend's short shorts.
"That was the first time I really realized how feminine just having tassels dangling off you can look and be," recalled Kóatz, an artist and activist based in the Bay Area. "That is both deeply reverent and irreverent all at once, and there's a deep holiness of what's happening here."
Since that moment about seven years ago, Kóatz has been inspired to wear tzitzit every day. But she has been less inspired by the offerings available in online and brick-and-mortar Judaica shops, where the fringes are typically attached to shapeless white tunics meant to be worn under men's clothing.
So in 2022, when she was asked to test new prototypes for the Tzitzit Project, an art initiative to create tzitzit and their associated garment for a variety of bodies, genders and religious denominations, Kóatz jumped at the chance. The project's first products went on sale last month.
"This is a beautiful example of queers making stuff for ourselves," Kóatz said. "I think it's amazing that queers are making halachically sound garments that are also ones that we want to wear and that align with our culture and style and vibrancy."
Jewish law, or halacha, requires that people who wear four-cornered garments — say, a tunic worn by an ancient shepherd — must attach fringes to each corner. The commandment is biblical: "Speak to the Israelite people and instruct them to make for themselves fringes on the corners of their garments throughout the ages" (Numbers 15:37-41) When garments that lack corners came into fashion, many Jews responded by using tzitzit only when wearing a tallit, or prayer shawl, which has four corners.
But more observant Jews adopted the practice of wearing an additional four-cornered garment for the sole purpose of fulfilling the commandment to tie fringes to one's clothes. Called a tallit katan, or small prayer shawl, the garment is designed to be worn under one's clothes and can be purchased at Judaica stores or online for less than $15. The fringes represent the 613 commandments of the Torah, and it is customary to hold them and kiss them at certain points while reciting the Shema prayer.
"They just remind me of my obligations, my mitzvot, and my inherent holiness," Kóatz said. "That's the point, you see your tzitzit and you remember everything that it means — all the obligations and beauty of being a Jew in this world."
The California-based artists behind the Tzitzit Project had a hunch that the ritual garment could appeal to a more diverse set of observant Jews than the Orthodox men to whom the mass-produced options are marketed. Julie Weitz and Jill Spector had previously collaborated on the costumes for Weitz's 2019 "My Golem" performance art project that uses the mythical Jewish creature to explore contemporary issues. In one installment of the project focused on nature, "Prayer for Burnt Forests," Weitz's character ties a tallit katan around a fallen tree and wraps the tzitzit around its branches.
"I was so moved by how that garment transformed my performance," Weitz said, adding that she wanted to find more ways to incorporate the garment into her life.
The Tzitzit Project joins other initiatives meant to explore and expand the use of tzitzit. A 2020 podcast called Fringes featured interviews with a dozen trans and gender non-conforming Jews about their experiences with Jewish ritual garments. (Kóatz was a guest.) Meanwhile, an online store, Netzitzot, has since 2014 sold tzitzit designed for women's bodies, made from modified H&M undershirts.
The Tzitzit Project goes further and sells complete garments that take into account the feedback of testers including Kóatz — in three colors and two lengths, full and cropped, as well as other customization options related to a wearer's style and religious practices. (The garments cost $100, but a sliding scale for people with financial constraints can bring the price as far down as $36.)
Spector and Weitz found that the trial users were especially excited by the idea that the tzitzit could be available in bright colors, and loved how soft the fabric felt on their bodies, compared to how itchy and ill-fitting they found traditional ones to be. They also liked that each garment could be worn under other clothing or as a more daring top on its own.
To Weitz, those attributes are essential to her goal of "queering" tzitzit.
"Queering something also has to do with an embrace of how you wear things and how you move your body in space and being proud of that and not carrying any shame around that," she said. "And I think that that stylization is really distinct. All those gender-conventional tzitzit for men — they're not about style, they're not about reimagining how you can move your body."
For Chelsea Mandell, a rabbinical student at the Academy of Jewish Religion in Los Angeles who is nonbinary, the Tzitzit Project is creating Jewish ritual objects of great power.
"It deepens the meaning and it just feels more radically spiritual to me, when it's handmade by somebody I've met, aimed for somebody like me," said Mandell, who was a product tester.
Whether the garments meet the requirements of Jewish law is a separate issue. Traditional interpretations of the law hold that the string must have been made specifically for tzitzit, for example — but it's not clear on the project's website whether the string it uses was sourced that way. (The project's Instagram page indicates that the wool is spun by a Jewish fiber artist who is also the brother of the alt-rocker Beck.)
"It is not obvious from their website which options are halachically valid and which options are not," said Avigayil Halpern, a rabbinical student who began wearing tzitzit and tefillin at her Modern Orthodox high school in 2013 when she was 16 and now is seen as a leader in the movement to widen their use.
"And I think it's important that queer people in particular have as much access to knowledge about Torah and mitzvot as they're embracing mitzvot."
Weitz explained that there are multiple options for the strings — Tencel, cotton or hand-spun wool — depending on what customers prefer, for their comfort and for their observance preferences.
"It comes down to interpretation," she said. "For some, tzitzit tied with string not made for the purpose of tying, but with the prayer said, is kosher enough. For others, the wool spun for the purpose of tying is important."
Despite her concerns about its handling of Jewish law, Halpern said she saw the appeal of the Tzitzit Project, with which she has not been involved.
"For me and for a lot of other queer people, wearing something that is typically associated with Jewish masculinity — it has a gender element," explained Halpern, a fourth-year student at Hadar, the egalitarian yeshiva in New York.
"If you take it out of the Jewish framework, there is something very femme and glamorous and kind of fun in the ways that dressing up and wearing things that are twirly is just really joyful for a lot of people," she said.
Rachel Schwartz first became drawn to tzitzit while studying at the Conservative Yeshiva in Jerusalem in 2018. There, young men who were engaging more intensively with Jewish law and tradition than they had in the past began to adopt the garments, and Schwartz found herself wondering why she had embraced egalitarian religious practices in all ways but this one.
"One night, I took one of my tank tops and I cut it up halfway to make the square that it needed. I found some cool bandanas at a store and I sewed on corners," Schwartz recalled. "And I bought the tzitzit at one of those shops on Ben Yehuda and I just did it and it was awesome."
Schwartz's experience encapsulates both the promise and the potential peril of donning tzitzit for people from groups that historically have not worn the fringes. Other women at the Conservative Yeshiva were so interested in her tzitzit that she ran a workshop where she taught them how to make the undergarment. But she drew so many critical comments from men on the streets of Jerusalem that she ultimately gave up wearing tzitzit publicly.
"I couldn't just keep on walking around like that anymore. I was tired of the comments," Schwartz said. "I couldn't handle it anymore."
Rachel Davidson, a Reconstructionist rabbi working as a chaplain in health care in Ohio, started consistently wearing a tallit katan in her mid-20s. Like Kóatz, she ordered her first one from Netzitzot.
"I would love to see a world where tallitot katanot that are shaped for non cis-male bodies are freely available and are affordable," Davidson said. "I just think it's such a beautiful mitzvah. I would love it if more people engaged with it."
Kóatz believes that's not only possible but natural. As a trans woman, she said she is drawn to tzitzit in part because of the way they bring Jewish tradition into contact with contemporary ideas about gender.
"Queers are always called 'fringe,'" she said. "And here you have a garment which is literally like 'kiss the fringes.' The fringes are holy."
—
The post Embracing their place on 'the fringes,' queer artists reimagine Jewish ritual garments for all bodies appeared first on Jewish Telegraphic Agency.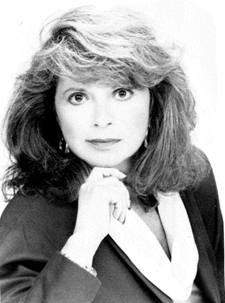 Phyllis Pollock died at home Sunday September 3, 2023 in Winnipeg, after a courageous lifetime battle with cancer.
Phyllis was a mother of four: Gary (Laura), daughter Randi, Steven (deceased in 2010) (Karen), and Robert. Phyllis also had two grandchildren: Lauren and Quinn.
Born in Fort Frances, Ontario on February 7, 1939, Phyllis was an only child to Ruby and Alex Lerman. After graduating high school, Phyllis moved to Winnipeg where she married and later divorced Danny Pollock, the father of her children. She moved to Beverly Hills in 1971, where she raised her children.
Phyllis had a busy social life and lucrative real estate career that spanned over 50 years, including new home sales with CoastCo. Phyllis was the original sales agent for three buildings in Santa Monica, oceanfront: Sea Colony I, Sea Colony II, and Sea Colony. She was known as the Sea Colony Queen. She worked side by side with her daughter Randi for about 25 years – handling over 600 transactions, including sales and leases within the three phases of Sea Colony alone.
Phyllis had more energy than most people half her age. She loved entertaining, working in the real estate field, meeting new and interesting people everyday no matter where she went, and thrived on making new lifelong friends. Phyllis eventually moved to the Sea Colony in Santa Monica where she lived for many years before moving to Palm Desert, then Winnipeg.
After battling breast cancer four times in approximately 20 years, she developed metastatic Stage 4 lung cancer. Her long-time domestic partner of 27 years, Joseph Wilder, K.C., was the love of her life. They were never far apart. They traveled the world and went on many adventures during their relationship. During her treatment, Phyllis would say how much she missed work and seeing her clients. Joey demonstrated amazing strength, love, care, and compassion for Phyllis as her condition progressed. He was her rock and was by her side 24/7, making sure she had the best possible care. Joey's son David was always there to support Phyllis and to make her smile. Joey's other children, Sheri, Kenny, Joshua and wife Davina, were also a part of her life. His kids would Facetime Phyllis and include her during any of their important functions. Phyllis loved Joey's children as if they were her own.
Thank you to all of her friends and family who were there to support her during these difficult times. Phyllis is now, finally, pain free and in a better place. She was loved dearly and will be greatly missed. Interment took place in Los Angeles.
Gwen Centre Creative Living Centre celebrates 35th anniversary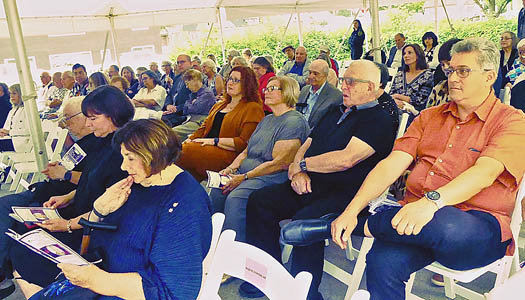 By BERNIE BELLAN Over 100 individuals gathered at the Gwen Secter Centre on Tuesday evening, July 18 – under the big top that serves as the venue for the summer series of outdoor concerts that is now in its third year at the centre.
The occasion was the celebration of the Gwen Secter Centre's 35th anniversary. It was also an opportunity to honour the memory of Sophie Shinewald, who passed away at the age of 106 in 2019, but who, as recently as 2018, was still a regular attendee at the Gwen Secter Centre.
As Gwen Secter Executive Director Becky Chisick noted in her remarks to the audience, Sophie had been volunteering at the Gwen Secter Centre for years – answering the phone among other duties. Becky remarked that Sophie's son, Ed Shinewald, had the phone number for the Gwen Secter Centre stored in his phone as "Mum's work."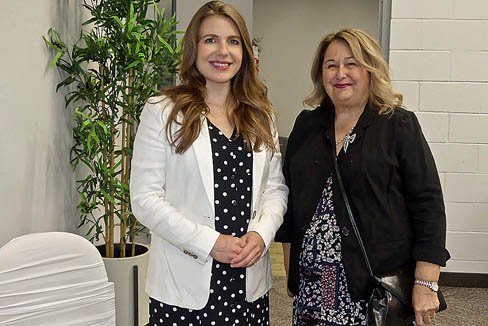 Remarks were also delivered by Raquel Dancho, Member of Parliament for Kildonan-St. Paul, who was the only representative of any level of government in attendance. (How times have changed: I remember well the steadfast support the former Member of the Legislature for St. John's, Gord Mackintosh, showed the Gwen Secter Centre when it was perilously close to being closed down. And, of course, for years, the area in which the Gwen Secter Centre is situated was represented by the late Saul Cherniack.)
Sophie Shinewald's granddaughter, Alix (who flew in from Chicago), represented the Shinewald family at the event. (Her brother, Benjamin, who lives in Ottawa, wasn't able to attend, but he sent a pre-recorded audio message that was played for the audience.)
Musical entertainment for the evening was provided by a group of talented singers, led by Julia Kroft. Following the concert, attendees headed inside to partake of a sumptuous assortment of pastries, all prepared by the Gwen Secter culinary staff. (And, despite my asking whether I could take a doggy bag home, I was turned down.)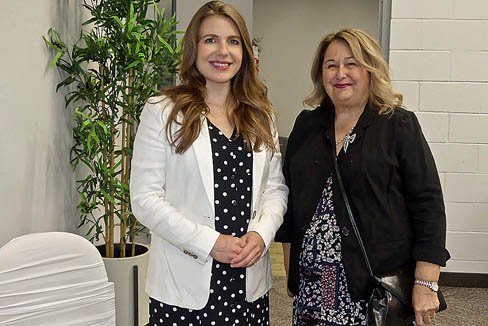 Palestinian gunmen kill 4 Israelis in West Bank gas station
This is a developing story.
(JTA) — Palestinian gunmen killed four people and wounded four in a terror attack at a gas station near the West Bank settlement of Eli, the Israeli army reported.
An Israeli civilian returning fire at the scene of the attack on Tuesday killed one of the attackers, who emerged from a vehicle, and two others fled.
Kan, Israel's public broadcaster, said one of those wounded was in serious condition. The gunmen, while in the vehicle, shot at a guard post at the entry to the settlement, and then continued to the gas station which is also the site of a snack bar. A nearby yeshiva went into lockdown.
Israeli Defense Minister Yoav Gallant announced plans to convene a briefing with top security officials within hours of the attack. Kan reported that there were celebrations of the killing in major West Bank cities and in the Gaza Strip, initiated by terrorist groups Hamas and Palestinian Islamic Jihad. Hamas said the shooting attack Tuesday was triggered by the Jenin raid.
The shooting comes as tensions intensify in the West Bank. A day earlier, Israeli troops raiding the city of Jenin to arrest accused terrorists killed five people.
The Biden administration spoke out over the weekend against Israel's plans to build 4,000 new housing units for Jewish settlers in the West Bank. Israeli Prime Minister Benjamin Netanyahu also finalized plans to  transfer West Bank building decisions to Bezalel Smotrich, the extremist who is the finance minister. Smotrich has said he wants to limit Palestinian building and expand settlement building.
Kan reported that the dead terrorist was a resident of a village, Urif, close to Huwara, the Palestinian town where terrorists killed two Israeli brothers driving through in February. Settlers retaliated by raiding the village and burning cars and buildings.
—
The post Palestinian gunmen kill 4 Israelis in West Bank gas station appeared first on Jewish Telegraphic Agency.