How one of North America's largest Conservative congregations added 900 new members in 8 months
This article was produced as part of JTA's Teen Journalism Fellowship, a program that works with Jewish teens around the world to report on issues that affect their lives.
TORONTO (JTA) —  At a time of declining synagogue affiliation rates and following a pandemic slump, one of North America's largest Conservative congregations gained 900 new members in just eight months.
Launched in July 2022, an initiative called the Generations Membership Program attracted young families to Beth Tzedec Congregation here by removing membership dues for anyone under the age of 40.
The success of the no-dues model surprised leaders of the synagogue, whose next challenge is to strengthen the connections between the new members and the congregation.
"We were all surprised by how much uptake there was," said Yacov Fruchter, the synagogue's director of Community Building and Spiritual Engagement, Yacov Fruchter.
With over 4,000 members, Beth Tzedec is one of the largest Conservative congregations in North America. However, over the past decade, Beth Tzedec has suffered from a decline that has affected the Conservative movement, once North American Judaism's largest denomination. In 1971, 832 congregations identified with the movement, a number which dropped to 562 by 2020. The number of Conservative Jews also dropped from 1.6 million at its peak to a half million by 2020, according to data from the 2020 Pew Research Center survey of U.S. Jews.
The decline of the Conservative movement left Beth Tzedec struggling to attract new members while old families fell out of touch with the congregation. "Ten years ago, our membership was at 2,400 households, but I think that number was inflated," said Rabbi Steven Wernick, its senior rabbi. "Into the pandemic, we saw membership drop to 1,700-1,800 paying units," or families. That's a decline of approximately 25% over the 2010s.
As director of education, Daniel Silverman oversees Beth Tzedec's congregational school as well as bar/bat mitzvah educational programs. Silverman said that it was difficult to attract and maintain younger congregants due to shifting cultural perspectives and financial stresses that have worsened over recent years. 
"It was hard to help people understand that synagogue was worth their time when we put up a relatively high [financial] barrier," said Silverman. "People of this generation are not going to be inclined to join and pay money to join a synagogue in the way that their parents and grandparents were."
Beth Tzedec's membership dues are adjusted for each family unit depending on how much the family can pay. That doesn't mean that membership is cheap, however. For the highest-earning members of the congregation, dues can be up to $6,000 annually per family. 
Ariel Weinberg, 17, belongs to Beth Tzedec and participated in Silverman's bat mitzvah educational program. When she becomes an adult, she said she would be happy to pay a portion of her salary for synagogue membership but wants her experience to be more than simply attending for the High Holidays. 
"That's a lot of money to put forth every month when I only use it twice per year," Weinberg said. 
Voluntary dues programs like Beth Tzedec's have been growing in recent years. Synagogues adopting the model cite research showing that potential members see belonging to a synagogue as less of an obligation and instead want to be shown what a synagogue has to offer, as Rabbis Kerry Olitzky and Avi Olitzky argued in their 2015 book on membership models.  
Wernick said that the way younger generations view synagogue membership is fundamentally different from previous generations. 
"The traditional synagogue membership model was pay first and engage later. So what we decided to do was, engage first, and then we'll talk about money later," Wernick said. 
Boosting membership on paper is one thing; creating active, engaged members who show up for worship and take part in programming is another. To demonstrate Beth Tzedec's commitment to engaging the new cohort, the shul recently hired an engagement specialist and the board is also in the process of hiring a new cantor or rabbi. Leadership has also committed to meeting one-on-one for a "coffee date" with each new member of the congregation to strengthen new connections. 
"The goal is to make a place as large as Beth Tzedec feel small and personal," said Silverman.
Leadership's attempts to better connect with congregants have already resonated well with new members. After Rebbecca Starkman and her family joined Beth Tzedec in September 2022, her husband met with Wernick as part of the "coffee date" initiative. 
"He really, really enjoyed it," said Starkman. "It also made him feel connected, connected and comfortable."
When Wernick became Beth Tzedec's chief rabbi in 2019, he set out to address Beth Tzedec's membership woes. As the former CEO of the United Synagogue of Conservative Judaism, the congregational arm of Conservative Judaism, he used his expertise to devise a plan that would reverse the previous trend in Beth Tzedec's affiliation. 
"What I attempted to do at USCJ was to help synagogues reinvent themselves for the 21st century," Wernick said. 
Part of that idea, said Beth Tzedec's president, Patti Rotman, meant rethinking the congregation's membership model. "It couldn't just be transactional. It had to be transformational," Rotman said.
Prior to the implementation of the Generations program, Beth Tzedec had attempted strategies to improve engagement. Previously, membership for families under the age of 25 was set at only $50 per year. The congregation was able to support this program as membership dues only accounted for 30% of operating income, the rest coming from other sources. 
According to Wernick, as of 2022, only 5% of Beth Tzedec's operating income came from families under 40. As such, the switch to no-fee membership for the under-40 cohort did not cause a significant financial impact.
"So you already had a circumstance where those over 40 were already paying for those under 40," Wernick said.  
In the months prior to the implementation of the Generations Membership Program, Beth Tzedec undertook a significant amount of research into synagogue engagement in Toronto. Based on the 2018 Environics Survey of Jews in Canada, they learned that 70% of Jewish Canadians belonged to a congregation, more than double the percentage in the U.S.
"If there's 200,000 Jews in the GTA [Greater Toronto Area], then 30% are not affiliated," said Wernick, "and then if you break it down by how many people are in their 20s and 30s, we're talking about 16,000 Jews." Out of the 16,000, Wernick estimates that approximately 30% grew up as part of the Conservative movement, while 30% grew up unaffiliated. 
Geographic research told Wernick that prior to July 2022, there were around 500 households in the vicinity of Beth Tzedec in need of a shul.
Beth Tzedec was able to focus its social media campaigns on neighborhoods with the greatest concentration of young and unaffiliated Jews in the vicinity. 
"We targeted the unaffiliated, we targeted the previously affiliated to Beth Tzedec, but who had dropped off for more than three years, and we targeted based on geography," as well as the study by Environics and information from UJA-Federation of Greater Toronto.
Even with the sophisticated marketing campaign, Wernick said that the synagogue expected it would only gain around 20-50 new households per year. 
"Just because you give it away for free doesn't mean that people are going to come," said Wernick. 
By the end of the first day of advertising, 50 new families had signed up.
"We are well over 420 new households," Wernick said. Seventy-five percent of the uptake are brand-new members while the remainder are former Beth Tzedec members who had fallen out of the fold for more than three years. 
The 420 household figure represents mainly families, as well as couples and individuals. Beth Tzedec President, Patti Rotman, estimates that approximately 900 new individual members became part of the synagogue in the eight months since the program was inaugurated. 
When it comes to reinvigorating community life, gaining new members is not the only task at hand. 
The membership drive "is only mile one of a marathon," said Silverman.
"The most difficult part is, how do you then keep people connected?" said Fruchter. "You have to have the capacity to develop the relationships that you are starting."
As self-identified Modern Orthodox Jews, Rebecca Starkman and her family attend synagogue regularly. Because her primary congregation only meets every other week, Starkman had been attending Beth Tzedec for years prior to joining under the Generations program.
"I had been attending loosely since since 2015," said Starkman. "We had always been members at this other congregation but had not joined Beth Tzedec until this past September."
Starkman said that it was the financial barrier that had been preventing her and her family from officially joining Beth Tzedec. 
"We didn't feel like we had enough finances to pay membership at two organizations," said Starkman. "The program definitely gave us the motivation to make the leap to being part of the shul."
Starkman said that she knows of other families who were also in her situation, attending Beth Tzedec services without becoming official members due to the financial barrier. 
"There are three other families who did the same thing we did," said Starkman. However, one family was over 40 and still could not join the congregation under the program. Nonetheless, for families who are lucky enough to be covered, Starkman said that the program is definitely a motivating factor to join Beth Tzedec. 
Weinberg said that the Generations program will also improve diversity within the congregation.
"Our mandate really is to build a stronger Jewish future with youth and young professional engagement as our priority. And to go with that," said Rotman, "we are also at the forefront of equity and inclusion." 
According to Rotman, Beth Tzedec maintains a vigorous diversity and inclusion committee dedicated to ensuring that the synagogue is an inclusive environment for everyone. 
Given the local renaissance that Beth Tzedec has undergone, Rotman stresses the importance of bringing down barriers as the best way for synagogues to engage the current generation of Jews. 
"Our goal is to inspire and enable Jews to live meaningful Jewish lives and the best way [to do so] for the under-40 cohort is to remove the barrier to membership," Rotman said.  
—
The post How one of North America's largest Conservative congregations added 900 new members in 8 months appeared first on Jewish Telegraphic Agency.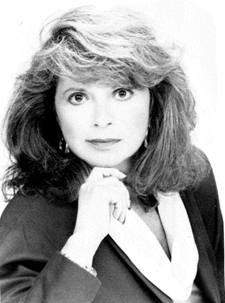 Phyllis Pollock died at home Sunday September 3, 2023 in Winnipeg, after a courageous lifetime battle with cancer.
Phyllis was a mother of four: Gary (Laura), daughter Randi, Steven (deceased in 2010) (Karen), and Robert. Phyllis also had two grandchildren: Lauren and Quinn.
Born in Fort Frances, Ontario on February 7, 1939, Phyllis was an only child to Ruby and Alex Lerman. After graduating high school, Phyllis moved to Winnipeg where she married and later divorced Danny Pollock, the father of her children. She moved to Beverly Hills in 1971, where she raised her children.
Phyllis had a busy social life and lucrative real estate career that spanned over 50 years, including new home sales with CoastCo. Phyllis was the original sales agent for three buildings in Santa Monica, oceanfront: Sea Colony I, Sea Colony II, and Sea Colony. She was known as the Sea Colony Queen. She worked side by side with her daughter Randi for about 25 years – handling over 600 transactions, including sales and leases within the three phases of Sea Colony alone.
Phyllis had more energy than most people half her age. She loved entertaining, working in the real estate field, meeting new and interesting people everyday no matter where she went, and thrived on making new lifelong friends. Phyllis eventually moved to the Sea Colony in Santa Monica where she lived for many years before moving to Palm Desert, then Winnipeg.
After battling breast cancer four times in approximately 20 years, she developed metastatic Stage 4 lung cancer. Her long-time domestic partner of 27 years, Joseph Wilder, K.C., was the love of her life. They were never far apart. They traveled the world and went on many adventures during their relationship. During her treatment, Phyllis would say how much she missed work and seeing her clients. Joey demonstrated amazing strength, love, care, and compassion for Phyllis as her condition progressed. He was her rock and was by her side 24/7, making sure she had the best possible care. Joey's son David was always there to support Phyllis and to make her smile. Joey's other children, Sheri, Kenny, Joshua and wife Davina, were also a part of her life. His kids would Facetime Phyllis and include her during any of their important functions. Phyllis loved Joey's children as if they were her own.
Thank you to all of her friends and family who were there to support her during these difficult times. Phyllis is now, finally, pain free and in a better place. She was loved dearly and will be greatly missed. Interment took place in Los Angeles.
Gwen Centre Creative Living Centre celebrates 35th anniversary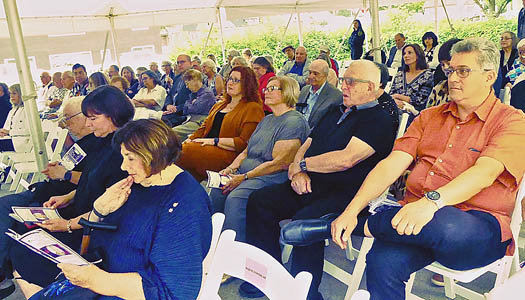 By BERNIE BELLAN Over 100 individuals gathered at the Gwen Secter Centre on Tuesday evening, July 18 – under the big top that serves as the venue for the summer series of outdoor concerts that is now in its third year at the centre.
The occasion was the celebration of the Gwen Secter Centre's 35th anniversary. It was also an opportunity to honour the memory of Sophie Shinewald, who passed away at the age of 106 in 2019, but who, as recently as 2018, was still a regular attendee at the Gwen Secter Centre.
As Gwen Secter Executive Director Becky Chisick noted in her remarks to the audience, Sophie had been volunteering at the Gwen Secter Centre for years – answering the phone among other duties. Becky remarked that Sophie's son, Ed Shinewald, had the phone number for the Gwen Secter Centre stored in his phone as "Mum's work."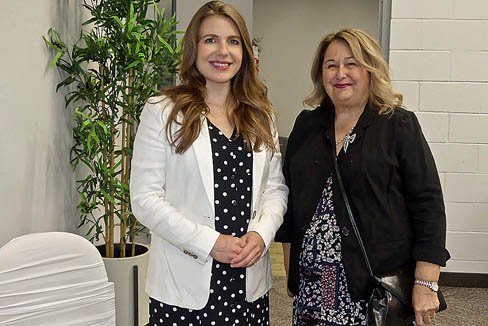 Remarks were also delivered by Raquel Dancho, Member of Parliament for Kildonan-St. Paul, who was the only representative of any level of government in attendance. (How times have changed: I remember well the steadfast support the former Member of the Legislature for St. John's, Gord Mackintosh, showed the Gwen Secter Centre when it was perilously close to being closed down. And, of course, for years, the area in which the Gwen Secter Centre is situated was represented by the late Saul Cherniack.)
Sophie Shinewald's granddaughter, Alix (who flew in from Chicago), represented the Shinewald family at the event. (Her brother, Benjamin, who lives in Ottawa, wasn't able to attend, but he sent a pre-recorded audio message that was played for the audience.)
Musical entertainment for the evening was provided by a group of talented singers, led by Julia Kroft. Following the concert, attendees headed inside to partake of a sumptuous assortment of pastries, all prepared by the Gwen Secter culinary staff. (And, despite my asking whether I could take a doggy bag home, I was turned down.)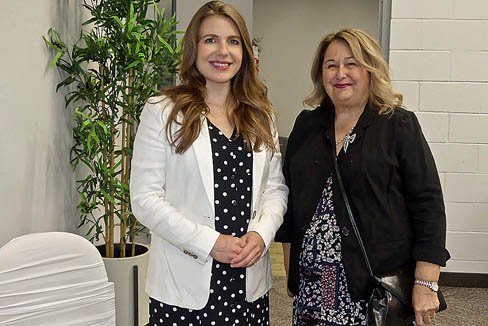 Palestinian gunmen kill 4 Israelis in West Bank gas station
This is a developing story.
(JTA) — Palestinian gunmen killed four people and wounded four in a terror attack at a gas station near the West Bank settlement of Eli, the Israeli army reported.
An Israeli civilian returning fire at the scene of the attack on Tuesday killed one of the attackers, who emerged from a vehicle, and two others fled.
Kan, Israel's public broadcaster, said one of those wounded was in serious condition. The gunmen, while in the vehicle, shot at a guard post at the entry to the settlement, and then continued to the gas station which is also the site of a snack bar. A nearby yeshiva went into lockdown.
Israeli Defense Minister Yoav Gallant announced plans to convene a briefing with top security officials within hours of the attack. Kan reported that there were celebrations of the killing in major West Bank cities and in the Gaza Strip, initiated by terrorist groups Hamas and Palestinian Islamic Jihad. Hamas said the shooting attack Tuesday was triggered by the Jenin raid.
The shooting comes as tensions intensify in the West Bank. A day earlier, Israeli troops raiding the city of Jenin to arrest accused terrorists killed five people.
The Biden administration spoke out over the weekend against Israel's plans to build 4,000 new housing units for Jewish settlers in the West Bank. Israeli Prime Minister Benjamin Netanyahu also finalized plans to  transfer West Bank building decisions to Bezalel Smotrich, the extremist who is the finance minister. Smotrich has said he wants to limit Palestinian building and expand settlement building.
Kan reported that the dead terrorist was a resident of a village, Urif, close to Huwara, the Palestinian town where terrorists killed two Israeli brothers driving through in February. Settlers retaliated by raiding the village and burning cars and buildings.
—
The post Palestinian gunmen kill 4 Israelis in West Bank gas station appeared first on Jewish Telegraphic Agency.