How this Brooklyn neighborhood became the 'Klezmer Shtetl'
(New York Jewish Week) — Some of the greatest talents in Jewish music have strolled Midwood's lettered avenues, including the klezmer musician Pete Sokolow and the Hasidic composer Ben Zion Shenker. Both have left us — Sokolow in 2022, Shenker in 2016 — but the Modzitzer synagogue on Avenue L, where Shenker once lead prayers, is a spiritual home for klezmer virtuoso and Midwood denizen Andy Statman, 73. He's davened (prayed) there for more than 30 years.
Now, a younger group of klezmer musicians joins Statman in making the quiet, south-central Brooklyn neighborhood their home, due to the (relatively) affordable rents, low density and greenery, as well as its proximity to Jewish communal life spread across the borough.
"We needed more room than Park Slope could provide on our budget," Pete Rushefsky, who has played a hammered dulcimer known as the tsimbl in the city's klezmer scene for more than 30 years, told the New York Jewish Week. "It's been a great neighborhood to raise a family." That's especially true for a culturally active family: Rushefsky's wife, Madeline Solomon, sings, plays accordion and runs the Brooklyn Workers Circle School in Park Slope; their 12-year-old daughter, Mathilda, plays in a children's fiddle band in the neighborhood.
Midwood looms so large over the present-day Jewish music scene that there's even a klezmer rock band named for it: Midwood, the band, was founded in 2015 by the fiddler Jake Shulman-Ment. The 39-year-old veteran klezmer violinist lives in the same apartment building on Ocean Avenue as Jeremiah Lockwood, a blues performer and a scholar of cantorial music.
"I call it the 'Klezmer Shtetl,'" said Midwood's vocalist, Eleonore Weill, who is also a multi-instrumentalist. (Weill used to reside in Midwood but now lives in next-door Ditmas Park, which is also home to Sarah Gordon, lead singer of the rock band Yiddish Princess. Nearby Kensington counts among its klezmer-making residents D. Zisl Slepovitch and the klezmer couple Ilya Shneyveys and Sarah Myerson.)
Another Midwood musician is Michael Winograd, 40, who many consider to be the best klezmer clarinetist of his generation. As a teenager, he went to Statman's home for lessons; last summer he moved to the neighborhood.
Elsewhere in Midwood resides guitarist Yoshie Fruchter, founder of Pitom, which the Tzadik record label called "a shredding Jewish instrumental band." Fruchter has performed with Jon Madof's Zion80, which plays Shlomo Carlebach tunes in an Afrobeat style, and Mazal Tov Cocktail Party, the latest klezmer/dance music project led by David Krakauer and Kathleen Tagg.
"I didn't choose Midwood, particularly," Shulman-Ment told New York Jewish Week. "It sort of fell into my life." The fiddler decided to rent his Midwood one-bedroom in the summer of 2021 while he was on tour in the Pacific Northwest. After seeing the place online and sending a couple of friends to check it out in person, Shulman-Ment signed a lease while he was still on the road.
As it happens, Lockwood — who lives with his two sons, ages 14 and 16, on the floor below Shulman-Ment — also rented his apartment sight unseen that same summer.
The two neighbors credit Ivona Hertz, co-owner of Ocean Empire Management, with helping them find a home. Her company manages a pair of buildings across from Prospect Park that are home to so many jazz musicians, they came to be known as "the jazz dorms."
"When the tenants are happy they always recommend their friends," Hertz said, describing how she came to rent Midwood apartments to so many musicians. "That's how the 'jazz dorms' were created and that's how the Midwood buildings are now getting more musicians. The apartments are larger, up to three bedrooms, including the square footage, and more affordable in Midwood."
According to the available rentals on the real estate website StreetEasy, the median rent in Midwood is $2,566. (Hertz, the property manager known for helping musicians, says she typically charges between $1,500 and $1,750 a month for one-bedroom rentals.) The median sale price in the nabe for the first quarter of this year was $644,000, according to the real estate website PropertyShark — that's substantially less than the Brooklyn borough-wide median of $755,000.
In addition to relatively low housing costs, Midwood is also known for being home to a very large — and mostly Orthodox — Jewish community. Traditionally Ashkenazi, the southern reaches of the neighborhood have also seen steady growth of its longtime Sephardic Jewish community. "Sephardic Jews dominate from [an area known as the] Avenue H cut to Avenue Z," Sarina Roffe, CEO of the The Brooklyn Jewish Historical Initiative and president of the Sephardic Heritage Project, told the New York Jewish Week. "The Sephardic community in Brooklyn has been growing for more than 100 years."
Most of these newer, klezmer residents identify as secular Jews, and not Orthodox. But many of them said they enjoy living among their Orthodox brethren. Clarinetist Winograd lives in part of Midwood that's "very Jewish," as he described it. "I kind of like being a secular Jew who gets to experience the benefit of a quiet Shabbes. I enjoy being a culturally-engaged Jew living in a Jewish neighborhood even if I'm not partaking in the more religious activities."
Shulman-Ment — who identifies as a secular Jew who is committed to Jewish culture — spent a year living in Crown Heights, so he was familiar with the feeling of living in an Orthodox neighborhood and feeling like a bit of an outsider. He said he's noticed, though, that if he's in his "gig costume" — a suit and fedora — some of his Orthodox co-religionists offer a friendly greeting.
Lockwood described his (and Shulman-Ment's) section of Midwood, along Ocean Avenue, as "rough-hewn and unlovely. It is a hard-working and threadbare place." And yet, "I like it here fine," he told the New York Jewish Week, adding: "I just don't want to encourage out-of-towners to move in."
Fruchter — who moved to Midwood last December with his wife, Jewish cookbook author Leah Koenig, and their two kids, aged 4 and 9 — said his area of Midwood has a lot of Pakistani residents, but on Saturday his family can often hear zemiros, hymns sung at the Sabbath table, coming from the homes of Orthodox neighbors down the block. "I really like how you see people from so many different places, cultures, religions and backgrounds all sharing the same sidewalks," Fruchter told the New York Jewish Week via email. "I love walking by businesses with signs in different languages and restaurants where I have no idea what to order… I love that it's a 'quiet' neighborhood but with a lot of bustle in it."
The family is involved in the Flatbush Jewish Center, a Conservative egalitarian synagogue in the neighboring Kensington section of Brooklyn where Fruchter has served as cantor on the High Holy Days and organized a concert series.
Fruchter is also a member of Shulman-Ment's band Midwood — whose recording of their live performance at the "Klezmer On Ice" festival in Minneapolis last winter will be released in the coming months. Midwood the band's next gig is at the National Yiddish Book Center's annual Yidstock festival in Amherst, Massachusetts on July 16.
Shulman-Ment will also be performing with the actor and musician Daniel Kahn on June 15 at the East Village world music venue Drom. The performance is timed to the release of the duo's first album, "The Building & Other Songs," which features Yiddish versions of songs by Leonard Cohen, Bruce Springsteen, Tom Waits and Woody Guthrie.
The other Midwood klezmer musicians with gigs to look forward to are Rushefsky — who is also the executive director of the Center for Traditional Music and Dance — and Statman, who will both be playing with the violinist Itzhak Perlman in the coming months.
In addition, Statman plays in two trios: The Andy Statman Trio, which has performed at the Greenwich Village Synagogue in Manhattan regularly for 20 years, and another with the Eddy Brothers, two young West Virginia bluegrass musicians. More recently, Statman started playing with a traditional bluegrass quartet that's comprised of players he's known since he was a teenager. That band is now known as Andy's Ramble, not to be confused with the 1994 Statman album of the same name.
Statman grew up in Queens and was in his mid-20s when he first moved to Brooklyn in 1976. After a series of apartments, he and his wife Basha moved to Avenue L in Midwood in 1987, where they raised their four children. "Our kids needed to be here. We needed to be here," Statman said. "There is sky and trees and grass here. There are birds chirping all over. The neighborhood was incredibly vibrant."
When he first arrived, Statman took a break from his music career for a year to study Jewish holy texts full time. In the 35 years since, he's seen real estate values soar to a level he calls "ridiculous." Statman said that since the early 2000s, he's watched kids who grew up on his block move to Lakewood, New Jersey or Monsey in Rockland County — both home to sizable Orthodox Jewish communities — because they couldn't afford to buy homes in Midwood. Now their parents are leaving, he added, because they want to be near their grandchildren.
It's a fate the clarinetist is personally familiar with: None of his four children, now grown, live in the area. With two daughters and their grandchildren living near Lakewood, the Statmans are considering relocating there themselves.
—
The post How this Brooklyn neighborhood became the 'Klezmer Shtetl' appeared first on Jewish Telegraphic Agency.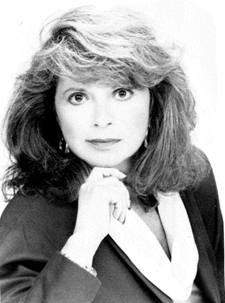 Phyllis Pollock died at home Sunday September 3, 2023 in Winnipeg, after a courageous lifetime battle with cancer.
Phyllis was a mother of four: Gary (Laura), daughter Randi, Steven (deceased in 2010) (Karen), and Robert. Phyllis also had two grandchildren: Lauren and Quinn.
Born in Fort Frances, Ontario on February 7, 1939, Phyllis was an only child to Ruby and Alex Lerman. After graduating high school, Phyllis moved to Winnipeg where she married and later divorced Danny Pollock, the father of her children. She moved to Beverly Hills in 1971, where she raised her children.
Phyllis had a busy social life and lucrative real estate career that spanned over 50 years, including new home sales with CoastCo. Phyllis was the original sales agent for three buildings in Santa Monica, oceanfront: Sea Colony I, Sea Colony II, and Sea Colony. She was known as the Sea Colony Queen. She worked side by side with her daughter Randi for about 25 years – handling over 600 transactions, including sales and leases within the three phases of Sea Colony alone.
Phyllis had more energy than most people half her age. She loved entertaining, working in the real estate field, meeting new and interesting people everyday no matter where she went, and thrived on making new lifelong friends. Phyllis eventually moved to the Sea Colony in Santa Monica where she lived for many years before moving to Palm Desert, then Winnipeg.
After battling breast cancer four times in approximately 20 years, she developed metastatic Stage 4 lung cancer. Her long-time domestic partner of 27 years, Joseph Wilder, K.C., was the love of her life. They were never far apart. They traveled the world and went on many adventures during their relationship. During her treatment, Phyllis would say how much she missed work and seeing her clients. Joey demonstrated amazing strength, love, care, and compassion for Phyllis as her condition progressed. He was her rock and was by her side 24/7, making sure she had the best possible care. Joey's son David was always there to support Phyllis and to make her smile. Joey's other children, Sheri, Kenny, Joshua and wife Davina, were also a part of her life. His kids would Facetime Phyllis and include her during any of their important functions. Phyllis loved Joey's children as if they were her own.
Thank you to all of her friends and family who were there to support her during these difficult times. Phyllis is now, finally, pain free and in a better place. She was loved dearly and will be greatly missed. Interment took place in Los Angeles.
Gwen Centre Creative Living Centre celebrates 35th anniversary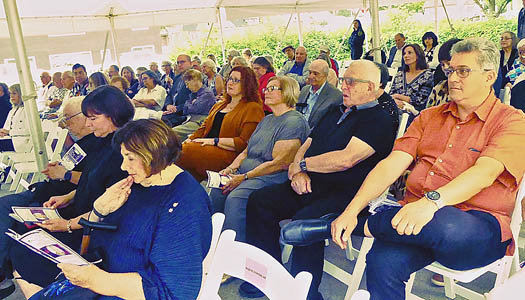 By BERNIE BELLAN Over 100 individuals gathered at the Gwen Secter Centre on Tuesday evening, July 18 – under the big top that serves as the venue for the summer series of outdoor concerts that is now in its third year at the centre.
The occasion was the celebration of the Gwen Secter Centre's 35th anniversary. It was also an opportunity to honour the memory of Sophie Shinewald, who passed away at the age of 106 in 2019, but who, as recently as 2018, was still a regular attendee at the Gwen Secter Centre.
As Gwen Secter Executive Director Becky Chisick noted in her remarks to the audience, Sophie had been volunteering at the Gwen Secter Centre for years – answering the phone among other duties. Becky remarked that Sophie's son, Ed Shinewald, had the phone number for the Gwen Secter Centre stored in his phone as "Mum's work."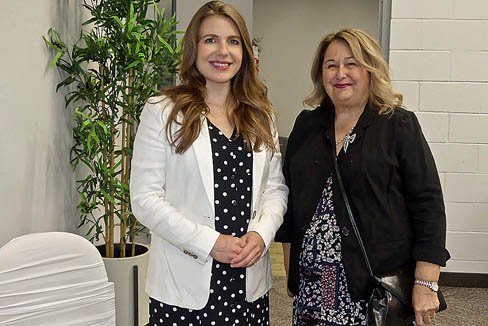 Remarks were also delivered by Raquel Dancho, Member of Parliament for Kildonan-St. Paul, who was the only representative of any level of government in attendance. (How times have changed: I remember well the steadfast support the former Member of the Legislature for St. John's, Gord Mackintosh, showed the Gwen Secter Centre when it was perilously close to being closed down. And, of course, for years, the area in which the Gwen Secter Centre is situated was represented by the late Saul Cherniack.)
Sophie Shinewald's granddaughter, Alix (who flew in from Chicago), represented the Shinewald family at the event. (Her brother, Benjamin, who lives in Ottawa, wasn't able to attend, but he sent a pre-recorded audio message that was played for the audience.)
Musical entertainment for the evening was provided by a group of talented singers, led by Julia Kroft. Following the concert, attendees headed inside to partake of a sumptuous assortment of pastries, all prepared by the Gwen Secter culinary staff. (And, despite my asking whether I could take a doggy bag home, I was turned down.)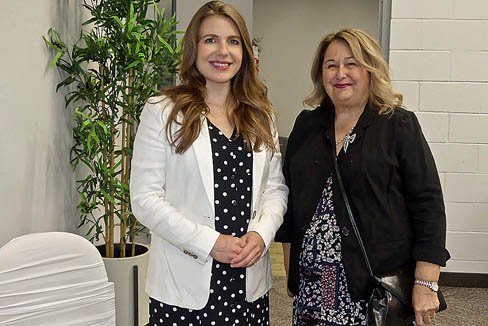 Palestinian gunmen kill 4 Israelis in West Bank gas station
This is a developing story.
(JTA) — Palestinian gunmen killed four people and wounded four in a terror attack at a gas station near the West Bank settlement of Eli, the Israeli army reported.
An Israeli civilian returning fire at the scene of the attack on Tuesday killed one of the attackers, who emerged from a vehicle, and two others fled.
Kan, Israel's public broadcaster, said one of those wounded was in serious condition. The gunmen, while in the vehicle, shot at a guard post at the entry to the settlement, and then continued to the gas station which is also the site of a snack bar. A nearby yeshiva went into lockdown.
Israeli Defense Minister Yoav Gallant announced plans to convene a briefing with top security officials within hours of the attack. Kan reported that there were celebrations of the killing in major West Bank cities and in the Gaza Strip, initiated by terrorist groups Hamas and Palestinian Islamic Jihad. Hamas said the shooting attack Tuesday was triggered by the Jenin raid.
The shooting comes as tensions intensify in the West Bank. A day earlier, Israeli troops raiding the city of Jenin to arrest accused terrorists killed five people.
The Biden administration spoke out over the weekend against Israel's plans to build 4,000 new housing units for Jewish settlers in the West Bank. Israeli Prime Minister Benjamin Netanyahu also finalized plans to  transfer West Bank building decisions to Bezalel Smotrich, the extremist who is the finance minister. Smotrich has said he wants to limit Palestinian building and expand settlement building.
Kan reported that the dead terrorist was a resident of a village, Urif, close to Huwara, the Palestinian town where terrorists killed two Israeli brothers driving through in February. Settlers retaliated by raiding the village and burning cars and buildings.
—
The post Palestinian gunmen kill 4 Israelis in West Bank gas station appeared first on Jewish Telegraphic Agency.