Jerry Izenberg covered 53 Super Bowls. His memoir covers his Jewish Newark upbringing.
(JTA) — Over the course of an illustrious 72-year career as a newspaper reporter, Jerry Izenberg has just about seen it all.
The longtime columnist for The Star-Ledger in Newark, New Jersey, Izenberg covered the first 53 Super Bowls. He's been to 58 Kentucky Derbies, not to mention numerous Olympics, World Cups and boxing matches. He considered Muhammad Ali a close personal friend.
But the fiery 92-year-old, who still contributes to the paper as a columnist emeritus from his home in Nevada, doesn't approve of the term "journalist." He's a newspaperman.
He dropped the name of Samuel Pepys, the 17th-century British diarist, as a contrast.
"Every day he took his big diary, and he wrote what he did this day, what he was planning to do later — that's a journalist," Izenberg told the Jewish Telegraphic Agency. "I'm not in my world. I'm in the world of other people trying to interpret and to repeat what values they have or what lack thereof they have."
Izenberg's latest story breaks that rule. His 17th book, which hits shelves on Monday, is a memoir about his Jewish upbringing in Newark. Titled "Baseball, Nazis, and Nedick's Hot Dogs: Growing Up Jewish in the 1930s in Newark," the memoir centers on Izenberg's relationship with his father Harry, a World War I veteran and former minor league baseball player who passed on his love of the sport to his son.
Izenberg's father emigrated to the United States as a child, leaving Lithuania with his family to escape anti-Jewish pogroms. As his sportswriter son recounts it, Harry discovered baseball even before he could speak English.
The Izenbergs' love of baseball transcended all. When Jerry got his first baseball glove at ten years old, it was a milestone that in his father's eyes surpassed even his bar mitzvah. (Maybe unsurprisingly, Izenberg would later skip bar mitzvah tutoring to play baseball after school.)
"He had given me a lifetime gift — a simple game and a simple shared love for it," Izenberg writes in the memoir. "It remains there, bright and shining in memory eighty-three years later. In the soul of my memory, I see our kind of shared love of baseball again. It never fades."
The pair's passion for baseball was closely intertwined with their Judaism. Growing up in Newark in the 1930s and 40s, Izenberg was a fan of the New York Giants baseball team (which left for San Francisco after the 1957 season). They featured a lineup filled with Jewish players: Harry Danning, Harry Feldman and Sid Gordon.
But in the pantheon of Jewish baseball during Izenberg's childhood, there was a clear king, and — much to the chagrin of Izenberg's father — he played in Detroit. Hank Greenberg, the greatest Jewish hitter in baseball history, was at the peak of his Tigers career from 1935-1940, winning two most valuable player awards on his way to the Hall of Fame.
At the Izenbergs' dinner table, there were only a few select topics that were allowed to be discussed: baseball and the Nazis.
In 1938, Greenberg was chasing all-time great Babe Ruth's single-season record of 60 home runs, which Ruth had set in 1927 with the Yankees. Greenberg would ultimately reach 58 homers, falling just short of history, while drawing several walks in the season's final games.
"My dad was convinced that was antisemitism," Izenberg said. "And I said to him, later on when I got into the business and I knew people, 'did it ever occur to you that the guys who pitched against him didn't want to be the guy who threw his 60th home run ball? They'd be linked to him forever.' My father said, 'That's an interesting theory, but you're full of crap.'"
Of all the anecdotes Izenberg shares of his memories with his father, one non-sports related scene stands out. And it has to do with that second dinner table topic.
One Saturday in 1939, Izenberg and his father went to the Newsreel Theatre in Newark, where audiences gathered to watch news and sports highlights of the week. That day, the theater showed footage of the infamous Madison Square Garden rally held by the German-American Bund, the American Nazi organization.
Izenberg remembers leaving the theater with his father, who was visibly angry. His father talked about how the Nazis — or, as he called them, mamzers, Yiddish slang for "bastards" — had to be stopped.
"I'm an 8-year-old kid, and I say, 'But dad, they're in Germany,'" Izenberg recalled. "And he looks at me, he says, 'They're not in Germany, they're here.' And he was right." Indeed, following Hitler's rise to power, Nazi-sympathizers could be seen marching down Newark's streets.
The move theater incident is illustrated on the book's cover — and was followed by a frequent father-son ritual: getting hot dogs at the popular chain Nedick's.
To Izenberg, the virulent antisemitism of his youth — including the Bund, the reemergence of the Ku Klux Klan and the rise of Father Charles Coughlin, the antisemitic "radio priest" — is a corollary for the current state of antisemitism, which is again on the rise in the United States, punctuated, he said, by the 2017 antisemitic white nationalist rally in Charlottesville, which he blames on former President Donald Trump.
Izenberg said he doesn't believe any law can force people to love or even like one another, but that "you could legislate people and pressure people into keeping their damn mouth shut."
He went on: "And for 30 years, we had that. We got relief from antisemitism… And then one day in Charlottesville, that son of a bitch gave them the license to say whatever they want. And that was a trigger that lit the flame of antisemitism, which then began to grow all at once. It was always in their minds. But it was not fashionable. They made it fashionable."
Despite the anti-Jewish sentiment that was ever-present in his youth, Izenberg said he has not faced antisemitism in his journalism career. As a columnist who has covered just about every sport, Izenberg has received his fair share of criticism — most notably having his car windows smashed by two men who did not approve of Izenberg's defense of Muhammad Ali, when at the height of his career the boxer stirred controversy with his support for the Nation of Islam and his refusal to enlist in the military.
Izenberg has written about social issues frequently throughout his career — especially race relations — a tendency that he said is inspired by the value of "tikkun olam," or repairing the world. It's an idea he learned from Rabbi Joachim Prinz, the famous activist leader who spoke just before Martin Luther King Jr. at the 1963 March on Washington.
After leaving Nazi Germany, Prinz settled in Newark, on the same block as the Izenbergs. He would become a close family friend, and even offered to help Izenberg prepare for his bar mitzvah, despite the fact that his family belonged to a different synagogue.
Izenberg said he is guided by tikkun olam, "because I know [Prinz would] want me to keep it in the back of my mind, and my father would, too."
"I've always tried not to fix the world — I don't overrate myself that much — but I could fix the little part of it, the space that I take up," he added. "And my job was a pathway to that."
Izenberg's decades-long career in sports journalism has earned him numerous accolades, including induction into 17 different halls of fame, among them the International Jewish Sports Hall of Fame and the National Sportscasters and Sportswriters Association Hall of Fame.
Along the way, he's worked with and alongside a number of notable journalists, including ESPN reporter Jeremy Schaap, who previously hosted "Classic Sports Reporters," for which he invited veteran sportswriters like Izenberg on the show to discuss various topics from sports history.
"For someone like me who really treasures that art form, Jerry was one of its master practitioners, and he's still doing it, which is amazing," Schaap told JTA.
Schaap hailed the breadth of Izenberg's career, which he said epitomized the kind of big-city sports columnist that has become increasingly rare in the digital age.
"He's a maniac, there's no other way to put it," Schaap said with a laugh. "All those Super Bowls, all those fights… the energy, the enthusiasm, the passion, all those things, in addition to the skills, makes him unique and has made him unique for decades."
Schaap added that he and Izenberg shared a sort of unspoken bond over their Jewishness, and that Izenberg has taught Schaap a few Yiddishisms over the years. Izenberg's tendency to slip Yiddish into his prose is evident in the memoir, from a comical retelling of his bris in the prologue to the frequent frustrated "genug" ("enough") he heard from his mother as a child.
Ultimately, Izenberg said his parents represent the tachlis — the bottom line — of the memoir, and what he hopes readers take away from it. Izenberg said writing the memoir was cathartic for him, and that it even serves as a sort of love letter to his father.
"We were not, you know, 'I love you dad,'" Izenberg said. "We were very respectful, but we didn't express it. I tried to express it in this book. I hope I did."
The release of Izenberg's memoir is in no way a sign that the nonagenarian is slowing down. Even though he claims he works less than he used to, Izenberg said he plans to write six columns about next weekend's Kentucky Derby.
He already has plans for his next few books, too — including a biography of New Jersey's own Larry Doby, who was the second Black player in the MLB and first in the American League.
"I've had a great life, and I'm having a great life, but I ain't done yet," Izenberg said.
—
The post Jerry Izenberg covered 53 Super Bowls. His memoir covers his Jewish Newark upbringing. appeared first on Jewish Telegraphic Agency.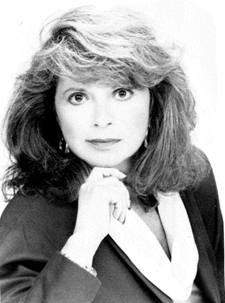 Phyllis Pollock died at home Sunday September 3, 2023 in Winnipeg, after a courageous lifetime battle with cancer.
Phyllis was a mother of four: Gary (Laura), daughter Randi, Steven (deceased in 2010) (Karen), and Robert. Phyllis also had two grandchildren: Lauren and Quinn.
Born in Fort Frances, Ontario on February 7, 1939, Phyllis was an only child to Ruby and Alex Lerman. After graduating high school, Phyllis moved to Winnipeg where she married and later divorced Danny Pollock, the father of her children. She moved to Beverly Hills in 1971, where she raised her children.
Phyllis had a busy social life and lucrative real estate career that spanned over 50 years, including new home sales with CoastCo. Phyllis was the original sales agent for three buildings in Santa Monica, oceanfront: Sea Colony I, Sea Colony II, and Sea Colony. She was known as the Sea Colony Queen. She worked side by side with her daughter Randi for about 25 years – handling over 600 transactions, including sales and leases within the three phases of Sea Colony alone.
Phyllis had more energy than most people half her age. She loved entertaining, working in the real estate field, meeting new and interesting people everyday no matter where she went, and thrived on making new lifelong friends. Phyllis eventually moved to the Sea Colony in Santa Monica where she lived for many years before moving to Palm Desert, then Winnipeg.
After battling breast cancer four times in approximately 20 years, she developed metastatic Stage 4 lung cancer. Her long-time domestic partner of 27 years, Joseph Wilder, K.C., was the love of her life. They were never far apart. They traveled the world and went on many adventures during their relationship. During her treatment, Phyllis would say how much she missed work and seeing her clients. Joey demonstrated amazing strength, love, care, and compassion for Phyllis as her condition progressed. He was her rock and was by her side 24/7, making sure she had the best possible care. Joey's son David was always there to support Phyllis and to make her smile. Joey's other children, Sheri, Kenny, Joshua and wife Davina, were also a part of her life. His kids would Facetime Phyllis and include her during any of their important functions. Phyllis loved Joey's children as if they were her own.
Thank you to all of her friends and family who were there to support her during these difficult times. Phyllis is now, finally, pain free and in a better place. She was loved dearly and will be greatly missed. Interment took place in Los Angeles.
Gwen Centre Creative Living Centre celebrates 35th anniversary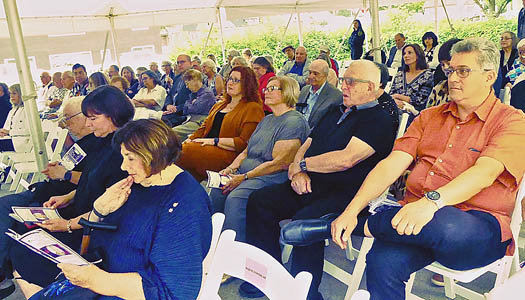 By BERNIE BELLAN Over 100 individuals gathered at the Gwen Secter Centre on Tuesday evening, July 18 – under the big top that serves as the venue for the summer series of outdoor concerts that is now in its third year at the centre.
The occasion was the celebration of the Gwen Secter Centre's 35th anniversary. It was also an opportunity to honour the memory of Sophie Shinewald, who passed away at the age of 106 in 2019, but who, as recently as 2018, was still a regular attendee at the Gwen Secter Centre.
As Gwen Secter Executive Director Becky Chisick noted in her remarks to the audience, Sophie had been volunteering at the Gwen Secter Centre for years – answering the phone among other duties. Becky remarked that Sophie's son, Ed Shinewald, had the phone number for the Gwen Secter Centre stored in his phone as "Mum's work."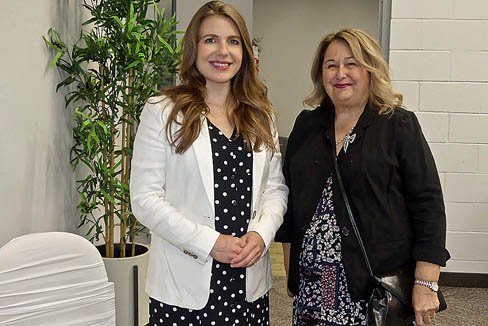 Remarks were also delivered by Raquel Dancho, Member of Parliament for Kildonan-St. Paul, who was the only representative of any level of government in attendance. (How times have changed: I remember well the steadfast support the former Member of the Legislature for St. John's, Gord Mackintosh, showed the Gwen Secter Centre when it was perilously close to being closed down. And, of course, for years, the area in which the Gwen Secter Centre is situated was represented by the late Saul Cherniack.)
Sophie Shinewald's granddaughter, Alix (who flew in from Chicago), represented the Shinewald family at the event. (Her brother, Benjamin, who lives in Ottawa, wasn't able to attend, but he sent a pre-recorded audio message that was played for the audience.)
Musical entertainment for the evening was provided by a group of talented singers, led by Julia Kroft. Following the concert, attendees headed inside to partake of a sumptuous assortment of pastries, all prepared by the Gwen Secter culinary staff. (And, despite my asking whether I could take a doggy bag home, I was turned down.)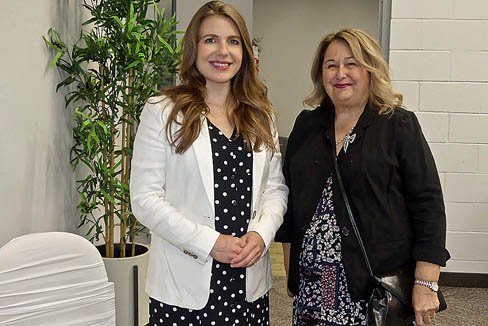 Palestinian gunmen kill 4 Israelis in West Bank gas station
This is a developing story.
(JTA) — Palestinian gunmen killed four people and wounded four in a terror attack at a gas station near the West Bank settlement of Eli, the Israeli army reported.
An Israeli civilian returning fire at the scene of the attack on Tuesday killed one of the attackers, who emerged from a vehicle, and two others fled.
Kan, Israel's public broadcaster, said one of those wounded was in serious condition. The gunmen, while in the vehicle, shot at a guard post at the entry to the settlement, and then continued to the gas station which is also the site of a snack bar. A nearby yeshiva went into lockdown.
Israeli Defense Minister Yoav Gallant announced plans to convene a briefing with top security officials within hours of the attack. Kan reported that there were celebrations of the killing in major West Bank cities and in the Gaza Strip, initiated by terrorist groups Hamas and Palestinian Islamic Jihad. Hamas said the shooting attack Tuesday was triggered by the Jenin raid.
The shooting comes as tensions intensify in the West Bank. A day earlier, Israeli troops raiding the city of Jenin to arrest accused terrorists killed five people.
The Biden administration spoke out over the weekend against Israel's plans to build 4,000 new housing units for Jewish settlers in the West Bank. Israeli Prime Minister Benjamin Netanyahu also finalized plans to  transfer West Bank building decisions to Bezalel Smotrich, the extremist who is the finance minister. Smotrich has said he wants to limit Palestinian building and expand settlement building.
Kan reported that the dead terrorist was a resident of a village, Urif, close to Huwara, the Palestinian town where terrorists killed two Israeli brothers driving through in February. Settlers retaliated by raiding the village and burning cars and buildings.
—
The post Palestinian gunmen kill 4 Israelis in West Bank gas station appeared first on Jewish Telegraphic Agency.