Jewish institutions awaken to climate crisis, with hundreds pledging action
(JTA) — For a decade starting in 2002, Jennifer Laszlo Mizrahi devoted herself to pro-Israel advocacy. After that, the Jewish philanthropist and activist from Annapolis, Maryland, went all in to fight for disability rights, working in the field for the next decade. Now, Mizrahi is focused on climate change. 
"Let me put it this way: In 2021, we donated to one climate organization, and in 2022, we donated to 17 of them," Mizrahi said, referring to the small charity fund she runs with her husband, tech entrepreneur Victor Mizrahi. This year, the couple made their largest climate-related donation yet, sending a group of nine climate reporters to Israel to meet tech startups working on ways to reduce greenhouse gas emissions. Mizrahi and her husband have also begun commercially investing in such startups. 
"I was hoping other people would solve it," she said. "But the pace of the change is not nearly meeting the demand at the moment. I felt that even though I don't know the subject, I'm just going to have to do it because I have kids and I don't want this world to fall apart."
Climate change has long ranked at or near the top of a list of issues concerning Jews in the United States, according to multiple surveys, and Jews have been heavily involved in the wider climate movement. But until recently, the issue had a marginal place on the agendas of Jewish communal organizations, which neglected climate even as the subject took on importance in the activism and policies of other religious communities and in the larger philanthropic world.
Mizrahi's newfound emphasis on climate is an early example of a larger shift that is underway in Jewish philanthropy, a multibillion-dollar world made up of thousands of individual donors, charitable foundations and nonprofit organizations. 
"It's the beginning of what will become a more widespread focus among Jewish groups," said Rabbi Jennie Rosenn, the founder and CEO of the Jewish climate group Dayenu. "We're seeing an awakening to this as a profoundly Jewish issue, and awakening to the role that the Jewish community has to play in addressing the climate crisis."
Scientists say that decisions regarding carbon emissions made in the next few years will affect life on Earth for thousands of years to come. The most recent warning came in March, when leading global experts with the Intergovernmental Panel on Climate Change published a new report, stating that "there is a rapidly closing window of opportunity to secure a liveable and sustainable future for all." 
The large Jewish populations living in the coastal United States are vulnerable to extreme storms, sea-level rise, severe heat and other weather disruptions — a situation dramatized in the recent Apple television series "Extrapolations," in which a rabbi contends with rising sea waters infiltrating his Florida synagogue. Meanwhile, Israel is experiencing a slew of impacts from drought and floods to security threats tied regional climate-related instability. 
The last few months have seen a flurry of new initiatives aimed at both greening Jewish institutions and directing collective action on climate. 
In December, for example, Rosenn's group published a report calculating that endowments of Jewish organizations, from family foundations to local federations, are invested in the fossil fuel industry to the tune of at least $3 billion. The report launched an ongoing campaign called All Our Might that urges Jewish leaders to withdraw these investments and put the money toward clean energy instead.
Meanwhile, many of the most prominent Jewish organizations in the country — representing local federations, Hillel chapters, summer camps, community centers, day schools and nearly every religious denomination — had already joined a new green coalition organized by another Jewish environmental group and were preparing to unveil pledges to do more in the fight against climate change. 
The unveiling of the climate pledges happened in March, under the leadership of Adamah, a nonprofit created through the merger of two stalwarts of Jewish environmentalism, Hazon and the Pearlstone Center. 
"Climate and sustainability have not been on the list of priorities for the vast majority of Jewish organizations; this coalition and these climate action plans reflect a deep paradigm shift and culture change moving forward," Adamah CEO Jakir Mandela said at the time. 
The commitments made by members of Adamah's Jewish Climate Leadership Coalition include sending youth leaders to global climate summits, reducing emissions of buildings and vehicles and lobbying the federal government to pass climate policies. 
More than 300 congregations and nonprofits have joined. For Earth Day, Adamah announced a million-dollar fund offering interest-free loans and matching grants to Jewish groups for projects to reduce their greenhouse gas emissions. 
If any single event can be said to mark the debut of the climate issue as a top Jewish communal priority, it is probably the recent annual conference of the Jewish Funders Network, which took place in March in Phoenix, bringing together thousands of donors and charity executives. 
For the gathering's first event, before the formal opening of the conference, a group of participants went on a field trip to downtown Phoenix to learn about the local effects of the climate crisis. Far more people signed up than organizers anticipated, and with about 55 passengers, the tour bus chartered for the occasion reached capacity. Mizrahi, who was among the participants, said the trip was helpful as a networking opportunity for like-minded philanthropists. 
"We wanted to expose them to how the existential threats posed by climate change are not long term, but are already here," Yanklowitz said. "People down in the Zone are dying every summer from heat exhaustion and dehydration."
Based on his debrief with the group afterward, Yanklowitz feels the trip left an impact on participants. 
"I didn't hear anyone say, 'Oh, I'm changing my commitments.' But I did get the sense that climate change was kind of abstract for many people, and that now it really hit home," Yanklowitz said.
The rest of the conference featured multiple talks and gatherings dedicated to climate, including on the main stage, and an announcement that Birthright, which offers free trips to Israel for young Jews, was increasing its own climate activism with the help of a new donation. 
In an interview, Ellen Bronfman Hauptman and Stephen Bronfman, children of Birthright founder Charles Bronfman, said their $9 million gift is meant to honor their father on the occasion of his 90th birthday, while also bringing Birthright more in line with the values of a new generation that is environmentally-minded. 
Birthright organizers will use the funding to develop programming focused on climate that could, for example, expose participants to Israel's clean tech scene. The money is also intended to help Birthright lower its own carbon footprint, potentially by switching to electric buses or adding more vegetarian meals. 
The Bronfmans hope that Birthright's significant purchasing power in Israeli tourism will nudge the industry toward more ecologically sustainable practices. 
"To me, Birthright is like Walmart — everyone wants to do business with them," Stephen Bronfman said. "They have the power to dictate terms to their service providers and affect the supply chain." 
The widespread interest in climate mobilization among Jewish groups comes after years in which the issue languished outside the mainstream. Rosenn, the head of Dayenu, who has attended about 15 conferences of the Jewish Funder Network, noticed a change this year. 
"There used to be half a dozen people at a breakfast before the program talking about climate. And it wasn't even climate, necessarily — it was the environment writ large," she said. 
The Jewish world is, in many ways, still lagging behind the larger climate movement. Divesting endowment funds from the fossil fuel industry, for example, is seen as a bold step among Jewish groups even though at least 1,590 institutions representing nearly $41 trillion in assets have already publicly committed to doing so, according to a website tracking such pledges. About a third of the groups on the list are defined as faith-based organizations, but only three are Jewish: Kolot Chayeinu, a congregation in Park Slope, Brooklyn; the Reform movement's pension system; and the American Jewish World Service, a global justice group. 
Adamah's own climate plan doesn't include a pledge to divest but only a promise that it will investigate the option of doing so for its endowment and employee retirement funds. Instead, the plan touts the group's education and advocacy efforts, and focuses on reducing emissions at its retreat centers. 
Adamah's chief climate officer, Risa Alyson Cooper, acknowledged that Jewish community institutions have been "largely absent" from the divestment movement and said her group regards divestment as one of several required tools for addressing the climate crisis.
She said the Jewish community hit a milestone when 12 of the 20 founding members of Adamah's climate coalition said in their climate plans that they would consider amending their financial practices. That was significant, she said, in light of the organizations' complex and deliberate governing structures, which can make executing such changes onerous.  
"While the Jewish community may have lagged behind in years past, we are catching up quickly," Cooper said. 
Such a shift would mark not only a milestone for Jewish climate activism but also a departure from how the Jewish community has historically done philanthropy, said Rabbi Rachel Kahn-Troster, executive vice president of the Interfaith Center on Corporate Responsibility. 
She said wielding financial holdings for social impact has been a hallmark of advocacy by Christian groups. Last year, the Presbyterian Church (U.S.A.) opted to divest from fossil fuels in light of the climate crisis.
The Jewish community, meanwhile, has tended to act primarily through charitable donations. One of the reasons for the difference, she said, is that the Jewish community is much less centralized with communal assets spread across many endowments, making the actions of any single group relatively less impactful. 
"Adamah had done some really important work to change individual behavior and grow people's connections to the environment, but the bigger piece of bold collective action to fight the climate crisis was missing," Kahn-Troster said. "The overall community is late to respond to the urgency of the problem. But I do think that the work of these organizations is very significant, so I'm excited to see it."
Kahn-Troster's historical view is informed by the legacy of her father, Rabbi Lawrence Troster, an environmental activist who had pushed for communal Jewish action on climate, and by the passion for climate justice displayed by her 15-year-old, Liora Pelavin, a member of the Jewish Youth Climate Movement, an arm of Adamah. 
"Finding a meaningful Jewish space to do grassroots-level climate advocacy that many young people are demanding has been really important to Liora," Kahn-Troster said. 
—
The post Jewish institutions awaken to climate crisis, with hundreds pledging action appeared first on Jewish Telegraphic Agency.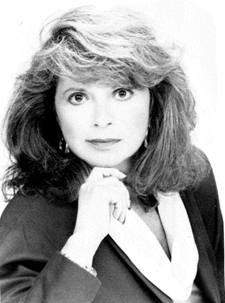 Phyllis Pollock died at home Sunday September 3, 2023 in Winnipeg, after a courageous lifetime battle with cancer.
Phyllis was a mother of four: Gary (Laura), daughter Randi, Steven (deceased in 2010) (Karen), and Robert. Phyllis also had two grandchildren: Lauren and Quinn.
Born in Fort Frances, Ontario on February 7, 1939, Phyllis was an only child to Ruby and Alex Lerman. After graduating high school, Phyllis moved to Winnipeg where she married and later divorced Danny Pollock, the father of her children. She moved to Beverly Hills in 1971, where she raised her children.
Phyllis had a busy social life and lucrative real estate career that spanned over 50 years, including new home sales with CoastCo. Phyllis was the original sales agent for three buildings in Santa Monica, oceanfront: Sea Colony I, Sea Colony II, and Sea Colony. She was known as the Sea Colony Queen. She worked side by side with her daughter Randi for about 25 years – handling over 600 transactions, including sales and leases within the three phases of Sea Colony alone.
Phyllis had more energy than most people half her age. She loved entertaining, working in the real estate field, meeting new and interesting people everyday no matter where she went, and thrived on making new lifelong friends. Phyllis eventually moved to the Sea Colony in Santa Monica where she lived for many years before moving to Palm Desert, then Winnipeg.
After battling breast cancer four times in approximately 20 years, she developed metastatic Stage 4 lung cancer. Her long-time domestic partner of 27 years, Joseph Wilder, K.C., was the love of her life. They were never far apart. They traveled the world and went on many adventures during their relationship. During her treatment, Phyllis would say how much she missed work and seeing her clients. Joey demonstrated amazing strength, love, care, and compassion for Phyllis as her condition progressed. He was her rock and was by her side 24/7, making sure she had the best possible care. Joey's son David was always there to support Phyllis and to make her smile. Joey's other children, Sheri, Kenny, Joshua and wife Davina, were also a part of her life. His kids would Facetime Phyllis and include her during any of their important functions. Phyllis loved Joey's children as if they were her own.
Thank you to all of her friends and family who were there to support her during these difficult times. Phyllis is now, finally, pain free and in a better place. She was loved dearly and will be greatly missed. Interment took place in Los Angeles.
Gwen Centre Creative Living Centre celebrates 35th anniversary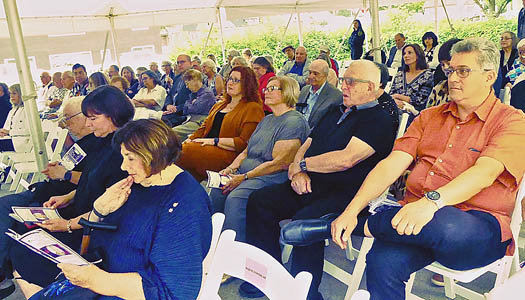 By BERNIE BELLAN Over 100 individuals gathered at the Gwen Secter Centre on Tuesday evening, July 18 – under the big top that serves as the venue for the summer series of outdoor concerts that is now in its third year at the centre.
The occasion was the celebration of the Gwen Secter Centre's 35th anniversary. It was also an opportunity to honour the memory of Sophie Shinewald, who passed away at the age of 106 in 2019, but who, as recently as 2018, was still a regular attendee at the Gwen Secter Centre.
As Gwen Secter Executive Director Becky Chisick noted in her remarks to the audience, Sophie had been volunteering at the Gwen Secter Centre for years – answering the phone among other duties. Becky remarked that Sophie's son, Ed Shinewald, had the phone number for the Gwen Secter Centre stored in his phone as "Mum's work."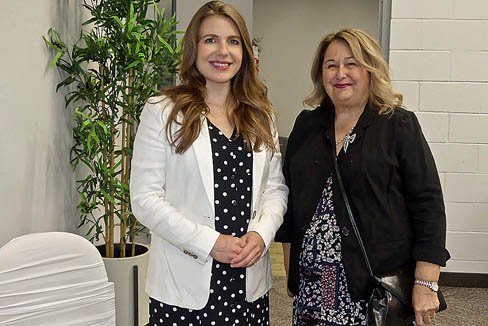 Remarks were also delivered by Raquel Dancho, Member of Parliament for Kildonan-St. Paul, who was the only representative of any level of government in attendance. (How times have changed: I remember well the steadfast support the former Member of the Legislature for St. John's, Gord Mackintosh, showed the Gwen Secter Centre when it was perilously close to being closed down. And, of course, for years, the area in which the Gwen Secter Centre is situated was represented by the late Saul Cherniack.)
Sophie Shinewald's granddaughter, Alix (who flew in from Chicago), represented the Shinewald family at the event. (Her brother, Benjamin, who lives in Ottawa, wasn't able to attend, but he sent a pre-recorded audio message that was played for the audience.)
Musical entertainment for the evening was provided by a group of talented singers, led by Julia Kroft. Following the concert, attendees headed inside to partake of a sumptuous assortment of pastries, all prepared by the Gwen Secter culinary staff. (And, despite my asking whether I could take a doggy bag home, I was turned down.)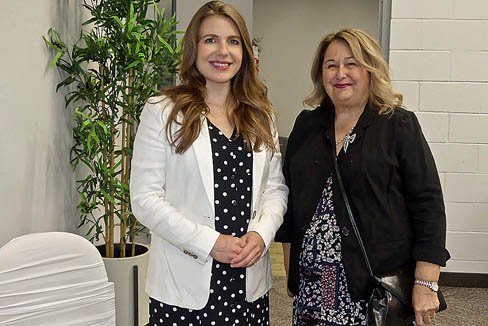 Palestinian gunmen kill 4 Israelis in West Bank gas station
This is a developing story.
(JTA) — Palestinian gunmen killed four people and wounded four in a terror attack at a gas station near the West Bank settlement of Eli, the Israeli army reported.
An Israeli civilian returning fire at the scene of the attack on Tuesday killed one of the attackers, who emerged from a vehicle, and two others fled.
Kan, Israel's public broadcaster, said one of those wounded was in serious condition. The gunmen, while in the vehicle, shot at a guard post at the entry to the settlement, and then continued to the gas station which is also the site of a snack bar. A nearby yeshiva went into lockdown.
Israeli Defense Minister Yoav Gallant announced plans to convene a briefing with top security officials within hours of the attack. Kan reported that there were celebrations of the killing in major West Bank cities and in the Gaza Strip, initiated by terrorist groups Hamas and Palestinian Islamic Jihad. Hamas said the shooting attack Tuesday was triggered by the Jenin raid.
The shooting comes as tensions intensify in the West Bank. A day earlier, Israeli troops raiding the city of Jenin to arrest accused terrorists killed five people.
The Biden administration spoke out over the weekend against Israel's plans to build 4,000 new housing units for Jewish settlers in the West Bank. Israeli Prime Minister Benjamin Netanyahu also finalized plans to  transfer West Bank building decisions to Bezalel Smotrich, the extremist who is the finance minister. Smotrich has said he wants to limit Palestinian building and expand settlement building.
Kan reported that the dead terrorist was a resident of a village, Urif, close to Huwara, the Palestinian town where terrorists killed two Israeli brothers driving through in February. Settlers retaliated by raiding the village and burning cars and buildings.
—
The post Palestinian gunmen kill 4 Israelis in West Bank gas station appeared first on Jewish Telegraphic Agency.