Missouri Jewish leaders advocate for trans rights at state legislature
(JTA) — "Hi, my name is Dan. I'm 11 years old and I like doing magic and circus skills, especially unicycling. I'm here today to testify against House Bill 170, 183, and 337," a young voice said into the microphone.
"I really like to play sports with my friends, although honestly I'm not very good at it," he added. "I'd really like the chance to play."
Dan — a transgender boy whose parents asked that his last name not be used — was the youngest person to testify at the Missouri State House last week in opposition to eight bills heard in the chamber that would restrict trans children from participating in sports that align with their gender identity and limit their access to specialized medical care.
He was also part of a delegation of Missouri's Jewish community members, alongside a few Christian clergy, that has been consistently appearing at the state Capitol to advocate for trans rights in response to a slew of bills that activists say violate their religious freedoms and cause significant harm to the LGBTQ community.
Daniel Bogard, the rabbi at Central Reform Congregation in St. Louis and the parent of a trans child, was at the State House Jan. 24 and again on Feb. 1 to support those testifying against the bills and to lobby lawmakers against them. He is a frequent visitor to Jefferson City as a trans rights activist, saying the possibility of restrictions on medical care are what scare him the most. One piece of legislation would bar physicians and health care professionals from providing gender affirmation procedures to anyone under 18. It would also deny access to medication like puberty blockers, which are administered to delay the onset of puberty.
"What we want to do is we want to protect kids from unnecessary and harmful surgeries and medications," said Brad Hudson, a Republican representative and one of the sponsors of the bill. "I say harmful because giving kids puberty blockers, cross-sex hormones, and even transgender surgery violates the first duty of medicine, do no harm." (The Transgender Center at St. Louis Children's Hospital and other providers say they are generally considered safe to use.)
Hudson also identified himself in his testimony that he is a Christian pastor, and said that his worldview is one in which human beings are created "in the image and likeness of their Creator."
"Those are the bills that criminalize treating your child as every medical and psychological mainstream organization recommends," Bogard countered. "And that means parents are left with a choice of not giving these kids the sorts of treatment and care that are best practice according to everything that we know, or fleeing the state, or staying and risking some sort of criminal charge. The one that terrifies me is the idea of DSS [Department of Social Services] agents showing up to my door to take my kid away."
Bogard, who has been going to the state Capitol for five years now, says the experience of being back at the State Legislature has been simultaneously "awful and affirming."
"What's remarkable is you go in and two-thirds of the people who are sponsoring these bills or testifying in favor of these bills are using overtly Christian theological language when they're talking about the why," he explained. "And then you look around and the people who are showing up to protect trans kids are Jews."
"I'm just so proud of our Jewish community, the way we have shown up around this issue here in Missouri," Bogard said, remarking on the decades-long history of Jewish-led LGBTQ advocacy in the state. (The founder of the statewide LGBTQ advocacy group PROMO, which is not itself a Jewish group, was founded by Rabbi Susan Talve, one of the founding members of Bogard's synagogue. Shira Berkowitz, a Jewish summer camp friend of Bogard's, is the senior director of public policy and advocacy at the organization, and last year, Bogard and Berkowitz launched a summer camp for trans kids.)
The new principal of Saul Mirowitz Jewish Community School, Raquel Scharf-Anderson, made the two-hour drive early on Jan. 24 to testify on behalf of her students.
"I make all of my decisions in the best interest of children," Scharf-Anderson told the Jewish Telegraphic Agency. "Anything that would impact the students in my school, I want them to see me standing with them."
The sports bills in particular, she said, would impact trans students at private schools, like Mirowitz.
Over the course of the Jan. 24 hearing, Rachel Aguirre, a special education teacher who ran unsuccessfully for State Senate in the Republican primary in 2022, argued that the government was "founded upon the word of God," and therefore athletes should only play on teams whose gender matches the sex they were assigned at birth. Nancy Delcour, another witness testifying in favor of the bill, also cited the biblical principle that humankind was created in God's image, and an attempt to change that is the work of Satan.
Before the nine-hour long hearing was over, another interpretation of the principle of "the image of God" was explored on the hearing room floor.
"As a Jew, this is something that speaks to me quite a bit. We call it 'b'tzelem Elokim' — 'created in the image of God,' literally," said Russel Neiss, a Jewish educator and technologist and the parent of a trans child. "But the way we understand this is that God bestows a special honor onto humans that requires that we need to be treated with dignity and we need to treat others with dignity."
Maharat Rori Picker Neiss, the executive director of the Jewish Community Relations Council of St. Louis, a rabbi, and the wife of Russel Neiss, also testified against the bills and in support of their child.
"Sitting here for the past two hours has been one of the most painful things that I've ever had to do as a mother and we've been doing this for four years," she said. Picker-Neiss stayed home from the Jan. 31 Senate hearing for the first time in four years — but was back at the Capitol fighting for her child's rights by the next day.
Next week, as another bill limiting what can be said about trans identity in schools makes its way through the Missouri chambers, Scharf-Anderson says school leadership will return to the state Capitol.
"We know that children imitate what we do, and we want to make sure that we're being good role models for them," she said. "And we will continue to stand by the children that we need to support who are part of our school and in our broader community."
—
The post Missouri Jewish leaders advocate for trans rights at state legislature appeared first on Jewish Telegraphic Agency.
Focus group Oct. 11 at Simkin Centre for people concerned about personal care homes

As Manitobans have gone to the polls and with a new legislative assembly about to begin a new four-year term, the challenges of long-term and continuing care homes need to be communicated.
MARCHE, the Manitoba Association of Residential and Community Care Homes for the Elderly will be holding a focus group on Wednesday, October 11 that is intended to provide the community at large a forum to express thoughts and provide ideas and recommendations for the future.
Please join us on Wednesday, October 11th at the Saul & Claribel Simkin Centre. We look forward to hearing from you.
See poster below for more information and how to register to attend.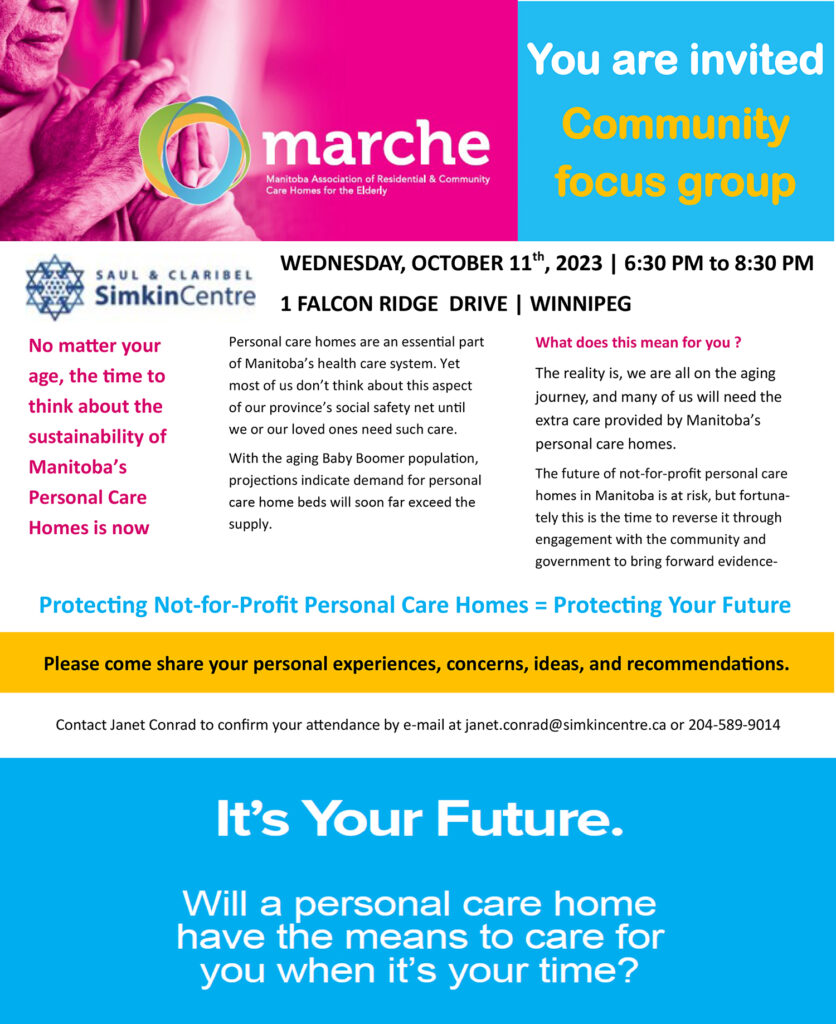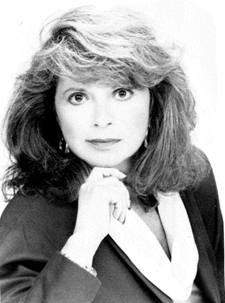 Phyllis Pollock died at home Sunday September 3, 2023 in Winnipeg, after a courageous lifetime battle with cancer.
Phyllis was a mother of four: Gary (Laura), daughter Randi, Steven (deceased in 2010) (Karen), and Robert. Phyllis also had two grandchildren: Lauren and Quinn.
Born in Fort Frances, Ontario on February 7, 1939, Phyllis was an only child to Ruby and Alex Lerman. After graduating high school, Phyllis moved to Winnipeg where she married and later divorced Danny Pollock, the father of her children. She moved to Beverly Hills in 1971, where she raised her children.
Phyllis had a busy social life and lucrative real estate career that spanned over 50 years, including new home sales with CoastCo. Phyllis was the original sales agent for three buildings in Santa Monica, oceanfront: Sea Colony I, Sea Colony II, and Sea Colony. She was known as the Sea Colony Queen. She worked side by side with her daughter Randi for about 25 years – handling over 600 transactions, including sales and leases within the three phases of Sea Colony alone.
Phyllis had more energy than most people half her age. She loved entertaining, working in the real estate field, meeting new and interesting people everyday no matter where she went, and thrived on making new lifelong friends. Phyllis eventually moved to the Sea Colony in Santa Monica where she lived for many years before moving to Palm Desert, then Winnipeg.
After battling breast cancer four times in approximately 20 years, she developed metastatic Stage 4 lung cancer. Her long-time domestic partner of 27 years, Joseph Wilder, K.C., was the love of her life. They were never far apart. They traveled the world and went on many adventures during their relationship. During her treatment, Phyllis would say how much she missed work and seeing her clients. Joey demonstrated amazing strength, love, care, and compassion for Phyllis as her condition progressed. He was her rock and was by her side 24/7, making sure she had the best possible care. Joey's son David was always there to support Phyllis and to make her smile. Joey's other children, Sheri, Kenny, Joshua and wife Davina, were also a part of her life. His kids would Facetime Phyllis and include her during any of their important functions. Phyllis loved Joey's children as if they were her own.
Thank you to all of her friends and family who were there to support her during these difficult times. Phyllis is now, finally, pain free and in a better place. She was loved dearly and will be greatly missed. Interment took place in Los Angeles.
Gwen Centre Creative Living Centre celebrates 35th anniversary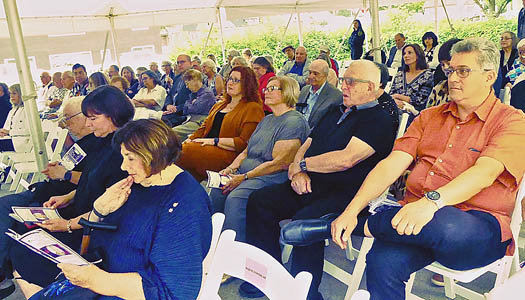 By BERNIE BELLAN Over 100 individuals gathered at the Gwen Secter Centre on Tuesday evening, July 18 – under the big top that serves as the venue for the summer series of outdoor concerts that is now in its third year at the centre.
The occasion was the celebration of the Gwen Secter Centre's 35th anniversary. It was also an opportunity to honour the memory of Sophie Shinewald, who passed away at the age of 106 in 2019, but who, as recently as 2018, was still a regular attendee at the Gwen Secter Centre.
As Gwen Secter Executive Director Becky Chisick noted in her remarks to the audience, Sophie had been volunteering at the Gwen Secter Centre for years – answering the phone among other duties. Becky remarked that Sophie's son, Ed Shinewald, had the phone number for the Gwen Secter Centre stored in his phone as "Mum's work."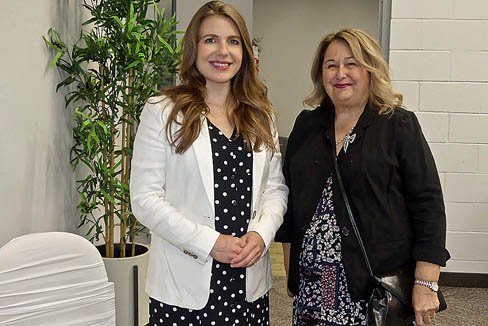 Remarks were also delivered by Raquel Dancho, Member of Parliament for Kildonan-St. Paul, who was the only representative of any level of government in attendance. (How times have changed: I remember well the steadfast support the former Member of the Legislature for St. John's, Gord Mackintosh, showed the Gwen Secter Centre when it was perilously close to being closed down. And, of course, for years, the area in which the Gwen Secter Centre is situated was represented by the late Saul Cherniack.)
Sophie Shinewald's granddaughter, Alix (who flew in from Chicago), represented the Shinewald family at the event. (Her brother, Benjamin, who lives in Ottawa, wasn't able to attend, but he sent a pre-recorded audio message that was played for the audience.)
Musical entertainment for the evening was provided by a group of talented singers, led by Julia Kroft. Following the concert, attendees headed inside to partake of a sumptuous assortment of pastries, all prepared by the Gwen Secter culinary staff. (And, despite my asking whether I could take a doggy bag home, I was turned down.)