With 'Let It Be Morning' and 'Cinema Sabaya,' Israeli filmmakers are winning awards for portraying Palestinian stories
(JTA) — Years ago, the Israeli filmmaker Orit Fouks Rotem took a class led by director Eran Kolirin, best known as the maker of "The Band's Visit." This month, movies by both filmmakers are getting theatrical rollouts in the United States.
On a recent Zoom call, Palestinian author Sayed Kashua joked: "Was that his class — how to use a Palestinian story?"
Kashua was smiling on Zoom as he said it — he is, after all, known for his often fatalistic sense of humor, particularly when it comes to the Israeli-Palestinian conflict. And the author had given his blessing for Kolirin to make an adaptation of his novel "Let It Be Morning," and said he loved the final result. 
But like most jokes, this one had a kernel of truth: Israel's two most recent Oscar submissions, hitting New York's Quad Cinema within a week of each other, both — to varying degrees — tell Palestinian stories. 
"Let It Be Morning" is a dark comedy about an Arab Israeli village that has suddenly and with no explanation been cordoned off from the rest of the country by the Israeli military. This event forces its Palestinian residents, including a protagonist trying to return to his comfortable middle-class life in Jerusalem, to reckon with how their dignity as citizens has been denied to them by the mechanisms of the Israeli occupation. At the Quad, the film is accompanied by a retrospective of Kolirin's work, including "The Band's Visit," the basis for the Tony Award-winning musical; the retrospective is sponsored by the Israeli consulate in New York.
The following week will see the opening of Rotem's film, "Cinema Sabaya." It follows a group of eight women, some Jewish and some Arab and Palestinian, who bond with each other while taking a filmmaking class in a community center in the Israeli city of Hadera. Cast member Dana Ivgy, who plays the class's instructor, told the Jewish Telegraphic Agency that the filming experience "felt like how living in Israel should feel," adding, "We have more women in the film than in the Israeli government."
Stylistically, the two films couldn't be more different. "Let It Be Morning" is a tightly plotted narrative with boldly realized characters; almost all of its dialogue is in Arabic. "Cinema Sabaya" is a loose, heavily improvisational piece that is almost entirely set in one room, and is mostly in Hebrew (although in one tense early scene, the characters debate whether to conduct their class in Hebrew or Arabic). One is a dry, Kafkaesque satire; the other is an intimate, naturalistic drama.
But together, the films provide a snapshot of the delicate dance Israeli filmmakers must perform in the current climate. On the one hand, these art-house directors are being feted on the international stage for their empathetic storytelling that incorporates or even centers entirely on Palestinian characters. But on the other, they're being attacked by government officials for their perceived insufficient loyalty — and their films' very status as "Israeli" is being questioned, too, sometimes by their own cast and crew.
"Everyone can call it what they want," Rotem said of her film. "I'm an Israeli and it's in Israel, but I have partners who call themselves Palestinians, and some of them call themselves Arabs, and each one defined herself. I think it's really how it should be."
"A film does not have an identity," Kolirin insisted in an interview with JTA. "It is a citizen of the screen."
Kolirin isn't a fan of the label "Israeli film" in this case, even though that is how "Let It Be Morning" was categorized at its 2021 Cannes Film Festival premiere; its own press notes also list Israel as the "country of production." That Cannes screening took place shortly after Israel's deadly conflict with Hamas that killed more than 250 Palestinians in the Gaza Strip and around a dozen Israelis. The events turned Cannes into a political firestorm when the film's Palestinian cast refused to attend the premiere.
"We cannot ignore the contradiction of the film's entry into Cannes under the label of an 'Israeli film' when Israel continues to carry its decades-long colonial campaign of ethnic cleansing, expulsion, and apartheid against us — the Palestinian people," the cast's statement read in part. 
"Each time the film industry assumes that we and our work fall under the ethno-national label of 'Israeli,' it further perpetuates an unacceptable reality that imposes on us, Palestinian artists with Israeli citizenship," the statement continues, calling on "international artistic and cultural institutions" to "amplify the voices of Palestinian artists and creatives."
Kolirin himself supported the cast's action. He knew they were grieving over the outbreak of violence in Gaza and didn't want to put themselves in a situation where "some politician is going to wave a flag over their head or whatever." 
What's more, he said, the status of "Let It Be Morning" as an "Israeli" film, despite the fact that around half the crew was Palestinian, was not his decision: "The film was not submitted to Cannes as an Israeli film," he said. "You know, you fill in the form: 'Which were the countries that gave money?'" In this case, the answer was Israel and France.
Most of the cast later did not attend the Ophir Awards ceremony, Israel's equivalent to the Oscars voted on by its filmmaking academy, where "Morning" won the top prize (which automatically made it Israel's Oscar submission for that year). In solidarity at the awards, Kolirin read aloud a statement from his lead actress, Juna Suleiman, decrying Israel's "active efforts to erase Palestinian identity" and what she called "ethnic cleansing."
"Cinema Sabaya" hasn't played host to as much offscreen controversy, but its vision of Israeli multiculturalism is still inherently political. Rotem's mother is a local government adviser on women's issues in Hadera, and the film was inspired by her experience participating in a photography class designed to unite Jewish and Arab women. Rotem herself later led filmmaking classes in a similar vein as research for "Sabaya." 
In the film, Ivgy's character, who is modeled on Rotem, instructs her class to film their home lives, while secretly hoping to make a movie from their efforts. When her desire to do so is revealed, the women in the class feel betrayed: They thought they were just making films for themselves, not for their stories to be told by someone else.
Similarly, Rotem said that working with Arab and Palestinian actresses made her "aware to the fact that I can't really tell their story." Her solution was to allow the performers — some of whom are well-known activists who had to think twice about appearing in an Israeli movie — to voice their own opinions, and to establish the necessary trust to allow them to be unscripted on camera.
She theorizes that "Cinema Sabaya" has been so well received in Israel because "it doesn't say 'occupation, occupation, occupation.' It says 'humanity,' so people are less afraid." (She also noted that, in real life, the women who attended her filmmaking classes bristled at her initial suggestion to make a documentary about them, telling her to fictionalize their stories instead — which she did.)
Lately the Israeli government has a tendency to view its filmmaking class as agitators unworthy of national support, particularly when they make films criticizing the occupation. Former Culture Minister Miri Regev often disparaged films she thought were bad for Israel, including celebrated international hits such as "Foxtrot" and "Synonyms." Her current successor, Miki Zohar, has already threatened the makers of a new documentary about the West Bank city of Hebron, saying the movie smears the military and that the directors might have to return government funds. 
In recent years, Israel's culture ministry has pushed two new controversial proposals: a grant program earmarked for those who make films in settlements, which are considered illegal under international law; and a form pledging not to make films "offensive" to Israel or the military that filmmakers would be required to sign in order to apply for certain grants, which many directors have likened to a loyalty oath. For years, some of the country's largest grantmakers have required applicants to sign a form promising to represent their projects as Israeli on the national stage.
There has also been an effort among some members of Prime Minister Benjamin Netanyahu's new right-wing government to end funding to public broadcaster Kan, which the country's film industry views as another attack on its free expression.
"Kan has all this dialogue," Ivgy said. "It has Jewish and religious and Arab and Palestinian, for kids and for grownups. And nothing is taboo there. I feel that it's very dangerous to close that option down."
Many Israeli filmmakers are fighting back. Hundreds, including Kolirin and Rotem, have refused to sign the ministry's pledge, and many have also protested the settlement grant program. Nadav Lapid, one of the country's most celebrated and outspoken directors, harshly critiqued government restrictions placed on his own work in the 2021 drama "Ahed's Knee," which went on to win a special prize at Cannes.
Kolirin said he had recently been on a call with several Israeli filmmakers looking to further organize against artistic restrictions, and that it had given him hope. "I had this feeling of some optimism, which I didn't have for a long time," he said. But he didn't mince words when discussing Israel's new governing coalition, which he likened to "a circus of mad dogs unleashed." 
Rotem said that the current government is "very, very bad and scary," but that it has only strengthened her resolve to make political films.
"For me, it's also political to show women in Israel in a deep way: I mean Arabs and Jews," she said. "Because I don't think there are enough films that are doing that."
For Kashua, a veteran TV writer and opinion columnist, the question of identity in Israeli and Palestinian filmmaking is even more pronounced. After a long career of trying to write about the Palestinian experience in Hebrew as a way of reaching Israelis, he left Israel for the United States in 2014, becoming discouraged by an incident in which Jewish extremists burned a Palestinian teenager alive as revenge after Palestinian terrorists kidnapped Israeli soldiers. Now based in St. Louis, he has worked as a writer and story editor on Israeli series that center on both Palestinian and Jewish stories — including the global hit "Shtisel," which focuses on haredi Orthodox Jews, and its upcoming spinoff, along with "Madrasa," a young-adult series about a bilingual Hebrew-Arabic school.
Israeli filmmakers choosing to center Palestinian stories can be its own radical political act, Kashua believes. He noted that the dialogue in "Morning" is almost entirely in Arabic, a language that Israel demoted from national language status in 2018 — doubly ironic as he had deliberately chosen to write his original novel in Hebrew. 
"The idea that this film is 'Israeli' — it really contradicts the idea of Israel being a purely Jewish state," Kashua said. He added that, while he had initially hoped a Palestinian director might have adapted his novel, he was ultimately happy with Kolirin's approach.
"I truly love the movie, and it's barely Orientalist," he joked, echoing Palestinian-American intellectual Edward Said's famous book about how a Western lens on Eastern cultures can be reductive and harmful. "Which is a big achievement for an Israeli filmmaker."
—
The post With 'Let It Be Morning' and 'Cinema Sabaya,' Israeli filmmakers are winning awards for portraying Palestinian stories appeared first on Jewish Telegraphic Agency.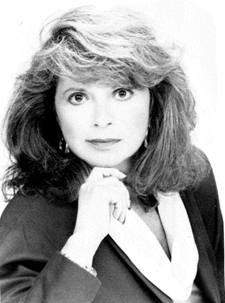 Phyllis Pollock died at home Sunday September 3, 2023 in Winnipeg, after a courageous lifetime battle with cancer.
Phyllis was a mother of four: Gary (Laura), daughter Randi, Steven (deceased in 2010) (Karen), and Robert. Phyllis also had two grandchildren: Lauren and Quinn.
Born in Fort Frances, Ontario on February 7, 1939, Phyllis was an only child to Ruby and Alex Lerman. After graduating high school, Phyllis moved to Winnipeg where she married and later divorced Danny Pollock, the father of her children. She moved to Beverly Hills in 1971, where she raised her children.
Phyllis had a busy social life and lucrative real estate career that spanned over 50 years, including new home sales with CoastCo. Phyllis was the original sales agent for three buildings in Santa Monica, oceanfront: Sea Colony I, Sea Colony II, and Sea Colony. She was known as the Sea Colony Queen. She worked side by side with her daughter Randi for about 25 years – handling over 600 transactions, including sales and leases within the three phases of Sea Colony alone.
Phyllis had more energy than most people half her age. She loved entertaining, working in the real estate field, meeting new and interesting people everyday no matter where she went, and thrived on making new lifelong friends. Phyllis eventually moved to the Sea Colony in Santa Monica where she lived for many years before moving to Palm Desert, then Winnipeg.
After battling breast cancer four times in approximately 20 years, she developed metastatic Stage 4 lung cancer. Her long-time domestic partner of 27 years, Joseph Wilder, K.C., was the love of her life. They were never far apart. They traveled the world and went on many adventures during their relationship. During her treatment, Phyllis would say how much she missed work and seeing her clients. Joey demonstrated amazing strength, love, care, and compassion for Phyllis as her condition progressed. He was her rock and was by her side 24/7, making sure she had the best possible care. Joey's son David was always there to support Phyllis and to make her smile. Joey's other children, Sheri, Kenny, Joshua and wife Davina, were also a part of her life. His kids would Facetime Phyllis and include her during any of their important functions. Phyllis loved Joey's children as if they were her own.
Thank you to all of her friends and family who were there to support her during these difficult times. Phyllis is now, finally, pain free and in a better place. She was loved dearly and will be greatly missed. Interment took place in Los Angeles.
Gwen Centre Creative Living Centre celebrates 35th anniversary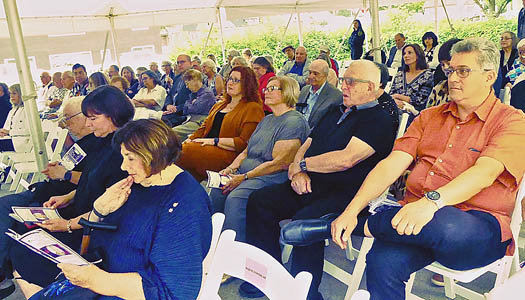 By BERNIE BELLAN Over 100 individuals gathered at the Gwen Secter Centre on Tuesday evening, July 18 – under the big top that serves as the venue for the summer series of outdoor concerts that is now in its third year at the centre.
The occasion was the celebration of the Gwen Secter Centre's 35th anniversary. It was also an opportunity to honour the memory of Sophie Shinewald, who passed away at the age of 106 in 2019, but who, as recently as 2018, was still a regular attendee at the Gwen Secter Centre.
As Gwen Secter Executive Director Becky Chisick noted in her remarks to the audience, Sophie had been volunteering at the Gwen Secter Centre for years – answering the phone among other duties. Becky remarked that Sophie's son, Ed Shinewald, had the phone number for the Gwen Secter Centre stored in his phone as "Mum's work."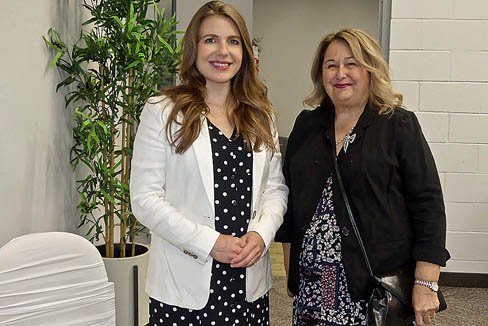 Remarks were also delivered by Raquel Dancho, Member of Parliament for Kildonan-St. Paul, who was the only representative of any level of government in attendance. (How times have changed: I remember well the steadfast support the former Member of the Legislature for St. John's, Gord Mackintosh, showed the Gwen Secter Centre when it was perilously close to being closed down. And, of course, for years, the area in which the Gwen Secter Centre is situated was represented by the late Saul Cherniack.)
Sophie Shinewald's granddaughter, Alix (who flew in from Chicago), represented the Shinewald family at the event. (Her brother, Benjamin, who lives in Ottawa, wasn't able to attend, but he sent a pre-recorded audio message that was played for the audience.)
Musical entertainment for the evening was provided by a group of talented singers, led by Julia Kroft. Following the concert, attendees headed inside to partake of a sumptuous assortment of pastries, all prepared by the Gwen Secter culinary staff. (And, despite my asking whether I could take a doggy bag home, I was turned down.)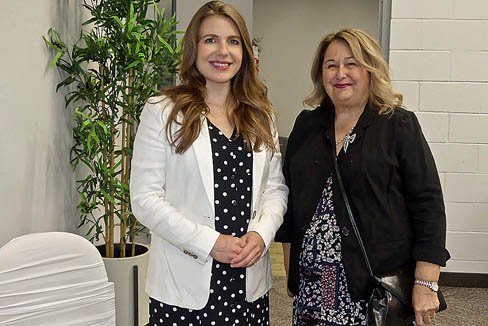 Palestinian gunmen kill 4 Israelis in West Bank gas station
This is a developing story.
(JTA) — Palestinian gunmen killed four people and wounded four in a terror attack at a gas station near the West Bank settlement of Eli, the Israeli army reported.
An Israeli civilian returning fire at the scene of the attack on Tuesday killed one of the attackers, who emerged from a vehicle, and two others fled.
Kan, Israel's public broadcaster, said one of those wounded was in serious condition. The gunmen, while in the vehicle, shot at a guard post at the entry to the settlement, and then continued to the gas station which is also the site of a snack bar. A nearby yeshiva went into lockdown.
Israeli Defense Minister Yoav Gallant announced plans to convene a briefing with top security officials within hours of the attack. Kan reported that there were celebrations of the killing in major West Bank cities and in the Gaza Strip, initiated by terrorist groups Hamas and Palestinian Islamic Jihad. Hamas said the shooting attack Tuesday was triggered by the Jenin raid.
The shooting comes as tensions intensify in the West Bank. A day earlier, Israeli troops raiding the city of Jenin to arrest accused terrorists killed five people.
The Biden administration spoke out over the weekend against Israel's plans to build 4,000 new housing units for Jewish settlers in the West Bank. Israeli Prime Minister Benjamin Netanyahu also finalized plans to  transfer West Bank building decisions to Bezalel Smotrich, the extremist who is the finance minister. Smotrich has said he wants to limit Palestinian building and expand settlement building.
Kan reported that the dead terrorist was a resident of a village, Urif, close to Huwara, the Palestinian town where terrorists killed two Israeli brothers driving through in February. Settlers retaliated by raiding the village and burning cars and buildings.
—
The post Palestinian gunmen kill 4 Israelis in West Bank gas station appeared first on Jewish Telegraphic Agency.