Netanyahu ally wants to stop Diaspora donors from funding pluralistic education in Israeli schools
(JTA) — In 2019, Israel's Noam party drafted an internal report about an alleged plot by foreign forces to take control of the country's schools in order to teach pluralistic values. At the time the party's far-right leader, Avi Maoz, was a fringe politician with no authority to carry out the "cleansing" of which he dreamed. 
Among the forces allegedly seeking to corrupt Israeli children, Maoz's report named the European Union and the liberal New Israel Fund, both of which are longtime nemeses of the Israeli right.
But the plot to deny children what Noam considers a proper Jewish education doesn't stop with the EU and NIF, according to the report. It also blamed many of the mainstream institutions of British and American Jewry, including the Reform movement's Hebrew Union College, the Shalom Hartman Institute think tank, and U.S. donors to Israeli civil society organizations such as the Slifka and Mandel foundations. 
"We must protect our people and our state from the infiltration of the alien bodies that arrive from foreign countries, foreign bodies, foreign foundations," Maoz once said, according to Haaretz. "I would be very happy to have sufficient power to be appointed minister of education, to cleanse the entire education system of all foreign influences and to add Judaism, tradition, heritage and Zionism to the education system."
Maoz hasn't been appointed minister of education, but his dream of banishing these groups came a little closer to reality in December when Benjamin Netanyahu cut a deal with Maoz to form his government. In negotiations, Maoz had secured an appointment as a deputy minister in the Prime Minister's Office under Netanyahu with control over extracurricular content in schools through a new department called the Jewish National Identity Authority. A few weeks later, Netanyahu's cabinet took a critical step toward putting Maoz in charge. 
Amid headlines about Maoz's ascendance, someone leaked to the Israeli newspaper Yedioth Ahronoth the Noam party's 2019 education memo along with other internal reports focused on perceived enemies in the Israeli military and Justice Ministry, and on LGBTQ individuals in general. 
While the Israeli press referred to the reports as "blacklists," the backlash to them has become subsumed in the general outcry over Israel's new far-right government, including the anti-gay politics popular among many new members and the plan to strip Israel's judicial branch of some of its powers. 
Yet it's in the area of education that the Noam party has the clearest path forward to accomplishing a specific political goal. And success for Noam could lead to a new type of rift between Israel and American Jews. The organizations he attacks are more than charities for Israeli school children — through their billions of dollars in donations, the institutions of American Jewry made themselves into partners in the very founding and development of the Jewish state. 
In his new position, he would oversee funding and accreditation for external programs in Israeli schools. Each school can choose from thousands of approved programs, which range from sexual education and bar mitzvah preparation, to the types of pluralistic lesson plans — often meaning alternatives to the strictly religious or strictly secular options offered in Israeli schools — that Maoz has railed against. 
For Yehuda Kurtzer, the president of the Shalom Hartman Institute of North America, whose Israeli branch was named in the Naom report, Maoz's rhetoric betrays ignorance about the integral role of outside contributions in Israeli history. 
"It's not clear to me that these folks understand the depth of how Diaspora Jews have invested in the whole infrastructure of Israeli civil society since the founding of the State of Israel," Kurtzer said. "So the portrayal of this as somehow Diaspora Jews are burrowing under the system — well, that is basically the whole story of how Zionism succeeded."
Mark Charendoff, a longtime executive in Jewish philanthropy, also pushed back against Noam.
"There is a long and positive history of Diaspora Jewry's involvement with education in Israel," said Charendoff , who currently serves as the president of the Maimonides Fund, an increasingly influential New York-based charity. "The Israeli school system should certainly protect its integrity but even [the medieval sage] Maimonides found wisdom he could learn from among other cultures and used it to enrich our own."
The Noam party memos, at least one of which Maoz has endorsed as a blueprint for his tenure, were obtained by Israeli journalist Nadav Eyal, and recently shared with the Jewish Telegraphic Agency. Here are the American Jewish charities named in the memo and which of their programs were targeted:
The Cleveland-based Mandel Foundation is singled out for the leadership training it offers education professionals. The report says Mandel has spent more than $58 million on this effort and is accused of harboring a liberal agenda. Mandel programs have included training for educators from across the denominational spectrum.
The Abraham Initiatives, which is based in the United States, the United Kingdom and Israel and promotes equal rights for Israel's Jewish and Arab citizens, is described as a Jewish-Arab left-wing group. The report also singles out the programs, schools and teacher trainings aimed at supporting reconciliation and coexistence between Jews and Arabs.
The Shalom Hartman Institute, with offices in Jerusalem and New York City, earns a mention in the memo thanks to its Be'eri Program for Pluralistic Jewish-Israeli Identity, which is dedicated to enhancing Jewish and democratic values among secondary school educators and their students in Israel.
American Judaism's Conservative movement is implicated through the Schechter Institutes which it sponsors and the affiliated Tali Education Fund. Dozens of schools throughout Israel receive curriculum materials related to pluralistic Jewish culture and heritage from Tali.
The U.S.-based Reform movement makes the list thanks to the training offered to Jewish education teachers as part of a program run jointly by the Reform-affiliated Hebrew Union College and Hebrew University.
The New York City-based Alan B. Slifka Foundation is named in the memo as a supporter of the Abraham Initiatives and the Shalom Hartman Institute.
The Russell Berrie Foundation, which is headquartered in Teaneck, New Jersey, is included because of its contributions to the New Israel Fund and the Shalom Hartman Institute.
With offices in Israel and Silicon Valley, Israel Venture Network makes the list over its support for an independent program that trains all administrators in the Israeli school system.
Headquartered in New York City, the New Israel Fund is described as one of the main organs in the alleged conspiracy. "The New Israel Fund and funds affiliated with it have set out to take control of the education system," read the first line of the report. 
The organizations are named as "examples" in the memo, suggesting that the list is not exhaustive. Guilt by association with any of these groups would implicate a wide swath of American Jewry. IVN, or Israel Venture Network, for example, receives funding from the Jewish federations of multiple American cities and the Weinberg Foundation. The Abraham Initiatives lists numerous mainstream Jewish donors including the Klarman Family Foundation and late Supreme Court Justice Ruth Bader Ginsburg. 
Kurtzer said the leaked memos didn't come as much of a shock to him. Any organization that is "pro-democracy, pro-pluralism, and believes in strong relationships between Israel and the diaspora" is familiar with being targeted in this way, he said. 
"Some of the elements of the far right have built a whole industry on classifying anybody who has commitments to any of these values and branding them as anti-democratic and anti-Jewish, anti-Zionist," Kurtzer said. "It hasn't really stopped our work in Israel, though, sometimes it makes it unpleasant and uncomfortable to have to fend off some of these accusations."
One of the largest donors to Shalom Hartman Institute goes unmentioned in Noam's report: the Claws Foundation, which has given the institute millions of dollars. It would be hard to condemn this particular foundation as a liberal interloper: Claws is run by Jeff Yass and Arthur Dantchik, a pair of American Wall Street billionaires and prominent libertarians who are reviled by the Israeli left. In 2021, Haaretz revealed that Yass and Dantchik are major donors to the Kohelet Policy Forum, an influential Israeli think tank behind many of the recent landmark initiatives of the right. 
Maoz's politics also fit awkwardly with those of his own political predecessors, said Eitan Cooper, executive vice president of the Schechter Institutes of Jewish Studies. Cooper helps run one of the programs targeted by Maoz, the Tali Education Fund, which provides a non-Orthodox Jewish curriculum to about 80 secular Israeli schools. 
Cooper recalled how the Tali program got started in the 1980s with the help of Zevulun Hammer, who served as Israel's education minister for many years while helping lead the National Religious Party. Noam is one of the offshoots to have emerged after the National Religious Party's dissolution in 2008. 
"Hammer was the one who adopted Tali as education minister," Cooper said. "He thought it was great and in fact, he gave Tali its name."
But Cooper also said that there had always been fringe members of Hammer's circle who looked at Tali with skepticism because of its non-Orthodox orientation. Some even alleged that the program was run by covert Christian missionaries. 
Prior experience has steeled Cooper for this moment, and he said he's not particularly concerned that Maoz's threats will pan out. 
"This kind of negative response to what we do has always existed," Cooper said. "The educational ministry continues on, it sets the criteria for the programs that are accepted. I really don't know what he is positioned to do. He hasn't done anything yet."
He believes that the demand for Tali's content ensures the program will carry on. 
"Our target audience is still out there," he said. 
Nachum Blass, who chairs the education policy program at the Taub Center for Social Policy Studies in Israel, regards it as inevitable that Maoz will secure authority over external programs at schools. And Blass said that Maoz could proceed to cancel programs he didn't like or block new programs.
"There are thousands of programs," Blass said. "If Maoz wants to review every program and decide which to cancel, it's a very long process, and he will face lawsuits and petition to the Supreme Court."
But the bigger worry for Blass is the chilling effect of Maoz's rhetoric. 
"The real danger," he said, "is that schools will censor themselves and not pick certain programs because they worry they doesn't fit the spirit of the times."
—
The post Netanyahu ally wants to stop Diaspora donors from funding pluralistic education in Israeli schools appeared first on Jewish Telegraphic Agency.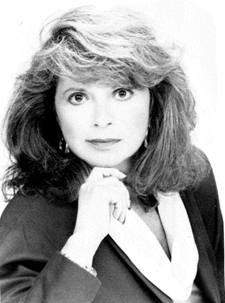 Phyllis Pollock died at home Sunday September 3, 2023 in Winnipeg, after a courageous lifetime battle with cancer.
Phyllis was a mother of four: Gary (Laura), daughter Randi, Steven (deceased in 2010) (Karen), and Robert. Phyllis also had two grandchildren: Lauren and Quinn.
Born in Fort Frances, Ontario on February 7, 1939, Phyllis was an only child to Ruby and Alex Lerman. After graduating high school, Phyllis moved to Winnipeg where she married and later divorced Danny Pollock, the father of her children. She moved to Beverly Hills in 1971, where she raised her children.
Phyllis had a busy social life and lucrative real estate career that spanned over 50 years, including new home sales with CoastCo. Phyllis was the original sales agent for three buildings in Santa Monica, oceanfront: Sea Colony I, Sea Colony II, and Sea Colony. She was known as the Sea Colony Queen. She worked side by side with her daughter Randi for about 25 years – handling over 600 transactions, including sales and leases within the three phases of Sea Colony alone.
Phyllis had more energy than most people half her age. She loved entertaining, working in the real estate field, meeting new and interesting people everyday no matter where she went, and thrived on making new lifelong friends. Phyllis eventually moved to the Sea Colony in Santa Monica where she lived for many years before moving to Palm Desert, then Winnipeg.
After battling breast cancer four times in approximately 20 years, she developed metastatic Stage 4 lung cancer. Her long-time domestic partner of 27 years, Joseph Wilder, K.C., was the love of her life. They were never far apart. They traveled the world and went on many adventures during their relationship. During her treatment, Phyllis would say how much she missed work and seeing her clients. Joey demonstrated amazing strength, love, care, and compassion for Phyllis as her condition progressed. He was her rock and was by her side 24/7, making sure she had the best possible care. Joey's son David was always there to support Phyllis and to make her smile. Joey's other children, Sheri, Kenny, Joshua and wife Davina, were also a part of her life. His kids would Facetime Phyllis and include her during any of their important functions. Phyllis loved Joey's children as if they were her own.
Thank you to all of her friends and family who were there to support her during these difficult times. Phyllis is now, finally, pain free and in a better place. She was loved dearly and will be greatly missed. Interment took place in Los Angeles.
Gwen Centre Creative Living Centre celebrates 35th anniversary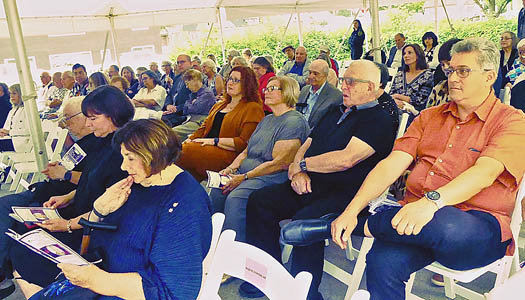 By BERNIE BELLAN Over 100 individuals gathered at the Gwen Secter Centre on Tuesday evening, July 18 – under the big top that serves as the venue for the summer series of outdoor concerts that is now in its third year at the centre.
The occasion was the celebration of the Gwen Secter Centre's 35th anniversary. It was also an opportunity to honour the memory of Sophie Shinewald, who passed away at the age of 106 in 2019, but who, as recently as 2018, was still a regular attendee at the Gwen Secter Centre.
As Gwen Secter Executive Director Becky Chisick noted in her remarks to the audience, Sophie had been volunteering at the Gwen Secter Centre for years – answering the phone among other duties. Becky remarked that Sophie's son, Ed Shinewald, had the phone number for the Gwen Secter Centre stored in his phone as "Mum's work."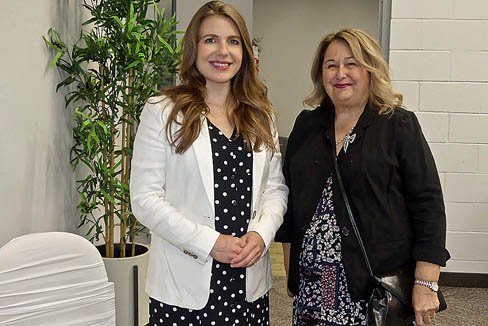 Remarks were also delivered by Raquel Dancho, Member of Parliament for Kildonan-St. Paul, who was the only representative of any level of government in attendance. (How times have changed: I remember well the steadfast support the former Member of the Legislature for St. John's, Gord Mackintosh, showed the Gwen Secter Centre when it was perilously close to being closed down. And, of course, for years, the area in which the Gwen Secter Centre is situated was represented by the late Saul Cherniack.)
Sophie Shinewald's granddaughter, Alix (who flew in from Chicago), represented the Shinewald family at the event. (Her brother, Benjamin, who lives in Ottawa, wasn't able to attend, but he sent a pre-recorded audio message that was played for the audience.)
Musical entertainment for the evening was provided by a group of talented singers, led by Julia Kroft. Following the concert, attendees headed inside to partake of a sumptuous assortment of pastries, all prepared by the Gwen Secter culinary staff. (And, despite my asking whether I could take a doggy bag home, I was turned down.)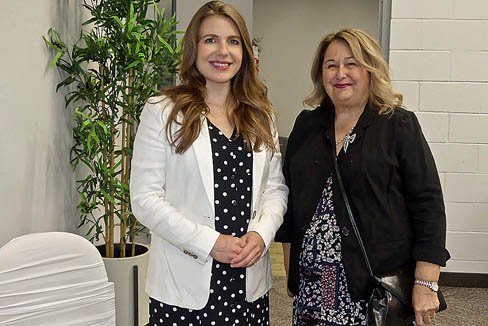 Palestinian gunmen kill 4 Israelis in West Bank gas station
This is a developing story.
(JTA) — Palestinian gunmen killed four people and wounded four in a terror attack at a gas station near the West Bank settlement of Eli, the Israeli army reported.
An Israeli civilian returning fire at the scene of the attack on Tuesday killed one of the attackers, who emerged from a vehicle, and two others fled.
Kan, Israel's public broadcaster, said one of those wounded was in serious condition. The gunmen, while in the vehicle, shot at a guard post at the entry to the settlement, and then continued to the gas station which is also the site of a snack bar. A nearby yeshiva went into lockdown.
Israeli Defense Minister Yoav Gallant announced plans to convene a briefing with top security officials within hours of the attack. Kan reported that there were celebrations of the killing in major West Bank cities and in the Gaza Strip, initiated by terrorist groups Hamas and Palestinian Islamic Jihad. Hamas said the shooting attack Tuesday was triggered by the Jenin raid.
The shooting comes as tensions intensify in the West Bank. A day earlier, Israeli troops raiding the city of Jenin to arrest accused terrorists killed five people.
The Biden administration spoke out over the weekend against Israel's plans to build 4,000 new housing units for Jewish settlers in the West Bank. Israeli Prime Minister Benjamin Netanyahu also finalized plans to  transfer West Bank building decisions to Bezalel Smotrich, the extremist who is the finance minister. Smotrich has said he wants to limit Palestinian building and expand settlement building.
Kan reported that the dead terrorist was a resident of a village, Urif, close to Huwara, the Palestinian town where terrorists killed two Israeli brothers driving through in February. Settlers retaliated by raiding the village and burning cars and buildings.
—
The post Palestinian gunmen kill 4 Israelis in West Bank gas station appeared first on Jewish Telegraphic Agency.