Pope Benedict XVI, who went from Hitler Youth to advancing Catholic-Jewish relations, dies at 95
(JTA) — Jewish groups are among those marking the death of Benedict XVI, the Catholic pontiff who died Saturday at 95, a decade after shocking the world by becoming the first pope since the Middle Ages to resign.
"It is with great sadness that I learned today that Pope Emeritus Benedict XVI has passed away," Ronald Lauder, president of the World Jewish Congress, said in a statement issued Saturday. "He was a towering figure of the Roman Catholic Church, both as pope and before that as the cardinal who gave the Catholic-Jewish relationship solid theological underpinning and enhanced understanding."
During his eight years as pope, Benedict took many steps to advance Catholic-Jewish relations. visiting synagogues and Israel and condemning antisemitism on multiple occasions.
But he also reintroduced liturgy praying for the conversion of Jews, accepted back into the church an excommunicated priest who denied the Holocaust and never completely satisfied some who wished to see him more fully denounce his own Nazi past.
Born Joseph Ratzinger in Germany in 1927, Benedict spent a portion of his teenage years in the Hitler Youth organization, something that was mandatory for boys in Germany at the time and that he explained as necessary to obtain a tuition discount at his seminary. Those who knew him at the time attested after his election as pope in 2005 that his participation was reluctant, and Jewish groups who worked with him after the war said he had long worked to rectify the association.
"Though as a teenager he was a member of the Hitler Youth, all his life Cardinal Ratzinger has atoned for the fact," the Anti-Defamation League said in a statement after his election as pope.
As priest and professor of theology in the 1960s, Ratzinger took part in the Second Vatican Council, a policy meeting of church leaders, as a theological advisor. It was at that council that the church's leadership rejected centuries of Catholic dogma and declared that the Jewish people should not be blamed for the death of Jesus. Their 1965 declaration, known as Nostra Aetate, recast the church's relations with the Jewish community.
Benedict's predecessor, Pope John Paul II, is remembered as the first pope to visit a  synagogue and, upon his ascension to the papacy, Benedict continued that tradition, making a habit of visiting with local Jewish communities on several of his international trips.
In 2008, on a papal visit to the United States, Benedict visited New York's Park East Synagogue on the eve of Passover, in the first visit by a pope to an American synagogue.
"Shalom! It is with joy that I come here, just a few hours before the celebration of your Pesach, to express my respect and esteem for the Jewish community in New York City," the pope said to the congregation, according to the church's records. "I find it moving to recall that Jesus, as a young boy, heard the words of Scripture and prayed in a place such as this."
The next year, Benedict visited Israel, in a trip that was largely focused around the common roots of Judaism, Christianity and Islam.
Related: Timeline of Pope Benedict XVI and the Jews (2013)
Upon Benedict's resignation in 2013, he was praised by Israel's Ashkenazi chief rabbi. "During his period there were the best relations ever between the church and the chief rabbinate, and we hope that this trend will continue," said the rabbi, Yona Metzger. "I think he deserves a lot of credit for advancing inter-religious links the world."
Despite the praise, Benedict's papacy ignited multiple episodes of criticism from Jews alarmed by the effects of his religious conservatism.
Early in his papacy, Benedict allowed for the expanded use of the Tridentine Mass — the pre-Vatican II Catholic liturgy also known as the Latin Mass — which includes a Good Friday prayer that many view as antisemitic because it prays for the conversion of Jews to Christianity. (Benedict's successor, Pope Francis, has curtailed the use of the Latin Mass, though not specifically because of its language about Jews.)
The ADL's then-leader, Abraham Foxman, was among many Jewish leaders to condemn Benedict's move.
'We are extremely disappointed and deeply offended that nearly 40 years after the Vatican rightly removed insulting anti-Jewish language from the Good Friday mass, it would now permit Catholics to utter such hurtful and insulting words by praying for Jews to be converted,' Foxman said. "'It is the wrong decision at the wrong time. It appears the Vatican has chosen to satisfy a right-wing faction in the church that rejects change and reconciliation."
In response to the criticism, Benedict altered the Good Friday liturgy to drop a reference to the "blindness" of the Jews, but he maintained language praying for Jews to convert to Christianity.
Benedict also drew criticism for his refusal to acknowledge the Catholic church's role in the Holocaust, and in particular, the role of the pope at the time, Pius XII — whose path to sainthood Benedict approved in 2009.
Pius has long been accused by Jewish groups of at best remaining silent, and at worst, being "Hitler's pope" as the Holocaust raged across Europe. While Catholics were involved in many cases of rescue across the continent, initiatives coming from the Vatican itself often applied only to practicing Catholics of Jewish descent, or required Jews to convert to Catholicism.
After the war, Pius' Vatican sheltered Ante Pavelic, the exiled leader of the Ustaše regime in the former Independent State of Croatia, a Catholic supremacist movement and Nazi puppet state that implemented the Holocaust in Western Yugoslavia. Jasenovac, the third-largest concentration camp in Europe, was built under the Ustaše rule and was the site of death for at least 100,000 people, including between 12,000 and 20,000 Jews.
The Vatican has long maintained that Pius worked to save Jews. Pius, Benedict said in 2008, "acted in a secret and silent way because, given the realities of that complex historical moment, he realized that it was only in this way that he could avoid the worst and save the greatest possible number of Jews."
Benedict faced the decision of whether to declare Pius "venerable," a crucial step in the path to sainthood. After initially deferring, he made the declaration in 2009. Now, the decision about whether Pius will be beatified, or declared a saint, could hinge on the contents of an archive that the Vatican is in the process of opening that includes materials about Pius' handling of the Holocaust.
"The Pope at War," a recent book by Pulitzer Prize-winning historian David Kertzer, the son of a rabbi, draws on these new archives to make the case that Pius largely ignored pleas from Jews (while keeping a secret back channel to Hitler); Pius' advisor used antisemitic language in urging him not to act on behalf of the Jews and the pope personally intervened to prevent Jewish children and their parents from being reunited, Kertzer concluded.
Benedict, who had access to the archive, worked to heal friction with the International Society of Saint Pius XII, a conservative faction within the Vatican that named itself after the wartime pope and added the "Saint" even though he lacked the title.
In early 2009, Benedict removed the excommunication of four priests from the society. Among them was Holocaust denier Richard Williamson, who claimed the Nazis' use of gas chambers to be a lie.
German Jewish leaders called Benedict's decision "a slap in the face for the Jewish community."
"The result of this move is very simple: to give credence to a man who is a Holocaust denier, which means that the sensitivity to us as Jews is not what it should be," Elie Wiesel said at the time. 
"The Vatican has done far more than set back Vatican-Jewish relations," the scholar (and current U.S. antisemitism monitor) Deborah Lipstadt wrote at the time. "It has made itself look like it is living in the darkest of ages."
Benedict said he had not known about Williamson's views and pressed him to recant them, but Williamson did not; the pope later said he had mishandled the situation.
Months later, during his visit to Israel, Benedict spoke outside of Yad Vashem, Israel's Holocaust memorial and museum. Though he denounced antisemitism in his remarks, he did not mention the words Germany or Nazi, nor did he reference any church involvement or his own experience in the Hitler Youth, or refer to the deaths of Europe's Jews as murder.
Benedict ultimately refused to enter the museum, due to its negative depiction of Pope Pius XII.
—
The post Pope Benedict XVI, who went from Hitler Youth to advancing Catholic-Jewish relations, dies at 95 appeared first on Jewish Telegraphic Agency.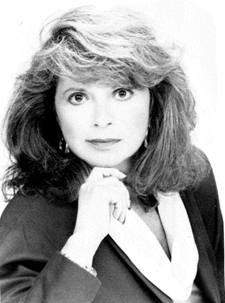 Phyllis Pollock died at home Sunday September 3, 2023 in Winnipeg, after a courageous lifetime battle with cancer.
Phyllis was a mother of four: Gary (Laura), daughter Randi, Steven (deceased in 2010) (Karen), and Robert. Phyllis also had two grandchildren: Lauren and Quinn.
Born in Fort Frances, Ontario on February 7, 1939, Phyllis was an only child to Ruby and Alex Lerman. After graduating high school, Phyllis moved to Winnipeg where she married and later divorced Danny Pollock, the father of her children. She moved to Beverly Hills in 1971, where she raised her children.
Phyllis had a busy social life and lucrative real estate career that spanned over 50 years, including new home sales with CoastCo. Phyllis was the original sales agent for three buildings in Santa Monica, oceanfront: Sea Colony I, Sea Colony II, and Sea Colony. She was known as the Sea Colony Queen. She worked side by side with her daughter Randi for about 25 years – handling over 600 transactions, including sales and leases within the three phases of Sea Colony alone.
Phyllis had more energy than most people half her age. She loved entertaining, working in the real estate field, meeting new and interesting people everyday no matter where she went, and thrived on making new lifelong friends. Phyllis eventually moved to the Sea Colony in Santa Monica where she lived for many years before moving to Palm Desert, then Winnipeg.
After battling breast cancer four times in approximately 20 years, she developed metastatic Stage 4 lung cancer. Her long-time domestic partner of 27 years, Joseph Wilder, K.C., was the love of her life. They were never far apart. They traveled the world and went on many adventures during their relationship. During her treatment, Phyllis would say how much she missed work and seeing her clients. Joey demonstrated amazing strength, love, care, and compassion for Phyllis as her condition progressed. He was her rock and was by her side 24/7, making sure she had the best possible care. Joey's son David was always there to support Phyllis and to make her smile. Joey's other children, Sheri, Kenny, Joshua and wife Davina, were also a part of her life. His kids would Facetime Phyllis and include her during any of their important functions. Phyllis loved Joey's children as if they were her own.
Thank you to all of her friends and family who were there to support her during these difficult times. Phyllis is now, finally, pain free and in a better place. She was loved dearly and will be greatly missed. Interment took place in Los Angeles.
Gwen Centre Creative Living Centre celebrates 35th anniversary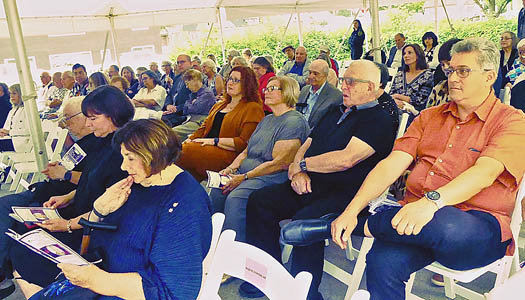 By BERNIE BELLAN Over 100 individuals gathered at the Gwen Secter Centre on Tuesday evening, July 18 – under the big top that serves as the venue for the summer series of outdoor concerts that is now in its third year at the centre.
The occasion was the celebration of the Gwen Secter Centre's 35th anniversary. It was also an opportunity to honour the memory of Sophie Shinewald, who passed away at the age of 106 in 2019, but who, as recently as 2018, was still a regular attendee at the Gwen Secter Centre.
As Gwen Secter Executive Director Becky Chisick noted in her remarks to the audience, Sophie had been volunteering at the Gwen Secter Centre for years – answering the phone among other duties. Becky remarked that Sophie's son, Ed Shinewald, had the phone number for the Gwen Secter Centre stored in his phone as "Mum's work."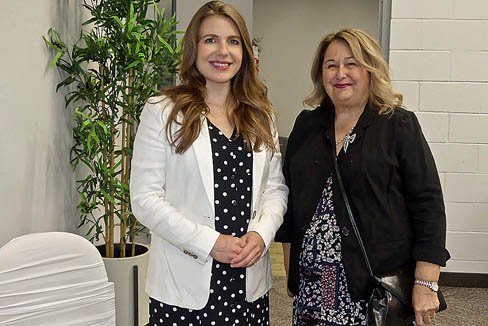 Remarks were also delivered by Raquel Dancho, Member of Parliament for Kildonan-St. Paul, who was the only representative of any level of government in attendance. (How times have changed: I remember well the steadfast support the former Member of the Legislature for St. John's, Gord Mackintosh, showed the Gwen Secter Centre when it was perilously close to being closed down. And, of course, for years, the area in which the Gwen Secter Centre is situated was represented by the late Saul Cherniack.)
Sophie Shinewald's granddaughter, Alix (who flew in from Chicago), represented the Shinewald family at the event. (Her brother, Benjamin, who lives in Ottawa, wasn't able to attend, but he sent a pre-recorded audio message that was played for the audience.)
Musical entertainment for the evening was provided by a group of talented singers, led by Julia Kroft. Following the concert, attendees headed inside to partake of a sumptuous assortment of pastries, all prepared by the Gwen Secter culinary staff. (And, despite my asking whether I could take a doggy bag home, I was turned down.)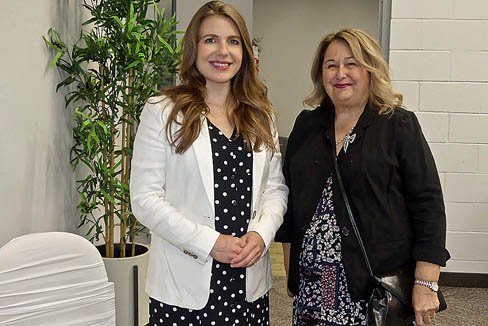 Palestinian gunmen kill 4 Israelis in West Bank gas station
This is a developing story.
(JTA) — Palestinian gunmen killed four people and wounded four in a terror attack at a gas station near the West Bank settlement of Eli, the Israeli army reported.
An Israeli civilian returning fire at the scene of the attack on Tuesday killed one of the attackers, who emerged from a vehicle, and two others fled.
Kan, Israel's public broadcaster, said one of those wounded was in serious condition. The gunmen, while in the vehicle, shot at a guard post at the entry to the settlement, and then continued to the gas station which is also the site of a snack bar. A nearby yeshiva went into lockdown.
Israeli Defense Minister Yoav Gallant announced plans to convene a briefing with top security officials within hours of the attack. Kan reported that there were celebrations of the killing in major West Bank cities and in the Gaza Strip, initiated by terrorist groups Hamas and Palestinian Islamic Jihad. Hamas said the shooting attack Tuesday was triggered by the Jenin raid.
The shooting comes as tensions intensify in the West Bank. A day earlier, Israeli troops raiding the city of Jenin to arrest accused terrorists killed five people.
The Biden administration spoke out over the weekend against Israel's plans to build 4,000 new housing units for Jewish settlers in the West Bank. Israeli Prime Minister Benjamin Netanyahu also finalized plans to  transfer West Bank building decisions to Bezalel Smotrich, the extremist who is the finance minister. Smotrich has said he wants to limit Palestinian building and expand settlement building.
Kan reported that the dead terrorist was a resident of a village, Urif, close to Huwara, the Palestinian town where terrorists killed two Israeli brothers driving through in February. Settlers retaliated by raiding the village and burning cars and buildings.
—
The post Palestinian gunmen kill 4 Israelis in West Bank gas station appeared first on Jewish Telegraphic Agency.