Prominent German rabbi resigns from leadership roles as report confirms allegations against him
BERLIN (JTA) – In a landmark step, investigators commissioned by Germany's main Jewish organization have concluded that abuse of power and sexual harassment did occur at Germany's liberal rabbinical seminary — and some of it, they say, may have crossed the line into illegality.
The 44-page "executive summary" of an investigation initiated by the Central Council of Jews in Germany is the latest and most damning report about the leadership of Rabbi Walter Homolka since accusations against him broke into public view last May.
Issued Wednesday after tense public conflict between the council and Homolka's attorneys, the report concludes that structural changes are required to set Germany's liberal rabbinical seminary, known as Abraham Geiger College, and other related Jewish institutions on the correct footing.
"A significant cause for the emergence of the problems identified by the investigators at the institutions under investigation is the personal misconduct of Rabbi Prof. Dr. Homolka in his function as a leader or person with great influence, which the investigators are convinced of," the investigators wrote in their report.
Homolka announced Monday that he would withdraw from all functions in the seminary that he and a German-born American rabbi named Walter Jacob, founded in 1999. He also dropped out of the running on Tuesday for another term as chair of the Union of Progressive Jews in Germany.
A more comprehensive report including details about incidents in which investigators concluded that Homolka and his husband engaged in misconduct is due out in January, according to the Cologne-based law firm Gercke Wollschläger.
The preliminary report was welcomed in a joint statement by the Central Council, the German Interior Ministry and the Brandenburg State Ministry of Science, Research and Culture, which said they would "continue to fund the Abraham Geiger College to the same extent as before until the structural new beginning has been completed."
It was also greeted with relief by the rabbinical student whose complaints kicked off the scandal.
"I think the report and the subsequent documents are a blessed development," Itamar Cohen told the Jewish Telegraphic Agency. "It seems to confirm many suspicions which I and others share. It does affirm that I did the right thing and [this] could be the beginning of a new chapter of liberal Judaism in Germany."
The scandal that erupted publicly in May began after Cohen sought help from Jonathan Schorsch, a professor at the School of Jewish Theology, in dealing with unsolicited pornographic material allegedly received from Homolka's husband, who was also an employee at the seminary. (Abraham Geiger College is part of the School of Jewish Theology, which itself is under the auspices of the University of Potsdam.)
A German newspaper's report about the allegations and an apparent effort to obscure them opened the floodgates for criticism of Homolka from past and current students, employees and colleagues. Homolka took a leave of absence from the numerous leadership roles he held with liberal Jewish religious and educational institutions that he had helped found since the late 1990s.
The scandal has shaken the foundations of modern liberal Judaism in Germany, and the new report suggests that those foundations were weak because they rested largely on one individual.
Josef Schuster, the president of the Central Council of German Jews, said the report made it clear that Homolka could not continue in his previous roles.
Homolka has rejected the allegations against him throughout, and his attorneys told German news media Wednesday that they believed the entire investigation was politically motivated. They accused Schuster of wanting to see Homolka exit Germany's liberal Jewish leadership and said the Central Council had failed to consider fully the statement Homolka had given to investigators.
The report is the first to emerge from a third-party investigation into the allegations against Homolka. A separate investigation by the University of Potsdam, released in late October, found that some of the accusations regarding abuse of power to be justified, but did not find any criminally actionable behavior and thus confirmed Homolka's ongoing employment there as professor. It did not investigate the sexual harassment accusations, as Homolka's husband had left his job by then.
The new report did scrutinize those allegations. The investigators said they found 13 specific incidents involving allegations against Homolka's husband. German libel law bars the publication of his name. Using what they called a "traffic light system," the investigators classified nine of these incidents as "red" cases, in which 25 instances of misconduct could be identified. Two of these cases involved the "initial suspicion of a criminal offense," they added.
Regarding allegations of abuse of power against Homolka himself, they found — after interviewing 73 individuals — a total of 45 concrete incidents, 14 of which they classified as "red," involving a total of 23 instances of misconduct. A detailed account of those cases, including responses that Homolka delivered earlier this week, will be included in the final report in January, they said.
More broadly, they said, their interviews had illuminated a culture of misconduct in which unchecked, unlawful or arbitrary decisions could be made largely because of a consolidation of power under Homolka. He presided over an institution ruled by a "culture of fear," the investigators found, leaving employees and students alike less likely to express criticism or concerns because of the possibility of reprisals.
The investigators said structural changes were needed if there was any hope of shifting the culture. "As long as institutions are in private hands or even in the hands of an individual, or at any rate within the essential sphere of influence of the person who, in the opinion of the investigators, practices and exemplifies misconduct himself, it is hardly conceivable that the causes of the deficits identified can be remedied," their report says.
Cohen told JTA he wants to see "real change in the leadership" of all liberal Jewish institutions in Germany, and "an external compliance system set up."
He said, "I hope to see the institutions Homolka founded take a life of their own, no strings attached."
Anticipating the report, the Abraham Geiger College had announced its own restructuring plans on Monday, a day after ordaining four new rabbis and two cantors at a ceremony in Berlin.
In a statement, interim director Gabriele Thöne said a new foundation would become the provider of rabbinical training in Potsdam.
Further, Thöne said the "door is open to Zacharias Frankel College" — the Conservative movement seminary also under the umbrella of the School of Jewish Theology at the University of Potsdam —  "to join the new foundation on an equal basis while at the same time maintaining its independence."
But in a scathing response issued Wednesday, the Conservative seminary said the Geiger College interim administration had not consulted them about the restructuring.
"A partnership between equal parties requires joint preparation, mutual trust, transparency and consensus. All this has been lacking so far, and continues to be lacking," the statement said.
Signed by Rabbi Bradley Artson, dean of Zacharias Frankel College and the Ziegler School of Rabbinic Studies, the Conservative seminary in Los Angeles among others, the statement also said the preliminary report released Wednesday "confirmed the asymmetrical constellations of power in the two Potsdam rabbinical training colleges."
Zacharias Frankel College  "was in a state of dependency on the will of one person from the time it was founded in 2013. Our institution was deliberately pushed into invisibility and excluded from communication with funders in Germany," the statement read in part.
"From the outset, the project of a Masorti rabbinical training in Potsdam was merely a makeshift means of being able to found the School of Jewish Theology [also in 2013] and give it the appearance of representing several denominations, and thus of being pluralistically positioned. Instead, however, the accumulation of power led to a monopolization of non-Orthodox Judaism in one person" – namely, Homolka.
For their part, the government and Jewish funding organizations said in their statement Wednesday that they were "committed to ensuring that there will continue to be both liberal and conservative rabbinical training in Potsdam in the future," but that the proposals developed so far at the Abraham Geiger College do not meet the requirement of being "a clear cut from the previous structure and a comprehensive new beginning."
The release of the Central Council-commissioned report was preceded by a volley of statements by lawyers for both parties.
On Monday, the council's attorneys announced that their preliminary report would come out in two days. On Tuesday, Homolka's attorneys issued a statement criticizing the impending "sudden" release of the report's summary, suggesting it reeked of "prejudgment."
The law firm representing Homolka — Behm Becker Geßner — noted that its client had received "a list of questions with serious accusations" from the council's attorneys, and that he had responded in writing last Sunday. "Should the result not take into account the meaningful statement of our client, there would be a massive violation of personality rights," warned the lawyers, who have successfully battled some critical press coverage of Homolka.
The Central Council criticized what it called Homolka's delay tactics, saying its attorneys had asked Homolka in early September if he would respond to questions but had not gotten any response to questions sent Oct. 19 until late Sunday night, well after multiple previous deadlines. Still, the council confirmed, its investigators would take Homolka's responses into account.
"This tactic is the main reason why the law firm will not be able to complete the final and detailed report of the investigation by the end of the year," the Central Council said. "The courage of the numerous victims must not be sacrificed to Homolka's delay tactics."
Meanwhile, the Union of Progressive Jews in Germany is to meet next week in Berlin, after a three-month postponement. Board elections will be held for the position of chair, previously held by Homolka.
On Nov. 26, that group published a report from an investigation that it had commissioned, which concluded that there was no proof of abuse of power at Abraham Geiger College.
On Wednesday, a critic within the body, the State Association of Jewish Communities of Lower Saxony, said the Central Council's commissioned report "supports us in our demand for the resignation of Walter Homolka from all his offices within the Jewish community, which we already made in May."
And there is dissent within the General Rabbinical Conference, Germany's liberal rabbinical association, as well. About a dozen members issued a statement in November, breaking from the official, cautious tone, saying that "the abuse of power proven against Rabbi Prof. Dr. Homolka [in the university's report of Oct. 26] is not compatible with the values of Jewish and general ethics."
The association, known as ARK, issued a statement at the end of November stating that, despite differences of opinion in their ranks, they join the call for a structural and personal new beginning, as "a chance for the next phase of rabbinical training in Germany."
—
The post Prominent German rabbi resigns from leadership roles as report confirms allegations against him appeared first on Jewish Telegraphic Agency.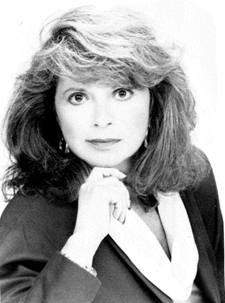 Phyllis Pollock died at home Sunday September 3, 2023 in Winnipeg, after a courageous lifetime battle with cancer.
Phyllis was a mother of four: Gary (Laura), daughter Randi, Steven (deceased in 2010) (Karen), and Robert. Phyllis also had two grandchildren: Lauren and Quinn.
Born in Fort Frances, Ontario on February 7, 1939, Phyllis was an only child to Ruby and Alex Lerman. After graduating high school, Phyllis moved to Winnipeg where she married and later divorced Danny Pollock, the father of her children. She moved to Beverly Hills in 1971, where she raised her children.
Phyllis had a busy social life and lucrative real estate career that spanned over 50 years, including new home sales with CoastCo. Phyllis was the original sales agent for three buildings in Santa Monica, oceanfront: Sea Colony I, Sea Colony II, and Sea Colony. She was known as the Sea Colony Queen. She worked side by side with her daughter Randi for about 25 years – handling over 600 transactions, including sales and leases within the three phases of Sea Colony alone.
Phyllis had more energy than most people half her age. She loved entertaining, working in the real estate field, meeting new and interesting people everyday no matter where she went, and thrived on making new lifelong friends. Phyllis eventually moved to the Sea Colony in Santa Monica where she lived for many years before moving to Palm Desert, then Winnipeg.
After battling breast cancer four times in approximately 20 years, she developed metastatic Stage 4 lung cancer. Her long-time domestic partner of 27 years, Joseph Wilder, K.C., was the love of her life. They were never far apart. They traveled the world and went on many adventures during their relationship. During her treatment, Phyllis would say how much she missed work and seeing her clients. Joey demonstrated amazing strength, love, care, and compassion for Phyllis as her condition progressed. He was her rock and was by her side 24/7, making sure she had the best possible care. Joey's son David was always there to support Phyllis and to make her smile. Joey's other children, Sheri, Kenny, Joshua and wife Davina, were also a part of her life. His kids would Facetime Phyllis and include her during any of their important functions. Phyllis loved Joey's children as if they were her own.
Thank you to all of her friends and family who were there to support her during these difficult times. Phyllis is now, finally, pain free and in a better place. She was loved dearly and will be greatly missed. Interment took place in Los Angeles.
Gwen Centre Creative Living Centre celebrates 35th anniversary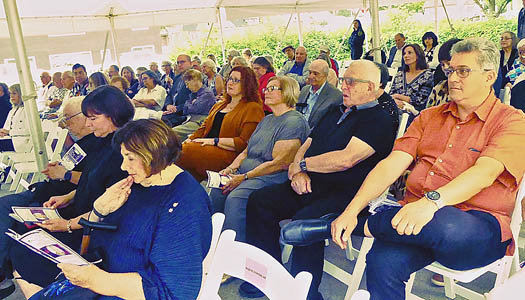 By BERNIE BELLAN Over 100 individuals gathered at the Gwen Secter Centre on Tuesday evening, July 18 – under the big top that serves as the venue for the summer series of outdoor concerts that is now in its third year at the centre.
The occasion was the celebration of the Gwen Secter Centre's 35th anniversary. It was also an opportunity to honour the memory of Sophie Shinewald, who passed away at the age of 106 in 2019, but who, as recently as 2018, was still a regular attendee at the Gwen Secter Centre.
As Gwen Secter Executive Director Becky Chisick noted in her remarks to the audience, Sophie had been volunteering at the Gwen Secter Centre for years – answering the phone among other duties. Becky remarked that Sophie's son, Ed Shinewald, had the phone number for the Gwen Secter Centre stored in his phone as "Mum's work."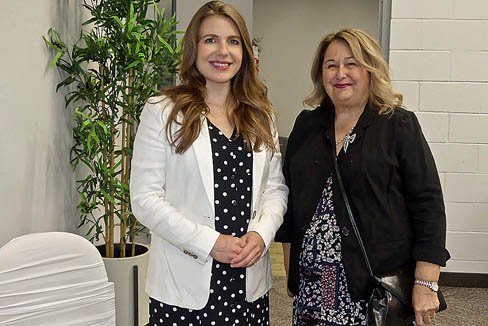 Remarks were also delivered by Raquel Dancho, Member of Parliament for Kildonan-St. Paul, who was the only representative of any level of government in attendance. (How times have changed: I remember well the steadfast support the former Member of the Legislature for St. John's, Gord Mackintosh, showed the Gwen Secter Centre when it was perilously close to being closed down. And, of course, for years, the area in which the Gwen Secter Centre is situated was represented by the late Saul Cherniack.)
Sophie Shinewald's granddaughter, Alix (who flew in from Chicago), represented the Shinewald family at the event. (Her brother, Benjamin, who lives in Ottawa, wasn't able to attend, but he sent a pre-recorded audio message that was played for the audience.)
Musical entertainment for the evening was provided by a group of talented singers, led by Julia Kroft. Following the concert, attendees headed inside to partake of a sumptuous assortment of pastries, all prepared by the Gwen Secter culinary staff. (And, despite my asking whether I could take a doggy bag home, I was turned down.)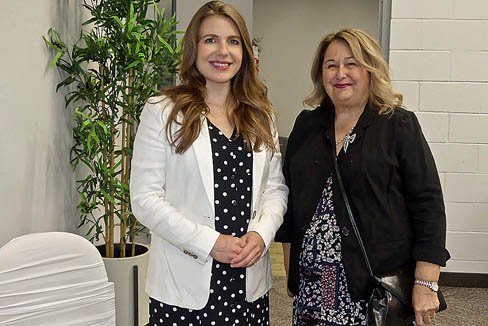 Palestinian gunmen kill 4 Israelis in West Bank gas station
This is a developing story.
(JTA) — Palestinian gunmen killed four people and wounded four in a terror attack at a gas station near the West Bank settlement of Eli, the Israeli army reported.
An Israeli civilian returning fire at the scene of the attack on Tuesday killed one of the attackers, who emerged from a vehicle, and two others fled.
Kan, Israel's public broadcaster, said one of those wounded was in serious condition. The gunmen, while in the vehicle, shot at a guard post at the entry to the settlement, and then continued to the gas station which is also the site of a snack bar. A nearby yeshiva went into lockdown.
Israeli Defense Minister Yoav Gallant announced plans to convene a briefing with top security officials within hours of the attack. Kan reported that there were celebrations of the killing in major West Bank cities and in the Gaza Strip, initiated by terrorist groups Hamas and Palestinian Islamic Jihad. Hamas said the shooting attack Tuesday was triggered by the Jenin raid.
The shooting comes as tensions intensify in the West Bank. A day earlier, Israeli troops raiding the city of Jenin to arrest accused terrorists killed five people.
The Biden administration spoke out over the weekend against Israel's plans to build 4,000 new housing units for Jewish settlers in the West Bank. Israeli Prime Minister Benjamin Netanyahu also finalized plans to  transfer West Bank building decisions to Bezalel Smotrich, the extremist who is the finance minister. Smotrich has said he wants to limit Palestinian building and expand settlement building.
Kan reported that the dead terrorist was a resident of a village, Urif, close to Huwara, the Palestinian town where terrorists killed two Israeli brothers driving through in February. Settlers retaliated by raiding the village and burning cars and buildings.
—
The post Palestinian gunmen kill 4 Israelis in West Bank gas station appeared first on Jewish Telegraphic Agency.