Rabbi arrested, banned from Cleveland universities over his anti-Palestinian activism
(JTA) – For days, students and police at Cleveland State University had been trying to figure out who stole a banner belonging to a campus Palestinian rights group.
The banner, which belonged to the student group Palestinian Human Rights Organization, read "CSU Solidarity for Palestinian Rights" and was illustrated with an outline of Israel, the West Bank and the Gaza Strip collectively emblazoned in the Palestinian flag. A dove holding an olive branch appeared on top of the image.
Then, on Jan. 19, police charged their top suspect: a local Orthodox rabbi, whose presence on campus had become all too familiar. A few days later the man confessed to the theft on Instagram, announcing that he had stolen the banner from the school's student center "as an act of civil disobedience."
"This incitement to annihilation of Israel should have never been permitted at CSU," Rabbi Alexander Popivker, a 46-year-old Cleveland Heights resident whose neighborhood is six miles from the school, wrote on social media accompanied by a picture of the flag he stole. 
It was far from Popivker's only recent run-in with local university students. 
A former Chabad-Lubavitch emissary in Naples, Italy, who now works in the Cleveland area as a handyman and part-time rabbi for a Russian-speaking Jewish community, Popivker has become known around town as a vigilant and omnipresent pro-Israel advocate. He can often be spotted counter-protesting at local pro-Palestinian demonstrations, or putting on displays of his own, with his wife Sarah on hand filming every contentious encounter. 
One major theme of his protests, and his worldview, as he explained to the Jewish Telegraphic Agency: "Palestinians and Nazis are the same thing."
For the last year, Popivker had been making weekly trips to Cleveland State, occasionally accompanied by other students or community members, to give public demonstrations that elaborate on that idea — sometimes with the aid of swastika-emblazoned props. In the early going, the university provided him with police protection and said his visits to campus were protected by free speech laws. 
But he also sought out students online and in-person whom he deemed to be "brainwashed" by anti-Zionist messaging. One such online campaign against a law student prompted the student to file an order of protection against Popivker last fall, an order supported by a prominent Jewish dean at the university. Popivker promptly violated the order by returning to campus.
In late January, university authorities had enough. They arrested Popivker and, following a hearing, declared him persona non grata on campus, banning him from the university grounds for at least two years. Popivker has also been banned from nearby Case Western Reserve University, where he had advocated before focusing on Cleveland State.
In the midst of a nationwide university climate in which pro-Israel advocates claim Jewish students face regular antisemitic harassment for their real or perceived Zionist beliefs, here was a documented case of the opposite: a Jew and outspoken Zionist, who has no affiliation with the schools at which he advocates, accused of harassing anyone he perceived as a threat to Israel, including students who had never sought him out directly. 
The Ohio chapter of the Council on American-Islamic Relations has spoken out numerous times against Popivker and praised university police for arresting him; a petition the group backed, labeled "Stop harassment on campus" and mentioning Popivker by name, has garnered close to 700 signatures.
Jewish groups, including civil rights groups, have been less forthcoming about situation. Hillel International declined to comment for this story, and the directors of Cleveland's regional American Jewish Committee and Jewish Community Relations Council offices did not return requests for comment. Jewish on Campus, a nationwide university antisemitism watchdog group that tracks what it defines as anti-Zionist social media harassment of Jewish students, also did not return a request for comment.
Jared Isaacson, the executive director of Cleveland Hillel, told the Jewish Telegraphic Agency that the center was "not very familiar with this story." Cleveland Hillel coordinates Jewish student life at a consortium of Jewish universities including Cleveland State and Case Western, where its student center is located, as well as at least one other school where Popivker has made his presence on campus known in some form. 
But, Isaacson said, "Cleveland Hillel is deeply committed to countering antisemitism and hate in all forms, and we believe that no student — Jewish or otherwise — should ever feel threatened or intimidated because of their identity." 
Popivker says he has support from the New York-based Lawfare Project, which bills itself as an "international pro-Israel litigation fund." He told JTA that the organization "is watching over my cases and providing guidance."
In a statement, the Lawfare Project called Popivker "a Jewish civil rights activist" but did not confirm that it is backing him, saying only that the group is "currently reviewing the matter."
The group, which frequently files lawsuits on behalf of students who allege antisemitism on their campuses, said in a statement to JTA that the order of protection was a "double standard" that "should be alarming to anyone who cares about the fight against Jew-hatred."
Lawfar recently settled a multi-year lawsuit with San Francisco State University over student reports of antisemitic harassment on campus stemming from anti-Zionist activists disrupting an event featuring the mayor of Jerusalem. The settlement compelled the university to hire a coordinator of Jewish student life.
Popivker will have his work cut out for him if he fights the charges. He had exhibited "behavior detrimental to the university community" by stealing the Palestinian banner and separately affixing an Israeli flag to university property, Matthew Kibbon, Cleveland State's associate vice president of facility services, wrote in the university's decision declaring him persona non grata.
The rabbi "was not banned for the content of his speech, but how he chose to exercise it," a Cleveland State spokesperson told JTA in a statement. The university also provided JTA a list of recent campus police interactions with him, including the initial Jan. 11 report of the banner's theft; Popivker's visit to campus on Jan. 18, during which police advised him that the student's order of protection did not permit him to be there; and his return visit on Jan. 25, during which he was arrested.
From Popivker's perspective, he is simply speaking out on Israel's behalf for a campus that has a large pro-Palestinian activist presence but few Jewish students. (There are fewer than 200 Jewish undergraduates on Cleveland State's campus out of 11,784 students, according to Hillel International.) His goal is to educate, he says, informed by his status as a Jewish refugee from the Soviet Union. And he believes he is being targeted by local pro-Palestinian activists, who, he said, have gone after his kippah and Israeli flags.
"I never attacked anyone. I never raised my hand up to anyone," he told the Jewish Telegraphic Agency, saying that he was motivated by civil rights icons Martin Luther King Jr. and John Lewis. "I'm going to a public university. I'm staying in the free speech zone. And I raise awareness about what's going on. There's a bunch of students that have become my friends that come to study with me regularly." 
One of those students, senior Tyler Jarosz, told JTA he became friends with Popivker after seeing him visiting campus to advocate for Israel. Not knowing much about Jews or Israel himself — "I thought Israel was a very peaceful state," Jarosz said — the student was taken with Popivker's demonstrations and said he learned a great deal from them. 
"He didn't just lecture me like a teacher would," Jarosz said. "He was actually very engaging. He asked questions." 
Jarosz said he never witnessed the rabbi harassing anyone on campus, and said he always tried to engage people in peaceful dialogue, despite what he described as harassment directed at him by some Muslim students. He recalled one Popivker visit to campus for Israel's independence day, when the rabbi was offering falafel to students, and said he witnessed one student throw the falafel back at him and threaten to "rape" him.
Other students tell a different story. One campus paper, the Cauldron, reported that the rabbi has targeted visibly Muslim and Arab students on campus, demanding to know their views on Israel. Popivker "makes me wary of coming into campus," a student member of the Palestinian Human Rights Organization group told the Cauldron. "I'm forced to be on constant edge and take the longer way to class in order to avoid him." Another student told a different campus newspaper, "It's almost as though he deliberately looks for Palestinian individuals just to target them." 
The chair of the law school's National Lawyers Guild student chapter told the Cleveland Jewish News that their group's efforts to engage Popivker in reasonable dialogue failed when he began using "racial slurs and insulting language."
In images from one Popivker demonstration, the rabbi can be seen drawing a swastika with a Sharpie marker on what the Cauldron reported was a keffiyeh, a scarf worn by Arabic men, but which Popivker told JTA was a Palestinian scarf with no spiritual significance. He has also yelled phrases including "Palestinians are Nazis" and "Palestinians are the KKK," and constructed a stage with images further linking Palestinians to Naziism, according to reports. Popivker's own Instagram videos show him approaching groups of students to argue about Israel as he films them, calling some of them "terrorists" when they go after his flags. One of his video captions mentions "a Middle Eastern looking student."
Cleveland State increased its safety protocols as a result of Popivker's activities, locking some additional entrances around campus. But much of his activities have been online, too.
Last fall Popivker trained his attention on a law student who was involved with campus Palestinian rights groups and had made some anti-Israel posts online, including sharing an image of a child whom pro-Palestinian groups claimed had been a victim of an Israeli bombing, and sharing a socialist group's post quoting, "From the river to the sea, Palestine will be free." 
Documents show that Popivker emailed and called the student's employer and law school seeking to have her disciplined for her beliefs, writing among other things that she was a "mouthpiece of terrorism and racism against Jews." He also made Instagram posts targeting her. In response, the student filed for and received the order of protection against him, which Popivker later claimed was unwarranted because he had never met the student in person. 
In its statement to JTA, the Lawfare Project homed in on this sequence of events, saying that Popivker's decision to email the student's school and employer about what he believed to be antisemitic social media posts was "a tool routinely used by civil rights activists to fight discrimination."
Popivker asked Jarosz to send a letter attesting to his character for the order of protection hearing, which he did. "Alex understands and respects everyone of every background that he comes across," the student wrote in his letter. "I have personally witnessed the demonization they have done of him." Speaking to JTA weeks later, Jarosz said the court case was "bogus," but said he was unaware of the emails, social media records and phone transcripts reviewed by JTA showing that Popivker had contacted the student's employer and school.
At the order of protection hearing, a transcript of which Popivker sent to JTA, a key witness who advocated for the restriction was law school dean Lee Fisher, a former attorney general and lieutenant governor of Ohio. Fisher is Jewish. 
"We share a hatred of antisemitism," Fisher told Popivker during the hearing, according to the transcript. The dean also identified himself as "pro-Israel, very much so." But Fisher made clear he was critical of Popivker's activities on campus. Asked by Popivker about a specific social media post the student had made, Fisher responded, "Even if she made a mistake by posting it, it did not warrant the kind of reaction I believe that you had."
Fisher had also met with Popivker previously, in a session mediated by a local rabbi who was a friend of Popivker. "I told him that I was concerned for the health and safety of our students," the dean said during the hearing. He had implored Popivker to stop his campus activities, but the rabbi refused.
It's the initial order of protection, which Popivker said had already effectively banned him from campus, that the rabbi says he truly opposes. He saw it as evidence that "they were basically working together with Palestinians" to "cover up the fact that they have an antisemitic group that openly propagates a destruction of Israel." Popivker visited campus several times after receiving the order of protection but was permitted to stay with only a warning from campus police, Jarosz recalled.
This state of affairs lasted until the rabbi stole the Palestinian student group banner to, he said, "shine a light on this antisemitism." Popivker described to JTA how he entered the student building, walked up to the third floor where he knew the banner was, and used scissors to remove it and take it with him: "Clip, clip, clip." He was subsequently thrown in jail — his second such stint in Cleveland for pro-Israel activities, he said, criticizing local law enforcement for not providing him with kosher food while he was behind bars. 
Outside of campus, Popivker is active in other areas. Last year, he organized a GoFundMe to support the family of a former classmate of his who was killed by an Islamic State supporter in a terrorist attack in Beersheba, Israel. He also applied to fill a January vacancy on the Cleveland Heights city council, but later withdrew his application. 
While Popivker may preach nonviolence, his social media activity points to more radical ideologies, as well. On Instagram, he has shared an image of the flag of the Jewish Defense League, an extremist Jewish group that advocates violence against enemies of Jews, founded by convicted terrorist Rabbi Meir Kahane, as well as an image with a logo of Im Tirtzu, a right-wing Israeli group that has in the past been accused of inciting violence against Israeli human rights groups. Popivker told JTA he is not a member of either group, but that "if I think it's aligned with what I believe in, I'll share it."
Popivker says that, for now, he's done with his brand of "civil disobedience" and won't be making his weekly visits to Cleveland State's campus. "I do have five wonderful boys and a loving wife, and as much as Cuyahoga [County's] jail is an educational experience in life in many ways, I do not want to go there every week," he said.
Instead, days after his arrest and campus ban, Popivker posted a photo of himself with an Israeli flag to social media — this time outside a casino a mile away from campus.
—
The post Rabbi arrested, banned from Cleveland universities over his anti-Palestinian activism appeared first on Jewish Telegraphic Agency.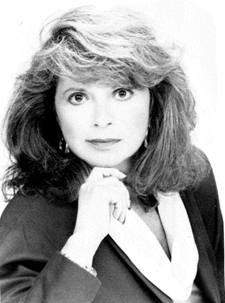 Phyllis Pollock died at home Sunday September 3, 2023 in Winnipeg, after a courageous lifetime battle with cancer.
Phyllis was a mother of four: Gary (Laura), daughter Randi, Steven (deceased in 2010) (Karen), and Robert. Phyllis also had two grandchildren: Lauren and Quinn.
Born in Fort Frances, Ontario on February 7, 1939, Phyllis was an only child to Ruby and Alex Lerman. After graduating high school, Phyllis moved to Winnipeg where she married and later divorced Danny Pollock, the father of her children. She moved to Beverly Hills in 1971, where she raised her children.
Phyllis had a busy social life and lucrative real estate career that spanned over 50 years, including new home sales with CoastCo. Phyllis was the original sales agent for three buildings in Santa Monica, oceanfront: Sea Colony I, Sea Colony II, and Sea Colony. She was known as the Sea Colony Queen. She worked side by side with her daughter Randi for about 25 years – handling over 600 transactions, including sales and leases within the three phases of Sea Colony alone.
Phyllis had more energy than most people half her age. She loved entertaining, working in the real estate field, meeting new and interesting people everyday no matter where she went, and thrived on making new lifelong friends. Phyllis eventually moved to the Sea Colony in Santa Monica where she lived for many years before moving to Palm Desert, then Winnipeg.
After battling breast cancer four times in approximately 20 years, she developed metastatic Stage 4 lung cancer. Her long-time domestic partner of 27 years, Joseph Wilder, K.C., was the love of her life. They were never far apart. They traveled the world and went on many adventures during their relationship. During her treatment, Phyllis would say how much she missed work and seeing her clients. Joey demonstrated amazing strength, love, care, and compassion for Phyllis as her condition progressed. He was her rock and was by her side 24/7, making sure she had the best possible care. Joey's son David was always there to support Phyllis and to make her smile. Joey's other children, Sheri, Kenny, Joshua and wife Davina, were also a part of her life. His kids would Facetime Phyllis and include her during any of their important functions. Phyllis loved Joey's children as if they were her own.
Thank you to all of her friends and family who were there to support her during these difficult times. Phyllis is now, finally, pain free and in a better place. She was loved dearly and will be greatly missed. Interment took place in Los Angeles.
Gwen Centre Creative Living Centre celebrates 35th anniversary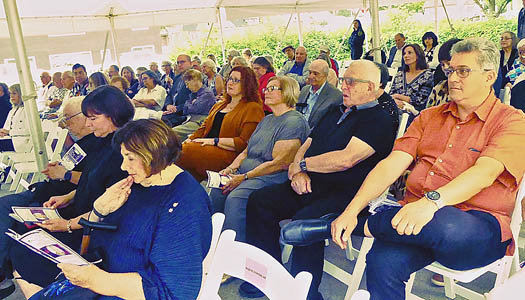 By BERNIE BELLAN Over 100 individuals gathered at the Gwen Secter Centre on Tuesday evening, July 18 – under the big top that serves as the venue for the summer series of outdoor concerts that is now in its third year at the centre.
The occasion was the celebration of the Gwen Secter Centre's 35th anniversary. It was also an opportunity to honour the memory of Sophie Shinewald, who passed away at the age of 106 in 2019, but who, as recently as 2018, was still a regular attendee at the Gwen Secter Centre.
As Gwen Secter Executive Director Becky Chisick noted in her remarks to the audience, Sophie had been volunteering at the Gwen Secter Centre for years – answering the phone among other duties. Becky remarked that Sophie's son, Ed Shinewald, had the phone number for the Gwen Secter Centre stored in his phone as "Mum's work."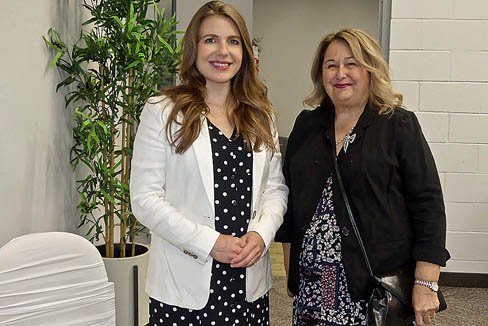 Remarks were also delivered by Raquel Dancho, Member of Parliament for Kildonan-St. Paul, who was the only representative of any level of government in attendance. (How times have changed: I remember well the steadfast support the former Member of the Legislature for St. John's, Gord Mackintosh, showed the Gwen Secter Centre when it was perilously close to being closed down. And, of course, for years, the area in which the Gwen Secter Centre is situated was represented by the late Saul Cherniack.)
Sophie Shinewald's granddaughter, Alix (who flew in from Chicago), represented the Shinewald family at the event. (Her brother, Benjamin, who lives in Ottawa, wasn't able to attend, but he sent a pre-recorded audio message that was played for the audience.)
Musical entertainment for the evening was provided by a group of talented singers, led by Julia Kroft. Following the concert, attendees headed inside to partake of a sumptuous assortment of pastries, all prepared by the Gwen Secter culinary staff. (And, despite my asking whether I could take a doggy bag home, I was turned down.)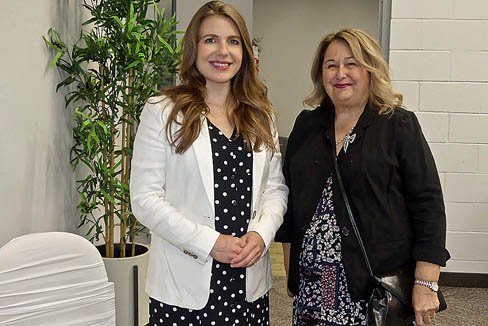 Palestinian gunmen kill 4 Israelis in West Bank gas station
This is a developing story.
(JTA) — Palestinian gunmen killed four people and wounded four in a terror attack at a gas station near the West Bank settlement of Eli, the Israeli army reported.
An Israeli civilian returning fire at the scene of the attack on Tuesday killed one of the attackers, who emerged from a vehicle, and two others fled.
Kan, Israel's public broadcaster, said one of those wounded was in serious condition. The gunmen, while in the vehicle, shot at a guard post at the entry to the settlement, and then continued to the gas station which is also the site of a snack bar. A nearby yeshiva went into lockdown.
Israeli Defense Minister Yoav Gallant announced plans to convene a briefing with top security officials within hours of the attack. Kan reported that there were celebrations of the killing in major West Bank cities and in the Gaza Strip, initiated by terrorist groups Hamas and Palestinian Islamic Jihad. Hamas said the shooting attack Tuesday was triggered by the Jenin raid.
The shooting comes as tensions intensify in the West Bank. A day earlier, Israeli troops raiding the city of Jenin to arrest accused terrorists killed five people.
The Biden administration spoke out over the weekend against Israel's plans to build 4,000 new housing units for Jewish settlers in the West Bank. Israeli Prime Minister Benjamin Netanyahu also finalized plans to  transfer West Bank building decisions to Bezalel Smotrich, the extremist who is the finance minister. Smotrich has said he wants to limit Palestinian building and expand settlement building.
Kan reported that the dead terrorist was a resident of a village, Urif, close to Huwara, the Palestinian town where terrorists killed two Israeli brothers driving through in February. Settlers retaliated by raiding the village and burning cars and buildings.
—
The post Palestinian gunmen kill 4 Israelis in West Bank gas station appeared first on Jewish Telegraphic Agency.