She represents the 'worst of the worst.' Now Judy Clarke is leading the defense in Pittsburgh synagogue massacre trial.
PITTSBURGH (Pittsburgh Jewish Chronicle via JTA) — When Judy Clarke delivered her opening statement to the jury that will determine the fate of the man charged with committing the massacre in the Tree of Life synagogue building, she did not deny that her client was responsible.
In fact, she sympathized with the victims and their families.
Clarke, 71, began her address by acknowledging the horror of Oct. 27, 2018, and its aftermath.
"The tragedy that brings us together today," she said in a soft-spoken yet confident voice, is "almost incomprehensible. It's inexcusable. … Eleven lives were taken, others shattered. The loss that occurred is immeasurable."
She told the jury there was "no disagreement, no doubt" about the identity of the perpetrator. It was "the man seated at that table," she said, indicating her client. "He shot every person he saw and, in the process, injured others in their sacred spaces."
Clarke was appointed to Robert Bowers' defense team in December 2018, after he requested the counsel of a federal public defender specializing in death penalty cases. He faces 63 criminal counts related to his attack on congregations Dor Hadash, New Light and Tree of Life*Or L'Simcha. Many of the charges carry the death penalty.
Support JTA's partnership with the Pittsburgh Jewish Chronicle throughout this trial.
As the trial proceeds, Clarke won't try to convince the jury her client isn't guilty. A "win" for her defense team will be for the defendant to avoid a death sentence and instead have him remain in prison for the rest of his life.
Clarke has vast experience defending those whom some call "the worst of the worst." Her roster of past clients includes Susan Smith, who murdered her two young sons by drowning them in a lake in South Carolina; Theodore Kaczynski, otherwise known as the Unabomber; Buford Furrow, a white supremacist who opened fire in a Jewish community center outside of Los Angeles in 1999; Eric Rudolph, who planted a bomb in Centennial Olympic Park in Atlanta during the 1996 Summer Olympics; and Dzhokhar Tsarnaev, a perpetrator of the Boston Marathon bombing.
Except for Tsarnaev — whose case is under appeal — Clarke succeeded in avoiding a death sentence for all her clients, either by negotiating a plea deal or by convincing the jury that mitigating factors, such as a mental illness, precluded imposition of the ultimate punishment.
Clarke's team tried to negotiate a deal for a life sentence for Bowers in exchange for a guilty plea but was unsuccessful. Four and a half years after the deadliest antisemitic attack in U.S. history, the three-week jury selection process commenced on April 24 and testimony began on May 30.
"This is not a straightforward murder case," Clarke told the jury in her opening statement. The federal charges — which include obstruction of free exercise of religious beliefs resulting in death — must be proved by showing the defendant had the requisite intent to commit those particular crimes, she said.
She acknowledged that her client's actions on Oct. 27, 2018, were "reprehensible" and "misguided" and recounted his virulent social media postings and other rantings about Jews. But she also portrayed him as "quiet" and "socially awkward, a man with few friends." He didn't live on his own until he was 44, she said, and his family saw him as someone "more likely to commit suicide than kill others."
It's clear that Clarke is appalled by her client's actions. It's also clear that she is determined to see that his rights are protected and that the judge and the jury faithfully apply the rule of law.
"Judy is one of the best lawyers I've ever known," said Laurie Levenson, a professor at Loyola Law School in Los Angles and a former federal prosecutor. "She works insanely hard. She spends the time with the clients that she needs to. She doesn't believe in the death penalty, and she's devoted herself to representing people who are, you know — 'the Voyage of the Damned' is what she would say."
Levenson, who has known Clarke for three decades, described her as "honest" and "very humble."
"She doesn't stand against the victims," Levenson stressed. "I think she actually feels very much for the tragedy that occurred. But she has a job to do, which is to try to save her client's life. And she does it with integrity."
The two met during the Unabomber case, when Clarke was representing Kaczynski and Levenson was a legal commentator for CBS. Kaczynski at first resisted a plea deal sentencing him to life in prison because he did not want to admit to mental health issues.
"She had a very difficult client, one that I think a lot of people would just sort of throw up their hands and say, 'What can I do?'" Levenson recalled. "And she was able to get him to agree to that plea, which probably saved his life."
Ted Kaczynski's brother, David Kaczynski, praised Clarke for her ability to see humanity, even in those who have committed unspeakable atrocities.
"She has a really good heart, a really good intention," David Kaczynski said. "I think she really cares about her clients. I think she has a kind of unconditional commitment to their humanity. And, of course, that meant a lot to me, because as much as I deplore what my brother did in harming people, I love him. He's my brother."
"So it's a very fine line to walk, representing the client who has clearly got some serious personal problem," he continued. "Ted was quite a loner. He was very shy. He had a very difficult time connecting with anybody. And in this very difficult situation, Judy was able to be there for him, and I think that was really meaningful for Ted, that he had some support, some human connection at this time of crisis in his life."
David Kaczynski has followed Clarke's career and continues to be impressed with her "professionalism and sense of humility."
"I think the legal profession is trained to be strictly analytical and adversarial," he said. "And she somehow works within this environment in a way that preserves her humanity as she's trying to make people aware of the humanity of someone whose very right to exist is in question."
Some question whether a person who has committed a heinous crime deserves a zealous defense. Levenson insists they do.
Our judicial system is "best served" when capital defendants are provided with a high-caliber defense, Levenson said, because "it's in these situations where people are so emotionally invested that we can get it wrong."
In addition to being a former prosecutor, Levenson created the Loyola Project for the Innocent, which works to get those who are serving sentences for crimes they did not commit out of prison.
"I've seen firsthand that there are far too many lawyers who just immediately assume that their client's not only guilty but should get the most severe punishment — that there's nothing to be said on their client's behalf," Levenson said. "And you and I both know there's a lot more to any given case, and that even people who do terrible crimes have other aspects of their lives that the justice system should consider."
"In our system, we are supposed to consider each case, each individual, the facts, and not only determine whether someone's guilty but what should happen to them," she continued. "And that works well. When you have a lawyer who's just going through the motions — and the one thing you can say about Judy is she doesn't just go through the motions — I think the public can have more confidence in the verdict. As long as that lawyer is acting honestly and with integrity, it's so much better to have that zealous advocate."
The massacre at the Tree of Life building "was just a terrible, terrible, terrible tragedy," said Levenson, who is Jewish. Clarke "will do her best to keep the case in perspective. In other words, focus not on big messages, but on this individual and any mitigating factors for this individual."
Jon B. Gould, dean of the School of Social Ecology at the University of California-Irvine, has researched attorneys who specialize in death penalty cases. In 2019, along with Maya Pagni Barak, he published "Capital Defense: Inside the Lives of America's Death Penalty Lawyers," a book based on extensive interviews, providing insight into the reasons someone would willingly represent a person who has committed an egregious crime.
"They are an unusual kind of lawyer," Gould said. "They're actually an unusual kind of person because for many of these cases, they are representing what is sometimes said to be 'the worst of the worst.'"
There are a variety of motivating factors for capital defense work, Gould said. Some of these lawyers are strongly opposed to state-sanctioned killing. For others, he said, "it is the excitement of the most complicated kind of law."
Other death penalty specialists take the cases for "professional prestige," and some do it for the money because capital defense lawyers get paid more than regular defense lawyers, Gould said. Some take the cases for religious reasons.
"Now, that's all in the larger context of none of these lawyers looks at the facts of the case and thinks it's anything other than a horrific tragedy," Gould stressed. "I also found that for many of them, they are entirely sympathetic to the family members of the victims. They don't look at these cases and think, no big deal. They look at these cases and think that's something horrible that happened to the victim's family, but they also look at the defendant and think, as one of them said to me, 'No one gets to this place of being the defendant without having something horrible having happened to them earlier in life.'"
Death penalty cases are "really, really, really hard on defense lawyers," Gould added. "It's really distressing work. The evidence that they have to pore through is horrific. Many of them have PTSD."
While many people "look at defense lawyers and think there must be something wrong with them," Gould said it's essential to remember "that they are fulfilling a very important function in the criminal justice system that none of us would ever want to have to do."
"That doesn't mean that any of us is unsympathetic to the victims," he emphasized. "No one deserves what's happened in any of these cases. But if we do believe in the rule of law, then there needs to be capital defense lawyers. And we need to respect the work they're doing because that's what it means to live in a system of rule of law and not simply a system where we simply execute people in the town square without the opportunity to have a defense."
This story is part of ongoing coverage of the Pittsburgh synagogue shooting trial by the Pittsburgh Jewish Chronicle and the Pittsburgh Union Progress in a collaboration supported by funding from the Pittsburgh Media Partnership. It is reprinted with permission.
—
The post She represents the 'worst of the worst.' Now Judy Clarke is leading the defense in Pittsburgh synagogue massacre trial. appeared first on Jewish Telegraphic Agency.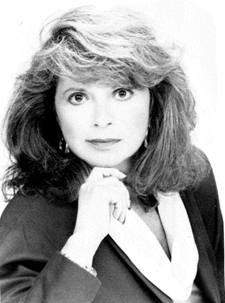 Phyllis Pollock died at home Sunday September 3, 2023 in Winnipeg, after a courageous lifetime battle with cancer.
Phyllis was a mother of four: Gary (Laura), daughter Randi, Steven (deceased in 2010) (Karen), and Robert. Phyllis also had two grandchildren: Lauren and Quinn.
Born in Fort Frances, Ontario on February 7, 1939, Phyllis was an only child to Ruby and Alex Lerman. After graduating high school, Phyllis moved to Winnipeg where she married and later divorced Danny Pollock, the father of her children. She moved to Beverly Hills in 1971, where she raised her children.
Phyllis had a busy social life and lucrative real estate career that spanned over 50 years, including new home sales with CoastCo. Phyllis was the original sales agent for three buildings in Santa Monica, oceanfront: Sea Colony I, Sea Colony II, and Sea Colony. She was known as the Sea Colony Queen. She worked side by side with her daughter Randi for about 25 years – handling over 600 transactions, including sales and leases within the three phases of Sea Colony alone.
Phyllis had more energy than most people half her age. She loved entertaining, working in the real estate field, meeting new and interesting people everyday no matter where she went, and thrived on making new lifelong friends. Phyllis eventually moved to the Sea Colony in Santa Monica where she lived for many years before moving to Palm Desert, then Winnipeg.
After battling breast cancer four times in approximately 20 years, she developed metastatic Stage 4 lung cancer. Her long-time domestic partner of 27 years, Joseph Wilder, K.C., was the love of her life. They were never far apart. They traveled the world and went on many adventures during their relationship. During her treatment, Phyllis would say how much she missed work and seeing her clients. Joey demonstrated amazing strength, love, care, and compassion for Phyllis as her condition progressed. He was her rock and was by her side 24/7, making sure she had the best possible care. Joey's son David was always there to support Phyllis and to make her smile. Joey's other children, Sheri, Kenny, Joshua and wife Davina, were also a part of her life. His kids would Facetime Phyllis and include her during any of their important functions. Phyllis loved Joey's children as if they were her own.
Thank you to all of her friends and family who were there to support her during these difficult times. Phyllis is now, finally, pain free and in a better place. She was loved dearly and will be greatly missed. Interment took place in Los Angeles.
Gwen Centre Creative Living Centre celebrates 35th anniversary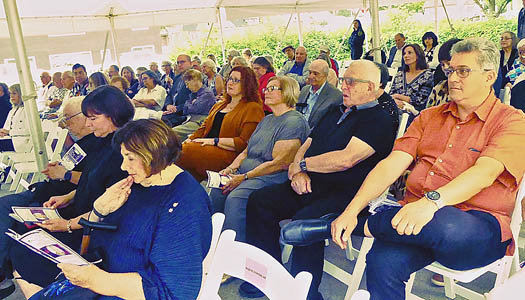 By BERNIE BELLAN Over 100 individuals gathered at the Gwen Secter Centre on Tuesday evening, July 18 – under the big top that serves as the venue for the summer series of outdoor concerts that is now in its third year at the centre.
The occasion was the celebration of the Gwen Secter Centre's 35th anniversary. It was also an opportunity to honour the memory of Sophie Shinewald, who passed away at the age of 106 in 2019, but who, as recently as 2018, was still a regular attendee at the Gwen Secter Centre.
As Gwen Secter Executive Director Becky Chisick noted in her remarks to the audience, Sophie had been volunteering at the Gwen Secter Centre for years – answering the phone among other duties. Becky remarked that Sophie's son, Ed Shinewald, had the phone number for the Gwen Secter Centre stored in his phone as "Mum's work."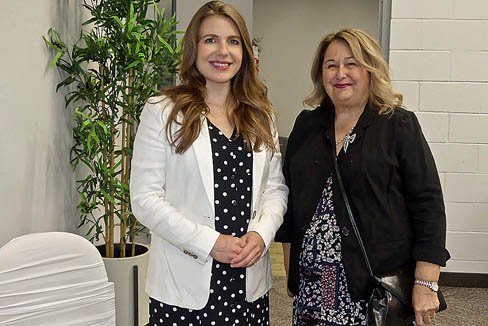 Remarks were also delivered by Raquel Dancho, Member of Parliament for Kildonan-St. Paul, who was the only representative of any level of government in attendance. (How times have changed: I remember well the steadfast support the former Member of the Legislature for St. John's, Gord Mackintosh, showed the Gwen Secter Centre when it was perilously close to being closed down. And, of course, for years, the area in which the Gwen Secter Centre is situated was represented by the late Saul Cherniack.)
Sophie Shinewald's granddaughter, Alix (who flew in from Chicago), represented the Shinewald family at the event. (Her brother, Benjamin, who lives in Ottawa, wasn't able to attend, but he sent a pre-recorded audio message that was played for the audience.)
Musical entertainment for the evening was provided by a group of talented singers, led by Julia Kroft. Following the concert, attendees headed inside to partake of a sumptuous assortment of pastries, all prepared by the Gwen Secter culinary staff. (And, despite my asking whether I could take a doggy bag home, I was turned down.)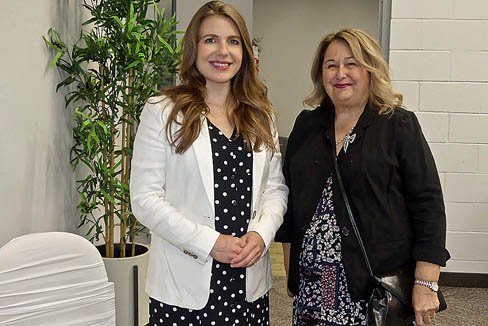 Palestinian gunmen kill 4 Israelis in West Bank gas station
This is a developing story.
(JTA) — Palestinian gunmen killed four people and wounded four in a terror attack at a gas station near the West Bank settlement of Eli, the Israeli army reported.
An Israeli civilian returning fire at the scene of the attack on Tuesday killed one of the attackers, who emerged from a vehicle, and two others fled.
Kan, Israel's public broadcaster, said one of those wounded was in serious condition. The gunmen, while in the vehicle, shot at a guard post at the entry to the settlement, and then continued to the gas station which is also the site of a snack bar. A nearby yeshiva went into lockdown.
Israeli Defense Minister Yoav Gallant announced plans to convene a briefing with top security officials within hours of the attack. Kan reported that there were celebrations of the killing in major West Bank cities and in the Gaza Strip, initiated by terrorist groups Hamas and Palestinian Islamic Jihad. Hamas said the shooting attack Tuesday was triggered by the Jenin raid.
The shooting comes as tensions intensify in the West Bank. A day earlier, Israeli troops raiding the city of Jenin to arrest accused terrorists killed five people.
The Biden administration spoke out over the weekend against Israel's plans to build 4,000 new housing units for Jewish settlers in the West Bank. Israeli Prime Minister Benjamin Netanyahu also finalized plans to  transfer West Bank building decisions to Bezalel Smotrich, the extremist who is the finance minister. Smotrich has said he wants to limit Palestinian building and expand settlement building.
Kan reported that the dead terrorist was a resident of a village, Urif, close to Huwara, the Palestinian town where terrorists killed two Israeli brothers driving through in February. Settlers retaliated by raiding the village and burning cars and buildings.
—
The post Palestinian gunmen kill 4 Israelis in West Bank gas station appeared first on Jewish Telegraphic Agency.